17 Weight Loss Tips from Dancing With the Stars
You don't need to master the waltz, tango, or jive to torch stomach fat and get a lean dancer's bod. Here, Dancing With the Stars celebs explain how to get the figure you've always wanted.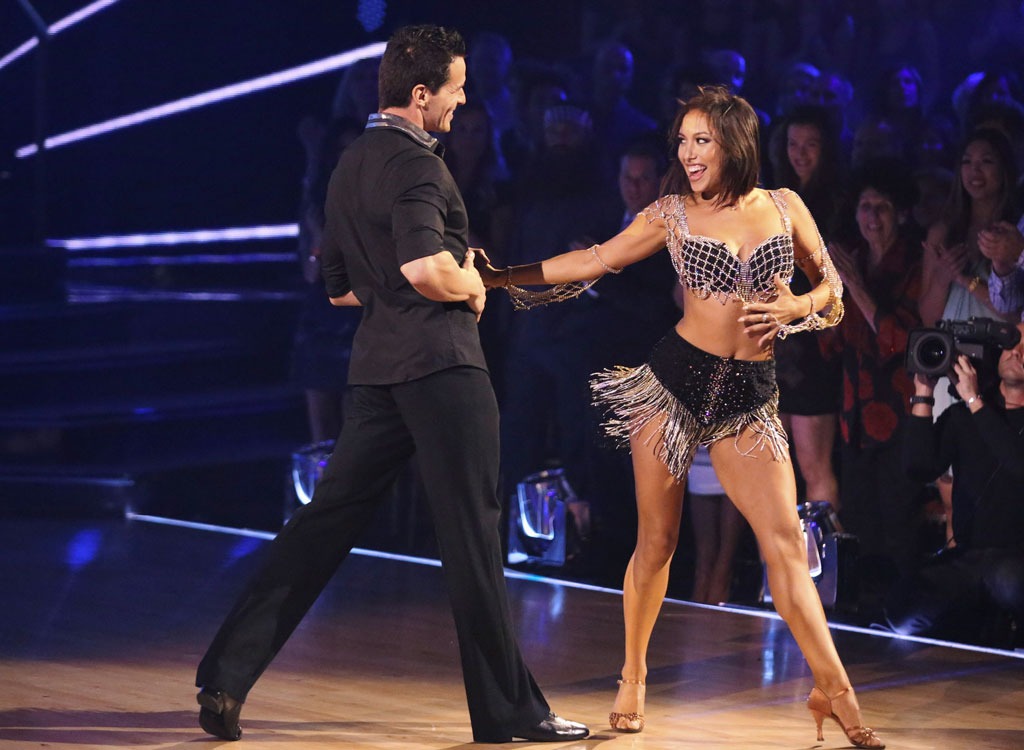 As a young woman who makes healthy eating and fitness a priority, I was surprised to discover just how envious I was of a 40-year-old woman's' lean legs and toned stomach. Dancing With the Stars was on TV and Kym Johnson—who's now married to Shark Tank mogul, Robert Herjavec—was wearing a sequined bra and a tiny feathered skirt looking better than basically everyone I know that's half her age. And despite the fact that I spend the majority of my day researching and writing about nutrition and weight loss, I found myself wondering, "What's her secret!?"
Sure, she spins around for hours, perfecting each step of her expertly choreographed dances, but that's only during the television season. She somehow manages to maintain her perfectly toned muscles year-round so she must have some other tricks up her sleeve. I just wasn't sure what they were. She isn't the only one from the show with an envy-worthy figure, either. All of the "pros" are in tip-top shape and many of the "stars" who have competed on the show have made headlines for dropping weight while competing—and keeping it off long after the cameras stopped rolling. Kelly Osbourne, arguably the most famous of the lot, has lost an impressive 70 pounds thanks to her stint on the show!
Intrigued? So was I. So I dug deep to uncover the show's best-ever slim down secrets. Keep reading to find out how Kelly, Kym, and a host of other hot-bod celebs from Dancing With the Stars stay slim on and off the camera—and how their simple tricks can help you trim down, too. And while you've got celeb weight loss strategies on the brain, don't miss these 26 Breakfasts Celebrities Love to start your day off right and jump-start your flat belly progress.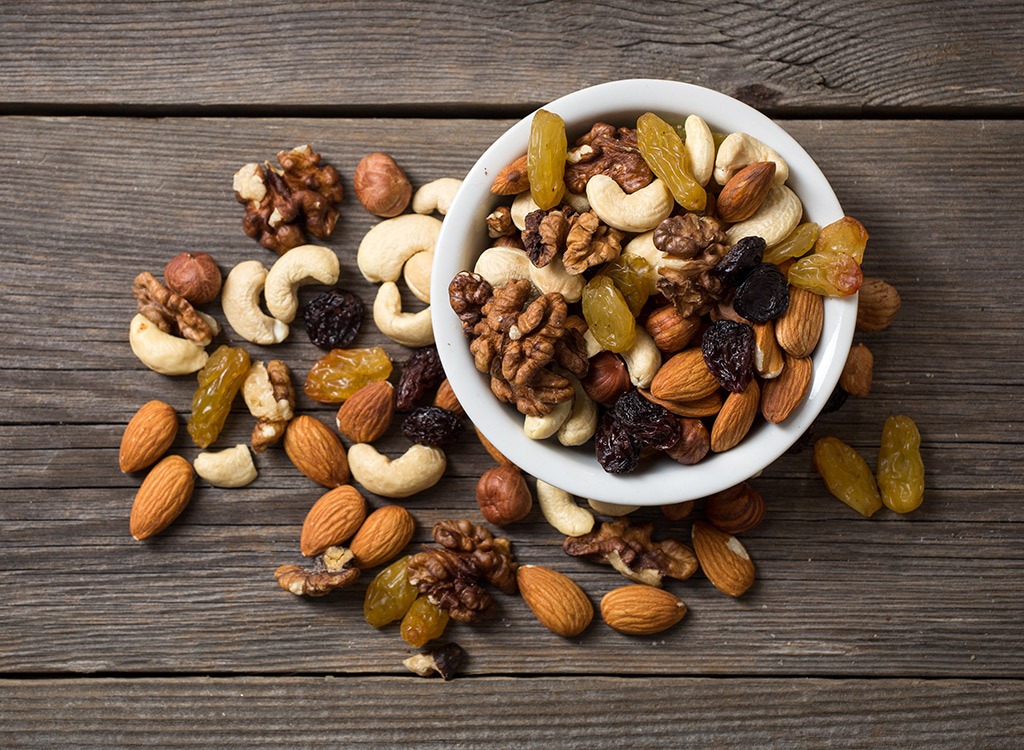 Professional dancer Karina Smirnoff knows that staying fit and healthy is all about being prepared. And that's why she always preps and packs healthy snacks. "A couple times per week, I make a batch of trail mix using Nature Valley Protein Granola as my base. I then add sliced almonds or another yummy nut, chocolate chips or chunks, dried cranberries, and often blueberries too," the 38-year-old pro said in an interview. "It's a nutritious and filling snack that gives me the boost I need throughout the day. I put [the mix] into little baggies and throw them into my purse. It's easy and delicious." For more healthy snack ideas, don't miss these 50 Snacks With 50 Calories or Less!
Work Every Muscle— Not Just the Sexy Ones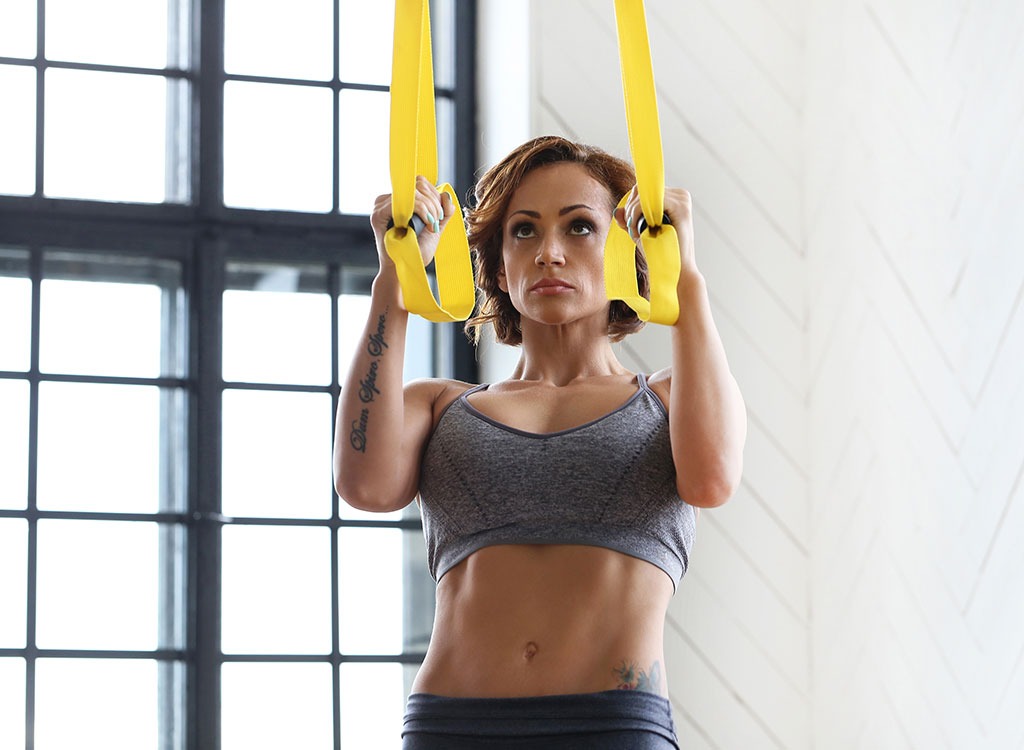 General Hospital actress, Tia Carrere was the first Dancing With the Stars celeb to depart from the show with a noticeable body transformation. That was back in 2006, just two months after giving birth to her daughter, Bianca. She credited the total-body aspects of her dance workout for her slim-down success. "The waltz works different muscles from the rumba, which works different muscles from the cha-cha, so you're getting a whole-body thing," Carrere said in an interview. And even if you're not dancing your way skinny, there's something to be learned from Carrere's weight loss experience: it's super important to work all of your muscles—not just the ones' you want to show off at the beach. Not only will hitting all your muscles evenly, help keep you injury free, it will amp up your calorie burn and weight loss potential, too. Don't believe it? Lose Up to 16 Pounds With This Full-Body Workout!
Sign Up for a Fitness Event
Carrere's partner, Maks Chmerkovskiy AKA "The Bad Boy of the Ballroom," is known for his bold moves, competitive nature, and muscular physique. That said, it's no surprise that he suggests tapping into your competitive nature to get and stay fit. "For most people, it's not enough to just say, 'I want to lose 60 pounds.' There has to be a bigger reason and that reason is competition. If you are signed up for a race, you'll do anything to try to get the upper hand," says Chmerkovskiy. "That means you probably won't just train; you'll do the nutrition part, too. It all works together organically." To find a race in your area that will help you stay committed to your fitness program, check out our special report, The Best 5K in Every State!
Julianne Hough, DWTS dancer-turned-judge, maintains her figure by eating five small meals throughout the day and cutting herself off when she's full. She doesn't restrict herself entirely, though. "If I want to have dessert, I'll have it," she says. These tricks all help to ward off overeating, so we give them our ETNT stamp of approval! "Occasionally including dessert can aid weight loss efforts by warding off feelings of deprivation and bouts of overeating," explains dietitian Cassie Bjork, RD, LD of Healthy Simple Life. "It can make it easier to stick with your healthy eating regimen for the long haul." For more ways to lose weight—and keep it off, try these 20 Ways to Lose Weight Forever.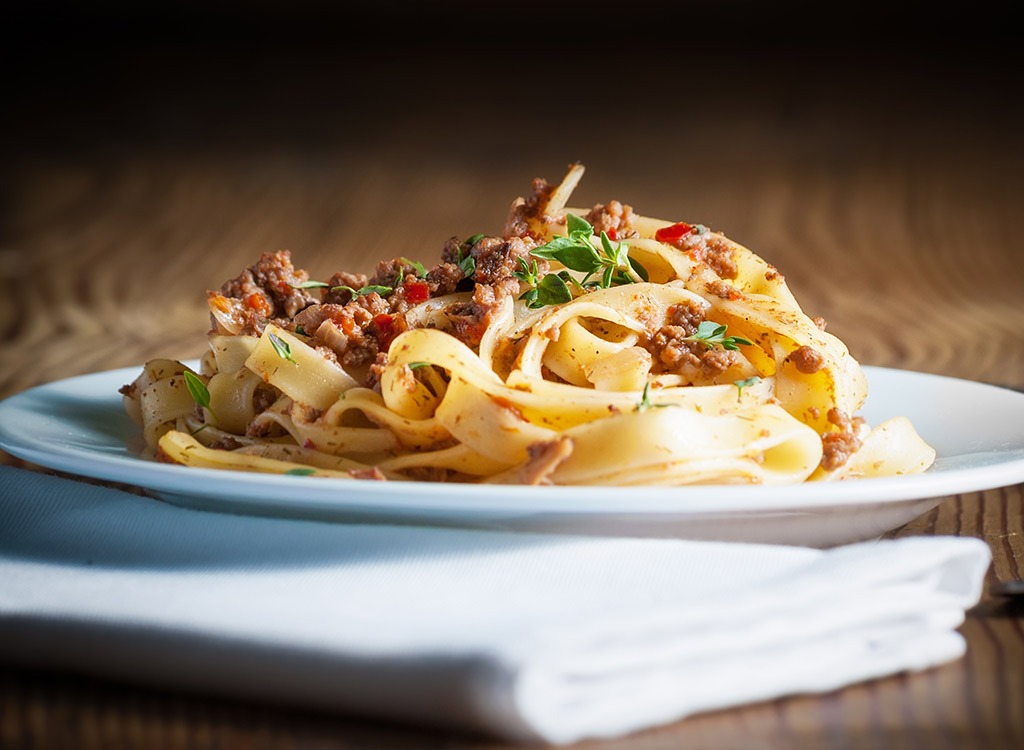 Aside from working her core at the gym, Johnson limits her her carbs to the daytime hours to keep her stomach firm and flat. "I love fries and bread, but I see a real difference in my body when I don't eat them after 5 p.m." Looking for more ways to eat bread and lose weight, too? Stock up on these 25 Best Carbs That Will Uncover Your Abs.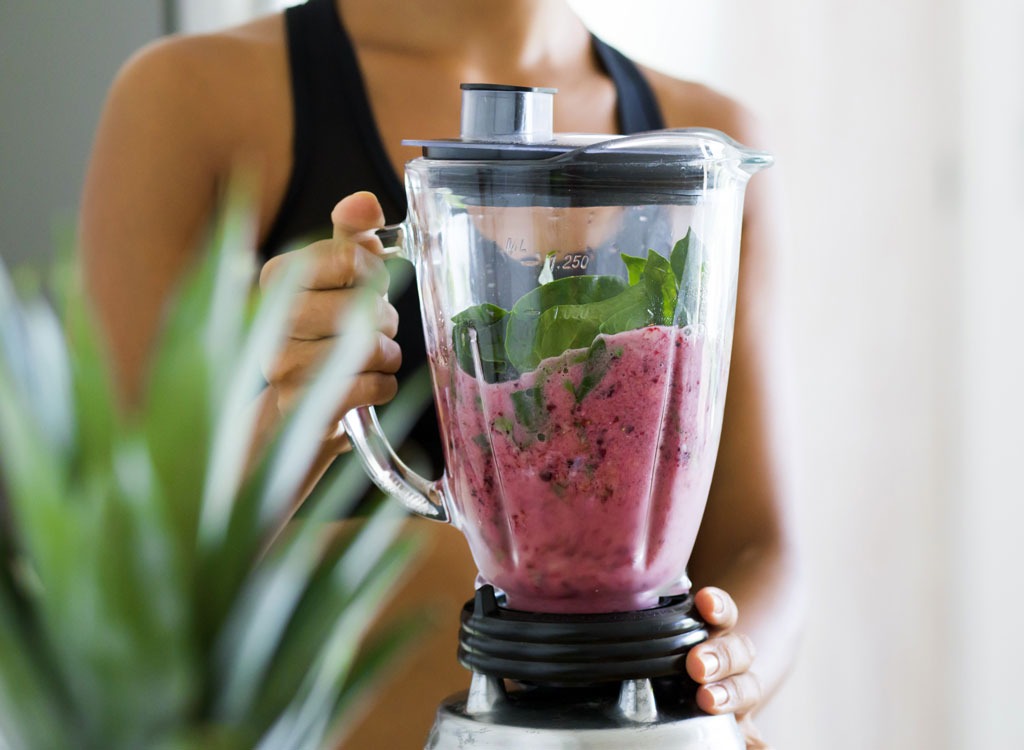 Smirnoff, a self-proclaimed smoothie fan, is a girl after our own hearts. Why are we such big fans of sipping our nutrition through a straw? Because if you have 30-seconds to spare and know how to push a simple button, you can create a meal that will turn your body into a hyper-efficient fat-burning machine. Smirnoff whips up her drinks with frozen fruit, like cranberries or blueberries, which both pair wonderfully with healthy drink staples like vegan protein powder, almond milk, and kale. For more than 150 delicious ways to sip your way slim, pick up a copy of Zero Belly Smoothies!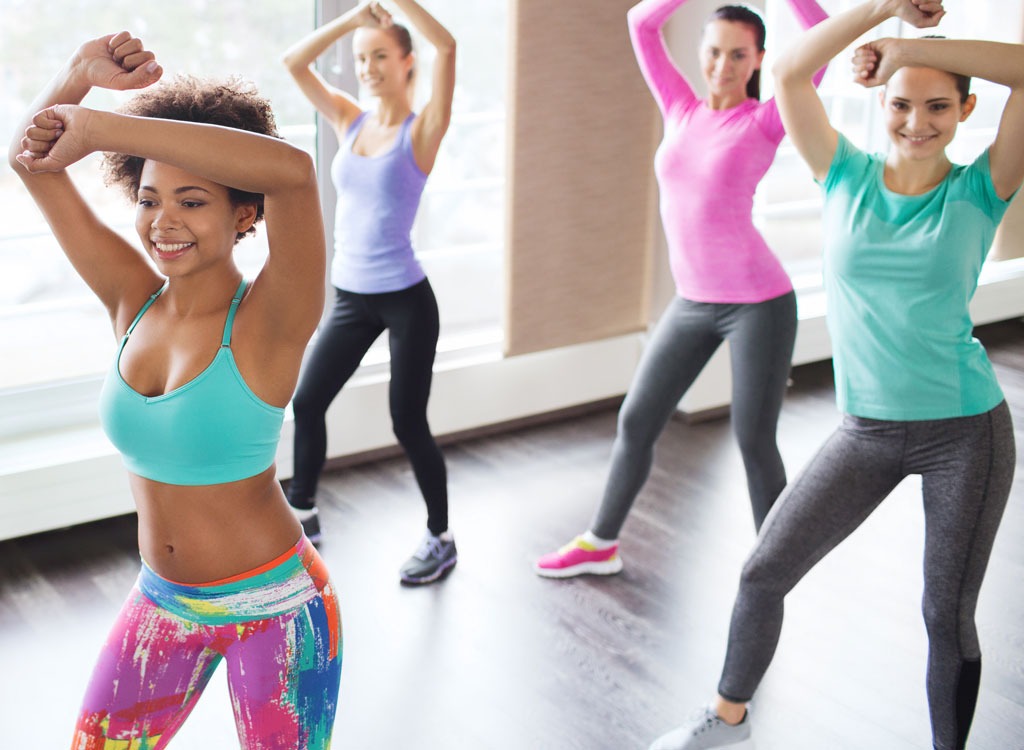 Last year, top-ranking UFC fighter and DWTS season 22 runner-up Paige VanZant shared her top slim down secrets with Eat This, Not that! The one tip that stood out above the rest? Make fitness fun! It may sound cliché, but it's actually a vital key to long-term health and fitness. And that's because if your exercise regimen isn't fun or enjoyable, the odds that you'll stick with it are pretty darn low. "To keep things interesting, find a fun kickboxing class or another workout or class you enjoy, suggests VanZant. "Whether it's a weight lifting by yourself or a weekly Zumba class with your friend, it doesn't matter. Just find something you like that keeps you active." For more of VanZant's sage wisdom, check out these 15 Hot Body Tips from Paige Vanzant!
Have a Go-To Healthy Order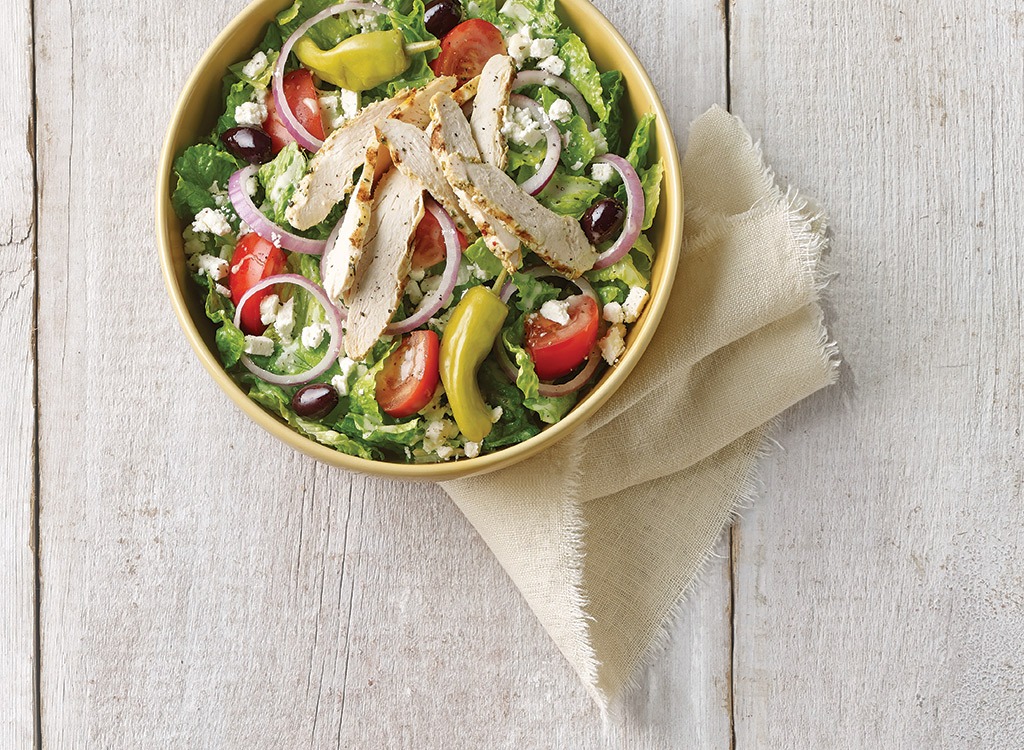 Emmy Nominated dancer and choreographer, Chelsie Hightower, appeared for seven seasons on DWTS—so it should be no surprise that she's quite accustomed to staying healthy on the go. Filming and practicing is super time consuming! When she's out of town or in a situation where dining out is her only option, she'll typically order a salad with chicken. "You can get that anyplace, including fast-food restaurants," she explains in a Fitness interview, adding, "And I always carry almonds and red seedless grapes with me for snacking." For more healthy restaurant orders, check out our special report, 35 Tips to Eat Healthy at Restaurants.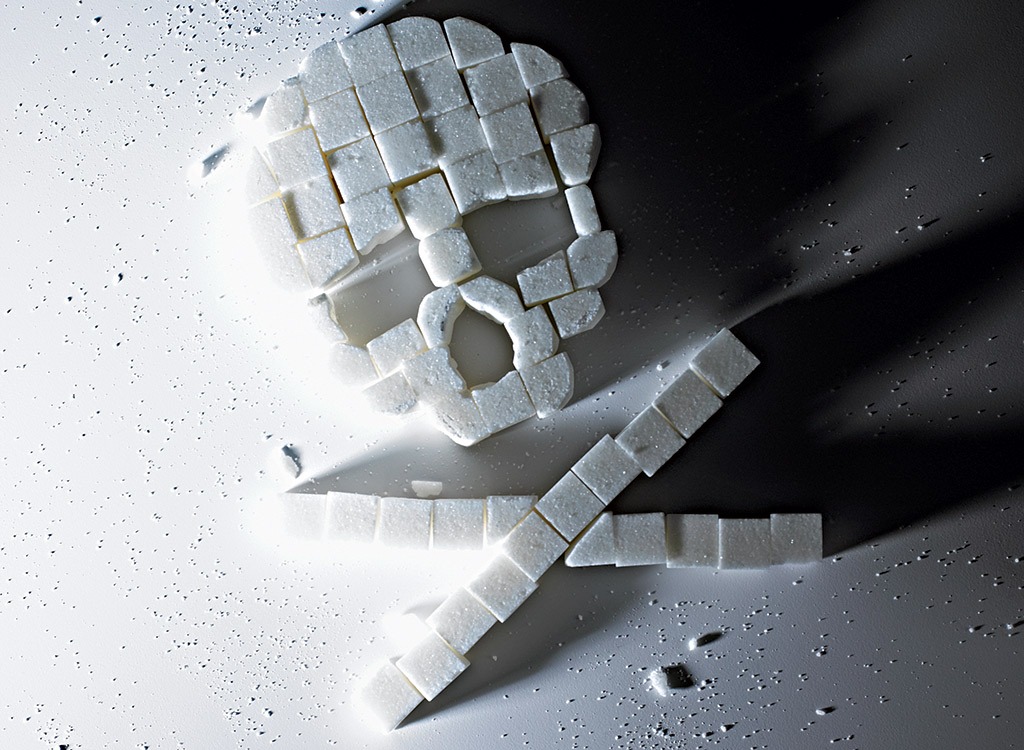 Though Hough has appeared on countless fitness magazine covers wearing everything from sport bras to bikinis, that doesn't mean she's never struggled with her weight. When she stopped dancing and started filming "Burlesque" she gained 20 pounds. "I never prioritized time to work out, and I still ate whatever I wanted. That's the most I've ever weighed in my entire life," the 28-year-old told Self. And she didn't love how the extra pounds made her feel. "I really [wanted] to get back to…how I know I feel the best," she explains. To lose weight, she focused on increasing her protein intake and drastically cut back on the amount of added sugar (which can lurk everywhere from ketchup and tomato sauce to healthy looking cereals and snack bars) and gluten she allowed into her diet.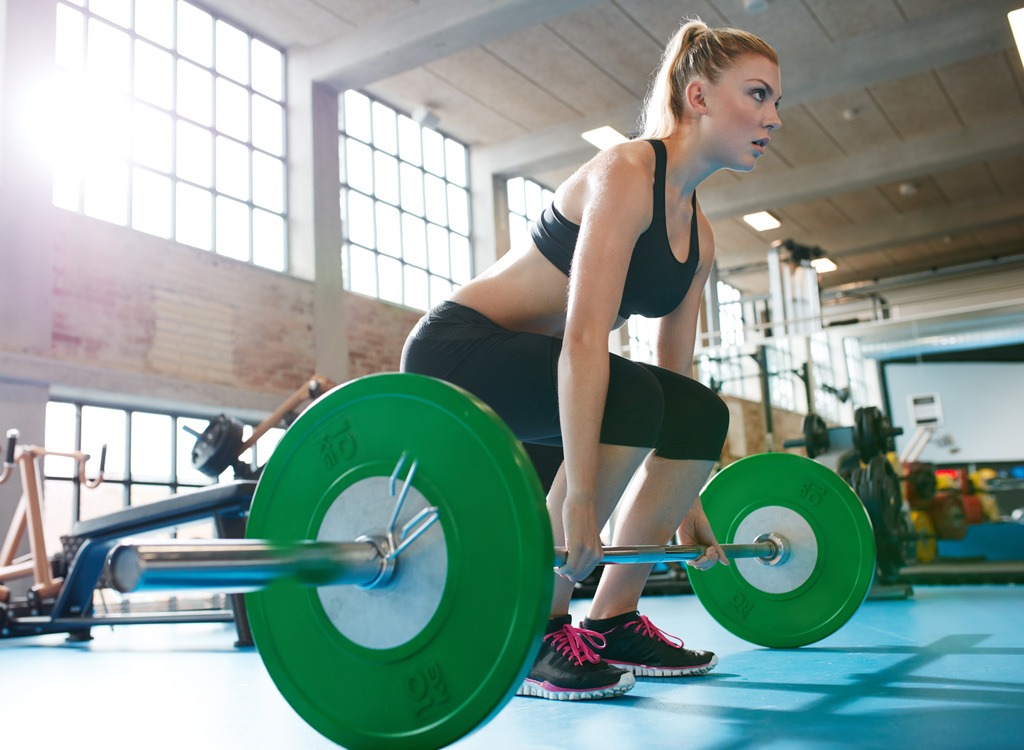 After 19 consecutive seasons, Mark Ballas is taking some time away from Dancing With the Stars to play Frankie Valli in the last few months of Jersey Boys' Broadway run. Though his day-to-day has changed, Ballas stays fit by mixing up his fitness routine and tailing it to his complement his work schedule. "If I dance in the morning, I won't do cardio when I go to the gym because dancing for four to five hours gets you pretty warm! Usually, we do a lot of TRX and core work and weightlifting, too," he says of his weekly workouts. By varying his routine, he keeps his muscles guessing—and growing.
Let's be honest; going to the gym can be a total drag. Even if you belong to one of the swankier ones, there's something about staring at the wall while you're picking up heavy things and putting them down that's a bit "blah." To mix things up a bit so you don't fall off the fitness bandwagon altogether, VanZant suggests breaking a sweat somewhere outside with Instagram-worthy scenery. "Go on walks or hikes somewhere with pretty scenery or find a place that's peaceful where you can enjoy being active in the environment," VanZant tells us. "When you surround yourself with sights you enjoy, it distracts from the fact that you're working out." For more fun and creative ways to blast away calories outside the gym, check out these 19 Ways to Burn 100 Calories Without a Gym.
Don't Compare Yourself to Anyone Else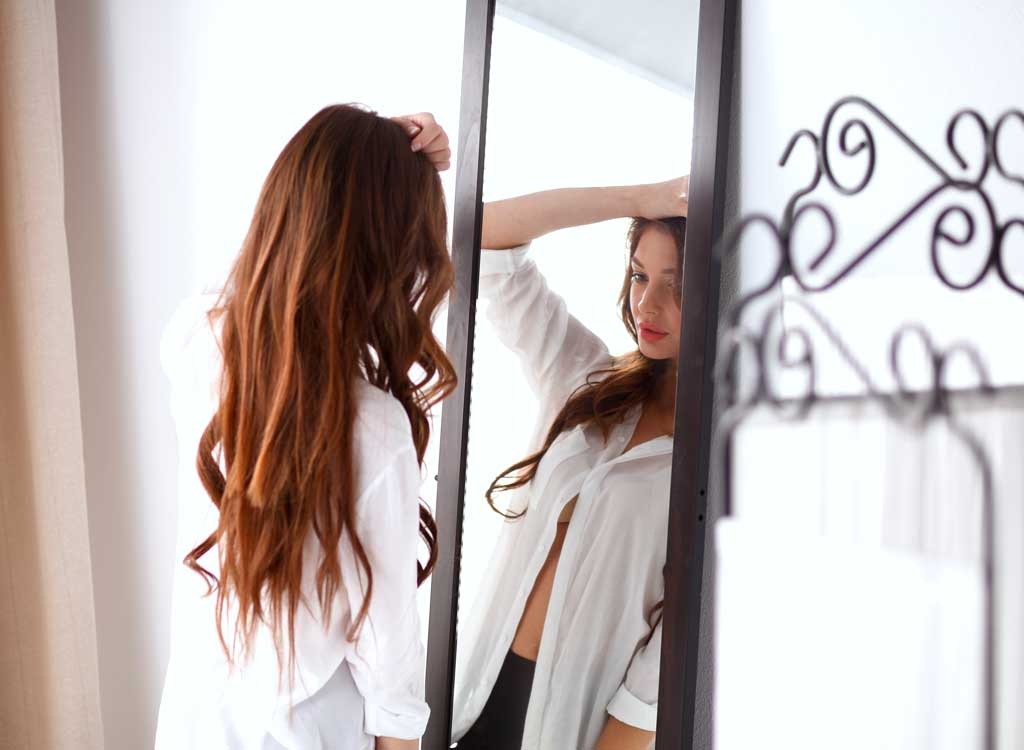 After shedding 20 pounds during her stint on DWTS, Kelly Osbourne, who voices Hildy on the Disney Channels' animated show The 7D, lost an additional 50 pounds! Though she's far more confident with her body now than she ever was before, she still has bad days like everyone else. To power through those moments, she remembers her personal mantra: Don't compare yourself to anybody else. "It's okay to have a healthy envy and look up to somebody and set goals, but you have to realize that you're never going to be exactly that person. Wishing you were Angelina Jolie or J.Lo isn't going to change the fact that you're not," she told Self. "The only thing I can be is me. I'm not perfect. I make mistakes. And my body is not perfect, either, but I love it." For more mantras that can help keep you motivated, check out our special report, 25 Weight Loss Mantras Nutritionists Swear By.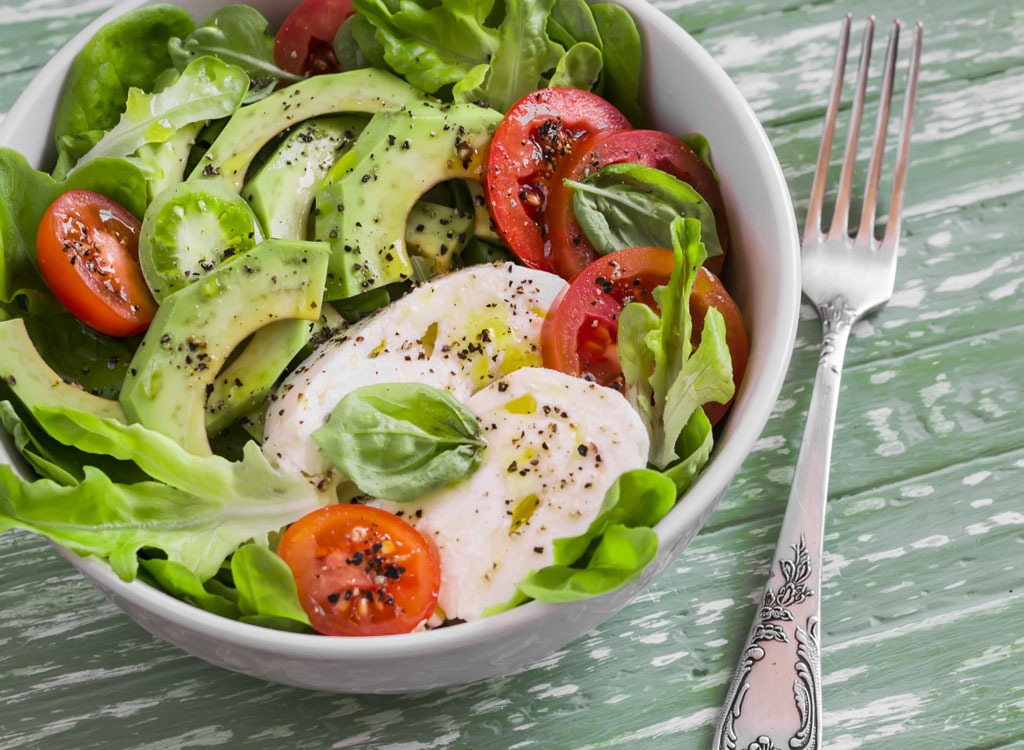 In her new book, The 5-6-7-8 Diet, Johnson details the diet that's helping her maintain her strong and svelte figure. The creative title plays homage to the dancer's cue and also helps to explain Johnson's daily diet which includes 5 servings of protein, 6 servings of fruits and vegetables, 7 servings of anti-inflammatory foods and 8 glasses of refreshing H20.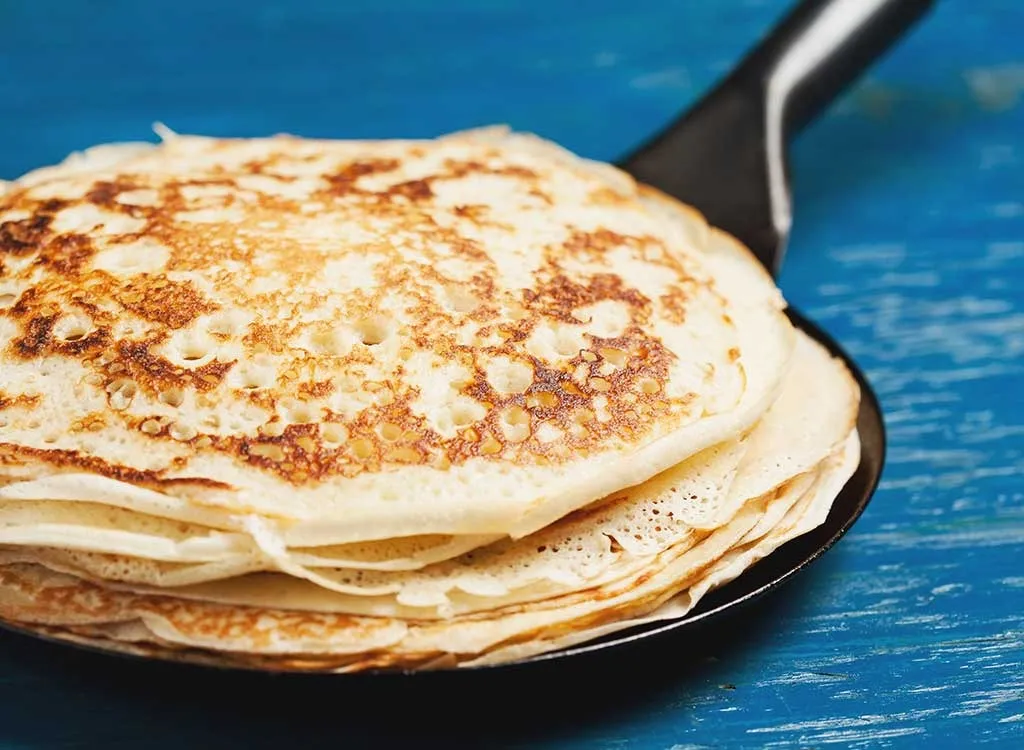 Johnson's book also includes tips for healthifying indulgences like pancakes! To make her grain-free morning treat, combine a mashed banana with two beaten eggs, in a bowl. Add a pinch of baking powder and cinnamon, and thoroughly mix the ingredients. Next, grease a frying pan with coconut oil and pour the batter into the pan to form pancakes. Cook until bubbles form on the surface and the bottom begins to brown. Flip the pancakes and cook for another minute and serve with maple syrup. If those healthy flapjacks sound too good to be true, don't miss these 14 Healthy Breakfast Recipes that Taste Like They Should Be Unhealthy. There are so many ways to eat what you love and slim down, too!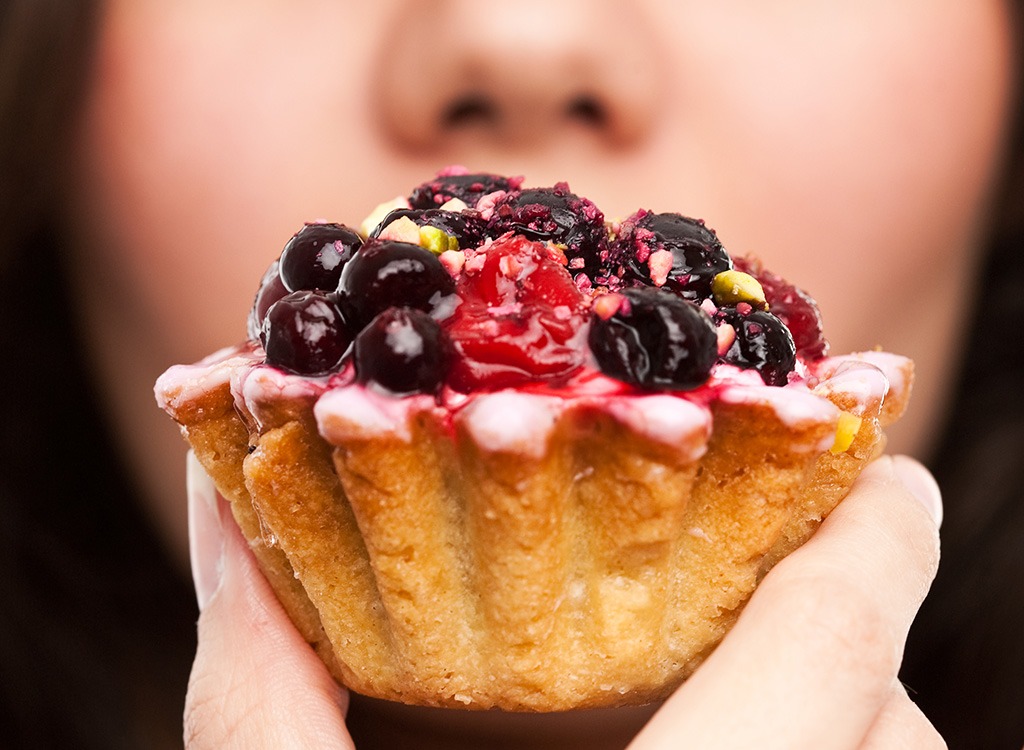 6254a4d1642c605c54bf1cab17d50f1e
Another way VanZant stays on track with a healthy diet? She eats dessert. Yup, you read that correctly, cookies, cakes, the works! But she doesn't go overboard with the stuff. "Whether you're trying to lose weight, or just want to stay fit and healthy, I think it's important to treat yourself in moderation," VanZant tells us. "If I deprive myself of good treats then I'm not happy, and when I'm not happy it's hard to stay positive. When I allow myself sweets in small amounts, it also prevents binge eating, which makes me feel sick afterward." To eat your cake and lose weight, too, stock up on these 20 Healthy Desserts for Weight Loss.
If It's Man-Made, Skip It
"If it's man-made, don't eat it" advises Chmerkovskiy, who eats a diet of grass-fed meats and organic, GMO-free fruits and vegetables. "Processed foods are an addiction, and when you're hooked on them, it's hard to imagine quitting. But once you do, you won't want to go back. You'll quickly see that this is what the body wants and needs," he explains. "And you don't have to live on lettuce like a rabbit—there are so many fresh, natural, delicious foods out there that you'll never feel bored or deprived."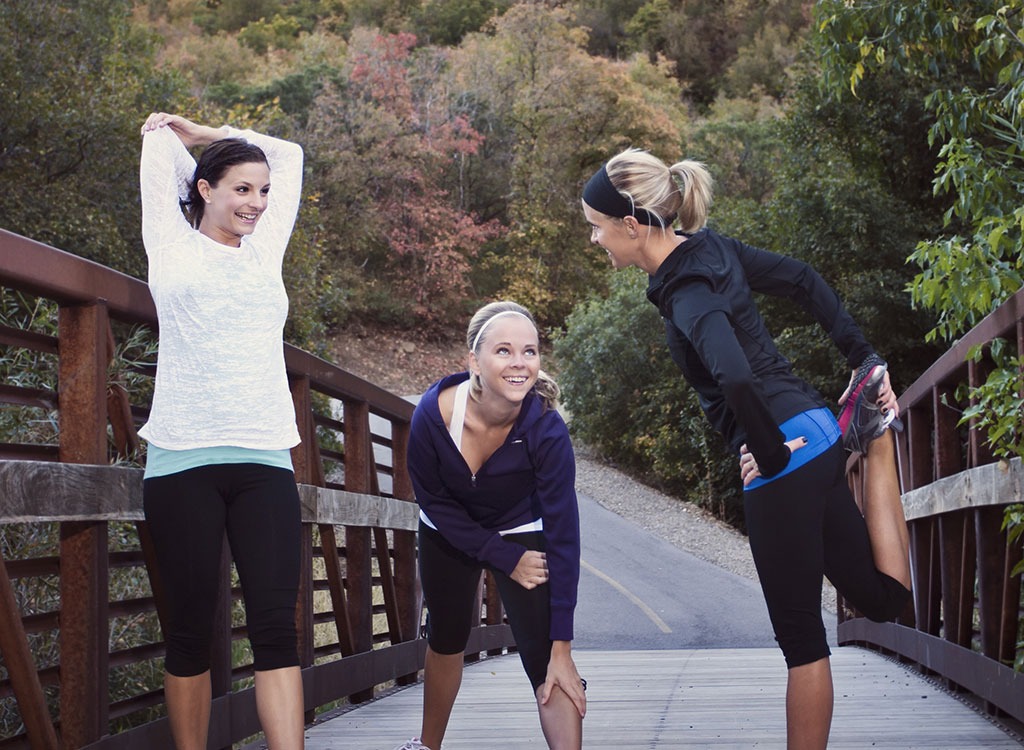 Now that Osbourne is simply working out and eating right to maintain her weight loss, she stays motivated and on track by incorporating the people she loves spending time with into her fitness routine. "My girlfriends and I just started doing plyometrics," she said in an interview. "It's a killer—it hurts so much. But when you walk out of there, you're like, 'I can't believe I just did that and my body looks this good."