23 of the Best Things You Can Only Eat at Disney World
The Happiest Place on Earth has a whole lot of magical treats.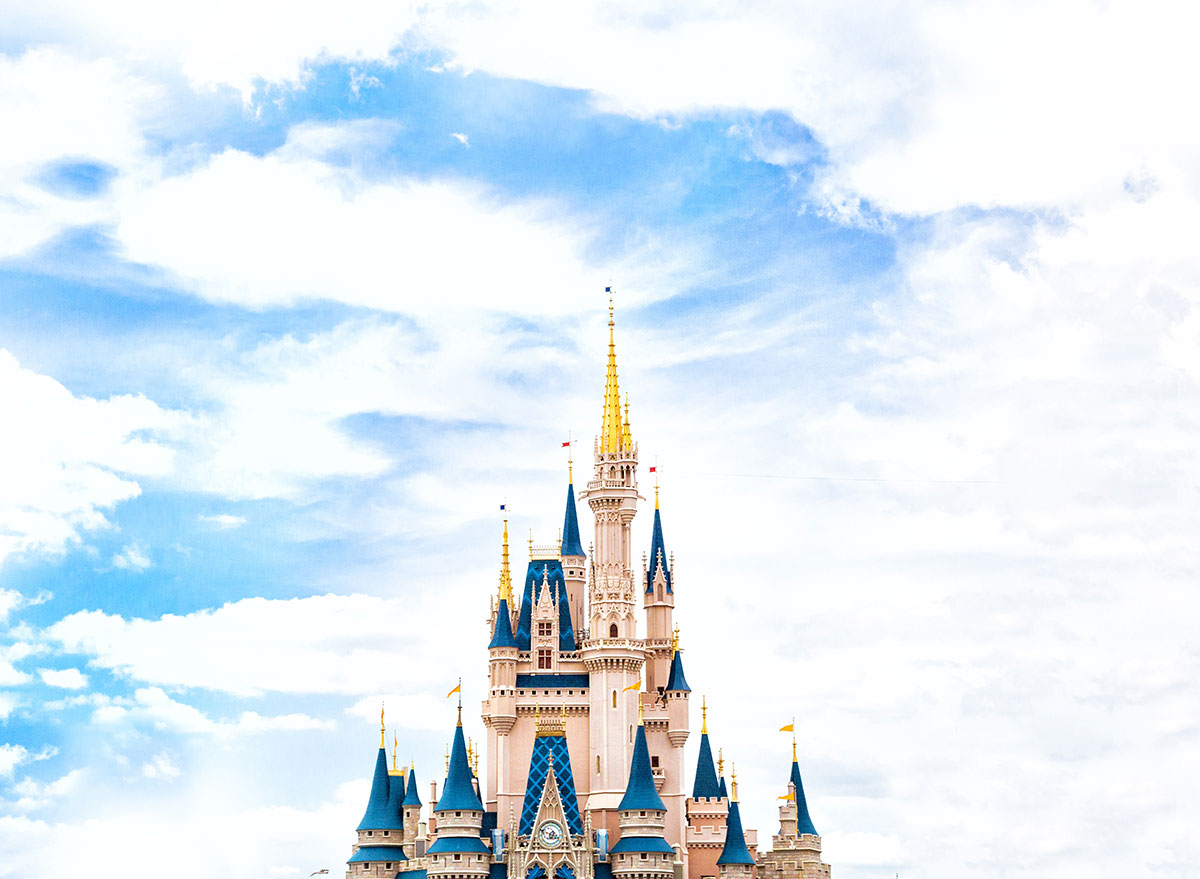 If you ask us, we're not sure what we think is the best part about Walt Disney World. Obviously, the atmosphere is magical, the rides are thrilling, and the characters brighten up the day. But then there's the food. Oh, the food. Disney World is absolutely known for its truly next-level treats you can chow down on in-between meeting Mickey Mouse and riding Space Mountain.
Spanning all four parks—Magic Kingdom, EPCOT, Hollywood Studios, and Animal Kingdom—the food options are practically endless. There are neon-colored fruit drinks, decadent desserts, and all the Mickey-shaped deliciousness your heart desires. Better yet, everything Disney serves is perfectly Instagrammable, so get your phones and bellies ready: we're breaking down the 23 best foods and drinks Walt Disney World has to offer.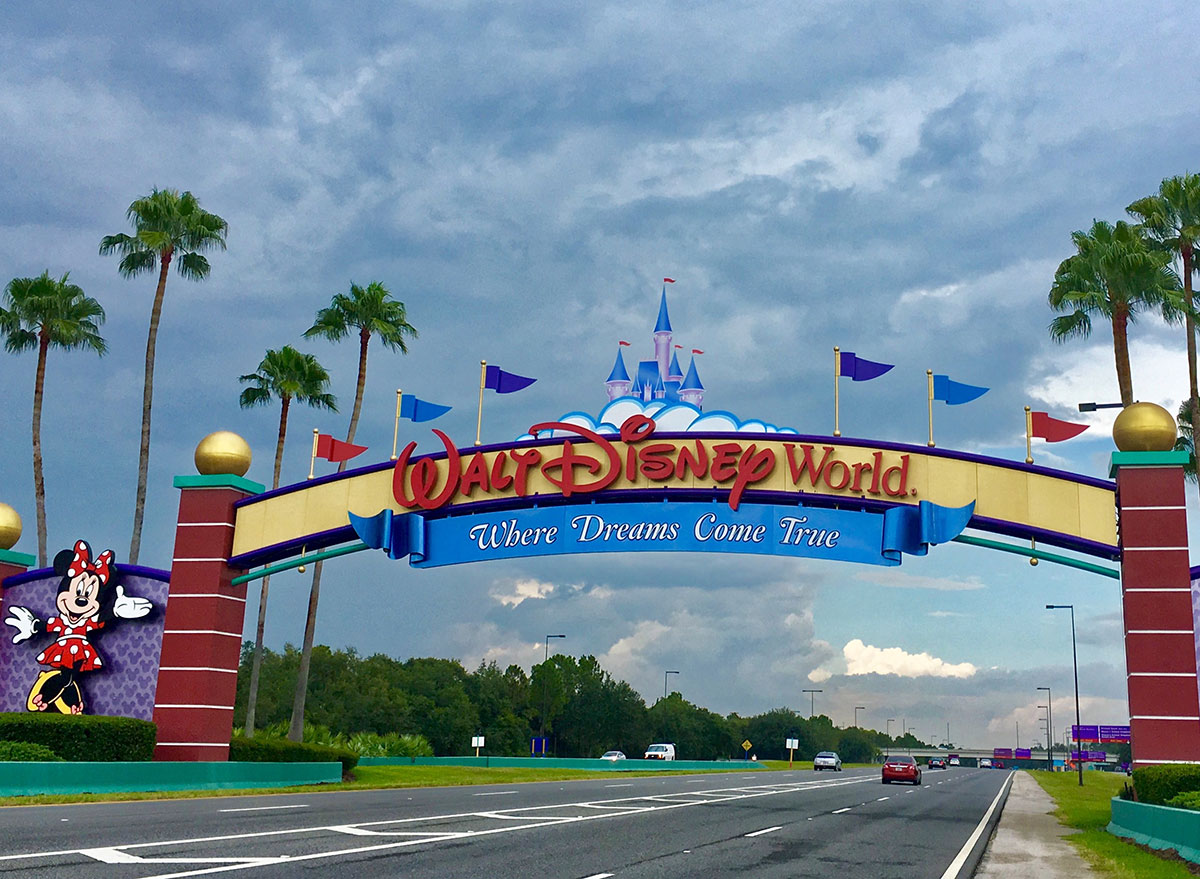 Caramel Mickey Krispy Treat at EPCOT
You can find Mickey Krispy treats all over Walt Disney World and even at Disney Springs, but the Caramel Mickey Krispy can only be found at EPCOT. The crispy snack on a stick is dipped in chocolate and drizzled with Werther's caramel to make the ultimate, decadent Mickey-shaped delight while you're walking around the park.
Dole Whip at Magic Kingdom
If you go to Walt Disney World and don't get a Dole Whip or a Dole Whip Float, did you actually even go? It's seriously an absolute classic, and it can be found at Aloha Isle in Magic Kingdom. You can opt for the pineapple soft serve or add the pineapple juice to make it a float, but either way, this is a must-have on every visit.
Mickey Pretzel at All Parks
All the treats worth mentioning at Walt Disney World are shaped like its iconic Mickey mascot, and the giant soft pretzels are no different. You can find these all over the Disney property, and they're big enough to share. You may not want to, though, because they're so soft and delicious, you'll for sure want the whole thing yourself.
Night Blossom in Animal Kingdom
This Avatar-themed drink at Pongu Pongu in Animal Kingdom will light up your Instagram feed in an instant—and it's delicious! It's neon colored and has flavors of apple and pear with passion fruit boba. You can even get it in a souvenir glass, because who doesn't love anything that comes in a souvenir glass you can use again later?
Cheshire Cat Tail at Magic Kingdom
The perfect way to start your day in Magic Kingdom is with a Cheshire Cat Tail from the Cheshire Cafe. This pastry is filled with cream and chocolate chips and drizzled with colorful icing that adds an extra dose of sweetness. Pair it with the cold brew you can also get at the Cheshire Cafe, and you're in for an excellent day at the park.
You can't go wrong with a classic churro when you visit Walt Disney World. The best part, though, is that the parks serve up seasonal offerings and special-edition churros. Yes, special ones! There have been pumpkin-spice, Star Wars-themed, festive holiday variations, and even s'mores churros. No matter when you go to Walt Disney World, you're guaranteed to find some sugary sweet churro offering.
Mini Mickey Waffles at Animal Kingdom
It doesn't get a whole lot cuter than a plate full of mini Mickey waffles. You can get a literal bunch of them when you dine at Tusker House at Animal Kingdom, and each waffle is cuter than the next. They're light and fluffy and look rather adorable on the 'gram.
Mini Corn Dogs at Magic Kingdom
Not everything has to be cute and kitschy to be delicious at Walt Disney World, OK? Sometimes, you just want to indulge in a snack that simply tastes good and will fill you up, and for that, there are mini corn dogs at Casey's Corner in Magic Kingdom. Get them with a side of fries, and you'll be set until you decide you want a cupcake or a Dole Whip or chocolate-covered marshmallow, or a Mickey ice cream bar, or, well, you get it.
Mickey Ice Cream Bar at All Parks
The weather in Orlando, FL, is always perfect for a Mickey Ice Cream Bar because it's pretty much always hot and humid. These delightful treats can be found anywhere and are the simple combination of vanilla ice cream with a crunchy chocolate coating. You'll need to eat it quickly on hot days, though, because Mickey melts fast!
Mr. Kamal's Fries at Animal Kingdom
These fries are a must if you're in Animal Kingdom, and they come from a little food cart called Mr. Kamal's behind the Tree of Life. The seasoned fries are topped with tzatziki sauce and sriracha and are just as cooling as they are fiery—a delicious combination! Grab them on your way between Africa and Asia for a snack on the go.
Blueberry Cream Cheese Mousse at Animal Kingdom
Animal Kingdom is truly the place to get the most epic and Instagrammable treats. This blueberry dessert—which you can find at Satu'li Canteen in the Pandora section of the park—is almost too pretty to eat … but eat it, you must! The blueberry is paired with passion fruit and a touch of meringue for a decadent end to your meal.
Macaron Ice Cream Sandwich at EPCOT
Stop by the France pavilion at EPCOT to get a fresh macaron ice cream sandwich. The cookies are light and crisp, and they're the perfect complement to a refreshing scoop of ice cream. This is just one of the many places you can find macarons on property, but France is probably the best place to find a French cookie, no?
Fresh Fruit Waffle Sandwich at Magic Kingdom
Sleepy Hollow in Magic Kingdom is the place to find this ridiculously delicious waffle sandwich that's more dessert than anything else. It's a giant waffle with chocolate hazelnut spread and fruit on top, or, as we like to call it, a slice of heaven on a napkin.
Blue Raspberry Drink at Magic Kingdom
Yet another vibrantly hued drink you can find at Walt Disney World is this blue concoction at the Lunching Pad at Magic Kingdom. It's very similar to a traditional Icee, but stick a Mickey straw in it and serve it at Disney, and it's just a whole new world.
Cinnamon Roll at Magic Kingdom
A cinnamon roll is such a simple pleasure in life, and the ones from Gaston's Tavern in Magic Kingdom are so much more than a simple joy. They're ooey, gooey, buttery, rich, sweet, and basically all the good things that come to mind when you think of a fresh cinnamon roll. They might be a bit much for breakfast, but they're a perfect afternoon snack.
Dulce de Leche Milkshake at Magic Kingdom
What's even better than a rich dulce de leche milkshake? A rich dulce de leche milkshake with a slab of bacon in it! That's exactly what you'll get at Golden Outpost in Magic Kingdom. The shake is creamy and refreshing, ideal on a hot Orlando day. And we all know bacon just makes everything better.
Spring Rolls in Magic Kingdom
The spring rolls you can find at the Spring Roll Cart in Magic Kingdom are far from your average snack. Some of the favorites include cheeseburger spring rolls and bacon mac and cheese ones, and each option is better than the last. From what we hear, though, these sell out quickly, so maybe they should serve as breakfast on your next visit!
Baked Mac and Cheese at Animal Kingdom
Baked macaroni and cheese. Pulled pork. Onion rings. Coleslaw. Basically, everything you could ever want in a dish. That's what the mac and cheese from Flame Tree Barbecue in Animal Kingdom is all about. It's also topped with an extra dose of barbecue sauce because obviously, that's just necessary.
Yet another great pick from the France pavilion at EPCOT is the Napoleon. This treat has layers of flaky pastry and custard cream, all in a delicious little dessert. It's a favorite among park goers, and it's not hard to see why.
The Grey Stuff at Magic Kingdom
Try the Grey Stuff—it's delicious! No, but really, there are a few versions of the Grey Stuff at Be Our Guest in Magic Kingdom, and they all live up to Lumiere's praises. This cupcake is a cookies and cream creation with tinted frosting, but even its grey hue can't make it look unappetizing, thanks to the delicate swirls and beautiful pearls.
Buffalo Chicken Chips at Animal Kingdom
In case you haven't noticed, Animal Kingdom is packed with some stellar food options. These Buffalo Chicken Chips can be found at Trilo-Bites and feature seasoned chips that are topped with buffalo chicken, arugula, celery, tomatoes, bleu cheese crumbles, and dressing. We're already drooling.
Loaded Baked Potato at Hollywood Studios
There are a couple of places where you can find a loaded baked potato in the parks, and one of them is Fairfax Fare in Hollywood Studios. These monster taters come with cheese, sour cream, bacon, and chives, and it's pretty much an entire meal in itself.
Giant Turkey Legs at All Parks
No Disney food list would be complete without acknowledging the giant turkey legs that are synonymous with theme parks. You can find them in a few places at Walt Disney World, so you'll easily be able to scope out where to order one of these guys. The huge meaty meal will keep you full for quite a while, and it looks practically prehistoric in your hand. So fun!
Hedy Phillips
Hedy is a freelance writer with years of experience covering buzzy food trends, wellness, and weight loss.
Read more about Hedy