19 Healthy Meals to Eat at Walt Disney World in 2020
Skip the giant turkey legs and try these healthy—and even vegan!—dishes at the Happiest Place on Earth.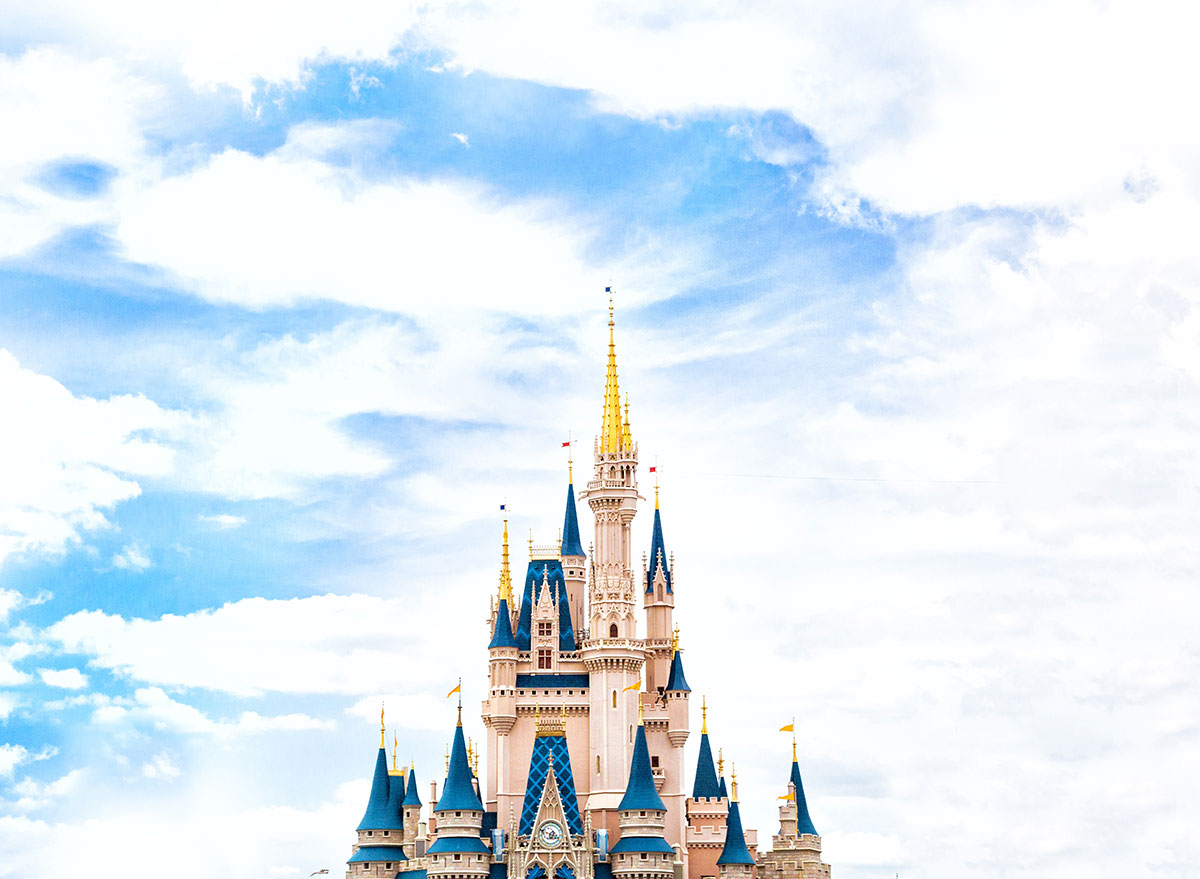 Walt Disney World is a joyful wonderland filled with your favorite animated characters and thrill-seeking rides. And though you may feel like a kid again once there, your metabolism will be there to remind you that you are, sadly, still an adult. And hey, we get it, resisting all the colorful, delicious food temptations of the beloved park is hard. So definitely treat yourself to a Mickey-shaped pretzel (you're on vacation, after all!), but try not to live off corn dogs, giant 1,000-calorie turkey legs, and funnel cakes the whole time you're there. It's a good way to ensure you'll be coming home a few pounds heavier.
But that needn't be the case! Over the years Disney World add quite a few healthy meal options to their lineup—you'll find plant-based and vegetable-forward options at their fast casual, grab-and-go, and sit-down restaurants across all four parks. So whether you're watching your weight or simply craving some veggies among the crazy utopia of sugar and festive fast food, there's definitely something for you here.
We've made a list of our favorite healthy meals at Disney World that will help you eat better at each of its four parks.
Eating Healthy at Magic Kingdom
Plant-Based Sloppy Joe at Cosmic Ray's Starlight Café
At Cosmic Ray's in Tomorrowland, they use plant-based beef crumbles tossed in the classic sweet-and-tangy sauce for a plant-based Sloppy Joe. Although it comes on a bun, you could ask for lettuce cups instead, and substitute a Cutie mandarin orange or GoGo squeeZ instead of fries (those are normally offered on the kids' menu).
Shiriki Noodle Salad at Skipper Canteen
This popular Adventureland restaurant has a noodle salad with edamame beans, mushrooms, green mango, and cucumber tossed with a sweet chili sauce for a refreshing and light bite. If you want something more warming, try tofu pad thai or veggie coconut curry. For dessert, the Panna-Connie's Congo Lime Delight is served with mango-lime sorbet and fresh fruit, and can keep your sweet tooth in check when you are craving a Mickey Mouse ice cream bar.
Lettuce Wraps and Plant-Based Cheeseburgers at Tomorrowland Terrace Restaurant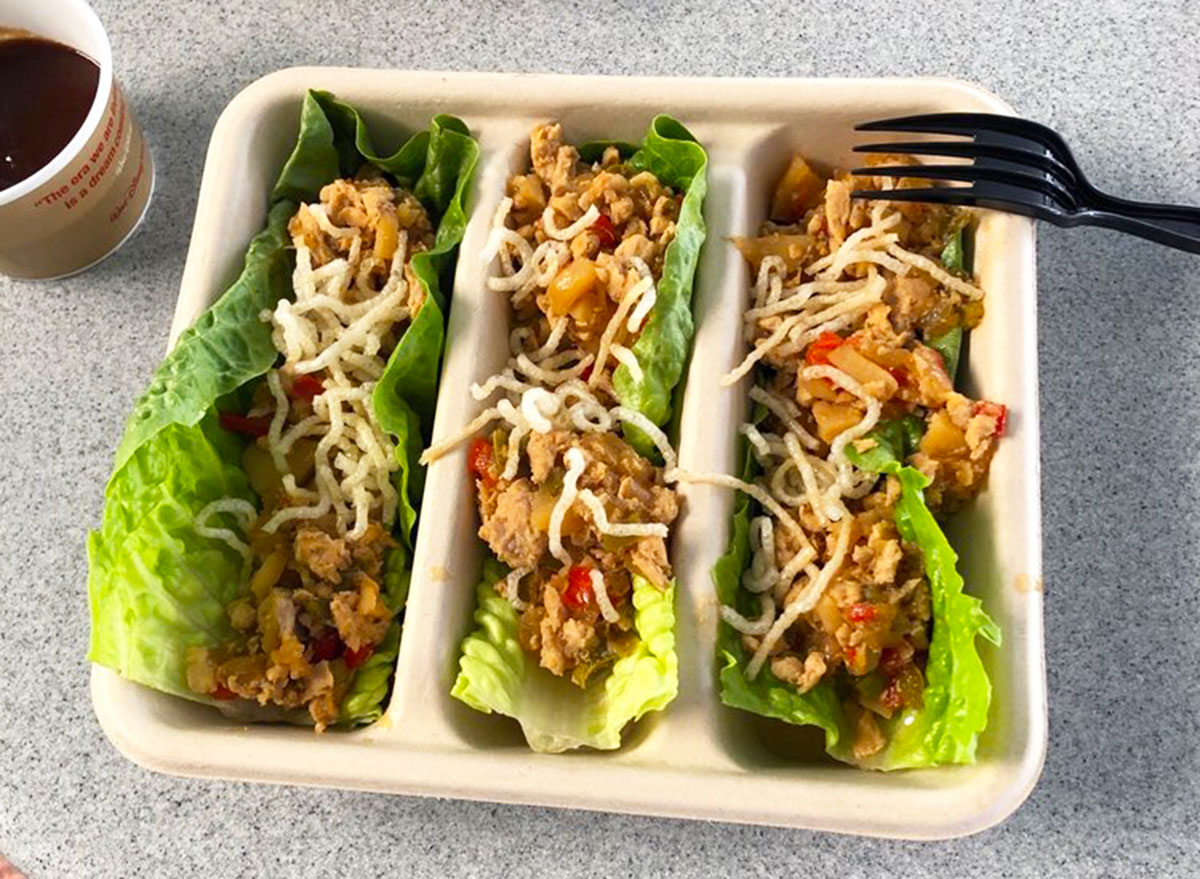 The food of the future in Tomorrowland features lettuce wraps stuffed with hoisin chicken and crispy rice noodles, and a new plant-based BBQ cheeseburger with BBQ vegan aioli, vegan cheddar cheese, and onion straws on a pretzel bun. You can ditch half of the bun and go open-faced, and opt for apple slices instead of fries.6254a4d1642c605c54bf1cab17d50f1e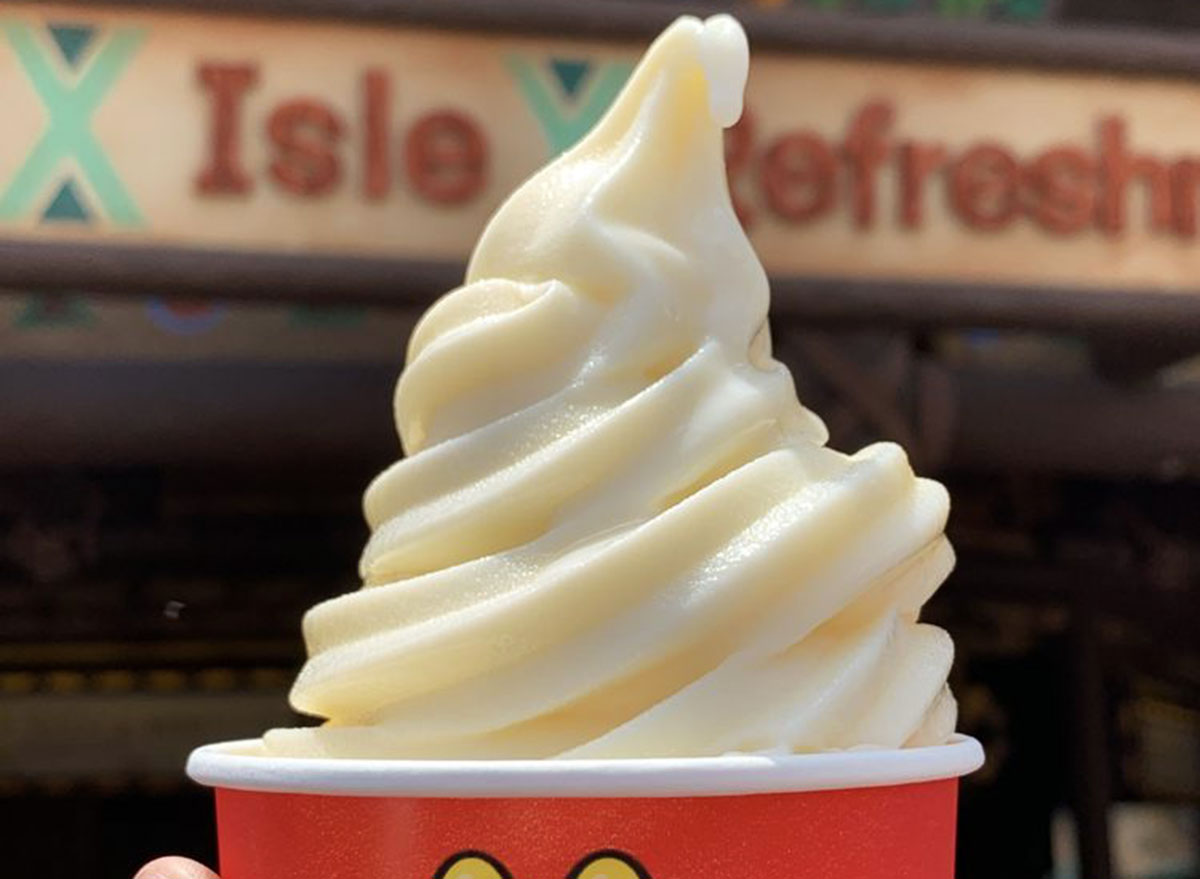 At Aloha Isle, a dessert stand located in Adventureland, you can get this dairy-free soft serve, made with pineapple juice and water, like a sorbet. At only 90 calories a serving, it's one of the lightest dessert options at the park!
Southwest Salad at Pecos Bill Tall Tale Inn and Café
In Frontierland, you can find a satisfying and hearty Southwest Salad. A big bowl of mixed greens is topped with seasoned chicken, roasted corn and bean salsa, tomatoes, and tortilla crisps. Some other healthy options at Pecos Bill are a yellow rice bowl with roasted vegetables and black beans; a plant-based Southwest Cheeseburger with vegan jalapeño jack and vegan avocado aioli; and Bibb lettuce cups filled with jerk chicken and vegetable slaw and tossed with soy-lime vinaigrette.
Lighthouse Sandwich at Columbia Harbour House
Before hopping on the Haunted Mansion, grab a Lighthouse Sandwich in Liberty Square—hummus with tomato and broccoli slaw on toasted multigrain bread. They also offer tuna salad on the same multi-grain bread, and a Harbour Salad with mixed greens, shredded cheddar cheese, apples, cucumber, onion, chicken, and apple cider vinaigrette.
Loaded Plant-Based Slaw Dog at Casey's Corner
Casey's Corner on Main Street, U.S.A. is one of the most gluttonous places in Disney World. But they recently added two plant-based options to the menu! Try the Loaded Slaw Dog, a plant-based sausage topped with pickled slaw, barbecue vegan aioli, and roasted corn relish.
Eating Healthy at Epcot
Breakfast Power Wrap at Sunshine Seasons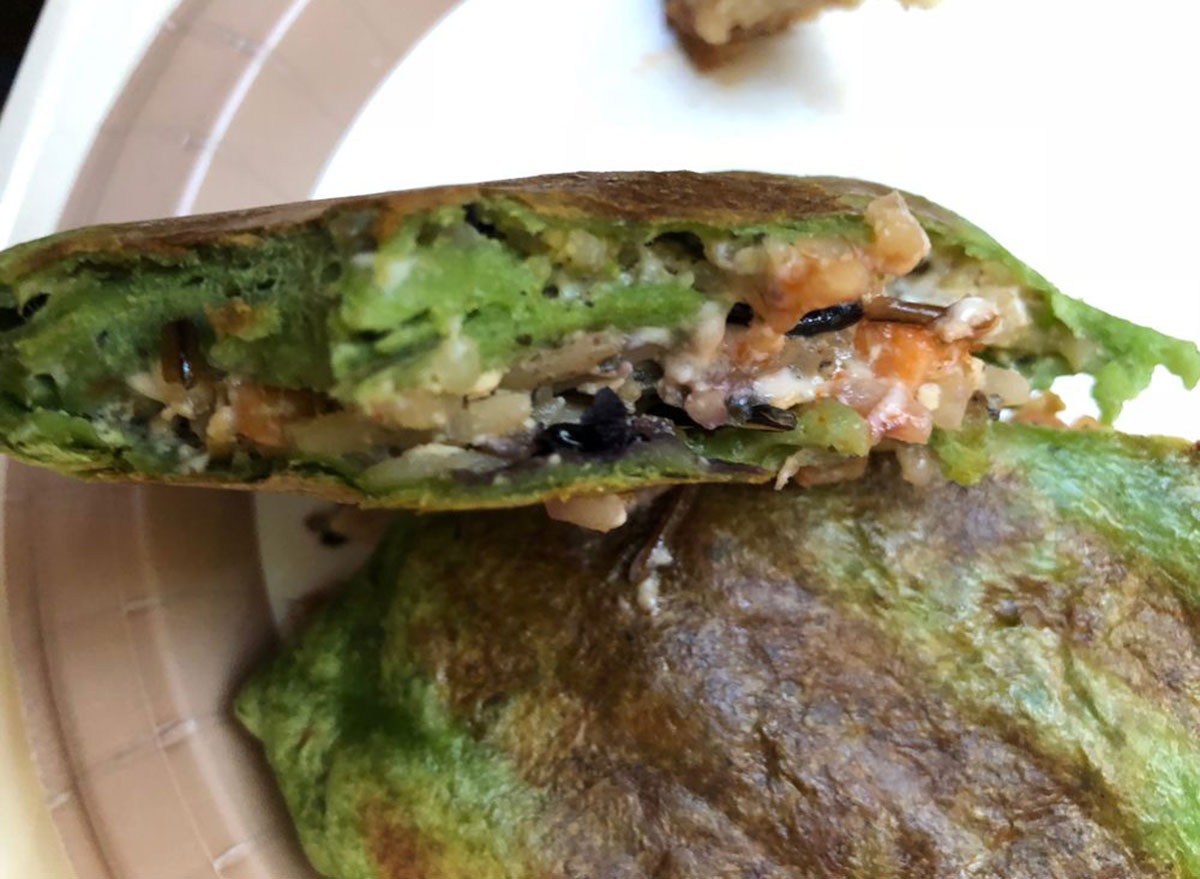 Wake up and smell the breakfast power wrap in Future World West at Epcot. It is full of heart-healthy ingredients packed with vitamins: wild rice, sweet potatoes, blueberries, avocado, and tofu. Later in the day, you can try a vegan flatbread sandwich with grilled vegetables and a side of potato salad or coleslaw, or sample their Power salad with oak-fired chicken, quinoa, almonds, and honey vinaigrette.
For a sit-down meal in the Japan Pavilion, check out Teppan Edo. Start with sashimi and sushi and move into lean proteins like chicken, shrimp, and salmon cooked on the teppanyaki grill right in front of you.
Mediterranean Vegetable Platter at Spice Road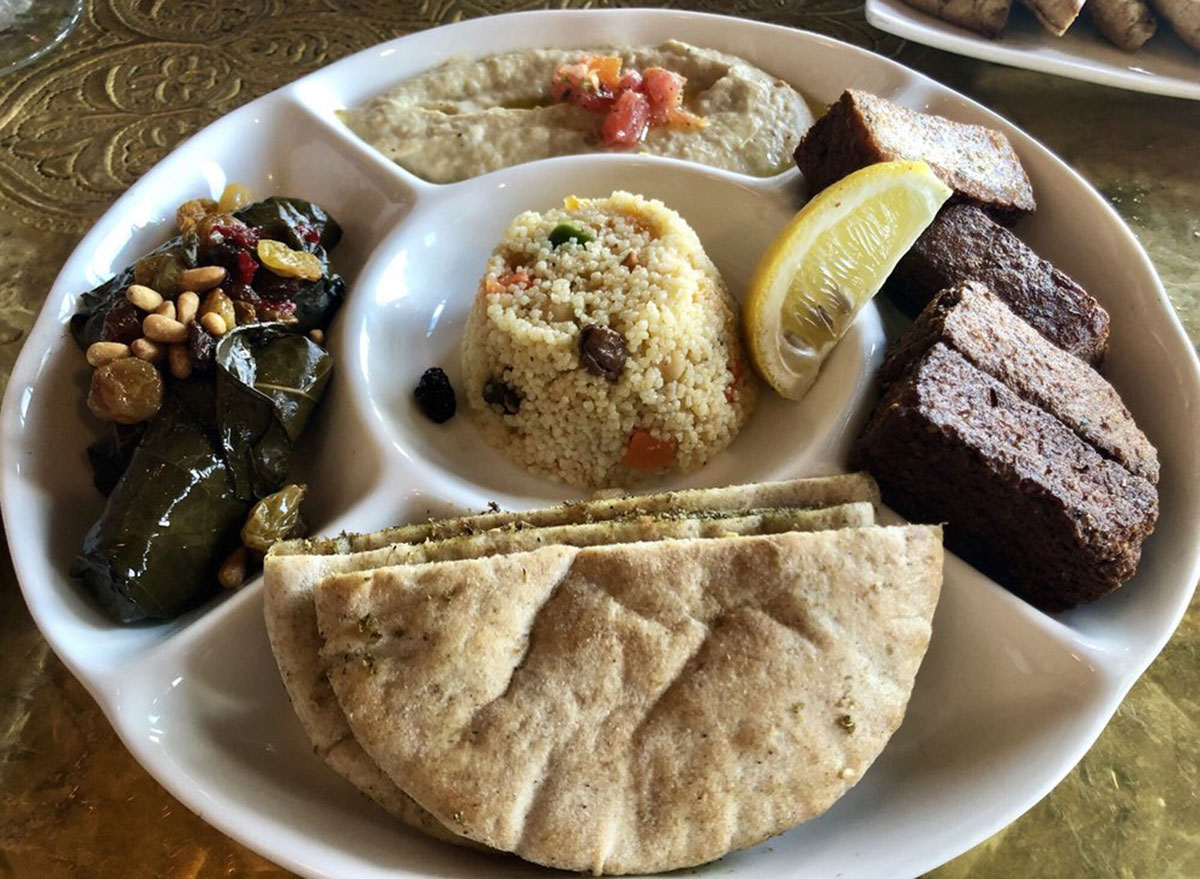 In the Moroccan Pavilion, the Mediterranean vegetable platter—featuring harissa hummus fries, rice stuffed grape leaves, mixed olives, and babaganoush with pita bread—is a great way to snack with your friends and family. Or get a tagine at the nearby Marrakesh Table: a fluffy couscous base with grilled meats (lemon chicken, shrimp, grouper) and vegetables.
Eating Healthy at Animal Kingdom
A Make-Your-Own Bowl at Satu'li Canteen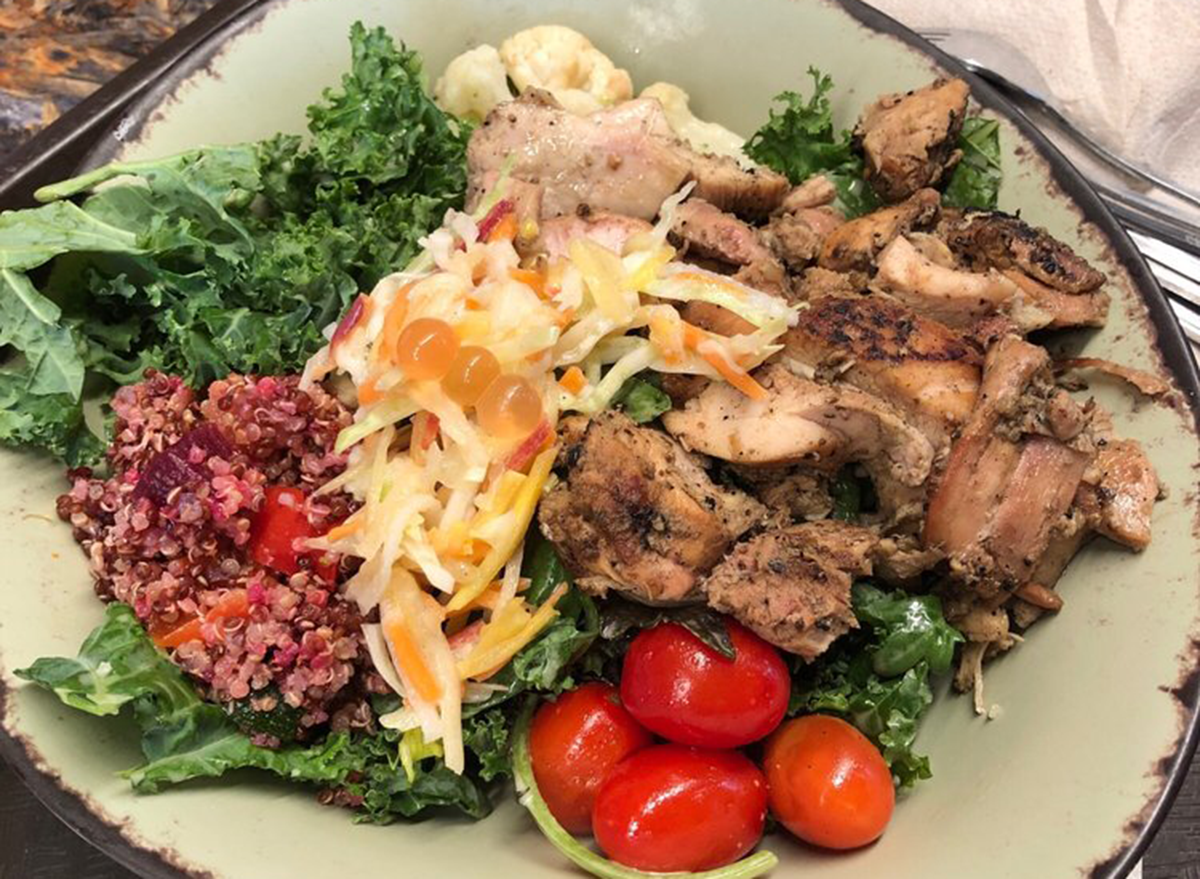 You don't have to be an all-blue creature to build your own bowl at Satu'li Canteen in Pandora. Choose a base of noodles, rice and black beans, red and sweet potato hash, or salad, and then pick a protein to put on top (wood-grilled chicken thighs, crispy fried tofu with chili spice, slow-roasted grilled beef, or shrimp). Finish with a sauce—black bean vinaigrette, creamy herb dressing, charred green onion vinaigrette—and crunchy vegetable slaw.
Roasted Vegetable Bowl at Harambe Fruit Market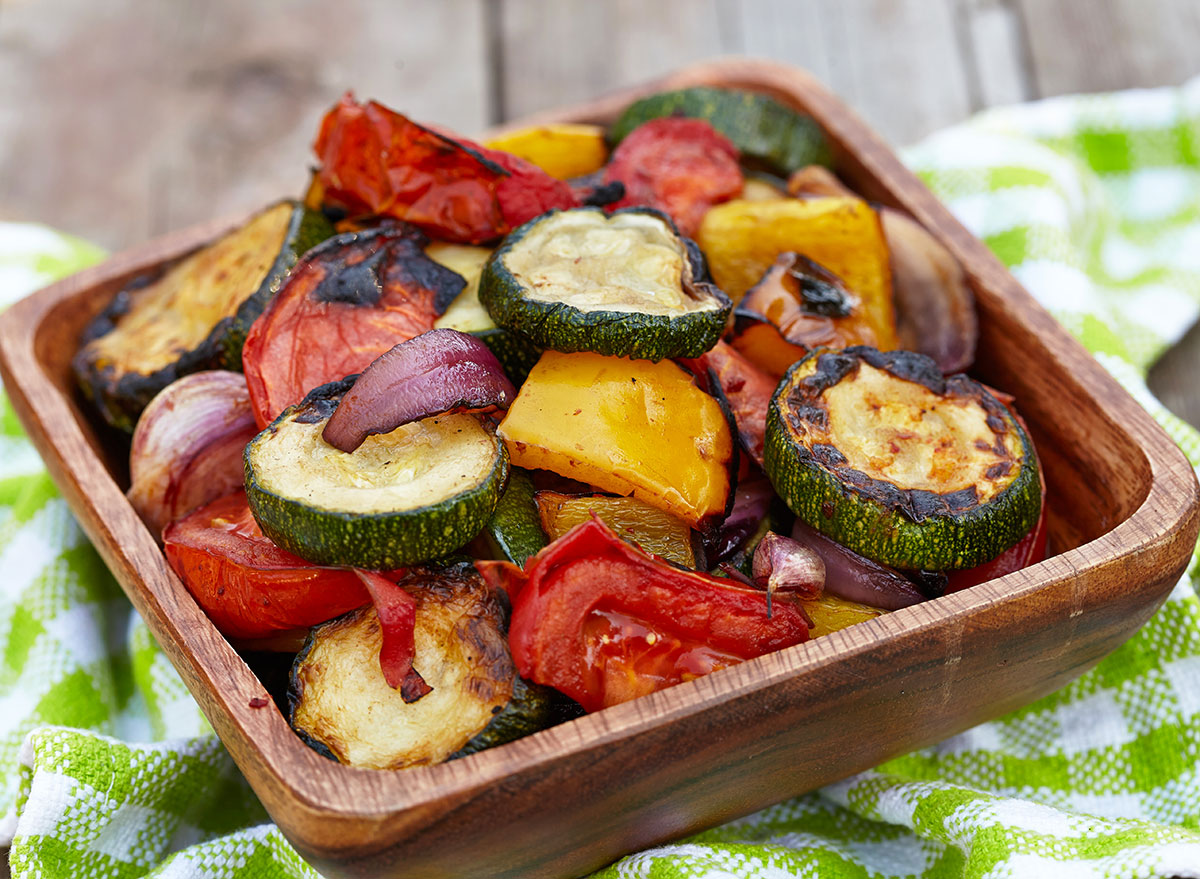 At this stand in Africa, you can pick up a corn on the cob, a Babybel cheese, or cut-up fruits. For something more filling, grab a roasted vegetable bowl with cilantro rice, salad greens, and salsa.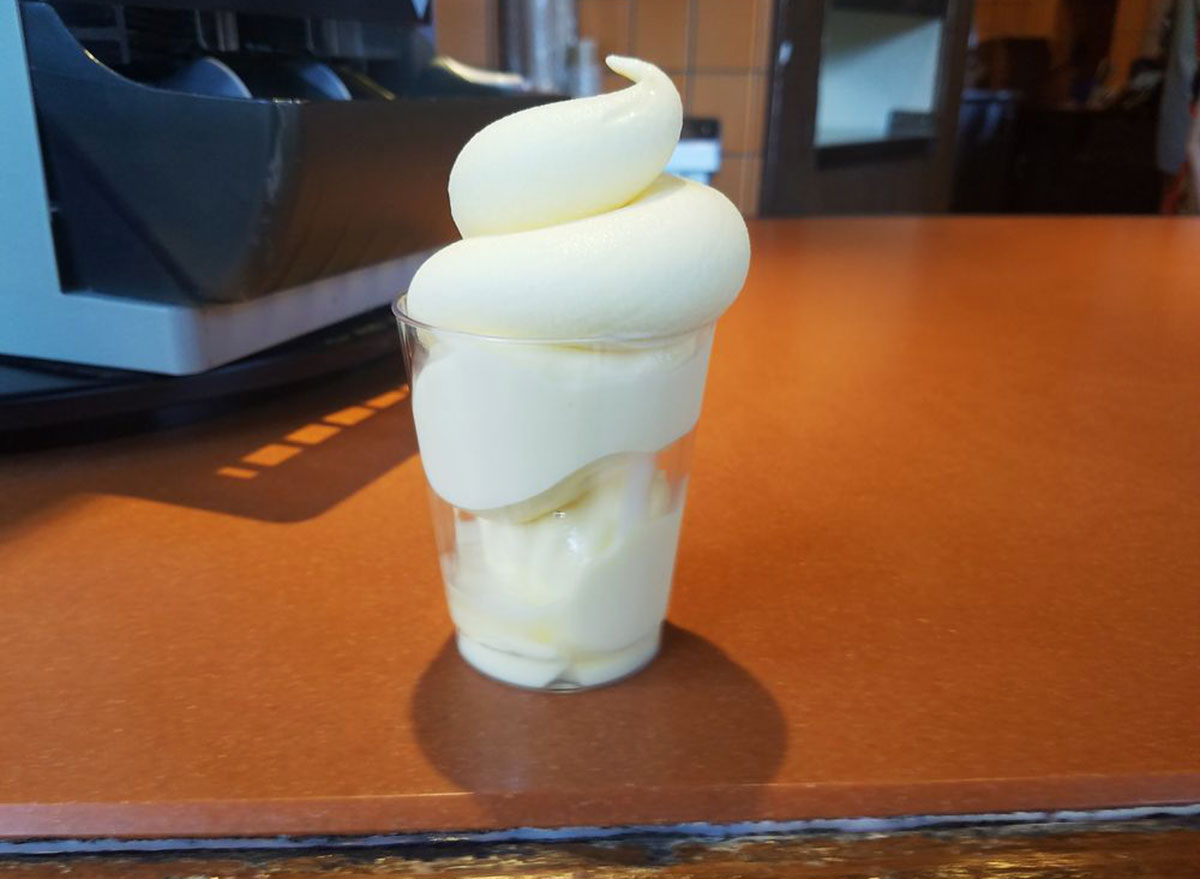 Just like at Magic Kingdom, the 90-calorie, dairy-free pineapple treat is also available in Africa at Animal Kingdom.
Quinoa Salad at Kusafiri Coffee Shop & Bakery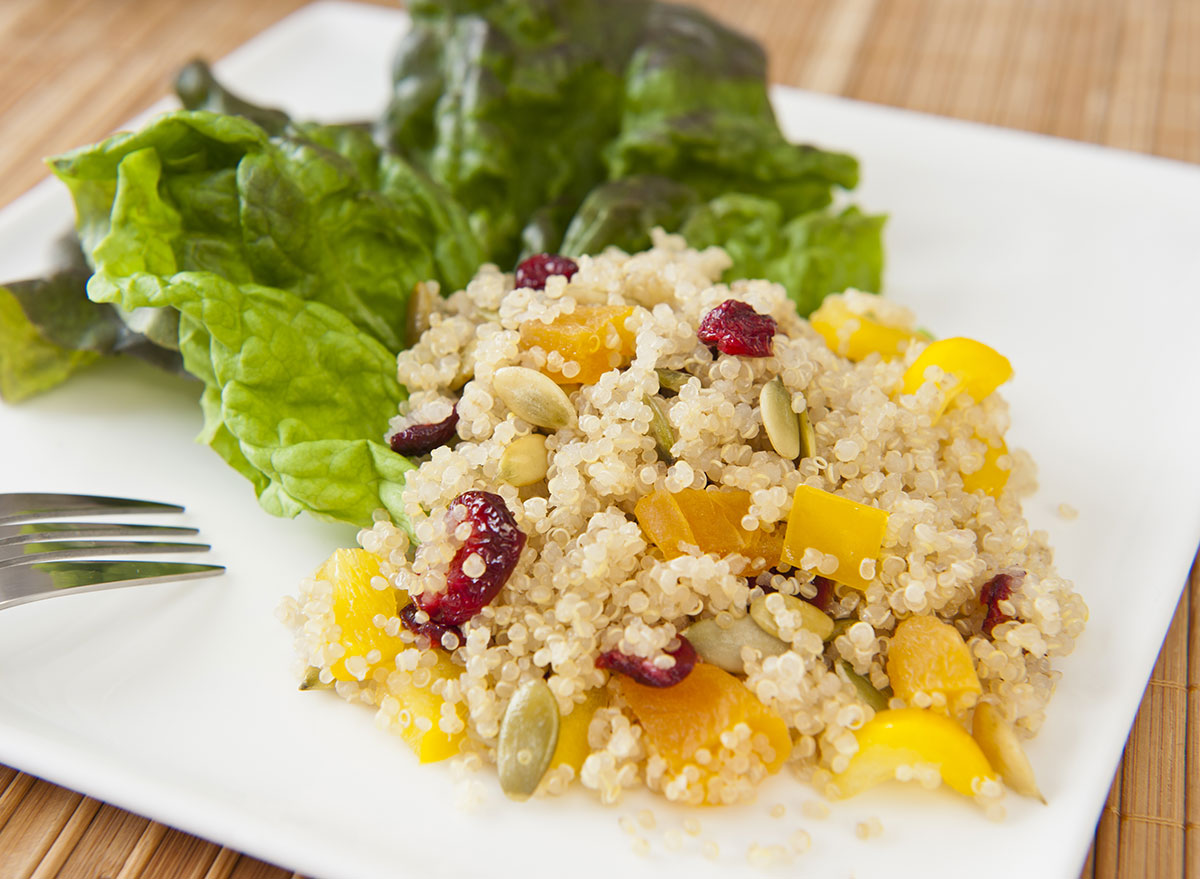 An on-the-go snack of quinoa with dried fruit and fresh herbs is easy to eat while standing in line. Find it in Africa.
Seared Tuna Salad at Yak and Yeti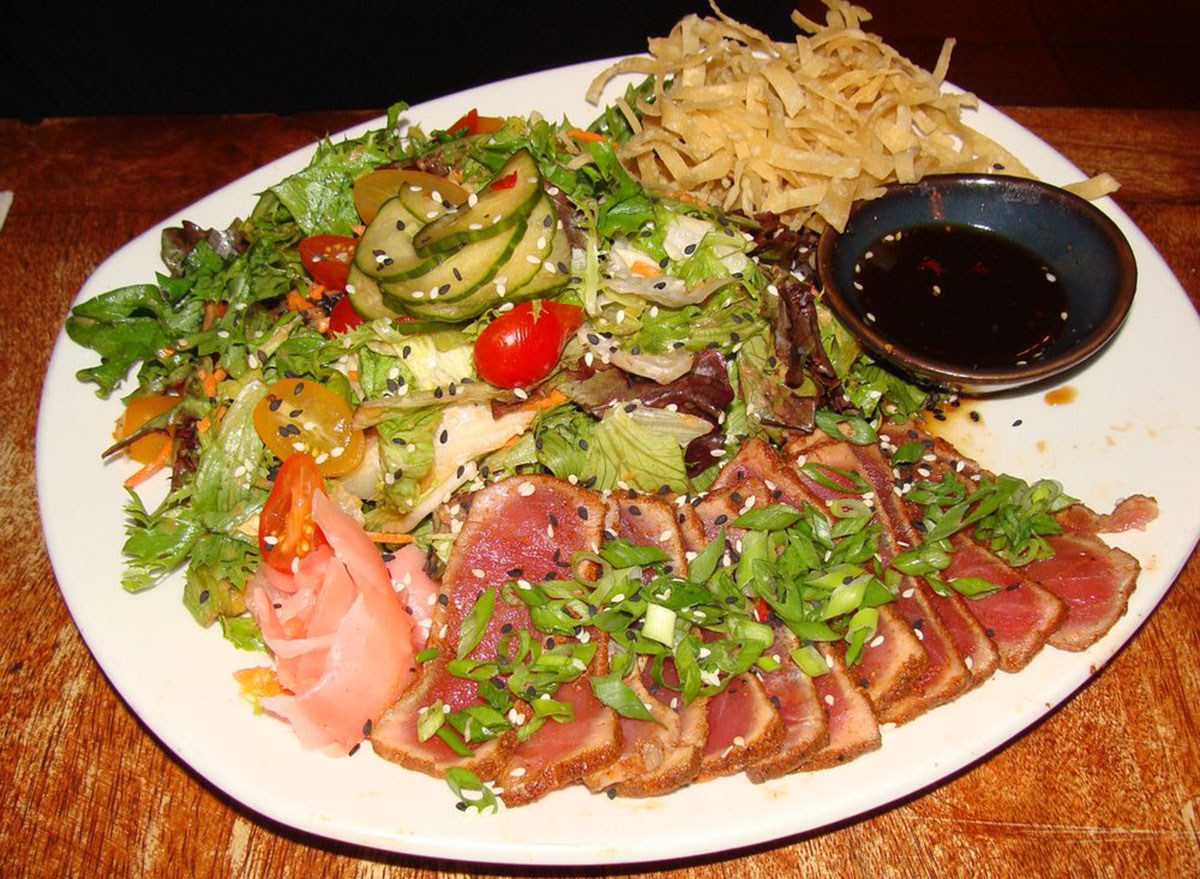 Over in Asia, try a blackened ahi tuna salad with grape tomatoes, wonton crisps, and ginger dressing. Yak and Yeti also has kalbi-marinated roasted vegetables with white and red quinoa, brown rice, and vegan sriracha aioli, or a side of sautéed bok choy to snack on when you need something green.
Eating Healthy at Hollywood Studios
Felucian Kefta and Hummus Garden Spread at Docking Bay 7 Food and Cargo
At the newly-opened Star Wars: Galaxy's Edge, this platter has plant-based meatballs, herb hummus, tomato-cucumber relish, and pita to help you prepare to fight the Resistance. For a bit of seafood, try the Surabat Shrimp Noodle Salad with chilled shrimp, noodles, and vegetables in a sweet orange dressing. You can also order off the kids' menu and get the Takodana Veggie Dippers Youngling Meal, which has black bean hummus, chilled dipping vegetables, and multi-grain crisps.
Ronto-less Garden Wrap at Ronto Roasters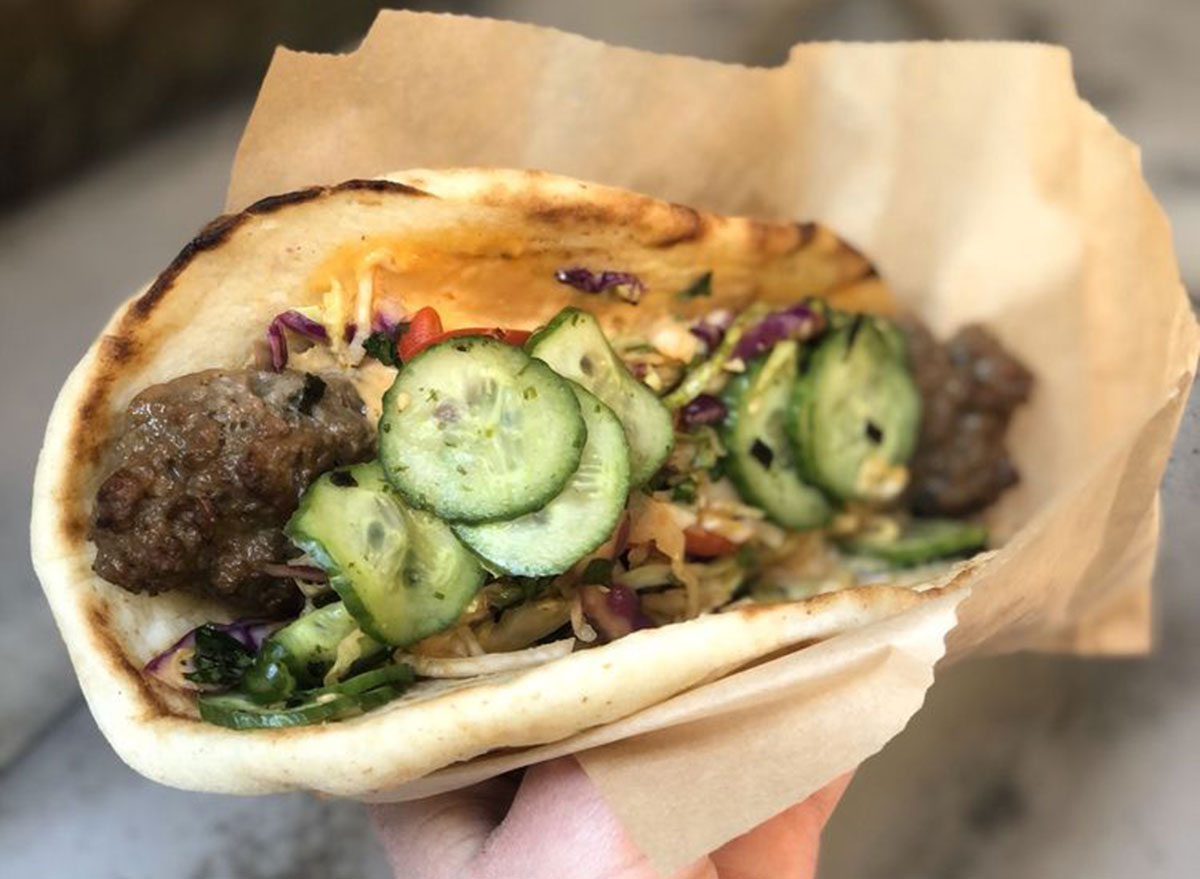 The popular stand in Galaxy's Edge is famous for their pork sausage wrap, but they have a plant-based option to enjoy too, featuring spicy kimchi slaw, sweet pickled cucumber, and gochujang spread. Their grilled chicken version is also pretty healthy with cucumber relish and herb feta yogurt sauce. Try their sweet or spicy Nuna Turkey Jerky to nosh on while in line to fly the Millenium Falcon.
Szechuan Lettuce Wraps at Sci-Fi Dine-In Theater
The perfect spicy and satisfying lunch while watching an old-school Sci-Fi movie: lettuce cups filled with salt and crispy fried tofu, water chestnuts, shredded carrots, spicy cucumbers, Szechuan sauce, and soba noodle salad.
Mediterranean Salad at ABC Commissary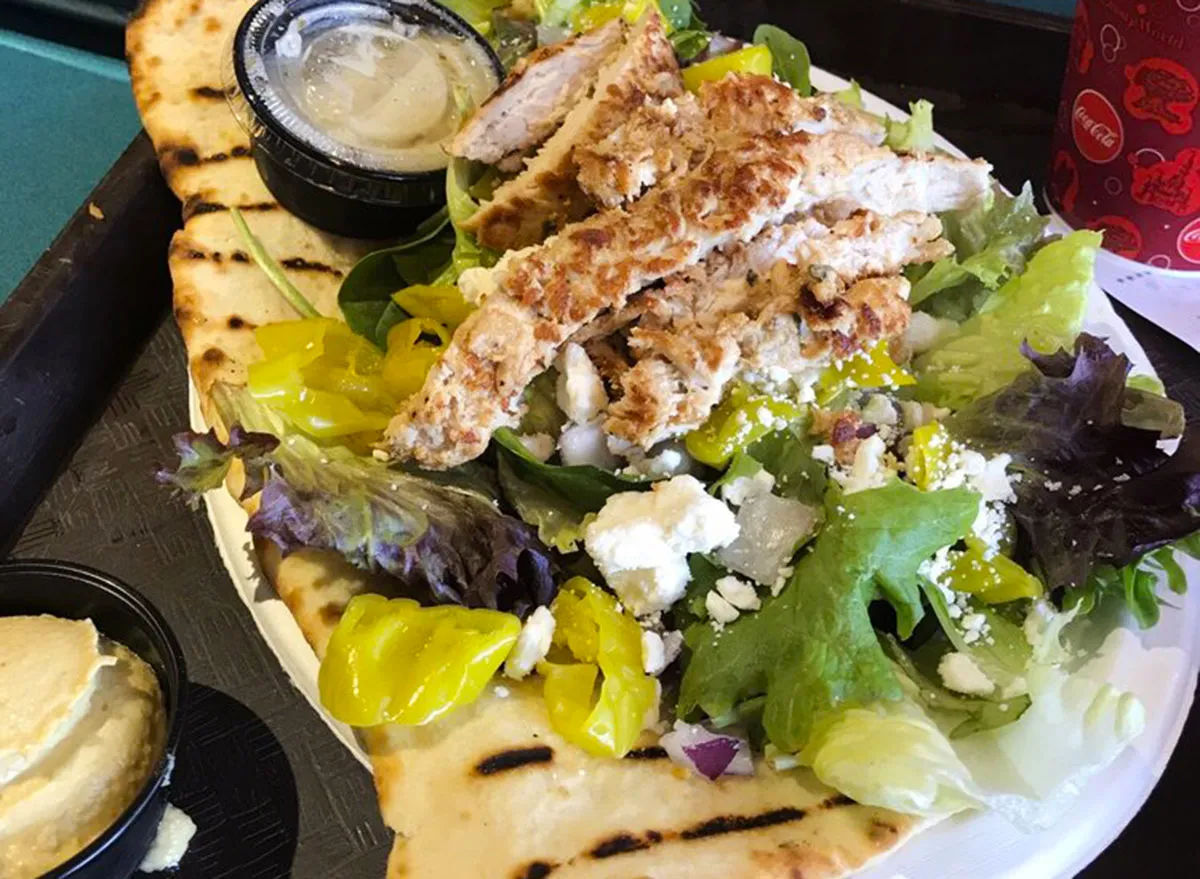 This healthy salad is mighty filling, with chicken, mixed greens, tomatoes, onions, pepperoncini, kalamata olives, feta cheese, and Mediterranean vinaigrette, plus a side of hummus and grilled flatbread. Just wait a little while before going on the Tower of Terror after chowing down on one.