17 Healthy Snacks You Can D.I.Y. Instead of Buy
Spend your hard earned dollars wisely by skipping the pre-made munchies and opting instead for energy- and nutrient-boosting homemade snacks.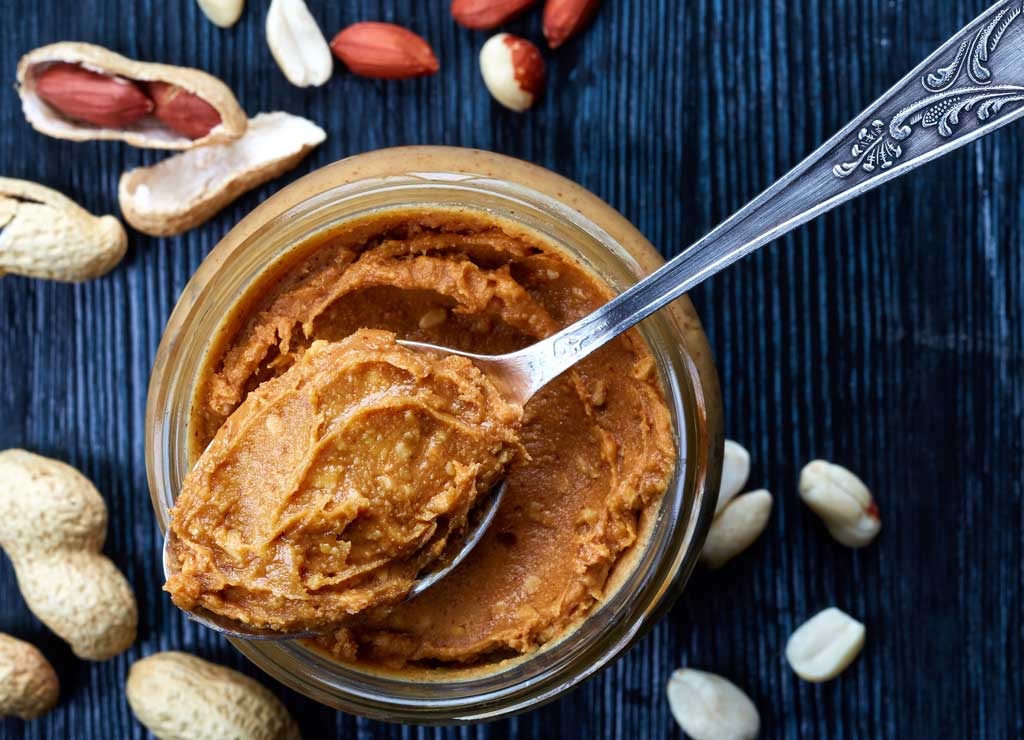 You already know that snacking smart is important for optimizing health and for a trim and toned figured, but you might not realize that many of the healthy foods you're spending your money on are actually ones you could easily—and often more healthfully—make at home. And no, we're not talking about recipes that take hours to whip up; we realize that's not realistic even for the healthiest among us. We're talking quick, easy recipes that busy, health-minded dieters can swiftly whip up. Here's a look at expert-approved superfood snacks you can make instead of buying and the tips to do it yourself. Arm yourself with these ideas and then also uncover The 33 Best Foods to Eat in Your 20s, 30s, 40s, and 50s!
Trail Mix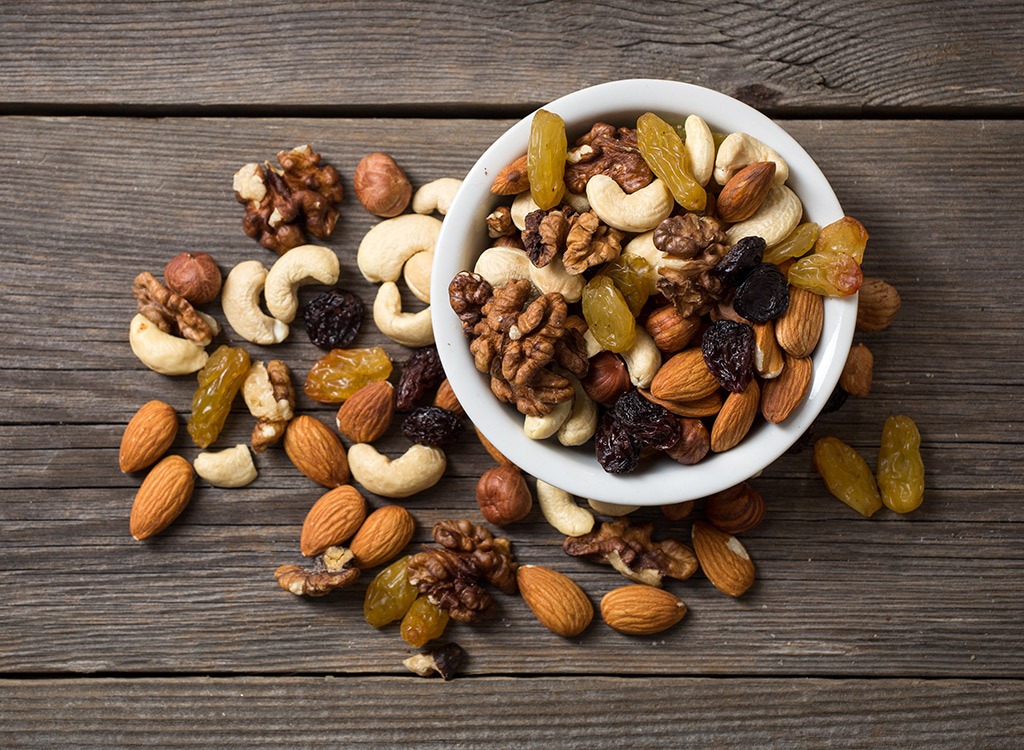 Trail mix is one of those snacks that often sounds a lot healthier than it really is. Most so-called healthy trail mixes sold at supermarkets are loaded with added sugar and unnecessary calories. (You do not need white chocolate chips in your trail mix.) "For a super easy-to-make, nutrient packed combo, simply combine pistachios and raisins," say The Nutrition Twins, Lyssie Lakatos, RDN, CDN, CFT and Tammy Lakatos Shames, RDN, CDN, CFT, and authors of The Nutrition Twins' Veggie Cure. "You will skip out on the sulfites and preservatives of store-bought varieties and the pistachios give you a satisfying crunch, a boost of fiber and protein and the pretty green and purple color they add is from their antioxidants. Raisins are rich in antioxidants and contain phytonutrients that suppress the growth of oral bacteria associated with cavities and gum disease." And speaking of fiber, find out the 30 High Fiber Foods That Should Be In Your Diet, stat!
Guacamole with Veggies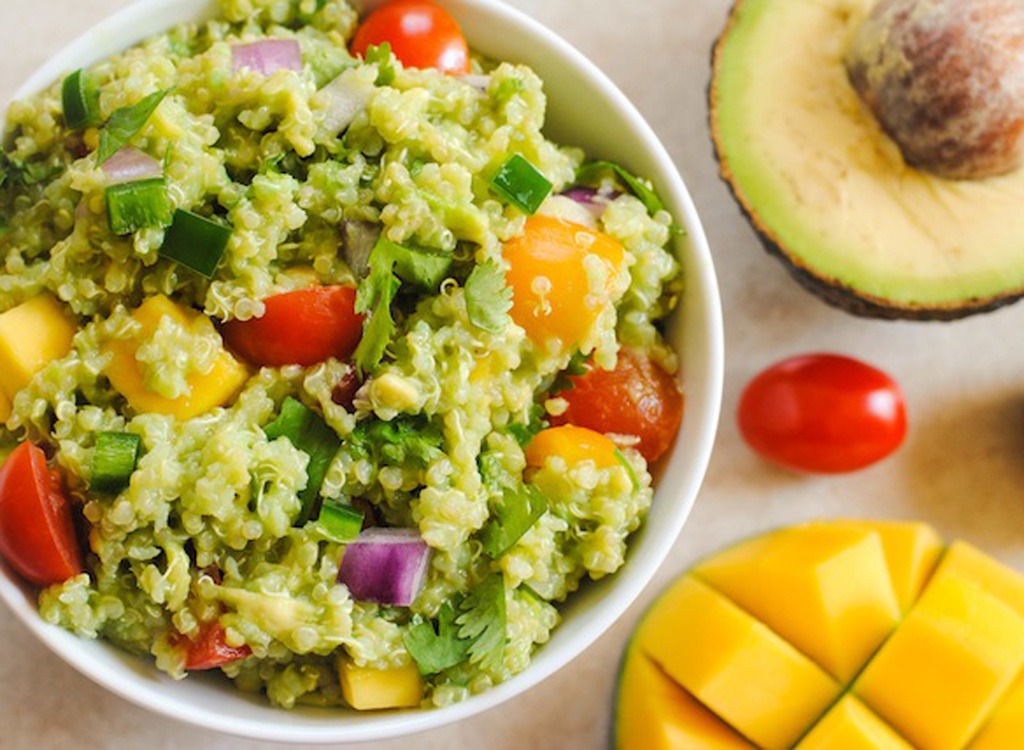 There's a reason many store-bought guacamoles can last for weeks if left unopened—they're full of preservatives. Skip loading your body with unnecessary chemicals by simply mashing an avocado, spritzing it with lemon, and sprinkling it with salt. "This combination leaves you with a rich, creamy, and delicious dip!" exclaim The Nutrition Twins. This dip is also low in calories, antioxidant and fiber-rich and, if you combine it with veggies instead of chips, you'll benefit from an added dose of nutrients and fiber. "The good-for-your-heart monounsaturated fat in the avocado acts as a nutrient booster and helps to absorb fat-soluble vitamins, including the beta carotene from veggies like carrots and bell peppers that get dipped in the guacamole."
DON'T MISS: 15 Kitchen Staples That Don't Go Bad for Years
Popcorn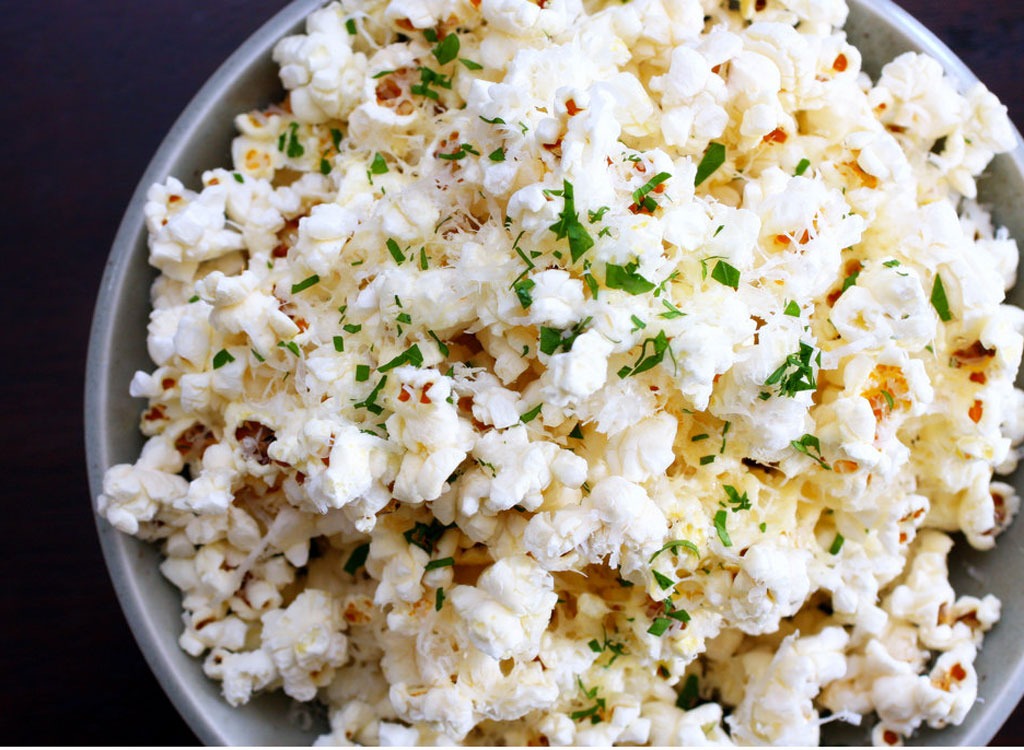 "Popcorn is a fiber-packed and antioxidant-rich snack and is great for weight loss—assuming you don't use butter or oil—with only 100 calories for every three cups," say The Nutrition Twins. "Use an air-popper or put kernels in a paper bag in the microwave and you have a version that is free of perfluorooctanoic acid (PFOA), a suspected carcinogen that is in the bag of many store-bought popcorns." For a flavor boost, skip the butter and salt and, instead, sprinkle your popcorn with cinnamon; it's a potent antioxidant that also has been shown to help regulate blood sugar.
Fruit Popsicles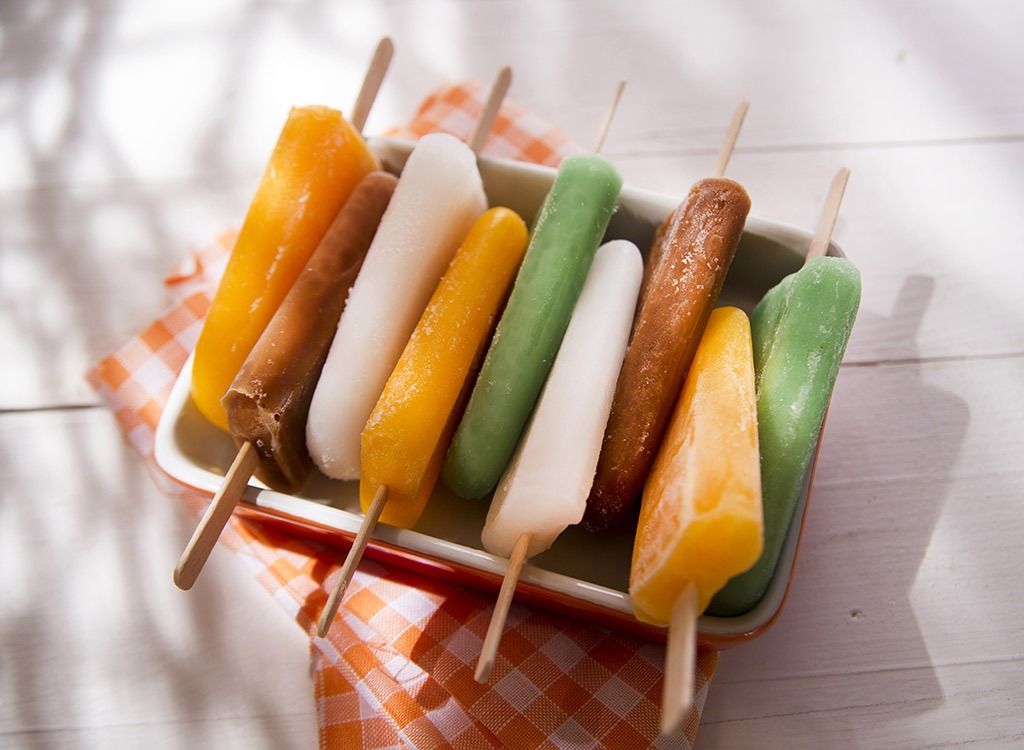 You already know that Haagen-Dazs isn't something that should be in your freezer, but you might not realize how much sugar is added into standard popsicles. Given how naturally sweet fruit is, adding sugar into popsicles is completely unnecessary. Plus, most popsicles are made with fruit juice rather than pureed fruits, meaning they're devoid of fiber. Luckily, fruit popsicles—which are a great way to hydrate and stay refreshed without breaking the calorie bank—are easy to make at home. Simply puree your favorite fruit in a blender, add in some water or almond milk, and pop the blend into popsicle molds. Curious about how much natural sugar is in your fruit? Then check out our exclusive report on Fruits with the Most Sugar—Ranked!
Nut Butter
Nuts are full of heart-healthy fat, fiber, and protein, which makes them a wonderful snack on their own. Turning them into nut butter, however, makes them more versatile—and provides you with the perfect topping or dip when you're looking for a more satisfying snack. Many store-bought nut butters are full of preservatives, chemicals, sodium, and various other additives, though. To make your own, simply place nuts in a food processor until they're smooth and creamy. Note that the time of processing/blending will vary depending on the size, type, and amount of nuts you opt for, but you shouldn't expect to see much smoothness in texture until about 10 minutes because it takes time for all of the oils to be released.
Chocolate Bark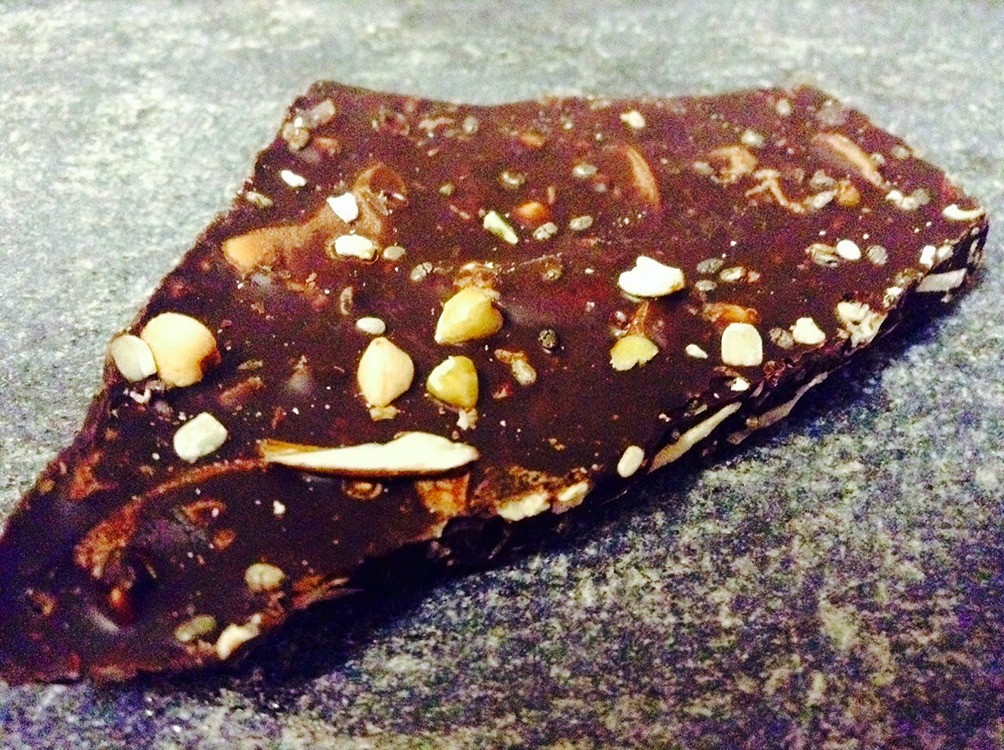 "If you buy chocolate bark at the store, it can cost you a fortune and likely has added sugar—which is why I love making my own," says Frances Largeman-Roth, RDN, and author of Eating in Color. Simply melt chocolate and stir in nuts, cranberries, and coconut. Pour the chocolate mixture onto a baking sheet and sprinkle with some more of the mix-ins. Then freeze for an hour. Break the chocolate up and enjoy! "Dark chocolate contains flavanols, which help lower blood pressure, reducing the risk of stroke and heart disease, while the cranberries are a great immune-booster and pistachios contain fiber and potassium." In terms of picking the best dark chocolate bars out there, refer to our list of the 17 Best and Worst Dark Chocolates.
Tex-Mex Bean Dip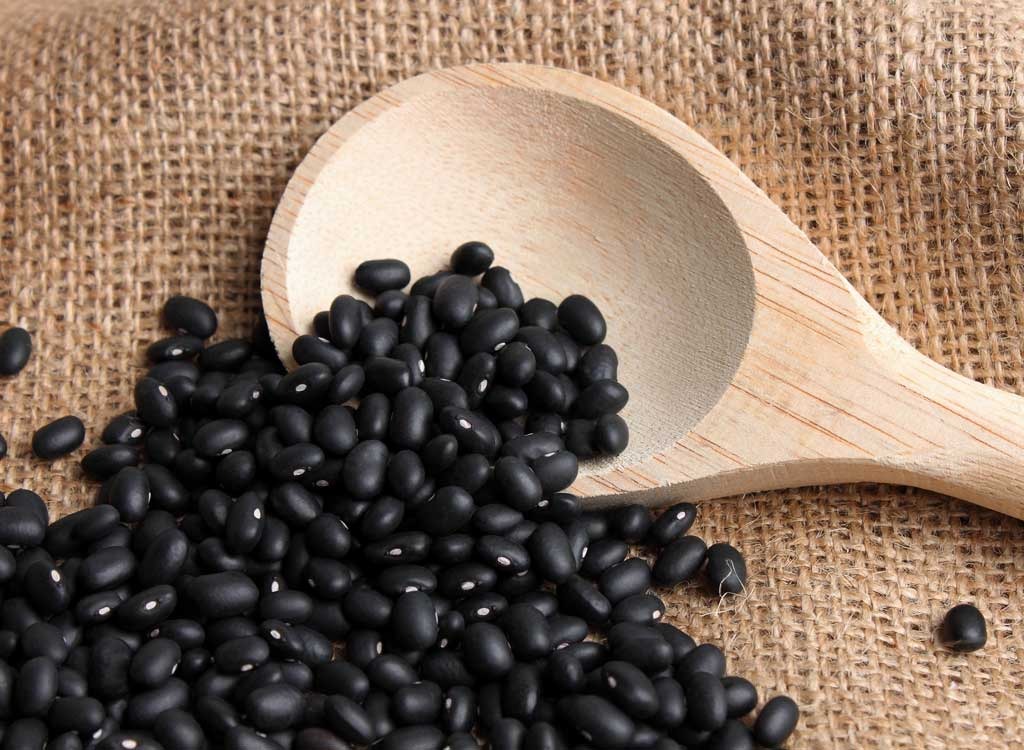 If you want a break from the guac, opt for an at-home version of bean dip. "Add a can or bag of corn, a can of black beans, chopped bell pepper, cilantro, and a squirt of lime and you'll have a dip that is packed with fiber, protein, and antioxidants," say The Nutrition Twins. "Black beans contain 150 percent more iron than three ounces of flank steak!"
Kale Chips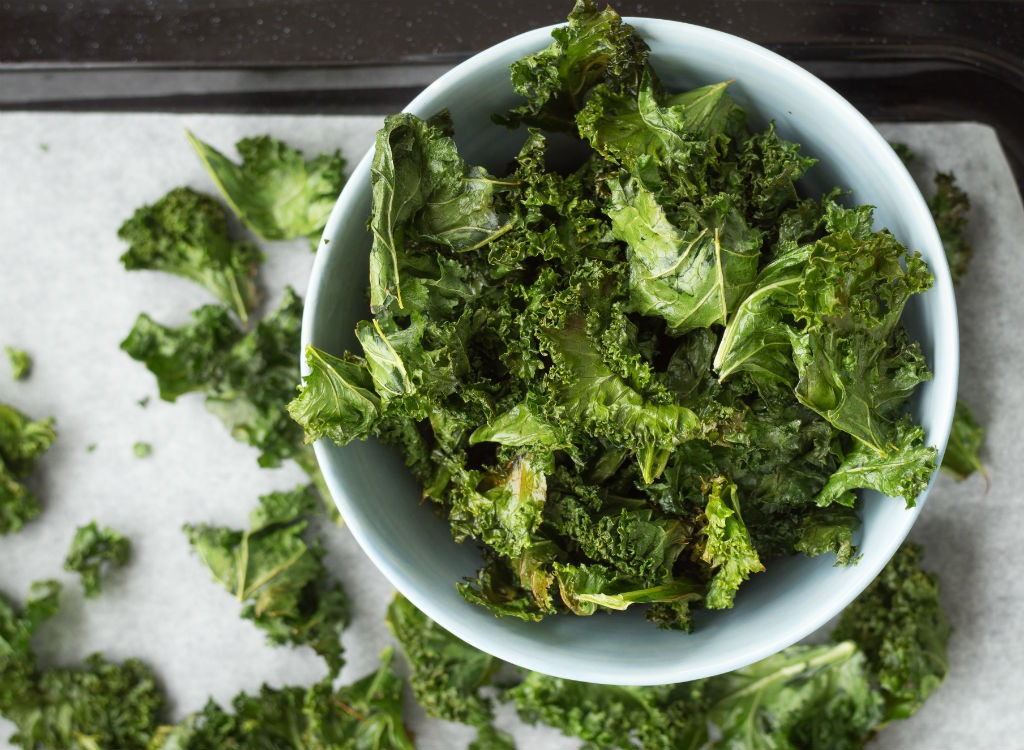 It's true, there are some mouthwatering and very healthy kale chip options out there, but the prices can be outrageous for what is essentially a very easy snack to make yourself. "Spritz kale with oil, sprinkle with cayenne or garlic and bake at 350 degrees," say The Nutrition Twins.
For a one-two punch, eat your kale chips alongside a mashed up avocado. "The kale chips have one-fourth the calories of traditional chips, while the good-for-your-heart monounsaturated fat in the avocado acts as a nutrient booster and helps to absorb fat-soluble vitamins, like the vitamin A from the kale."
Fruit Leathers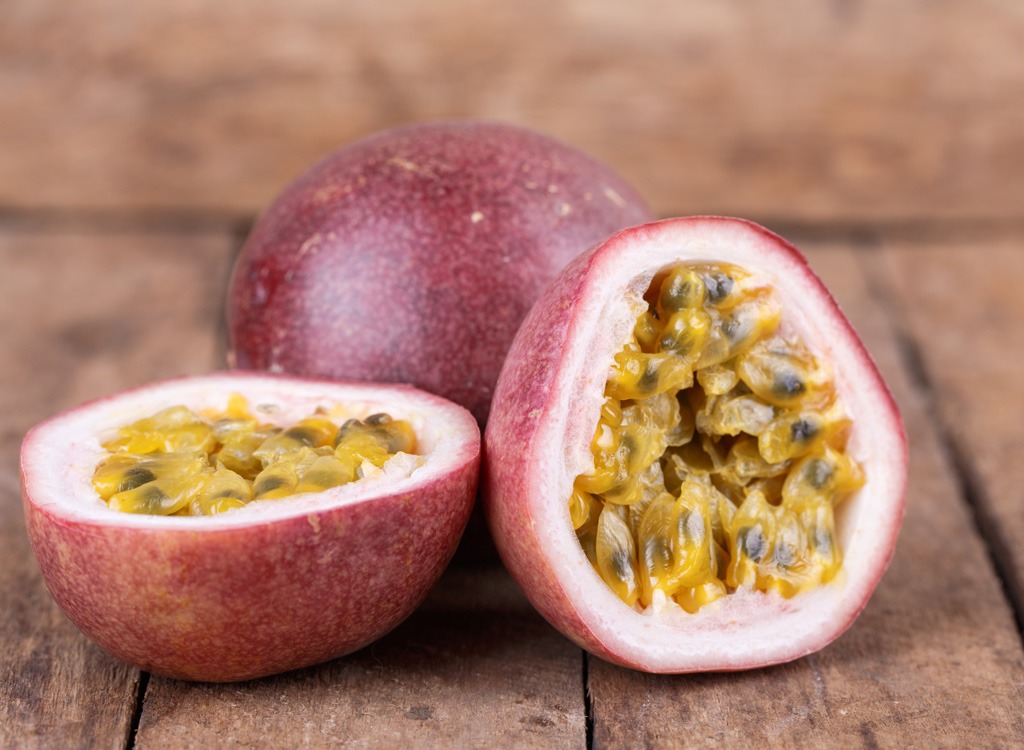 Think of dried fruits as nature's gummy bears. While they're not a free pass since they're high in sugar and easy to overeat (given that their water is removed in the dehydrating process), they're a welcome addition to most people's diet when eaten in moderation. Making your own fruit leather, however, allows you to control the ingredients and leave out everything aside from actual fruit. (Many store-bought ones have added sugar and food colorings.) To make your own fruit leathers, place your fruit in a saucepan and add half a cup of water for every four cups of chopped fruit. Bring to a simmer, cover, and let cook on a low heat for about 15 minutes. Mash up the mix and then blend it in a blender before pouring it on a baking sheet. Then, on low heat, leave it in the oven until it dehydrates (about 10 hours). Psst! While we're on the topic of healthy foods you shouldn't go nuts with, check out these 30 Healthy Foods You Better Eat in Moderation.
Vegan Cookies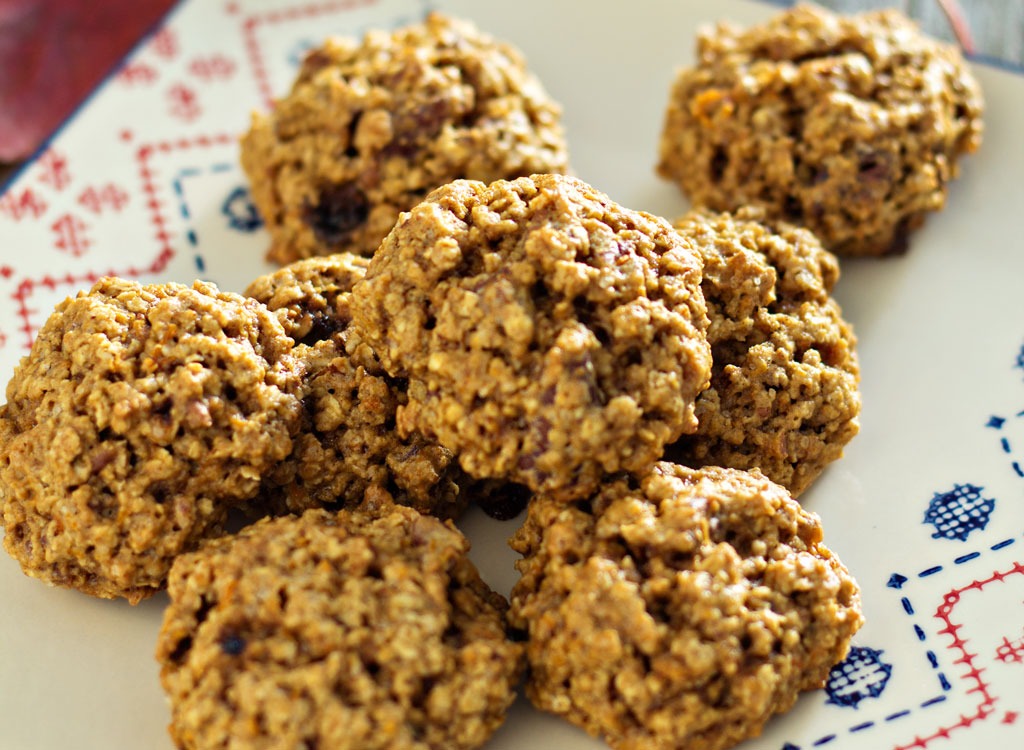 Don't be fooled; just because a package says "vegan" on it, it doesn't mean that it's automatically healthy. When manufacturers take out things like milk and egg, they often add in fat and sugar to compensate for taste and texture. The Nutrition Twins suggest skipping supermarket vegan cookies and, instead, making them at home. Grab a microwave-safe bowl, mash an overripe banana in it, stir in three tablespoons of oats, one tablespoon of peanut butter, and sprinkle with a tablespoon of chocolate chips. Place in microwave for 4-1/2 minutes. With just four simple ingredients, it will be soft, warm, made with healthy ingredients and about half the calories of traditional vegan cookies.
Date Balls
Date balls are a popular health store swap for brownies because they have no added sugar (dates are one of the most naturally sweet fruits!) and are delightfully chewy. To make date balls at home, simply combine mashed dates with cacao powder. "Cocoa contains flavonoids, which are known to help lower blood pressure and improve blood flow to the brain," say The Nutrition Twins. "Meanwhile, dates are packed with magnesium to help relax your muscles, potassium to help regulate blood pressure, and fiber to fight constipation." Speaking of, make sure you know about the 15 Foods That Make You Constipated.
Breakfast Pastry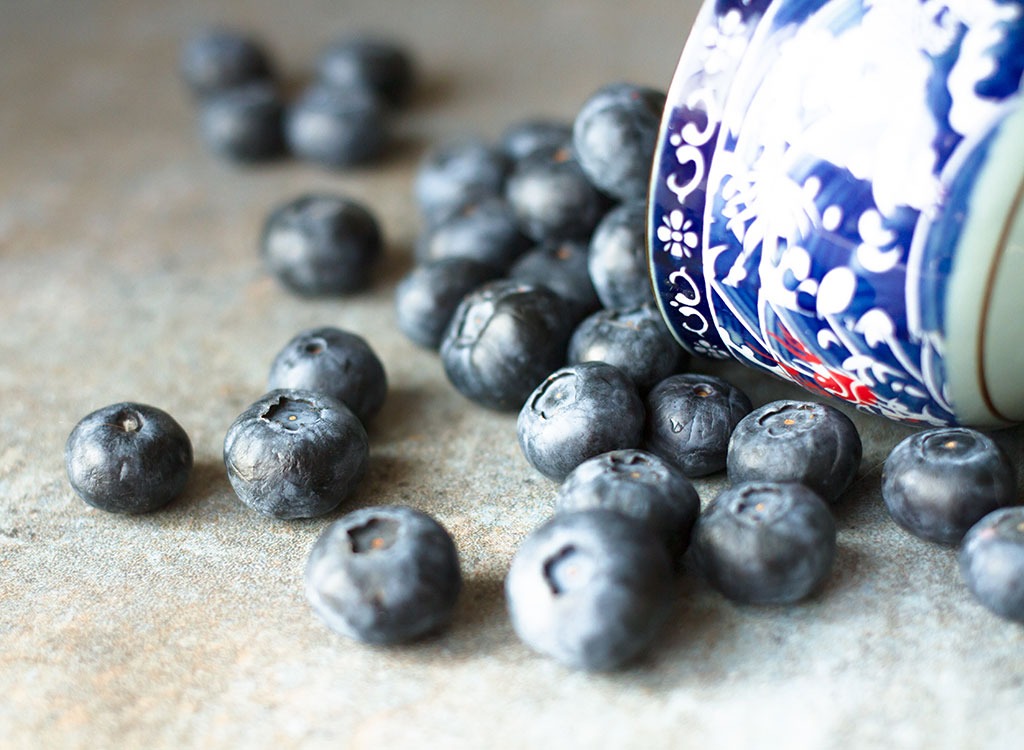 6254a4d1642c605c54bf1cab17d50f1e
You really shouldn't be opting for store-bought puff pastries in the first place. But if you're craving a treat in the morning, we suggest skipping the store-bought stuff and instead opt to top a graham cracker with non-fat ricotta and blueberries. "The graham crackers' sweet crunch has less sugar than something like a Pop Tart, while rich-tasting ricotta cheese adds protein and calcium," say The Nutrition Twins. "The sweet, juicy blueberries are packed with disease-fighting anthocyanins, vitamin C, and fiber, which research shows can improve both short and long-term memory."
Chickpea Snacks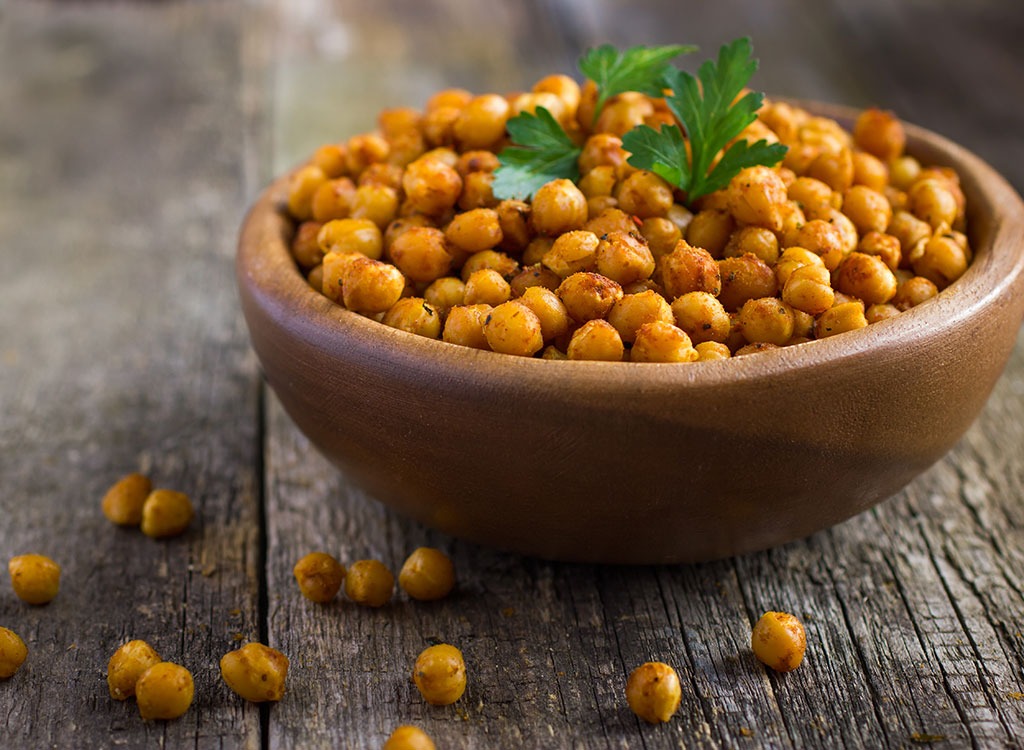 Chickpeas are having a serious moment, and we're not just talking about hummus. Supermarkets are lined with roasted chickpea snacks and we're even starting to see chickpea-based brownies. These snacks tend to be offered at premium price points but they're really easy to make! "I love making roasted chickpeas when I'm looking for a convenient, healthy snack," says Jessica Fishman Levinson, MS, RDN, CDN and founder of Nutritioulicious. "Drain, rinse, and pat dry a can of chickpeas; toss with olive oil and seasonings of your choice; then, roast at 400 degrees until crispy. That's it!" For sweeter variations, you can add cinnamon and a tiny bit of brown sugar.
Apple Chips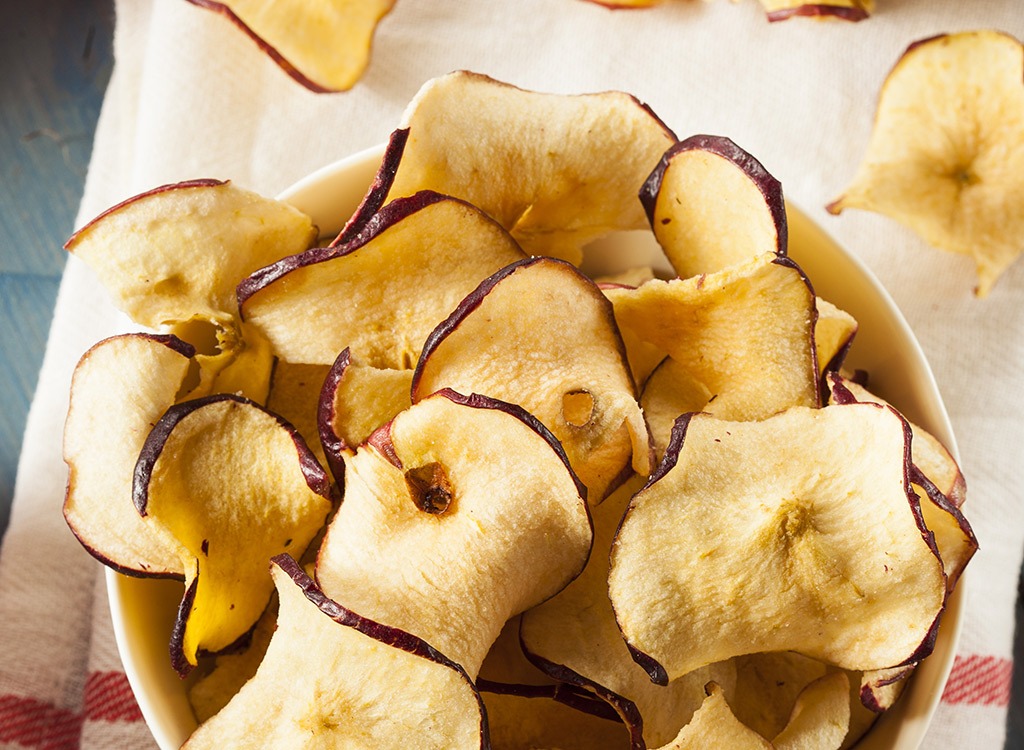 Apple chips are a great option for when you're in the mood for something naturally sweet and crunchy. "To make your own, use a mandoline to slice apples very thinly. Then, spread the slices on a parchment-lined baking sheet and bake at 250 degrees until crisp, turning partway through cooking," says Levinson. Finish off the chips by sprinkling some cinnamon, a flavorful metabolism booster.
Hummus
Chickpeas are a fantastic source of vegetarian protein. (One cup has about 15 grams!) Chickpease—or garbanzo beans—are high in fiber, vitamins, and minerals including copper, manganese, and folate. They also have cardiovascular benefits, help regulate blood sugar, and the American Journal of Clinical Nutrition found that those who add less than a cup of chickpeas to their diet can increase weight loss success. Unfortunately, many of the store-bought ones contain preservatives and artificial flavoring. Skip your run-of-the-mill supermarket hummus and make your own instead. "Rinse chickpeas from a can, remove the skin and add salt, lemon, garlic a quarter cup of olive oil and a few tablespoons of water and pulse in a food processor," recommend The Nutrition Twins. Then eat some as is, top it over some fiber-rich crackers or use it as a dip for veggies. Check out these 11 Tips for Making the Perfect Homemade Hummus for all the smooth moves you'll need!
Chia Pudding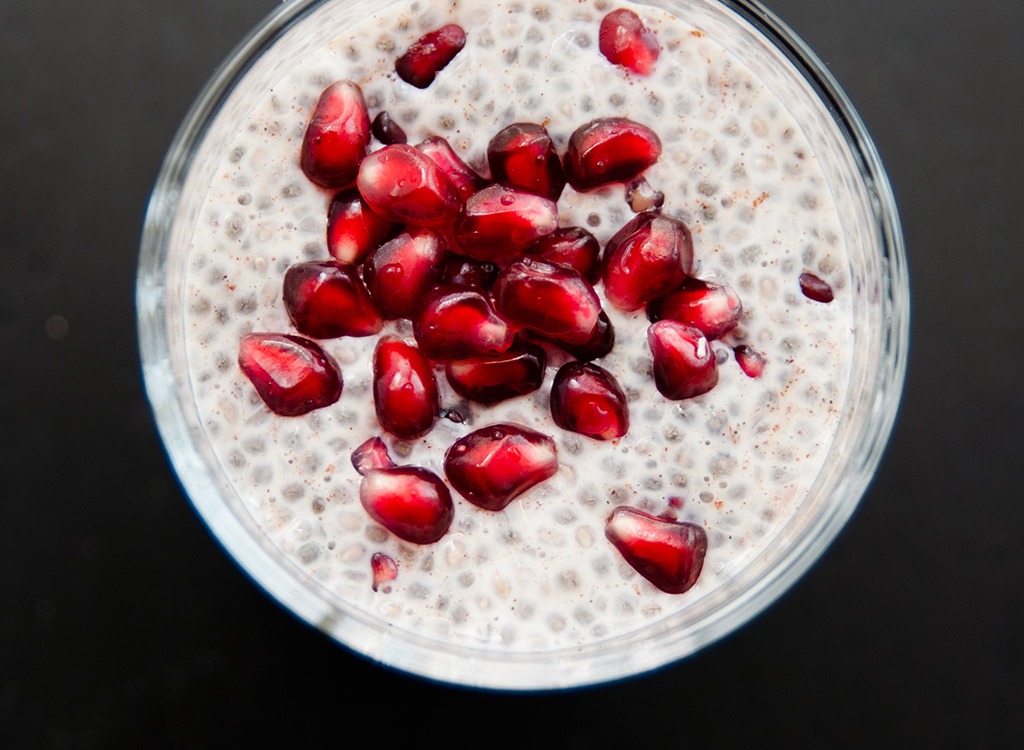 Largeman-Roth often recommends chia seeds to her clients because they contain ALA omega-3 fatty acids, which are high in fiber, gluten-free and a good source of protein. Chia pudding is a nutritious dessert and a fantastic alternative to mousse or standard chocolate filled puddings. Unfortunately, they tend to be widely overpriced. To make it at home, just mix 1/4 cup chia seeds and one cup coconut milk. Refrigerate overnight and then sprinkle with cinnamon or fruit.
Avocado Toast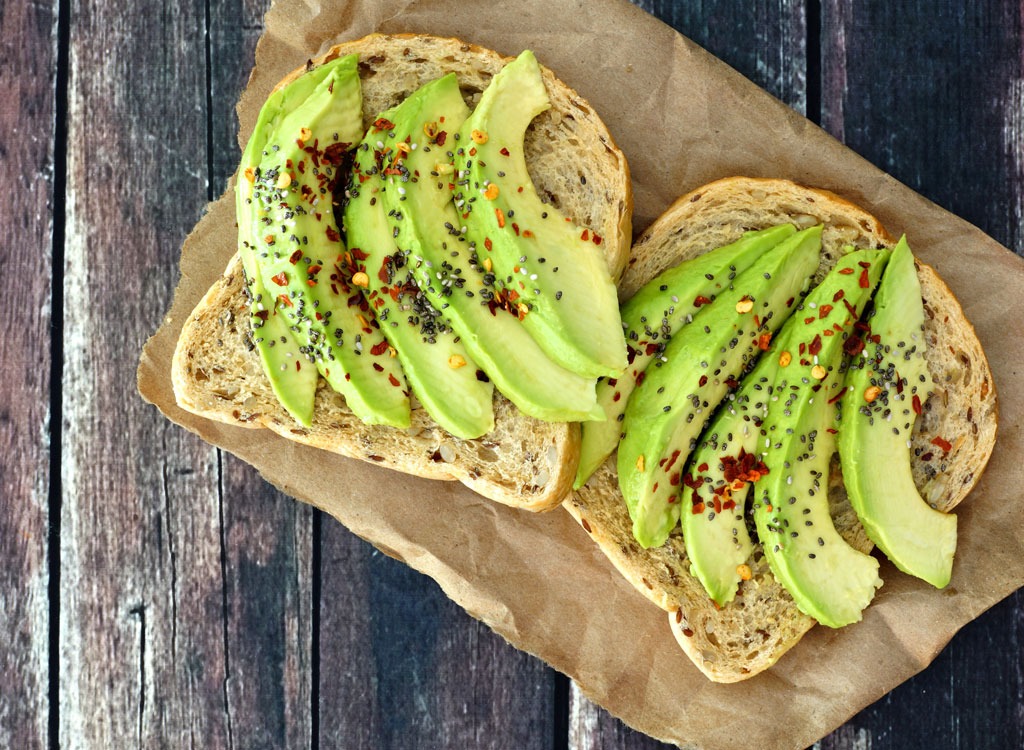 Rich in heart-healthy monounsaturated fats, avocados are also a surprisingly good source of fiber. Instead of buying this hugely popular snack, make it at home. Largeman-Roth suggests toasting two slices of whole grain or gluten-free bread and topping it with ½ a mashed avocado that has been sprinkled with Maldon sea salt flakes and red pepper flakes. The flakes can help rev up your metabolism. And for more toast ideas, check out these 20 Avocado Toast Alternatives that will look awesome on your Insta feed, too!