This Popular Convenience Store Chain Is Under Investigation For Charging Higher Prices at the Register
At some locations, about 88% of items turned out to be more expensive at checkout.
Inflation may be rising rapidly, but there's no way the price of your soda or coffee jumped by a dollar or two between the time you picked it up off the shelf and made your way to the register.
At a time when prices are soaring and increasing numbers of Americans are seeing their budgets shrink, one of the nation's largest and most profitable discount convenience chains is under investigation for charging more at checkout than the prices listed on shelves.
Dollar General positions itself as a brand that's all about saving shoppers money, but a recent inspection by the Auditor's Office of Butler County, Ohio, discovered pricing discrepancies at all 20 assessed local stores.
In other words, the prices charged at checkout were in most cases higher than those listed on shelves. In some inspected locations, around 88% of items turned out to be more expensive at checkout than the originally listed price. Now, the discount goods behemoth with more than 18,000 stores nationwide is under investigation by the Ohio Department of Agriculture.
"This is a serious problem," Butler County Auditor Roger Reynolds said in a statement. "A customer could be charged substantially more than the listed shelf price and that amounts to a form of consumer fraud. During these inflationary times, people turn to stores like these to get some bargains. Instead, in too many instances they are being overcharged."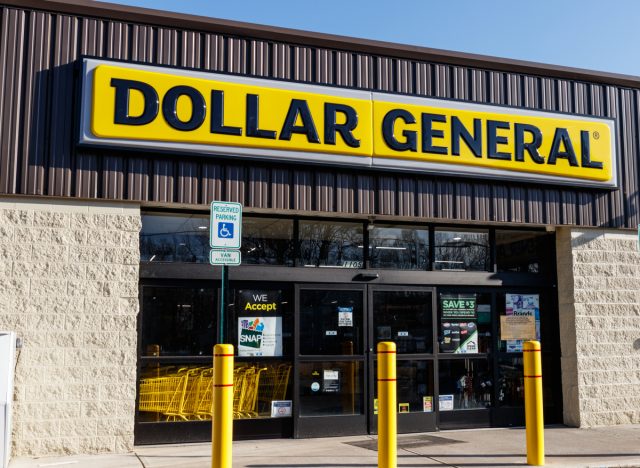 While the worst-performing audited Ohio location scanned items incorrectly 15 out of 17 times for a "fail rate" of 88.2%, the best-performing store earned a fail rate of 16.7%. According to Butler County regulations, stores are only permitted a 2% margin of price error. All in all, Reynolds characterized the results of the audit as "very bad."6254a4d1642c605c54bf1cab17d50f1e
More specifically, here are a few examples of the price inconsistencies noted during the audit. A Dollar General store in Oxford, Ohio, listed a six-pack of Diet Coke for $4 on the shelf, but the sodas scanned for $5.25 at checkout. Another Dollar General in Hamilton, Ohio, promoted Perdue Chicken Strips for $7.95 yet charged $10.75, and displayed Nestle Coffee Mate creamers at a shelf price of $2 but charged $4.35 at the cash register. In all fairness to Dollar General, it's worth mentioning that some recorded price discrepancies actually worked in consumers' favor.
Discounts offered if shoppers purchase two or more of the same item were also identified as a problem. At most analyzed locations, the promoted reduced price was not honored at checkout.
The investigation was sparked by a letter from local resident William Anderson sent to the Butler County Auditor's Office. In the letter, Mr. Anderson said that at one Dollar General location, a sign had been posted by management reading: "Prices cannot be changed at the register. All prices are final."
"That is dishonest—as the shelf price may say two boxes of cereal for $6.00 but when I get to the register it's $7.00 or higher," Mr. Anderson continued in his letter. "Can't they use the price on the shelf—or at least change them every week?"
This isn't Dollar General's first encounter with a pricing problem. The publicly traded company reached a $1.75 million settlement with the state of Vermont after the state's Attorney General concluded Dollar General had violated the Consumer Protection Act. Prior to that ruling, the state of Vermont had notified Dollar General at least 50 times that prices listed on local shelves were lower than the amounts charged at checkout. Meanwhile, another 27 Dollar General locations in North Carolina were fined for price errors in August 2022.
John Anderer
John Anderer is a writer who specializes in science, health, and lifestyle topics.
Read more about John