Dunkin's Beyond Meat Sandwich Will Soon Be Available Nationwide
This one can go toe-to-toe with the meat-based breakfast options out there.
After a successful run in New York City test markets, Dunkin's Beyond Meat breakfast sandwich is heading nationwide. It will be available in Dunkin' stores across the country starting on November 6. So if you're not in New York and want to try the sandwich, you're in luck. Here's our original review of the surprisingly delicious plant-based sandwich.
When my coworkers and I learned that Dunkin' was making a Beyond Meat breakfast sandwich, we were surprised and intrigued. Dunkin' is known for its coffee, along with its donuts, but I don't usually think of Dunkin' as a top choice for a plant-based meal. The Dunkin' Beyond Meat sandwich, though, is totally vegetarian—and it's surprisingly delicious, too (and I'm a carnivore!).
Fortunately for us, there's a Dunkin' across the street from the Eat This! offices, so my team was able to try this new offering out firsthand.
What's on the Dunkin' Beyond Meat sandwich?
6254a4d1642c605c54bf1cab17d50f1e
The Beyond Sausage sandwich features a plant-based sausage patty, a round egg, and a slice of American cheese on an English muffin. The patty itself includes 10 grams of protein, according to Dunkin'.
When we ordered the Beyond Sausage sandwiches, it took longer than we expected for Dunkin' to prepare them. That said, the sandwiches were surprisingly cold, with the cheese not melted, by the time we got them.
What does the Dunkin' Beyond Sausage breakfast sandwich taste like?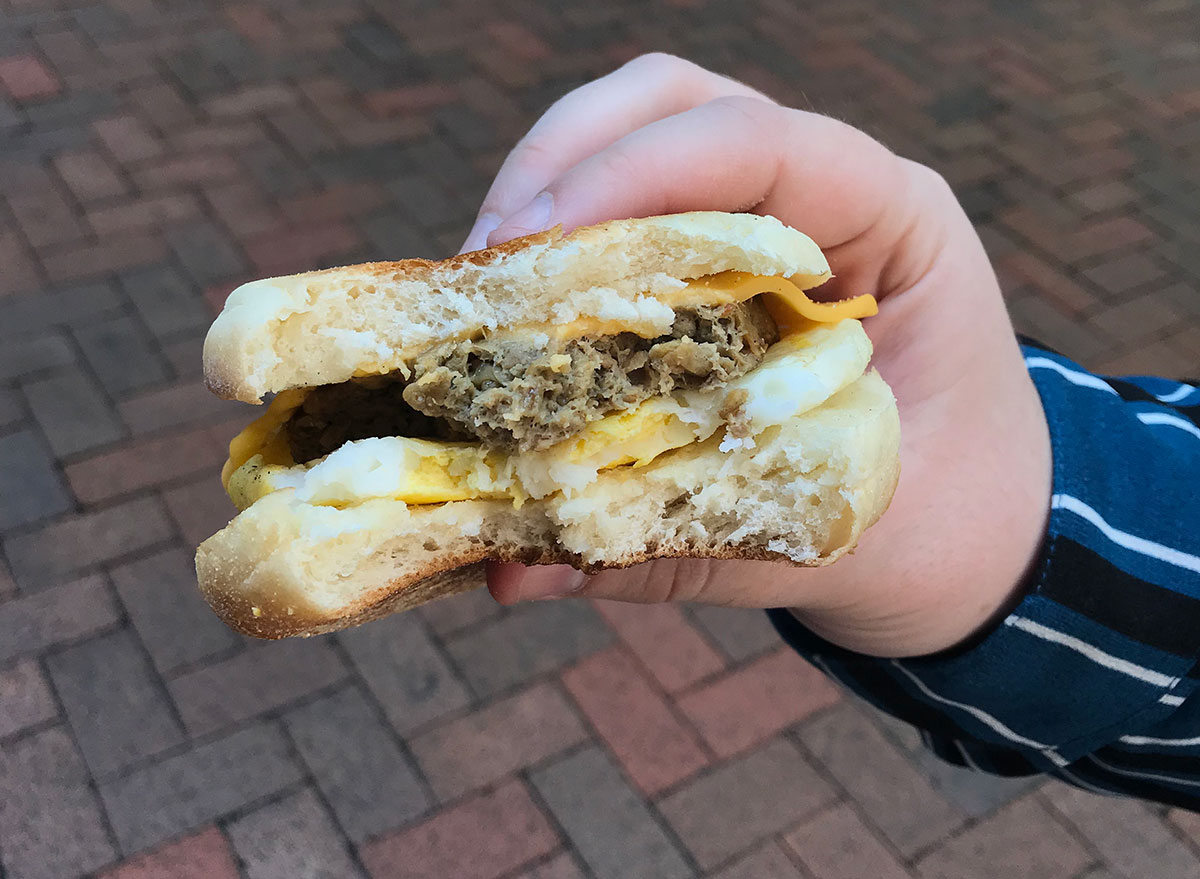 Despite the lukewarm temperature, this sandwich really delivered on an authentic sausage taste. My fellow editor Kiersten could taste notes of fennel in the patty, and our news editor, Cheyenne, was impressed by how well-seasoned it was. If you're worried that a plant-based breakfast sandwich will be short on taste, the Dunkin' Beyond Meat sandwich will prove you wrong.
And even though it wasn't as warm as we would have liked, the rest of the sandwich worked well with the Beyond Sausage patty. The English muffin was fresh and helped offset some of the saltiness from the plant-based patty. The egg, too, was well-cooked and fresh.
It didn't take long for all of us to finish the sandwiches we ordered; they really were that good. The Beyond Sausage patty was much less greasy than a meat one, and the flavor from all of the seasonings made it impossible to resist.
What other Beyond Meat foods are there?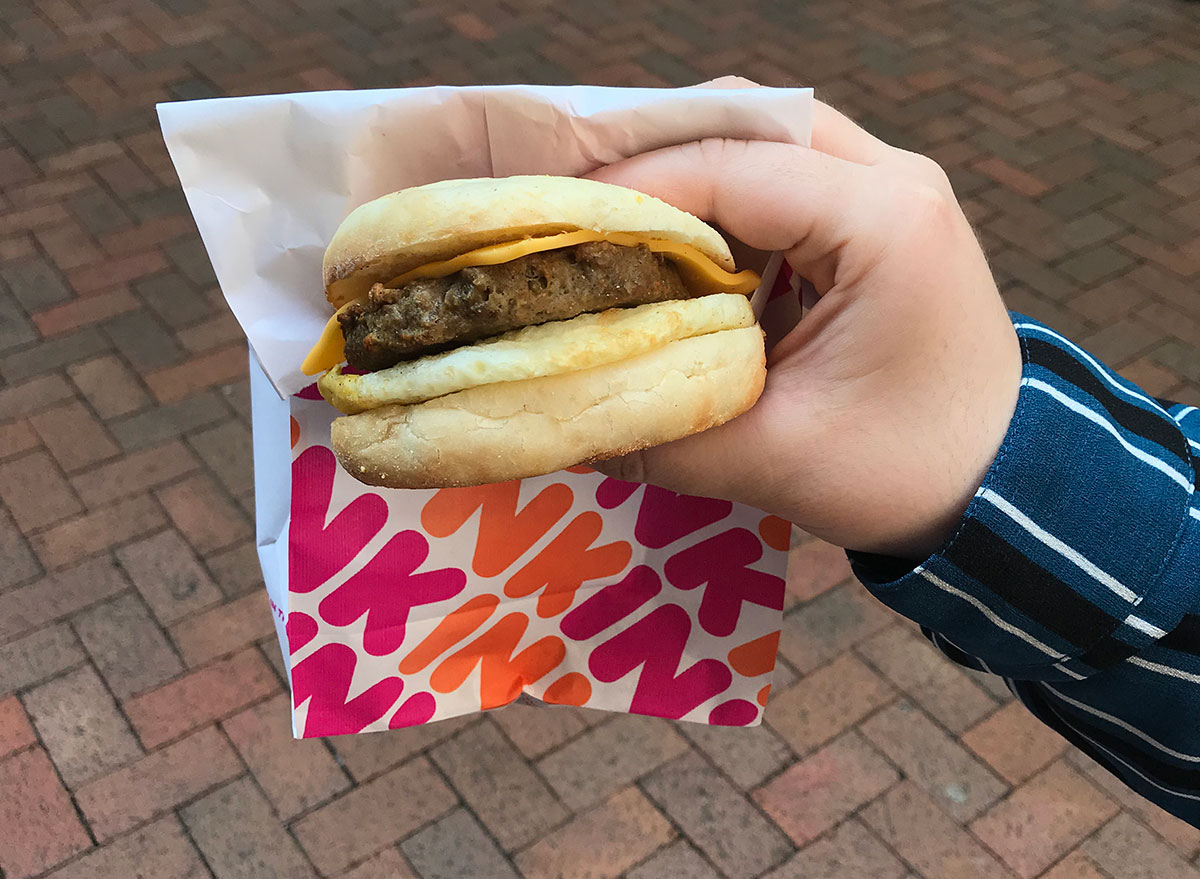 Beyond Meat is best-known for the Beyond Burger, which mimics the appearance and taste of ground beef. (If you don't like veggie burgers that look like the plants they're made from, it's a great alternative.) There's also Beyond Beef, which can be used in ground beef recipes, and Beyond Sausage links.
Still, this was the first we'd heard of Beyond Meat being served on a restaurant's breakfast menu, and not just alongside burgers. And if this is any indication, Beyond Meat has a promising future in the fast-food and fast-casual space. In addition to the new Dunkin' offering, Del Taco has Beyond Meat taco and burrito options, and Carl's Jr. has a Beyond Meat burger option. As the plant-based protein gains popularity in the fast-food sphere, it could gain fans in vegetarians and meat-eaters alike.
Final verdict
For now, it's safe to say we'd definitely try the Dunkin' Beyond Meat breakfast sandwich again, and it only makes me more excited to see what other plant-based meals quick-service restaurants will come up with in the future.
Meghan De Maria
Meghan De Maria is a senior editor at
Eat This, Not That!
, specializing in food, product, and restaurant coverage.
Read more about Meghan