17 Foods With Different Names on East vs. West Coasts
Depending on which coast you live on, you call the same exact product by a completely different name.
If you're an East Coast transplant like myself, you may have noticed a few glaring differences between the East and West coasts. Weather is an obvious one (for example, rain is so rare in Southern California that Subway restaurants offer a free sub as a "rainy-day special"), there's a serious lack of Dunkin' Donuts, and a good slice of 'za and fresh-baked bagel are hard to come by.
But there's another big difference that caught my attention after my move: many brands I had become accustomed to on the East Coast were marketed with a completely different name on the West Coast.
Since less than 18 percent of Americans will move from one region to another in their lifetime, I figured it might be fun to inform the 82 percent of Americans of these interesting differences in brand names depending on which coast you live on. Read on to learn about the fascinating histories behind these differences, and if you're looking for more fun food facts, shopping guides, and restaurant ordering tips, be sure to subscribe to the new Eat This, Not That! magazine now! For a limited time, you can save 50 percent off the cover price—click here!
West Coast: Dreyer's
East Coast: Edy's
In 1928, candy-maker Joseph Edy and ice cream maker William Dreyer teamed up to start an ice cream company—called Edy's Grand Ice Cream—in California. (Fun fact: Edy's actually invented the Rocky Road ice cream flavor!) After nearly twenty years together, Edy and Dreyer decided to go their separate ways in 1947; Edy wanted to shifts his focus back to the candy business and Dreyer's son showed an interest in growing the business. The Dreyers opened a new ice cream plant in 1948 and renamed the company Dreyer's Grand Ice Cream.
Eventually, the Dreyers sold the company to restaurateurs William Cronk and Gary Rogers, who introduced Dreyer's to markets beyond California. To avoid being confused with East Coast-based Breyers Ice Cream brand as Dreyer's expanded nationally (and due to a trademark dispute), Cronk and Rogers agreed to use the brand name "Edy's" in the Eastern U.S. market in 1979. Now, you'll find Dreyer's Classic Ice Cream west of the Rocky Mountains and in Texas and EDY'S Grand Ice Cream everywhere else.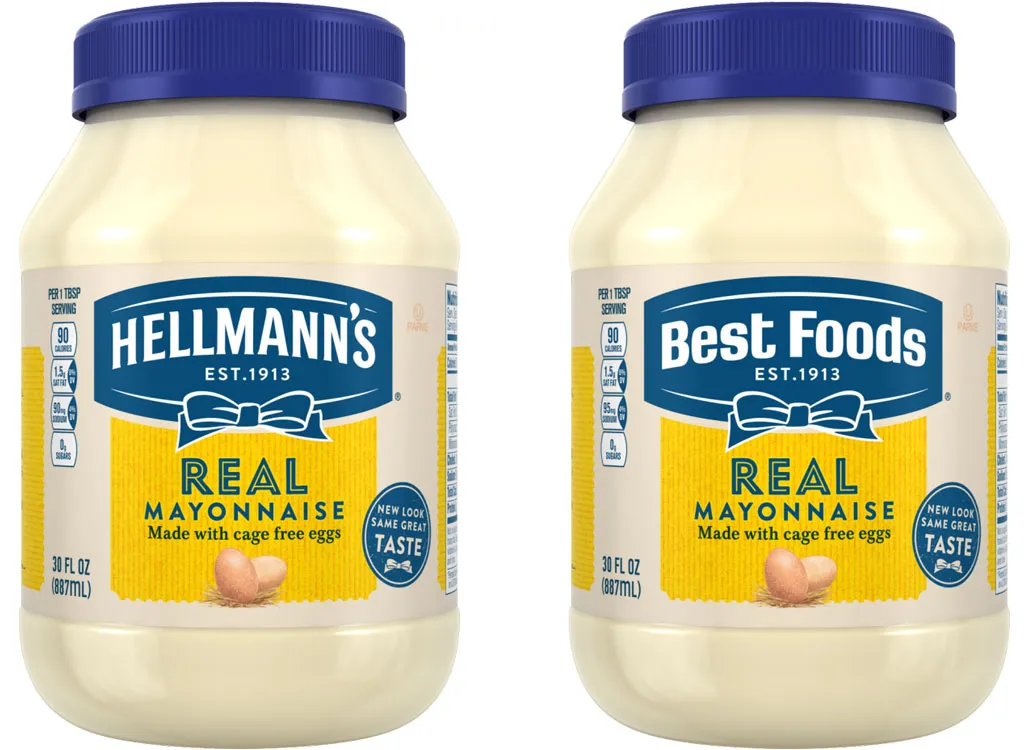 East Coast: Hellman's
West Coast: Best Foods
West Coasters go-to mayonnaise is from the Best Foods, but everyone who lives east of the Rocky Mountains knows it as Hellmann's. It all started when German immigrant Richard Hellmann began selling his homemade "blue ribbon" mayo at his New York deli. It became so popular that Hellmann decided to open up a factory in 1913 to start producing the mayo.
Meanwhile, California-based company Postum Foods (which later was renamed to General Foods) introduced their own mayonnaise: Best Foods Mayonnaise. In 1927, Postum Foods bought the Hellmann's brand. Since both brands were such commanding market shares in their respective regional markets, Postum allowed both brands and recipes to be preserved. Following a rebranding effort in 1968, they started using the characteristic Hellmann's blue ribbon on the Best Foods packaging, according to The Huffington Post. Unilever purchased the company in 2000, and as of 2007, both products have featured the same exact logo.
Arnold's vs. Brownberry vs. Orowheat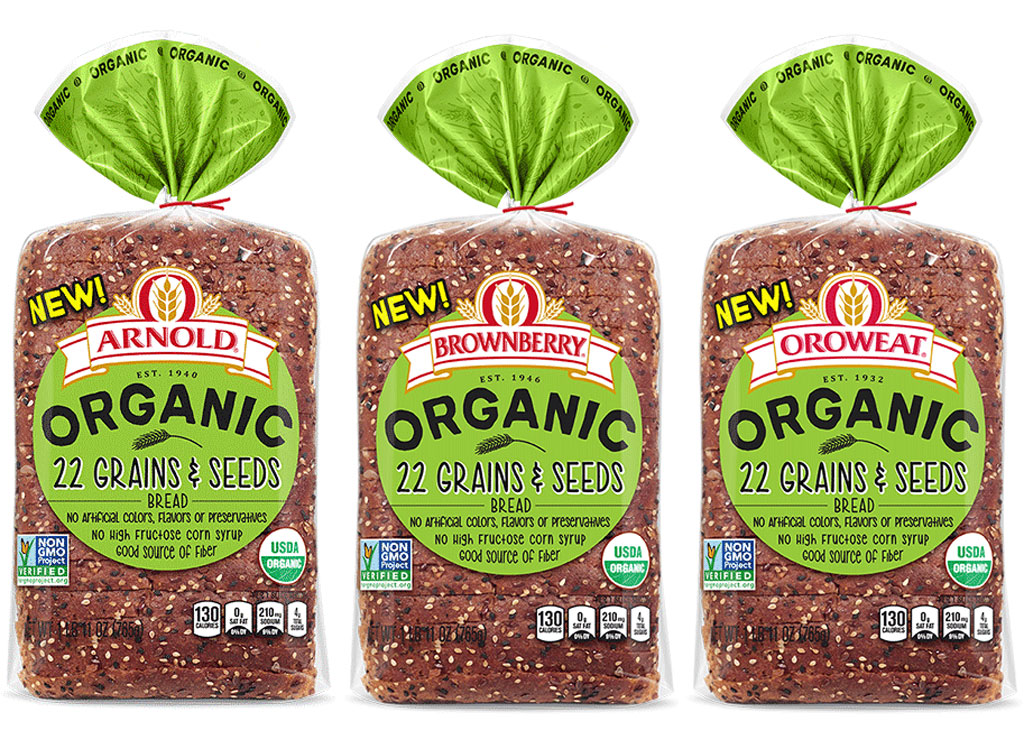 East Coast: Arnold's
West Coast: Orowheat
Midwest: Brownberry
All three bread brands got their starts as separate bakeries: Arnold in Connecticut in 1941, Brownberry Ovens in Wisconsin in 1946, and Oroweat in North Hollywood, California in 1932.
Oroweat, then-owned by CPC International Inc./Bestfoods bought Kraft Foods' bakery division, which included the Brownberry and Arnold brands in 1995. Then, in 2001, Bestfoods baking company was sold to George Weston, who then passed over it's West Coast-based brands (including Oroweat) to Mexico-based Groupo Bimbo in 2002. Eight years later, in 2009, Bimbo finally acquired the rest of George Weston's bakery brands, including Arnold and Brownberry. Ever since, Bimbo has kept the regional distribution of each brand but rolled out similar branding and packaging.
Although the co-branding is seamless now, there was a minor hiccup back in 2007, when George Weston changed the beloved Brownberry bread recipe. There was so much backlash amongst loyal customers that they had to bring back the old recipe with the label reading, "Back by Request — the original Brownberry recipe." Now, you can only buy the original Brownberry Natural Wheat Bread from the Brownberry brand in the Midwest, where it's still produced in the original Wisconsin factory.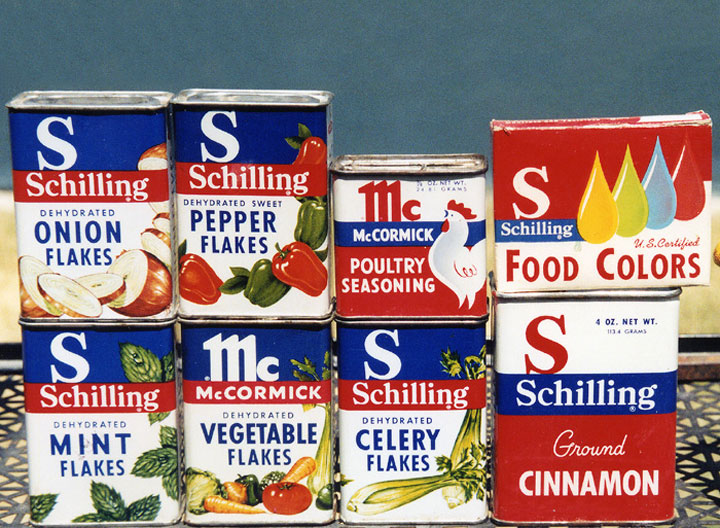 East Coast: McCormick
West Coast: Schilling
Although Schilling Spices is now a thing of the past, the McCormick-Schilling relationship is another example of bi-coastal branding. McCormick bought the San Francisco-based A. Schilling & Co. in 1947 and began to co-brand the product lines soon after. The spices and flavorings were identical, according to the Los Angeles Times, and the red, white, and blue tins were similarly-styled except for the names. Donald Dick Jr., former VP at McCormick, explained to the LA Times their reasoning for keeping both names: "The brands are so strong and so well-recognized by consumers that it just wouldn't be wise to drop one of them." McCormick ultimately stopped marketing under the Schilling brand in 2002.
Carolina Rice vs. Mahatma Rice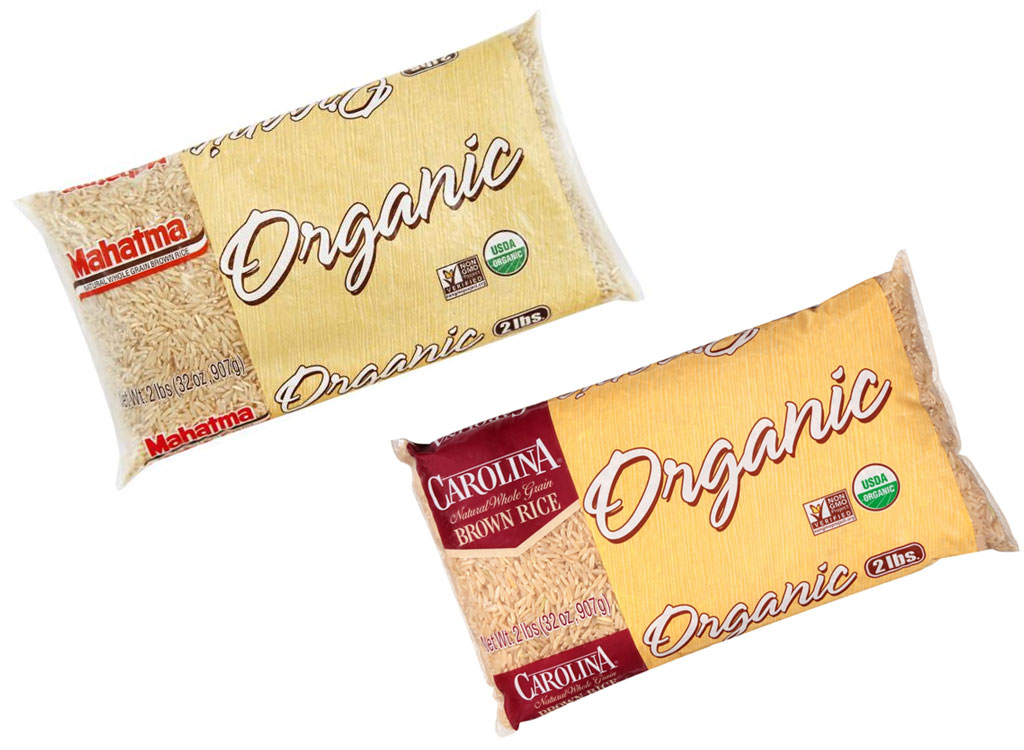 East Coast: Carolina Rice
West Coast: Mahatma Rice
The Louisiana-based Louisiana State Rice Milling Company introduced long-grain Mahatma rice to the American public during the Great Depression. Meanwhile, The Southern Rice Sales Company (which, somewhat ironically, was based in New York and had a branch in New Orleans) packaged and sold rice under the "Carolina" name in the late 1920s. After the Champion Rice Milling Company acquired the Southern Rice Sales Company in 1946 (and became River Brand Rice Mills, Inc.), they eventually merged with the Louisiana State Rice Milling Company to form Riviana Foods in 1965.
Based on their original operating locations—River Brand Rice Mills in New York, Texas, Tennessee, Louisiana, and Arkansas and Louisiana State Rice Milling Company in Louisiana and beyond—Riviana Foods appears to have kept the regional brands where they were originally sold. While we can't confirm that the rice is exactly the same (a 2012 Consumer Reports study actually measured different levels of arsenic in these products), their packaging is very similar, the brands are often promoted together, and both Mahatma and Carolina's websites claim that their rice comes from farmers in Arkansas, California, Florida, Louisiana, Missouri, Mississippi, and Texas.
River vs. Water Maid Medium Grain Rice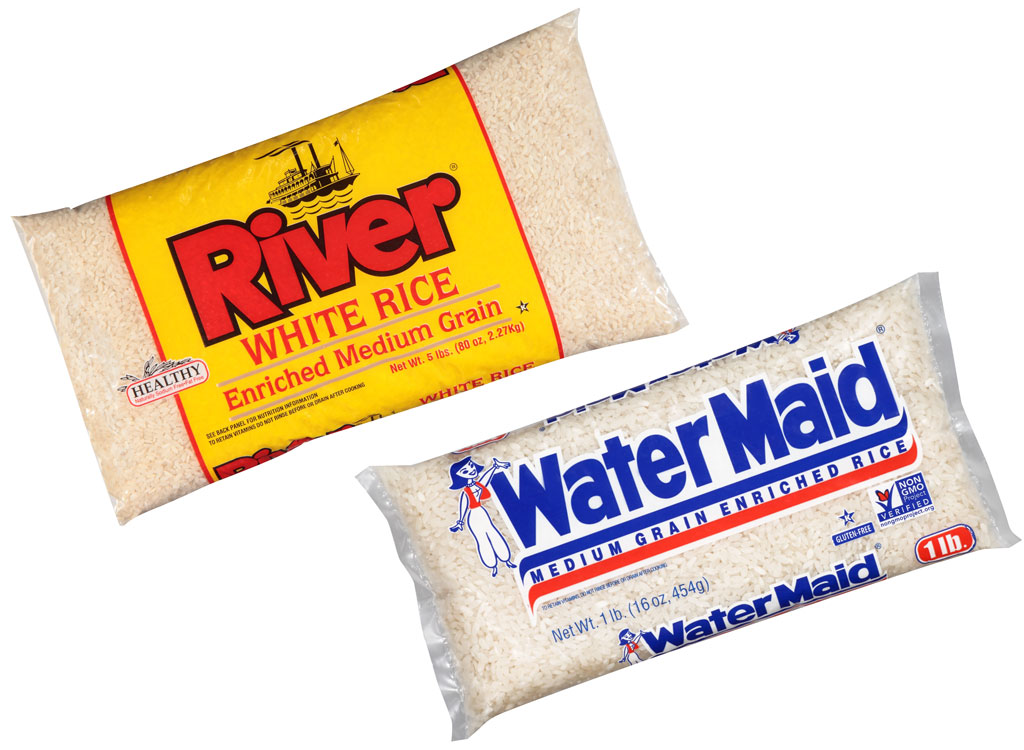 Mid-Central: River
South: Water Maid
Remember that Southern Rice Sales Company from above? Besides producing their long-grain Carolina rice, they also produced a "River Brand" medium-grain rice in the 1920s. "River Rice" was rice raised in the region of the Mississippi River.
The Louisiana State Rice Milling Company packaged a similar product, which it sold under the name Water Maid. (Fun fact: Kellogg used Water Maid rice for its famous Rice Krispies cereal!) Once the two brands eventually merged to form Riviana Foods, the company likely packaged the same rice under the two names, with Water Maid rice in the south and River rice in the mid-central U.S.
Ding Dong vs. Big Wheels vs. King Don
East Coast: Big Wheels or King Don
West Coast: Ding Dong
This difference in coastal names is another case of a trademark dispute. Drake's Cakes registered a trademark for the name Ring Dings in 1958. Rival bakery Hostess started producing Ding Dongs—almost an exact replica of Ring Dings in appearance and flavor profile—in 1967. (Drake's makes brief mention of the Hostess copycat on their heritage page stating that their Ring Dings cakes are "Often imitated. Never duplicated.")
Drake's successfully argued that the Ding Dong was too similar to their product, which forced Hostess to market it under a different name in markets east of the Mississippi: Big Wheel. When Drake's Cakes and Hostess merged between 1986 and 1987, the snacks also merged and were marketed as just Ding Dongs. Because of an antitrust lawsuit filed by Little Debbies-maker Tastykake, the merger was short-lived and Hostess had to stop using Ding Dong again. Instead of Big Wheel, they decided to go with a similarly-sounding name, King Don (named after the King Ding Dong mascot), until the two companies merged again in 1998 and Hostess was finally allowed to sell under the name Ding Dongs nationally.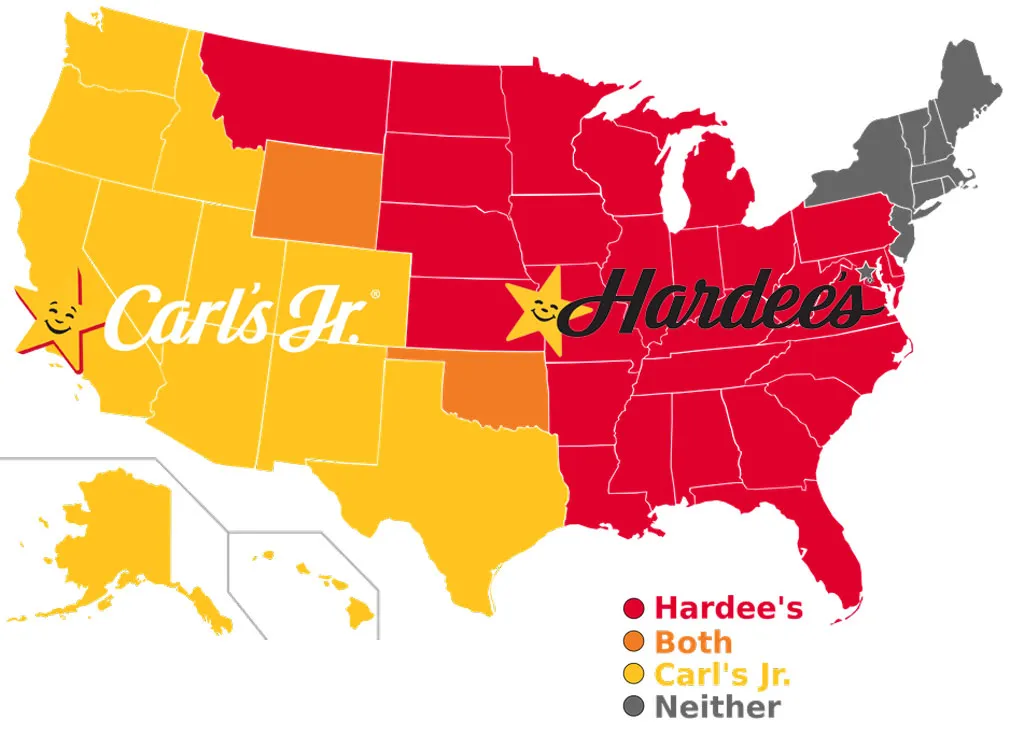 6254a4d1642c605c54bf1cab17d50f1e
East Coast: Hardee's
West Coast: Carl's Jr.
Although the two companies have recently decided to go their separate ways, the two had been co-branded—with similar logos and menu offerings—for over 20 years. Carl's Jr. started as a hot dog stand in Los Angeles back in 1941. Five years later, the restaurant expanded to five restaurants and started to sell burgers. On the other side of the country, Wilbur Hardee opened a restaurant in North Carolina in 1961 and expanded throughout the Midwest and South. In 1997, Carl's Jr.-founder Charles Karcher's company, CKE Restaurants, acquired Hardee's. They initially kept most of the Hardee's menu intact and eventually started to add more Carl's Jr. items to the menu. There are some menu items, however, that can still only be purchased at one chain or the other, like Hardee's Frisco Burger and Carl's Jr.'s El Diablo Thickburger.
Olivia Tarantino
Olivia Tarantino is the Managing Editor of Eat This, Not That!, specializing in nutrition, health, and food product coverage.
Read more about Olivia