4-Ingredient Lunches Under 400 Calories
Did you finally run out of leftovers to bring for lunch tomorrow? Whip up these simple, low-calorie recipes that ensure you eat a healthy lunch.
For many of us, there's only one meal that's deserving of your time and effort: dinner. Shared with loved ones at the end of the day, dinner is the perfect time to come together over a delicious meal to spend quality time together.
That also means that two meals get jipped for time. While breakfast is often as simple as grabbing a yogurt or scrambling a couple eggs in a microwaveable mug, lunch can be a bit trickier to figure out.
So what happens when you've eaten through all your leftovers or you're sick of spending $1,000 a year eating out? The answer is simple; just whip up one of these low-effort, low-calorie options that are sure to satisfy.
We reached out to Mandy Enright, MS, RDN, registered dietitian nutritionist and fitness trainer who loves sharing her passion for healthy living on her blog, Nutrition Nuptials, to share her favorite midday lunch recipes with us. Below, Mandy tells us in her own words exactly what you need and how to craft these healthy meals. Looking for more quick recipes? Don't miss these 20 Quick Dinner Recipes for Weight Loss.
Tuna-Filled Avocado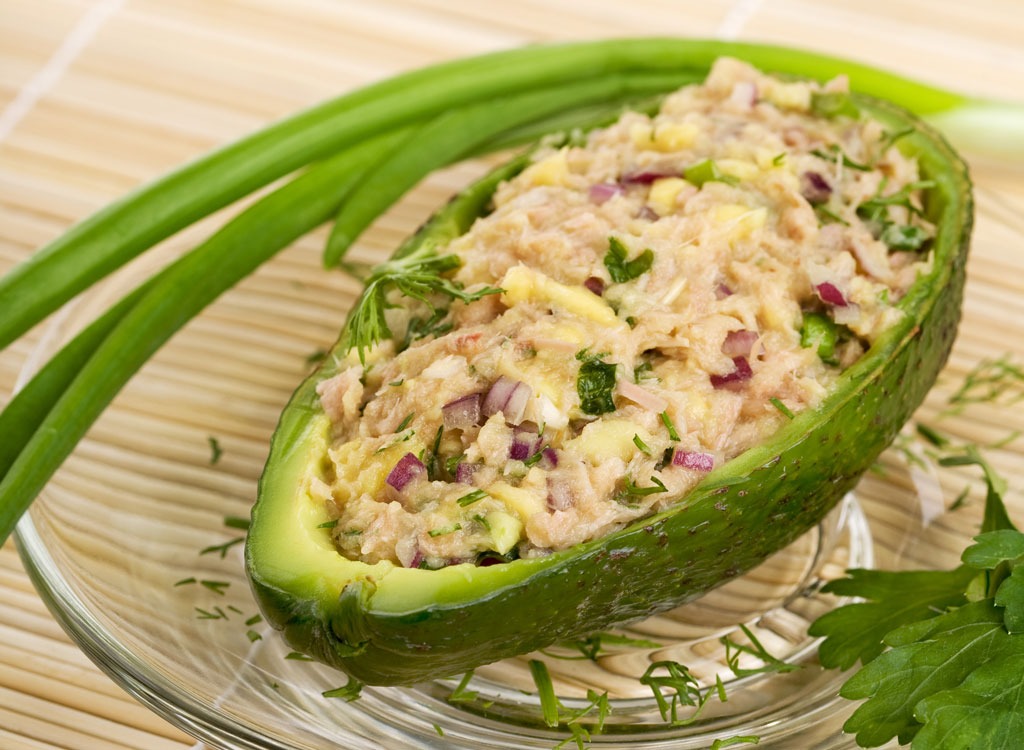 310 calories, 19 g fat (5 g saturated fat), 610 mg sodium, 7 g carbs (5 g fiber, 1 g sugar), 27 g protein
Avocados don't just taste great—they make a functional bowl too! Fill your avocado with pre-seasoned tuna or salmon mixed with crunchy celery for a twist on your tuna sandwich you had growing up.
INGREDIENTS:
½ avocado with pit removed (160 calories)
3 oz Safe Catch Citrus Pepper-Seasoned, Low-Mercury Tuna (120 calories)
1 celery stalk, diced (6 calories)
2 TB feta cheese (70 calories)
HOW TO MAKE IT:
Remove some flesh of the avocado around the hole created by the pit, creating a large bowl. Place in a separate container. Mix together the tuna and celery with the extra avocado, and place back into the avocado. Sprinkle feta cheese on top.
Yogurt with Fruit, Nuts, and Seeds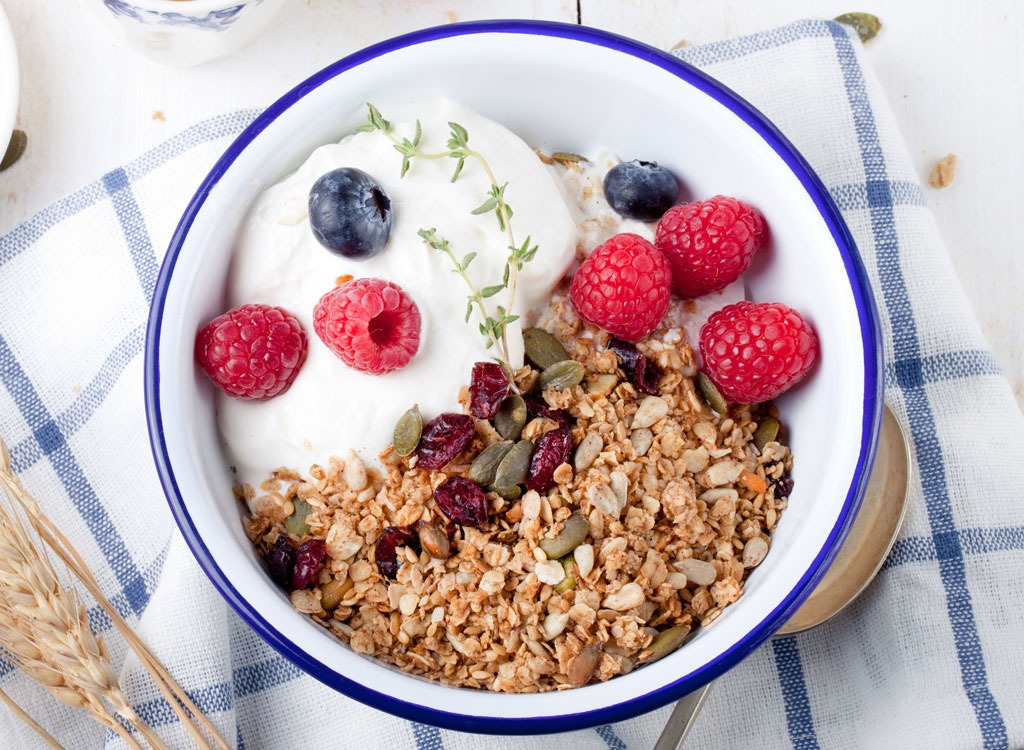 220 calories, 8 g fat (1 g saturated fat), 63 mg sodium, 17 g carbs (3 g fiber, 9 g sugar), 21 g protein
Bulk up your traditional yogurt at lunch with a protein packed skyr yogurt. Skyr is strained four times more than traditional yogurt, making it thick and very low in sugar and high in protein. Add in berries, sliced almonds, and seeds for fiber, and this parfait will make you say "Yay!"
INGREDIENTS:
5.3-oz container Siggi's Plain 0% milkfat skyr (100 calories)
½ C mixed frozen berries, thawed (40 calories)
2 TB sliced almonds (80 calories)
1 tsp hemp seeds (20 calories)
HOW TO MAKE IT:
Layer ingredients together and enjoy!
Beans, Corn, Cherry Tomato, Cilantro Salad
275 calories, 16 g fat (2 g saturated fat), 143 mg sodium, 27 g carbs (9 g fiber, 5 g sugar), 8 g protein
Not all salads need to involve lettuce. Get protein and from beans with this bean and veggie based salad on your next Meatless Monday.
INGREDIENTS:
½ C no-salt added black beans, drained and rinsed (120 calories)
¼ cup frozen corn kernels, thawed (30 calories)
¼ C cherry tomatoes, halved (7 calories)
1 TB chopped fresh cilantro (1 calories)
HOW TO MAKE IT:
Mix together all ingredients. When ready to enjoy, drizzle with a tablespoon of extra virgin olive oil and red wine vinegar and toss salad together.
Banana Sushi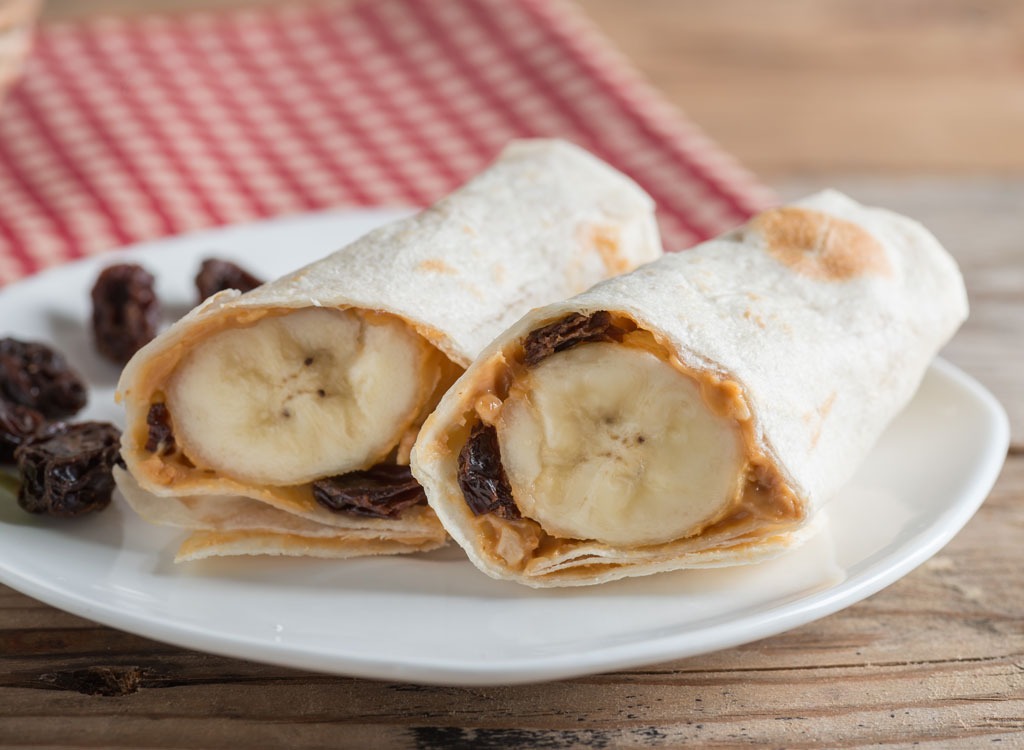 390 calories, 16 g fat (2 g saturated fat), 280 mg sodium, 46 g carbs (12 g fiber, 16 g sugar), 13 g protein
Who says you can't have fun with your food? Get your lunchtime sweet fix with this fruit sushi change up. The fiber from the flatbread, banana, and chia seeds along with protein from nut butter keeps you feeling more full longer. For added fun, eat with your hands!
INGREDIENTS:
1 BFree Quinoa, Chia Seed, Teff & Flaxseeds Wrap (110 calories)
1.5 TB Smucker's Natural Creamy Peanut Butter (150 calories)
1 tsp chia seeds (20 calories)
1 medium banana (100 calories)
HOW TO MAKE IT:
Spread peanut butter along one side of flatbread. Sprinkle chia seeds on top. Lay the whole banana parallel to one narrow end of the flatbread. Roll up the flatbread around the banana, placing seam side down. Slice roll into "sushi" pieces.
Salmon Cucumber Toast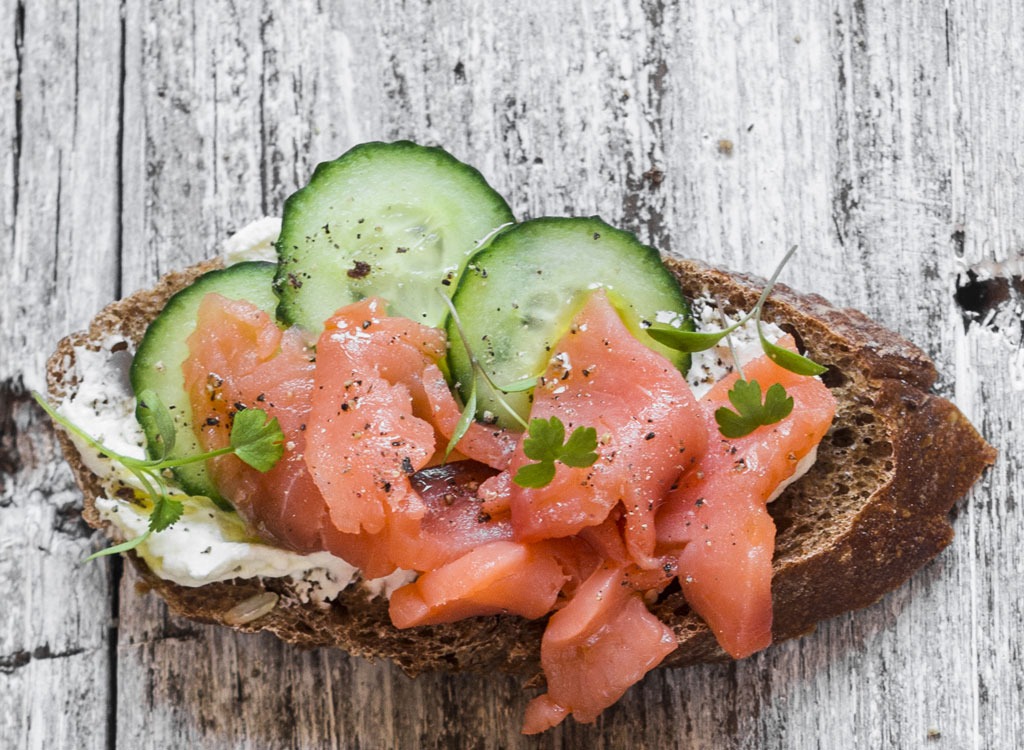 6254a4d1642c605c54bf1cab17d50f1e
380 calories, 16 g fat (5 g saturated fat), 1,000 mg sodium, 30 g carbs (6 g fiber, 11 g sugar), 31 g protein
This toast plays on the traditional tea sandwich and uses a high fiber bread with greek cream cheese that has twice as much protein and a third less calories than traditional cream cheese. Fill with cucumbers and smoked salmon for your veggies and protein fix.
INGREDIENTS:
1 slice Dave's Organic Killer Bread, 21 Whole Grains and Seeds (120 calories)
3 TB Green Mountain Farms Greek Cream Cheese (90 calories)
½ cucumber, sliced (15 calories)
3-oz smoked salmon slices (150 calories)
HOW TO MAKE IT:
Spread cream cheese along one side of the wheat wrap. Layer cucumber slices and smoked salmon on one half of the wrap. Optional sprinkle with salt and pepper. Fold over the wrap so there is cream cheese on both top and bottom. Cut into third or quarter triangels.
Lentil Pasta Salad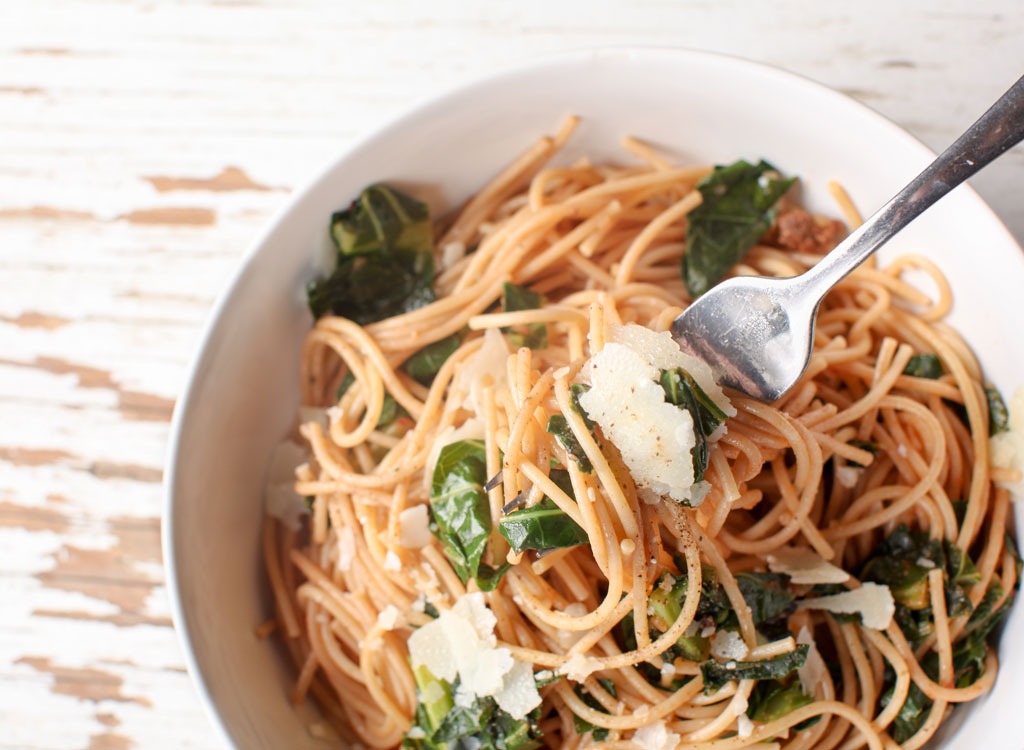 400 calories, 19 g fat (3 g saturated fat), 435 mg sodium, 41 g carbs (5 g fiber, 1 g sugar), 17 g protein
Bean-based pastas are all the rage these days, and with good reason. These pastas are packing twice the fiber and more protein than traditional wheat-based pastas, making them a great option for pasta lovers who are watching their carb intake.
INGREDIENTS:
⅔ C cooked Modern Table Lentil Rotini Pasta (200 calories)
½ C raw kale, chopped (15 calories)
2 TB shaved parmesan cheese (50 calories)
2 TB Briannas' Real French Vinaigrette Dressing (130 calories)
HOW TO MAKE IT:
Mix together all ingredients and enjoy! Allowing the kale to marinate in the dressing for up to an hour will help to tenderize the greens.
Turkey Toast with Sweet Potato Spread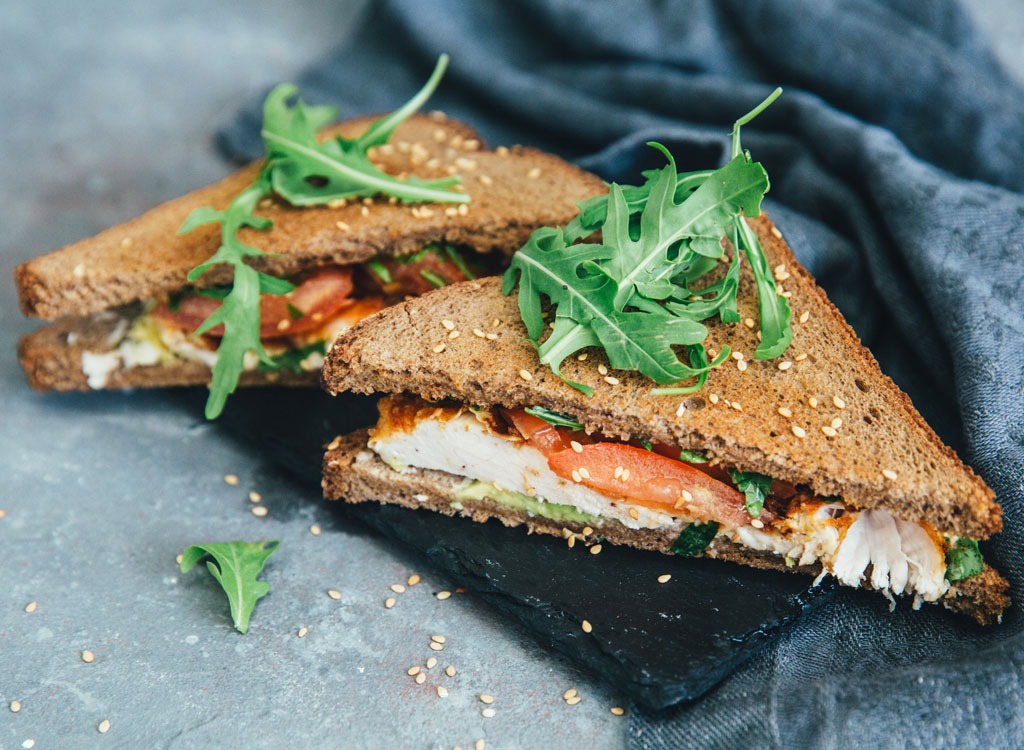 260 calories, 2 g fat (0 g saturated fat), 764 mg sodium, 37 g carbs (7 g fiber, 10 g sugar), 24 g protein
This open-faced sandwich turns toast upside down using baked sweet potato as a spread and a slice of tomato for your afternoon savory sweet fix. Top with a few turkey slices for added protein, and you'll be energized through afternoon meetings.
INGREDIENTS:
1 slice Dave's Organic Killer Bread, 21 Whole Grains and Seeds (120 calories)
½ baked sweet potato (55 calories)
2 slices tomato (10 calories)
3 oz (~3 slices) Applegate Naturals Roasted Turkey Breast (75 calories)
HOW TO MAKE IT:
Spread baked potato on bread (optional to toast bread). Top with tomato slide and slices of deli turkey
Olivia Tarantino
Olivia Tarantino is the Managing Editor of Eat This, Not That!, specializing in nutrition, health, and food product coverage.
Read more about Olivia