Eating Habits to Lower Your Heart Disease Risk, Says Dietitian
Incorporate these habits into your life to keep your ticker healthy for a long time.
While there can be many factors that can increase the risk of developing a chronic disease, your diet does play a huge role—especially when it comes to cardiovascular disease. Certain foods can increase or decrease the risk of heart disease, which is why it's important to incorporate some healthy eating habits into your life in order to keep that risk low. And establishing these types of habits in your life is a lot easier than you think.
Bianca Tamburello, RDN with the Chilean Salmon Marketing Council, shared some of the easy habits you can incorporate into your life to will decrease that risk—and make your meals even tastier. From types of fish to buy to some healthy swaps and even a few meal ideas, here are the healthy eating habits she recommends.
Then, be sure to sign up for our daily newsletter for even more healthy eating tips in your inbox!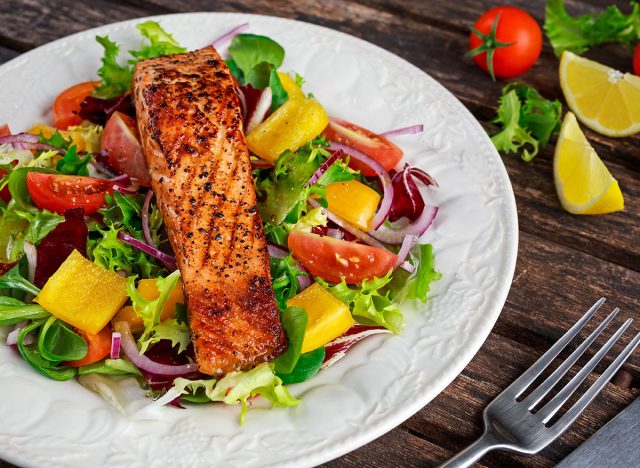 "Omega-3 fats found in fatty fish, like farmed salmon from Chile, are linked to better triglyceride levels and blood pressure, higher HDL or 'good cholesterol,' and the prevention of the plaque formation in arteries," says Tamburello. "Aim to eat fatty fish, like farmed salmon, two times per week to help meet the USDA's seafood recommendation of two to three weekly servings."
While there are many benefits to choosing wild salmon for your meals, there are numerous companies offering sustainable and healthy farmed salmon options that still provide a myriad of benefits as well.
"Shopping for seafood can be intimidating," she says. "Here's a quick salmon tip: look for farmed salmon from Chile. It's particularly high in omega-3 fats, low-mercury, sustainably raised, and considered a best choice for the whole family- including pregnant women and children."
Need some meal ideas to cook up with your salmon? Check out our list of 21+ Best Healthy Salmon Recipes.
Replace red meat meals with beans and legumes.
"This could be as simple as replacing your beef taco with black bean tacos or even cooking with half red meat and half beans," says Tamburello. "Beans and legumes are lean plant proteins, low in saturated fat making them a great diet choice. A meta-analysis of 14 studies found that eating beans regularly was tied to lower mortality risk from heart disease."
Swap refined grains for whole grains.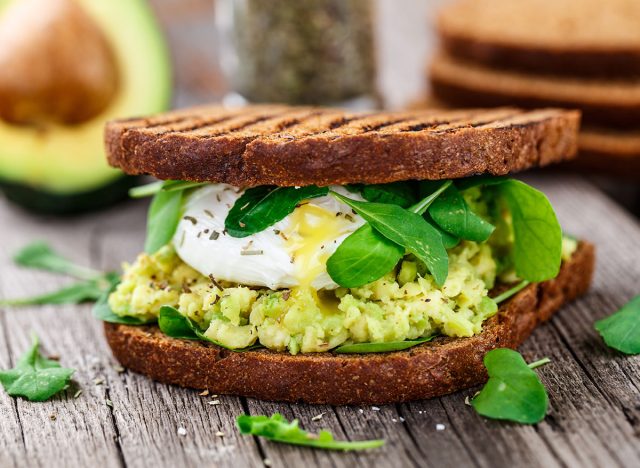 "Research shows that a diet full of refined grains, such as white bread and white rice, can increase the risk of heart disease," says Tamburello.
The risk is linked back again to cholesterol levels, which research does prove whole grains can help reduce the LDL "bad" cholesterol in the body and increase the HDL "good" cholesterol, clearing up the arteries and keeping your heart healthy.
Tamburello suggests choosing "whole-grain options including whole wheat bread, brown rice, quinoa, farro, and whole wheat pasta."
Here are The Best Whole Grains To Reduce Your Risk of Disease, Say Dietitians.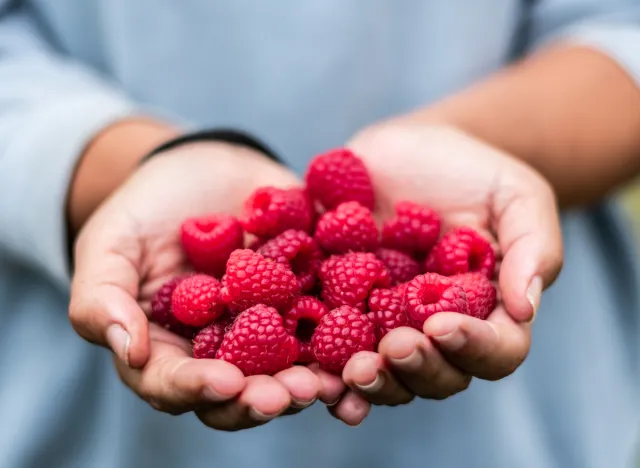 "Berries such as raspberries, blackberries, and strawberries are full of antioxidants known to protect the body's cells from damaging free radicals," says Tamburello. "Additionally, this research analysis of 22 studies found that eating more berries is linked to improved heart disease risk factors including better LDL 'bad cholesterol,' blood pressure, and weight."6254a4d1642c605c54bf1cab17d50f1e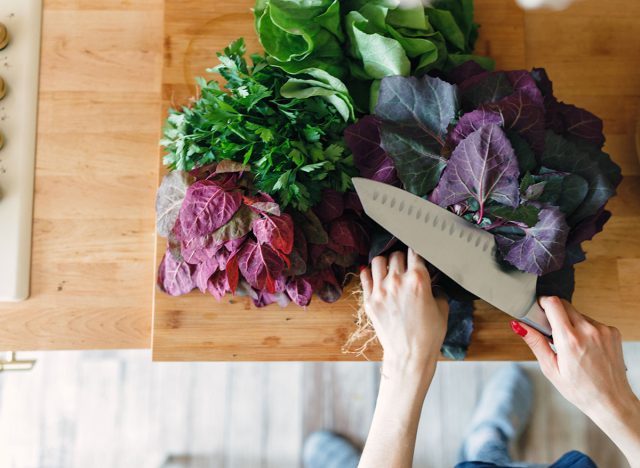 "Leafy greens like kale, collard greens, and spinach are packed with vitamin K and nitrates, two nutrients known to protect the arteries and contribute to heart health," says Tamburello. "Enjoy in a salad, if that's your thing, or sneak these green leaves into smoothies, stir-fries, a whole wheat lasagna, or a pasta toss."
For more healthy eating tips, read these next: