21 Delicious Eggplant Recipes for a Vegetable-Centric Dinner
The purple nightshade can handle grilling like a steak and stewing like a tomato.
We're big on eggplant recipes for several reasons. First of all, eggplant is beautiful. Second of all, it's one of those workhorse vegetables that are easy to build a meal from, whether you grill it whole, throw it in a stew, or make a dip out of it. Which is why it's a key player for vegetarians and vegans in search for dinner.
Another reason we love eggplant is its sturdiness when stored. It can comfortably sit in the fridge for up to ten days without any changes to its textural integrity or flavor.
These recipes will inspire you to turn the purple nightshade into dinner, whether you're looking for a vegan, vegetarian, or a meat-filled way of doing it.
Grilled Ratatouille Salad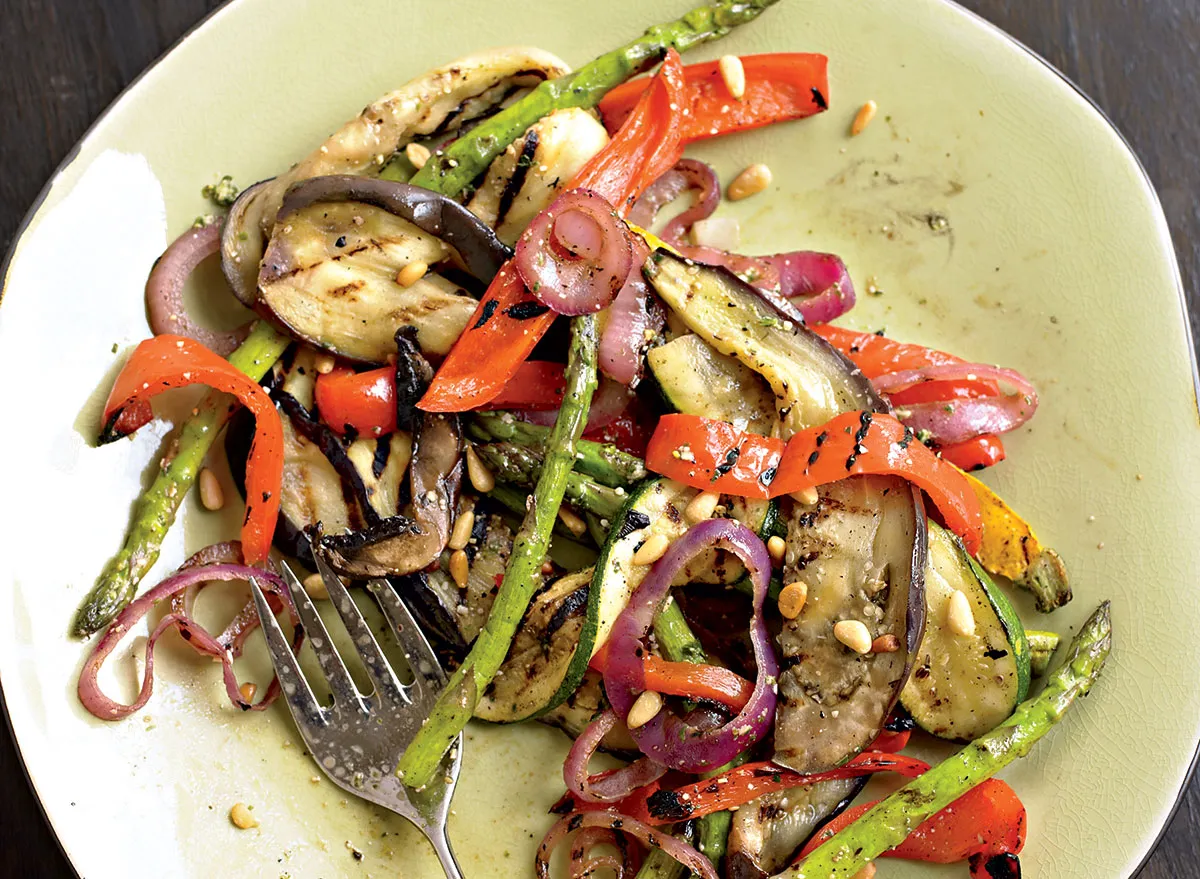 Whether you know it as a classic animated film or as a satisfying Provençal vegetable stew, ratatouille is likely already a part of your life. This version grills all the vegetables first, for a smoky combination that then gets tossed with a pesto vinaigrette.
Get our recipe for Grilled Ratatouille Salad.
Argentinian-Style Churrasco Skewers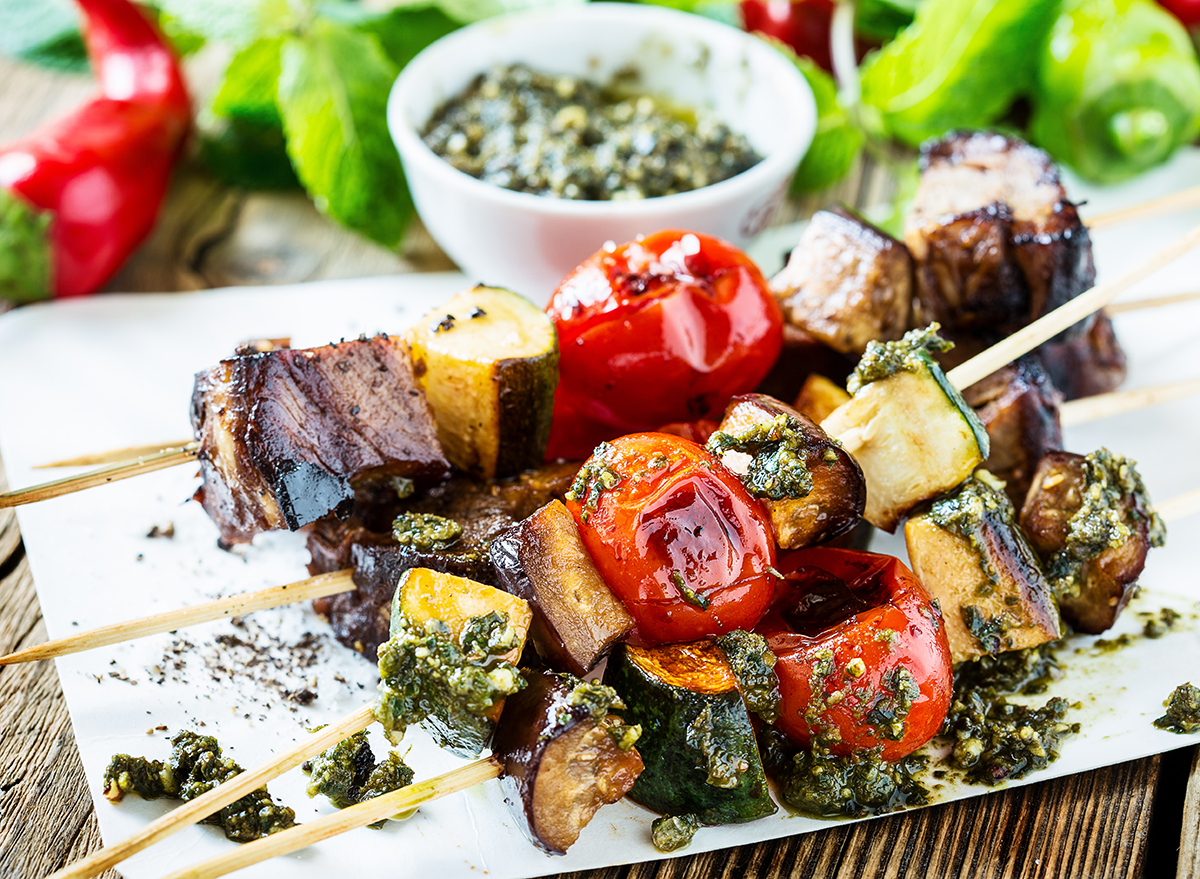 Sure, there's meat involved here. And while it's juicy and well-marinated, it's not even close to the best part. That title belongs to the hunks of eggplant, which join skirt steak on the skewer and get doused in parsley-packed chimichurri sauce. It's probably time to open grilling season!
Get our recipe for Argentinian-Style Churrasco Skewers.
Grilled Swordfish with Caponata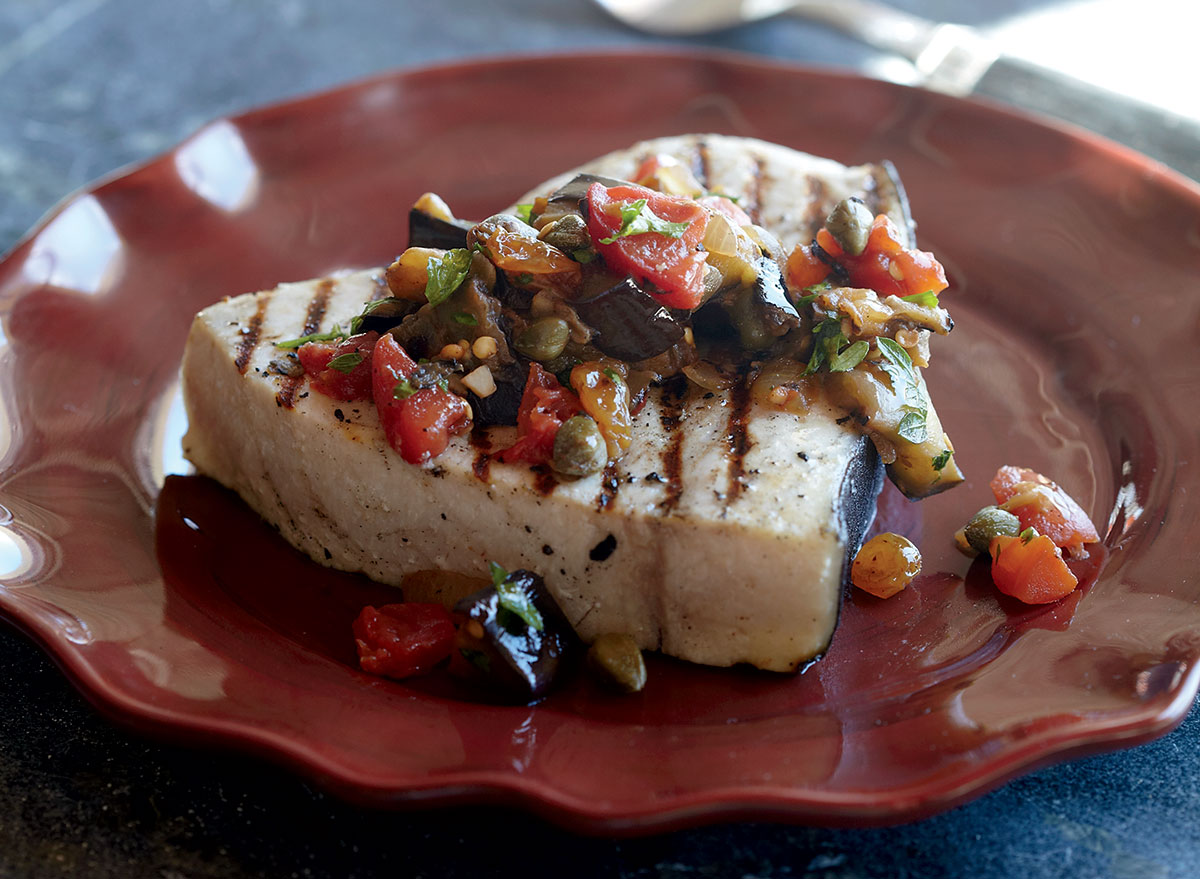 Swordfish on its own is fine, but becomes a restaurant-worthy meal when served with sweet and sour caponata. The traditional eggplant dish is the Italian version of ratatouille, in that it's also a cooked vegetable salad, but it differs with the addition of capers and golden raisins.
Get our recipe for Grilled Swordfish with Caponata.
Cheesy Baked Eggplant Pizza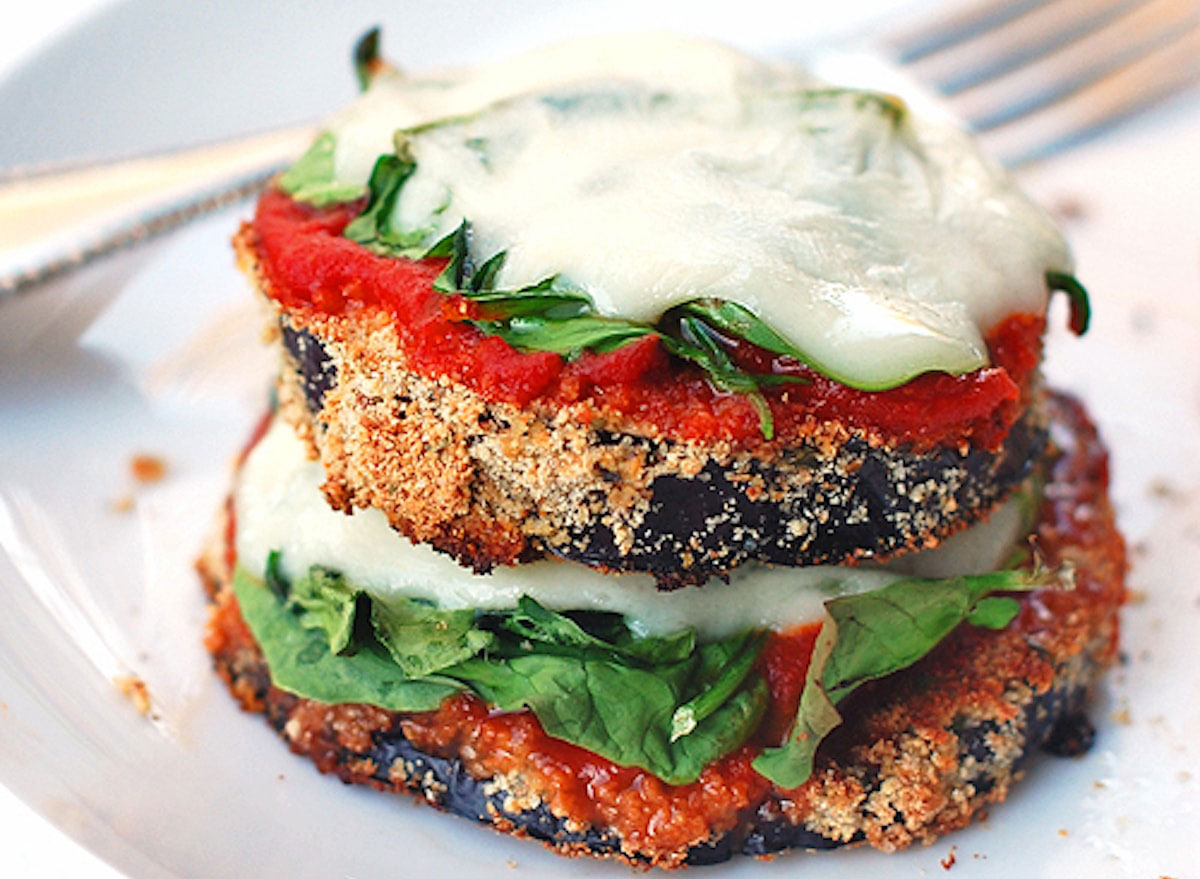 There's enough cheese in here to hide the fact that instead of dough, this pizza uses eggplant rounds as the base. But instead of feeling cheated, you'll rejoice in the way this neutral vegetable crisps up when coated in breadcrumbs and stands back to let the tangy tomato sauce and fresh basil shine.
Get the recipe from Pinch of Yum.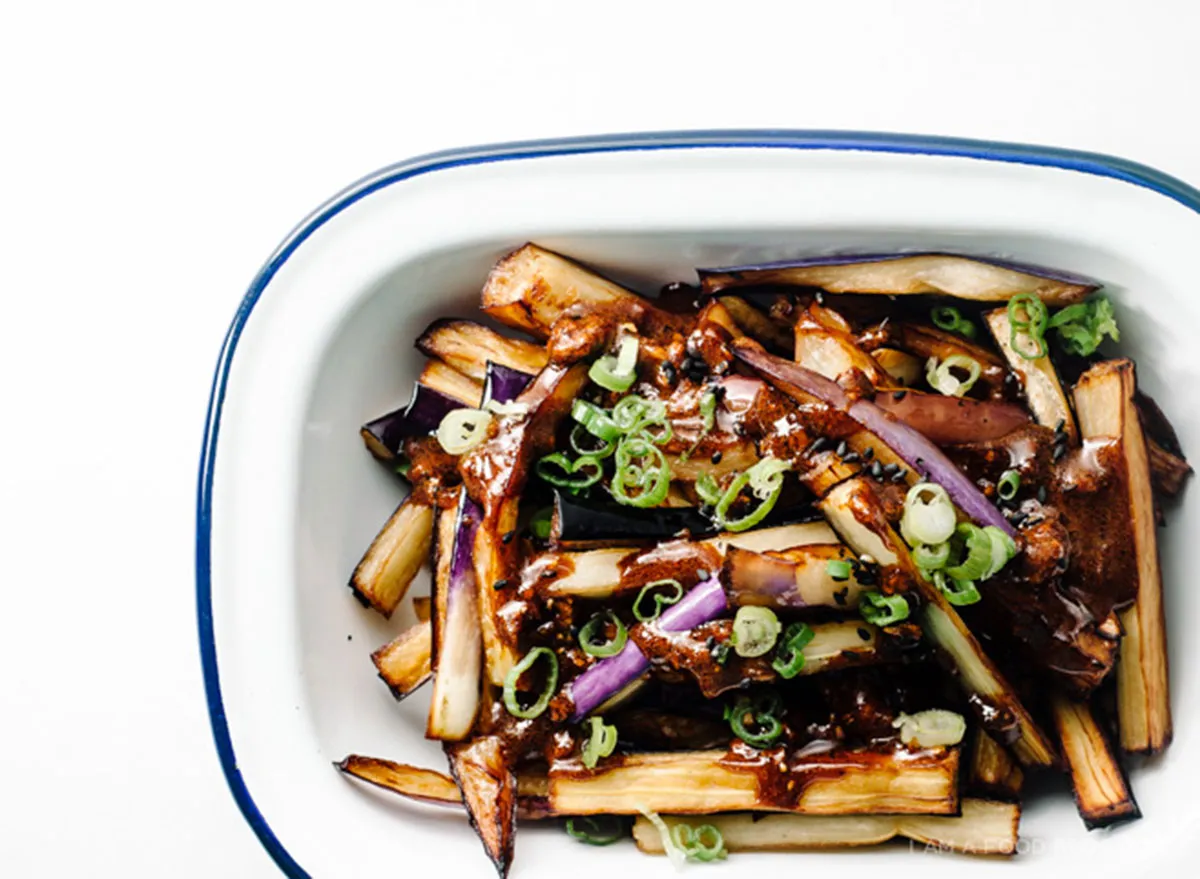 "Healthy fried food" is not an oxymoron when you have this recipe in hand. Rather than deep-fry, it asks you to shallow-fry the eggplant batons, meaning they'll soak up less oil—and soak up more of the honey garlic sauce.
Get the recipe from i am a food blog.
Grilled Eggplant and Goat Cheese Salad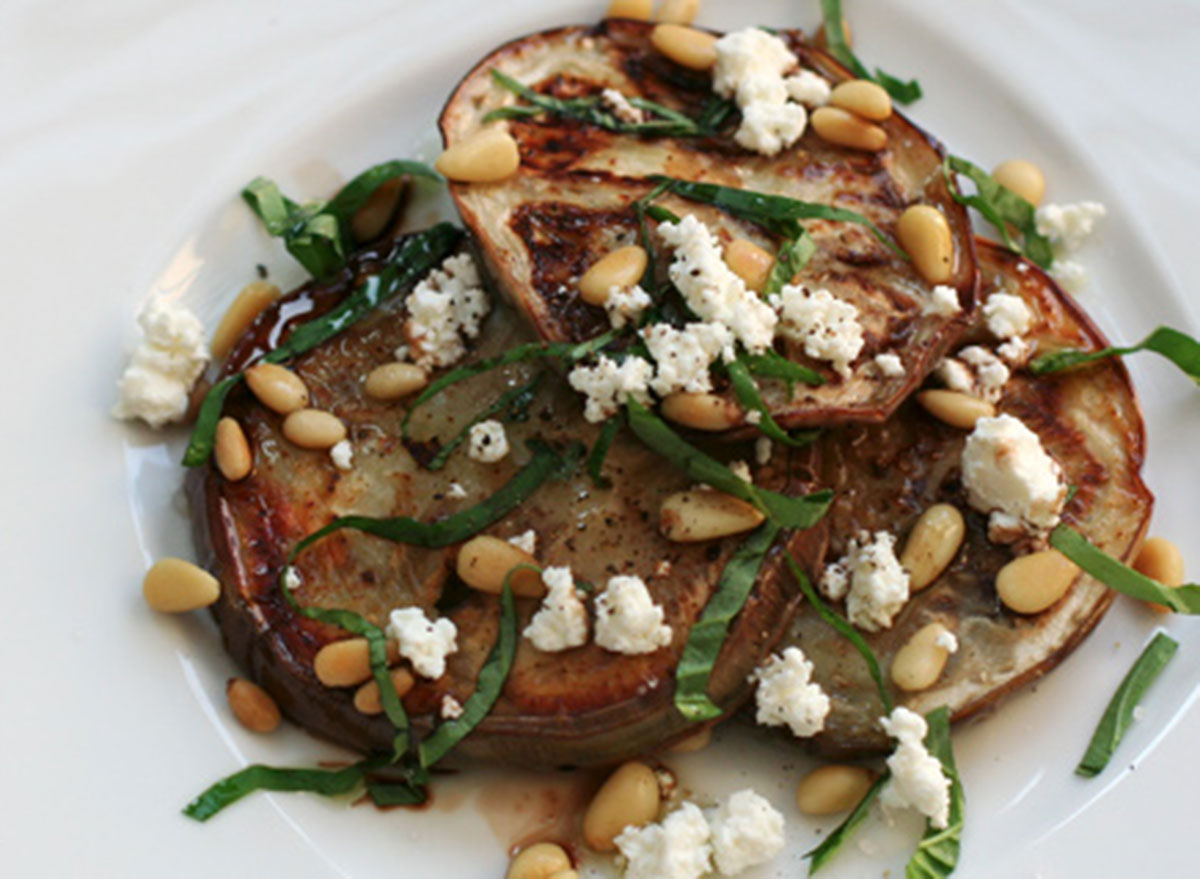 A plate full of this salad is like winding your way through a treasure map, each bite revealing a pop of flavor you weren't expecting. In addition to the eggplant and goat cheese, there's pine nuts, basil, mint, and a drizzle of balsamic vinegar that ties everything together.6254a4d1642c605c54bf1cab17d50f1e
Get the recipe from Love and Olive Oil.
No collection of eggplant recipes would be complete without at least one take on eggplant parm. This version of the Italian classic bakes the eggplant instead of frying it, and uses a special trick of salting the rounds to remove any unwanted bitterness.
Get the recipe from Gimme Some Oven.
Grilled Eggplant with Peanut Butter Teriyaki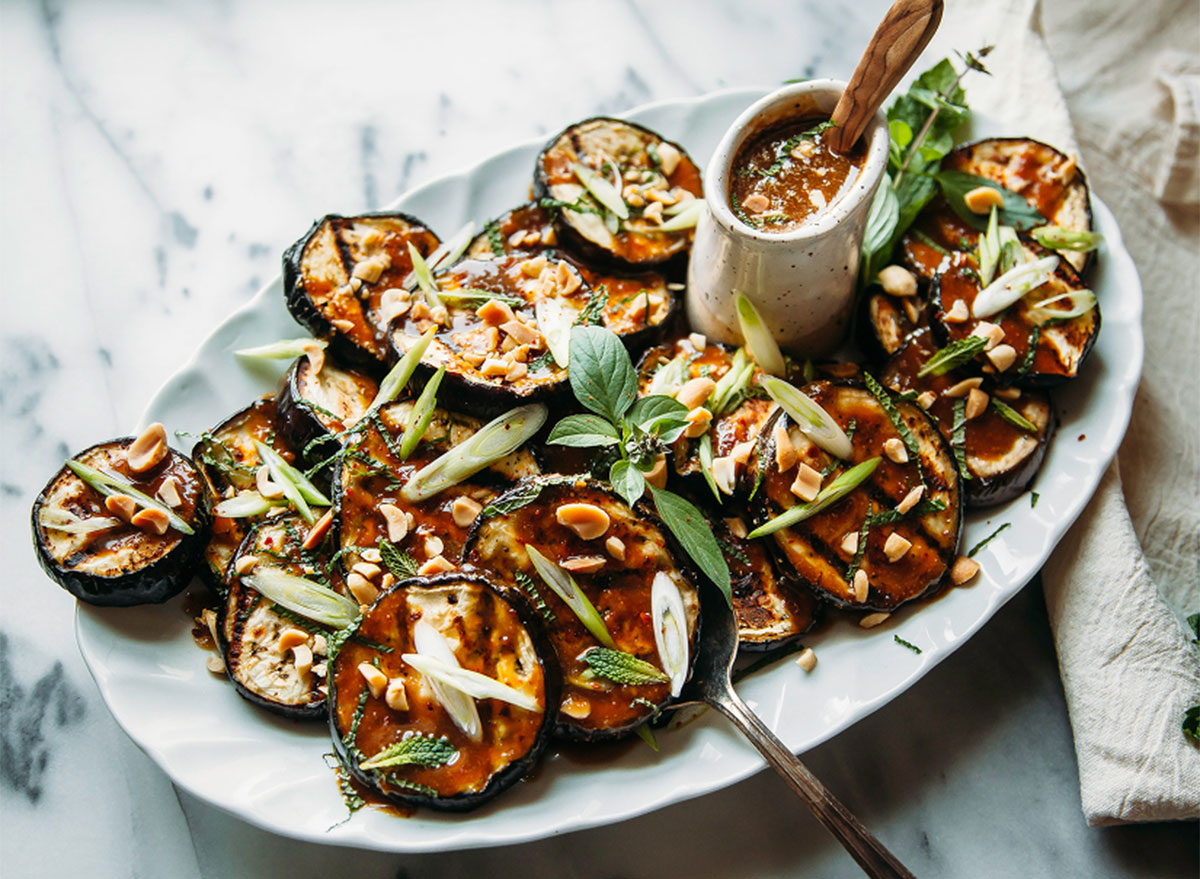 Peanut butter may not have been your first answer in a "what goes with eggplant" lightning round question, but one taste of this sauce is sure to change that. It's what happens when peanut sauce meets teriyaki, and when paired with grilled eggplant, makes the perfect base to a vegetarian (and vegan!) dinner.
Get the recipe from The First Mess.
Vegetable Abundance Paella
All you need alongside this Spanish rice dish is a pitcher of sangria, and dinner is complete. While the traditional Valencian versions call for meat or seafood, the copious amounts of eggplant, mushrooms, asparagus, and tomatoes make it more than satisfying.
Get the recipe from Vegukate.
Grilled Vegetable Sandwich With Herbed Ricotta
Veggie burgers don't have to be the only vegetarian stand-in for a hamburger. Especially not when you can instead pile grilled zucchini, eggplant, onions, and peppers high on sliced ciabatta for what feels like summer in sandwich form.
Get the recipe from FoodieCrush.
Grilled Eggplant Flatbread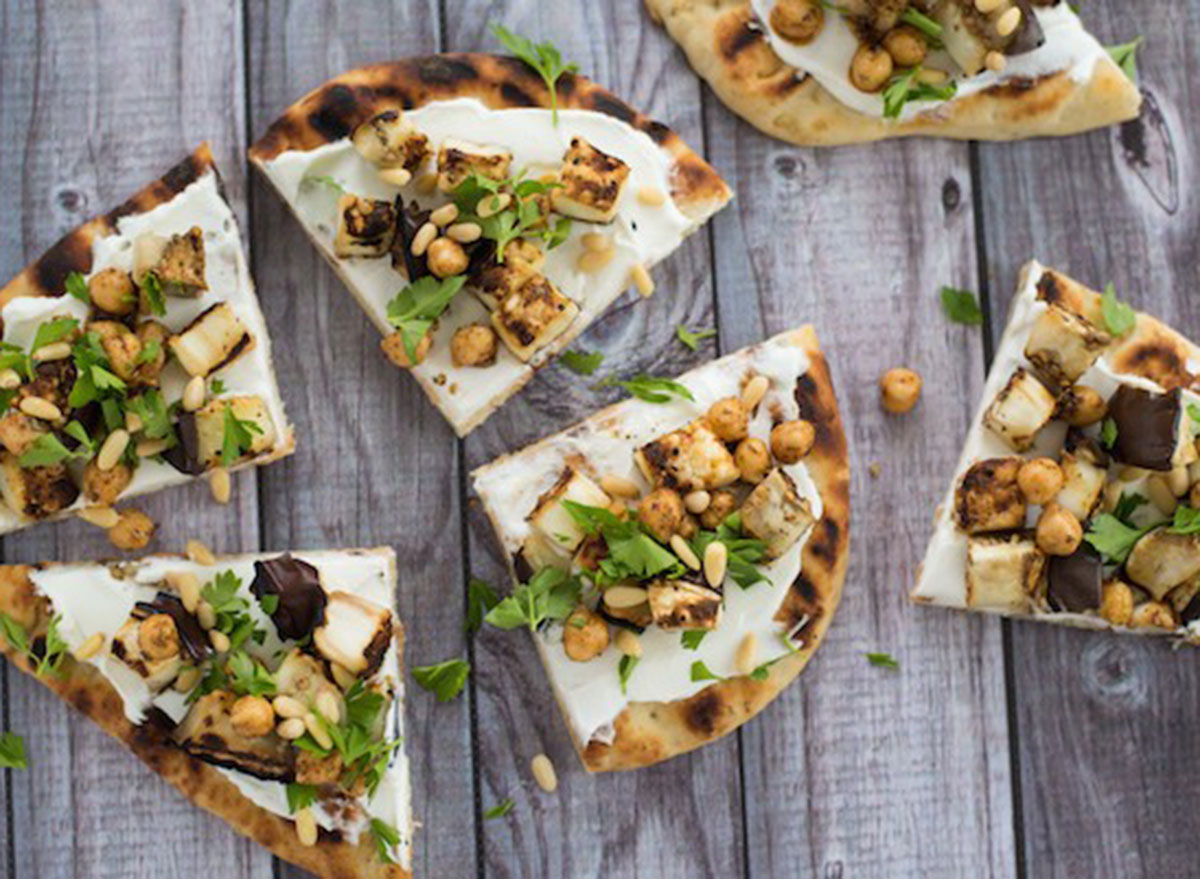 Put your grill to work with this recipe, which first calls for grilling slices of eggplant until they're smoky and charred, then the naan that acts as the base of this flatbread. It's like grilled pizza, but cooling yogurt takes the place of tomato sauce, and the eggplant-chickpea mixture is the only topping you'll need.
Get the recipe from Foxes Love Lemons.
Eggplant Meatballs with Zucchini Noodles
Even though we're dealing with neither "real" meatballs nor "real" noodles, this recipe is the real deal. The homemade marinara is better than anything you'll find in a grocery store, and the eggplant balls magically stay together despite not using any egg as a binder.
Get the recipe from My Darling Vegan.
Simple Eggplant and Tomato Sauce
While this versatile staple can most obviously be paired with pasta, it's also excellent on rice or quinoa, in a pita, or used in a salad. For a fun game, serve it at your next dinner party and have guests guess the secret ingredient (hint: It's cinnamon).
Get the recipe from Blissful Basil.
Grilled Miso Glazed Japanese Eggplant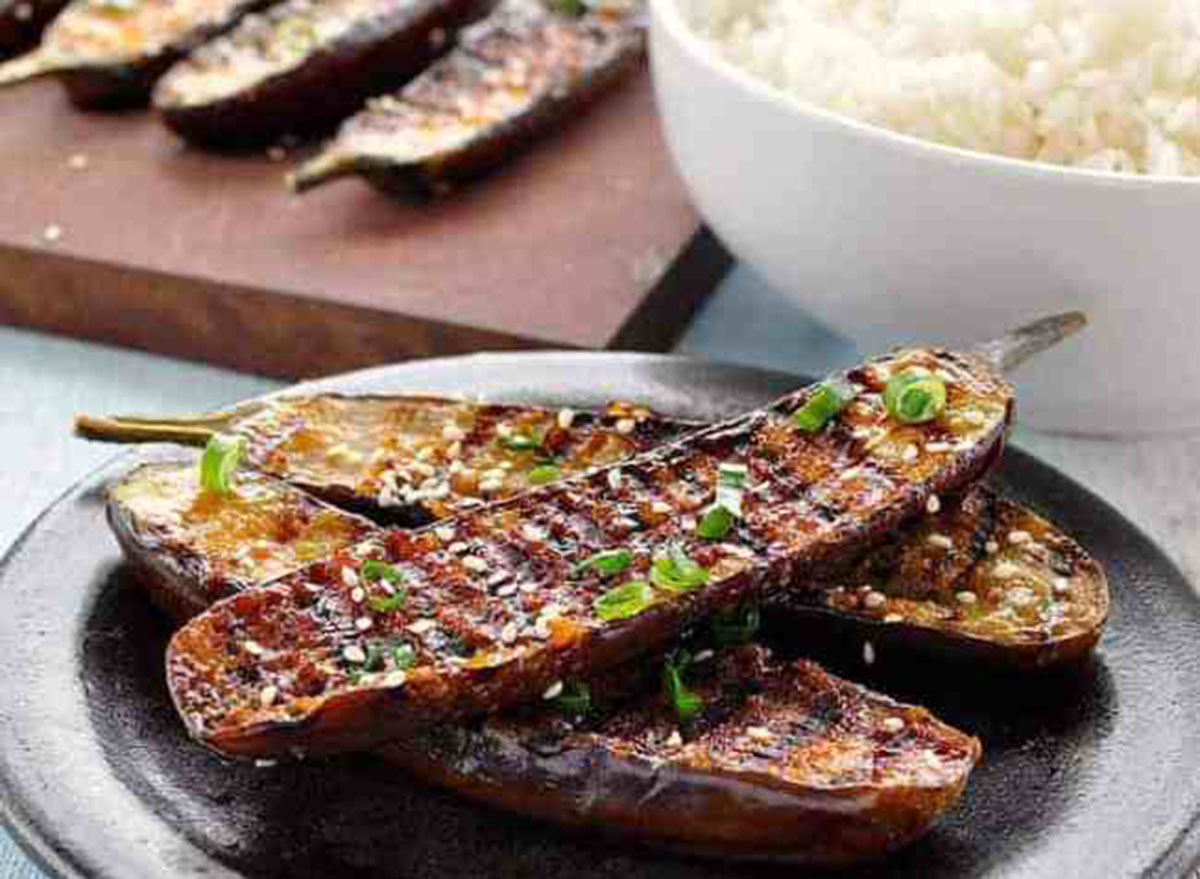 Japanese eggplant is longer and skinnier than its globe eggplant counterpart, in addition to lacking the characteristic bitterness. Instead, it has a sweet, sponge-like texture that's perfect for soaking up a glaze made of white miso, mirin, and sake.
Get the recipe from RecipeTin Eats.
Instant Pot Masala Eggplant Curry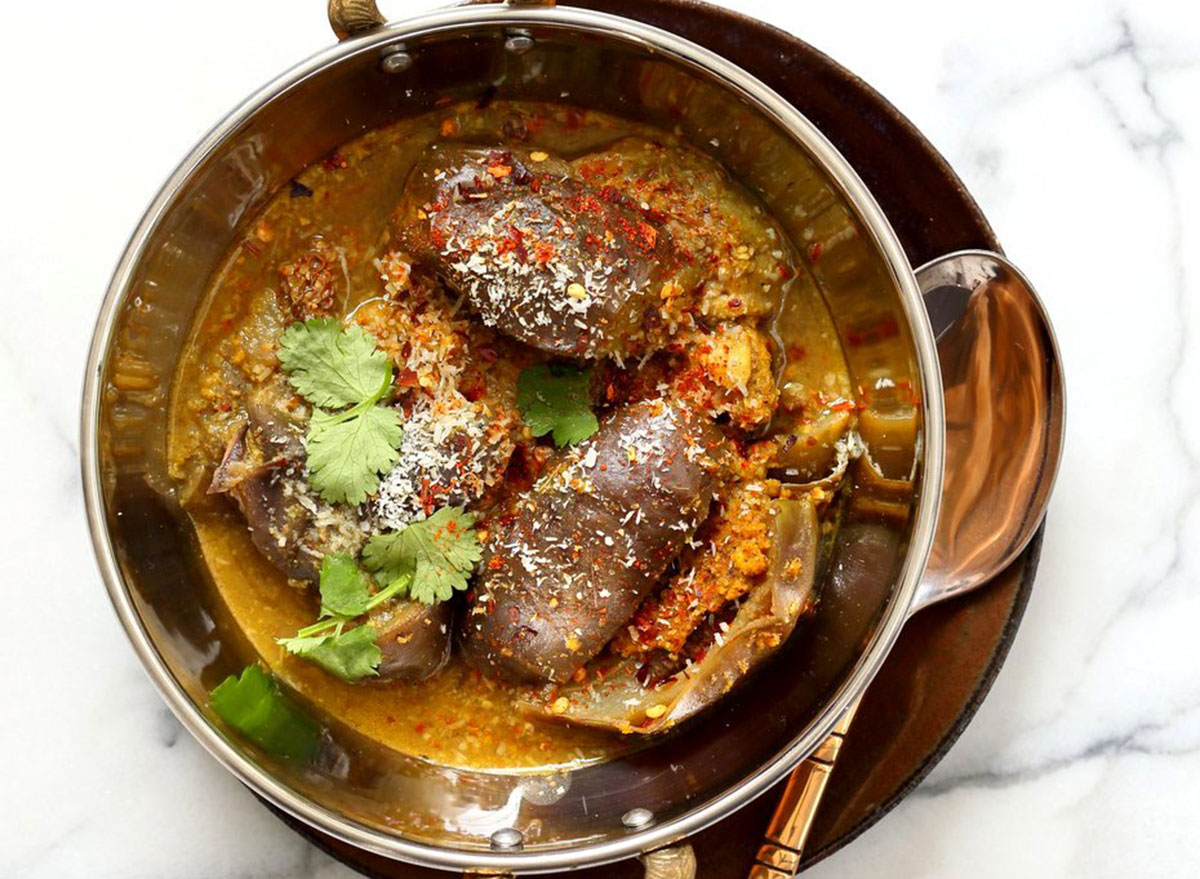 Just like your instant pot, eggplant can do it all. Here, you'll stuff eggplant with a fragrant mixture of spices, ginger, garlic, and chile, before pressure cooking them for just five minutes to tender perfection.
Get the recipe from Vegan Richa.
In addition to being adorable, baby eggplants also cook faster than larger ones. The sweetness of roasted eggplant flesh is complemented by a dollop of creamy ricotta and freshly cracked black pepper, making for an elegant starter or side dish.
Get the recipe from I Breathe I'm Hungry.
Basil Roasted Eggplant with Heirloom Tomatoes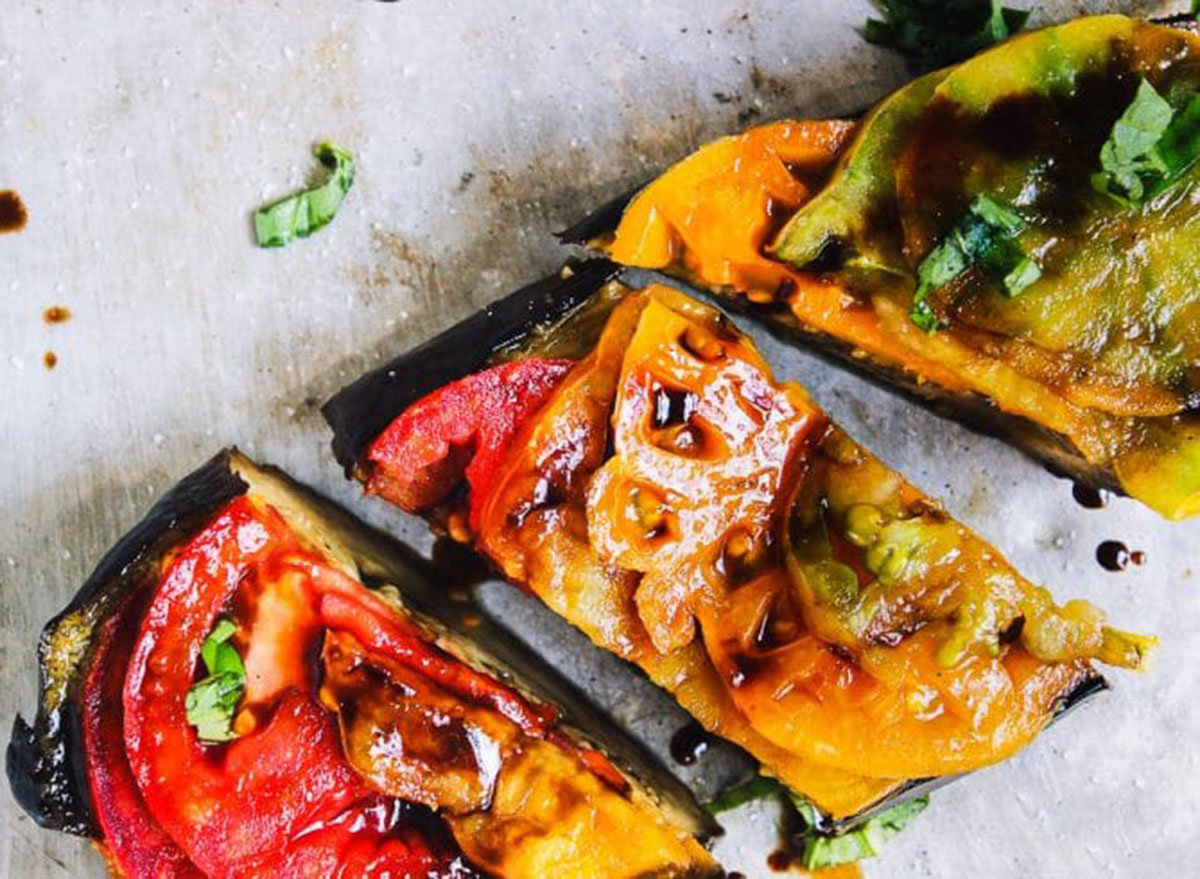 This dish screams summer louder than a swan-shaped pool float. Colorful heirloom tomatoes unite with basil-coated slices of eggplant for a dish that can be eaten like a flatbread, no fork and knife required.
Get the recipe from With Food + Love.
Slow Cooker Coconut Curried Eggplant
Take it slow for this recipe, which is a take on the Indian dish baingan bharta. You might need to plan a mid-day outing while it cooks, as hunger-inducing scents of garam masala, curry powder, and cumin permeate your house. Then come back to the best dinner you've ever made with eggplant.
Get the recipe from Eating Bird Food.
Roasted Eggplant & Zucchini Bruschetta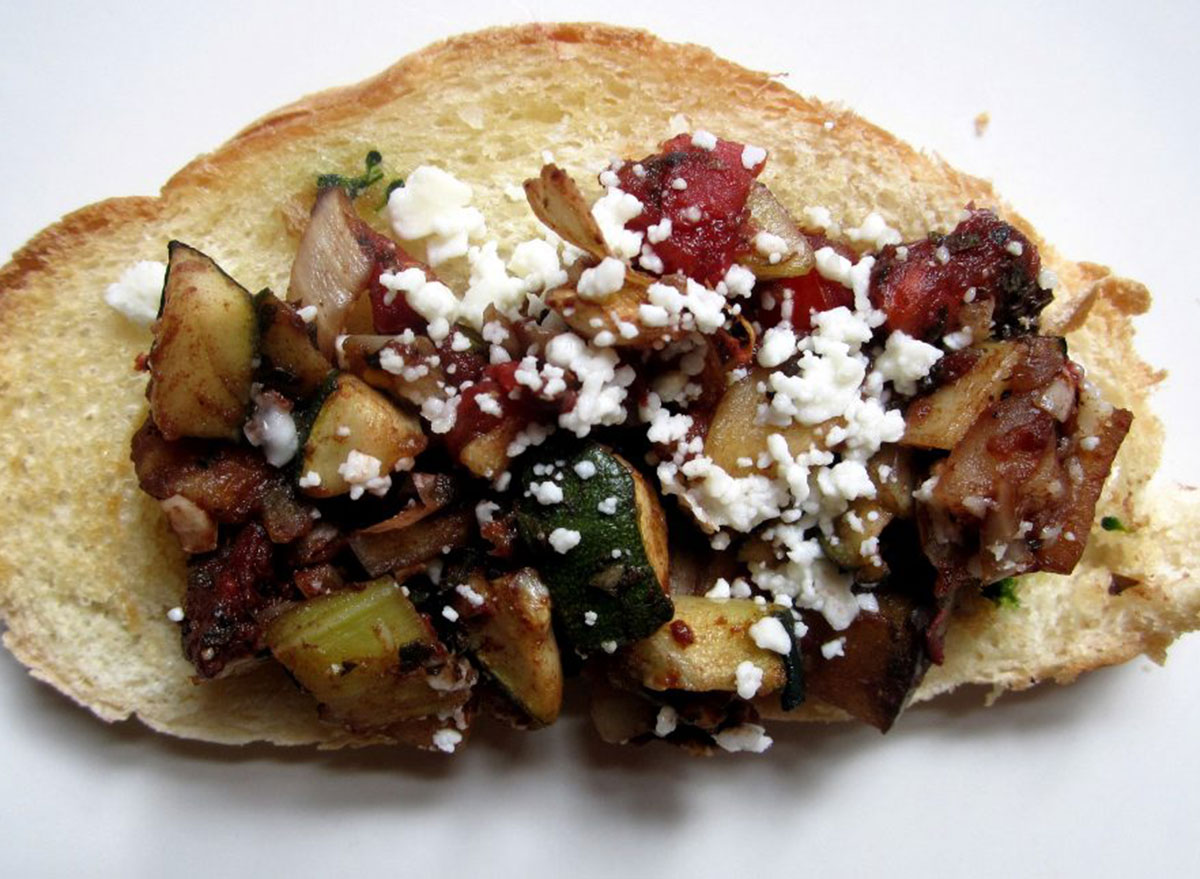 Just like your favorite denim jacket, this party app is the perfect transition piece from summer to fall. It makes use of late-harvest eggplant and zucchini, but the warm coziness of it brings to mind colder days ahead.
Get the recipe from Ambitious Kitchen.
Sweet and Crunchy Maple Orange Roasted Eggplant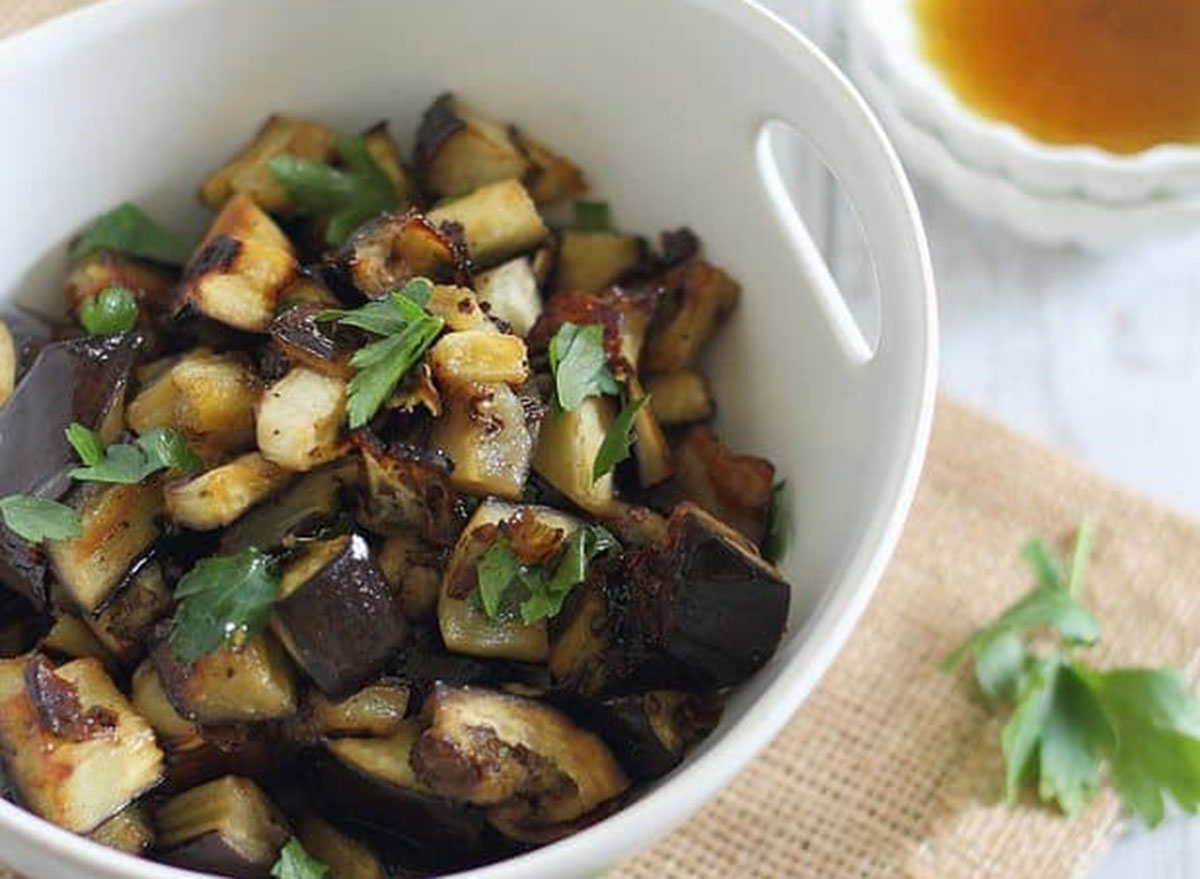 Even supposed eggplant haters won't be able to take issue with this flavor bomb of a dish. It's at once sweet, tangy, herby, and crunchy, thanks to a smart combination of orange juice and maple syrup for maximum caramelization.
Get the recipe from Running to the Kitchen.
Stuffed Eggplant with Sunflower Romesco
When in doubt, just stuff it with delicious ingredients. At least that's the principle in question here, in which hollowed-out eggplant boats are filled with grains, spicy romesco, tahini, and sautéed eggplant for an all-in-one vegetarian main.
Get the recipe from The First Mess.
Abby Reisner
Abby is a food writer, editor, cook, and digital strategist living in Brooklyn.
Read more about Abby