A Grilled Swordfish With Caponata Recipe Straight From Sicily
Don't have time to take a vacation? Just close your eyes as you eat this staple Sicilian dish.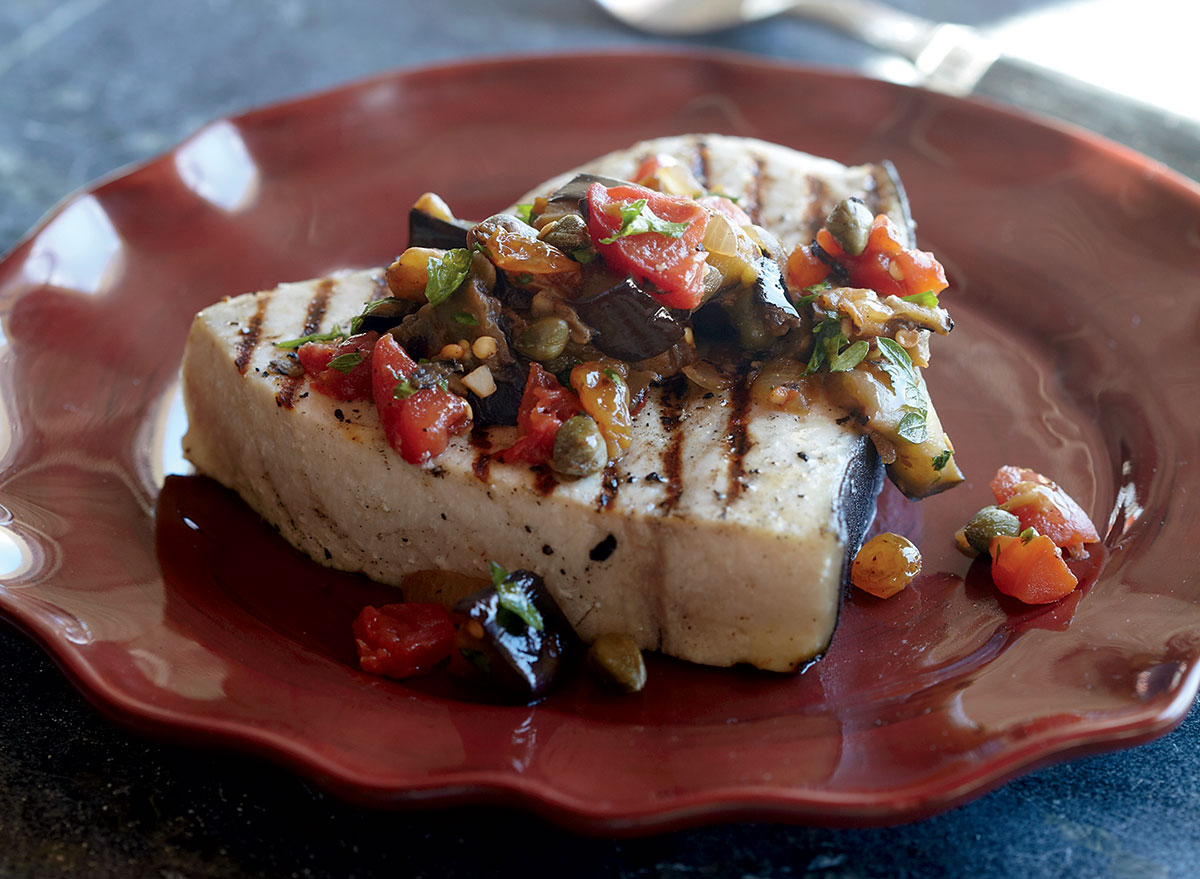 Sicilian cooking is some of the greatest on the planet, built around a tradition of humble pasta dishes, sophisticated desserts, and beautiful fish and seafood preparations. There are two items you will find on nearly every restaurant menu across the island: grilled swordfish and caponata, Sicily's answer to ratatouille, a slow-cooked sweet-and-sour vegetable stew. You rarely see them together in the same dish, but as soon as you taste this—preferably in the summer, with the fish hot off the grill—you'll see why it makes us so happy. It's a take on seafood that's light, refreshing, and perfectly portioned for a healthy dinner any night of the week.
Nutrition: 360 calories, 11 g fat (2.5 g saturated), 520 mg sodium
Serves 4
You'll Need
1 Tbsp olive oil, plus more for coating the fish
2 medium eggplants, cut into 1⁄2" cubes
1 medium onion, diced
2 cloves garlic, minced
1 can (14 1⁄2 oz) diced tomatoes
2 Tbsp raisins (preferably golden raisins)
2 Tbsp capers
2 Tbsp red wine vinegar
1 Tbsp sugar
1⁄4 cup chopped fresh basil
Salt and black pepper to taste
4 small swordfish steaks, 6 oz each
How to Make It
Heat the olive oil in a medium saucepan over medium heat.
Add the eggplant, onion, and garlic and sauté for about 5 minutes, until lightly browned and softened.
Add the tomatoes, raisins, capers, vinegar, and sugar.
Cover and simmer for 15 minutes, until the vegetables are very soft and the mixture has the consistency of marmalade.
Stir in the basil and season with salt and black pepper. Keep warm.
Preheat a grill or grill pan over medium-high heat.
Coat the swordfish with olive oil and season both sides with salt and black pepper. Grill the steaks for 4 minutes, until nice grill marks have developed (you can rotate the steaks 45 degrees midway through to create diamond-shaped grill marks if you like).
Flip and continue cooking for about 4 minutes longer, until the flesh flakes with gentle pressure from your finger.
Serve each serving of swordfish with a generous scoop of caponata over the top.
This recipe (and hundreds more!) came from one of our Cook This, Not That! books. For more easy cooking ideas, you can also buy the book!