A Chimichurri Recipe That Will Become Your New Go-To Condiment
You're going to want to spread this flavorful sauce on everything.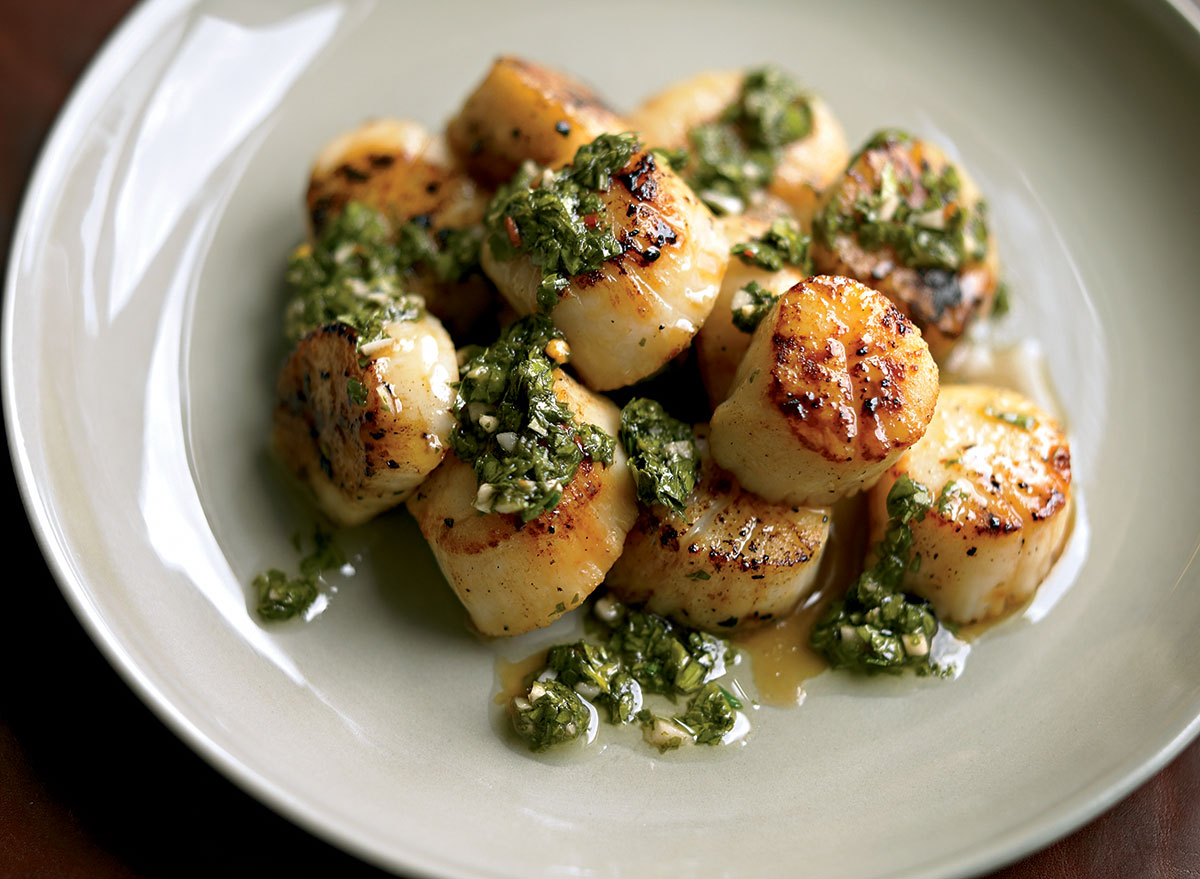 The best overall tip we can give (and have given throughout these recipes) for keeping yourself on a healthy eating streak, is to keep things tasty. You don't crave food that is bad for you simply because it is high in calories. We tend to crave junk food because it is flavorful and satisfying to our tastebuds, right? Therefore, your best bet to staying on track is to keep it exciting and flavorful. A great way to do that is to arm your food and your cabinet stocked with a few good sauces, spreads, and seasonings that you can use to spruce up your meals, constantly giving yourself favor and variety when preparing your meals. One of the homemade sauces on your list to stock your pantry with should be this one: a chimichurri recipe. Chimichurri is an herb-based sauce from Argentina, that packs a bit of spice too from the jalapeño. It's used to adorn and enhance a variety of different dishes, everything from grilled meats and fish to roasting vegetables, or a fried egg, or better yet, dishes that contain all of the above. After some careful reflection, we've decided that chimi is pretty much the world's greatest condiment, turning mediocre food good and making good food, well, great. Once you make it, you'll have a hard time not painting it on every single food you come across: sandwiches, grilled vegetables, and eggs will be only the beginning, trust us.
Makes About 1 Cup and Keeps in the Fridge for Around 1 Week
You'll Need
1 cup rough chopped parsley (about half a bunch)
1 clove garlic
1⁄2 tsp salt
2 Tbsp water
1 1⁄2 Tbsp red wine vinegar
1⁄4 cup oil
1⁄2 tsp sugar
1 Tbsp minced jalapeño
How to Make It
Combine all ingredients in a food processor and pulse until fully blended.
Eat This Tip
Sprucing Up Your Snacks:
So we're going to say something that might sound controversial: it's okay to snack. Sometimes, you need a little something to tide yourself over in between meals, and that's okay. The trick is choosing healthy things to snack on. Slice up some carrots and other root vegetables and dip them into some chimichurri sauce. That way you'll disguise your healthy snack in a sauce that packs a flavorful punch.6254a4d1642c605c54bf1cab17d50f1e
This recipe (and hundreds more!) came from one of our Cook This, Not That! books. For more easy cooking ideas, you can also buy the book!