Every Classic Thanksgiving Dish—Ranked!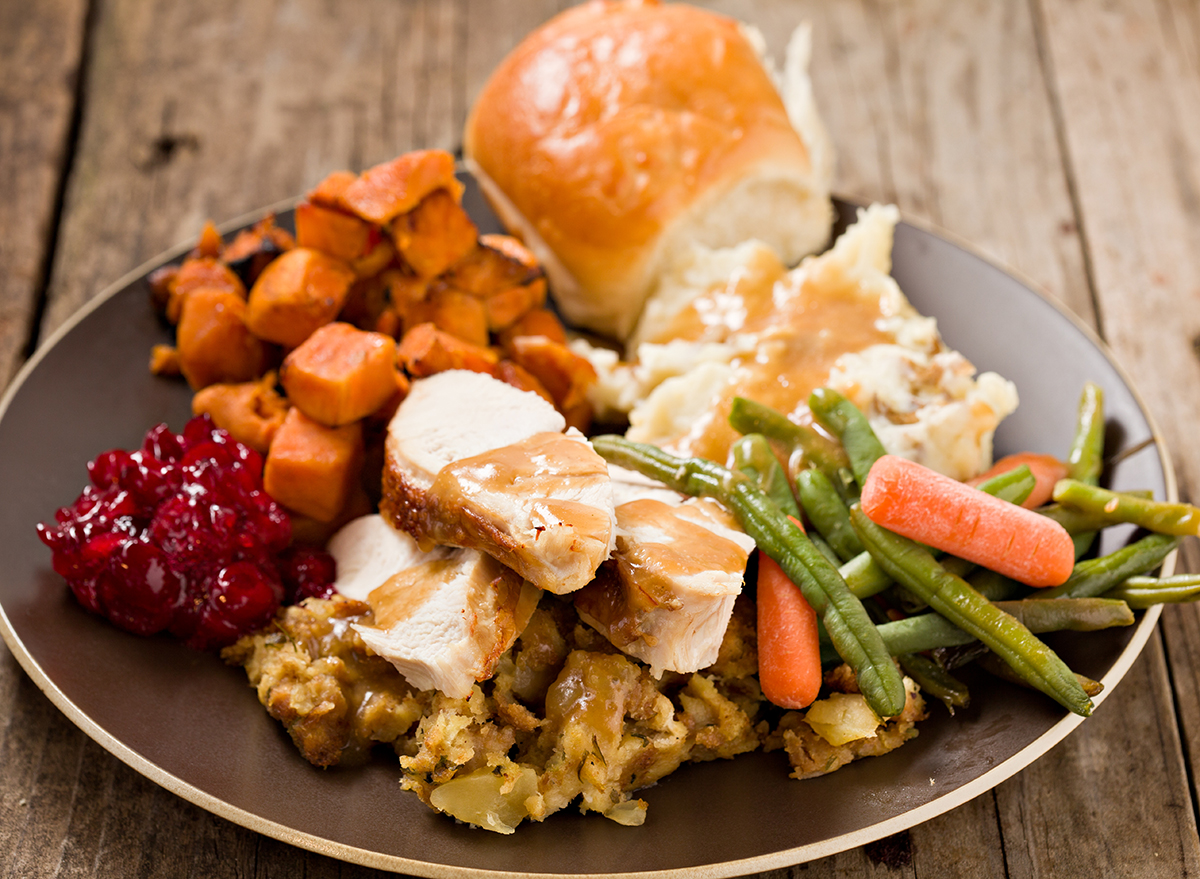 Oh, perhaps you're more fond of referring to Thanksgiving as "Turkey Day." But really, that's a misnomer; because with the exception of that big bird in the middle of the table, everything else you'll be eating—from mashed potatoes and stuffing to creamed corn, glazed carrots and pecan pie—is loaded with carbs and, often, topped with more carbs which sabatoges your rapid weight loss efforts.
When else do we melt marshmallows on top of vegetables? Or float hapless red berries in a sea of gelatinous sugar? On Carbohydrate Day, everything we eat comes with an extra layer of belly-bursting calories.
To see just how much we're really eating—and help you carve a leaner path through the celebratory dinner—Eat This, Not That! has broken down the nutritionals for every major player on the holiday table. The results are about as ugly as the dirty dishes sitting in the sink.
While the actual nutritional numbers on your mom's home cooking may vary, we've gotten pretty close to what you can expect on your table this year. To calculate the caloric breakdown for common traditional holiday foods, we found the most popular recipes for each, nationwide, then fed them into our test kitchen for complete analysis. Some of the numbers are pretty encouraging; others will make you want to run the annual Turkey Trot before you sit down to dinner.
(And to continue losing weight after the holiday feasting is through, check out these 50 Best-Ever Weight-Loss Secrets From Skinny People!)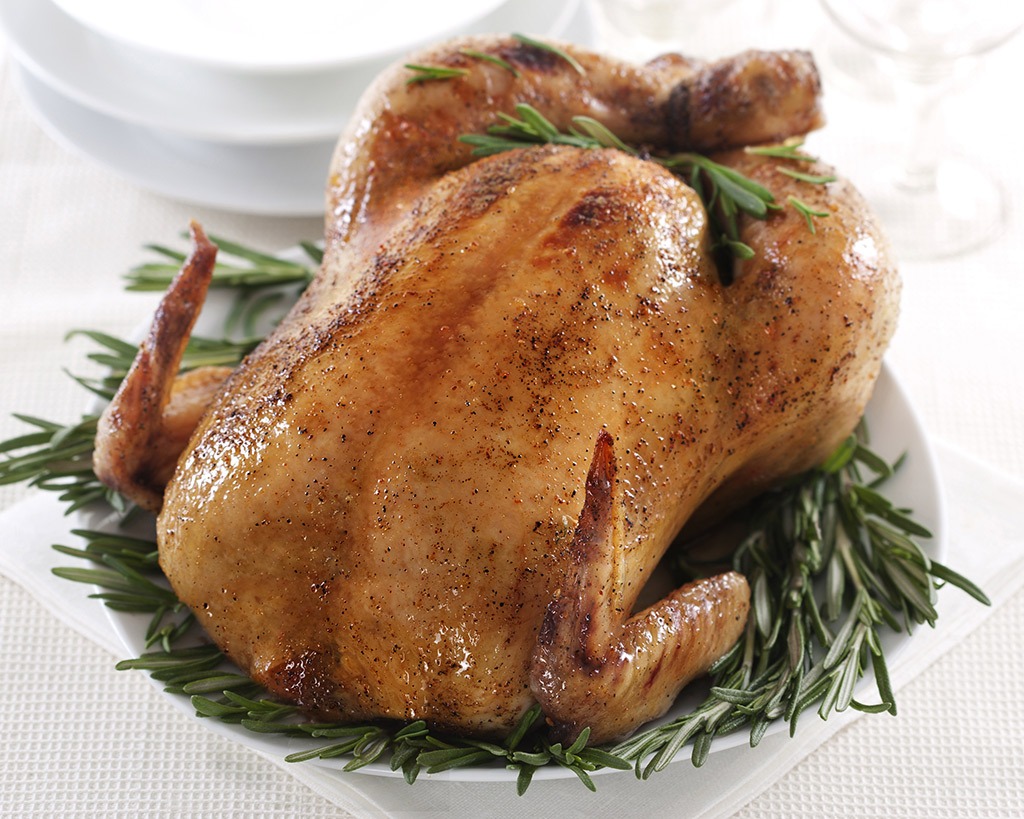 As you carve up your Turkey Day bird this year, two age-old questions are bound to come into play: Dark "meat or white?" and "skin or no skin?" Finally, thanks to Eat This, Not That!, you have the answer.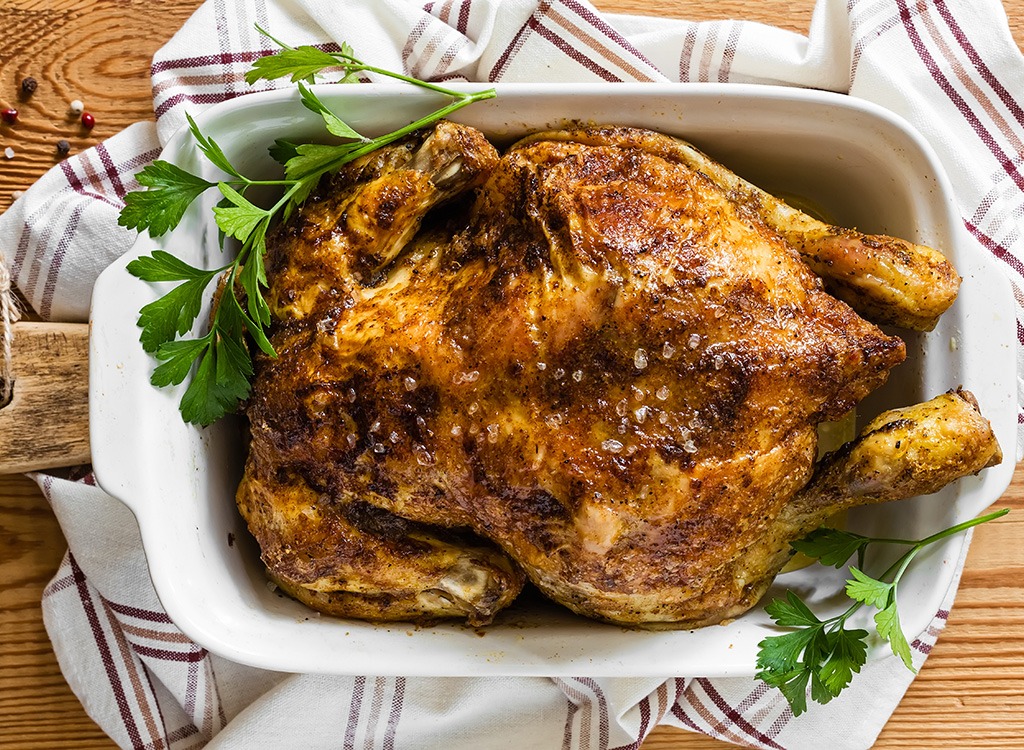 3 oz: 175 calories, 8.4 g fat (2.5 g saturated fat), 0 g carbs, (0 g fiber, 0 g sugar), 89 mg sodium, 23 g protein
Turkey is rich in DHA omega-3 acids which have been shown to boost brain function, improve mood and turn off fat genes, preventing fat cells from growing in size. Just make sure you stick with white meat dark contains too much fat to be considered a lean, healthy meat—especially when the skin is left on.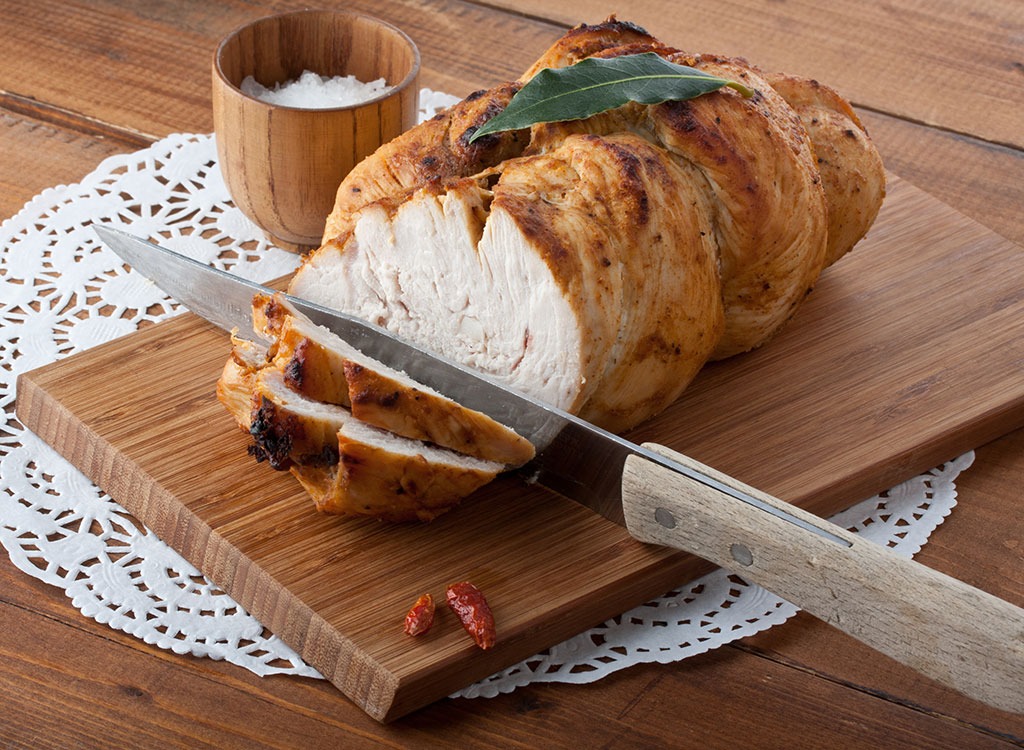 3 oz: 150 calories, 4.73 g fat, 86 g sodium, 0 g carbs, (0 g sugar), 0 g fiber, 25 g protein
Light meat has fewer calories and fat than dark meat, but it's still a considered a no-go in our book if the skin is left on. Though there is more healthy monounsaturated fat than saturated fat in poultry skin, Thanksgiving dinner is filled with far too many other fatty dishes to indulge. Wouldn't you rather put those calories toward a slice of pie, anyways? We would.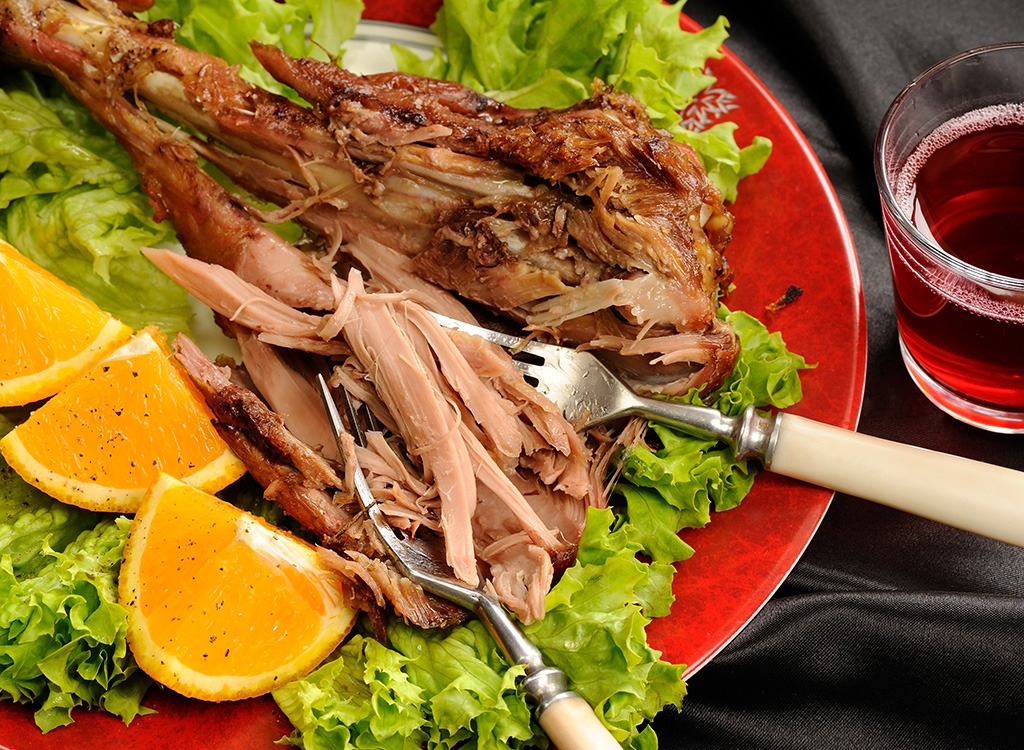 3 oz: 147 calories, 5 g fat (88 mg sodium, 0 g carbs, (0 g fiber, 0 g sugar 23 g protein
Compared to white meat, dark meat contains more calories and fat, but it also packs more bicep-building iron, zinc and vitamin B12, a nutrient that aids muscle growth.
For more foods that will help improve your pump, check out these 11 Best Foods to Eat for Muscle & Strength.
AND THE #1 THANKSGIVING TURKEY IS…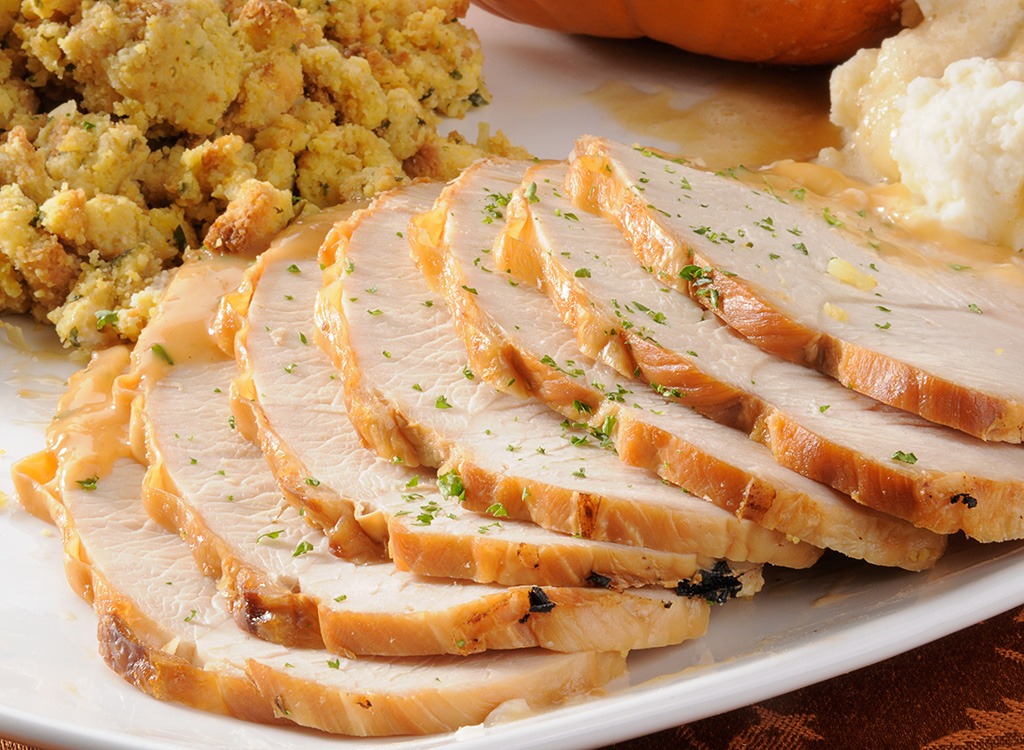 3 oz: 108 calories, 1.8 g fat (0.5 g saturated fat), 0 g carbs, (88 mg sodium, 0 g fiber, 0 g sugar), 23 g protein
Lean, low-cal and packed with protein, it's hard to go wrong with a slice of white meat on your holiday plate. And speaking of healthy eats, be sure to check out these 30 Foods That Melt Love Handles.
STUFFING, GRAVY & TRIMMINGS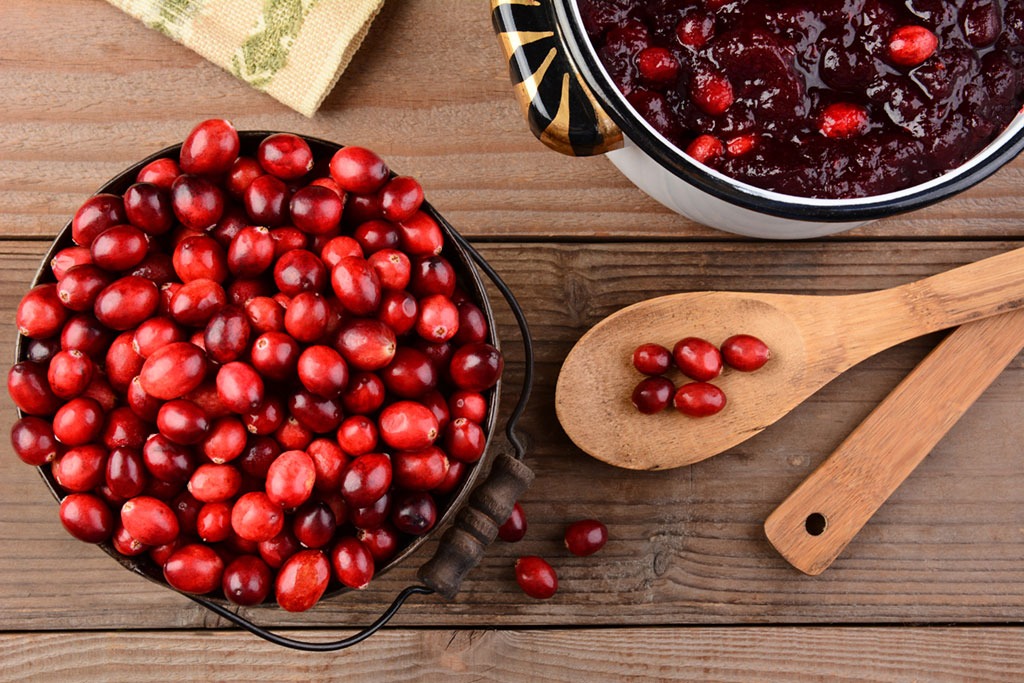 According to a very scientific study, the average American's ratio of trimmings to turkey on Thanksgiving is 20:1.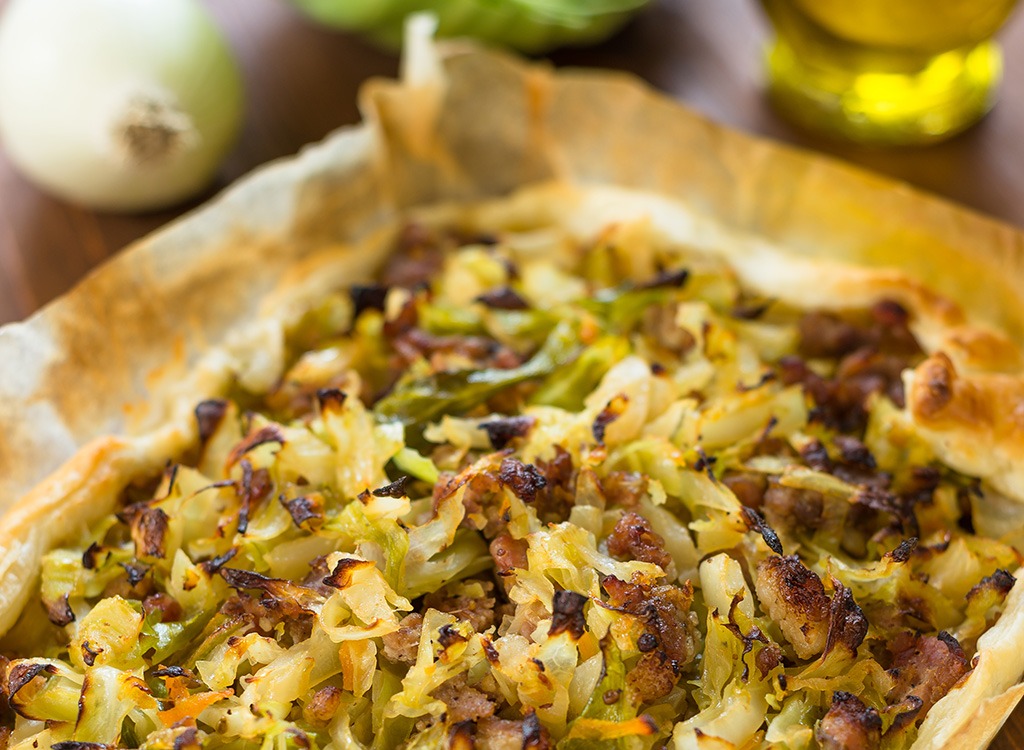 ¾ cup serving: 304 calories, 11.2 g fat (6.1 g saturated fat), 1,233 mg sodium, 39.6 g carbs, (2.9 g fiber, 5.8 g sugar), 11.7 g protein
Though the most popular sausage stuffing on the web had a lower calorie and fat count than the vegetarian stuffing below, it had almond double the sodium content, earning it the #7 spot on our list.
¾ cup serving: 323 calories, 17.1 g fat (10.3 g saturated fat), 685 mg sodium, 36.1 g carbs, (2.9 g fiber, 5.6 g sugar), 7.9 g protein
To make for up for lack of flavor from the sausage, recipe developers amp up the butter content of their vegetarian-friendly stuffings, which makes them fattier than the meat-filled competition. Its only saving grace is its lower sodium content. Either way you look at it, though, this isn't the best dish for your belly. If you can't help but indulge, we suggest sticking to a tiny serving—expecially if weight loss is your goal, post-feasting.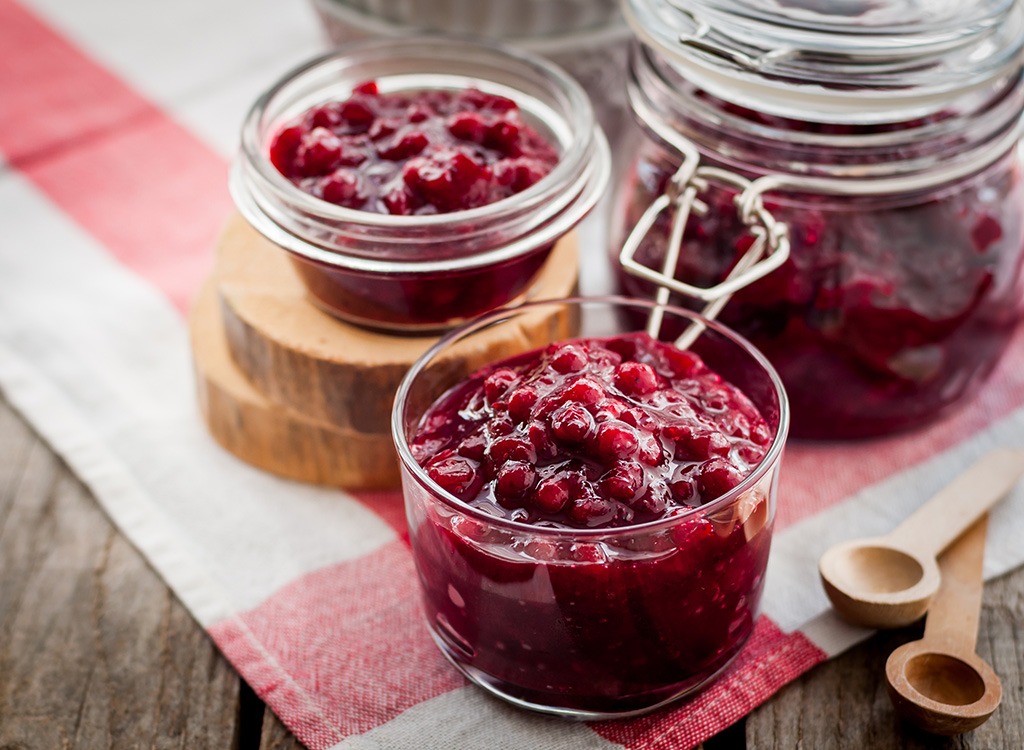 4 Tbsp serving: 125 calories, 0 g fat (0 g saturated fat), 0 mg sodium, 32.6 g carbs, (2 g fiber, 30 g sugar), 0 g protein
Raw cranberry relish can range from very sweet to extremely tart, which can affect the calorie and sugar counts of the dish tremendously. A middle-of-the-road relish, however, will cost you about 125 calories—and an entire day's sugar. In fact, 85% of the sugar in this recipe is the added variety.
Canned, Jellied Cranberry Sauce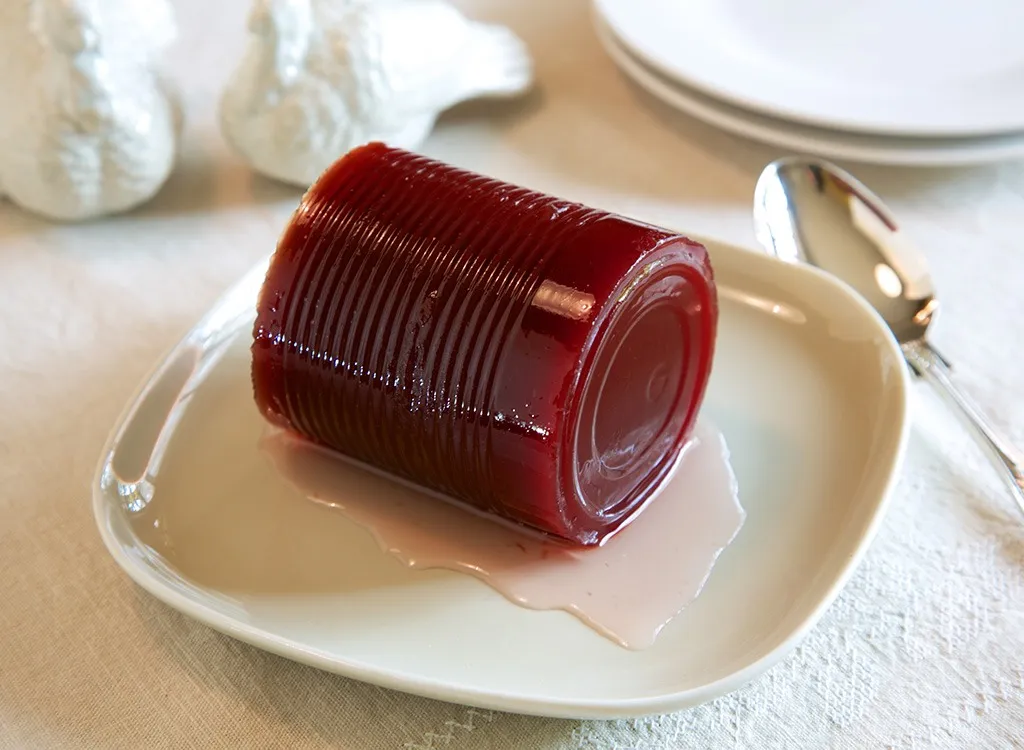 4 Tbsp serving: 110 calories, 0 g fat (0 g saturated fat), 10 mg sodium, 28 g carbs < 1 g fiber, 24 g sugar), 0 g protein
Made with cranberries, high fructose corn syrup (an additive that amps up hunger), corn syrup and water, this jiggly canned sensation isn't something you should allow onto your holiday table. There are far healthier—and delicious—homemade options to set out instead.
Looking for a tasty soup to kick off your Thanksgiving Day meal? All of these soup recipes are beyond delicious—and healthy, too!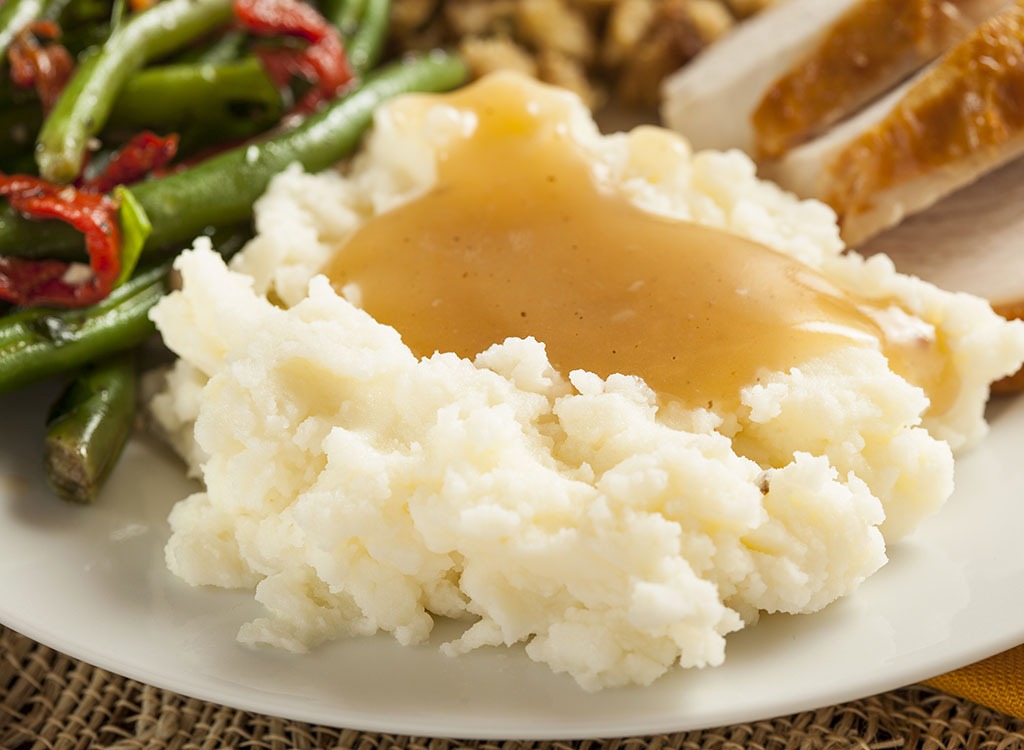 4 Tbsp serving: 60 calories, 5 g fat (1.9 g saturated fat), 39 mg sodium, 2.2 g carbs, (1.6 g protein
Sure, turkey tastes great on its own, but it's far tastier with a bit of gravy dribbled on top. Luckily for those who make a meat-based sauce, it's one of the very best turkey toppers for your belly.
Looking for more six-pack friendly eats? Check out these The 20 Best Full-Fat Foods for Weight Loss.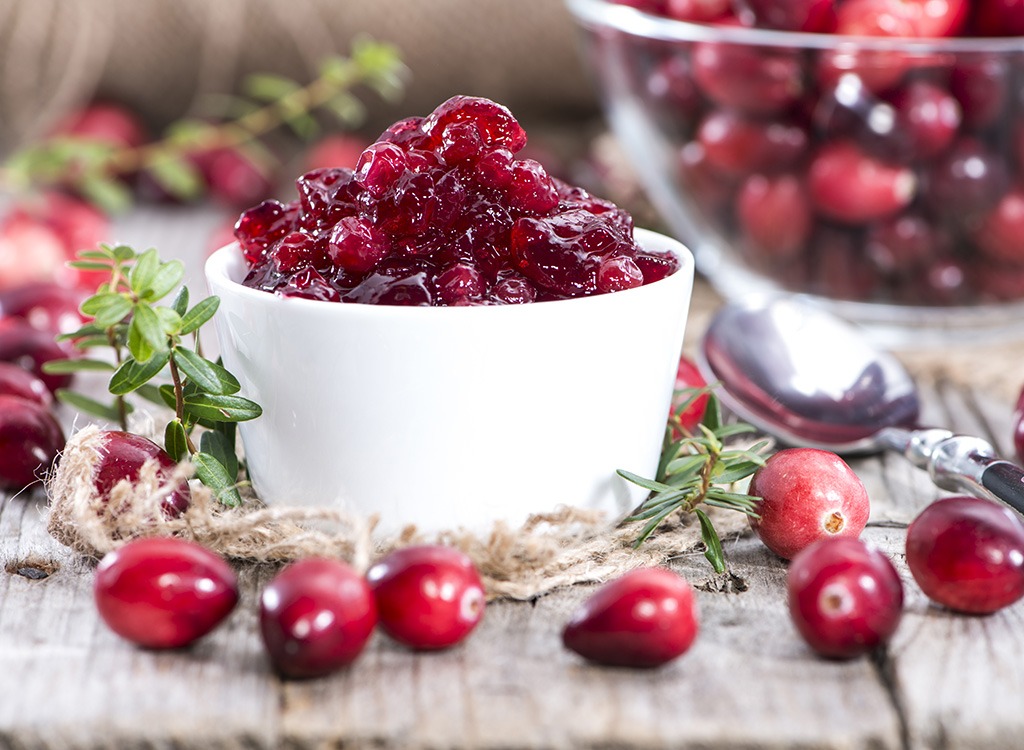 4 Tbsp serving: 74 calories, 0 g fat (0 g saturated fat), 31 mg sodium, 17.8 g carbs, (1.3 g fiber, 15.6 g sugar), 0 g protein
Commercial cranberry sauce relies on piles of sugar to counteract the tart flavor of the antioxidant-packed fruit for which the dish is named. But when you whip up cranberry sauce in your own kitchen, the results aren't half-bad for your belly. Stick to the 4 tablespoon serving size and you'll stay in the clear.
AND THE #1 TURKEY TOPPER IS…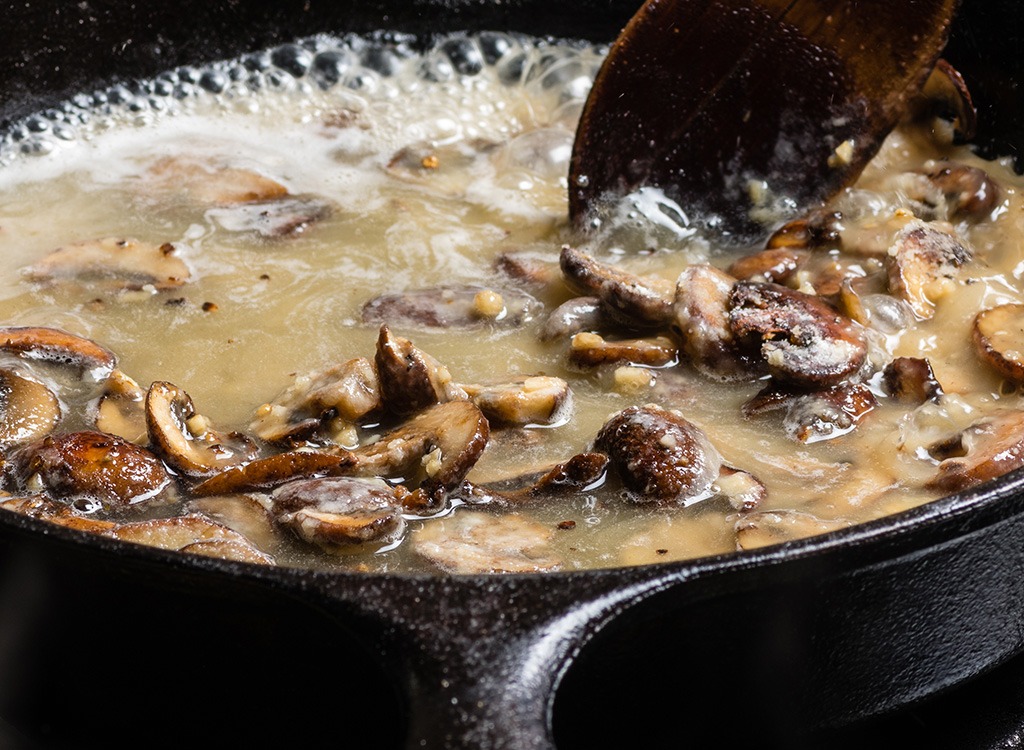 4 Tbsp serving: 27 calories, 2 g fat (1.2 g saturated fat), 174 mg sodium, 1.6 g carbs, (0 g fiber, 0 g sugar), 1.2 g protein
Stealing the number one spot on our list is mushroom gravy. Not only is this savory turkey topper low-cal, it's also low in sodium and fat so it won't throw much of a dent into the day's overall nutrient budget. Fewer calories wasted on flavor enhancers like gravy means you've got more room for dessert. Not sure which bottled drink to pair with your meal? Check out our exclusive report, 70 Most Popular Sodas—Ranked!
Although these are among the best Thanksgiving dishes for your belly, some are still better picks than others.6254a4d1642c605c54bf1cab17d50f1e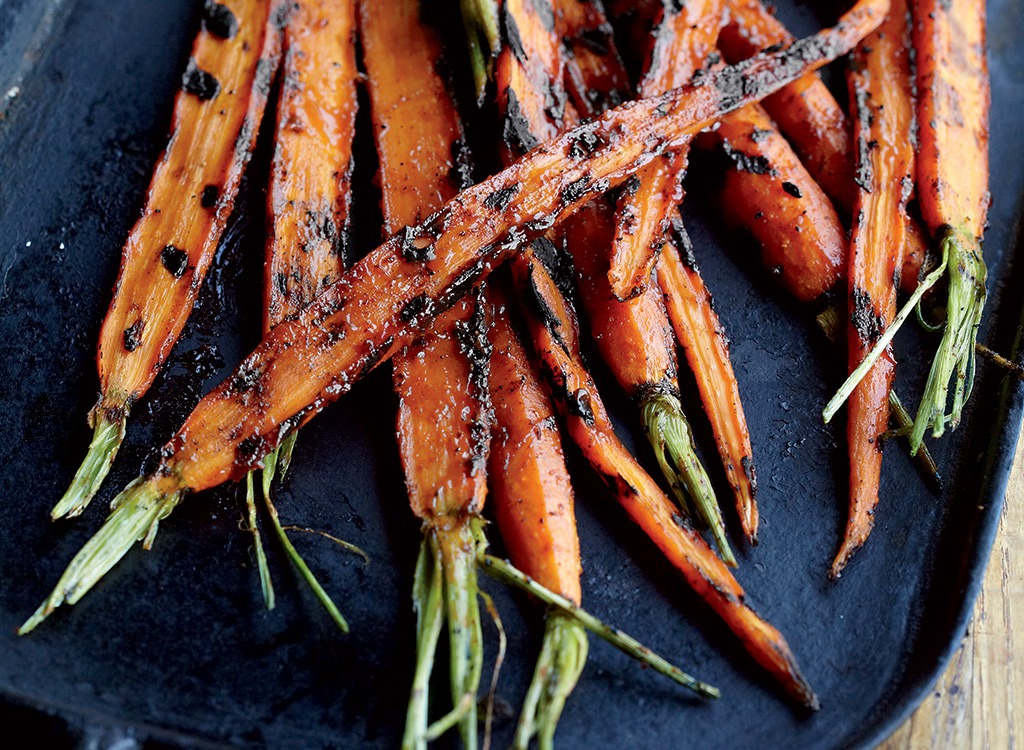 ¾ cup serving: 161 calories, 8.1 g fat (5.1 g saturated fat), 270 mg sodium, 22 g carbs, (4 g fiber, 12 g sugar), 1.4 g protein
What do you get when you combine carrots, butter, brown sugar, salt and pepper? The worst veggie side dish on our list. Though none of these picks are inherently "bad" this is the most calorie and sugar-filled of the bunch.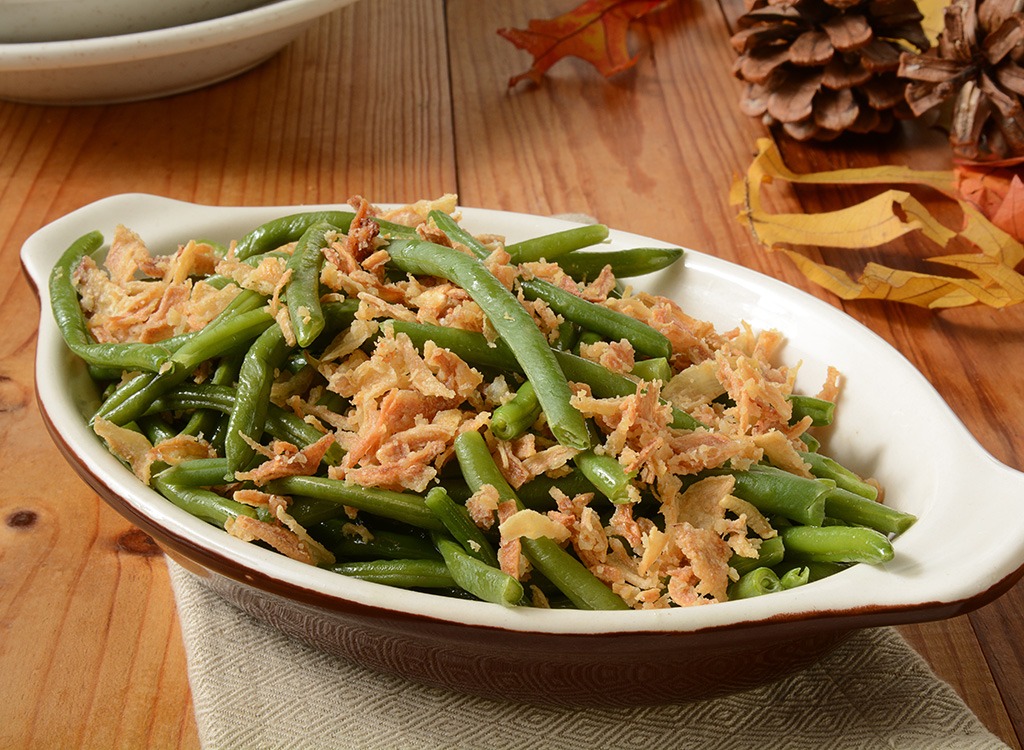 ¾ cup serving: 156 calories, 8.8 g fat (4.5 g saturated fat), 446 mg sodium, 15 g carbs, (2.5 g fiber, 2.7 g sugar), 3 g protein
In terms of taste and nutrition, topping veggies with a fat-filled mush isn't the greatest idea of all time, but it you stick to the standard serving size, it won't do much damage to your waistline.
AND THE #1 VEGGIE SIDE DISH IS…
Brussels Sprouts with Ham
¾ cup serving: 151 calories, 7 g fat (1.2 g saturated fat), 538 mg sodium, 20.4 g carbs, (4.6 g fiber, 10.7 g sugar), 5 g protein
If you typically pass on the sprouts at every holiday dinner, you might want to rethink your ways and throw a few on your plate. Not only are they a low-cal solid source of fiber, they're also filled with indole-3-carbinol, a compound that spikes libido in men by reducing levels of estrogen. (Post-meal romp anyone?!) Just don't overdo it. Eating too many of these tiny cabbages can give you gas, which isn't the least bit sexy.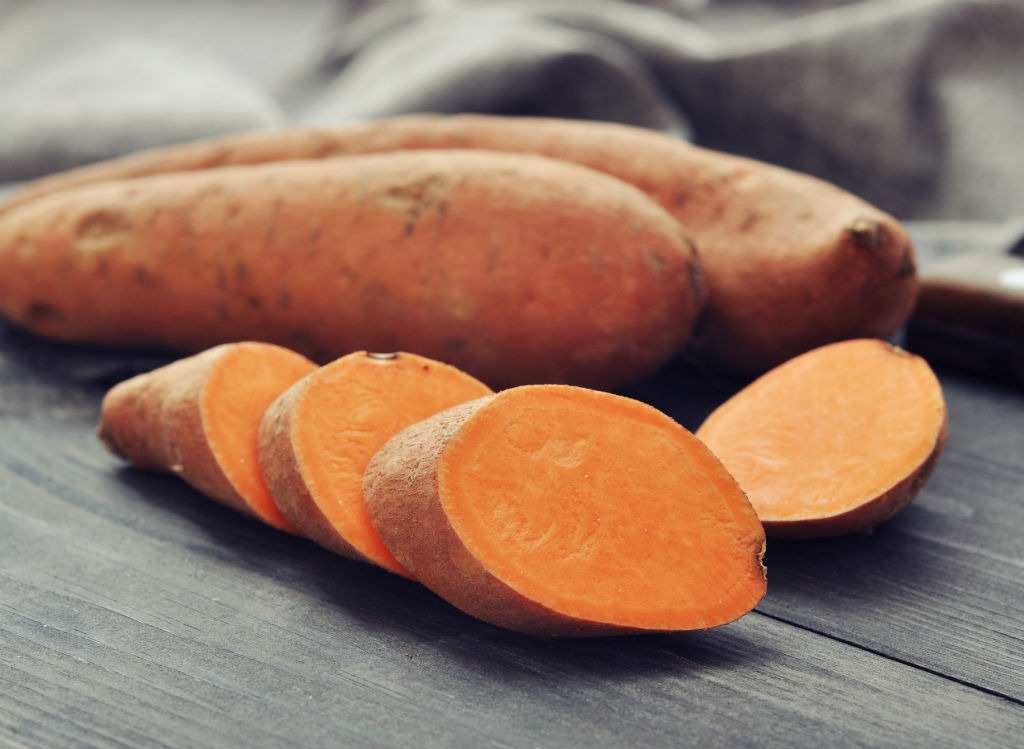 The turkey is the least of your concerns on Thanksgiving. These side dishes will all give your six-pack a run for its money, but some are far worse than the rest.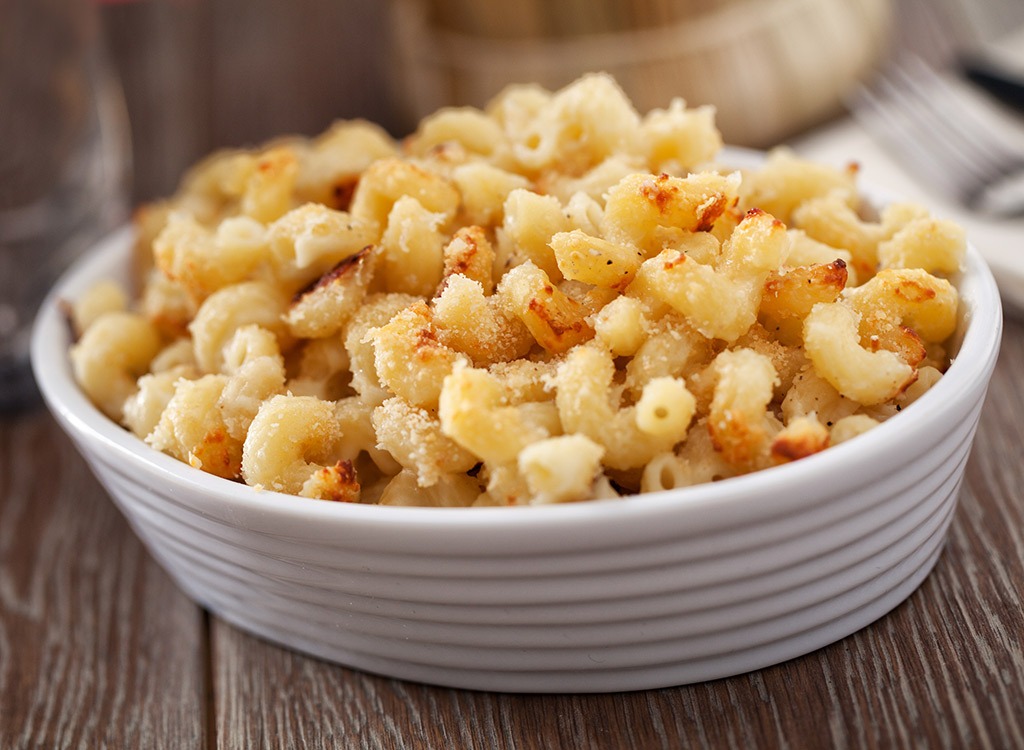 ¾ cup serving: 408 calories, 22.6 g fat (13.8 g saturated fat), 341 mg sodium, 32.6 g carbs, (1.5 g fiber, 5.3 g sugar), 17.6 g protein
Mac and cheese may make your taste buds sing, but the dish contains as many calories as two slices of pumpkin pie, plus half a day's worth of artery-clogging fat. And speaking of not-so-good-for-you foods, check out these 150 Worst Packaged Foods in America. If you're trying to eat for weight loss, kick them out of your kitchen for good.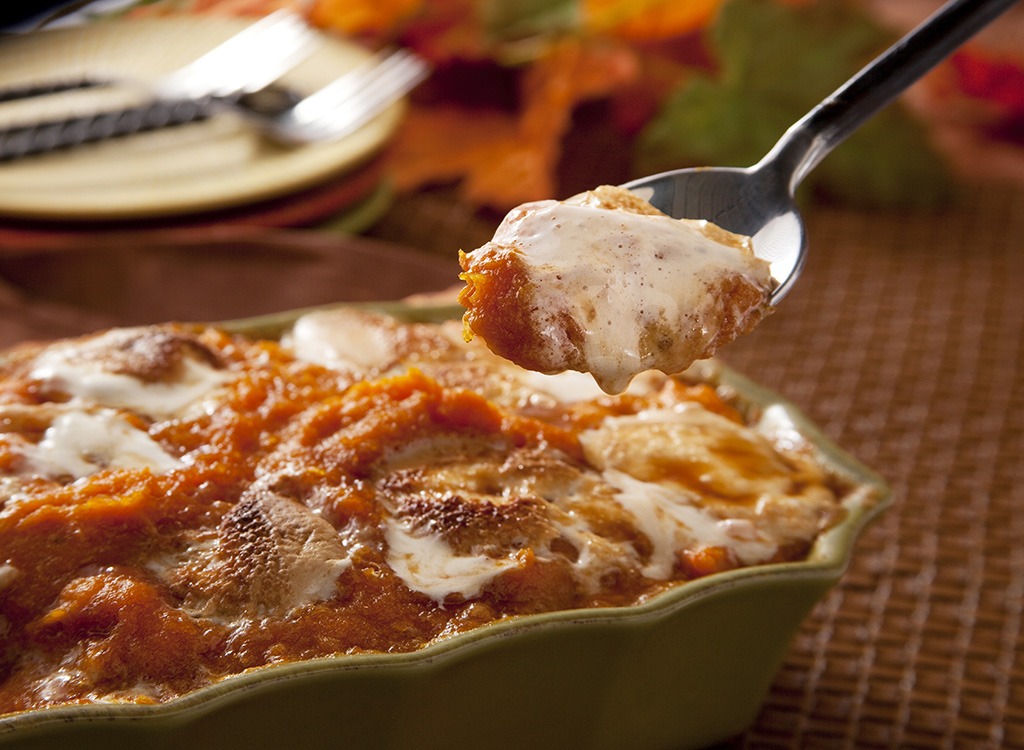 *¾ cup serving: 356 calories, 16.5 g fat (7.5 g saturated fat), 283 mg sodium, 49 h carbs, 4.2 g fiber, 29.6 g sugar), 5.3 g protein
Sweet potatoes lose their nutritional edge once they're covered in butter and brown sugar. And if you're family's go-to dish also contains marshmallow, expect the calorie and sugar count to clock in even higher than what you see above. Our advice? Whip up one of these ETNT-approved sweet potato recipes instead.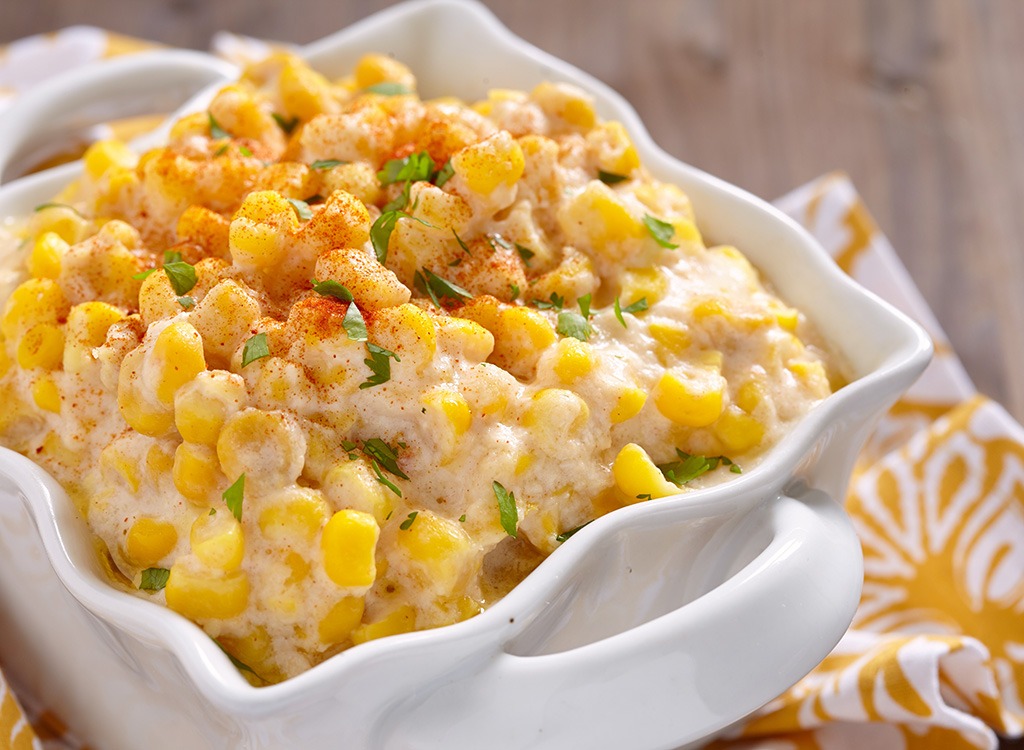 ¾ cup serving: 303 calories, 20.5 g fat (12.6 g saturated fat), 722 mg sodium, 24 g carbs, (1.7 g fiber, 10.4 g sugar), 8.7 g protein
Corn is a prime source of vitamin B6, a nutrient that has been shown to reduce hangover symptoms by as much as 50 percent. So go ahead, indulge in that second glass of red—just say no to round two of the corn. Though this creamy dish ranks in the middle of our list, it's still not low-cal enough that we can recommend an extra helping.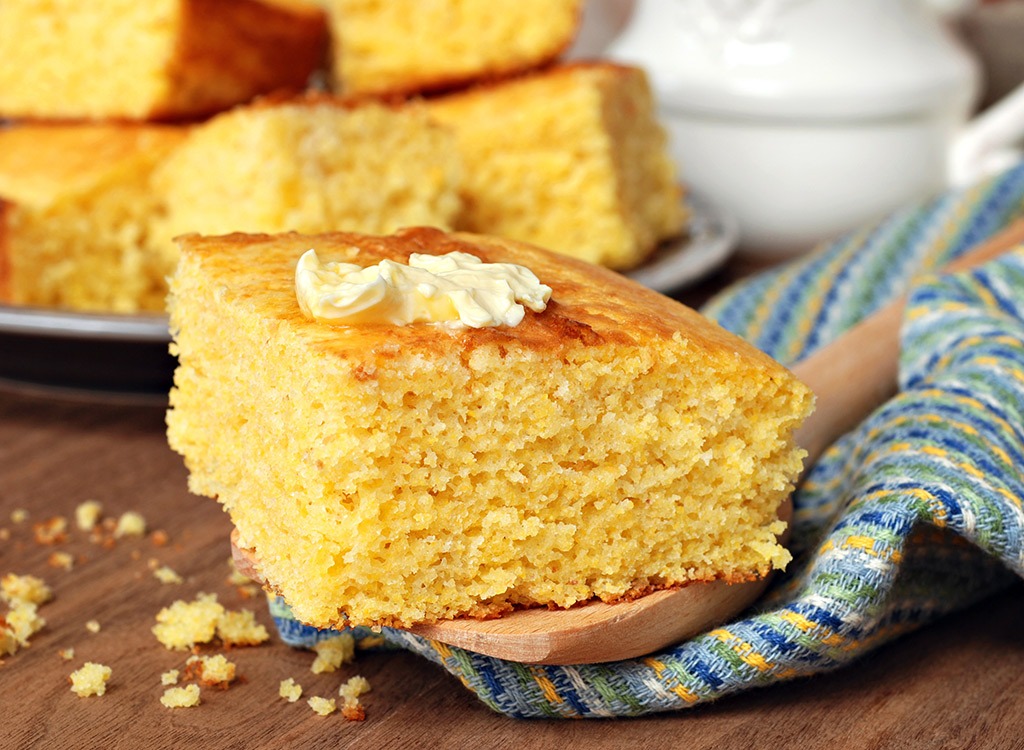 1 piece (1/6th loaf, 3×3 slice): 289 calories, 14.6 g fat (8.3 g saturated fat), 379 mg sodium, 33.2 g carbs, (1.9 g fiber, 5.2 g sugar), 7.5 g protein
No Turkey Day meal would be complete without a bite of cornbread. Although it ranks high on our list, you should still stick to a reasonable sized slice if you plan to indulge. One slice carries more than a quarter day's fat.
AND THE #1 STARCHY SIDE DISH IS…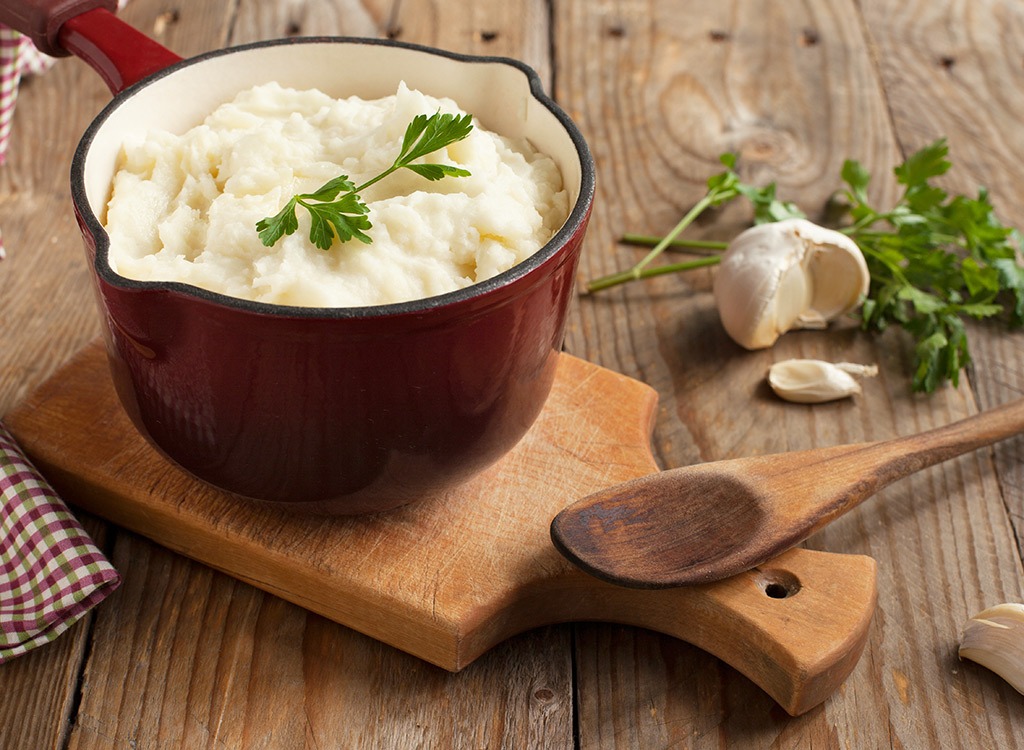 ¾ cup serving: 214 calories, 10.5 g fat (6.5 g saturated fat), 111 mg sodium, 27.4 g carbs, (3.4 g fiber, 1.2 g sugar), 3 g protein
No need to skip the mash—just go easy on the butter and use low-fat milk to keep the nutritionals in check.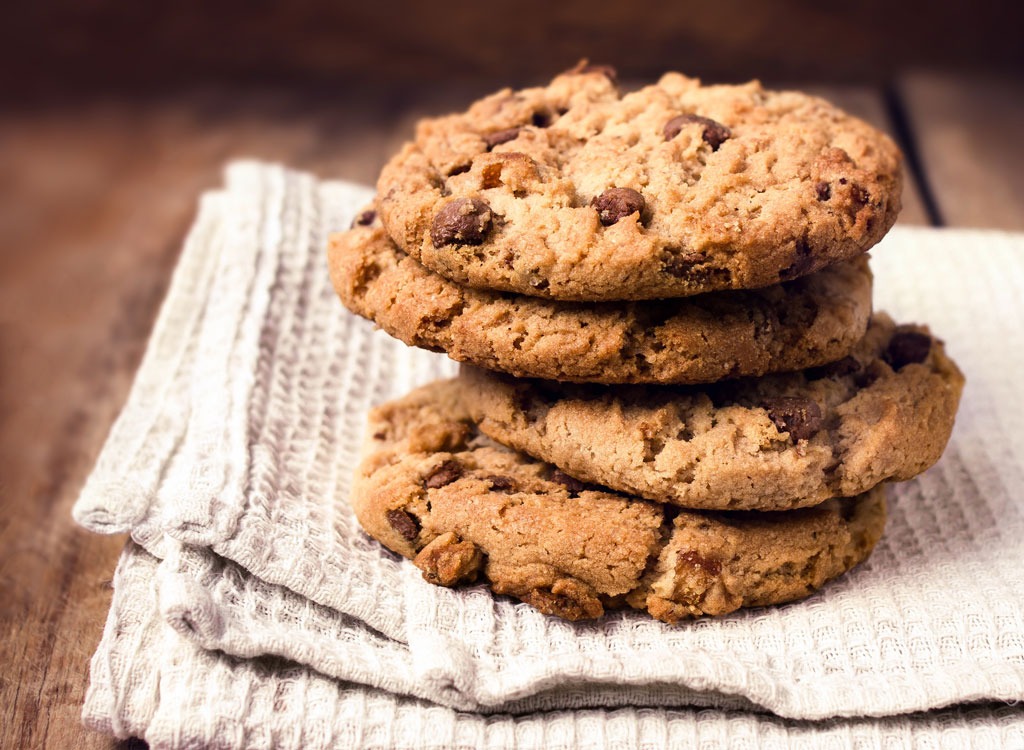 No Thanksgiving meal would be complete without fall-inspired desserts. Get ready to loosen those belts!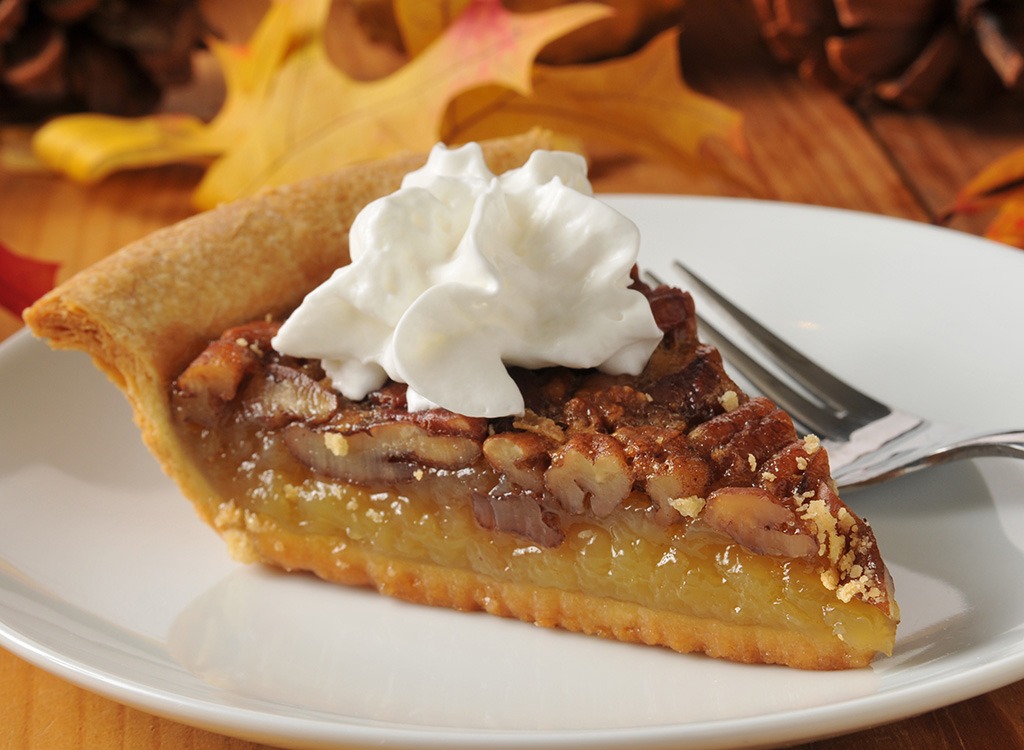 1/8th pie: 645 calories, 40.6 g fat (15.4 g saturated fat), 348 mg sodium, 66.2 g carbs, (3.5 g fiber, 34 g sugar), 8 g protein
A big, goopy dilemma. Yes this pie has loads of fat, but you can take solace in knowing that 90 percent of the fat in these nuts is unsaturated (the "good kind"), and pecans can reduce your levels of bad cholesterol (LDL) and raise your good cholesterol (HDL). That said, pecan is the most caloric of all pies, and it's better left off your plate.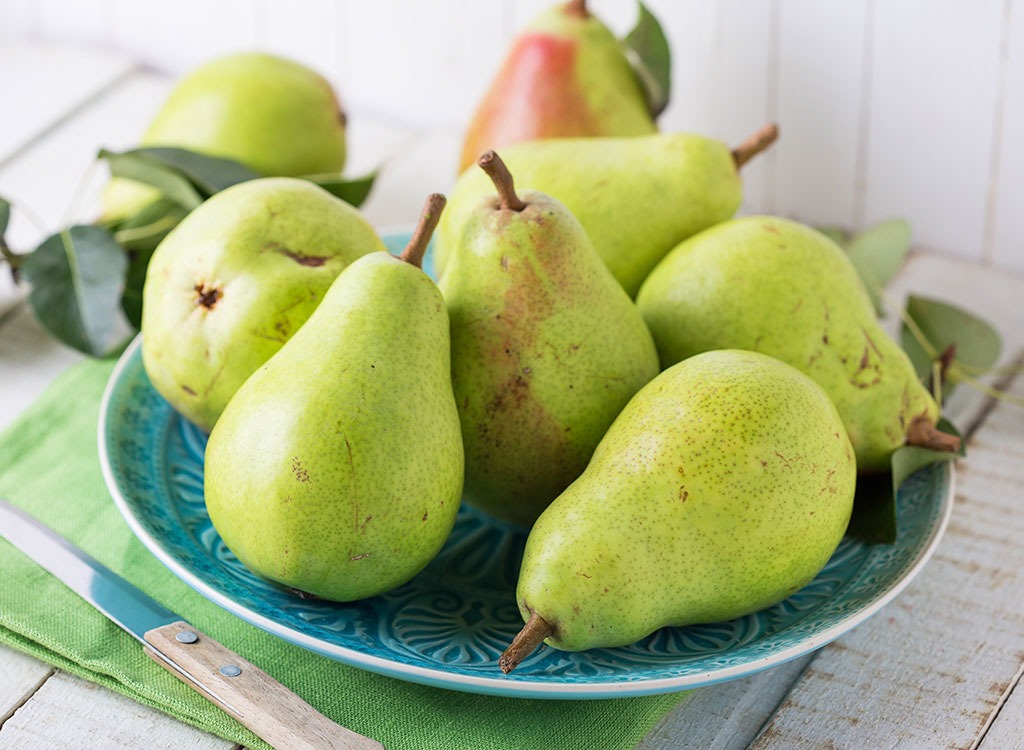 1/8th recipe: 646 calories, 24.4 g fat (14.8 g saturated fat), 319 mg sodium, 108 g carbs, (8.6 g fiber, 69.5 g sugar), 5.3 g protein
This fruit- and oat-filled crisp is the ultimate fall indulgence. One serving packs nearly an entire day's saturated fat and as many calories as three packages of Kit Kats! Not what you were expecting when Grandma offered you a slice, was it? This is a definite "Not That!"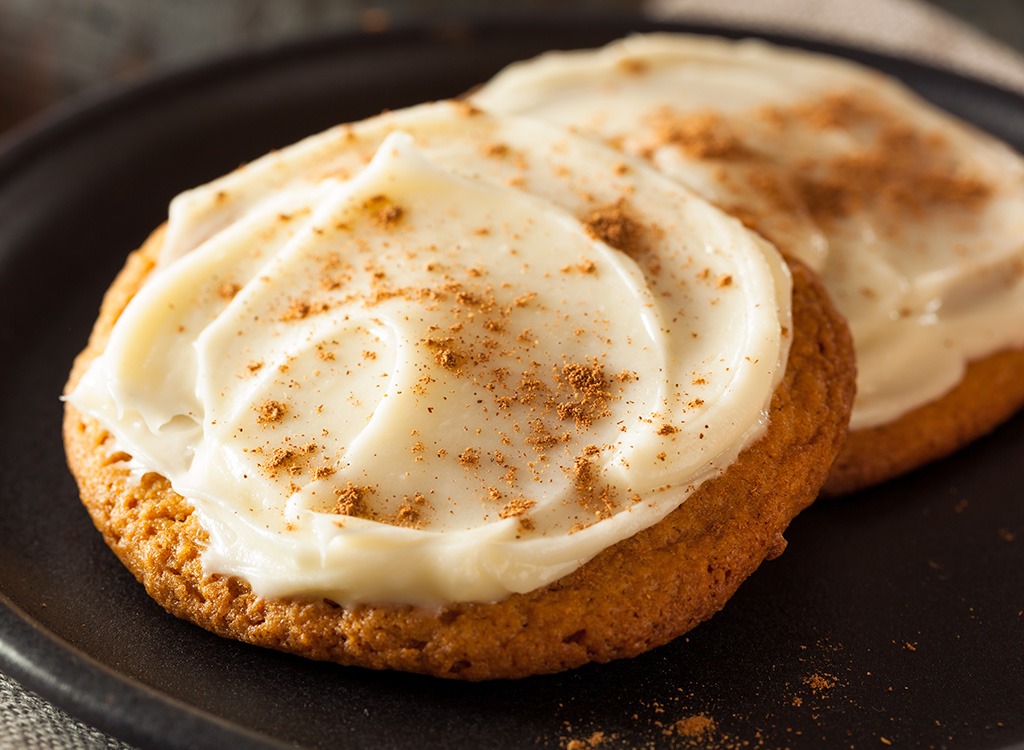 2 cookies: 241 calories, 6.3 g fat (3.8 g saturated fat), 184 mg sodium, 44.8 g carbs, (0.9 g fiber, 30.4 g sugar), 2.4 g protein
Cookies can be tricky. Thanks to their tiny stature, people often assume they're the healthiest sweet on the table. If you stick to just one, maybe. But that's rarely the case. If you want a cookie, go for it, but don't pick it over the dish you really want in the name of weight loss. Can't get enough of fall's favorite orange gourd? Check out these 20 Healthy Pumpkin Recipes for Weight Loss!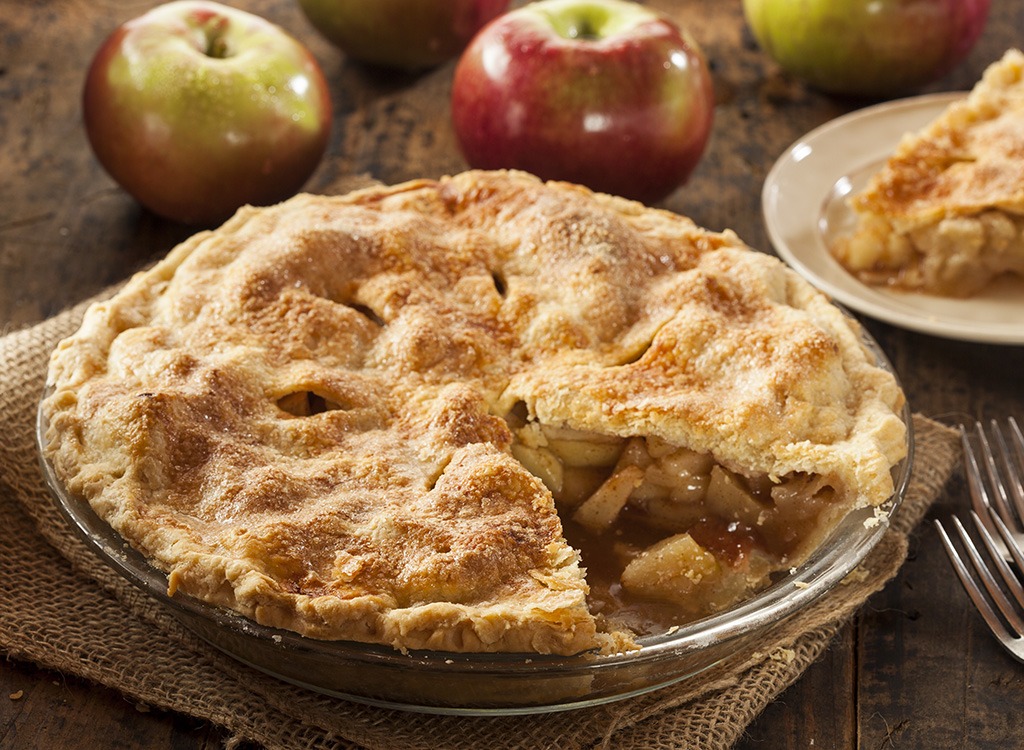 1/8th pie: 230 calories, 6 g fat (2.5 g saturated fat), 200 mg sodium, 43 g carbs, (1 g fiber, 27 g sugar), 1 g protein
The phytonutrients in apples may help fight colon and liver cancers, but you'll want to skip the ice-cream topper if you decide to indulge. This slice already contributes enough calories to your meal.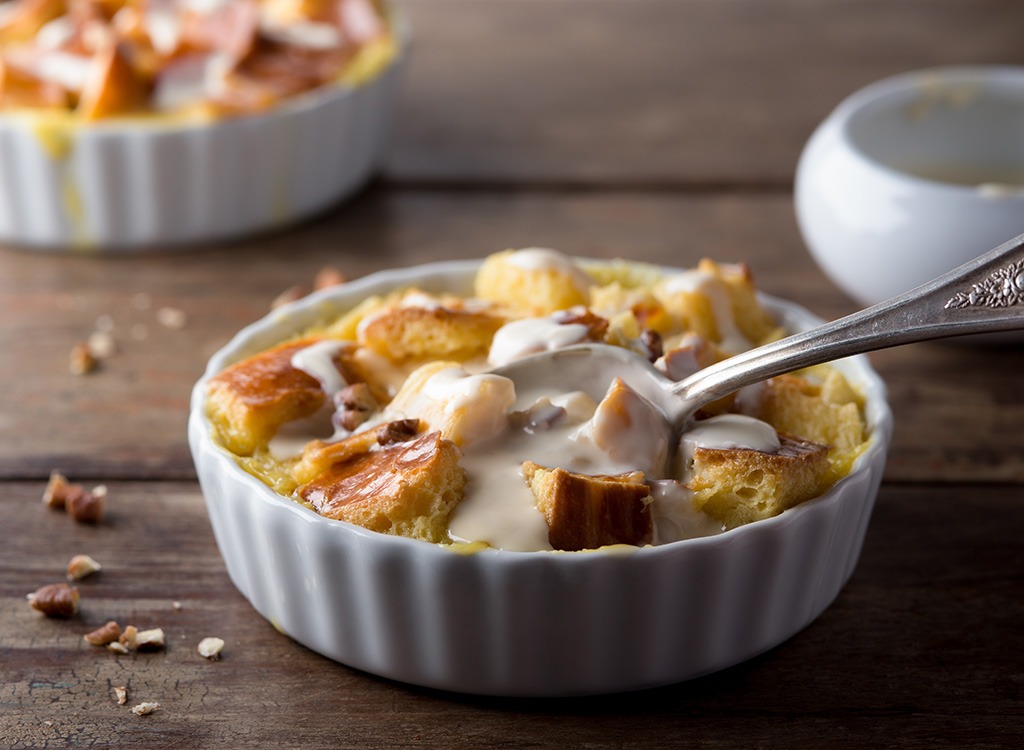 1/8th pudding: 190 calories, 8.3 g fat (4.8 g fat), 206 mg sodium, 26.4 g carbs, (0.7 g fiber, 21 g sugar), 4.2 g protein
Although it may be hard to believe that something made with old bread, sugar and butter can be waistline-friendly, this dish's low-cal profile knocks the competition out of the water.
AND THE #1 THANKSGIVING DESSERT IS…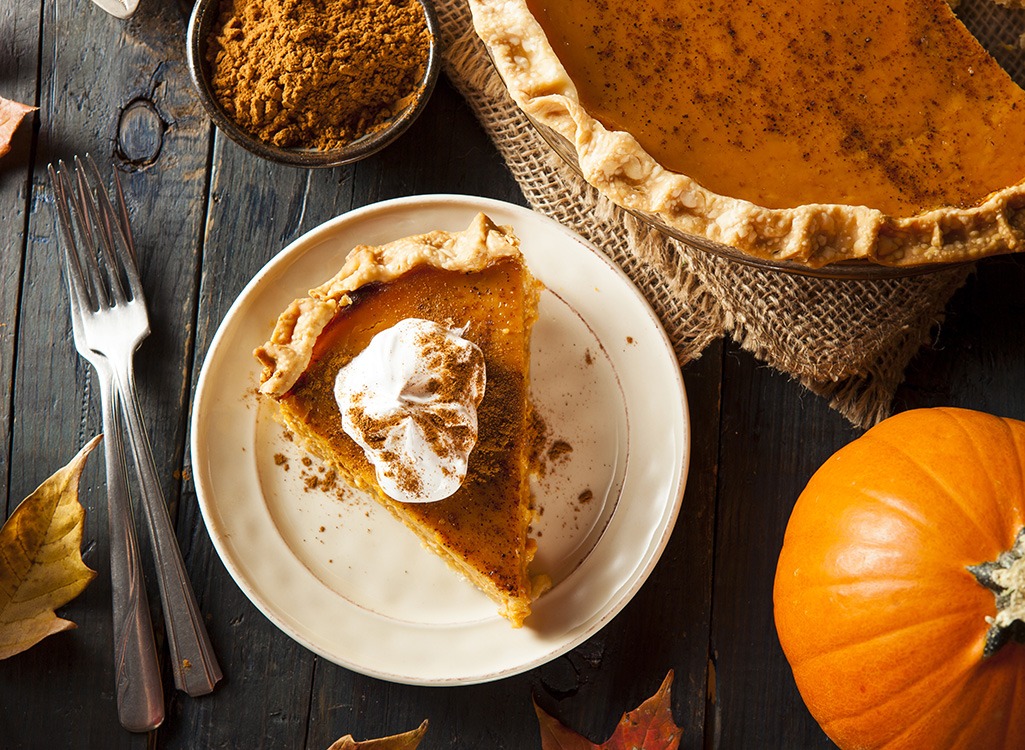 1/8th pie: 192 calories, 6.3 g fat (2.8 g saturated fat), 230 mg sodium, 29.6 g carbs, (1.5 fiber, 25.3 g sugar), 5.4 g protein
Not only is this slice the best bet for your belly, it also can help fight prostate cancer, protect your eyesight, and keep mucus membranes resistant to infection due to pumpkin's high beta-carotene content. After dinner, unwind by pairing your slice with a cup of one of these 21 Best Teas for Weight Loss for a healthy—yet totally comforting—dessert.
Eat This, Not That!
Inspired by The New York Times best-selling book series, Eat This, Not That! is a brand that's comprised of an award-winning team of journalists and board-certified experts, doctors, nutritionists, chefs, personal trainers, and dietitians who work together to bring you accurate, timely, informative, and actionable content on food, nutrition, dieting, weight loss, health, wellness, and more.
Read more about Eat This