6 Fast-Food Chains That Serve the Best Frozen Custard
Many will agree that custard is a superior version of ice cream.
When you are craving a frozen treat for dessert, the logical option is to head out to your local restaurant or fast-food chain and order a scoop of ice cream, right? Well, depending on your experience with frozen custard, you might have an entirely different opinion on the matter. To the untrained taste buds, frozen custard and ice cream might come across as nearly identical. They are both frozen, they come in the same flavors, and the texture is awfully similar. What is the difference?
The difference between ice cream and custard is quite recognizable. In fact, once you familiarize yourself with what some consider the more gourmet frozen dessert. For starters, custard has a higher amount of butterfat due in part to the fact that it is churned much more slowly than ice cream, leaving little room for air to permeate the mixture. This results in a much denser consistency.
But the biggest telltale sign that you are enjoying a scoop of custard rather than ice cream comes from the ingredients list. While both are made with milk, sugar, and cream, custard also contains egg yolks. As a result, not only is the texture of custard more dense, but the flavor is, too. And, as you may suspect, this all results in custard containing more calories from fat than traditional ice cream.
Fans will say that custard is a superior version of ice cream thanks to its dense texture and rich flavor, but don't take their word for it. There are several fast-food chains across the country that specialize in custard as their frozen dessert of choice, so be sure to keep pay them a visit.
Culver's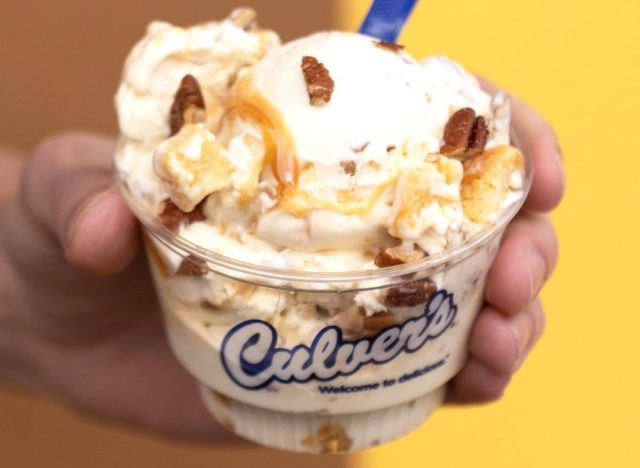 The quintessential ButterBurger can only be matched by Culver's Fresh Frozen Custard. The signature dessert is made with farm-fresh eggs daily, in small batches, and entirely in-store, so no matter when you order, you'll know that it is, at most, a few hours old. Enjoy Culver's custard as-is or as the base in one of its many milkshake flavors or malts, like chocolate, vanilla, peanut butter, or raspberry.
BurgerFi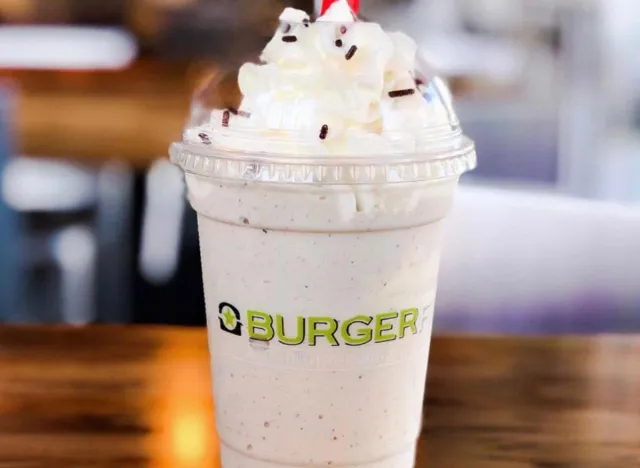 BurgerFi is all about fresh ingredients, which extends to frozen desserts. The burger chain's menu includes chocolate and vanilla custard, but customers can also order what are known as Concretes. The ultra-thick milkshakes are akin to Blizzards served at Dairy Queen in that they won't drip if you were to hold them upside-down. Available Concrete flavors include Red Velvet Cake, Cookies and Cream, Caramel Fudge Bar, and Key Lime Pie.
Shake Shack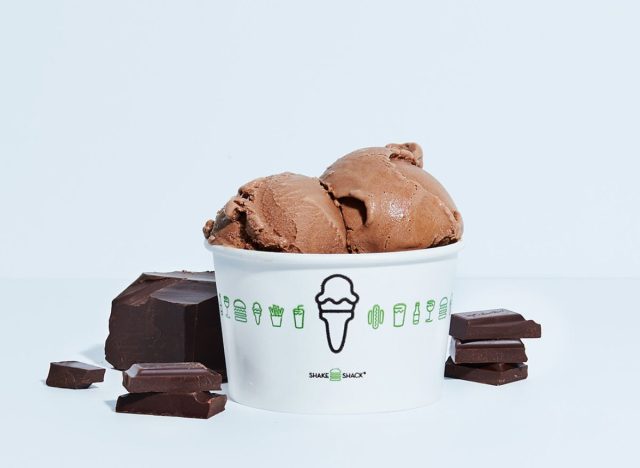 Shake Shack's frozen custard is made in-house daily, according to its website, so your dessert will be ultra-fresh every time you order. The menu includes chocolate and vanilla custard along with several custard-based milkshakes, including Cookies and Cream, Strawberry, and Black and White. Shake Shack also serves dairy-free chocolate custard.
Freddy's Frozen Custard & Steakburgers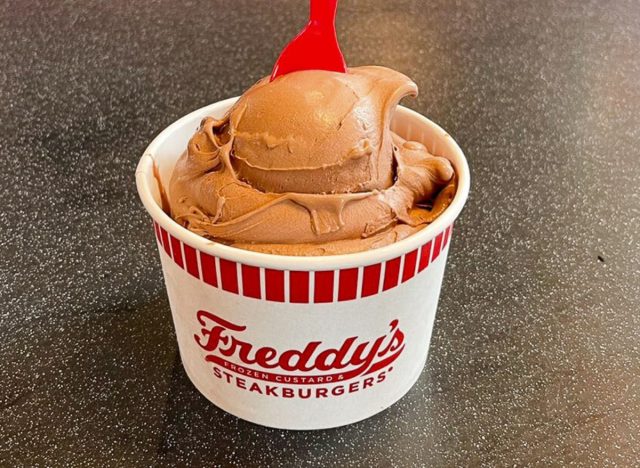 As the name implies, there is no shortage of custard on the menu at Freddy's Frozen Custard & Steakburgers. But the menu does not stop at your simple scoop of custard or even your classic milkshake. Freddy's offers unique custard-based sundaes as well, including Dirt 'n Worms, Chocolate Brownie Delight, and Signature Turtle. For on-the-go options, Freddy's also sells Oreo Custard Sandwiches with your choice of chocolate or vanilla.6254a4d1642c605c54bf1cab17d50f1e
Good Times Burgers & Frozen Custard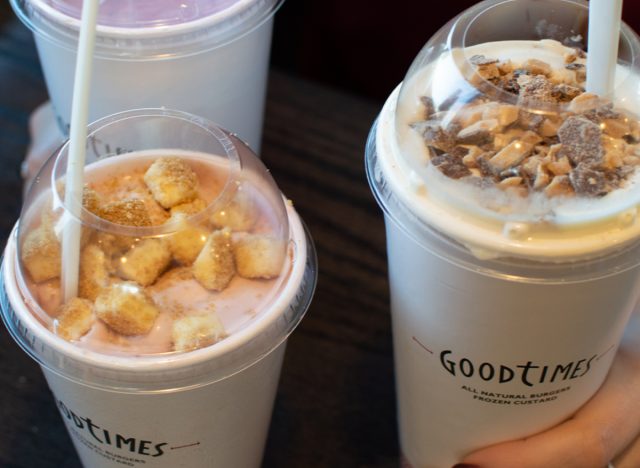 If you happen to live close to Good Times Burgers & Frozen Custard, then you are likely aware of the tasty, all-natural frozen treats available on the menu. It starts off with the usual suspects, with scoops of custard available in cups, cake cones, and waffle cones. The ultra-thick milkshakes, called Spoonbenders, come in a variety of unique flavors like Chocolate Toffee Crunch, Strawberry Cheesecake, and Chocolate Cookie Dough.
Your four-legged friend can even reap the benefits of a trip to Good Times with a Pawbender, which is a scoop of vanilla custard topped with dog treats and peanut butter.
Andy's Frozen Custard
If it's custard you are craving, then you will want to head to your nearest Andy's Frozen Custard. The Midwestern chain specializes solely in custard desserts, including sundaes, Concretes, and Jackhammers which are essentially Concretes but with a hot fudge or caramel center.
Andy's makes it easy for customers to bring dessert home with them with pints and half-pints to-go. Mix and match your favorite flavors, so there is always a sweet treat available in your freezer.
Carly Neil
Carly Neil is a freelance writer specializing in all things food, travel, Disney, and theme parks.
Read more about Carly