6 Fast Food Chains That Serve the Best Ice Cream Sundaes
You can't forget the cherry on top!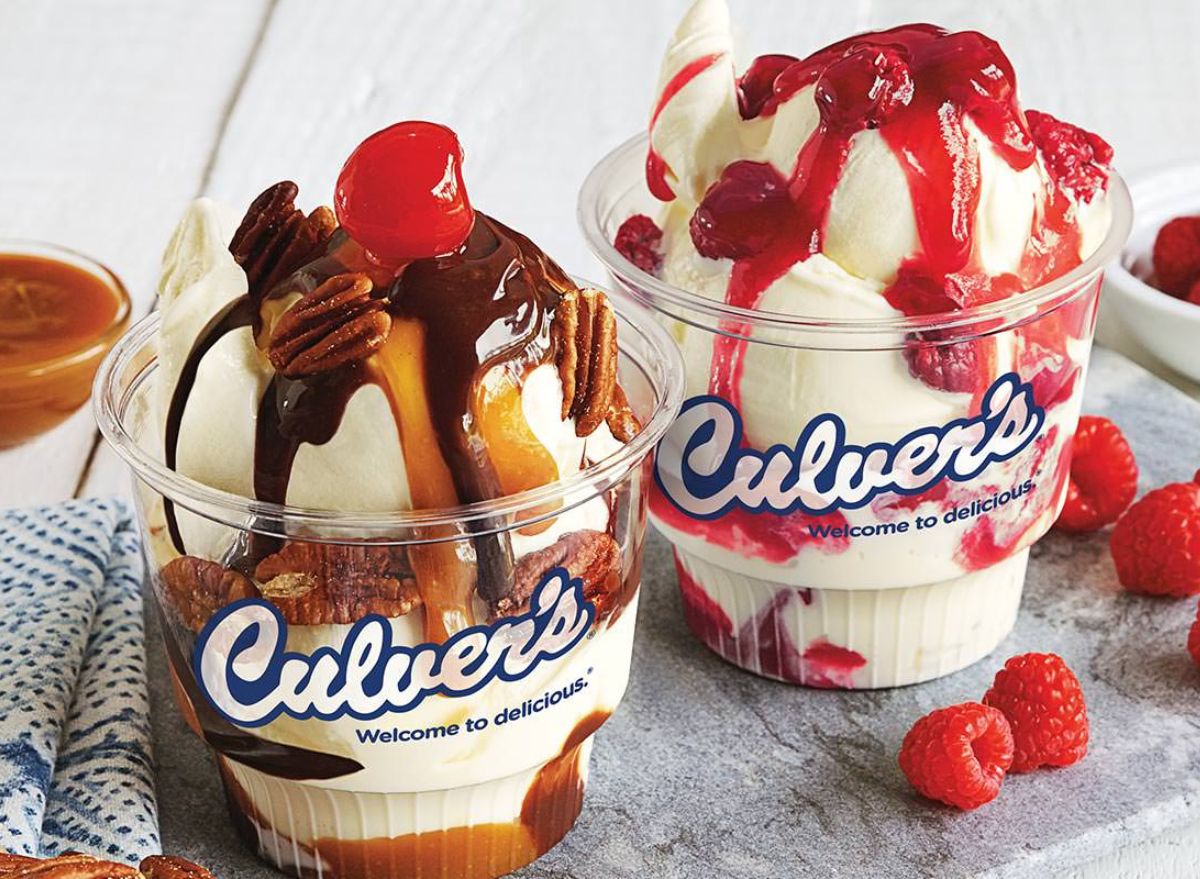 Sure, you can make your own ice cream sundaes at home, but there's nothing quite like picking up an ice cream sundae from your favorite fast-food spot. These tasty treats, which usually incorporate delicious must-have ingredients like soft-serve ice cream, whipped cream swirls, mouth-watering hot fudge, crunchy chopped nuts, and a sweet maraschino cherry, not only taste great but are also available in a snap. Not to mention, they may cost less than picking up all these different ingredients yourself (especially if you're looking to just create an ice cream sundae for one).
There are plenty of places to get ice cream sundaes, but sometimes you want a tried and true classic that is both tasty and timeless. And it turns out many people are turning to popular chains for their ice cream and dessert fix. According to a YouGov.com tracker, dessert chains Baskin Robbins and Dairy Queen are the two most popular dining chains in the country currently, followed by burger spot Wendy's.
But these two chains are among several building sweet treats on a base of creamy ice cream. From one famous place with over 1,400 flavors to iconic establishments that make mouth-watering frozen custard from a decades-old recipe, here are 7 fast-food chains that serve the best ice cream sundaes. We foresee a sweet treat in the near future.
Baskin-Robbins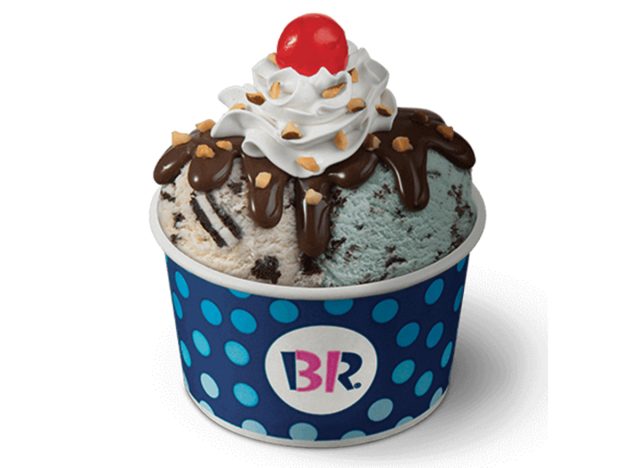 As mentioned, according to the YouGov.com survey, this ice cream and shake-slinging chain is the most popular dining spot right now. Throughout the years, Baskin-Robbins has become synonymous with ice cream sundaes, and for a good reason—its sundaes are amazing. Started in the 1940s by two brothers-in-law, Burt Baskin and Irv Robbins, who each owned their own ice cream parlors, the buzzy spot has now become one of the most famous places to pick up ice cream with over 7,700 locations worldwide.
Even though its menu includes fun options like ice cream cakes, ice cream shakes, and bakery treats, its ice cream sundaes are really the way to go. You can order one using their many ice cream flavors (according to the website, the chain offers over 1,400, if you can believe it!). Its Banana Royale Sundae, which is prepared with bananas, chopped almonds, and a cherry, is always a winner, although the Warm Brownie Sundae, packed with hot fudge, whipped cream, and chopped nuts, is pretty good, too.
Culver's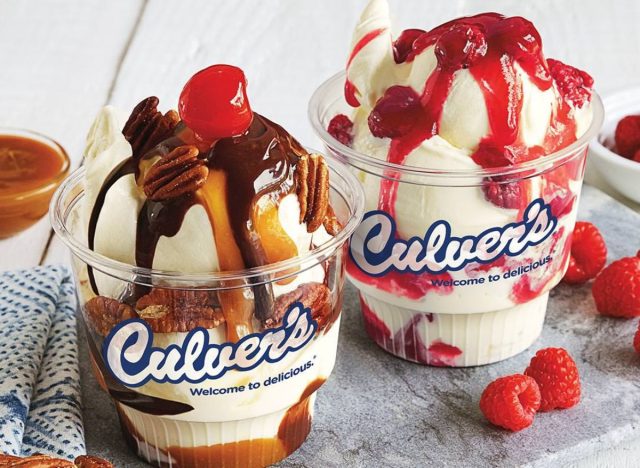 If you haven't tried one of Culver's sundaes yet, you're missing out. Its sundaes are made using the chain's freshly made frozen custard (that's whipped up throughout the day) and fun ingredients, including whipped cream, hot fudge, cherries, and more. One of its popular options is the Caramel Cashew Sundae, which features roasted cashews, vanilla frozen custard, and a maraschino cherry. Or try the Turtle Sundae, which has roasted Southern pecans, savory caramel sauce, and a maraschino cherry. Started in Sauk City, Wisconsin, in the 1980s, Culver's now has nearly 900 locations throughout 26 states.
McDonald's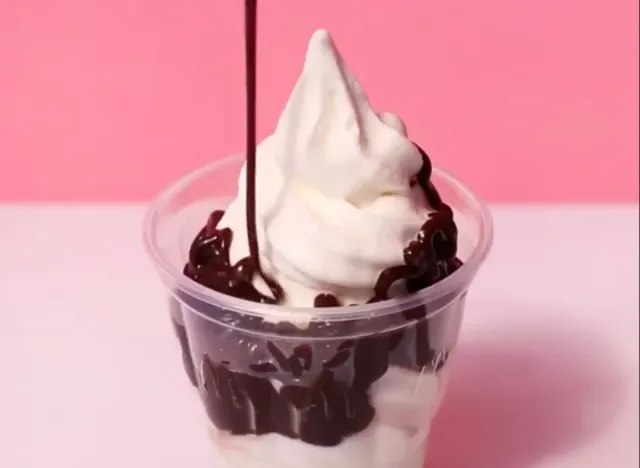 Even though McDonald's has a menu packed with tasty savory items, including cheeseburgers, chicken nuggets, freshly made French fries, and more, there is just something about its ice cream sundaes that hit the spot. Made using reduced-fat vanilla ice cream and either hot fudge or hot buttery caramel, McDonald's ice cream offerings are simple yet timeless and they're also offered at a reasonable price (I mean, a couple of bucks for a sundae? Why not?) If you're looking for something that has a bit more pizzazz, be sure to check out the chain's McFlurries, which are treats blended with cookies and sauces.6254a4d1642c605c54bf1cab17d50f1e
Sonic Drive-In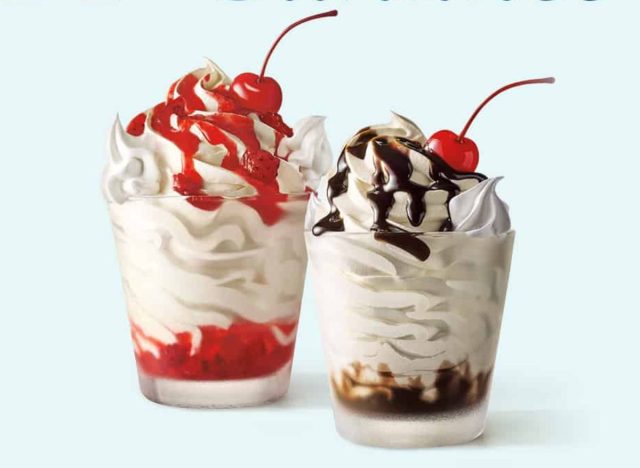 The next time you stop by Sonic to pick up a coffee or a cheeseburger, take a look at its tasty ice cream sundae offerings (which are listed under the Under $2 and $3 Cravings section of the menu). The chain, which has a whopping 3,500-plus locations throughout the country, has a few fun sundae options. The Oreo Cookie and Chocolate Sweet Mini Sundae is made with soft serve vanilla ice cream, Oreo cookie pieces, and chocolate syrup. The Snickers Bar Sundae includes caramel and chopped Snickers bars. Add-ins, such as chopped bananas, cookie dough pieces, and hot fudge, are also available if you're looking for extra toppings.
Dairy Queen
While many people head to Dairy Queen for the iconic Blizzard blended treats, it also churns out delicious old-fashioned sundaes. The iconic spot, which opened in the 1940s and now has over 6,800 locations throughout the world, is known for its range of sundaes that include classics, like hot fudge and caramel sundaes, as well as ones that are a bit more out of the box, like their pineapple and peanut butter sundaes. Each sundae, which clocks in at around 300 calories per serving, give or take, is made with the chain's world-famous soft-serve ice cream that has been a fan favorite for over 80 years.
Carvel
If you weren't a Baskin-Robbins kid growing up, then you were probably a Carvel kid. The famous ice cream chain started in the 1920s and has been serving delicious ice cream sundaes, ice cream milkshakes, and more for nearly a century.
The popular franchise, which now has over 300 locations throughout the country, has several fun sundae options. The Mint Chocolate Chip Sundae Dasher is a layered sundae made with mint chocolate ice cream, fudge, chocolate crunchies, and whipped cream. The always-delicious Banana Barge sundae includes an entire banana topped with two scoops of ice cream, whipped cream, nuts, chocolate, strawberry sauce, and a cherry. And don't forget, on Wednesdays, Carvel's offers buy one get one free soft serve ice cream sundaes.