9 Restaurant Chains That Make Their Own Ice Cream From Scratch
There's nothing quite like a homemade dessert.
Over the years, ice cream has grown and evolved from a simple frozen treat—developed as far back as the second century B.C.—to a dessert that comes in every conceivable flavor. And people love it. Ice cream sales alone contribute an estimated $13.1 billion per year to the U.S. economy. Needless to say, people are buying and ordering a lot of ice cream. But whether they shop for ice cream at the grocery store or order a scoop at a local restaurant, most can agree that the fresher your ice cream is, the better. Everyone knows there's nothing better than ice cream from scratch.
The freshest ice cream, of course, is the kind that is made by hand. Did you know you can actually make vanilla ice cream with as few as three ingredients? Restaurants too can easily make fresh ice cream and add a value-driven dynamic to their dessert offerings.
Here are the restaurant chains that have opted to make their ice cream in-house, resulting in fresh, creamy, and highly-rated desserts that customers cannot get enough of.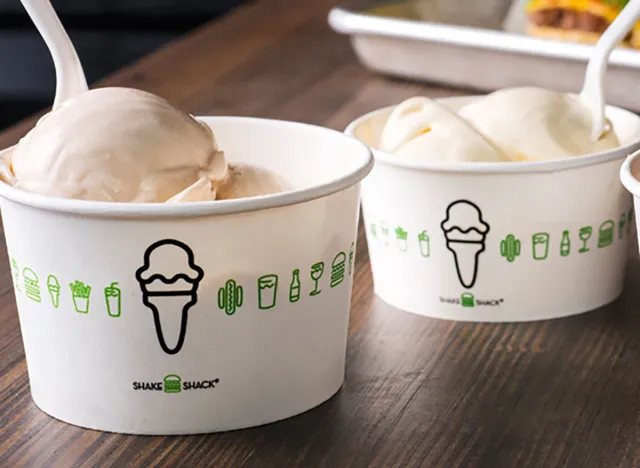 Known for both its mouth-watering hamburgers and variety of milkshake flavors, Shake Shack has a straightforward menu that has won over the hearts of many. What makes the food even more appealing is knowing that Shake Shack really leans into fresh, high-quality ingredients, and that includes the real ice cream used in the milkshakes. Per Shake Shack's website, its Vanilla and Chocolate frozen custard—which is a rich, thick ice cream made with egg yolks—is "made in-house every day."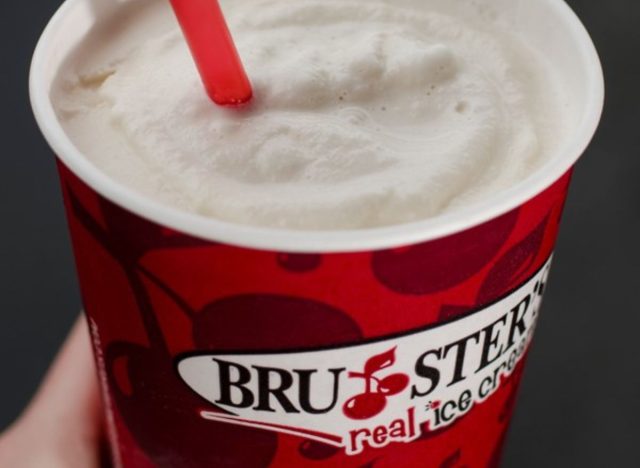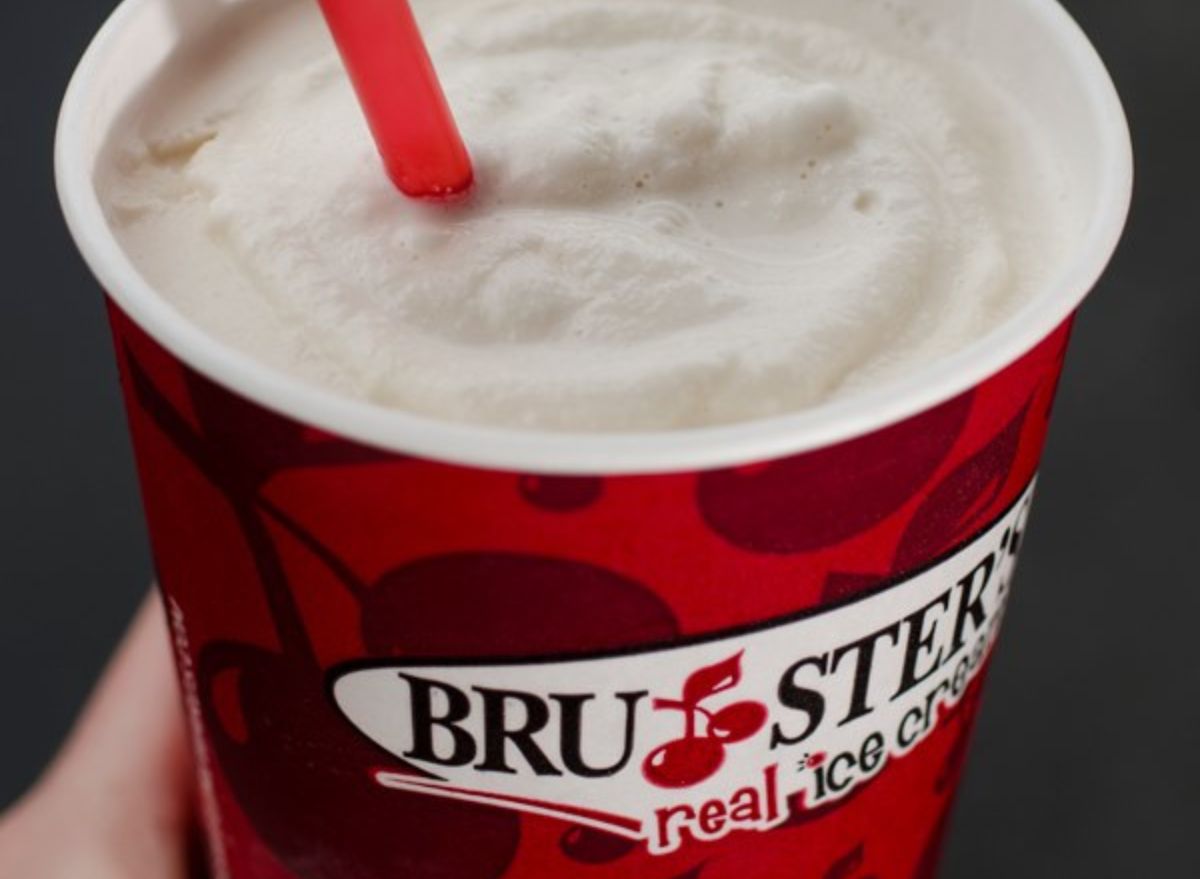 Bruster's keeps things nice and simple in its slogan: real ice cream. With nearly 200 locations around the country (and a few international spots, too), Bruster's has a wide reach when it comes to fresh frozen treats. On the chain's website, it advertises its 24 "ever-changing" flavors of ice cream, all of which are "made fresh in our ice cream shops daily." With 150 recipes to choose from at any given time, it is impressive to think that it's all done in-house.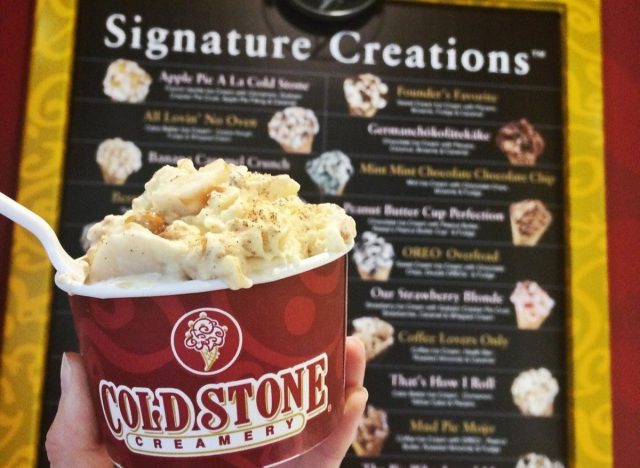 With elaborate scoops of ice cream assembled on a literal cold stone, the massive ice cream chain Cold Stone offers everything from milkshakes to sundaes to take-home ice cream cakes. With such an expansive chain, you might think Cold Stone's ice cream comes from a third-party distributor, but it claims it's all done in-house. The website states that all of its ice creams are "made fresh in every store," though one former employee did point out on Quora that the workers got a little assistance from liquid mixes that serve the bases for each flavor.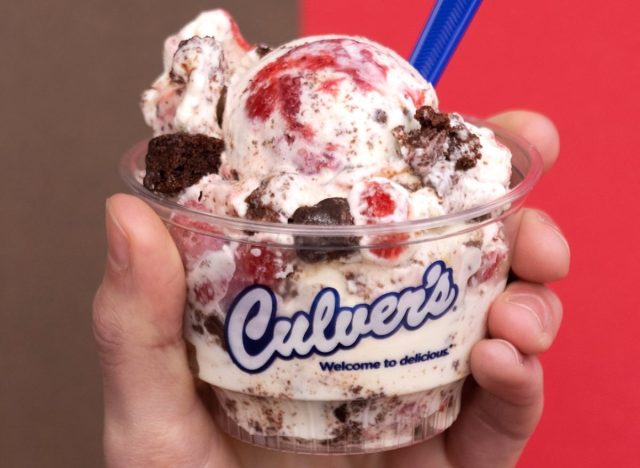 Heralded as one of the most highly-beloved burger chains in the nation, Culver's also means serious business when it comes to its ice cream. A lot is made fresh in each Culver's location, including its frozen custard. The website states that the frozen custard is "slow-churned, right in the restaurant," and that the process is done in small batches "multiple times a day." That way, no matter what time of day you stop in for some ice cream, it's pretty darn fresh.
Freddy's Frozen Custard & Steakburgers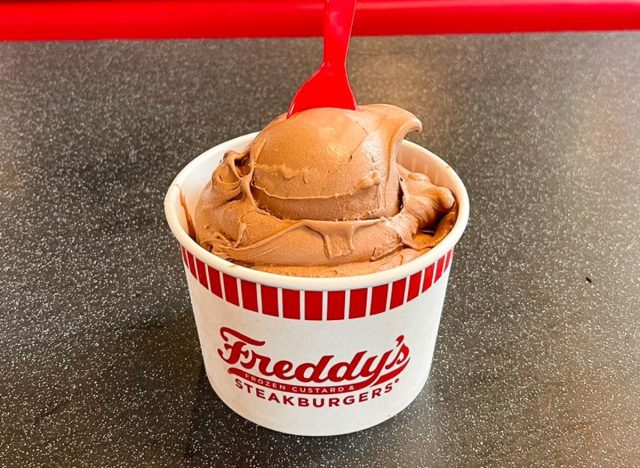 In a world of long-standing fast-food restaurants that have been around for decades, Freddy's Frozen Custard & Steakburgers is relatively new, having only been founded in 2002. Its menu, as the website states, is "fresh, made-to-order," and "craveable," from its steakburgers to its hot dogs to its frozen custard, which "is churned fresh each morning and throughout the day in each restaurant."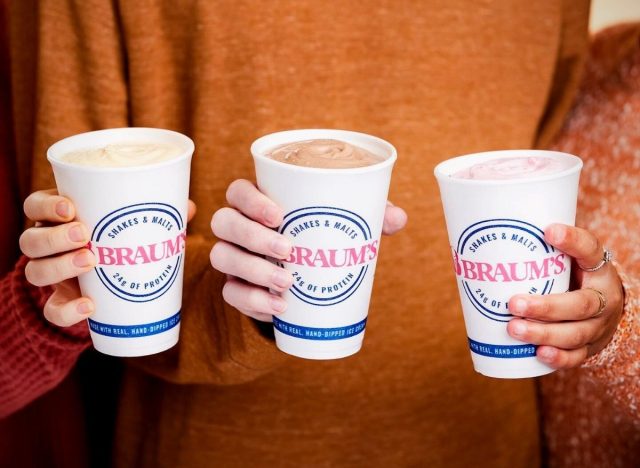 With over 300 locations across Oklahoma, Kansas, Texas, Missouri, and Arkansas, Braum's is a very recognizable ice cream chain for many a midwesterner. The chain has so much control over its supply chain, that it boasts on its website that Braum's is "also the only major ice cream maker in the country to milk our own cows." That milk is turned into a variety of dairy products sold at its locations, and Braum's prides itself on the fact that it makes "all the ice cream, milk, and dairy products including dips, sour cream, cottage cheese, and more."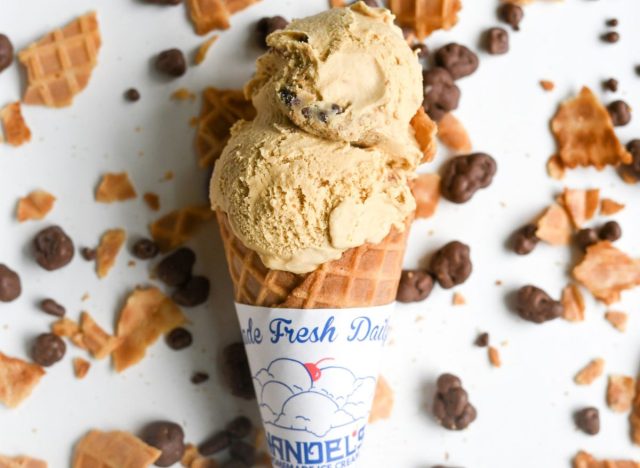 Making fresh ice cream from scratch is nothing new at Handel's. The small Ohio-based ice cream chain is all about doing things the way they always have since founder Alice Handel began making her own ice cream in 1945. The homemade ice cream at Handel's, per the company's website, "has been made fresh daily at each store" ever since its humble beginnings.
Creamistry takes the traditional process of making ice cream and turns it on its head with a little help from liquid nitrogen. The ice cream chain departs from the usual churning of milk into ice cream and instead instant flash-freezes every order. Due to the nature of its unique operations, Creamistry sells what it calls "premium liquid nitrogen ice cream made fresh to order." It even uses liquid nitrogen to blend its milkshakes.
RELATED: 6 Fast-Food Restaurants That Use Real Whole Eggs—Not That Fake Stuff6254a4d1642c605c54bf1cab17d50f1e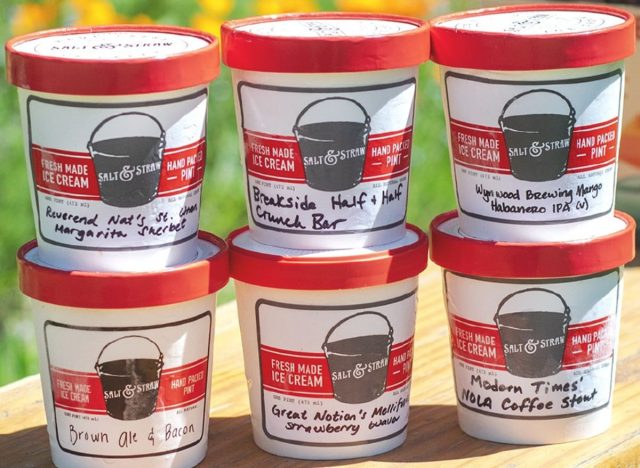 Salt & Straw is on a mission to prove that you really can have an ice cream flavor for just about everything you can imagine. Traditional flavors like Double Fold Vanilla and Chocolate Gooey Brownie are in good company with one-of-a-kind flavors like Honey Lavender, Pear and Blue Cheese, and Strawberry Honey Balsamic with Black Pepper. No matter what flavor you order off the menu, Salt & Straw makes their "ice cream in small batches by hand," so it's always fresh.
Carly Neil
Carly Neil is a freelance writer specializing in all things food, travel, Disney, and theme parks.
Read more about Carly