The 10 Best Fast-Food Meals You Can Still Get for Less Than $10
There are still a few meals that are deals.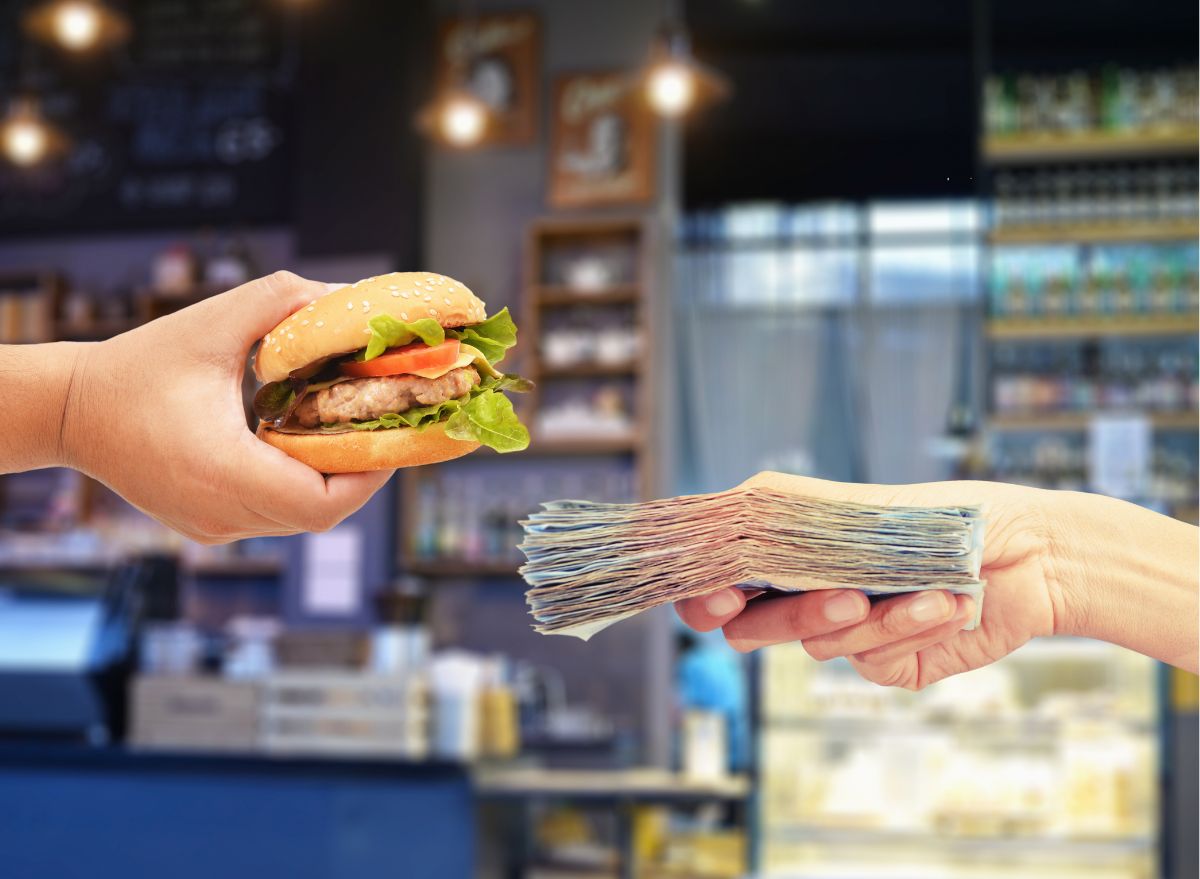 The product recommendations in this post are recommendations by the writer and/or expert(s) interviewed and do not contain affiliate links. Meaning: If you use these links to buy something, we will not earn a commission.
If you'll allow it, let's go ahead and treat the McDonald's Big Mac as the iconic fast-food menu item it really is and let the Big Mac serve as shorthand for all fast-food eats for a moment here. In the 1980s, as McDonald's pivoted to pushing meals more than individual products, a Big Mac meal—which is the burger, a soft drink, and fries, of course—cost an average of $2.59.
By the mid-1990s, the price for a Big Mac Extra Value Meal was around $4.59 in most places in America. By the year 2020, that meal was up to an average of $7.89. And today, a Big Mac Extra Value Meal costs $8.19 on average, per Fast Food Price. Sure, that means McD's menu prices have slightly outpaced inflation rates, as per U.S. Inflation Calculator, what cost $2.59 in 1985 should cost $7.17 today, it's nice to know this classic fast-food meal is still priced well under $10.
Because here's the thing: that Big Mac meal price? That's the exception these days—at many places, if you want fries (or chips or tots or whatnot) and a drink with that sandwich, burger, or burrito, a $10 bill won't cut it anymore.
But we found the best fast-food meals still priced under $10 for you.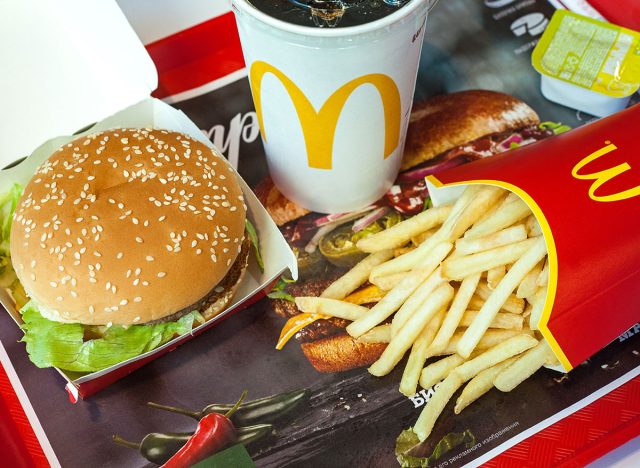 As noted, this most classic fast-food meal is still well under $10 at most McDonald's locations, coming in at under $9, even, per our earlier research. And in fact, per Menu and Price, right now no McDonald's meals cost more than $10, though a few are just a matter of 41 cents below that mark.
Burger King Double Whopper Meal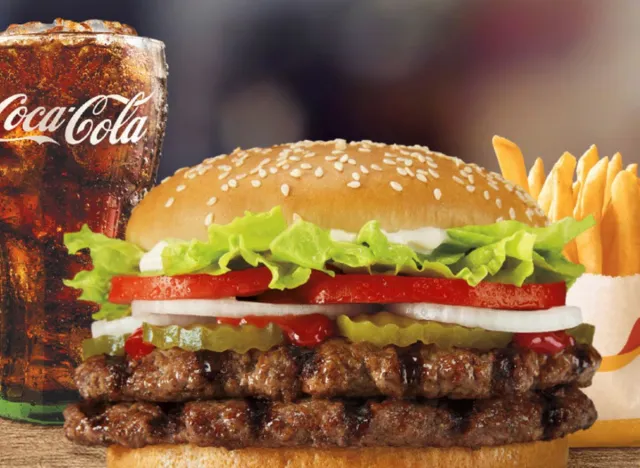 Per Fast Food Menu price data from November 2022, you can still get Burger King's equivalent of the Big Mac meal for a great price. In fact, at $7.59 on average, a Double Whopper meal costs a good deal less than the Big Mac meal.
Taco Bell Chicken Quesadilla Combo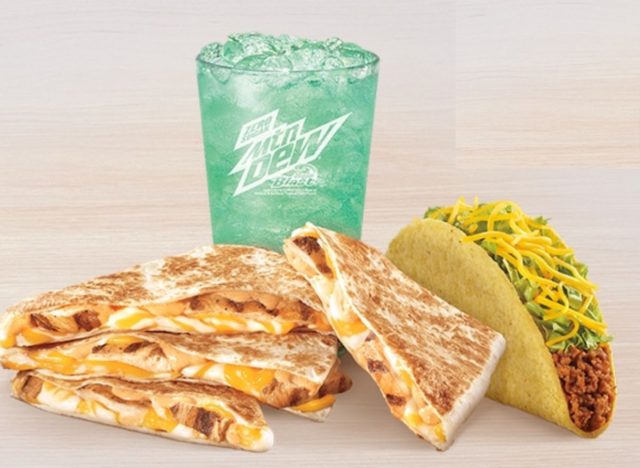 A Chicken Quesadilla Combo from Taco Bell is one of the best deals we could find. For $7.99, this meal comes with a four-piece chicken and cheese quesadilla, a classic crunchy beef taco, and a drink.
Wendy's Dave's Baconator Combo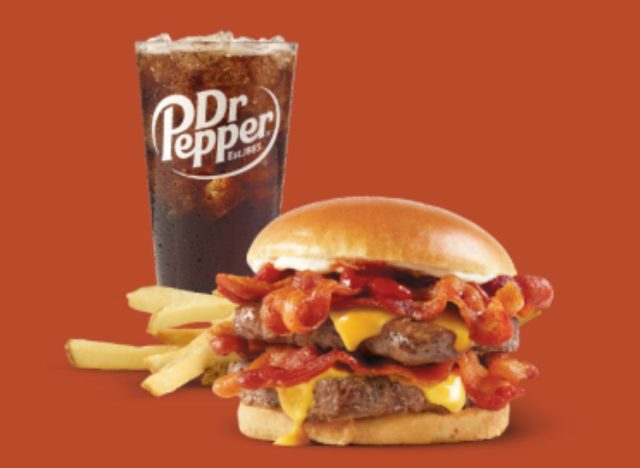 This hefty meal from Wendy's costs just under $10, at $9.69 per The Food XP. And we're not playing around with the word "hefty," by the way: depending on the beverage you choose, this meal can have between 1,238 and 1,436 calories, per Wendy's site.
In-n-Out Double-Double Combo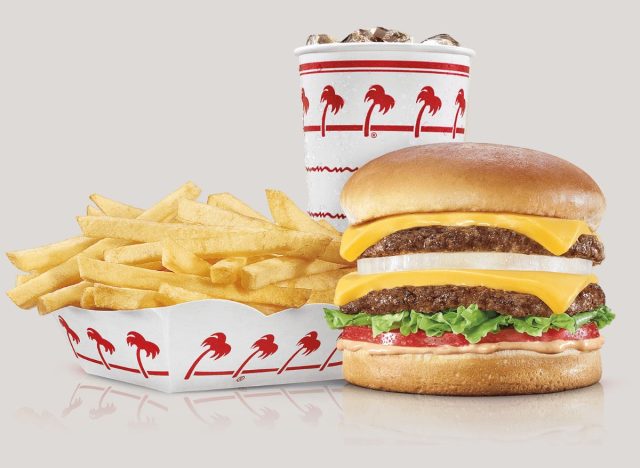 This great burger comes with fries and a drink for a great price. Per Fast Food Menu Prices, this classic California combo costs only $6.70 at present, making it one of the best fast-food finds out there.
Hardee's Original Thickburger Combo
If you want a lot of meat for a decent price—and you want fries and a drink on the side—then the Original Thickburger Combo is a good choice. Hardee's is charging $8.69 for this half-pound burger combo, per Menus with Prices.
Sonic SuperSonic Bacon Double Cheeseburger Combo
A SuperSonic Bacon Double Cheeseburger Combo will, at last check according to Sonic Menu Prices, cost you $7.89 on average. Though do note that menu prices may vary based on location.
Subway Turkey & Ham Sandwich Meal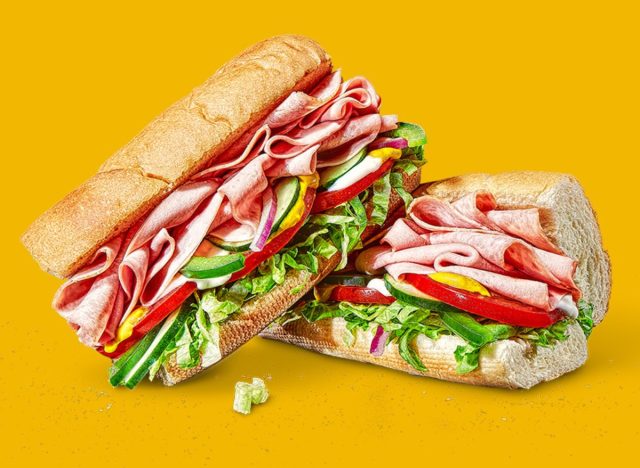 Depending on which sandwich you order, you can still get a meal at Subway for less than $10. And that's for a six-inch sandwich, of course, with chips and a drink. We managed to assemble a Turkey & Ham sub combo for $9.78, pre-tax.6254a4d1642c605c54bf1cab17d50f1e
Jack in the Box Bacon and Swiss Buttery Jack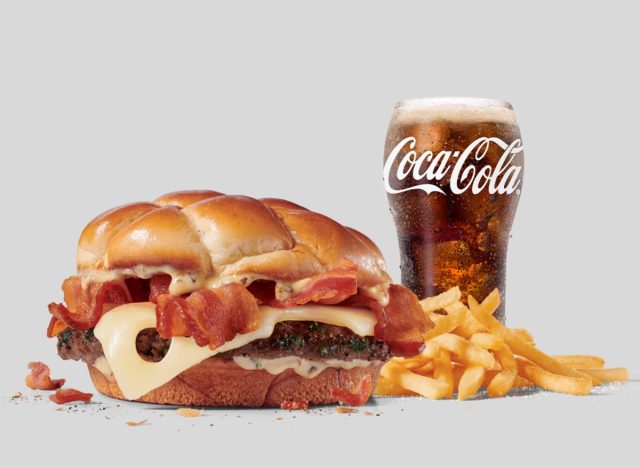 As Jack in the Box is known for its decent prices, it's not surprising that you can get a Bacon and Swiss Buttery Jack combo meal for $7.29, according to Fast Food Menu Prices.
Whataburger Whataburger Meal
Whataburger's basic meal, consisting of a classic Whataburger, medium fries, and a medium drink, delivers about 1,400 calories, so it's quite a meal. And at $7.99 for all that, it's quite a deal, too.
Steven John
Steven John is a freelancer writer for
Eat This, Not That!
based just outside New York City.
Read more about Steven