6 Most Overpriced Sandwich Chains, According to Customers
Fans looking for value are disappointed with these sandwich-makers.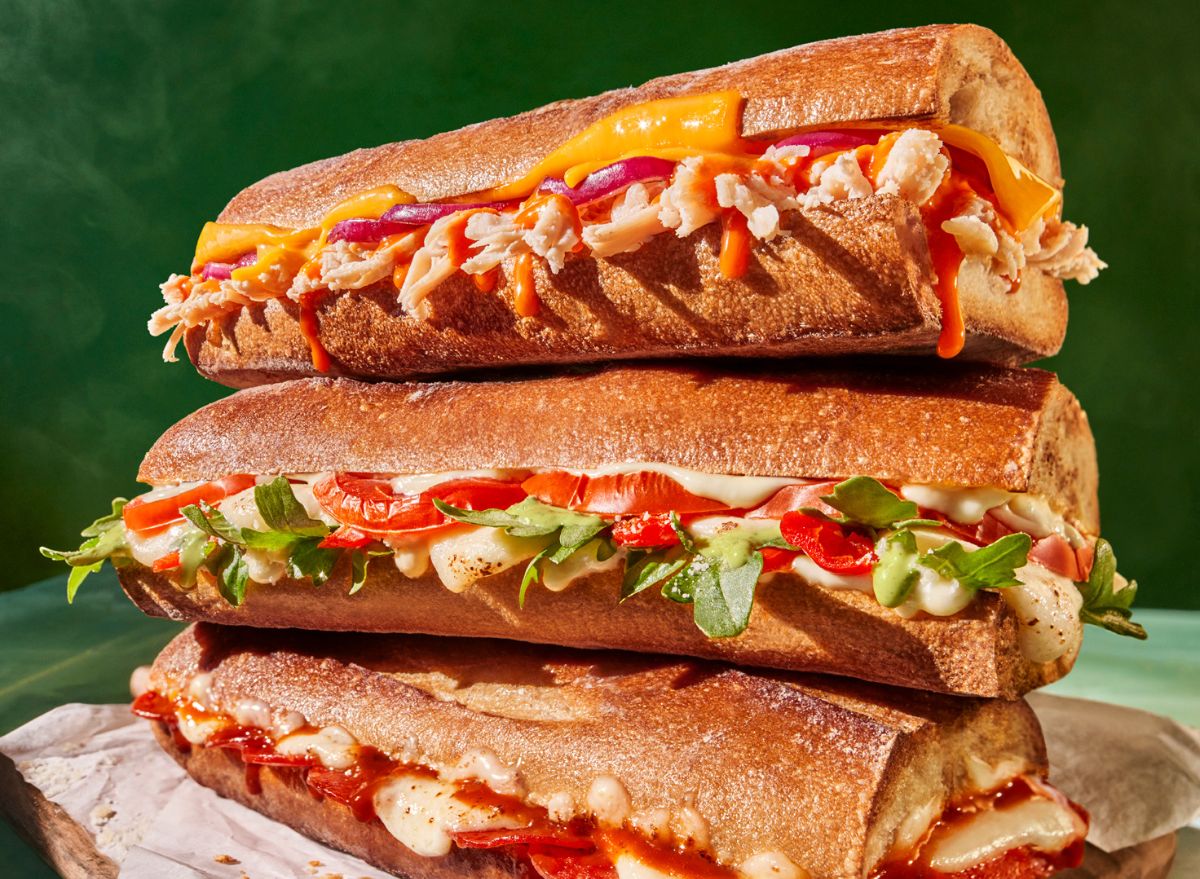 This post contains affiliate links. If you use these links to buy something, we may earn a commission.
Leading fast-food chains have been slowly but steadily increasing their menu prices. McDonald's and Chipotle dialed up their prices in 2022, and Wendy's and Starbucks made adjustments upward as well. While consumers have mostly gone along with the price increases so far, things may be reaching a tipping point, especially when it comes to some of the simplest, most basic items like sandwiches.
According to Forbes, visits to drive-thrus decreased in 2022, with the average consumer making one less drive-thru visit per week. Moreover, the consumer perception of value is beginning to shift, with a majority of consumers (63%) considering current dine-out prices to be "too high." Add to that the disappointment of paying top dollar for an underwhelming item and soon enough, brands that don't provide enough bang for America's collective buck may be in trouble.
We looked at prices and customer sentiments regarding America's leading sandwich chains. Are these sandwich-slingers really offering value for money? Here are the five fast-food sandwich chains that customers think are overpriced.
Subway used to be home to the $5 footlong, but oh how times have changed. The sandwich chain has had to bump up its menu prices over the years to keep up with the costs of inflation. However, one big problem that comes with increased prices is unsatisfied, unhappy customers who aren't pleased with the new cost and choose to no longer buy from the brand.
Even though Subway has made major moves toward creating the freshest, highest-quality sandwiches for fans—such as switching from shipped, pre-sliced meats to implementing deli slicers in the near future—many complaints towards the brand are made about how overpriced it has gotten and it's not worth it.
"Man I just got a foot long and chips for $15.16 wtf is going on? I won't be going to Subway often anymore," one Redditor wrote in a r/subway thread. Another upset user agreed, claiming that "Subway isn't even quality. Crazy how much they are charging."
While Panera is the second-largest fast-casual chain and the largest bakery chain in the U.S., some customers have begun to refer to the food as "overpriced hospital food" with outrageous price-to-quality ratios. For example, the chain's grilled cheese—which features just bread and cheese—costs at least $8 (not including taxes), and fans are fed up. To put matters into perspective, research suggests that it costs about 50 cents to produce these sandwiches, so that's quite an overpriced upcharge to make a profit.
"Fresh soup with half a sandwich shouldn't total over 10 dollars, and yet it does, and even more if you add a drink," an upset Redditor explains, and goes on to say, "It's like a slightly better Subway with soup, but has prices that would lead you to believe it's a substantially better Subway."6254a4d1642c605c54bf1cab17d50f1e
Founded by two firefighter brothers, Firehouse Subs got its start in the early 1990s and grew quickly during the 2000s, expanding to one thousand locations by 2016. The chain was acquired by Burger King's parent company late last year and is now on a Popeyes-style growth trajectory.
But as popular as Firehouse Subs has become, there's no shortage of complaints about the chain's prices. Some have reported paying anywhere from $13 to $16 for a single sandwich. The chain's signature sub, The Hook and Ladder (packed with turkey breast and honey ham) currently goes for $9.55 for a medium size (seven to eight inches).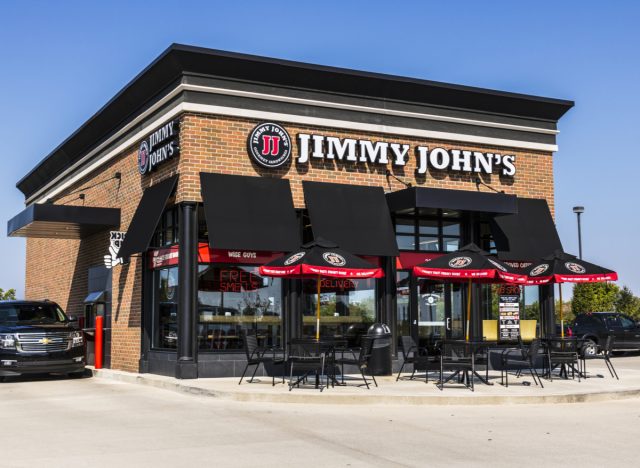 Famous for its menu of no-frills clubs, Cubanos, and melts—and its flagship "Gargantuan" sandwich—Jimmy John's currently ranks among the top four largest sandwich chains in America.
But like the other chains on this list, Jimmy John's has its fair share of critics that say the chain's sandwiches just aren't worth the price.
"Jimmy John's is overpriced, bland garbage yet I continue to eat it out of the sheer convenience of its speed and location.," said one customer on Twitter.
Even Jimmy John's fans seem to agree on this point, with one customer calling the chain's subs "overpriced Subway."
Jersey Mike's was launched in 1956 in Point Pleasant, N.J. Beloved for its fresh subs (the chain uses fresh-baked bread and cooks and trims the meat in-store) and charismatic CEO, it is currently the fifth-largest in the industry.
But selling "the most authentic tasting submarine sandwich available" comes at a price—one that Jersey Mike's customers have begun to notice in the past year. However highly customers may rate the chain's premium sandwiches, they're not thrilled with Jersey Mike's pricing.
A regular-sized Original Italian currently goes for $9.25—about $3 more than an All-American Club at Subway—and customers shelling out anywhere from $12 to $20 on other sandwiches from the chain have complained about pricing on Twitter.
"Agree with Jersey Mikes charging way too much. My go-to used to be the giant Philly Mikes way. Great sandwich but not worth the price. In n Out and Chick-fil-A offer excellent products with great value….@jerseymikes why are your subs so overpriced?" said one customer. Another pointed out that the chain's sandwiches are "skimpy on the meat" and "small 4 the price."
Another Twitter user agreed about the size: "I swear every time I go to @jerseymikes the rolls get smaller n the price goes up…I'm literally getting a small sandwich for a large sandwich price compared to what we get in #Philly Might be cheaper to ship the real deal for the price!"
Chicago-based Potbelly has been around since the 1970s, beloved by fans for its toasted sandwiches, diverse sides, and indulgent milkshakes. After struggling during the pandemic with store closures (and a brush with scandal), Potbelly is currently on the mend, reporting strong sales growth in its most recent quarter and announcing ambitious expansion plans.
Value, however, remains a trouble spot for the chain. Potbelly announced in late 2021 that it would not be increasing the prices of its sandwiches, but noted in late 2022 that a 9% increase in price helped sales.
Complaints about pricing at the Chicago chain have continued to trickle in on Twitter, where dissatisfied customers have complained of much smaller portion sizes and being charged anywhere from $12 to $34 for single orders of the chain's premium toasted sandwiches or high prices for smaller versions. "Tell me why I bite into this thing & realize I just paid $7 for some Turkey & Mayo on half a loaf of whole grain bread," said one.
A version of this story was originally published in May 2022. It has been updated to include new information.
Jordan Summers-Marcouillier
Jordan Summers-Marcouillier was born and raised in San Jose, California and now works as a writer in New York, NY.
Read more about Jordan