12 McDonald's Secrets Employees Want You to Know
Workers dispel the common misconceptions of working at the most well-known fast-food chain in the world.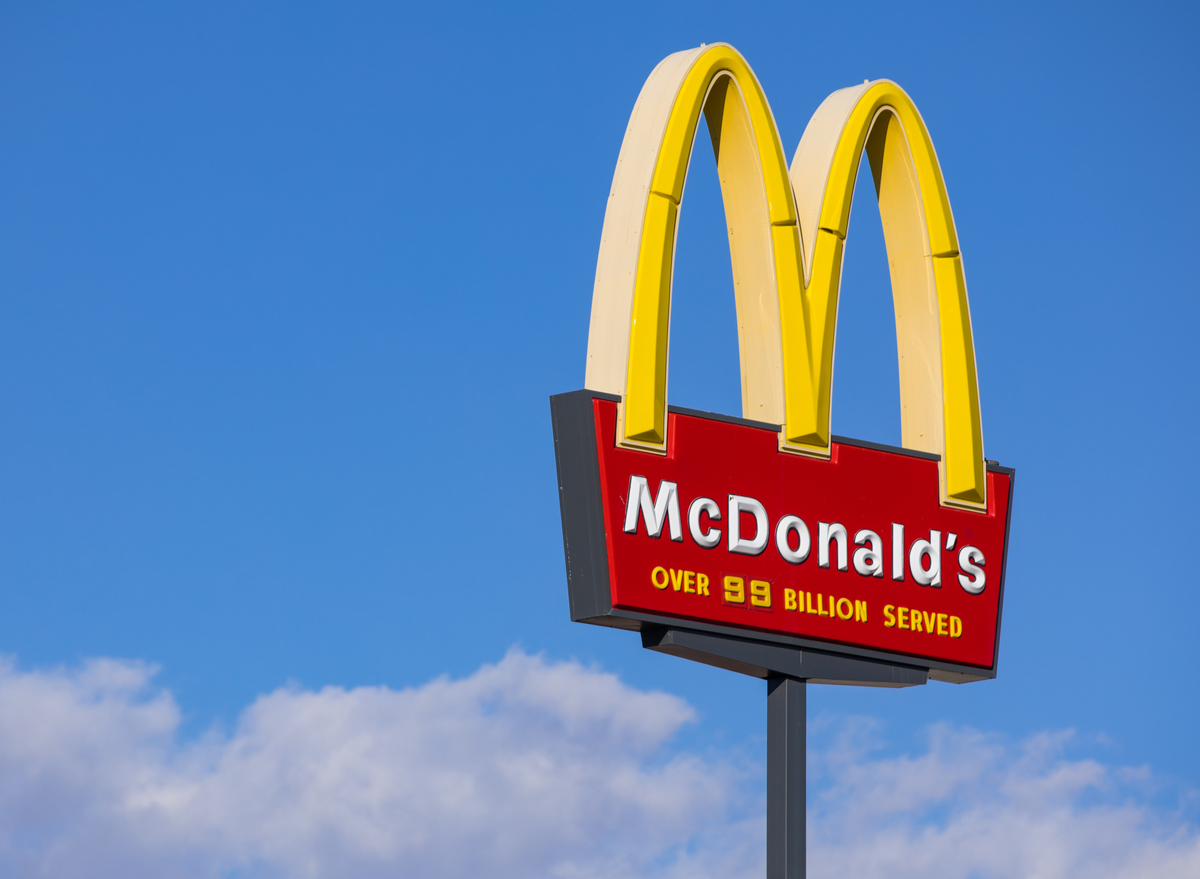 McDonald's is the world's most popular fast-food chain, with more than 68 million customers served each day in its thousands of restaurants across the globe. Ever since the company was founded in 1940, its reach has expanded exponentially, with stores in more than 100 countries. However, while McNugget and Big Mac connoisseurs may think they know everything there is to know about the Golden Arches, only McDonald's employees know the secrets about what goes on behind the counter.
From how likely you are to get your hands on fresh fries to what's really in those Egg McMuffins, these McDonald's secrets—straight from McDonald's employees—are sure to surprise even the most die-hard fans. Read on for their secrets and to dispel some common misconceptions about working for McDonald's.
It's not a dead-end job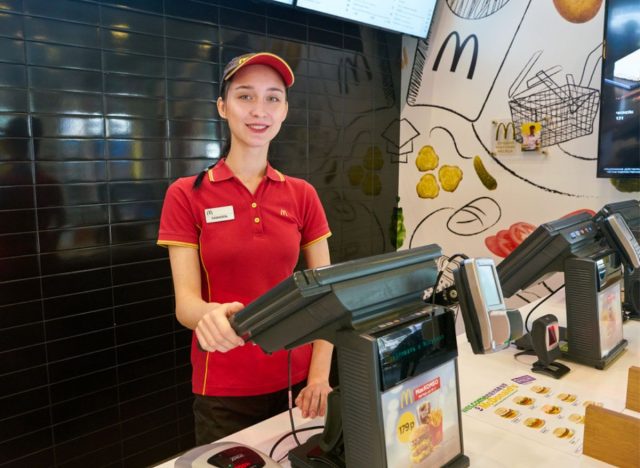 It's a coming misconception that working at McDonald's is a "dead-end job,"  says Lawrence Barnier who worked at McDonald's in his teens and is now a mental health officer at WREI.org. "That's not always the case," he says. "There are opportunities for advancement, and the company offers training and development programs."
Plus, most people love working there, but it depends on the location. "I'd say it largely depends on your work environment. Do the customers treat you well? Do you have a good time with your co workers? Is the payrate good enough for you? You have to ask yourself those types of questions first," says one crew trainer on Reddit.
McDonald's beef is Grade A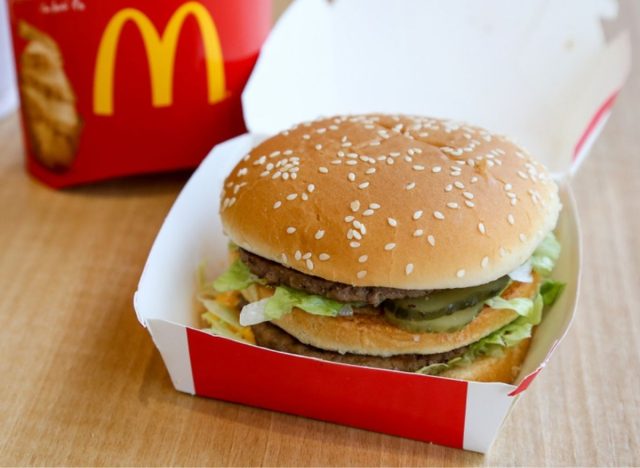 The burgers are made of high-quality stuff. Kristy Finch, who now works with O'Malley Hansen Communications, worked at McDonald's in high school and still considers it one of the best jobs ever. "I think some of the common misconceptions people have about McDonald's which people have said to me or asked me is that the hamburgers are not 100% ground beef which they are," she says. 
The restaurants are meticulously cleaned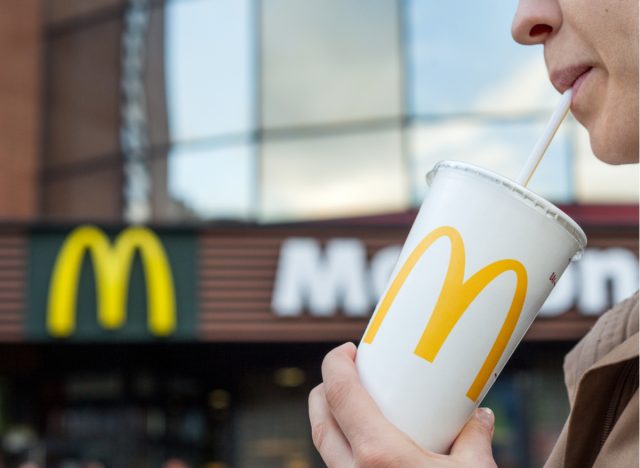 Finch also says that it's a common misconception that McDonald's restaurants are dirty. In fact, they are meticulously cleaned. " When I worked there, they had strict protocol for keeping the restaurants clean." A Reddit commenter echoes this but cautions that since McDonald's locations are franchised things can be very different at different locations. "Keep in mind since they're franchised a lot of stuff isn't standardized so people can be working in vastly different working conditions," they said.
It's a stressful job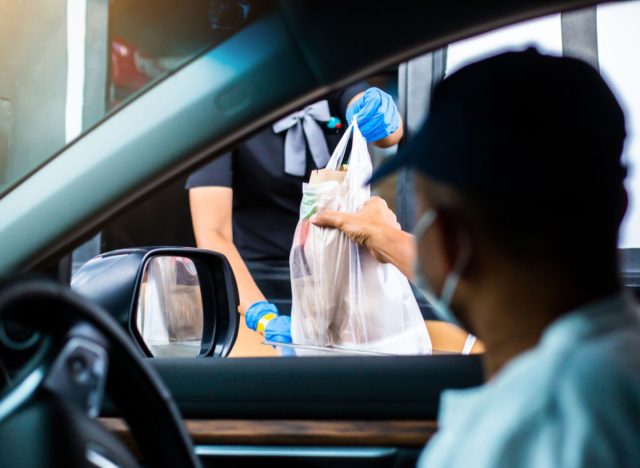 The next time you're at the drive-thru window at dinnertime cut the workers some slack. "We get busy like at 5 and during dinnertime and it's nonstop stressful work," says one employee on Reddit. "Some places get like 60 cars an hour and some get like 90 cars an hour." Plus, sometimes those rush hours are short-staffed. As one commenter said, they play a game of "who doesn't show up today."
The machine isn't broken it's being cleaned
The running joke about the ice cream and milkshake machines being constantly out of service isn't true, but it does happen, plus the cleaning process is extensive. McDonald's addresses frequent complaints about the ice cream machine being down on its Facebook page with this message: "Our shake and soft-serve ice cream machines undergo heat treatment cycles every 24 hrs—they're disassembled, sanitized and cleaned every 14 days. So if you can't get one just keep trying."
However, McDonald's employees confirmed that the reliability of the frozen dessert machines is questionable, at best. "The McFlurry/milkshake machine is prone to breaking all the time and the amount of time it takes to get it repaired can put it out of commission for a day or two," wrote one McDonald's employee on Reddit. According to the insider, there are also separate, but visually similar, mixes for McFlurries and milkshakes, and when they get poured in the wrong place, the machine has a habit of shutting down. It's so problematic, lawsuits have been started.
Egg McMuffins are made with real eggs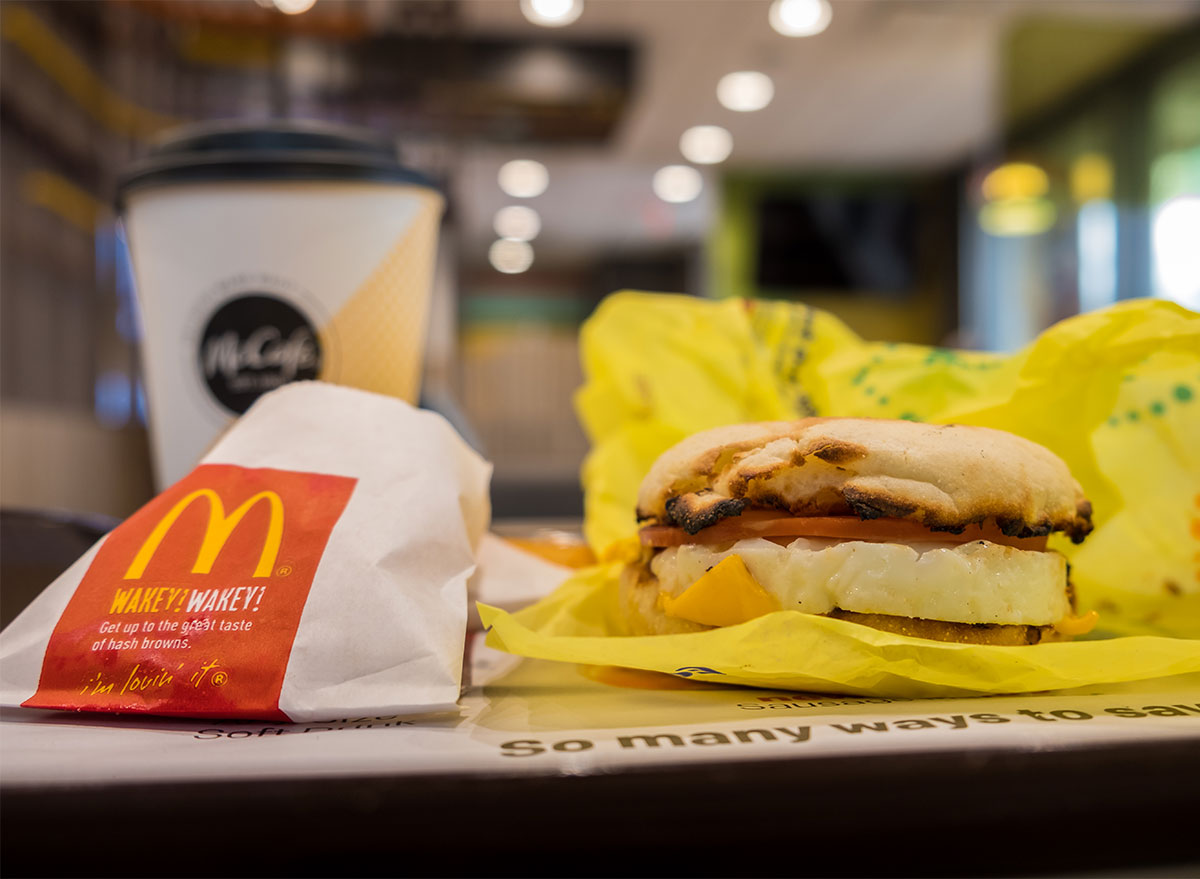 We've all heard rumors about what goes into fast food meals, but fear not: Your Egg McMuffin is made of actual eggs. While it may be hard to believe that anyone could get an egg so perfectly round, it's the result of a precise cooking method.
"We have to break the shells and place the eggs in special rings on the grill. We then place a cover over the top of the rings (our store cooks eight at once) and put a bit of water into a small funnel at the top. The eggs are steamed and cooked at the same time," wrote one former McDonald's cook. "It's actually pretty cool, and it takes a while to 'master' the right technique to get the eggs looking perfectly round."
Most wouldn't drink the sweet tea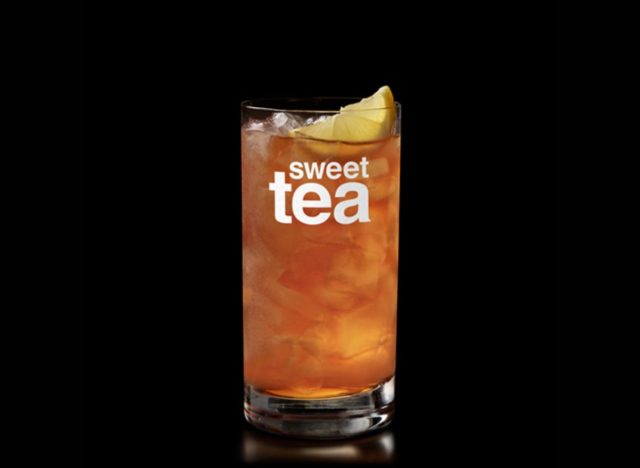 The infamous Sweet Tea at McDonald's may not be for the faint of heart and definitely not for anyone looking to lower their sugar intake. One Redditor admitted that while he worked at McDonald's, the sweet tea was "brewed in a large bucket mixing hot water with a full bag of granulated sugar." But the real kicker? According to another Redditor in the same thread, most employees wouldn't drink the chain's sweet tea themselves. "I don't know how anyone can drink the stuff, but in the south, it's basically pure sugar water with a dash of tea for color."
You can always ask for fresh food
If you want your World-Famous Fries and McDouble fresh out of the oven rather than precooked and reheated, you have to ask. Don't just assume everything is fresh based on the chain's high ingredient turnover. "Some places do a bad job at keep[ing] track of the fresh timers. I'd personally ask for everything fresh even if you have to wait 3-5 min[utes] for it to be ready," one Reddit user wrote.6254a4d1642c605c54bf1cab17d50f1e
Employees get great discounts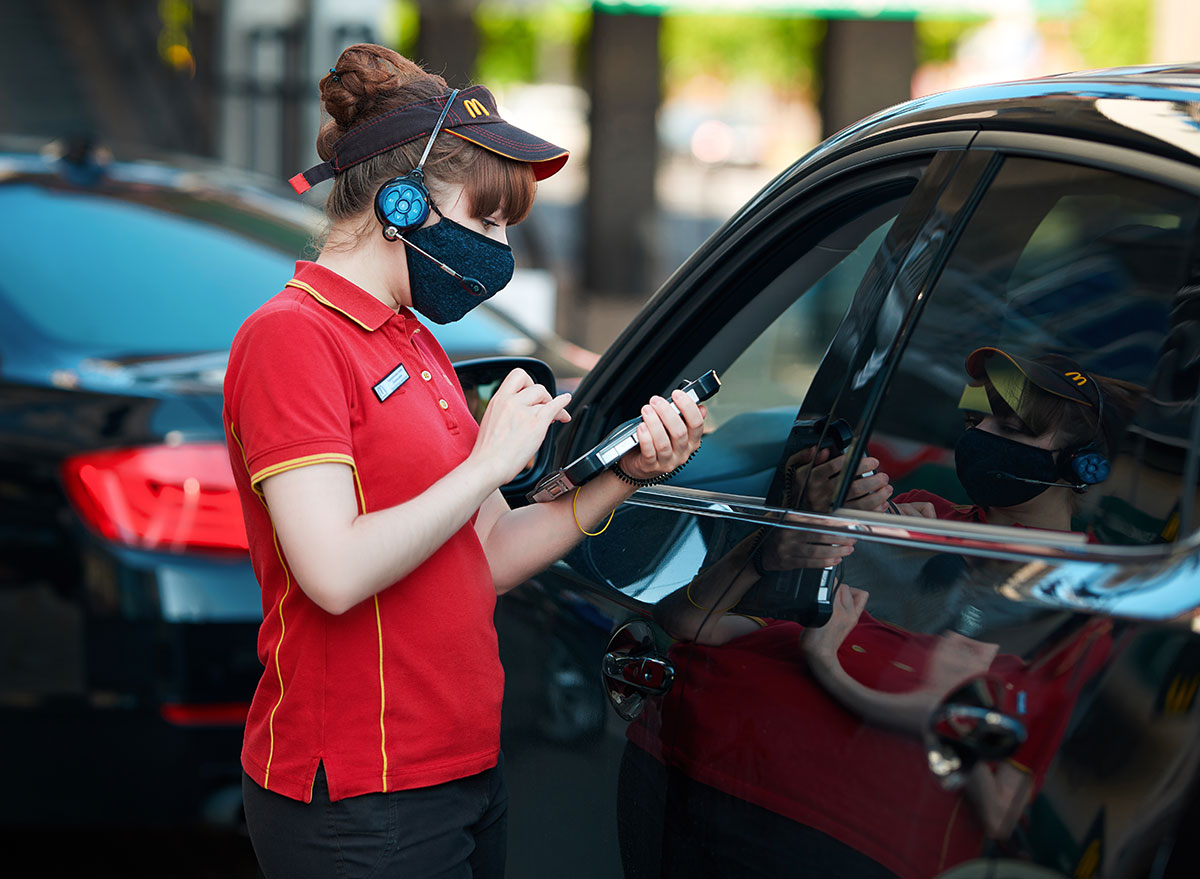 While McDonald's employees may not be the best-compensated individuals in the restaurant world, they do get some pretty sweet savings, including gym memberships after a month of working there. They also get access to paid family leave, medical and dental insurance, and even paid sabbaticals when they've reached a certain number of years of service
Drive-thrus won't serve you on foot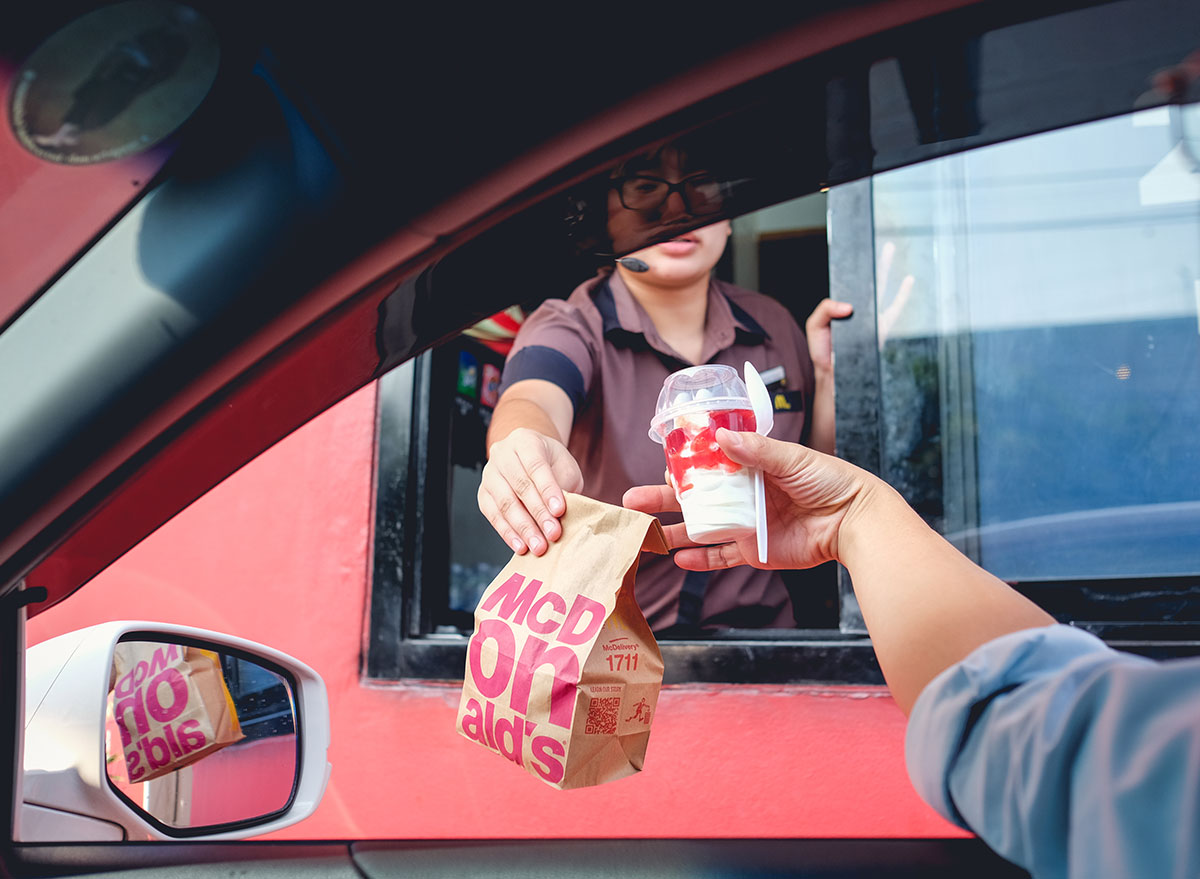 If you stumble up to a McDonald's drive-thru on foot and employees won't serve you, they're not just being difficult. There is an official policy that prohibits serving customers at the windows for safety reasons. However, the policy does state that a few restaurants now have a "small number of separate pedestrian walk-up windows that are open outside of core restaurant hours." But check with your local McDonald's before walking up, or bringing your camel.
There's a cash-only time every day at 24-hour locations
If you find yourself craving McDonald's in the middle of the night, you might want to bring cash with you. "Every 24 hour McDonald's does this each night," wrote an assistant manager on Reddit. "We have to close down the system to complete our end of business day. Also during system shutdown is when the POS system receives it's updates."
The hiring process is more stringent than you think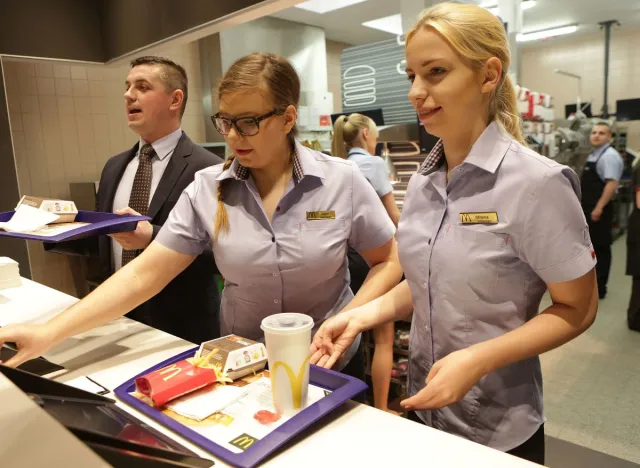 Getting hired is harder than you think. "Although McDonald's is a no-skills-required job, not just anyone will get hired. We turn down a lot of people during the hiring process," says one longtime McDonald's employee. She goes on to say that good communication skills, a team player attitude, having extra-curricular activities on your resume, and potential for advancement are all qualities that managers look for when hiring.
A version of this story was originally published in July 2022. It has been updated to include new information.