The Perfect Bag of Weight-Loss Groceries
Want to know if you're gaining weight? Just look at the countertop of your kitchen.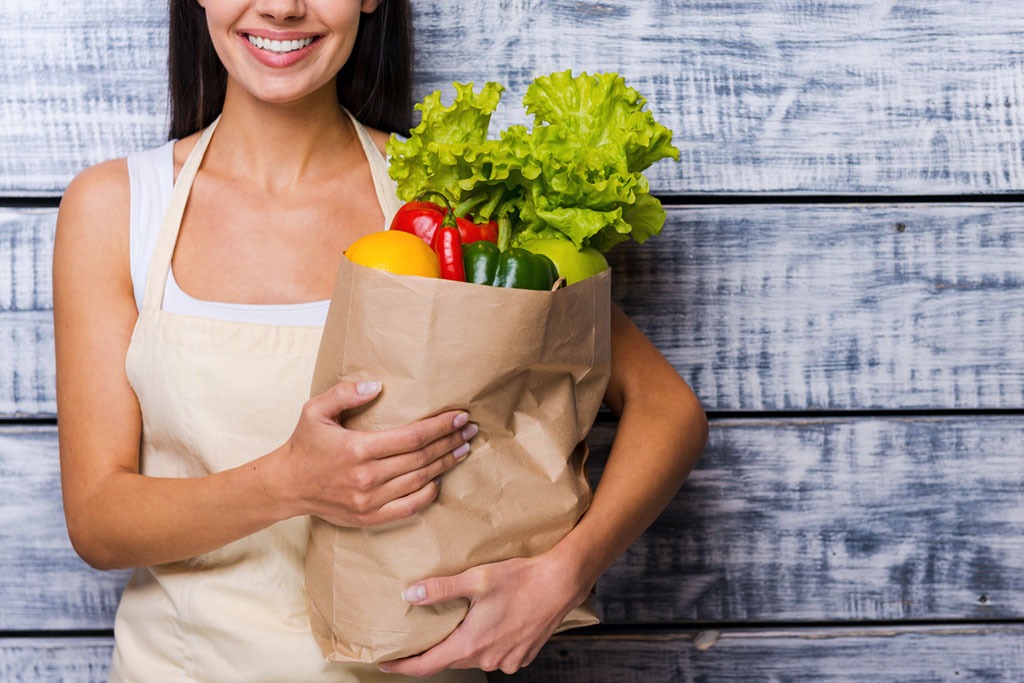 A new study by Eat This, Not That! magazine advisor Brian Wansink, director of the Cornell Food and Brand Lab, found that a woman's weight can be estimated simply by taking a photo of her kitchen counter. After analyzing photos of 200 kitchens, he found that women who have soda sitting on their countertops weigh an average of 26 pounds more, while those who have cookies on their counters weigh about 8 pounds more. The biggest surprise: Keeping cereal on your counter leads to an additional 20 pounds of body weight. "As a cereal lover, that shocked me," he says. "Cereal has a health-halo, but if you eat a handful every time you walk by, it's not going to make you skinny."
The good news: You can slim down just by putting fruits and vegetables out on the counter; those who do weighed an average of 13 pounds less than their neighbors.
To help you stock your counters–and your fridge, freezer and pantry–without burning a hole in your wallet, Eat This, Not That! took to the grocery store and built the perfect $55 grocery bag ($53.52 to be exact!) that will load your diet with days' worth of protein-, fiber-, and antioxidant-charged meals. Now that's a real bargain. (And to burn fat before 10am, don't miss this list of the essential 42 Best Breakfast Foods for Weight Loss—Ranked!)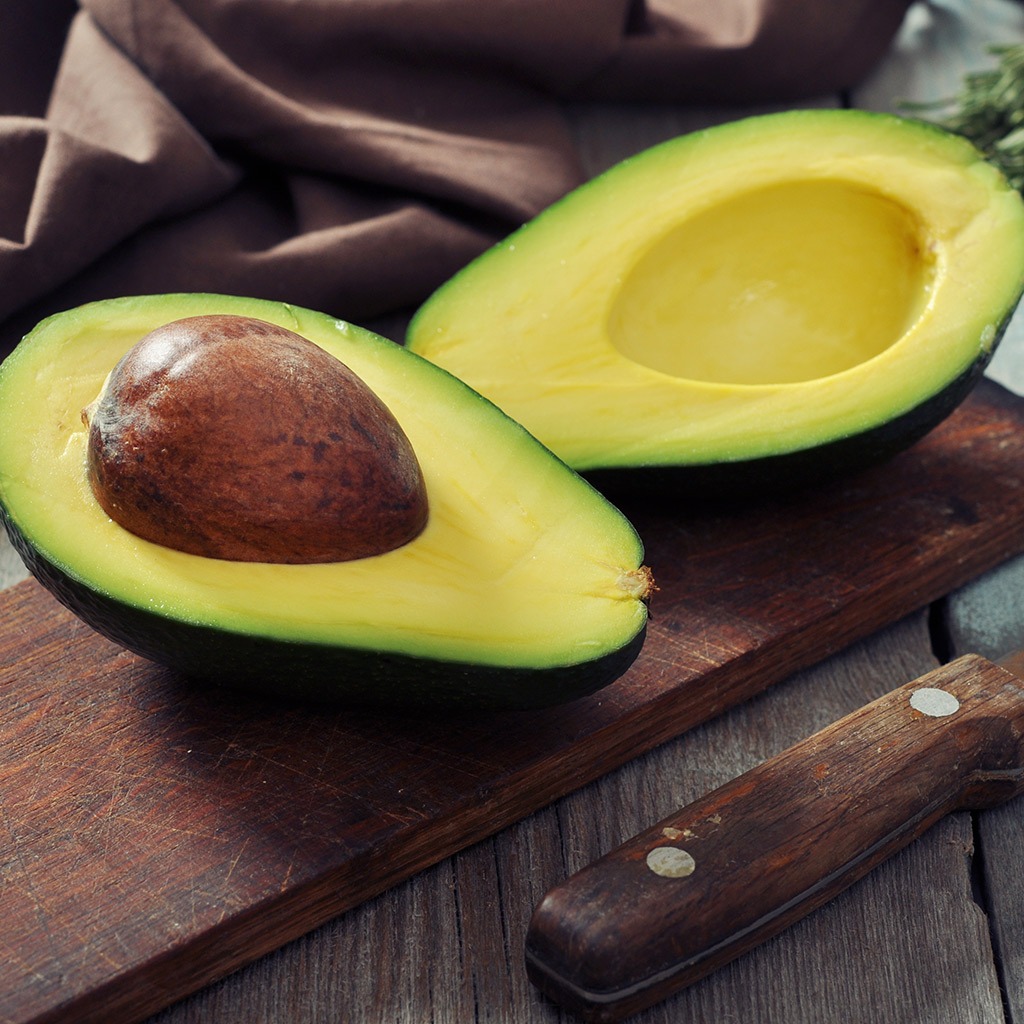 Cost: $1.50
Nutrition: 1/4 avocado, 80 calories, 7.5 g fat (1 g saturated), 3.5 g fiber
More than 50 percent of this superfood's fat comes from oleic acid, the kind found in olive oil, which has been shown to reduce appetite and increase our absorption of fat-soluble nutrients like vitamins A and E. Dice with mango, onions, and cilantro for a quick salsa for grilled fish and chicken, or use it in place of mayo on your sandwich. And to see how Chrissy Teigen uses avocado to blast fat—and get never-before-seen weight-loss tips from Jennifer Aniston, Maria Menounos and Cameron Diaz—get inspired by this essential list of 30 Skinny Secrets from the World's Sexiest Women!
Cost: 7 oz, $3.49
Nutrition: 1 oz, 60 calories, 3.5 g fat (0 g saturated), 1 g fiber, 2 g protein
Little more than chickpeas, olive oil, sesame seeds, and garlic make this your go-to condiment. Smear it on sandwiches or set it out as a hunger-quashing dip for your Triscuits.
Cost: 20 pack for $2.00
Nutrition: 1 bag, 0 calories, 0 fat, 0 fiber, 0 protein
When our test panelist Jeannine Arenas of Miami, Florida used tea as her weight-loss weapon, she lost 9 pounds in 7 days. "I loved the results!" she told us. Tracy Durst dropped from a size 20 to a size 16 in just one week. "I'm alive with energy!" she says. And in a study in The 17-Day Green Tea Diet, those who sipped green tea for 17 days had less belly fat and smaller waistlines than those who did not. Plus, when Taiwanese researchers studied more than 1,100 people over a 10-year period, they determined that those who drank green tea had nearly 20 percent less body fat than those who drank none! Make this high-powered—and affordible—metabolism-booster work for you, compliments of the extraordinary research revealed in The 17-Day Green Tea Diet.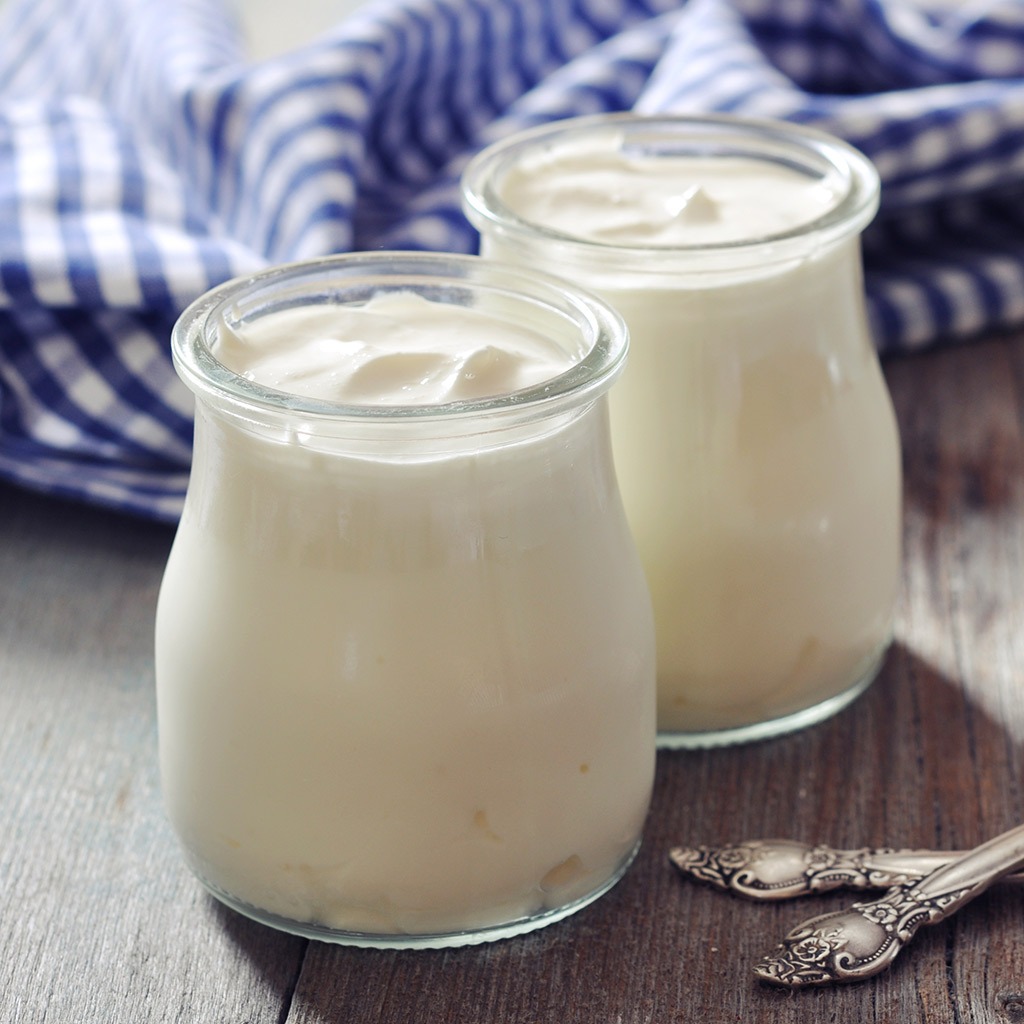 6254a4d1642c605c54bf1cab17d50f1e
Cost: 7 oz, $1.69
Nutrition: 150 calories, 4 g fat (3 g saturated), 8 g sugars, 20 g protein
There is as much protein in this yogurt as in a can of tuna. Mix in the frozen berries on this list to tame the tang or use sprinkle on some cinnamon for extra fat burn.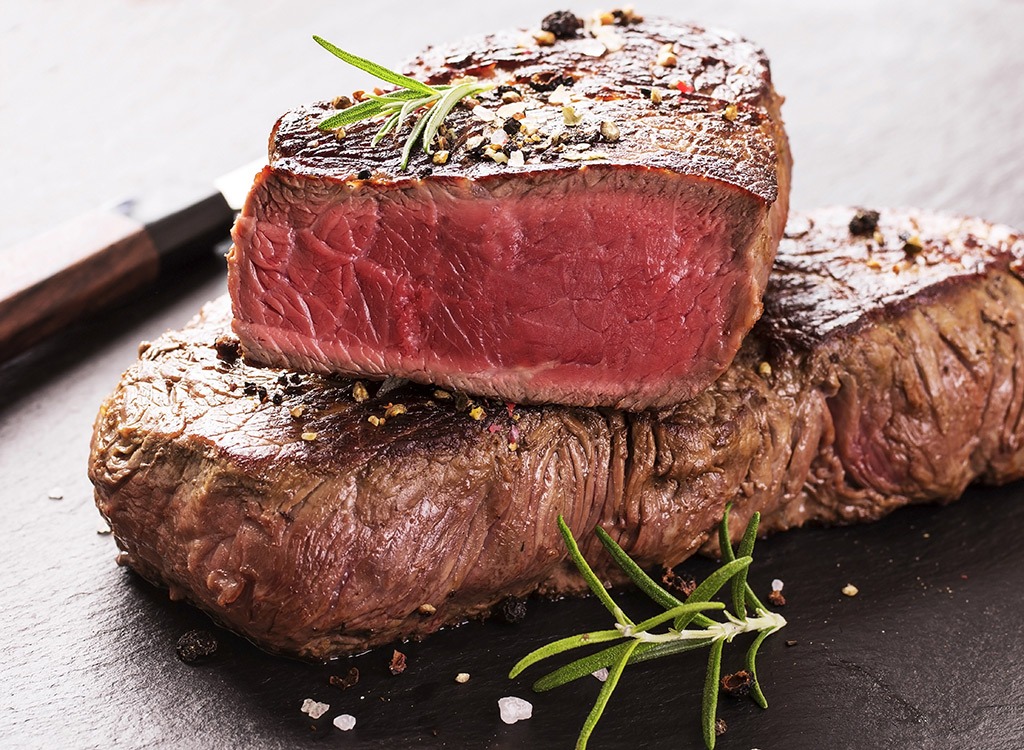 Cost: 8 oz, $7.99
Nutrition: 400 calories, 11 g fat (4 g saturated), 69 g protein
With far less fat than rib-eye or porterhouse, sirloin gives you more protein for your dollar, and it's loaded with zinc and vitamin B12. Coat with crushed peppercorns and grill to your liking, or skewer steak chunks along with bell peppers (which are also on this shopping list) for a killer kabob. And build even more muscle and blast flab with The 29 Best-Ever Proteins for Weight-Loss!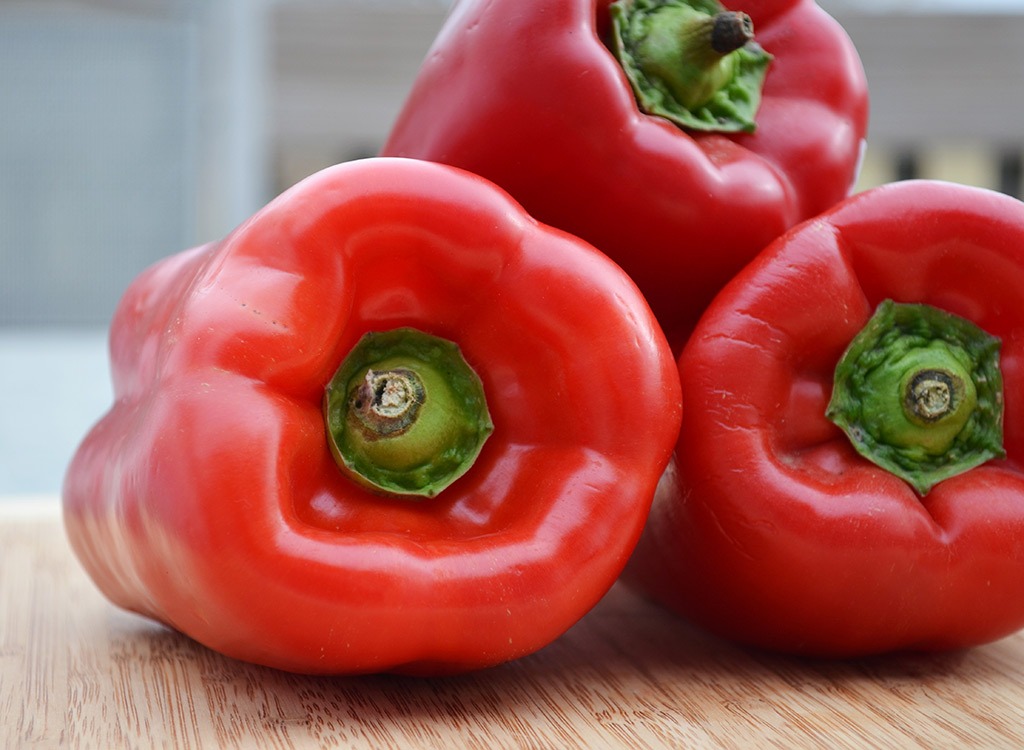 Cost: $1.99
Nutrition: 37 calories, 0 g fat, 2.5 g fiber, 1 g protein
There's a reason red bell peppers cost more than green: They're nutritionally jacked. Compared to the green peppers, the red variety have twice the vitamin C (a primo fat-belly nutrient) and 10 times the vitamin A. Slice one up to use as a shovel for hummus, or add to whole grain pasta with steak, broccoli and some organic diced tomatoes—all of which are on this list.
Lindt Excellence 85% Cocoa Bar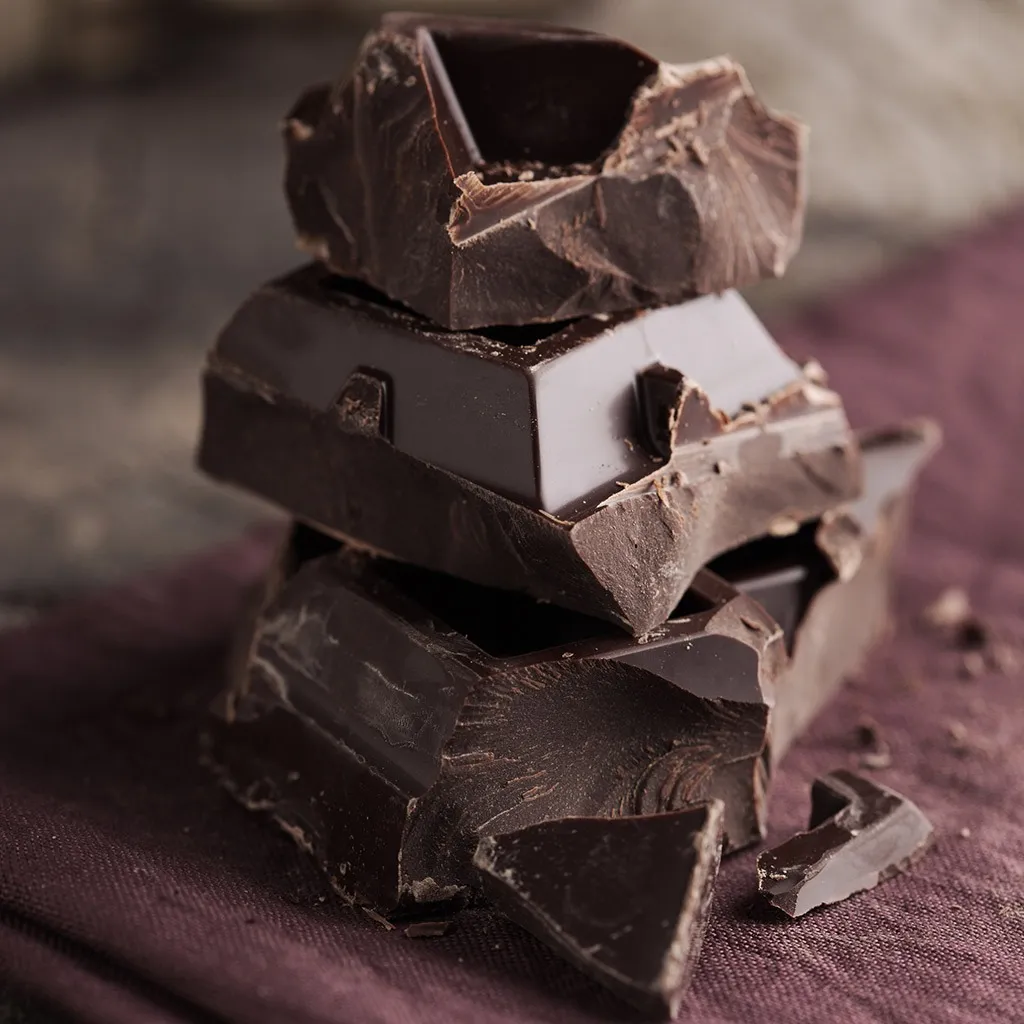 Cost: 3.5 oz, $2.68
Nutrition: 4 squares, 230 calories, 18 g fat (11 g saturated), 15 g carbs, 6 g fiber, 5 g sugar, 5 g protein
When it comes to sweet indulgences, this one blasts fat the best, according to new research found in Zero Belly Diet. Dark chocolate contains resveratrol, the cancer-fighting compound in red wine, and a surprising 6 grams of belly-filling fiber per serving. For 150+ recipes that flatten your belly fast, made with the foods you love (including chocolate), check out the brand-new book companion cookbook to the best-selling diet: Zero Belly Cookbook! Test panelists lost up to 16 pounds in 14 days!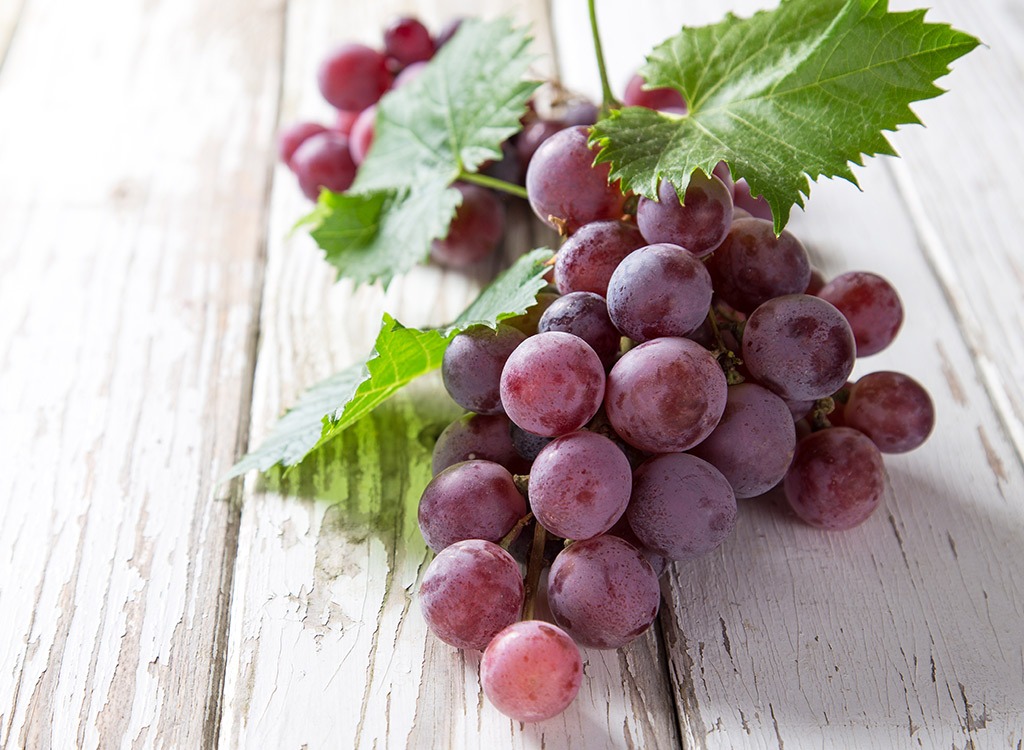 Cost: $1.99 per pound
Nutrition: Per cup, 105 calories, 0 g fat, 1.5 g fiber, 1 g protein
The resveratrol found in grape skins has been shown to activate a longevity gene, and lead to weight loss. Pop them straight from the bunch or put some in a cup of yogurt for a protein-packed afternoon snack.
Cost:5 small Gala, $2.00
Nutrition: 95 calories, 0 g fat, 4.5 g fiber
A flavonoid called quercetin reduces inflammation of all kinds, and the other polyphenols in apples have been shown to regulate blood sugar by inhibiting the enzymes that break down carbohydrates. Best part: You can throw it in your bag and, unlike peaches and pears, it won't turn mushy by day's end. For more belly-shrinking, portable snack ideas, discover these amazing 50 Best Snacks for Weight Loss.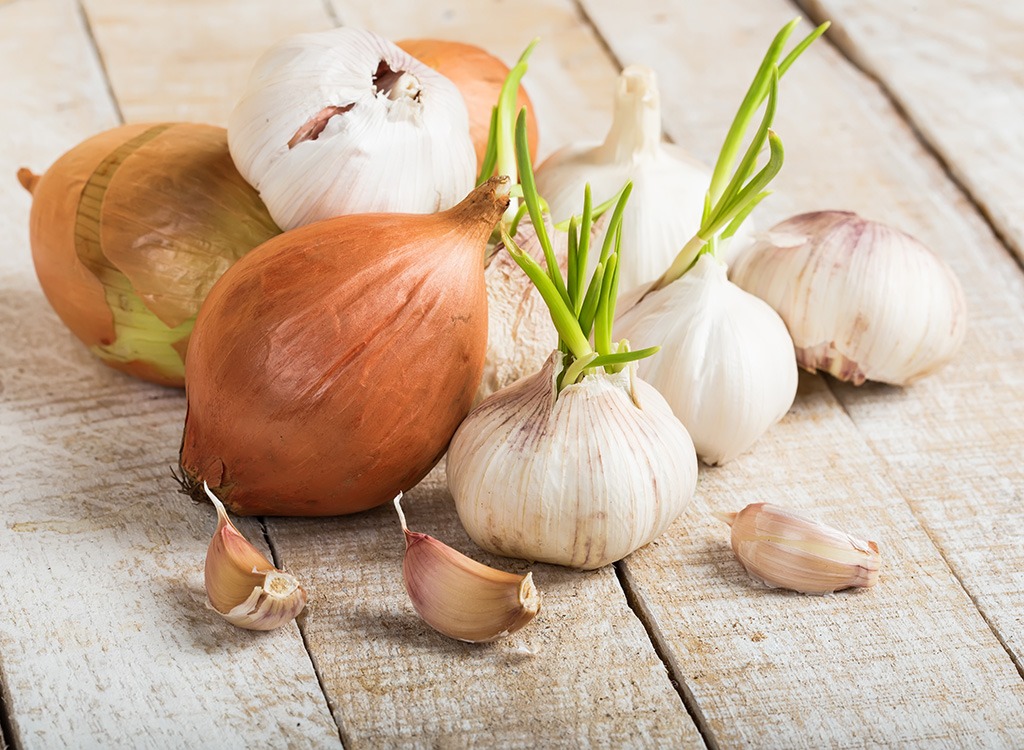 Cost: $0.50 per bulb
Nutrition: 3 cloves, 13 calories, 0 g fat
The sulfur in these cloves can help expand blood vessels, keeping blood pressure in check. Allow chopped or minced garlic to sit for 10 minutes before cooking. According to research in the Journal of Nutrition, this preserves some of the healthful properties.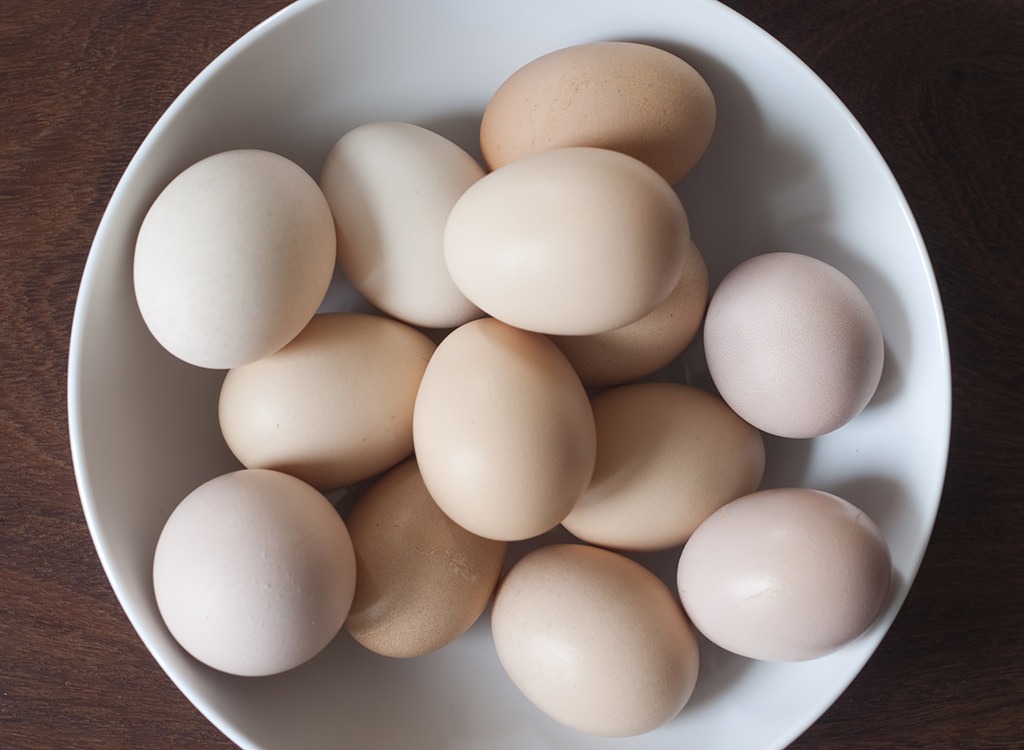 Cost: 12 large, $2.60
Nutrition: Per egg, 70 calories, 4 g fat (1.5 g saturated), 6 g protein
Eggs are welterweight fighters with nutritional knockout capabilities. Chief among their nutritional perks is choline, a vitamin B–like nutrient that studies say could help increase your brain's capabilities regarding learning and memory. Scramble them with spinach, mushrooms and goat cheese, or drop a fried egg on a turkey sandwich to break the lunchtime doldrums—and power-up your fat loss with the incredibly effective ideas in this list of 55 Best-Ever Ways to Boost Your Metabolism.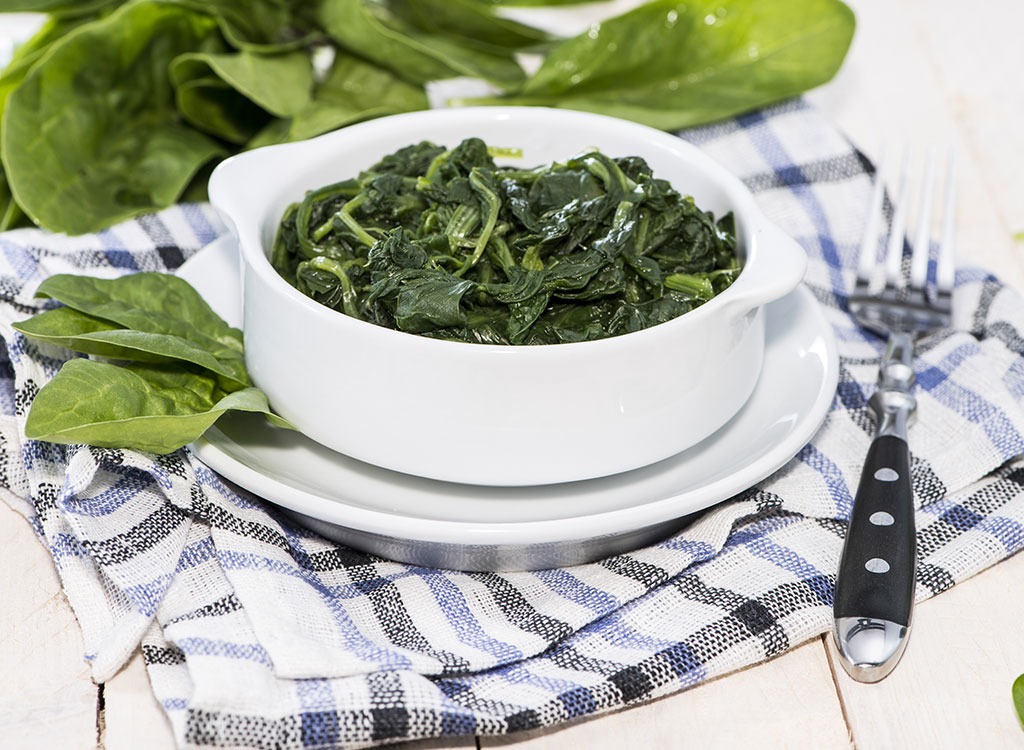 Cost: Frozen, 1 lb, $1.00
Nutrition: 2 cups, 90 calories, 1.5 g fat, 9 g fiber, 11 g protein
Spinach is among the world's best sources of muscle-building protein, as well as folate, which protects against mental degeneration and age-related sexual issues. And although fresh spinach is great, it's pricey and a whole bunch wilts away into a small pile as soon as it touches a pan. Opt instead for frozen spinach—picked at the height of the season and flash frozen, it gives you more nutritional bang for your buck. Sauté a whole bag in olive oil with thinly sliced garlic and red pepper flakes, then use that as a side to grilled meat or fish, as a sandwich or pizza topping, or as a way to boost the benefits of a scrambled egg breakfast.
Organic Canned & Diced Tomatoes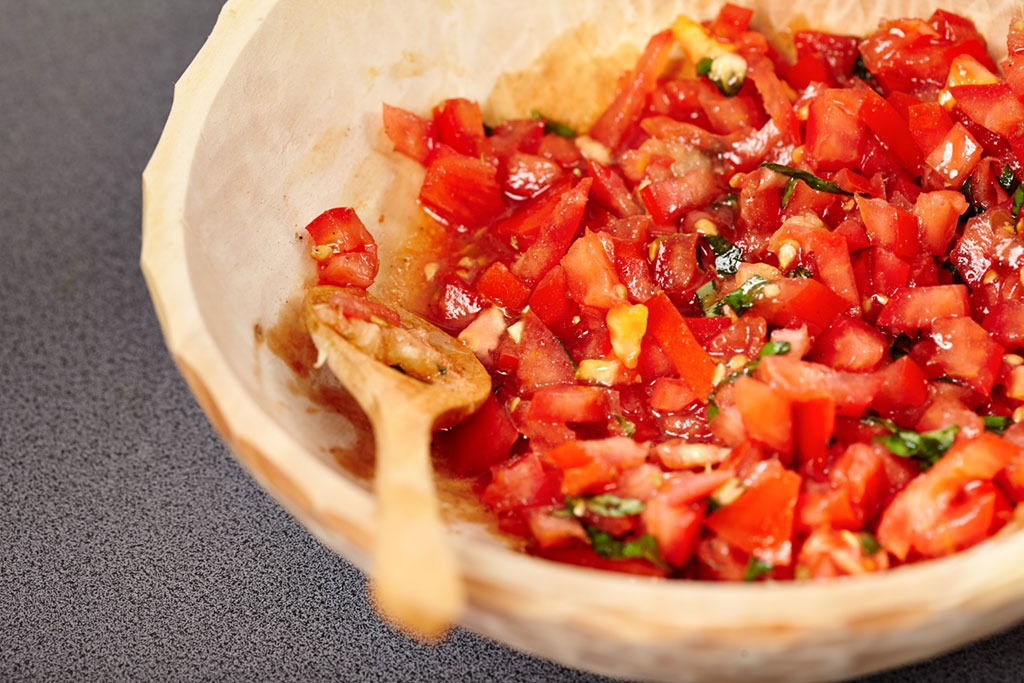 Cost: 28 oz, $2.59
Nutrition: ½ cup, 30 calories, 0 g fat, 1 g fiber
A 10-year study from the University of California showed that organic tomatoes delivered nearly double the levels of two key flavonoids compared to conventionally grown. Add garlic and olive oil for marinara, or onion, cilantro and lime for salsa.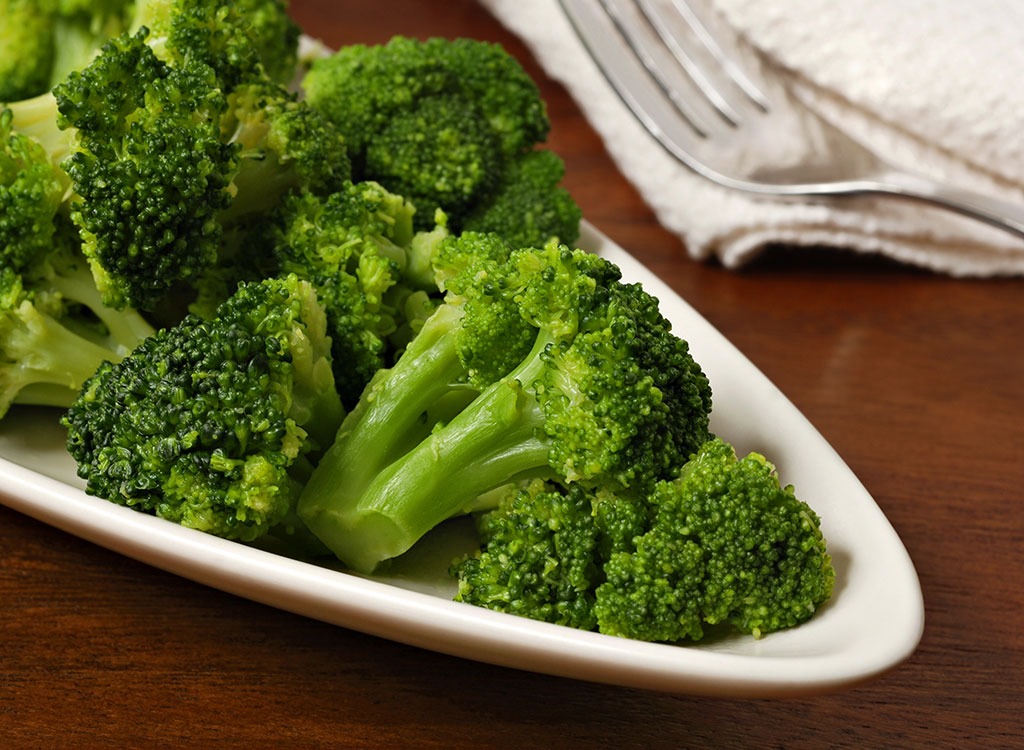 Cost: Frozen, 14 oz, $3.19
Nutrition: 1 cup, 30 calories, 0 g fat, 2 g fiber, 1 g protein
For 30 calories, you get 2 grams of fiber, a gram of protein, a bevy of vitamins and minerals, and the phytonutrient sulforaphane, which research suggests has powerful antioxidant properties. Thaw, toss with olive oil and grated Parmesan cheese, and roast in a 450˚F oven for 12 minutes. Spritz with lemon and serve. Not buying frozen veggies is just one of the 40 Bad Habits That Give You Belly Fat—click to learn what simple mistakes you're making, and how to fix them fast!
KIND Bar Caramel Almond and Sea Salt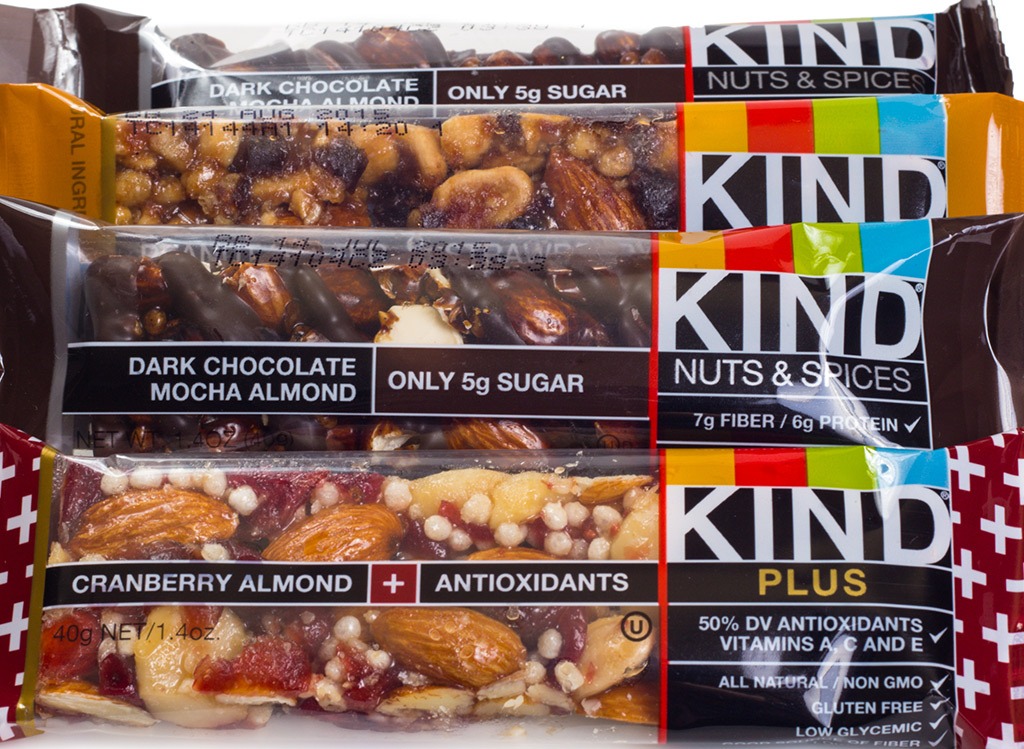 KIND, Caramel Almond & Sea Salt
Cost: $2.00
Nutrition: 200 calories, 16 g fat (3 g saturated), 7 g fiber, 6 g protein
KIND Bars are one of the most popular brands out there–for good reason. They're made with "powerful" ingredients like almonds, dark chocolate, honey and molasses. While some have a slightly higher calorie count–the bars range from 150 to 230 calories–they pack impressive amounts of protein, so they're sure to take the edge off even the meanest midday hunger. And while your sweet tooth will be happy with flavors like Caramel Almond & Sea Salt and Peanut Butter Dark Chocolate, these chewy snacks aren't just for sugar cravings; savory options like Honey Smoked BBQ are also Eat This, Not That!-approved.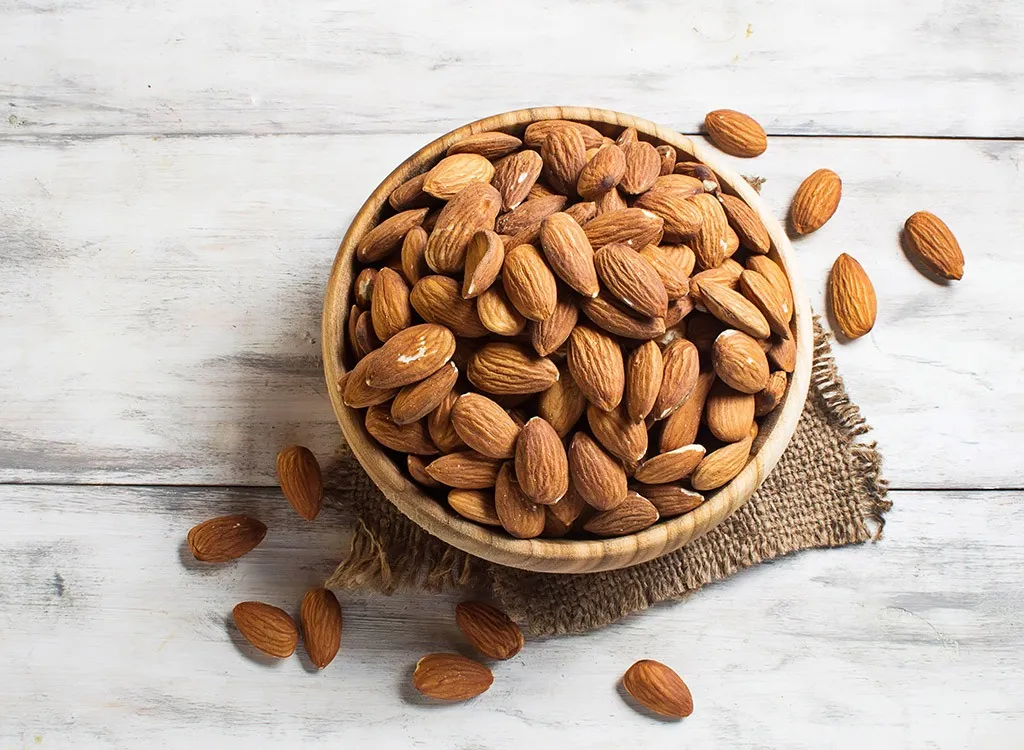 Cost: 6 oz, $3.84
Nutrition: 24 nuts, 160 calories, 14 g fat (1 g saturated), 3 g fiber, 6 g protein
An impressive 95 percent of almonds' calories come from protein, fiber, and heart-healthy unsaturated fats, and each serving contains a third of your daily vitamin E. Eat a handful by themselves or mix with some chopped dark chocolate for an antioxidant-rich treat.
Quaker Quick-1 Minute Oats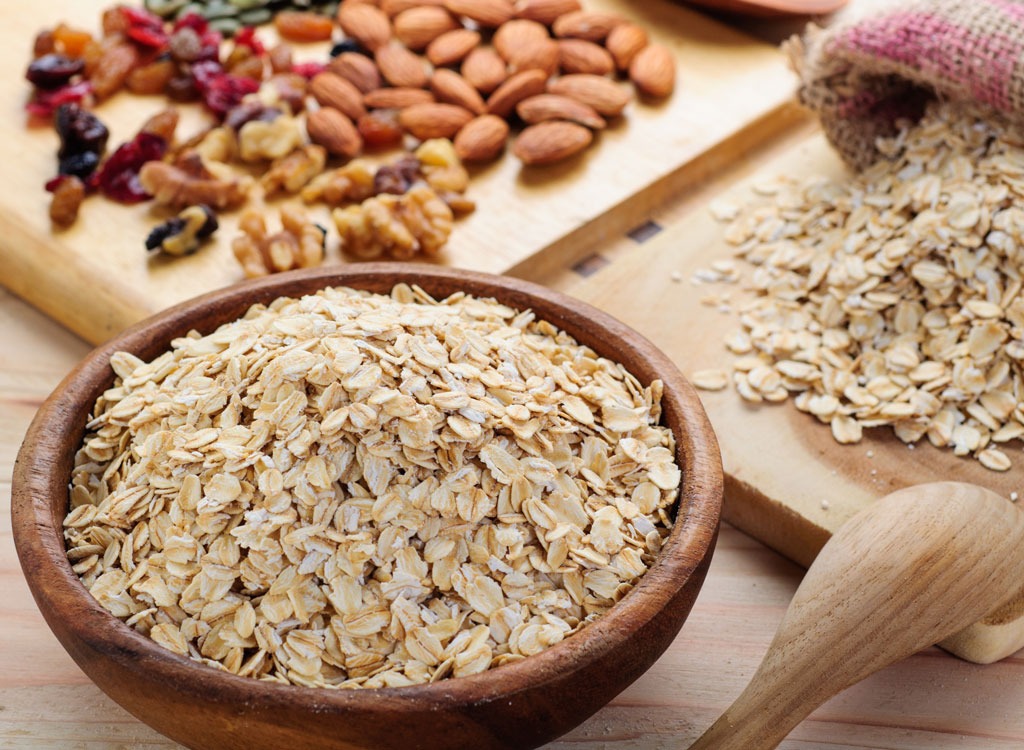 Cost:18 oz, $3.29
Nutrition: ½ cup, 150 calories, 3 g fat (0.5 g saturated), 4 g fiber, 5 g protein
Beta-glucan, a prominent fiber found in oatmeal, can help regulate blood sugar and keep you feeling full. Save cash by buying your Quaker unflavored and then adding berries or apple slices, cinnamon, and a small shot of maple syrup—or buy a big tub and make overnight oats. For more inspiring ideas, and mouth-watering photos, don't miss these delicious 24 Best Overnight Oats Recipes!
Cost:9.5 oz, $2.50
Nutrition: 6 crackers, 120 calories, 4 g fat (0.5 g saturated), 3 g fiber, 3 g protein
Triscuit is a cracker as a cracker should be: whole wheat with a touch of oil and salt. That gives you all the fiber and flavor you need to satisfy a snack craving. For more substantial hunger pangs, try dipping them in peanut butter or guacamole.
Cost: 12 oz, $4.49
Nutrition: 1 cup, 70 calories, 1 g fat, 9 g fiber, 2 g protein
You pay the same amount for a 12 ounce bag of frozen raspberries that you would for 6 ounces of fresh and the nutritional impact is the same—9 grams of per serving and as many antioxidants as strawberries. The benefit of going to the freezer aisle? You won't risk your fruit going bad before you can eat it. Use them for giving a sweet-sour kick to yogurt or oatmeal, or blend them into these 20 Best-Ever Weight-Loss Smoothies!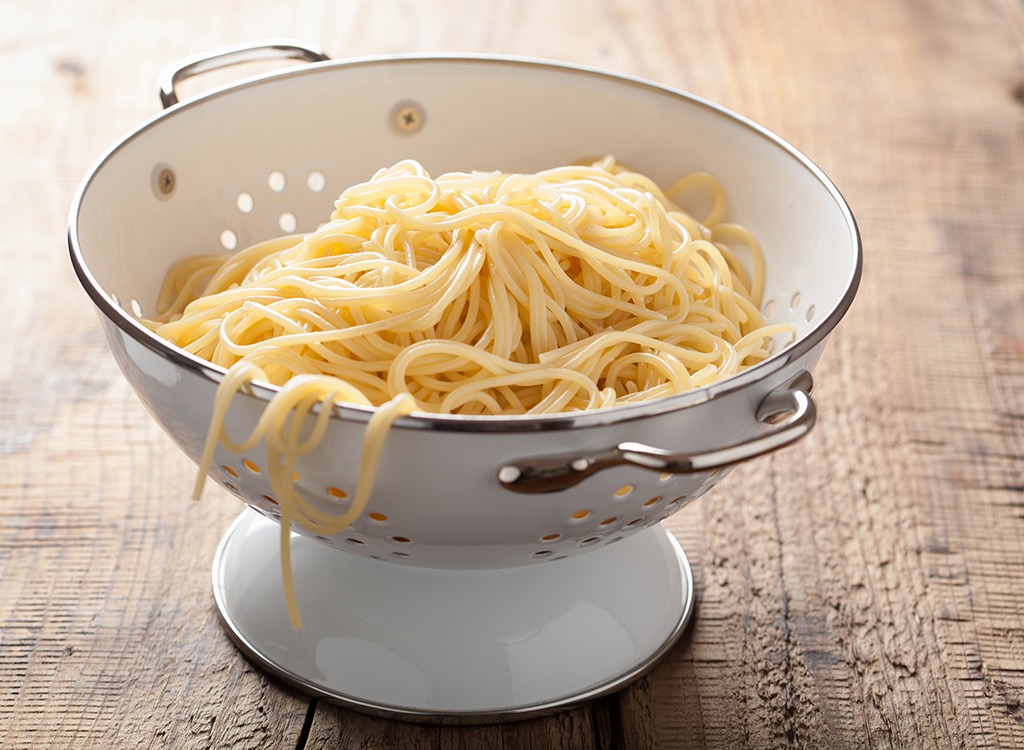 Cost: 13.25 oz, $2.19
Nutrition: 1.9 oz, 180 calories, 1 g fat (0 g saturated), 6 g fiber, 7 g protein
These are carbs done right: Most boxes pack in 6 grams of fiber while slashing 20 to 30 calories off the typical pasta load. Toss a boxful with a few generous scoops of canned diced tomatoes and some spinach for an easy weeknight dinner.
LOSE UP TO 14 POUNDS—FROM YOUR BELLY FIRST!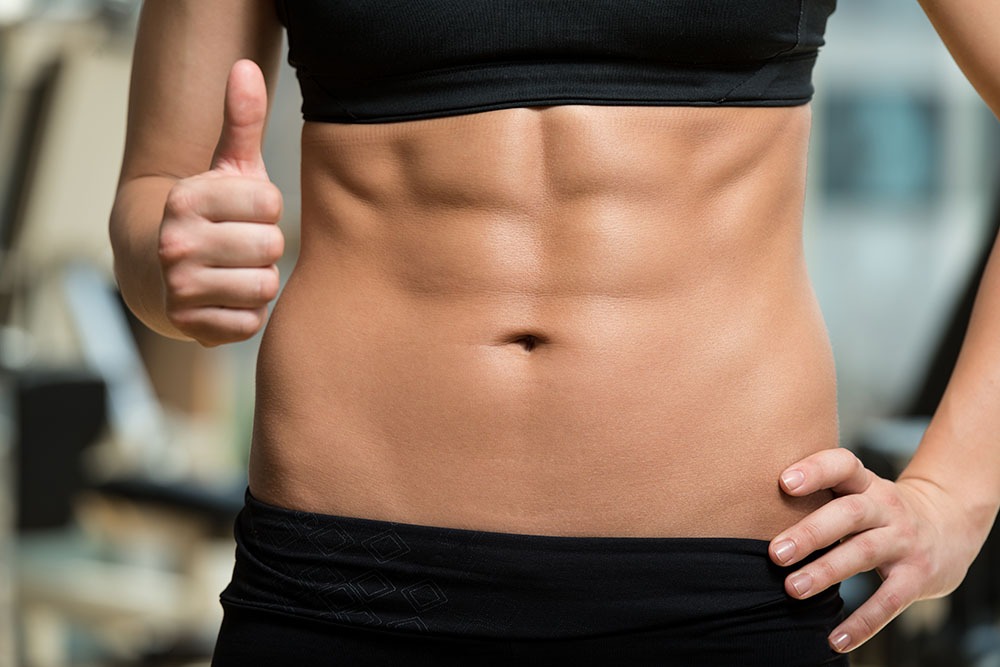 All it takes is a humble bag of tea. Find out how in THE 17-DAY GREEN TEA DIET, developed by the bestselling authors of Eat This, Not That!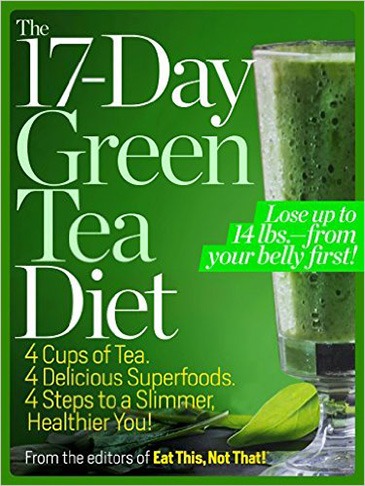 BUY NOW ON AMAZON or IBOOKS!
Eat This, Not That!
Inspired by The New York Times best-selling book series, Eat This, Not That! is a brand that's comprised of an award-winning team of journalists and board-certified experts, doctors, nutritionists, chefs, personal trainers, and dietitians who work together to bring you accurate, timely, informative, and actionable content on food, nutrition, dieting, weight loss, health, wellness, and more.
Read more about Eat This