6 Store-Bought Foods Chefs Say You Should Make at Home
From stocks to ghee—these staples are much better homemade.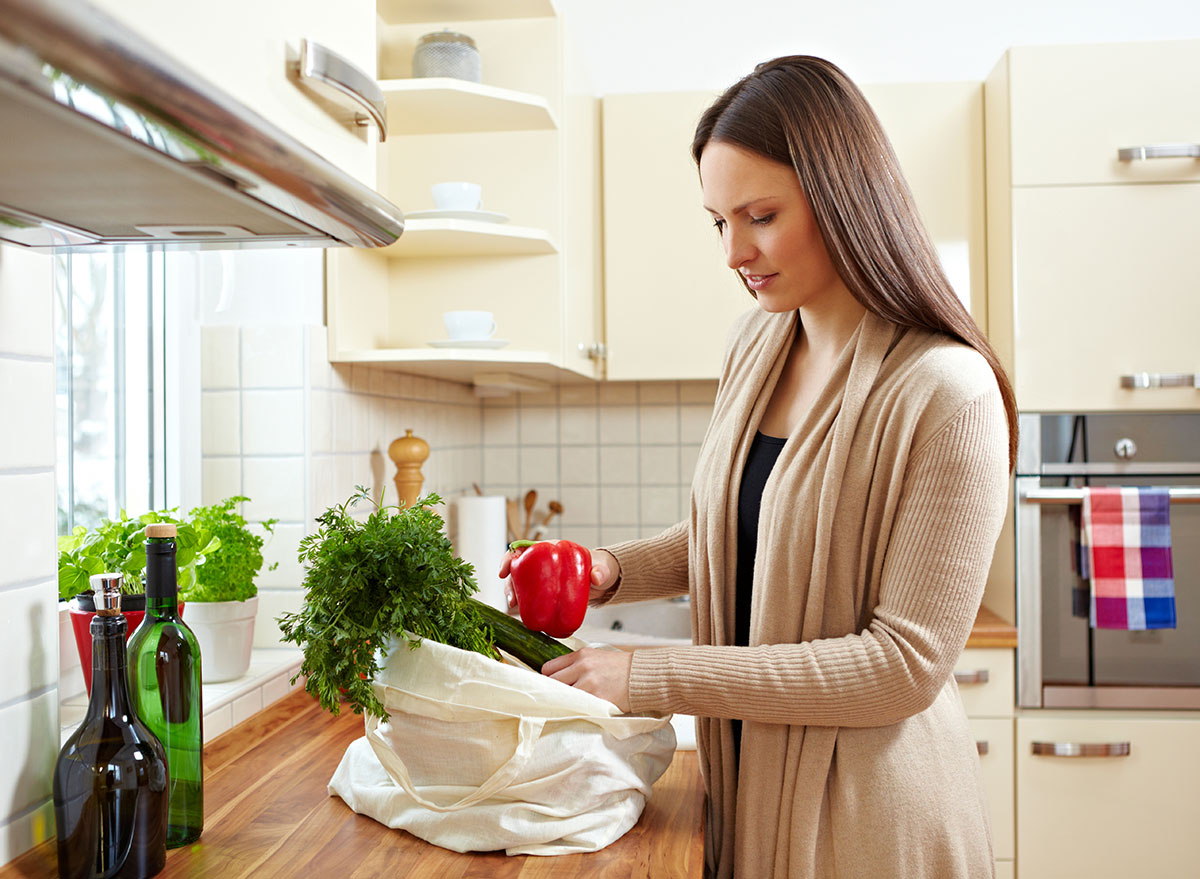 Pre-made store-bought foods seem convenient, but some items are far better if made at home. And they're not as difficult to prepare as you might think. They require only a few ingredients and a short time to prepare. And you could save some money, too!
"You don't get what you pay for when it comes to pre-made foods. There are very few that are going to be better quality after processing than using whole, natural ingredients," said Shawn Matijevich, lead chef of online culinary arts and food operations at the Institute of Culinary Education. "I prefer to pay for the best ingredients I can source and treat them with care and technique to bring the best out of them."
Here are some top food items Matijevich and a handful of other chefs say you should skip buying at the store and make at home instead.
If you think you have to harvest a cornucopia of farm-grown vegetables and spend an entire day pickling them and storing them away in mason jars, you don't. You can pickle veggies like red onions while you prepare dinner and then serve them as a highlight to the dish. Or, you can pickle carrots, cauliflower, and cucumbers (whatever you like) and save them for later use. Just google a recipe for the pickling liquid and you're ready to go.
"Once you have a great recipe for the pickling liquid, the process is really easy and quick," says Chef Karla Lomeli, a Certified Working Pasty Chef (CWPC) and chef educator for Auguste Escoffier School of Culinary Arts. "I love having pickled red onions, cucumbers, and a variety of vegetables such as cauliflower, carrots, garlic, and radishes. Pickled red onions bring so much flavor when I make tacos at home, and they are in my refrigerator whenever I need them."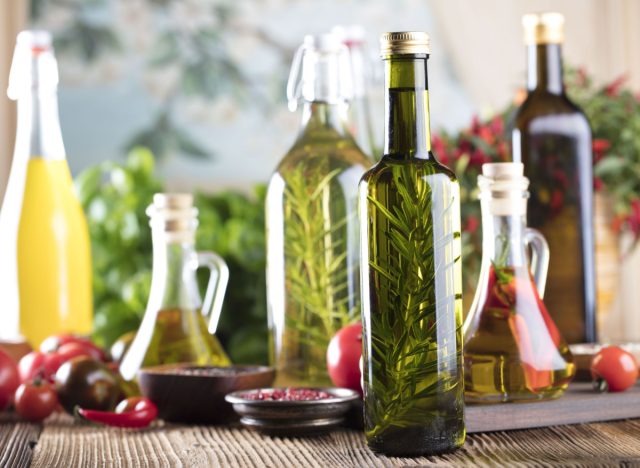 You see them at the store: rosemary olive oil, roasted garlic olive oil, or something else equally enticing. You may think there is no way you could create your own at home, but guess what? You can!6254a4d1642c605c54bf1cab17d50f1e
"The infusion of certain ingredients into the olive oil is very easy to do," says Lomeli, who used to work at the Michelin Star Koldo Royo restaurant in Mallorca, Spain. "All you need is to control the heat so as not to burn the olive oil."
If you like a little spice, she said a simple one you can try at home is to mix one cup of olive oil with one tablespoon of crushed red pepper flakes. Pour the mixture into a small pot and gently heat it until it reaches 140 degrees Fahrenheit. Turn the heat off and allow the pepper flakes to steep for about two hours or until the oil cools down. Strain the olive oil into a dark-colored bottle and store it in a cool, dark place.
Lomeli's favorite ingredients to infuse olive oil include garlic, rosemary, basil, ginger, or chili peppers. You can drizzle these flavored oils on pizzas, salads, fish, or the chef's personal favorite, caprese salad.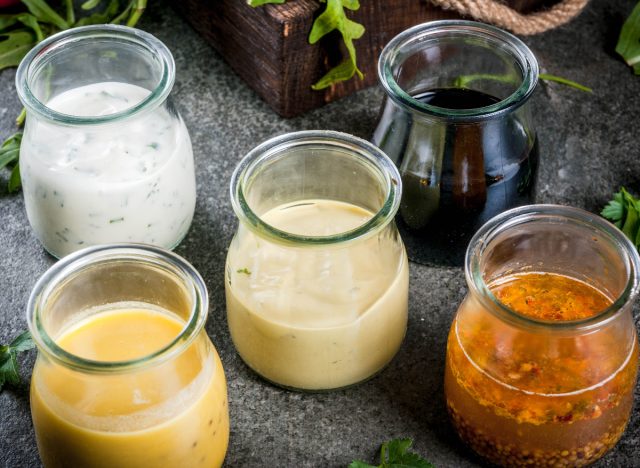 Judy Joo, a chef, television personality, and the founder of Seoul Bird in London, England, says you should never buy pre-made salad dressings at the store.
"They are always full of preservatives and stabilizers and thickeners. Dressings are so easy to make yourself. They are fresher and taste so much better!"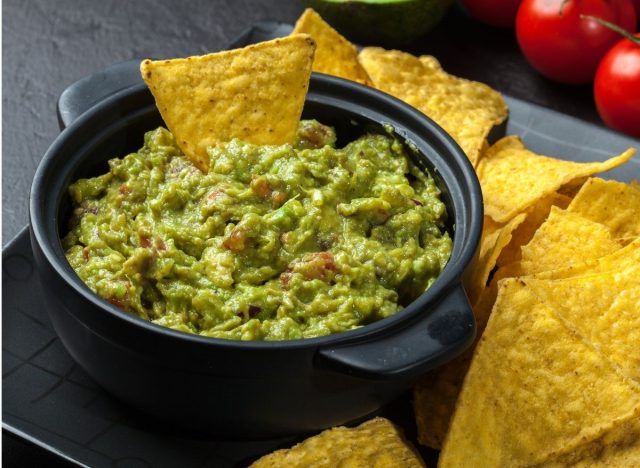 Let's face it. Most store-bought guacamole lacks flavor and can taste downright bland. Good news, making homemade guacamole is easy, according to chef Susan Irby.
She suggests buying five ripe avocados, peeling them, and mashing with fresh lemon juice, a pinch of sea salt, and that's it! But, if you want more, you can always add in diced tomatoes, onions, red, yellow or orange bell pepper; and a smattering of chopped cilantro. Use a little salt and pepper to add a bit more flavor.
"When you make guacamole at home, you get to control the texture of it—chunky or smooth!" Irby says.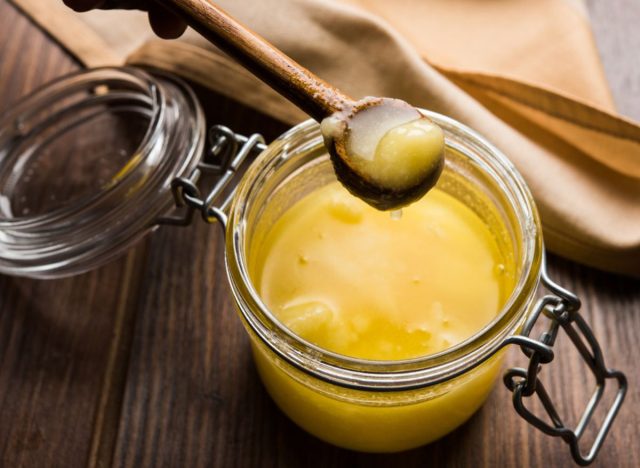 If you've never heard of it, ghee is a type of clarified butter made from cow milk butter and commonly used in Indian and Middle Eastern cooking. Some say it is better for you than butter. It is undoubtedly better for those who are dairy intolerant because the cooking process eliminates milk solids and water.
"Ghee is one ingredient I recommend making instead of buying," says Matijevich. "It's super simple to make, and you don't always know the quality of the butter that was used when you buy ghee from the grocery store."
To make ghee, you have to do is gently heat the butter until it stops bubbling. Next, transfer it to a cool container. You can skim off or strain away the milk solids. Then all that is left is the butter fat (a.k.a. ghee).
"It's that easy," Matijevich says. "I like to use unsalted, grass-fed butter for my ghee."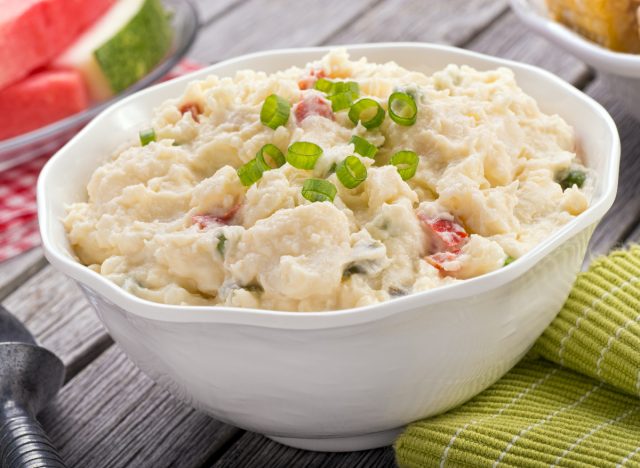 "Most potato salads lack flavor, and many contain ingredients that may not be preferable," says Irby. "Also, deli counters often leave potato salad sitting out for hours with exposure to uncontrolled temperatures and human contact."
Instead, you can boil red-skinned or russet potatoes at home in minutes and mix with your favorite ingredients. Examples include hard-boiled eggs, regular or vegan mayonnaise, chopped dill pickles, a hint of mustard, and a little onion, sea salt, and pepper.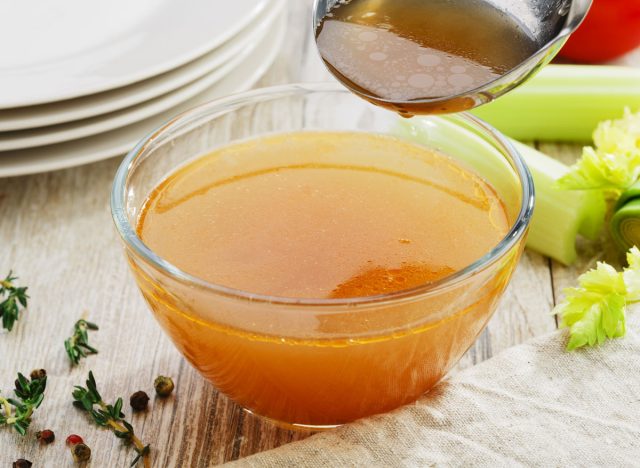 With the temperatures continuing to drop, it's the season for homemade soups. Whether you crave good old-fashioned chicken noodle or something fancier, you'll need a quality stock to build your soup with. Of course, you can buy vegetable, chicken, or beef stock at the store. But homemade is the way to go, according to several chefs.
"Stock is one thing that you should always make from scratch unless you are buying fresh/perishable stock from a trusted source," Matijevich says. "Many of the stocks in the soup aisle are not stocks. To make those shelf-stable, they have to heat the stock to a temperature under pressure that destroys the flavor and hydrolyzes the gelatin in the stock."
The chef notes that making a flavorful vegetable stock shouldn't take more than 20 minutes. And, if time is an issue, you can use a pressure cooker or an Instant Pot, as they reduce cooking time.
Jessica Randhawa, owner and head chef of The Forked Spoon, is also a huge fan of making homemade stocks and highly recommends making your own versus buying them at the store.
"Chicken Stock is incredibly easy to prepare using simple ingredients like leftover vegetable scraps, fresh herbs, and chicken bones (with or without meat)," she says. "When you learn how to make chicken stock at home, you will never want to buy store-bought chicken broth again."
Stocks are so versatile. Beyond soup, you can use them in stews, rice dishes, sauces, and braises, too. Lomeli recommends learning how to make a mushroom stock, too, for its savory flavor. (It's vegan, so you can sub it when recipes call for a beef broth.)
Additionally, stocks freeze really well and can last for several month, says chef Lomeli. "I make sure everything is labeled, so I know how long to keep them frozen."
LaRue V. Gillespie
LaRue V. Gillespie is a journalist, freelance writer, and content creator who has written about health/wellness, mental health, fitness, nutrition, beauty, and lifestyle for the last two decades.
Read more about LaRue