20 Best-Ever Guacamole Recipes
Spice up your night with these guacamole recipes.
Basic guacamole includes just three ingredients. Of course, the main ingredient is the creamy, dreamy avocado, filled with good fats that are as delicious as they are nutritious. The next two items? A splash of lime juice and a pinch of salt. But as effortlessly tasty as that combo is, who wants to just eat a basic guac when there are so many delicious recipes packed with even bolder flavors and more health-boosting nutrients out there?
Because guacamole is typically paired with salt- and oil-drenched tortilla chips loaded with sodium, this healthy snack can turn into a weight-loss nightmare quickly, especially when you end up munching on a whole bag of chips. Instead, enjoy these guacamole recipes with veggie sticks like celery, carrots, cucumber, jicama, and bell peppers.
And for more, check out these 15 Classic American Desserts That Deserve a Comeback.
If you're looking for a simple, classic guacamole recipe, you can't go wrong with this one. We added onion and garlic to make the fresh flavor really pop.
Get our recipe for Easy Guacamole.
And if you love cooking, sign up for our newsletter to get daily recipes and food news in your inbox!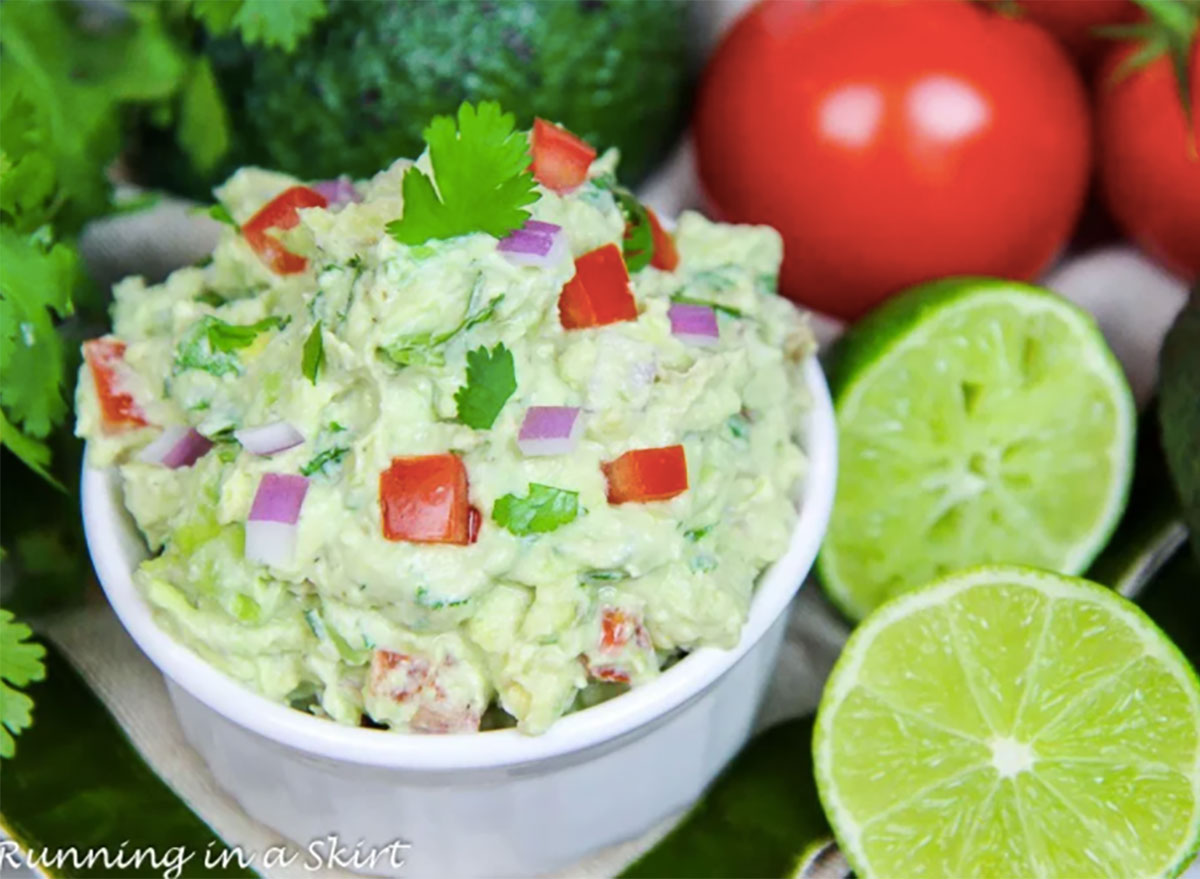 The addition of Greek yogurt makes this guacamole extra smooth and creamy. Plus, it helps promote good gut health with probiotics that will kill bad bacteria. It's easy to make and loaded with some pretty bold flavors!
Get the recipe from Running in a Skirt.
Guacamole with Frozen Peas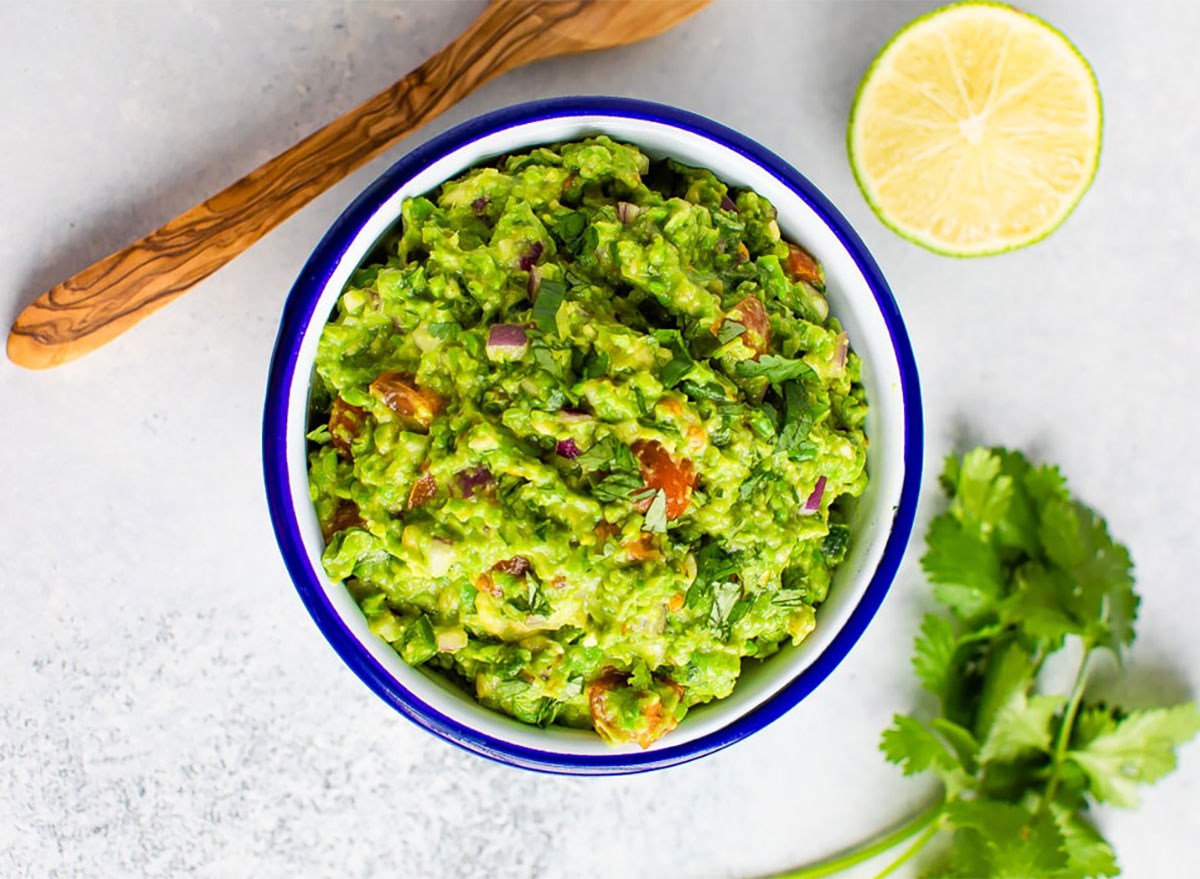 Don't freak out about peas in your beloved guacamole! This recipe cuts down on calories and fat by throwing frozen peas into the mix in place of more avocado without changing any of its delicious taste. It's just a lighter version of your classic guac that even keeps the same rich green color you're looking for. If you're one to like your portions on the bigger side, this recipe is definitely for you!
Get the recipe from Eating Bird Food.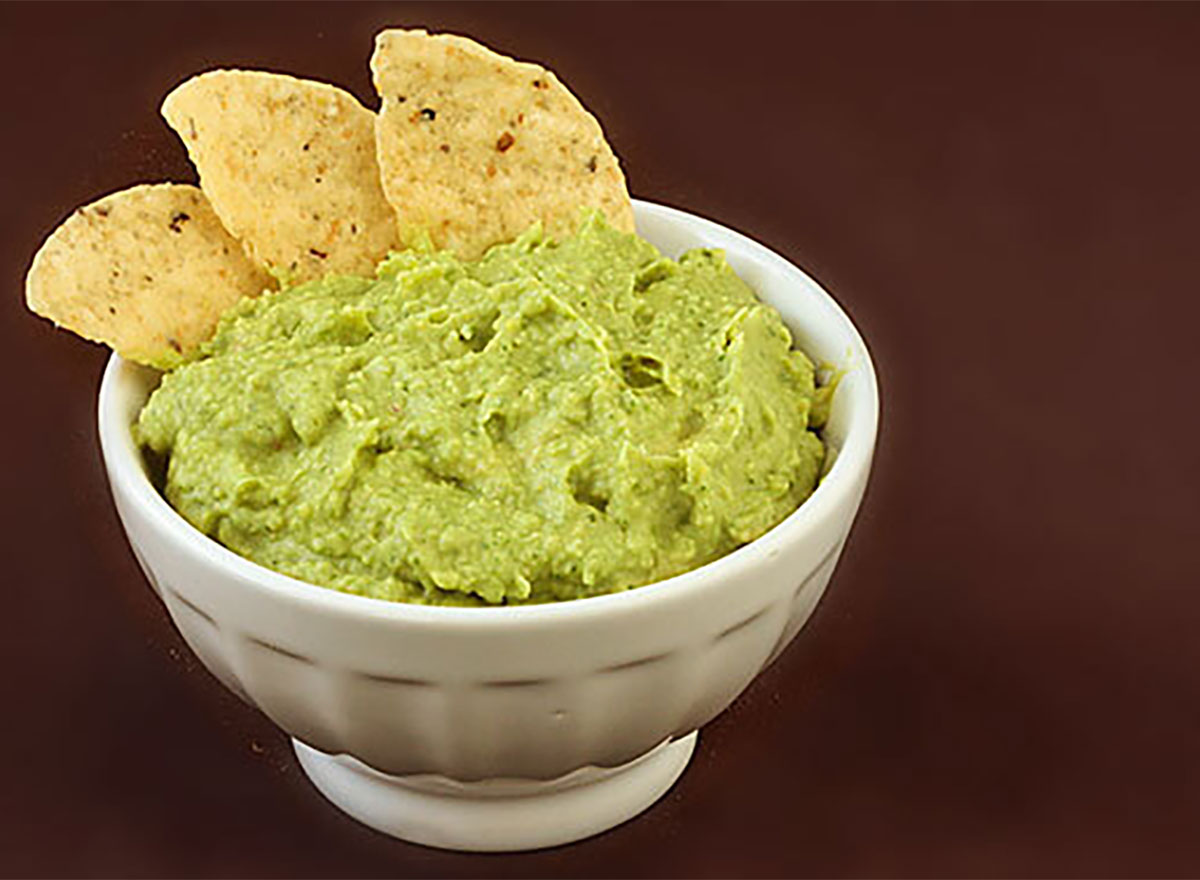 After seeing this guacamole hummus marriage made in heaven, guacahummus is our new favorite thing! Combining two of the best dips out there makes for a powerful snack. This guac is a little higher in calories because of the addition of chickpeas, but it's also loaded with good-for-you fats that will fight hunger, along with some amazing, muscle-building protein.
Get the recipe from Gimme Some Oven.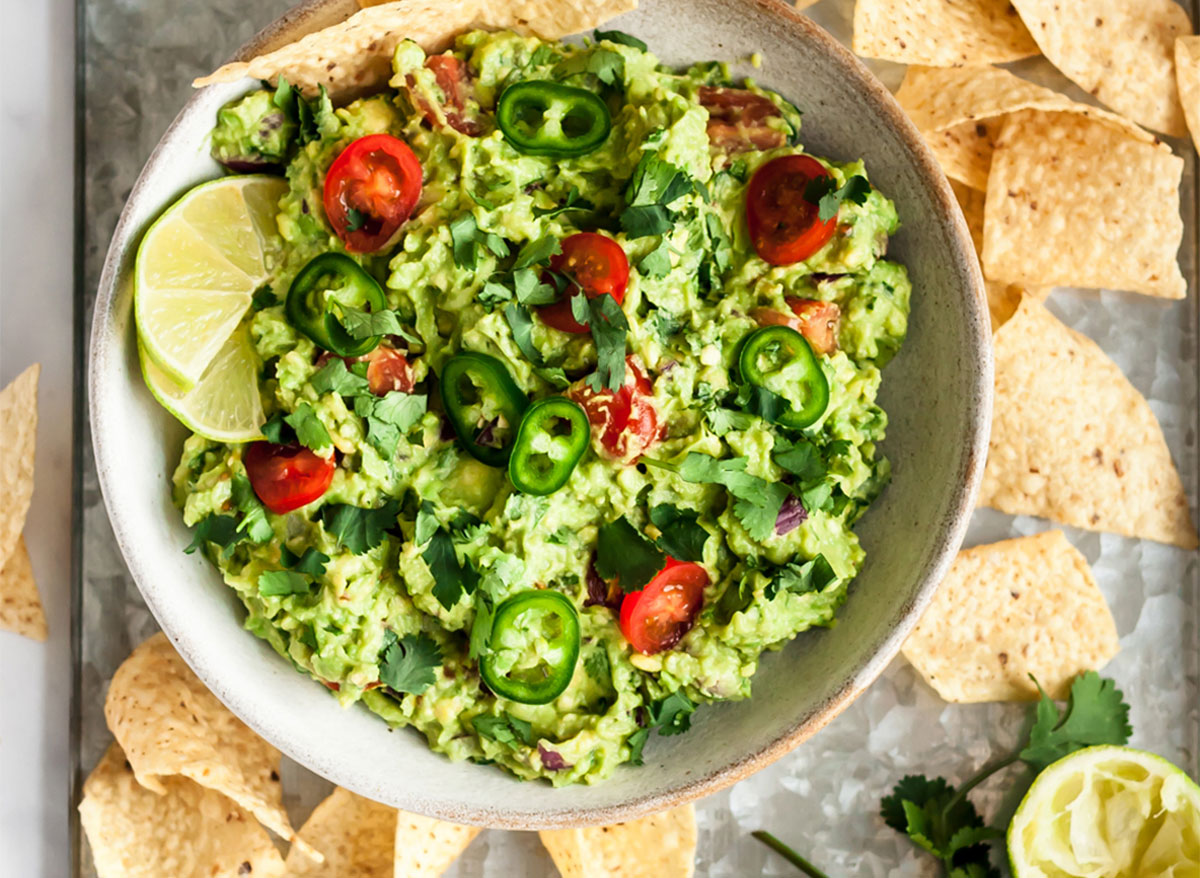 Not only does adding spice to guacamole amp up the flavor, but it also amps up your metabolism. Sauces like Sriracha and peppers like jalapeños contain capsaicin, an active ingredient that gives peppers their fiery flavor and a burning sensation. Capsaicin has been shown to play a vital role in helping aid weight loss.
Get the recipe from Ambitious Kitchen.
Perfect for a summer day, this refreshingly sweet guacamole is guaranteed to please your tastebuds! Using vitamin-rich ingredients like avocado, pineapple, banana, and mango, plus the juice from an orange, makes for a tangy twist on the average guac.
Get the recipe from Cafe Johnsonia.
Pomegranate Guacamole Dip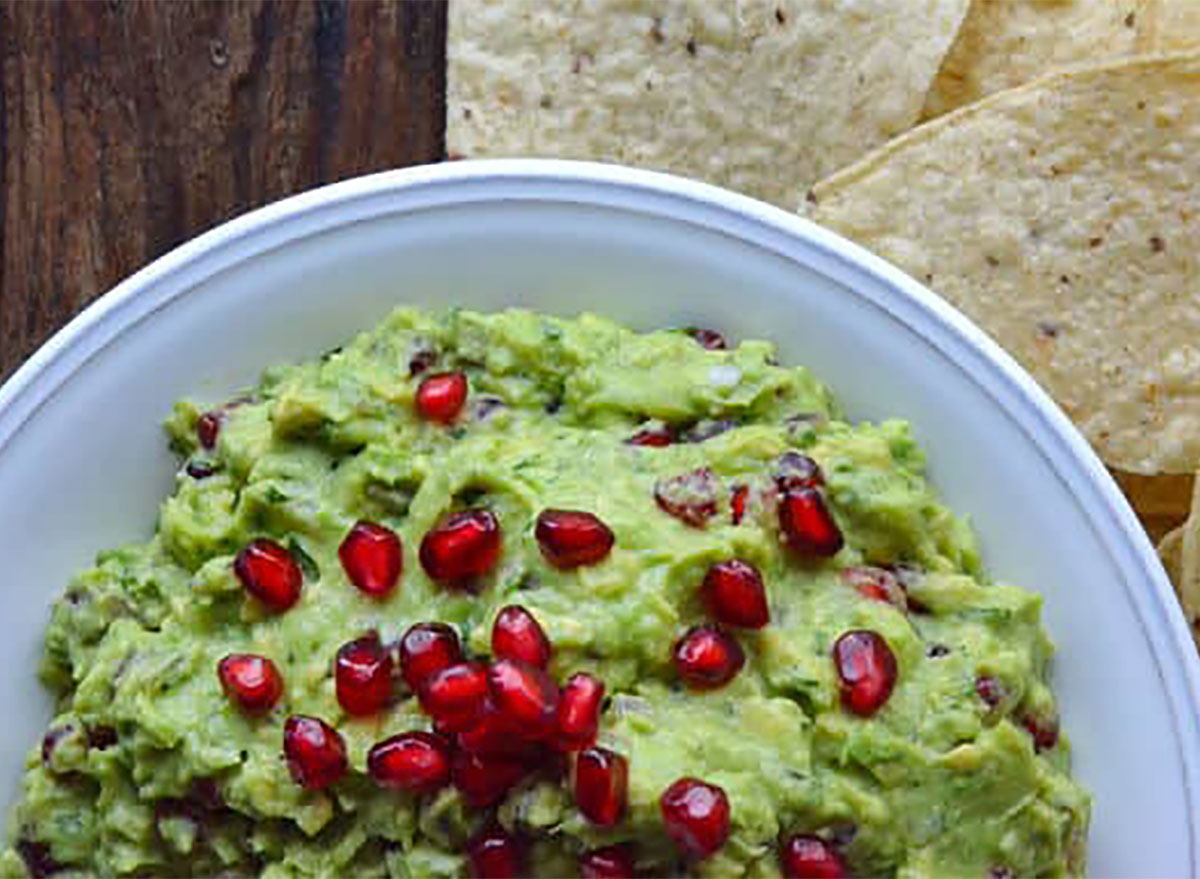 Pomegranate seeds are a great addition to guacamole if you're looking for a touch of tang with a little crunch. These fun little fruit seeds are dense in cell-repairing antioxidants that help burn fat! And a single pomegranate can provide 30 milligrams of vitamin C, which can help keep your skin glowing.
Get the recipe from Just A Taste.
Putting bacon and cheese in anything can make it pretty spectacular, and this guacamole is no different! The crispy bacon and creamy cotija combine perfectly with smooth avocado to make a dip that's to die for.
Get the recipe from What's Gaby Cooking.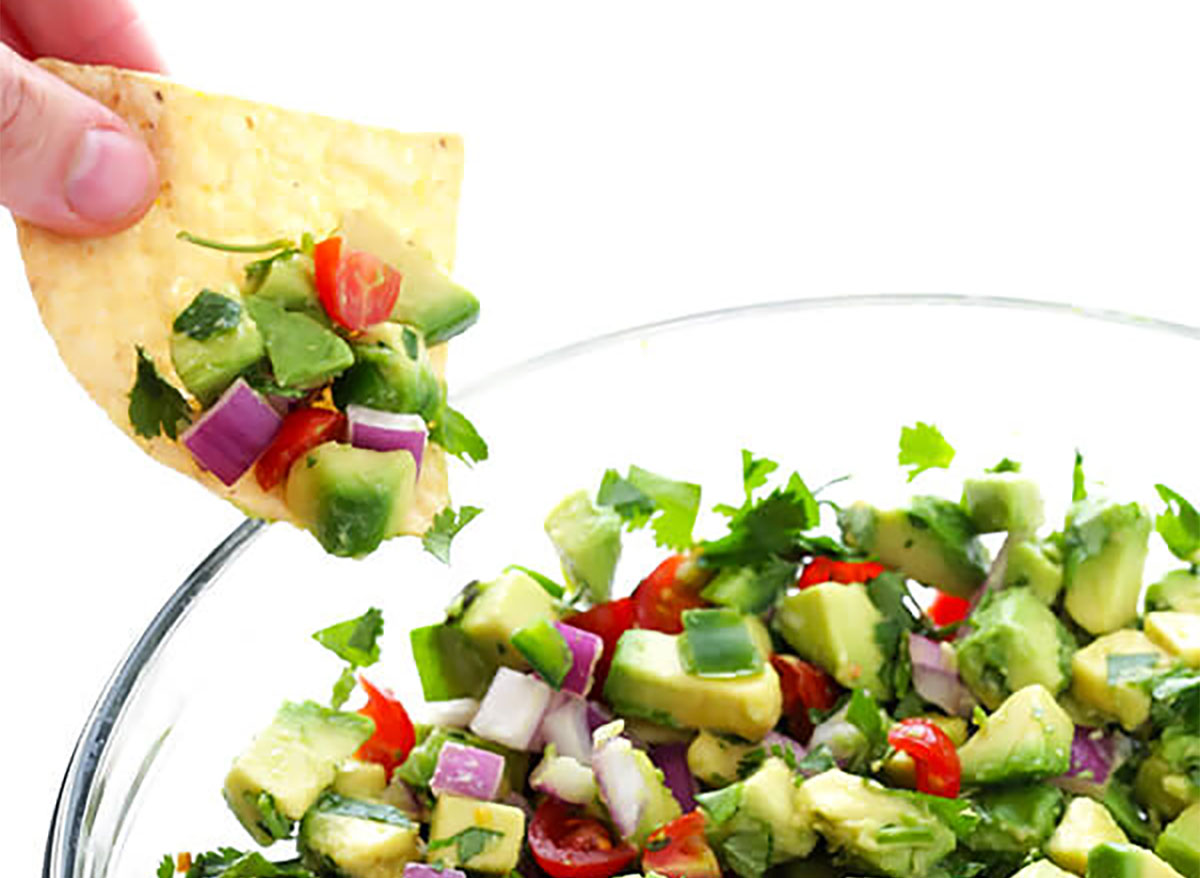 Chunky or smooth guacamole is a personal preference that no one should mess with. If you'd rather see all the delicious ingredients that go into a guac instead of mashing them together into one big mush then go for this recipe that creates an eye-pleasing bowl.
Get the recipe from Gimme Some Oven.
Grilling avocados pre-guacamole…mind, blown. This simple step takes a classic guac to a whole new level. Some pretty impressive flavors come from grilling an avocado, making this dip that much better. Use this to smother your tacos, load your toast, and top your savory breakfast bowls.
Get the recipe from Garden Betty.
Sweet Corn Grilled Guacamole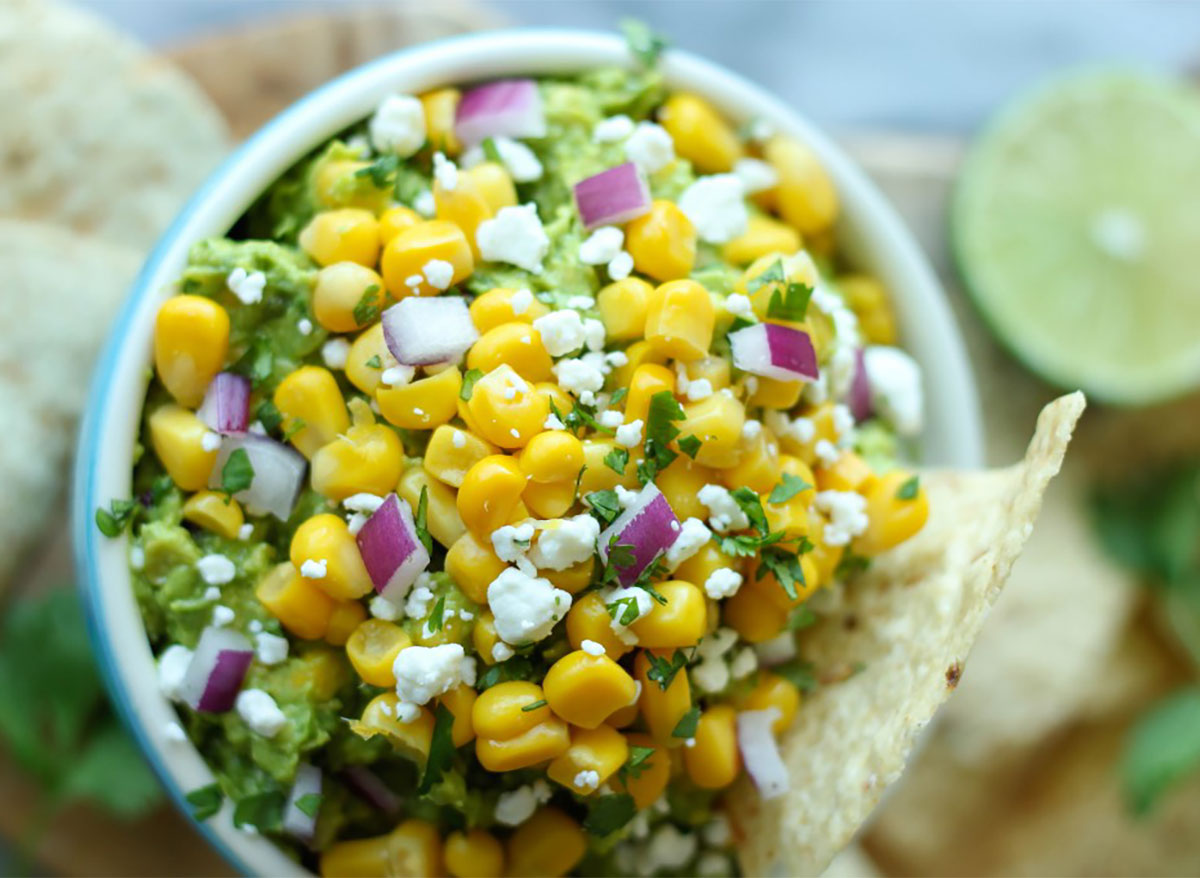 Adding a simple ingredient like corn can make all the difference in guacamole! This essential summer barbecue staple introduces a sweet touch to the dip and can also provide antioxidant benefits.6254a4d1642c605c54bf1cab17d50f1e
Get the recipe from Damn Delicious.
Beans are another great source of protein, healthy fats, and fiber that combines perfectly with avocados to make a rich and smooth guacamole. This recipe calls for Greek yogurt and black beans, but white and red beans would work, too!
Get the recipe from The Lean Green Bean.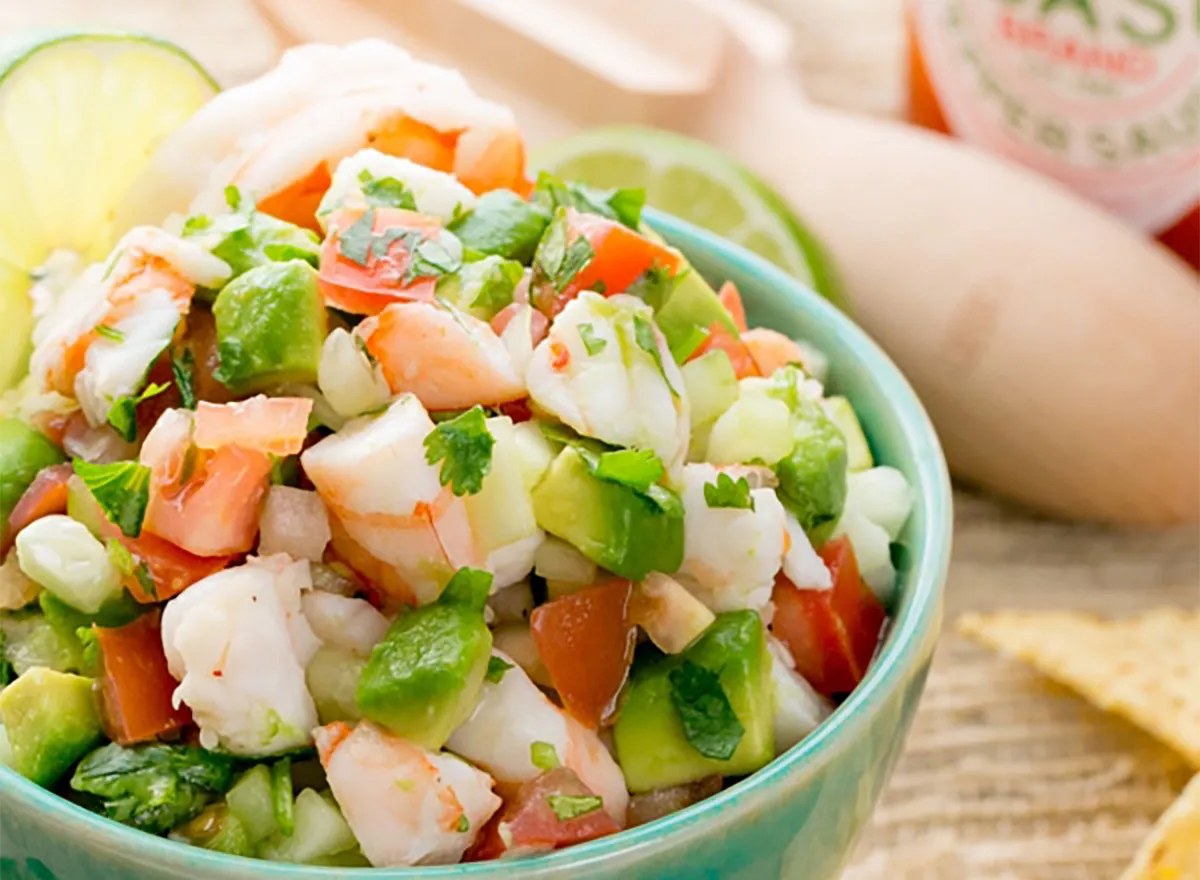 Adding shrimp to guacamole is pure genius. It ups the protein intake and can be the perfect lunch. Shrimp is a low-fat, low-calorie fish that's rich in iodine. This recipe calls for no salt, oil, or added fat, making it a special treat you can enjoy frequently.
Get the recipe from Natasha's Kitchen.
The secret ingredient in this dip is the mighty cauliflower. This low-calorie, low-fat veggie has been showing up in some of our old favorites from pizza to pudding, and with good reason. It adds all the richness to guacamole without adding much to the fat and calorie counts.
Get the recipe from La Fugi Mama.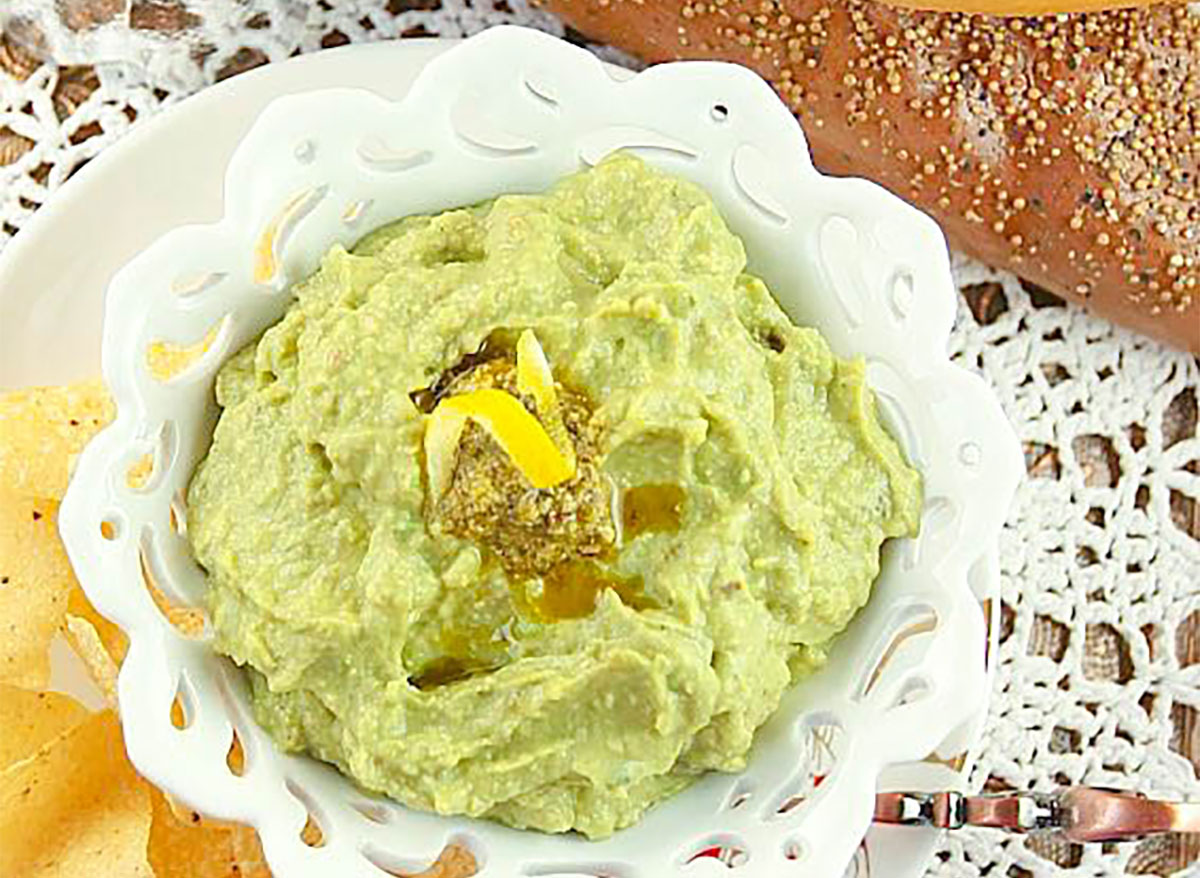 This recipe calls for just four staple ingredients that perfectly mix Italian and Latin American culture to make a delicious guacamole fusion. The flavors are off the charts, using a combination of pesto and avocado that are oh-so inviting.
Get the recipe from Food Done Light.
Why top your fajita with guacamole when you can make guacamole that tastes just like fajitas? This recipe is filled with peppers, onions, plenty of lime juice, and queso fresco that makes this stuff good enough to eat with a spoon.
Get the recipe from She Likes Food.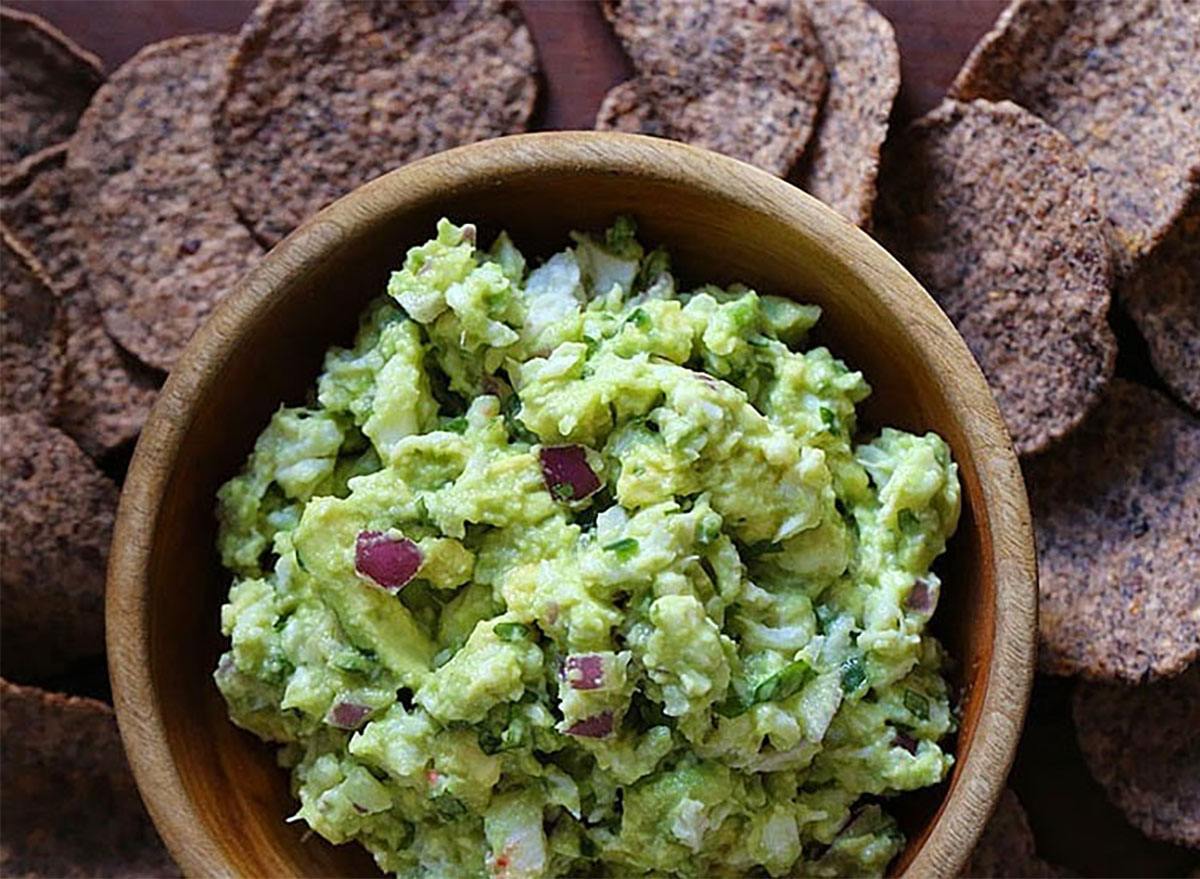 Crab is a lean protein that can add some pizzazz to almost any dish. It has a soft, delicate texture that fits well within a guacamole recipe. Its sweet taste adds a little flair and a great bite.
Get the recipe from Skinny Taste.
This guac has gone Greek by using Mediterranean ingredients instead of the classic combo. Bold flavors come from using lemon, sun-dried and fresh tomatoes, kalamata olives, oregano, and parsley, all mixed with avocado to create savory guacamole with a whole new profile.
Get the recipe from Minimalist Baker.
Guacamole with Pistachios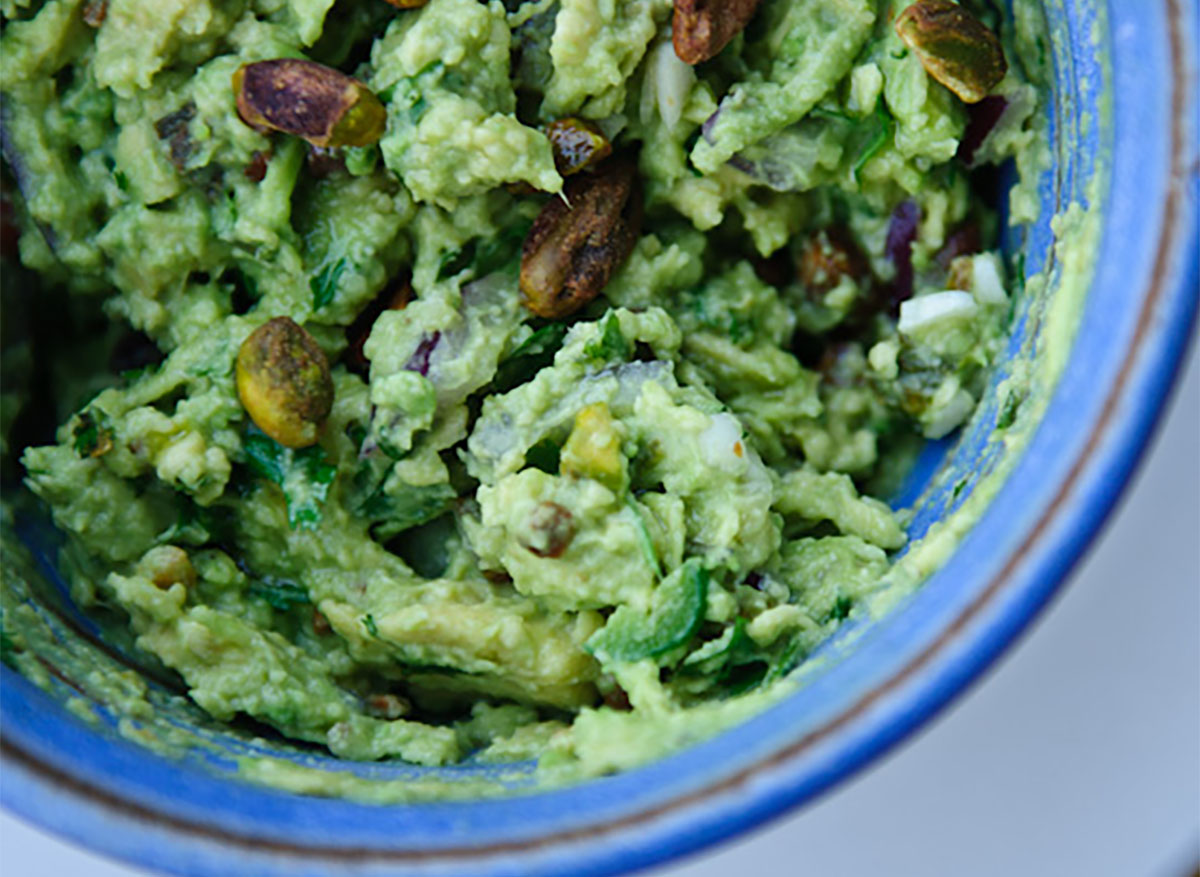 Pistachios are the perfect wholesome ingredient to add to guac. They're an abundant source of protein, fats, and minerals that provide us with energy and antioxidants. Research has shown that diets consisting of pistachios may help lower bad cholesterol and increase the good. So go ahead and add the crunchy nut to your dip!
Get the recipe from Healthy Green Kitchen.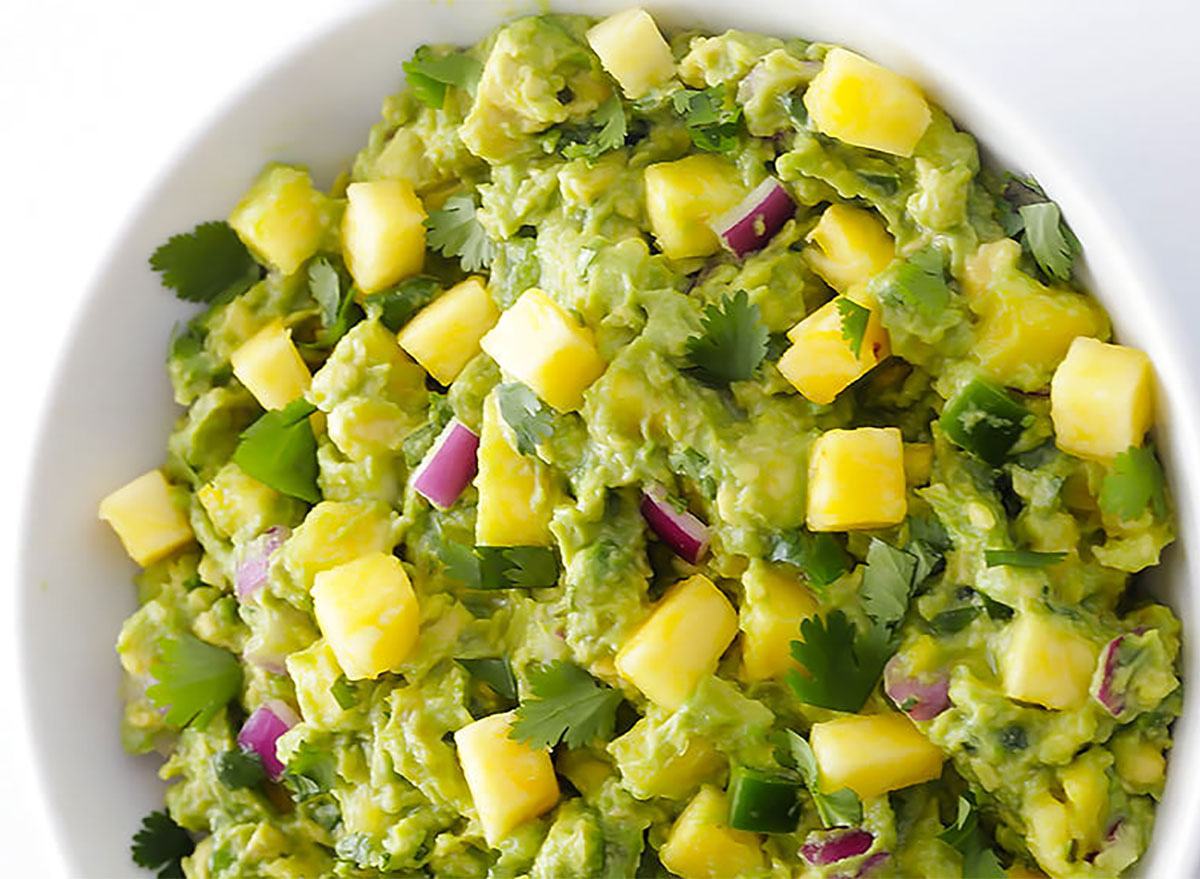 Pineapple guacamole? It's less strange than it sounds! The sweet fruit mixes perfectly with the avocado for a summer-ready dip.
Get the recipe from Gimme Some Oven.