A Healthy Take On the Classic French Pot Roast Recipe
It's simply the finest pot roast you could ever make.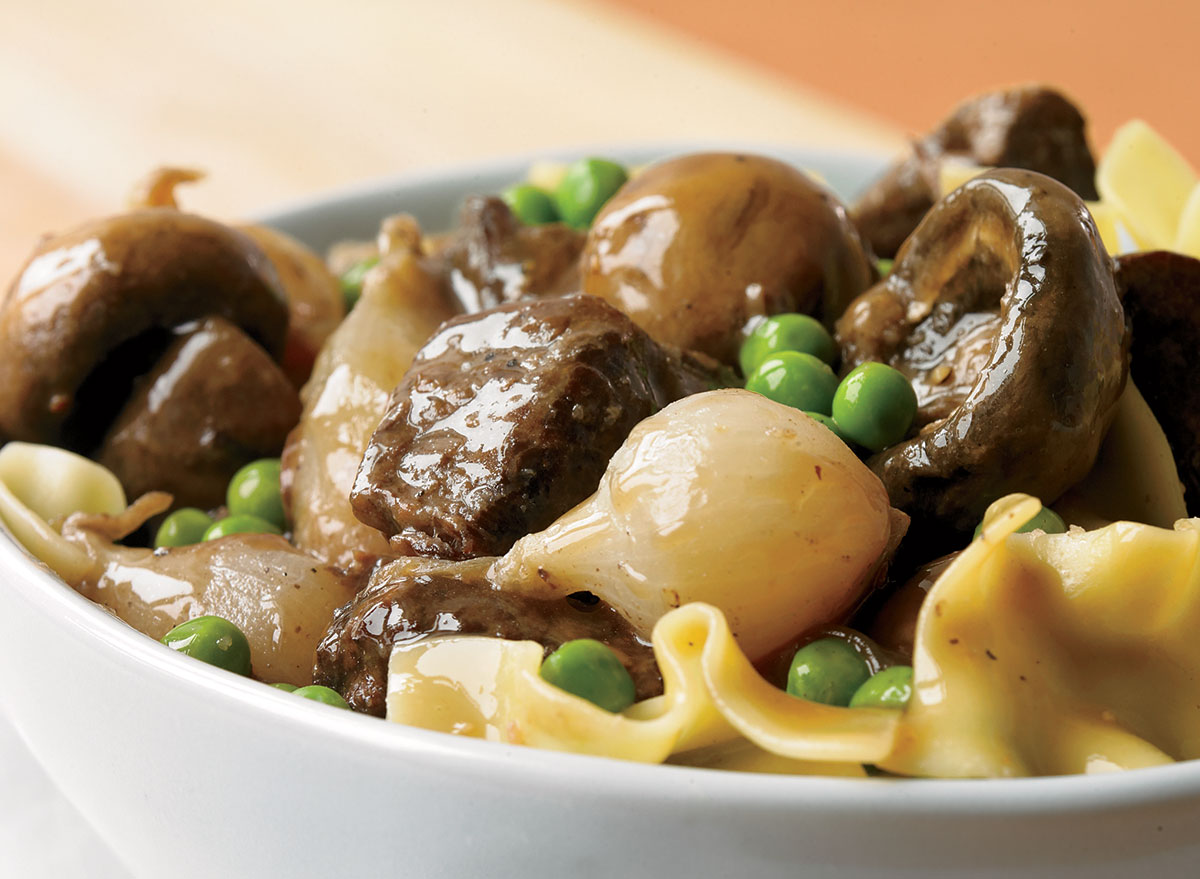 Every culture has its version of pot roast, that amazing slow-cooked amalgamation of hearty meat and vegetable chunks and flavorful broth. When it comes to picking the best rendition, we have to side with Julia Child, who believed the French boeuf bourguignonne was the world's finest pot roast. Here's an easy, healthy version to tackle of the French pot roast.
Nutrition: 500 calories, 12 g fat (4 g saturated), 640 mg sodium
Serves 4
You'll Need
2 strips bacon, cut into 1⁄2" pieces
1⁄4 cup flour
Salt and black pepper to taste
2 lb chuck roast, excess fat removed, cut into 1" pieces
1⁄2 bottle dry red wine
2 cups low-sodium beef broth
2 Tbsp tomato paste
2 bay leaves
2 cups frozen pearl onions
1⁄2 lb button mushrooms, stems removed
1 cup frozen peas
How to Make It
Preheat a large skillet or nonstick sauté pan over medium-high heat.
Cook the bacon until the fat is rendered and the bacon is crisp.
Remove the bacon with a slotted spoon and drain on paper towels; set aside. Leave the pan on the heat.
Combine the flour and plenty of salt and pepper in a sealable plastic bag.
Working in batches, add the beef and shake until the pieces are lightly covered; remove the beef from the bag and shake off the excess flour.
Add the pieces to the hot pan and cook until all sides are golden brown.
Remove the beef and add to a slow cooker.
When all the beef has been browned, add 1 cup wine to the hot pan and scrape up any brown bits from the bottom with a wooden spoon.
Pour over the beef, along with the rest of the wine, the tomato paste, bay leaves, and bacon pieces.
Set the slow cooker to high and cook for 4 hours, until the beef is tender and falls apart with pressure from a fork.
In the last 30 minutes of cooking, add the pearl onions and mushrooms. Right before serving, add the peas and simmer for a few minutes to cook through. Discard the bay leaves.
Serve the stew by itself or over mashed potatoes or buttered egg noodles
with a good ladle of the cooking broth.
Eat This Tip
Stellar Sauces
You have everything you need to make an amazing sauce right in the slow cooker. Ladle 3 or 4 cups' worth of the deeply flavorful beef broth into a saucepan. Place over high heat and cook for 7 to 10 minutes until the sauce reduces by about 75 percent, enough to cling to the back of a spoon. Add a pat of cold butter and stir to incorporate. Do this for any braised or slow-cooked dish and your loved ones will think you're going to culinary school in your spare time.
This recipe (and hundreds more!) came from one of our Cook This, Not That! books. For more easy cooking ideas, you can also buy the book!6254a4d1642c605c54bf1cab17d50f1e