The Tastiest Sunday Roast Chicken Recipe
There's nothing quite like kicking off a new week with roasted chicken and veggies.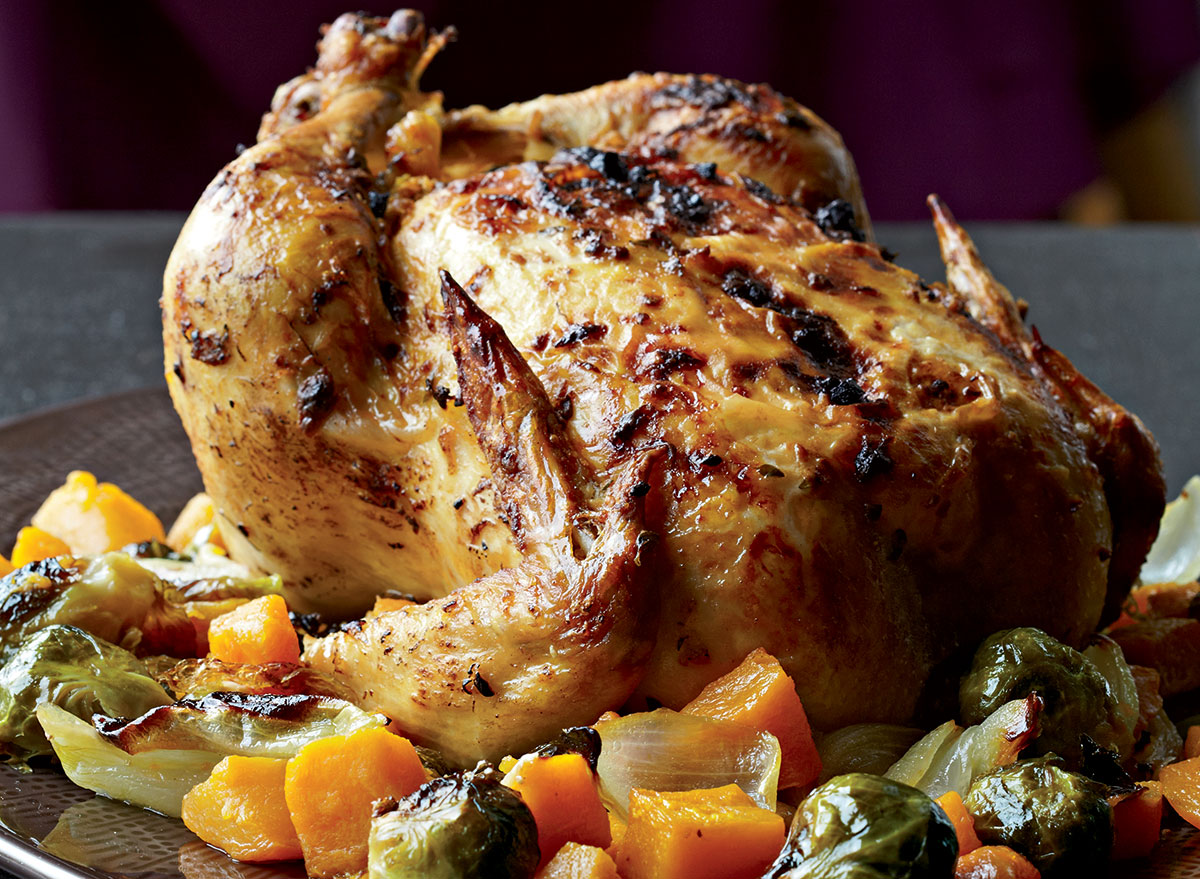 This dish is every bit as delicious on a Tuesday or Friday, but there's something about a chicken roasting on a bed of vegetables that makes the Sunday night specter of the long week ahead that much more palatable. The key to this roasted chicken is seasoning it long before cooking. The salt will penetrate the flesh, seasoning the bird down to the bone and helping create a juicier roast. If you follow no other part of this Sunday roast chicken recipe, at least follow that one trick.
Nutrition: 520 calories, 27 g fat (7 g saturated), 820 mg sodium
Serves 4
You'll Need
1 whole chicken (about 4 lbs)
2 Tbsp fresh thyme leaves
1 Tbsp Dijon mustard
4 cloves garlic, minced
Grated zest of 1 lemon
2 Tbsp olive oil
Salt and black pepper to taste
2 medium onions, quartered
2 cups peeled and chopped butternut squash (The chicken can be roasted with any firm vegetables: potatoes, carrots, parsnips, turnips. Vary at will; just be sure to cut into equal pieces.)
4 cups Brussels sprouts, ends removed6254a4d1642c605c54bf1cab17d50f1e
How to Make It
The morning of the day you roast the chicken, rinse it and pat it dry.
Combine the thyme, mustard, garlic, lemon zest, and 1 tablespoon olive oil and rub over the chicken.
Season the chicken with salt and black pepper.
Refrigerate until you're ready to cook, up to 12 hours.
Preheat the oven to 425°F.
Place the vegetables in a large roasting pan.
Add the remaining 1 tablespoon olive oil, plus salt and pepper, and toss.
Use kitchen twine to tie the chicken legs together with a knot at the end of the drumsticks.
Use another piece of twine to tie the wings together tight against the body of the chicken by looping the string around the wing tip, then running it under the chicken back.
Place the chicken in the roasting pan and roast on the middle rack for 45 to 55 minutes, until the skin is deeply browned and an instant-read thermometer inserted into the thigh registers 170°F.
Rest the chicken for 10 minutes before carving and serving with the vegetables.
Eat This Tip
A roast chicken leaves behind the perfect base for a rich gravy. Combine the roasting juices accumulated beneath the chicken in a pan with a spoonful of flour. Slowly add warm chicken stock, whisking to keep lumps from forming. Flavor with herbs, a splash of white wine, or a squeeze of lemon.
This recipe (and hundreds more!) came from one of our Cook This, Not That! books. For more easy cooking ideas, you can also buy the book!