Healthy Fresh Fruit and Cream Tart Recipe
This versatile tart recipe is the perfect light dessert.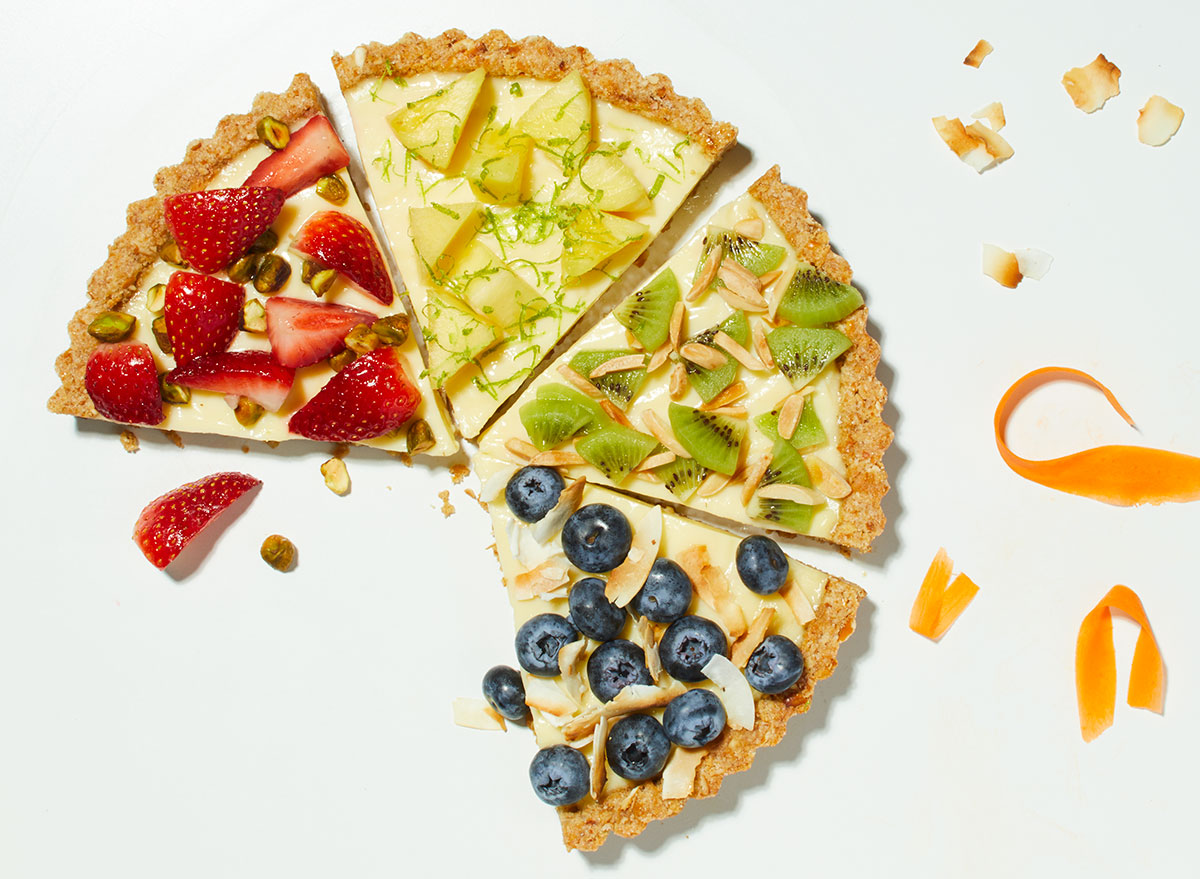 There's nothing like finishing off a delicious spring meal with a fruit tart, is there? With all of those natural sugars in fruit, topped on a custard-like tart, it's the perfect light dessert for a spring or summer evening.
The best thing about this fruit and cream tart is how versatile it is. There are numerous combinations you can try. Simply choose your favorite fruit and favorite extra crunch! We have five options for fruit toppers that come with the recipe already. However, you can make up your own fun and fruity combinations—the sky's the limit with this fruit tart recipe!
Makes 4 servings
Ingredients
Tart
2/3 cup finely crushed pretzels (2 ounces)
2/3 cup graham cracker crumbs
4 tablespoons butter, melted
1 egg white, slightly beaten
1/2 cup sugar
2 tablespoons cornstarch
1/4 teaspoon salt
2 cups whole milk
1 teaspoon vanilla
2 beaten egg yolks
Fruit Toppers (see below)
Fruit Toppers
Raspberry and Honey
2 cups fresh raspberries and 1 tablespoon honey
Nutrition: 253 calories, 10 g fat (5 g saturated), 284 mg sodium, 22 g sugar, 3 g fiber, 5 g protein
Kiwi and Almonds
5 peeled and sliced kiwi sprinkled with 2 tablespoons toasted slivered almonds
Nutrition: 268 calories, 11 g fat (5 g saturated), 285 mg sodium, 23 g sugar, 2 g fiber, 5 g protein
Blueberry and Coconut
2 cups fresh blueberries and 2 tablespoons toasted unsweetened coconut chips
Nutrition: 255 calories, 10 g fat (6 g saturated), 288 mg sodium, 22 g sugar, 2 g fiber, 5 g protein
Strawberry and Pistachio
2 cups quartered small strawberries and 2 tablespoons chopped pistachios
Nutrition: 251 calories, 11 g fat (5 g saturated), 284 mg sodium, 20 g sugar, 1 g fiber, 5 g protein
Pineapple and Lime
2 cups chopped fresh pineapple and 1 tablespoon lime zest
Nutrition: 248 calories, 10 g fat (5 g saturated), 284 mg sodium, 22 g sugar, 1 g fiber, 5 g protein
How to Make It
Preheat oven to 375°F. In a medium bowl, combine crushed pretzels, graham crackers, and melted butter. Toss to combine butter. Stir in egg white. Press crumb mixture evenly into the bottom and up the sides of a 9-inch fluted round or square tart pan with a removable bottom.
Bake 10 minutes or until firm. Cool on a wire rack.
In a 2-quart heavy saucepan, stir together cornstarch, sugar, and salt. Gradually stir in milk. Cook and stir over medium heat until thickened and bubbly. Cook and stir 2 minutes more.
Gradually stir half of the hot mixture into beaten egg yolks. Return all of the egg yolk mixture to saucepan. Bring to a gentle boil; reduce heat. Cook and stir for 2 minutes. Remove from heat. Stir in vanilla. Pour into bowl. Cover surface with plastic wrap.
Chill 1 to 4 hours before serving.
To serve, spoon custard into baked tart shell; top with desired Fruit Toppers.
RELATED: No-sugar-added recipes you'll actually look forward to eating.6254a4d1642c605c54bf1cab17d50f1e
Eat This, Not That!
Inspired by The New York Times best-selling book series, Eat This, Not That! is a brand that's comprised of an award-winning team of journalists and board-certified experts, doctors, nutritionists, chefs, personal trainers, and dietitians who work together to bring you accurate, timely, informative, and actionable content on food, nutrition, dieting, weight loss, health, wellness, and more.
Read more about Eat This