These Are the Most Fun Restaurants in Your State
Mini golf, soda sculptures, and duckpin bowling bring "fun" to a whole new level at these spots.
If you were a kid who judged the quality of restaurants based on their ball pits and play places, you know "eatertainment" isn't a new trend. But, it's one that has grown up with the Chuck E. Cheese generation, a cohort that has a special appreciation for reclaimed vintage bowling alleys in hip restaurants and gets nostalgic in arcade bars.
From a restaurant with artist-designed miniature golf holes to a taphouse that lets you hop on a "margarita bike" to power the blender behind the bar, fun is most certainly on the menus at these U.S. spots.
For your amusement, we rounded up the most fun restaurants in every state. Some have games galore; others are kitschy. Many have creative menus. Here's where you can eat, drink and truly be merry.
And for more local eats, don't miss The Best Regional Fast-Food Chain in Your State.
ALABAMA: Lucy Buffett's LuLu's in Gulf Shores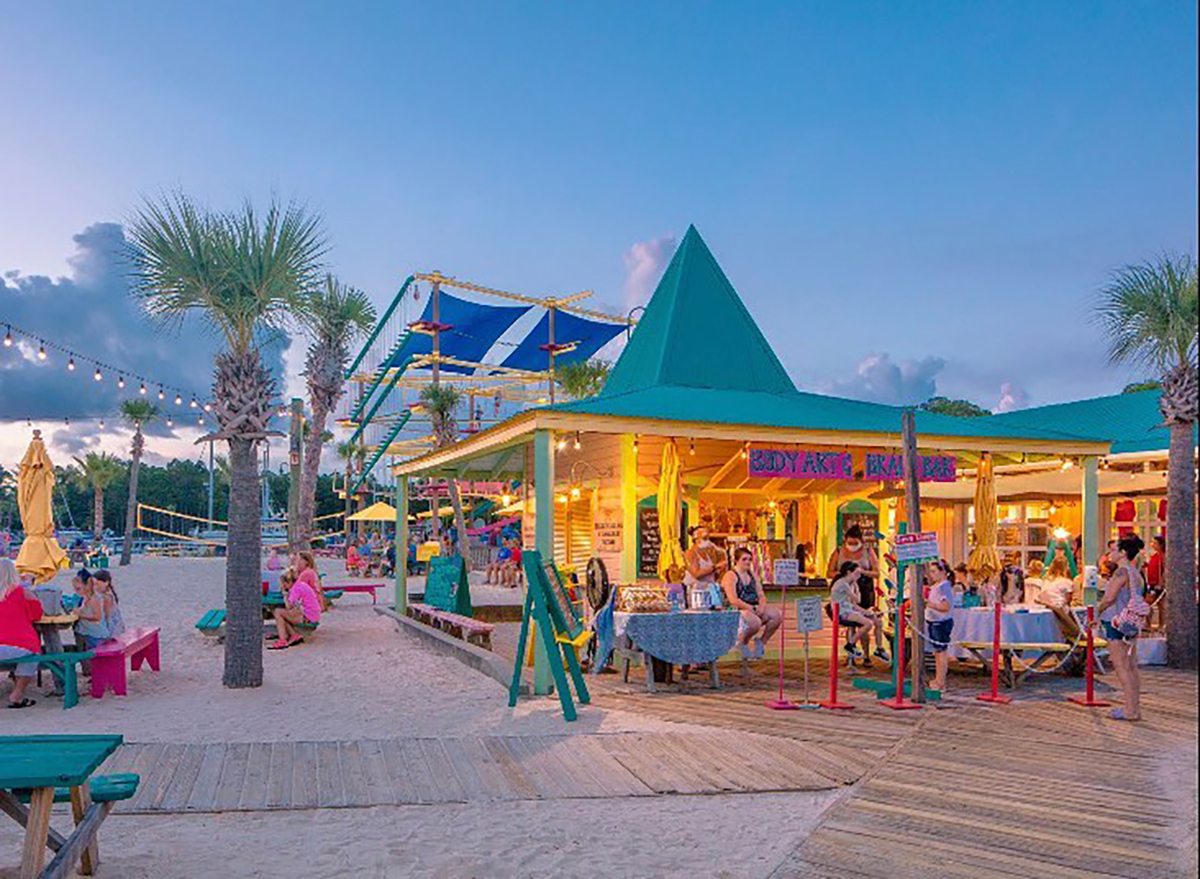 LuLu's isn't just a restaurant serving fried crab claws and fresh catch specials to beachgoers. The waterfront hangout in Gulf Shores also has a three-story climbing ropes course for kids, plus an arcade room and beach volleyball. Live music sets the soundtrack every night.
ALASKA: 49th State Brewing Co in Anchorage and Healy
Brewery events calendars are predictably fun, with trivia and live music fairly commonplace. But the 49th State Brewing Co's events are extra creative. The Anchorage location has two theaters that regularly host music, comedy, theater, and things like "Story Party" where people share their real-life stories on a central topic, like dating. At the brewing company's Healy location near Denali National Park, patrons can play disc golf, bocce ball, horseshoes, or bags in the beer garden. Sounds spot-on for a brewery, right? But the Into the Wild bus from the movie is parked in the garden and visitors can go on board to see memorabilia from the movie. Both locations boast an Alaska-centric menu with dishes like king crab, halibut and chips, and yak burgers.
ARIZONA: Social Hall in Tempe
No need to squirrel away your quarters. Pool, electronic darts, and classic arcade games like Skee-Ball and Pac-Man are free to those dining and drinking at Social House, a restaurant that serves comfort classics with a New Mexican twist. (Think: Posole and green chile mac.)
ARKANSAS: Superior Bathhouse Brewery in Hot Springs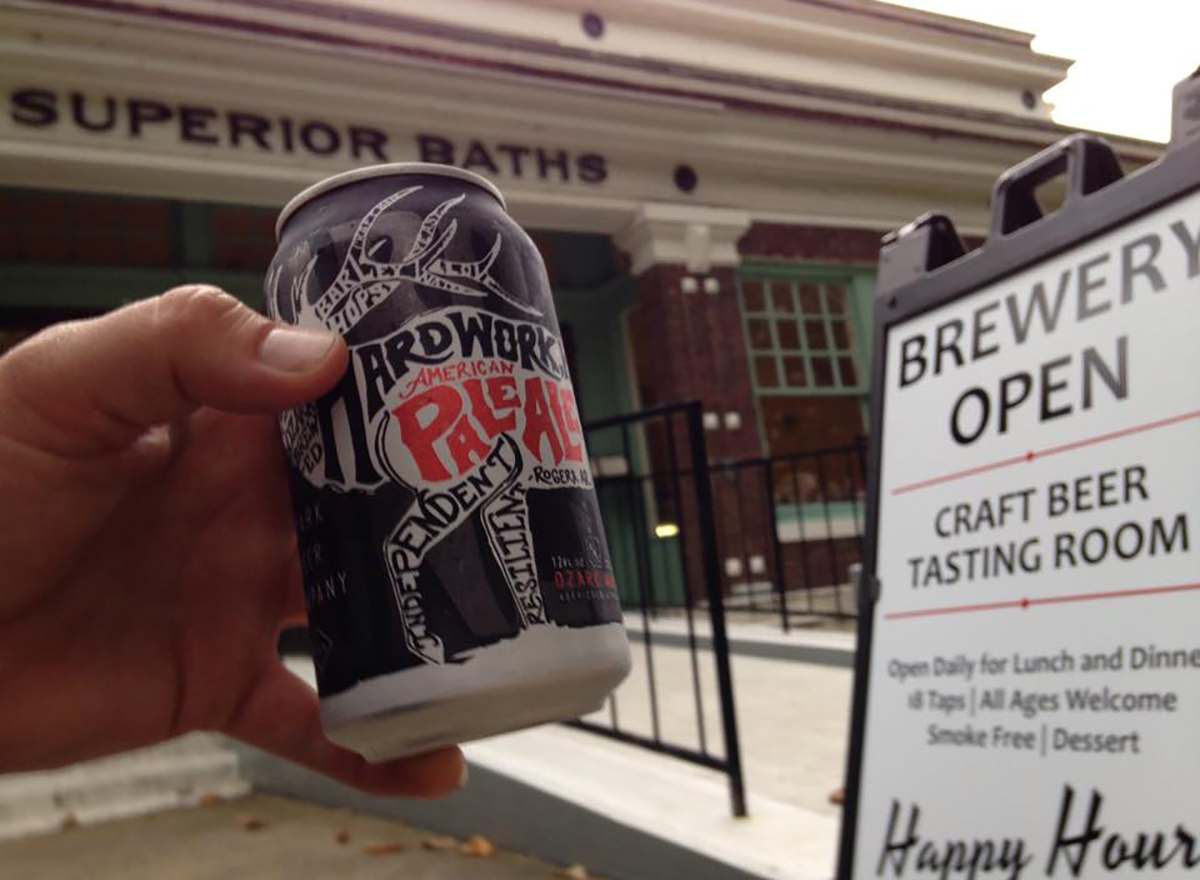 A century-old bathhouse was converted into a brewery. Now, for its next trick, the outpost brews beer using thermal spring water from Hot Springs National Park. Superior Bathhouse Brewery is the only brewery in a U.S. national park, and it has a menu full of tasty pub classics perfect for pairing with beer.
CALIFORNIA: One Door North in San Diego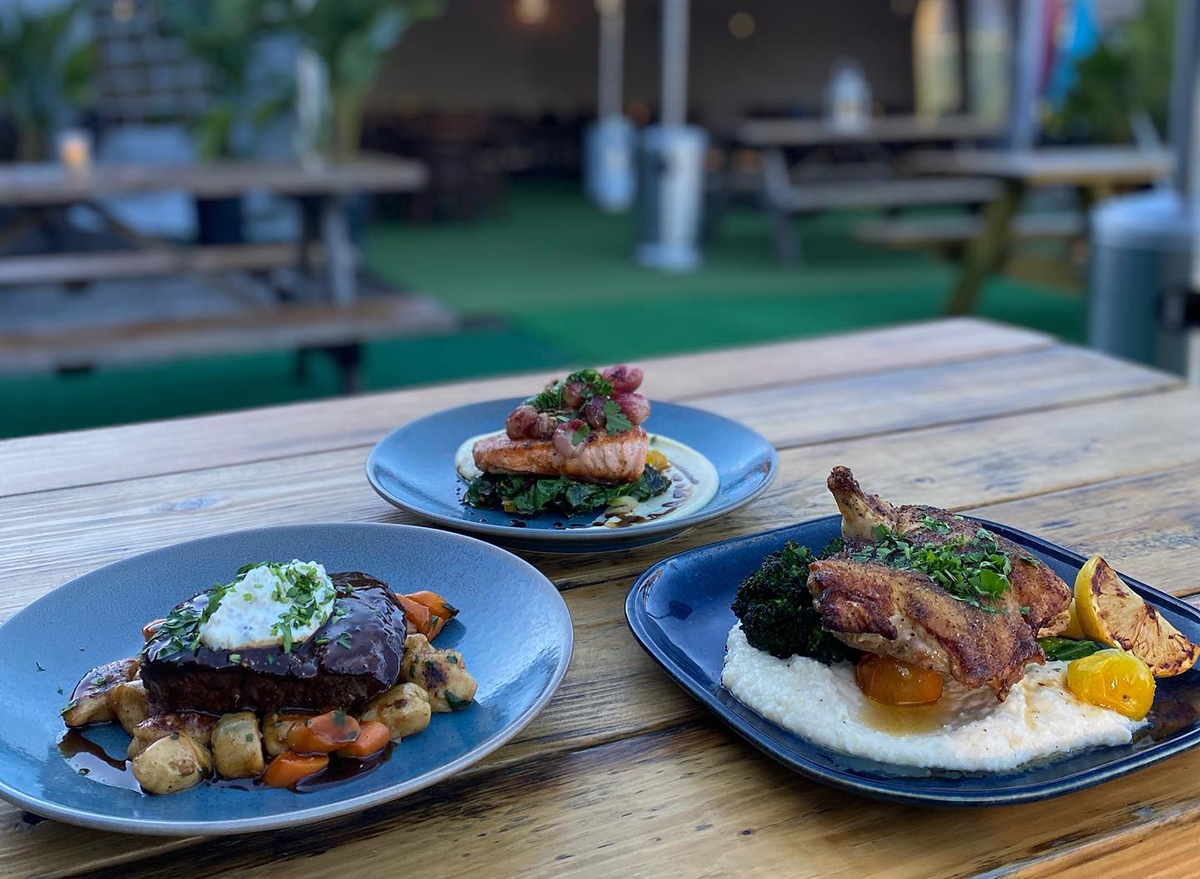 Dine in glamping-style tents at One Door North, a camp-inspired restaurant with a s'mores platter on the dessert menu. The restaurant embraces seasonality with its steaks, stone-baked flatbreads, fish dishes, and more.
COLORADO: Casa Bonita in Lakewood
A birthday party invite to Casa Bonita is a golden ticket. You know this if (a). you grew up in Colorado or (b). you are a South Park fan and recall the episode in which Cartman committed a full-on felony to get on the birthday party shortlist at this majestic pink palace in a suburban strip mall. The thing is, you don't come to Casa Bonita for the food. (It's cafeteria-style enchiladas.) You come for the pageantry and hope for a table next to the 30-foot waterfall where cliff divers sword fight and get fake stabbed before making dramatic plunges into a fluorescent-lit pool. There's also a spooky cave, an actor in a gorilla suit, puppet shows, roving mariachi bands, unlimited sopapillas—and a lot of fun to be had in this 52,000-square-foot cavernous restaurant.
NOTE: Casa Bonita is temporarily closed until April 15, 2021, according to Yelp.
CONNECTICUT: Citizen Chicken and Donuts in West Hartford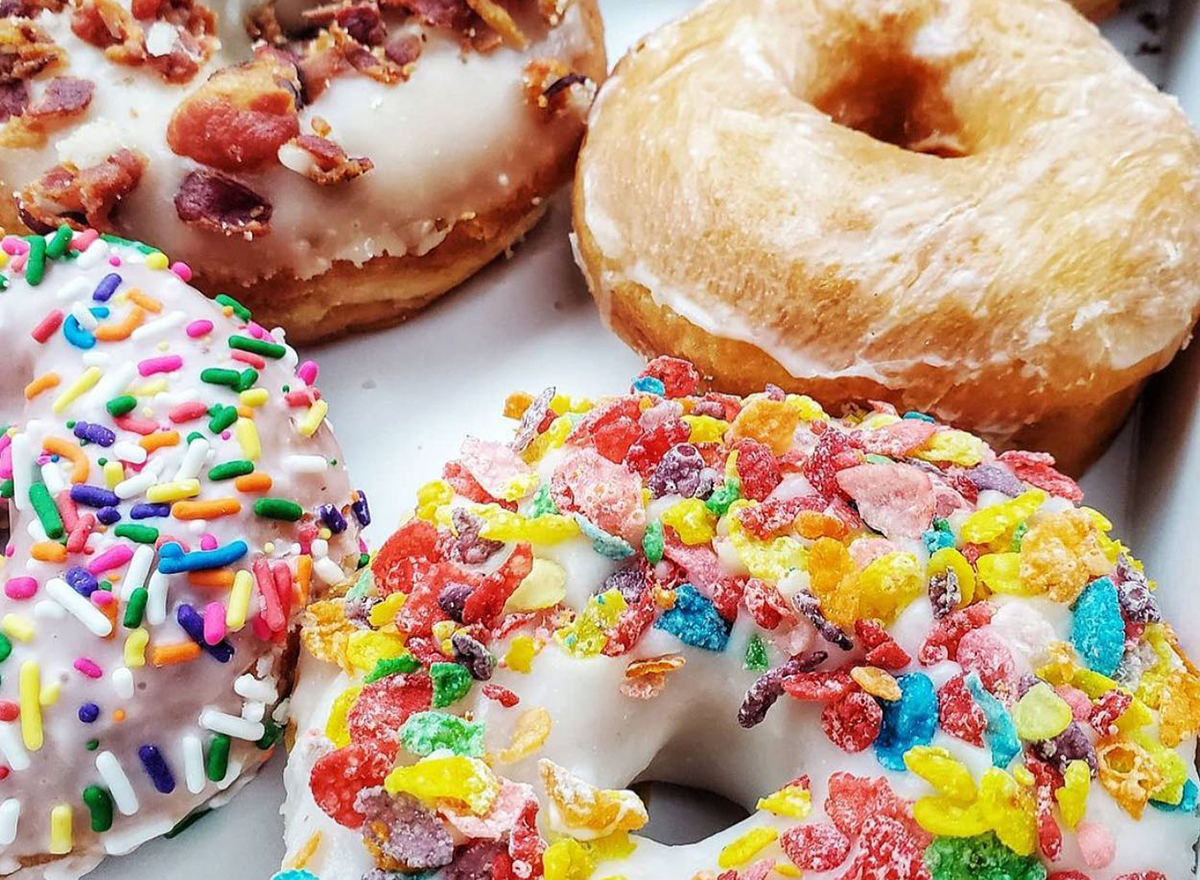 Forget boring buns. At Citizen Chicken and Donuts, you can order a specialty sandwich that sandwiches a fried chicken breast between two donut rolls for the ultimate sweet-and-savory combo.
DELAWARE: Harpoon Hanna's in Fenwick Island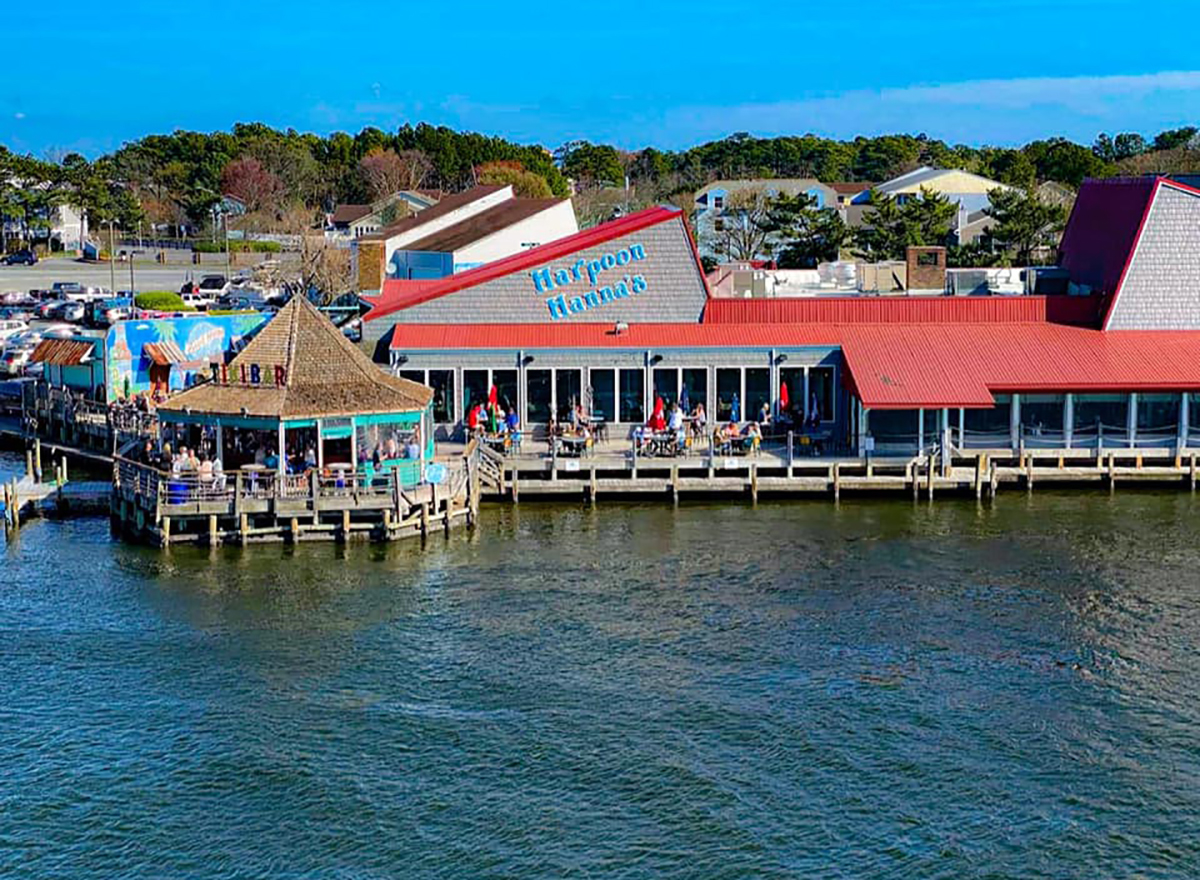 You can arrive at Harpoon Hanna's via car. But it's more fun to cruise in on the water, dock your boat, and order an island-inspired drink from the bar. The restaurant hosts live music and themed trivia, and you can enjoy crab dishes with waterfront views.
FLORIDA: Water Pig BBQ in Pensacola Beach
Water Pig BBQ has everything you'd want at an epic beach barbecue. We're talking beautiful water views on a private beach, a live music program, yard games, frozen cocktails, and an award-winning pitmaster who is manning a gigantic smoker that can handle up to 700 pounds of meat at a time. Plus, Water Pig is a great spot to hang on Game Day, thanks to an outdoor big screen that rivals the ones in movie theaters.6254a4d1642c605c54bf1cab17d50f1e
GEORGIA: Ponce City Market in Atlanta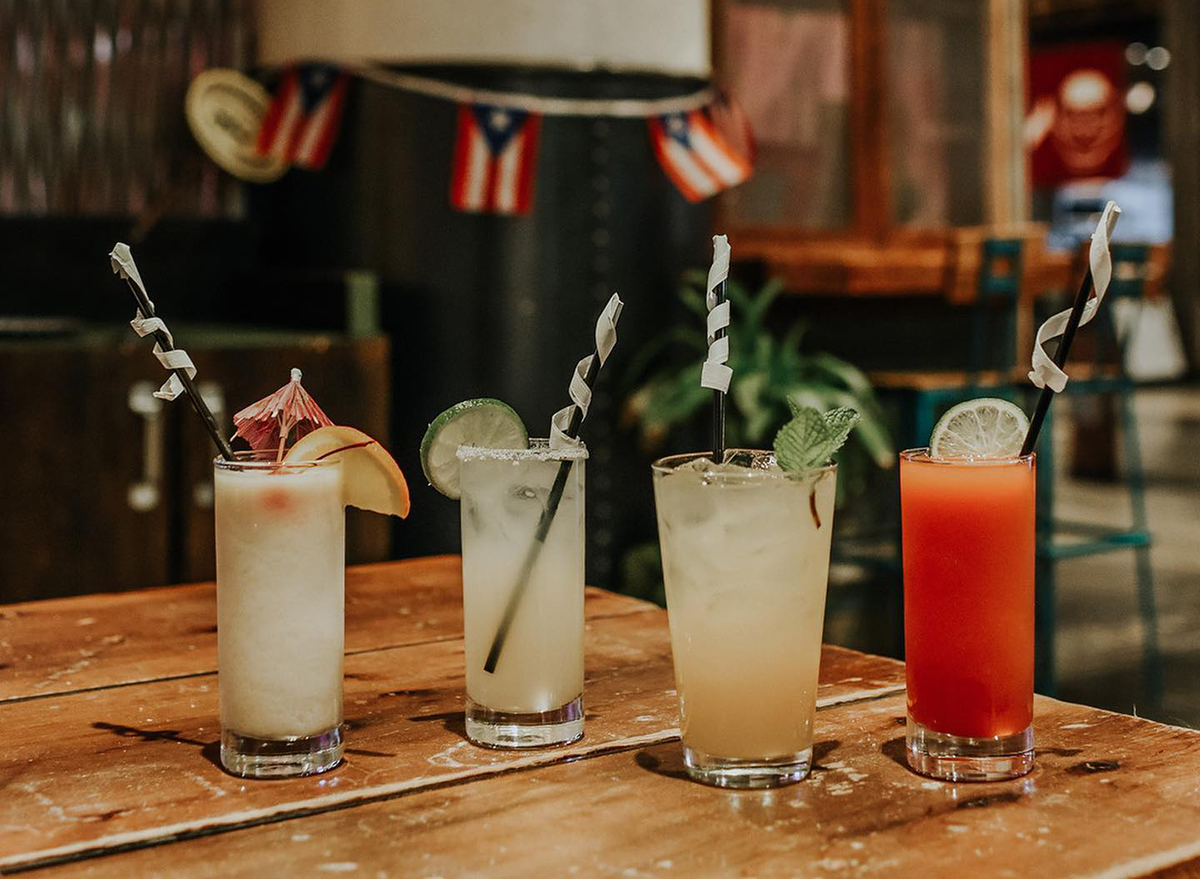 You've got your pick of restaurants at this thriving food hall, with dine-in restaurants and grab-and-go stations that are dishing out seafood, burgers, sushi, house-made pasta, edible cookie dough, and boozy popsicles. After you finish your meal, ascend to Ponce City Market's rooftop for carnival games, miniature golf, rides, and panoramic views of Atlanta at Skyline Park.
HAWAII: Legends of Hawaii Luau in Waikoloa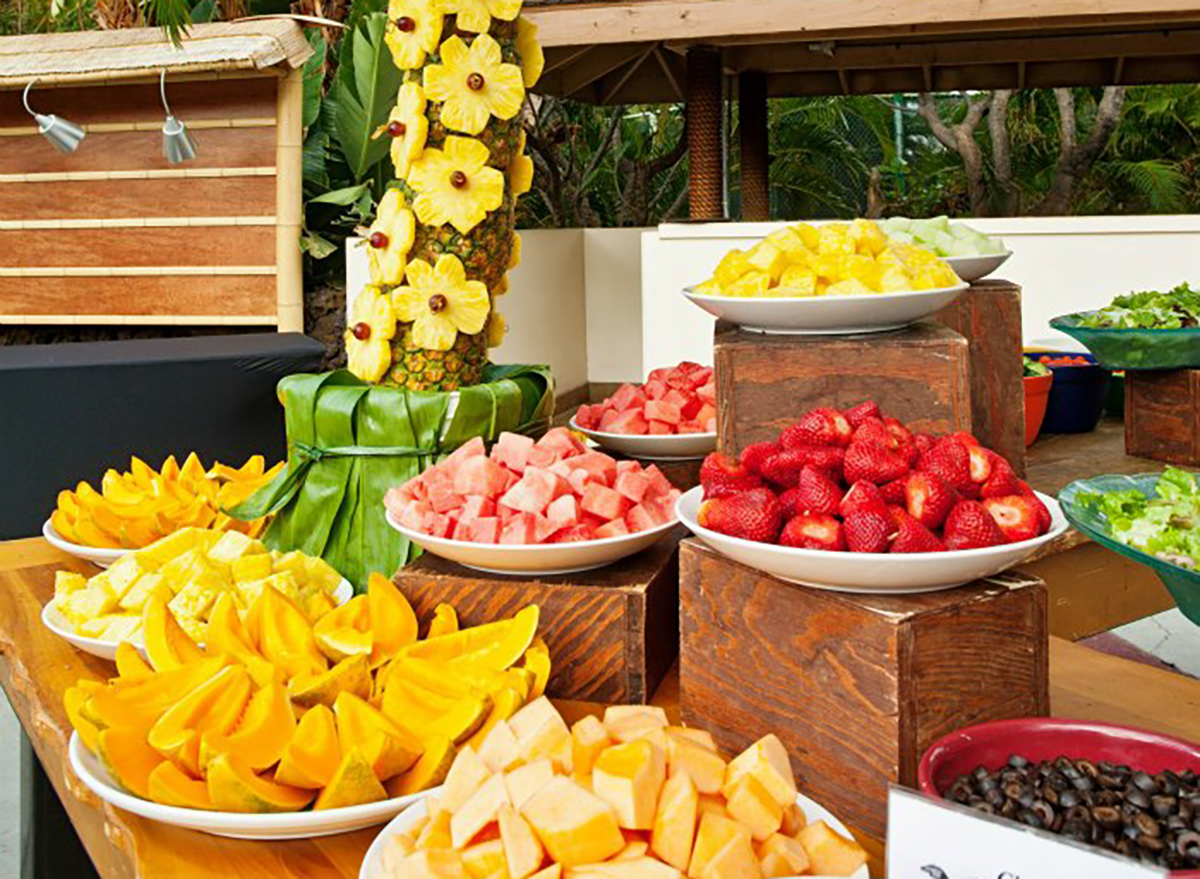 When in Hawaii, one of the most festive experiences you can have is attending a luau. These feasts include music and cultural performances from Hawaii and greater Polynesia. While you can phenomenal luaus throughout the islands, the Legends of Hawaii Luau at Hilton Waikoloa Village is a popular one. The evening of food, song, and storytelling culminates with a fire knife dance.
IDAHO: Taphouse Unchained in Coeur d'Alene
Your first order of business: Hop on the stationary "margarita bike," which powers the blender that mixes your tequila cocktail as you pedal. Taphouse Unchained is a cyclist-themed restaurant that's located near the Centennial Bike Trail in downtown Coeur d'Alene.
ILLINOIS: SafeHouse in Chicago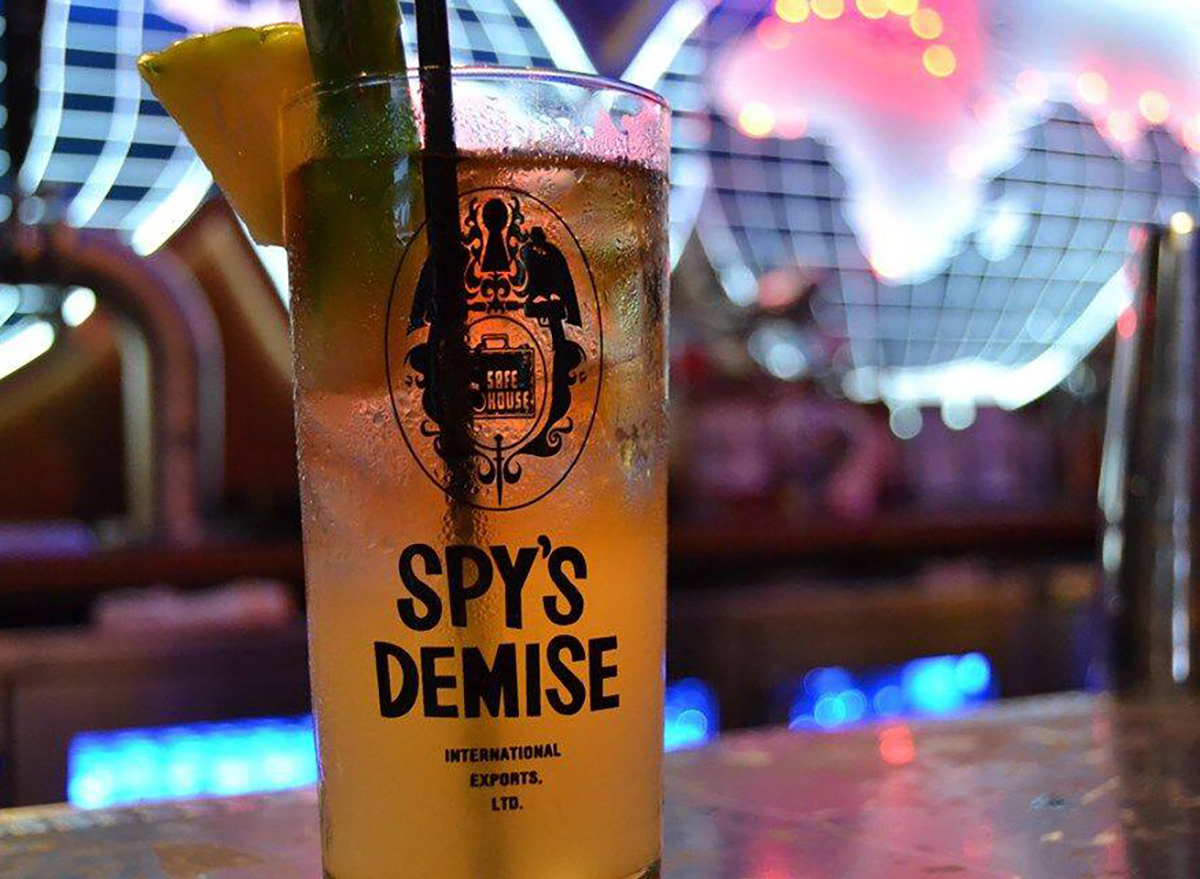 Your first mission, should you choose to accept it, is to find the unmarked entrance to SafeHouse, a spy-themed restaurant. We'll give you a hint: It's bright red. Of course, you'll need a password to gain entry (or, you can pass a fun clearance test to prove you're a good agent). Once inside, the restaurant is decked out in decor that will make you feel like you've been cast in a James Bond movie. Play a game of Eye Spy with the menu and see how many espionage-themed dishes you can find.
NOTE: SafeHouse Chicago is temporarily closed, according to Yelp.
INDIANA: The Garage Food Hall in Indianapolis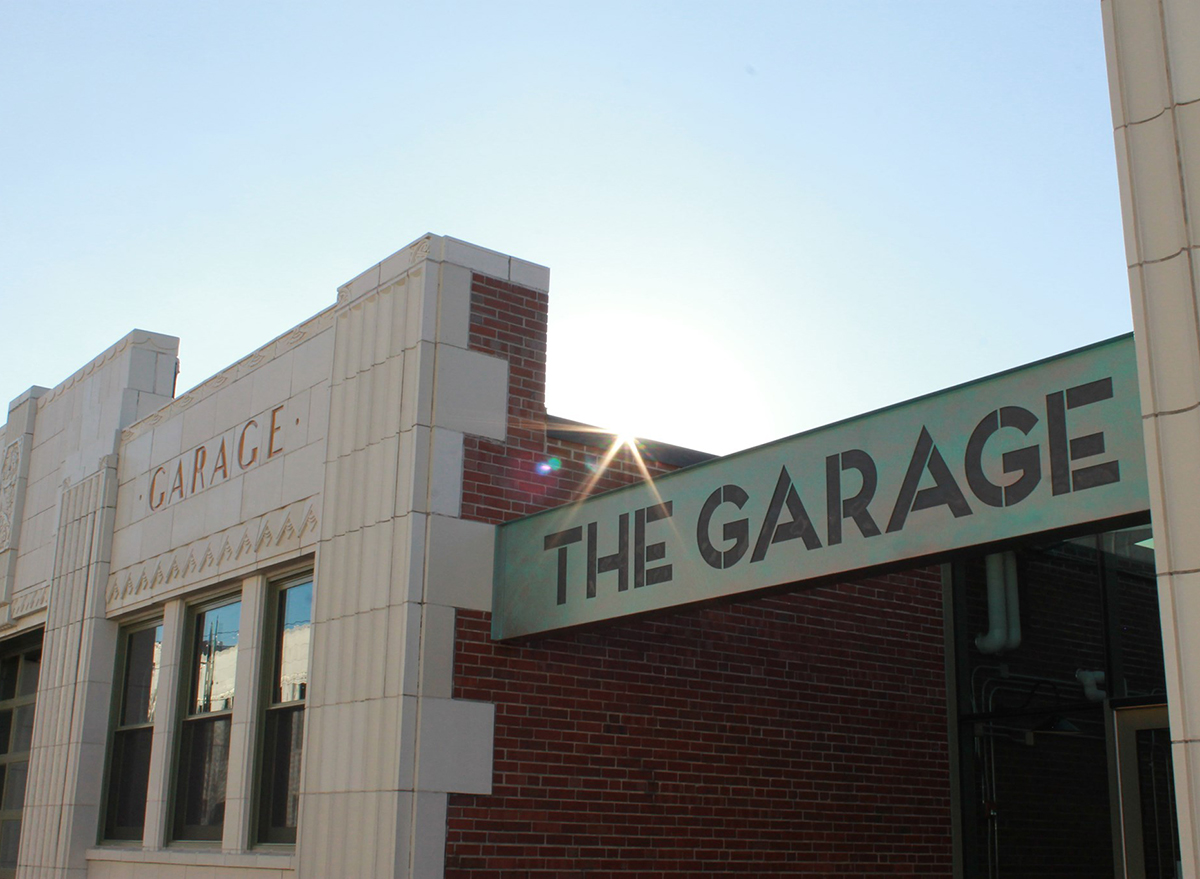 From poke to pizza, you can find all types of fare at The Garage Food Hall. Coordinate your visit with the entertainment calendar; local DJs frequent this hip complex.
IOWA: Zombie Burger and Drink Lab in Des Moines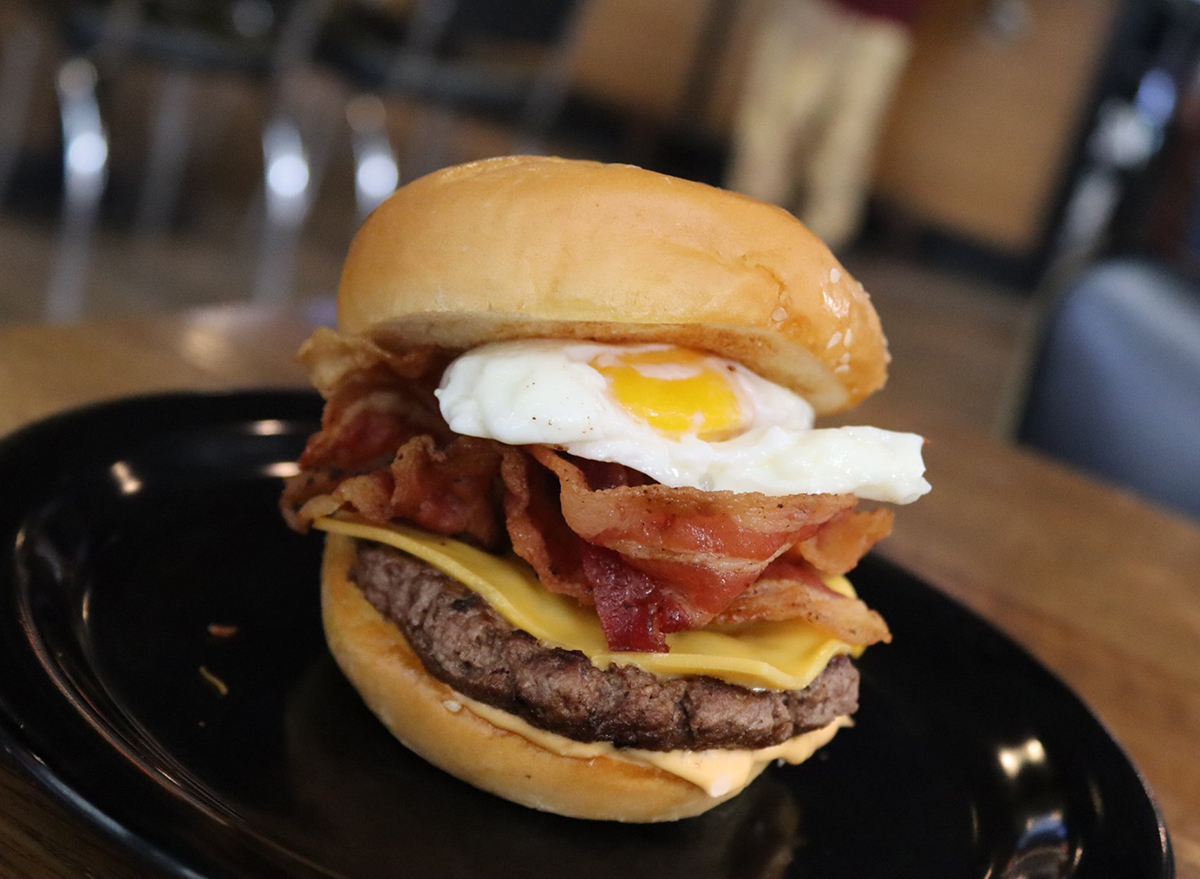 Dare we say the burgers here are … goremet? Burgers and shakes are served in a "post-apocalyptic chic" setting at Zombie Burger and Drink Lab. A lot of creativity went into the menu, with burgers like "The Walking Ched," which is topped with macaroni and cheese.
KANSAS: Chicken N Pickle in Wichita
With a clever name, Chicken N Pickle is an entertainment complex and fast-casual restaurant that has, you guessed it, chicken sandwiches. But… there are also pickleball courts. Or, you can hold the pickle and play bocce ball, shuffleboard, or a variety of lawn games. In the winter, bundle up and hit the Chicken N Pickle Ice Pond to enjoy ice skating, curling, and hockey.
KENTUCKY: Recbar in Jeffersontown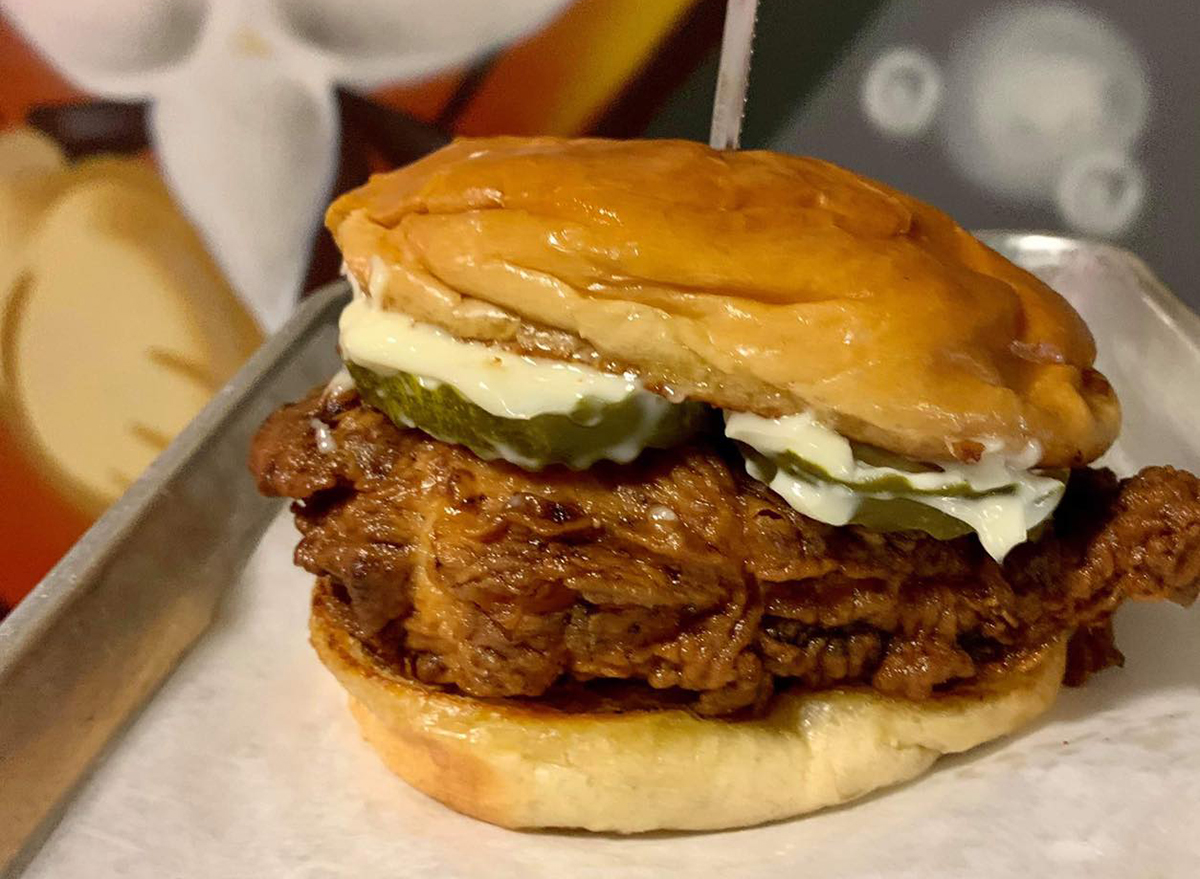 Recbar has more than 130 games, including five dozen pinball machines, plus vintage arcade games, skeeball, and more. The fun doesn't stop there, though; you'll also find an 8-bit themed menu with chicken tenders breaded in frosted flakes.
LOUISIANA: Carousel Bar and Lounge in New Orleans
You have to be 21 to ride this iconic carousel that's inside Hotel Monteleone. With 25 seats, the merry-go-round rotates every 15 minutes as bartenders make classic and contemporary cocktails. The Carousel Bar and Lounge serves New Orleans-style bites as well, including gumbo and crawfish pies.
MAINE: Andy's Old Port Pub in Portland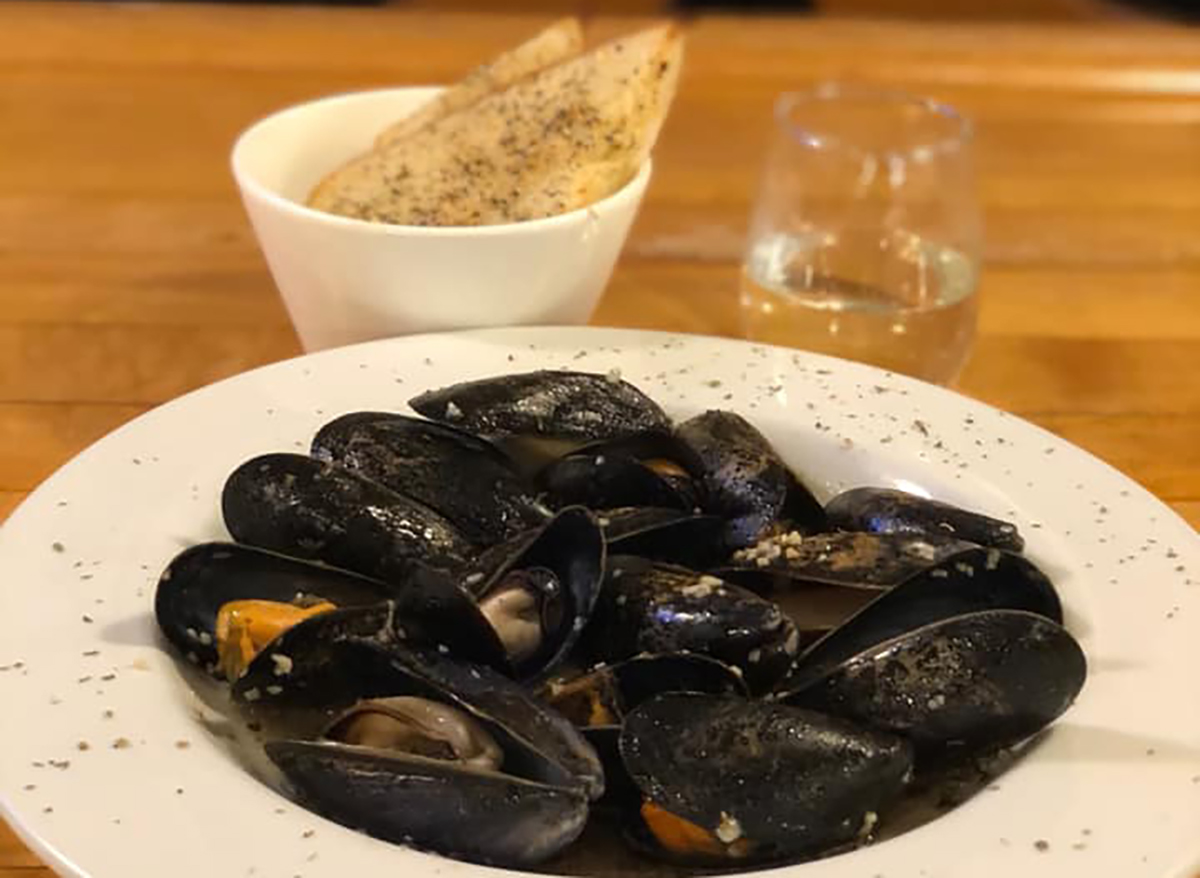 From rock n' roll to pop to country, live acoustic style music plays nightly at Andy's Old Port Pub. The tucked-away waterfront watering hole is known for its sustainable seafood dishes (and you just might sit at a table next to the fisherman who brought in the day's fresh seafood).
MARYLAND: Papermoon Diner in Baltimore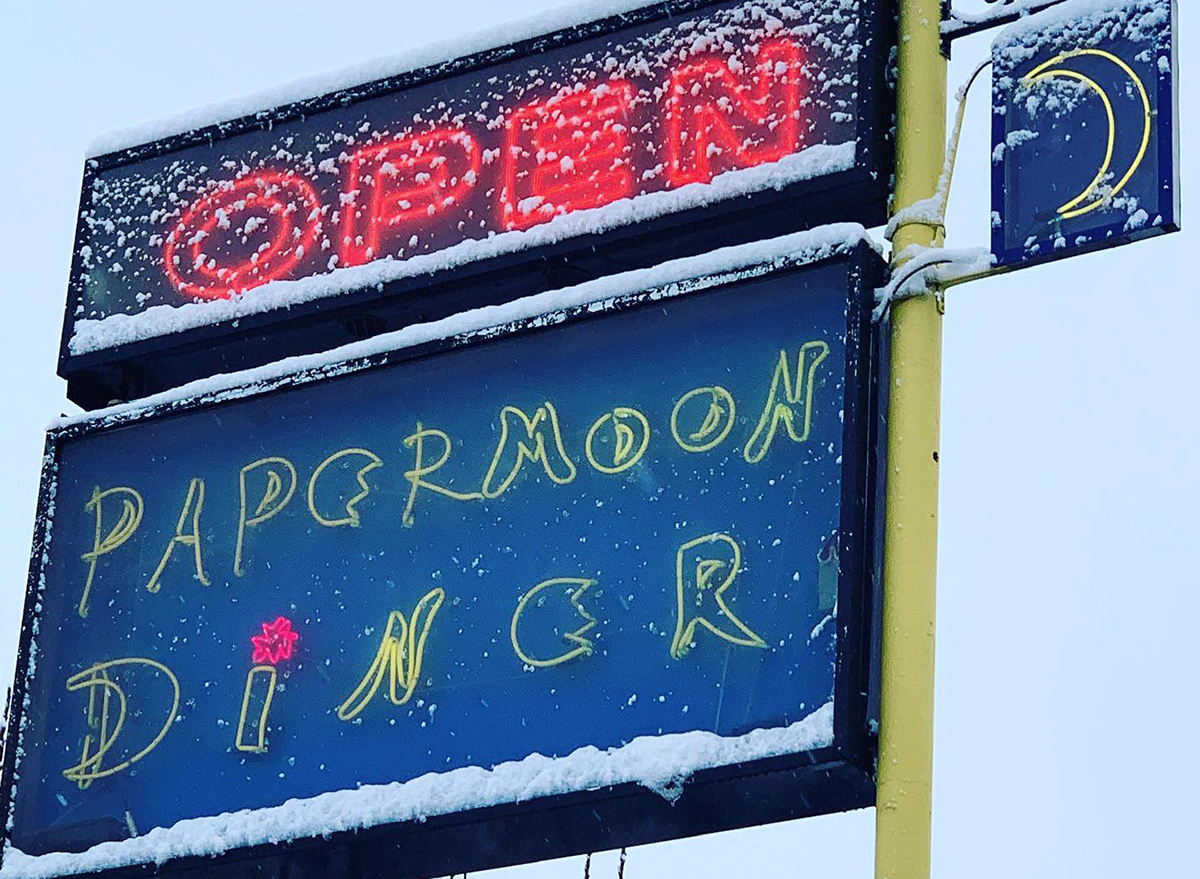 Filled with eclectic art like painted mannequins and a curated collection of Pez dispensers, Papermoon Diner practically doubles as a quirky museum. Or maybe a knick-knack gallery? Reviewers rave about the inventive milkshakes, like bacon and "Captain Krunch."
MASSACHUSETTS: Mr. Mac's in Tyngsboro and Westford
An entire restaurant dedicated to mac and cheese? Yes, please! For the traditionalists, there's a classic mac dish. But other dishes at Mr. Mac's like the Lobstah Mac, Garden Veggie Mac, and Blazin' Buffalo Chicken prove just how versatile this childhood classic can be.
MICHIGAN: Bavarian Inn Restaurant in Frankenmuth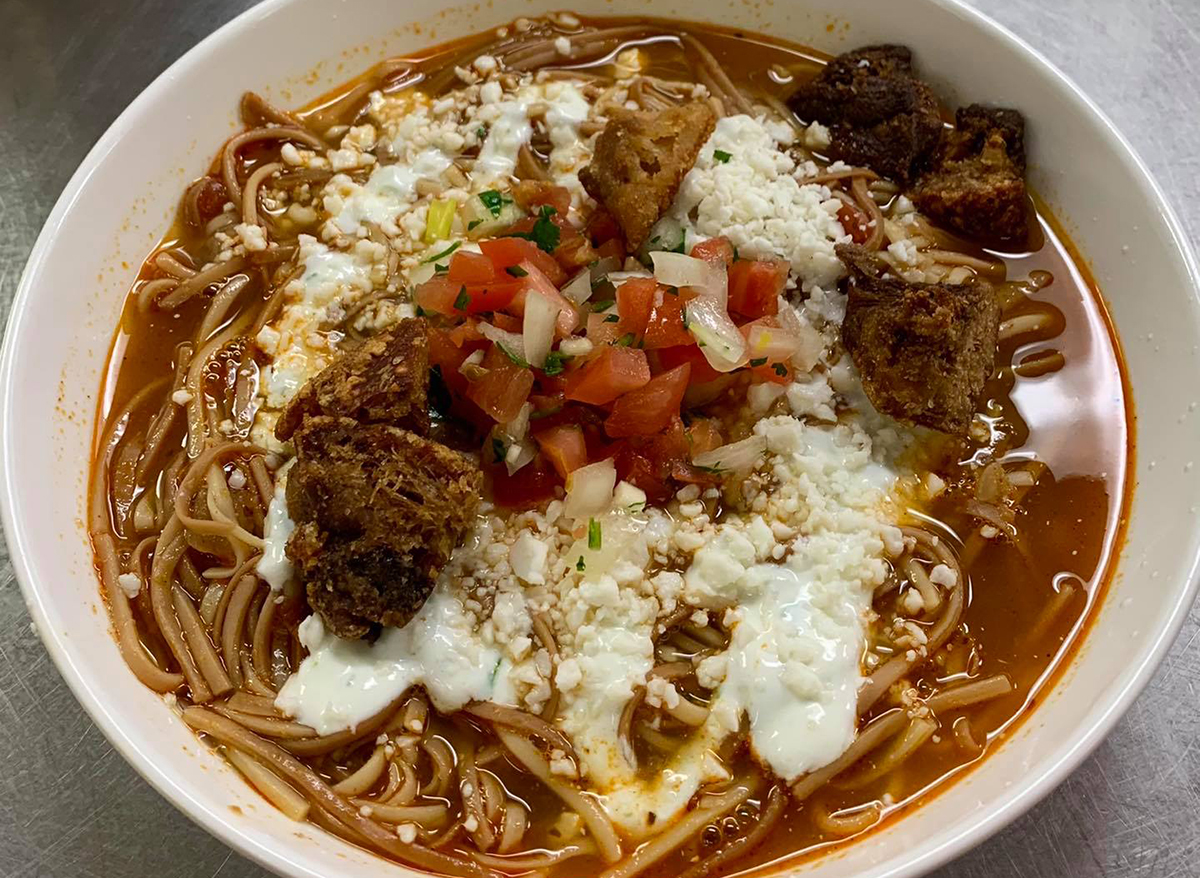 Frankenmuth is known as "Michigan's Little Bavaria." To get a taste of the town, visit the iconic Bavarian Inn Restaurant, a themed restaurant that serves classic fried chicken dinners and authentic German dishes like schnitzel and sauerbraten.
MINNESOTA: Can Can Wonderland in Minneapolis
Can Can Wonderland posed a question to mini-golf enthusiasts: "What mini golf hole have you always wanted to play?" Then, artists got to designing. The result is an 18-hole putt-putt course with holes that include "Hot Tub Time Machine," "State Fair," and "Gramma's Living Room." Order an artisanal pizza before hitting the putt-putt course.
MISSISSIPPI: Johnnie's Drive-In in Tupelo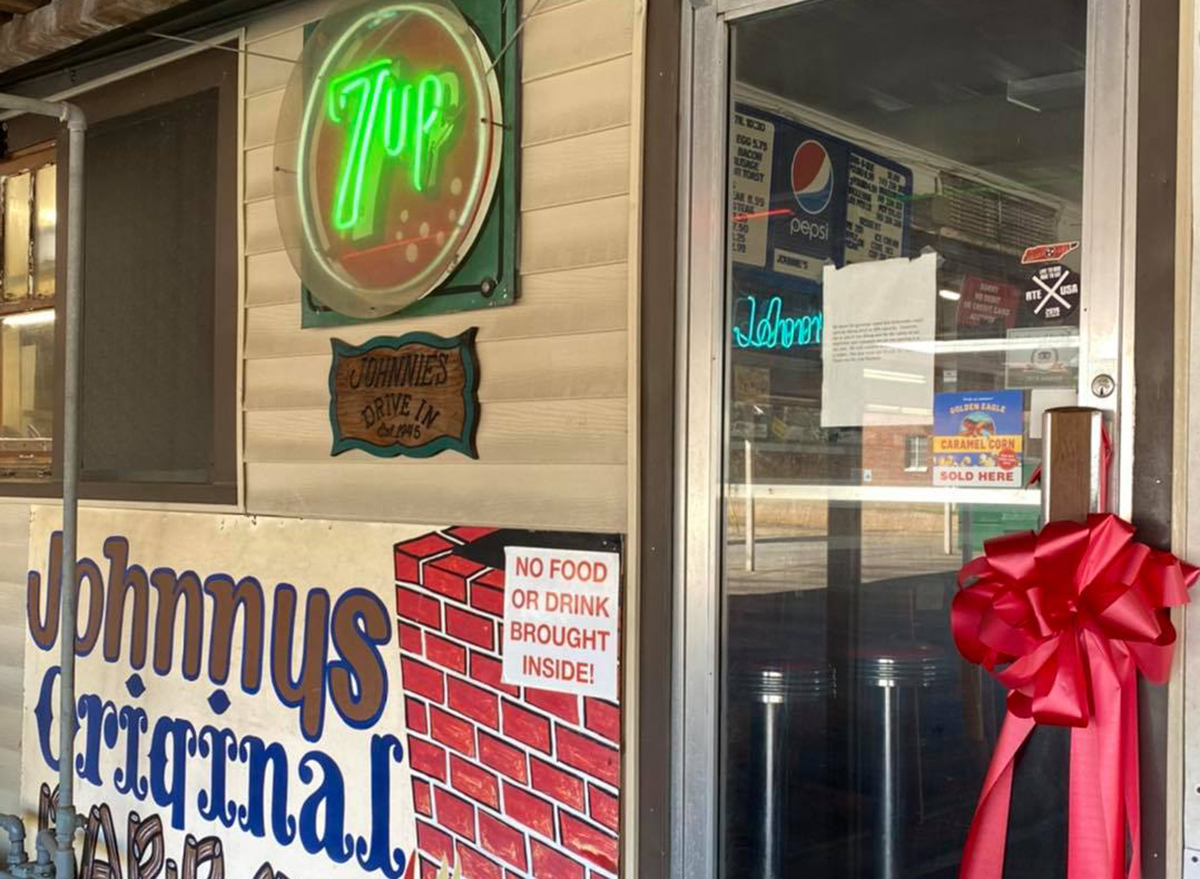 Request the "Elvis Booth" if you can. Johnnie's Drive-In is the iconic diner serving burgers and shakes. A young Elvis Presley and his friends frequented the drive-in for burgers, and the restaurant is a tasty stop on the Elvis Presley Driving Tour.
MISSOURI: Lambert's Cafe in Ozark and Sikeston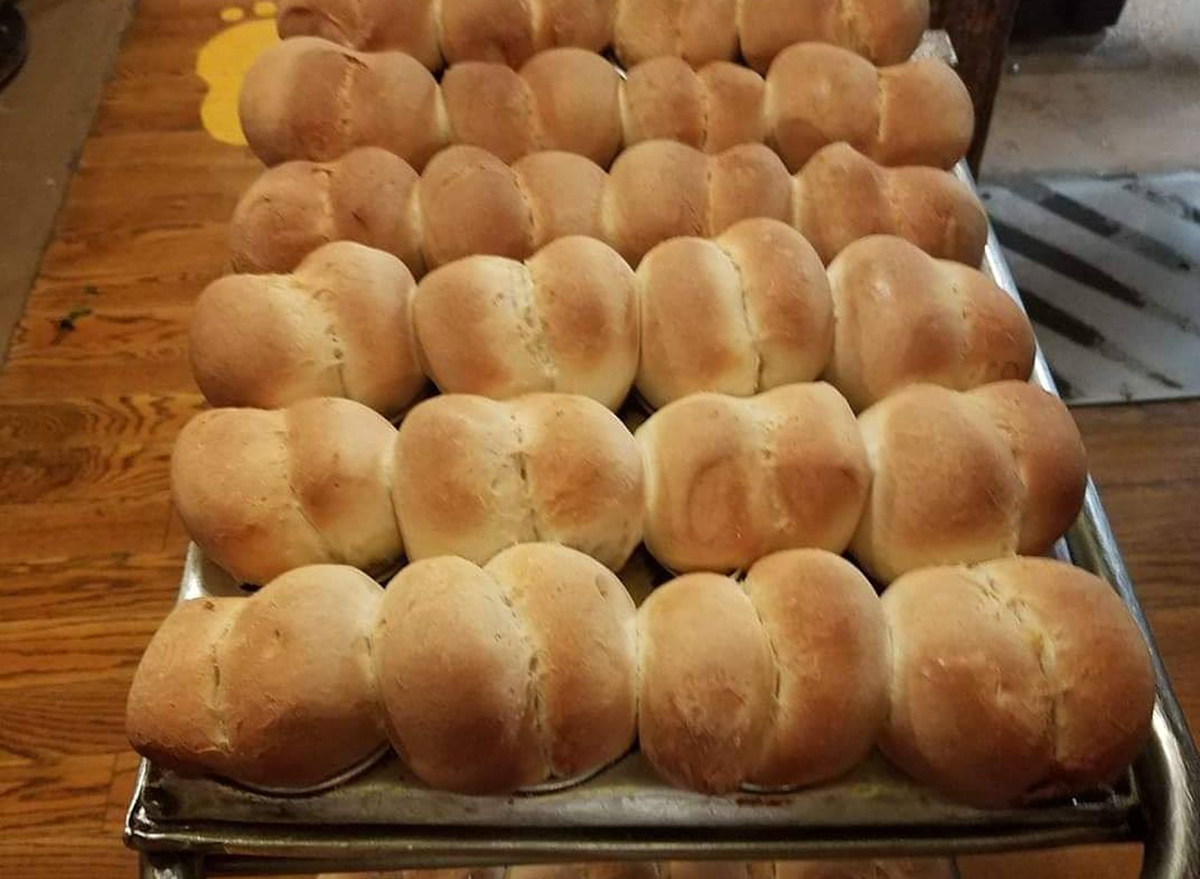 Breadbasket? Boring! The servers at Lambert's Cafe throw rolls to customers. The cafe cranks out 520 of the famed rolls every day.
MONTANA: Sip 'N Dip Lounge in Great Falls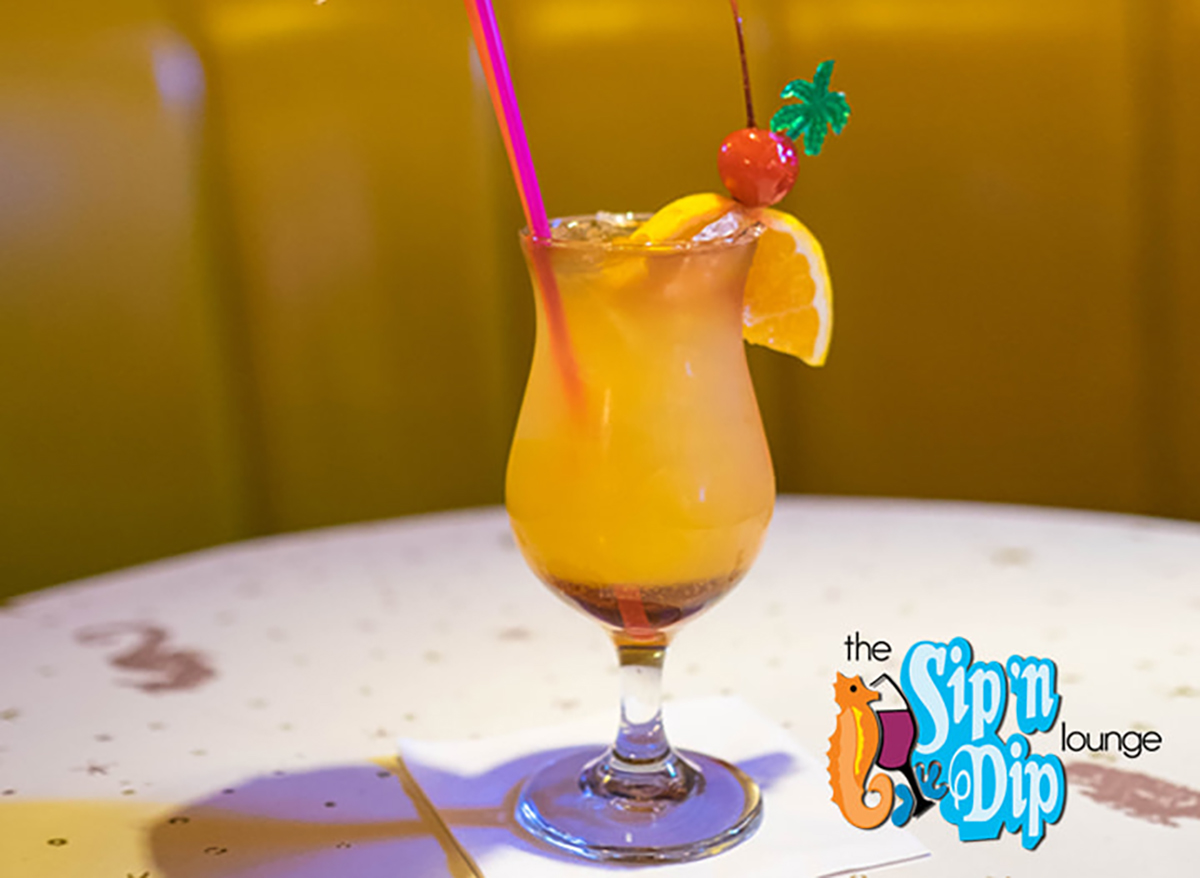 Mermaids in Montana? You'll spot them when you sidle up to the bar at Sip 'N Dip Lounge. A glass window behind the bar gives a glimpse into the O'Haire Motor Inn's pool, where mermaids perform for bar and brunch crowds.
NEBRASKA: Screamers Dining and Cabaret in Lincoln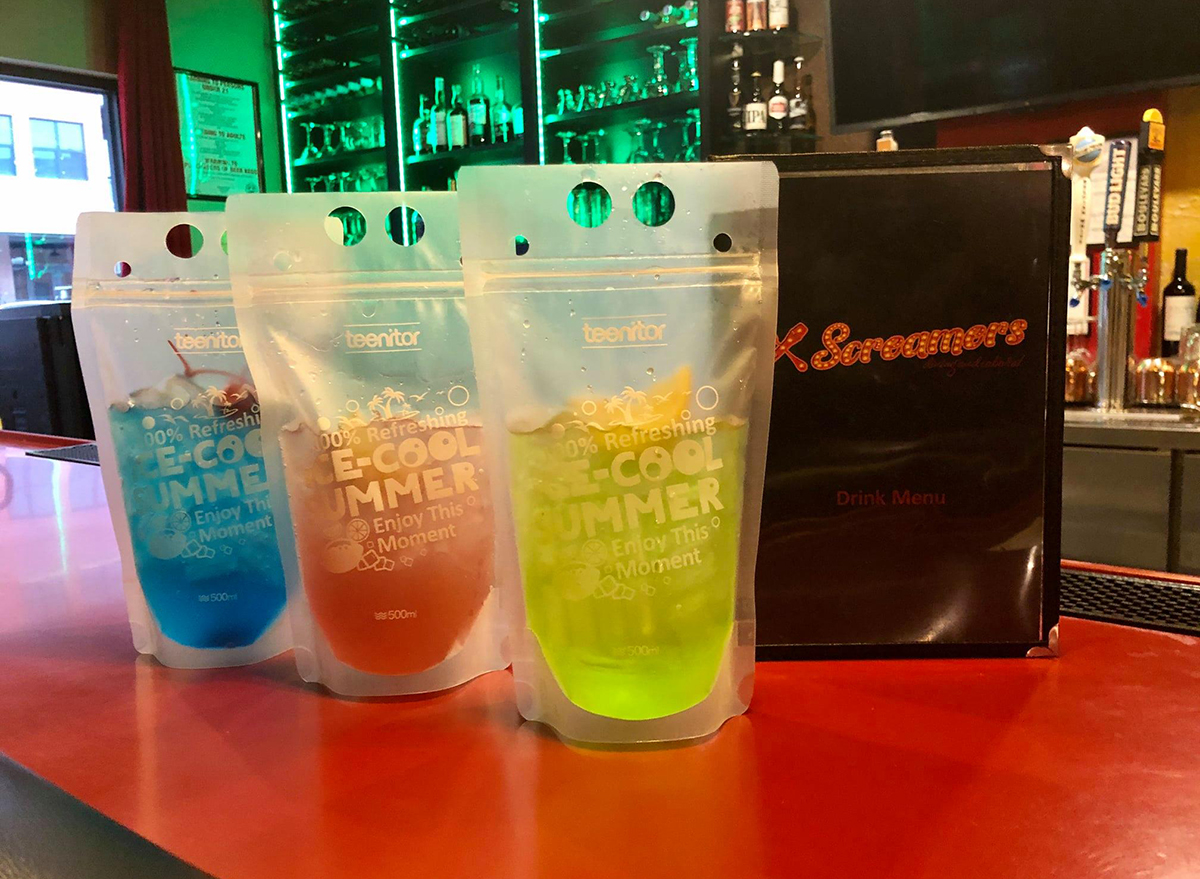 Known for its "singing servers," Screamers Dining and Cabaret puts on live musical performances performed by the staff. There's also the occasional comedy show to keep things interesting.
NEVADA: Top of the World in Las Vegas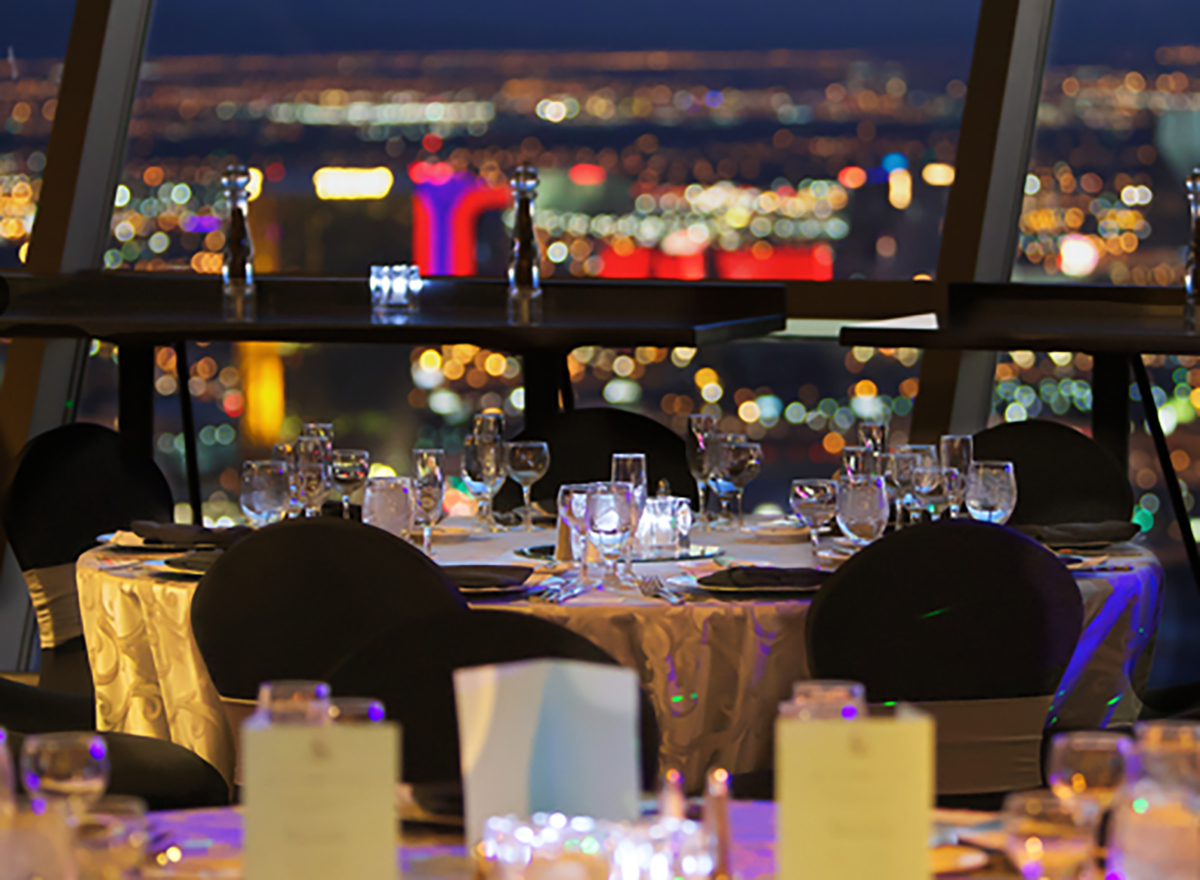 There's no shortage of interesting dining experiences you can have in Las Vegas. But for a true dinner with a view experience, ascend to the Top of the World restaurant in The STRAT Hotel, Casino, & Skypod. The dining room revolves 360 degrees every 80 minutes, so you can get sweeping views of Sin City while eating steak and seafood.
NEW HAMPSHIRE: Boards and Brews in Manchester
Boards and Brews has a library of more than 1,700 games. The board game cafe serves sandwiches, snacks, and salads.
NEW JERSEY: Tio Taco + Tequila Bar in Edison and Marlboro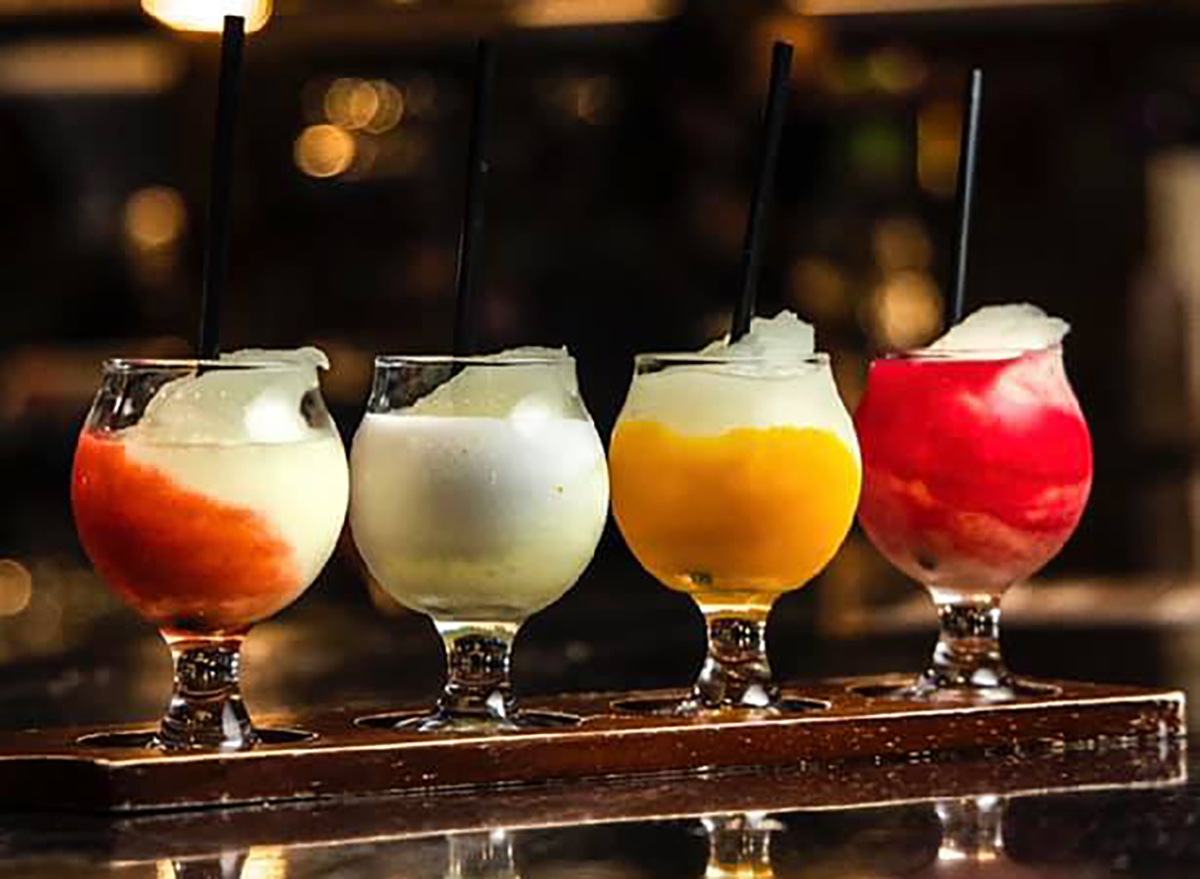 Tio Taco + Tequila Bar's menu is packed with fun, from the flight of frozen margs all the way through to the rum banana chimichanga cheesecake in the dessert section. For added entertainment, the Edison location is right down the road from Top Golf.
NEW MEXICO: Santa Fe School of Cooking in Santa Fe
The most delicious history lesson you'll ever have is at the Santa Fe School of Cooking. Learn how to make New Mexican cuisine like green chile dishes and bizcochitos, New Mexico's official state cookie.
NEW YORK: Clyde Frazier's Wine and Dine in New York City
Located in Hudson Yards, Clyde Frazier's Wine and Dine is a swanky sports bar that has a free-throw basketball court, more than 40 televisions, and limited-release whiskeys. New York Knicks basketball star Walt "Clyde" Frazier is a restaurant partner.
NORTH CAROLINA: Queen Park Social in Charlotte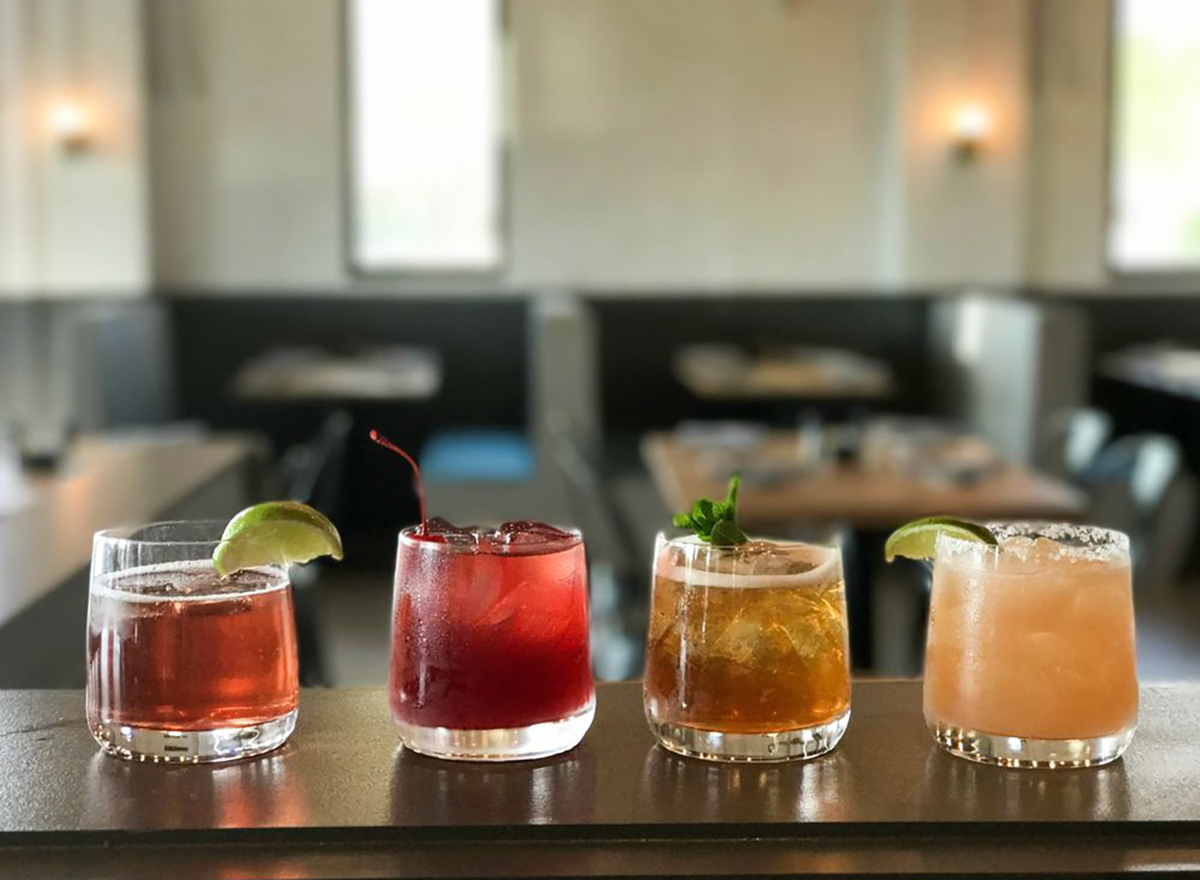 This restaurant has a "director of fun" who's in charge of the fun and games, which include bowling, shuffleboard, ping pong, Skee Ball, darts, arcade basketball, and more. Queen Park Social also has a menu full of burgers, wraps, tacos, and salads.
NORTH DAKOTA: Space Aliens Grill and Bar in Bismarck and Fargo
Space Aliens Grill and Bar is an outer space-themed restaurant that serves traditional earthling fare like pizza and burgers. Spaceship decor and arcade games round out the galactic experience.
OHIO: Pins Mechanical Company in Columbus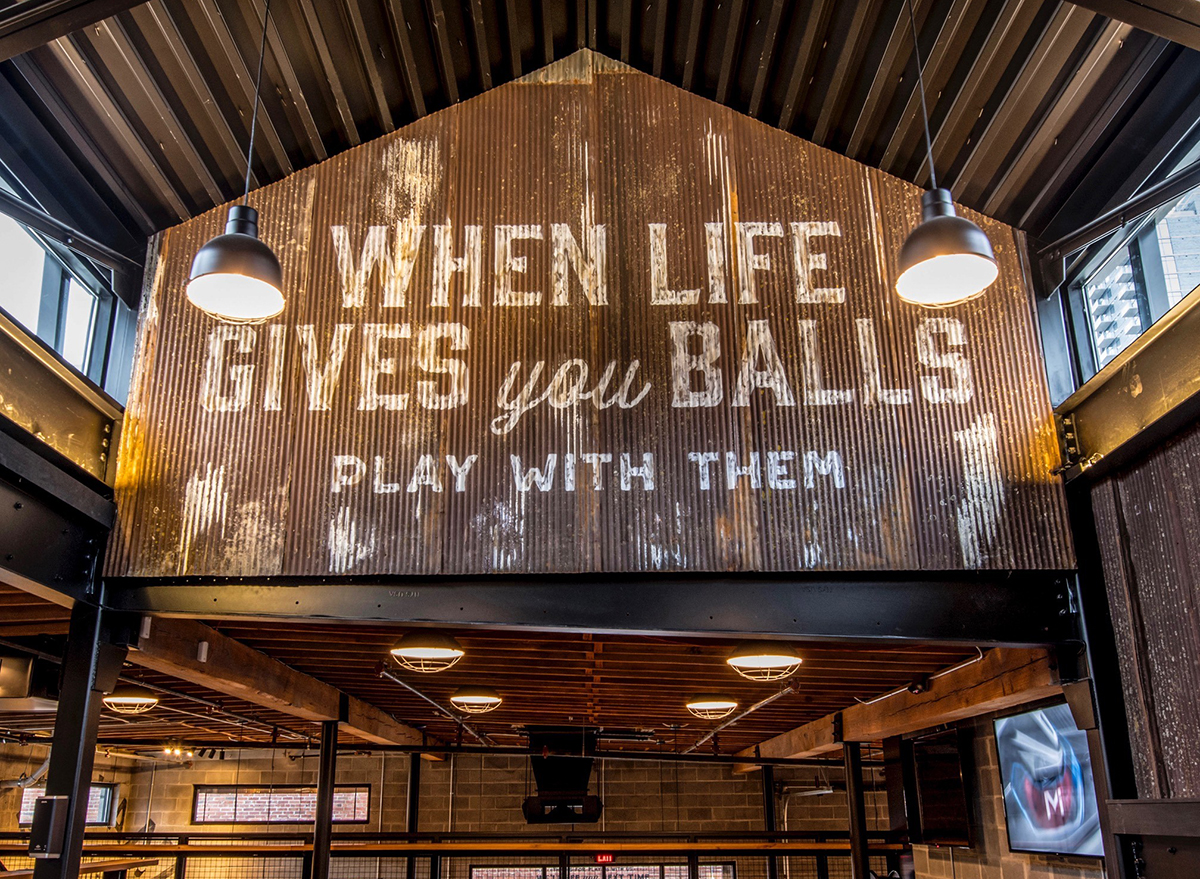 Foosball, duckpin bowling, ping pong, and pinball are all on the entertainment menu at Pins Mechanical Company, which serves craft cocktails, beer, and wine. A rotating lineup of food trucks brings the eats, so go ahead and wager a lunch bet.
OKLAHOMA: Pops 66 in Arcadia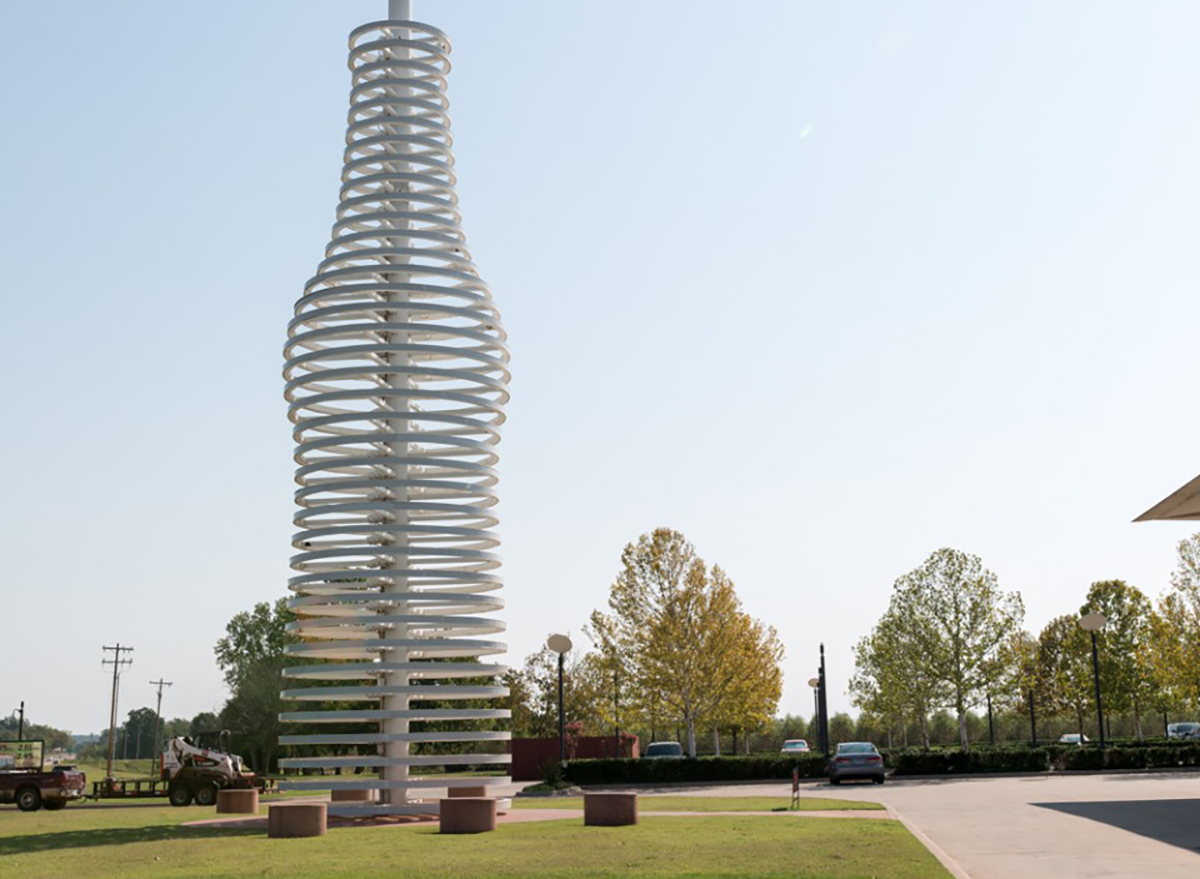 A roadside attraction featuring a 66-foot tall soda bottle sculpture, Pops 66 is an iconic landmark and diner on Route 66. You've got hundreds of sodas to choose from here, from classics like root beer to imaginative flavors like bacon and beef jerky.
OREGON: Leisure Public House in Portland
Bocce ball and bruschetta, anyone? Leisure Public House is a neighborhood joint where you can come to eat, drink, shop for plants, and play ping pong and bocce ball.
PENNSYLVANIA: Catacombs in Mount Joy
Below a 19th-century brewery is a subterranean fine dining restaurant. The aging cellars 40 feet below Bube's Brewery doubles as Catacombs restaurant, and on some nights, it's a dinner theater with pirates staging a show.
RHODE ISLAND: Camp Nowhere in Providence
Rubber duckies garnish fishbowl punch drinks at Camp Nowhere, a fun and affordable restaurant with $3.50 menu items. Tapped kegs are remade into barstools.
SOUTH CAROLINA: Pirates Voyage Dinner and Show in Myrtle Beach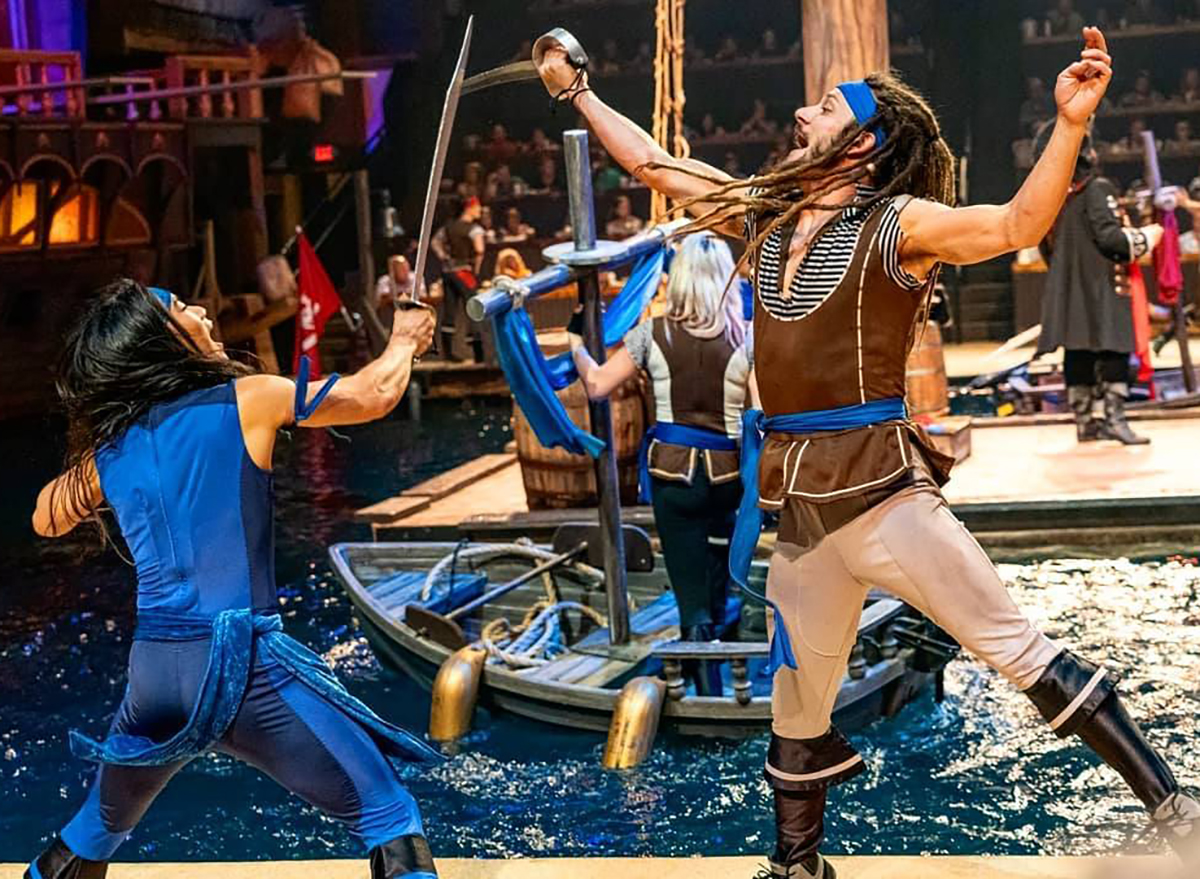 Enjoy a four-course feast as pirates put on a show. Pirates Voyage Dinner and Show involves acrobatics, fake sword fights, and an original music score by Dolly Parton.
SOUTH DAKOTA: Wobbly Bobby in Rapid City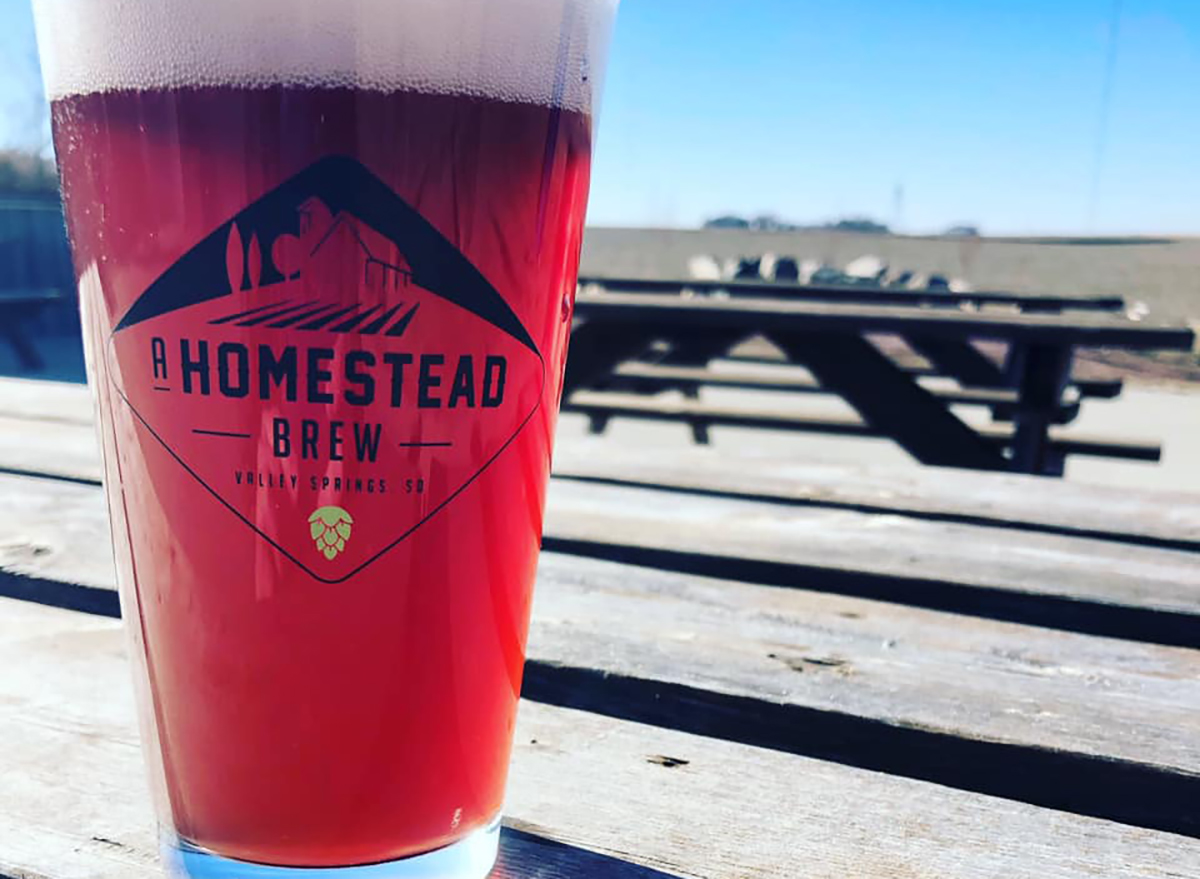 Bring your game face to this pub. Diners at Wobbly Bobby can play a game of chess, cribbage, or a board game. Choose between rare scotches or one of the 48 beers on tap.
TENNESSEE: Pinewood Social in Nashville
Make Pinewood Social your Sunday Funday destination. The hip restaurant also has two outdoor dipping pools, a half dozen bowling lanes, bocce ball, and an airstream slinging cocktails.
TEXAS: Punch Bowl Social in Austin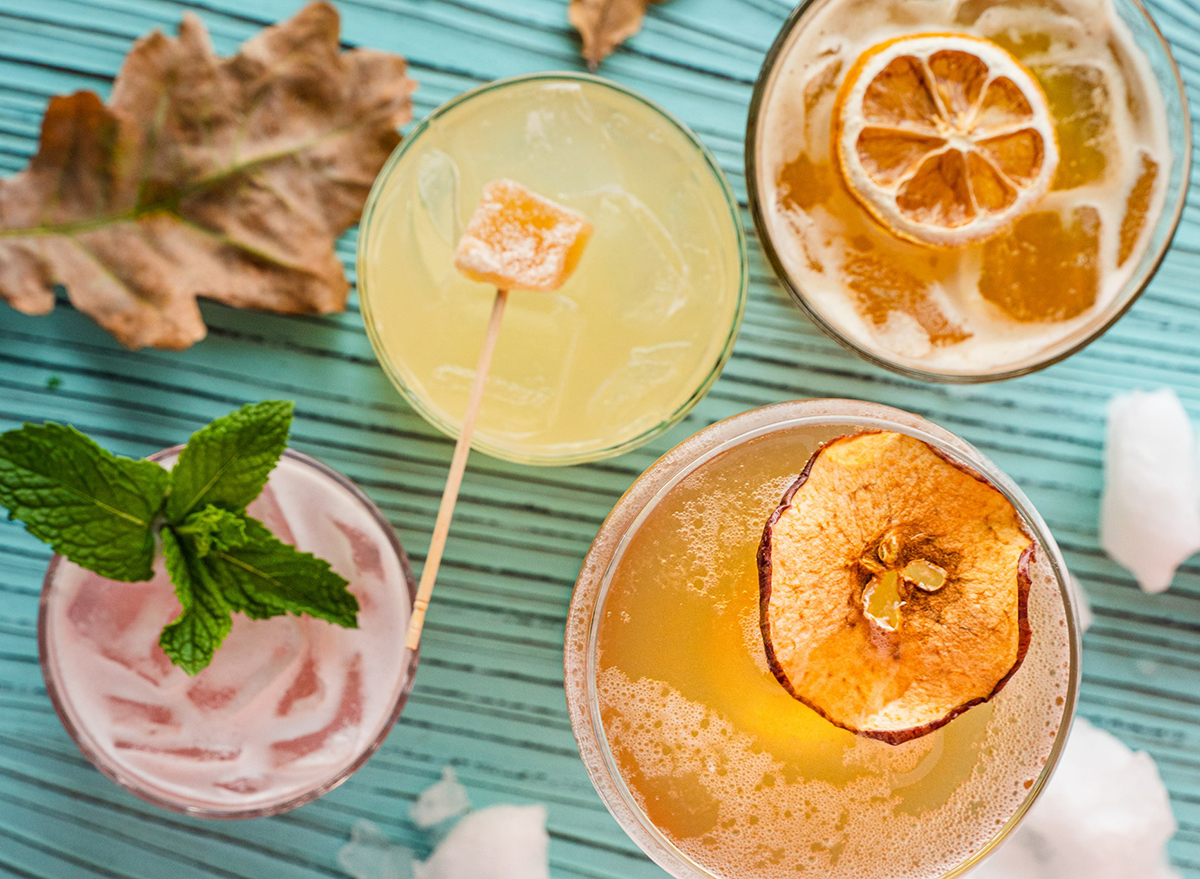 Consider Punch Bowl Social the Chuck E. Cheese of your adulthood. Sip on boozy punch and enjoy comfort food classics at this stylish restaurant that also has a 9-hole Putt Club, bowling, karaoke, and classic video games, plus an array of games like foosball, ping pong, and giant Jenga.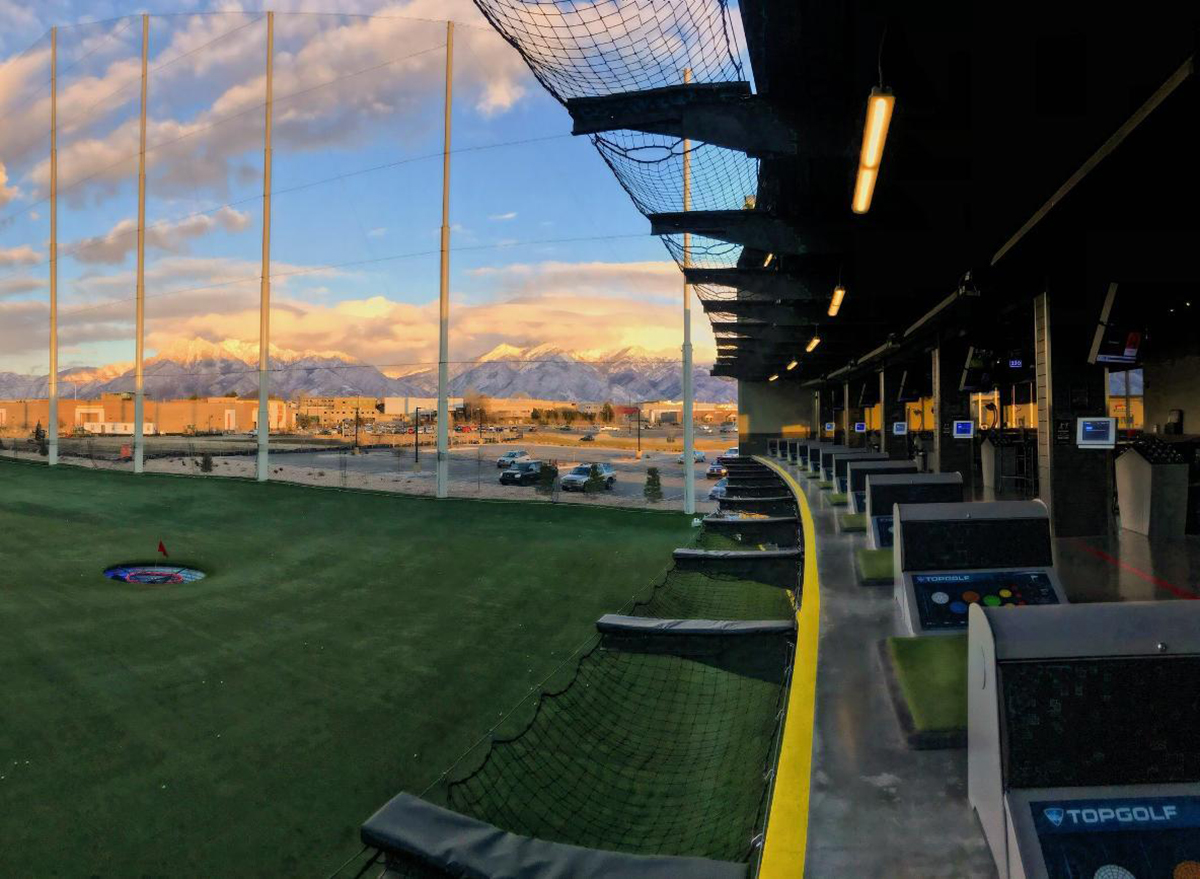 Reserve a bay and select from a menu of fun golf games at Topgolf. While you're whacking micro-chipped golf balls at giant dartboard-like targets, you can snack on elevated bar food like farmhouse flatbreads and buffalo chicken dip.
VERMONT: Casey's Caboose in Killington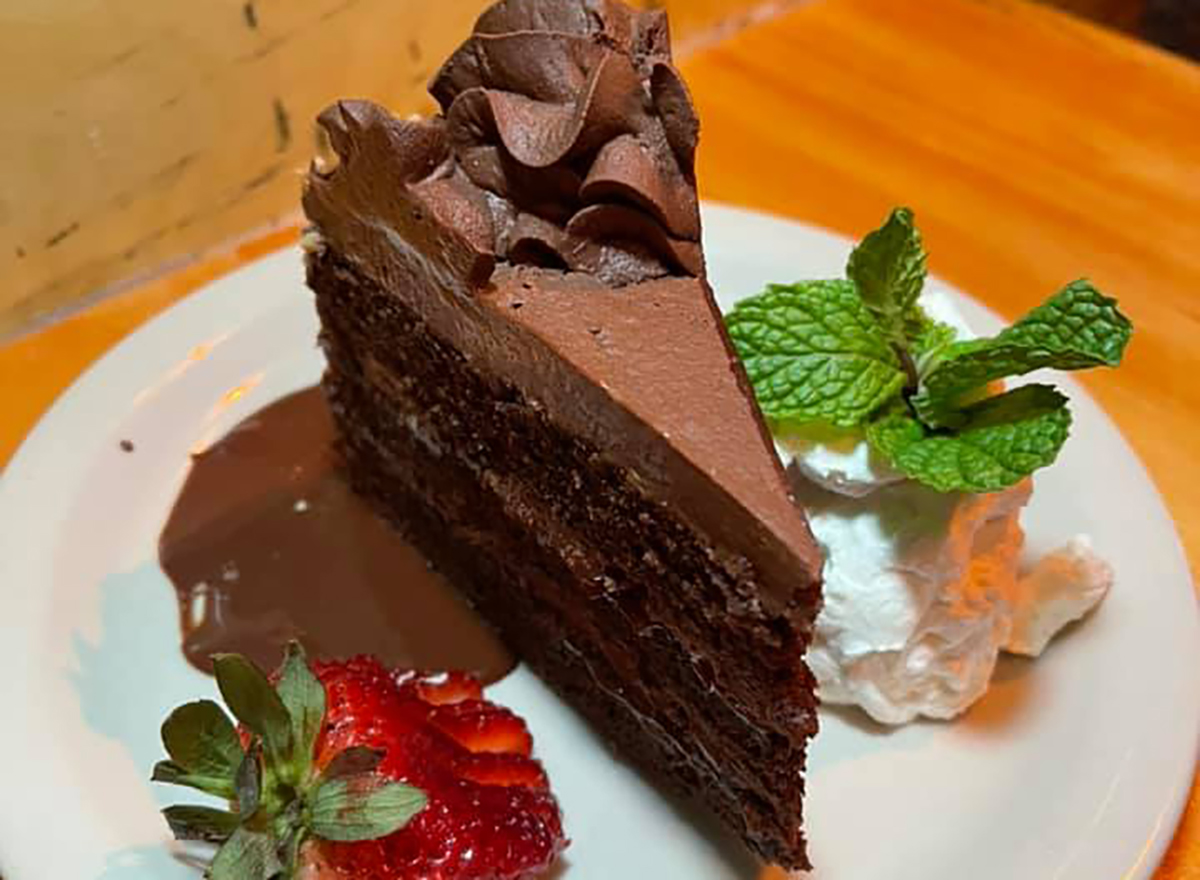 In its past life, this 35-ton railroad snowplow car kept the snow-drifted tracks of New England clear for trains. Now, it's an imaginative restaurant. Climb aboard Casey's Caboose and enjoy a burger, steak, or seafood. You can dine in the raised observation deck where the engineer directed the train or take a seat along the long bank of windows.
VIRGINIA: Slingshot Social Game Club in Richmond
Fan-favorite games look a little different here! Slingshot Social Game Club has SuperSkee, which is skeeball with bigger balls and longer lanes. Their ultimate bocce ball has automatic scoring and instant replays on nearby screens. The social club also has a beer wall with dozens of craft beers and ciders and a provisions menu with dishes great for sharing.
WASHINGTON: Flatstick Pub (Multiple Locations)
This pub is so creative it invented its own golf game. In addition to traditional putt-putt, you can play Duffleboard, a tabletop game that uses a custom handheld putter. Or, there's Stick Putt, which is like a combination of putt-putt and skee-ball. Food offerings vary by Flatstick Pub location but include pizzas and tacos.
WEST VIRGINIA: Quicksilver Arcade and Kitchen in Huntington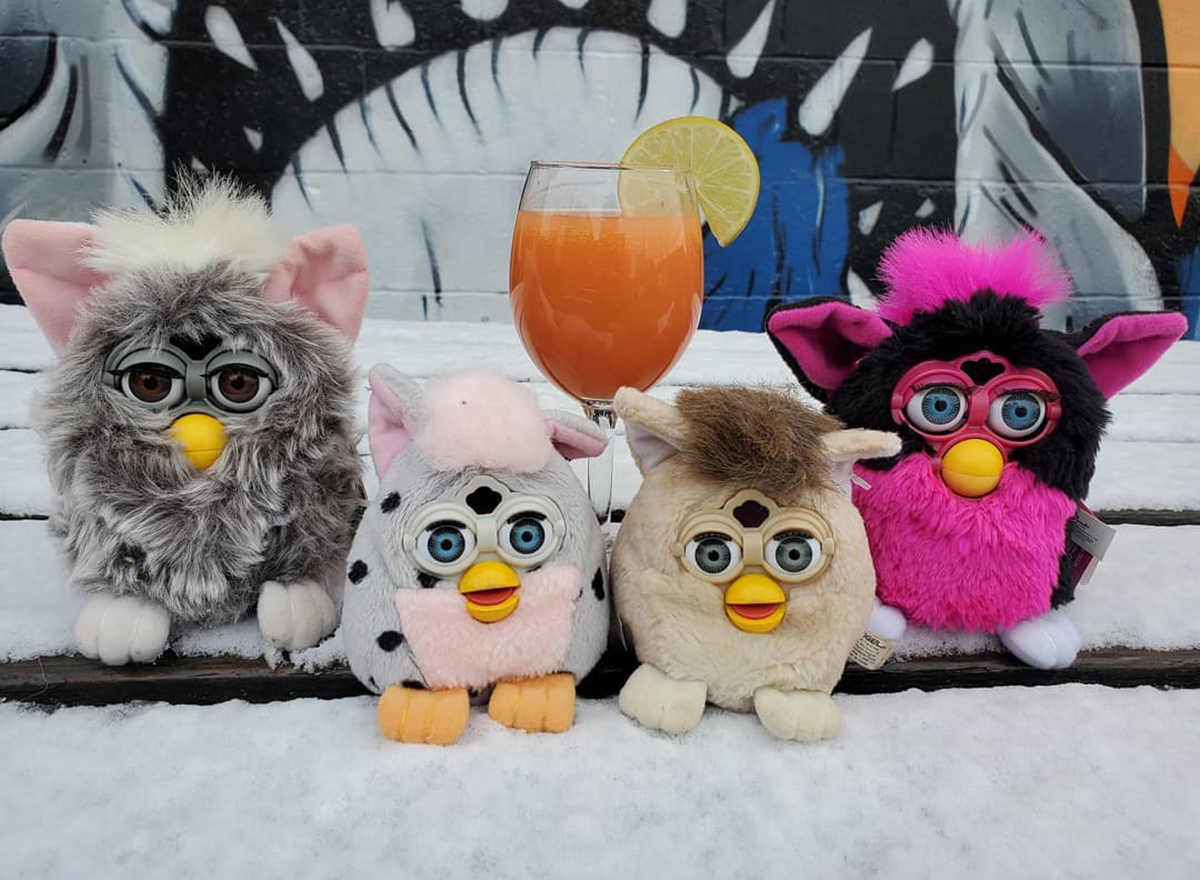 Find retro arcade games and nostalgic-themed cocktails garnished with Gushers or Dunkaroos in Quicksilver Arcade and Kitchen. The arcade serves gourmet hot dogs and hand-tossed pizzas. If you're drinking, you play games for free.
WISCONSIN: Al Johnson's Swedish Restaurant & Butik in Sister's Bay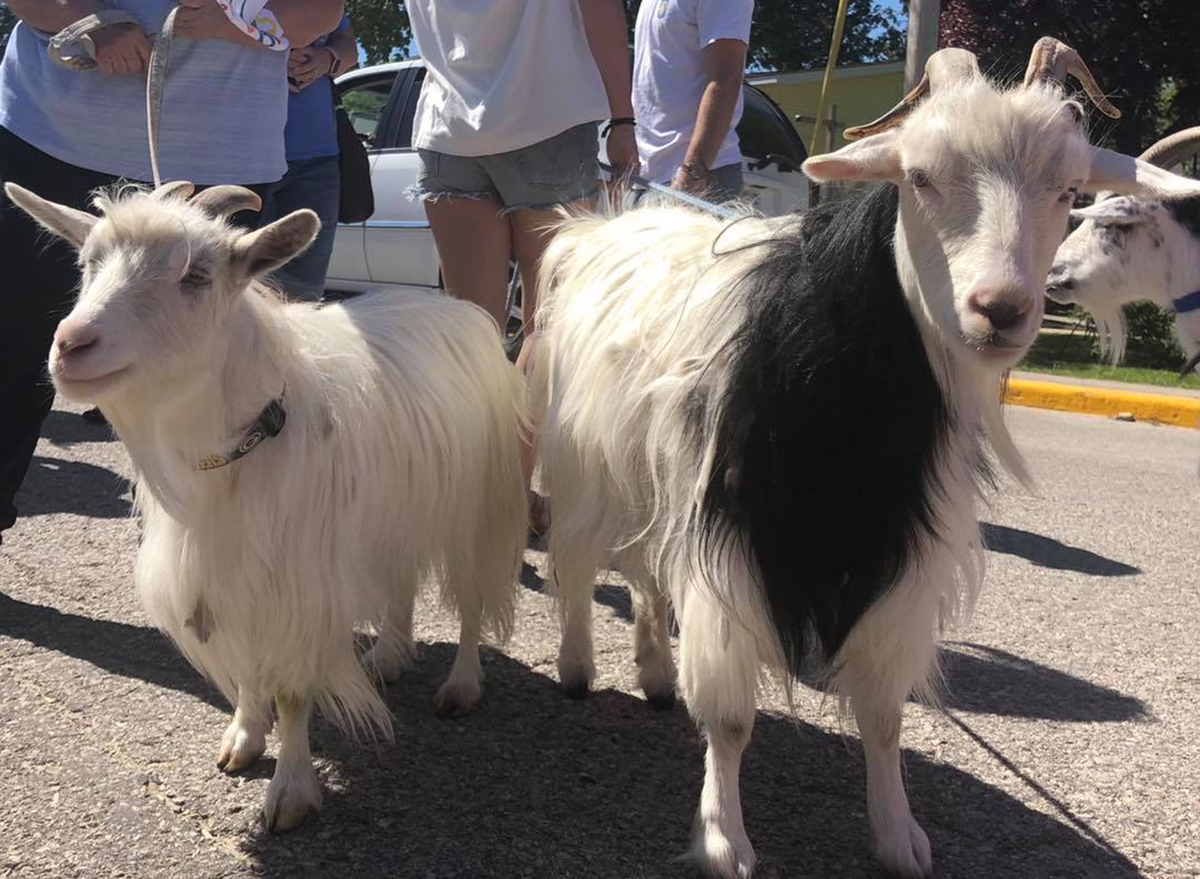 When the weather is nice, goats graze on the sod rooftop of Al Johnson's, an iconic restaurant in Sister's Bay that's also famous for its lingonberry Swedish pancakes. (Recognizing the goats have garnered quite a fan club, the restaurant set up a "goat cam.") Really, though, there's no shortage of fun restaurants in the Door County peninsula of Wisconsin. Sister Bay Bowl is a supper club with an adjoining six-lane bowling alley and, throughout the county, traditional fish boils often involve storytelling.
WYOMING: Luxury Diner in Cheyenne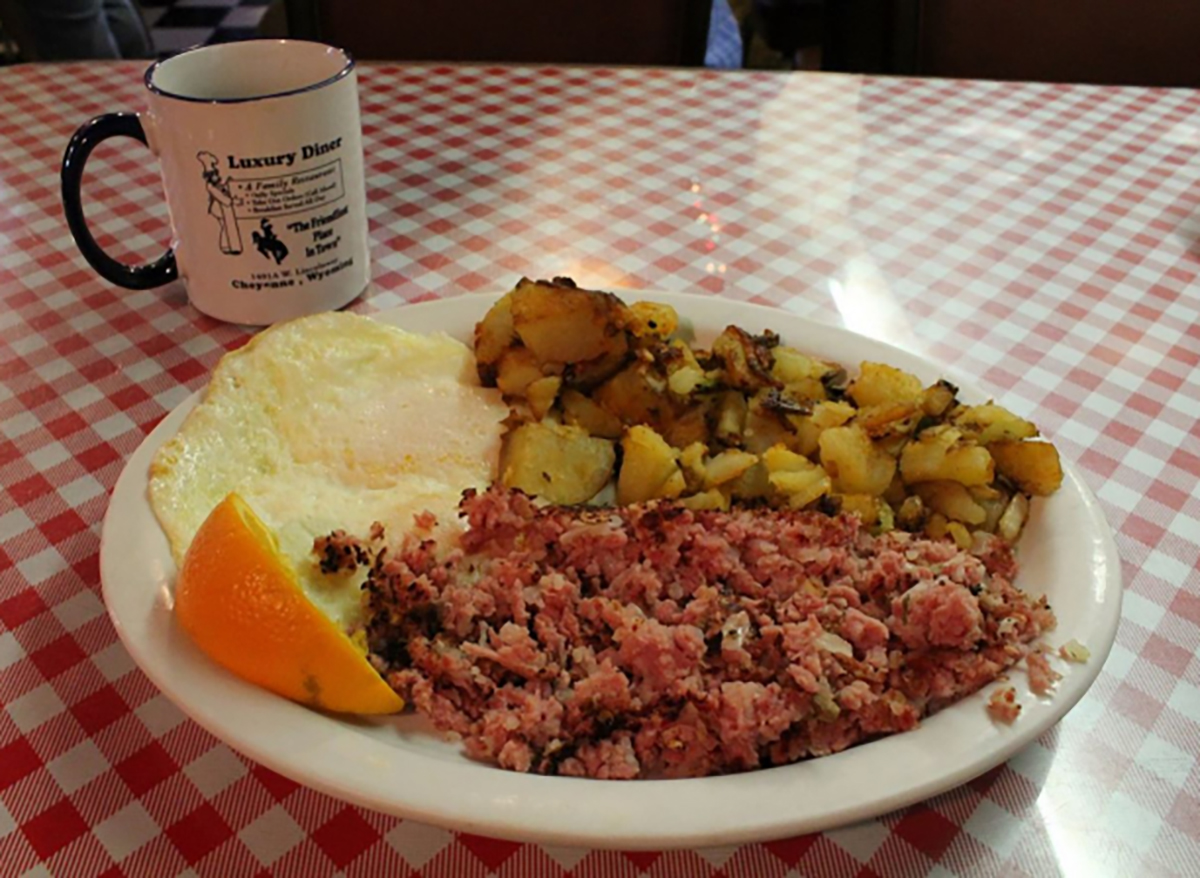 As legend has it, the Luxury Dining Car was once an operating trolley car in Cheyenne back in the late 19th century. Now, it's a spot where you can grab made-from scratch dishes like green chili and sausage gravy.
The one thing these restaurants all have in common? They add an extra element of fun or interest to dining out! Bon appetit (and game on)!