The Most Beloved Regional Fast-Food Chain in Every State
These American gems are regional fast food chains with locally-inspired grub.
Everyone knows about the big fast-food chains that blanket each state, clustered near highways and scattered around almost every town, no matter how small or big. The U.S. fast-food industry pulls in an estimated $200 billion each year, with the perennial king of fast food, McDonald's, topping the list of sales, followed by Subway, Taco Bell, Burger King, and Wendy's.
Though these huge brands dominate the fast-food landscape, one of the pleasures of traveling across the country is finding small regional chains churning out food with the local flare that the community loves. There's still a lot of fast-food gold to find in your own region, so to sate your own serving of greasy goodness, we compiled a list of some of the best regional fast-food chains in every state.
And for more, don't miss these 15 Classic American Desserts That Deserve a Comeback.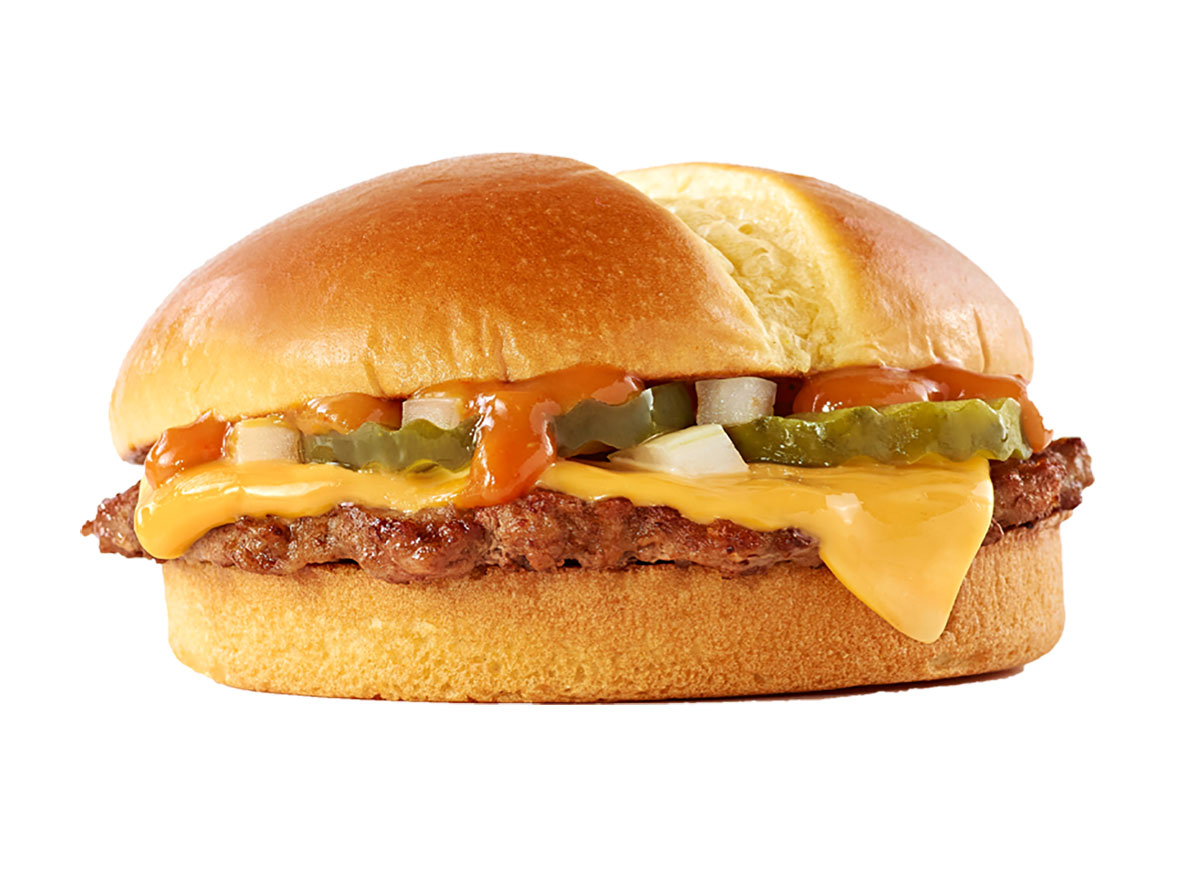 Opened in 1960 in Homewood, Alabama, Jack's features big burgers, hand-scooped shakes, and made-from-scratch biscuits. There are about 145 locations across the South, and each includes a toasty fireplace.
ALASKA: Great Alaska Pizza Company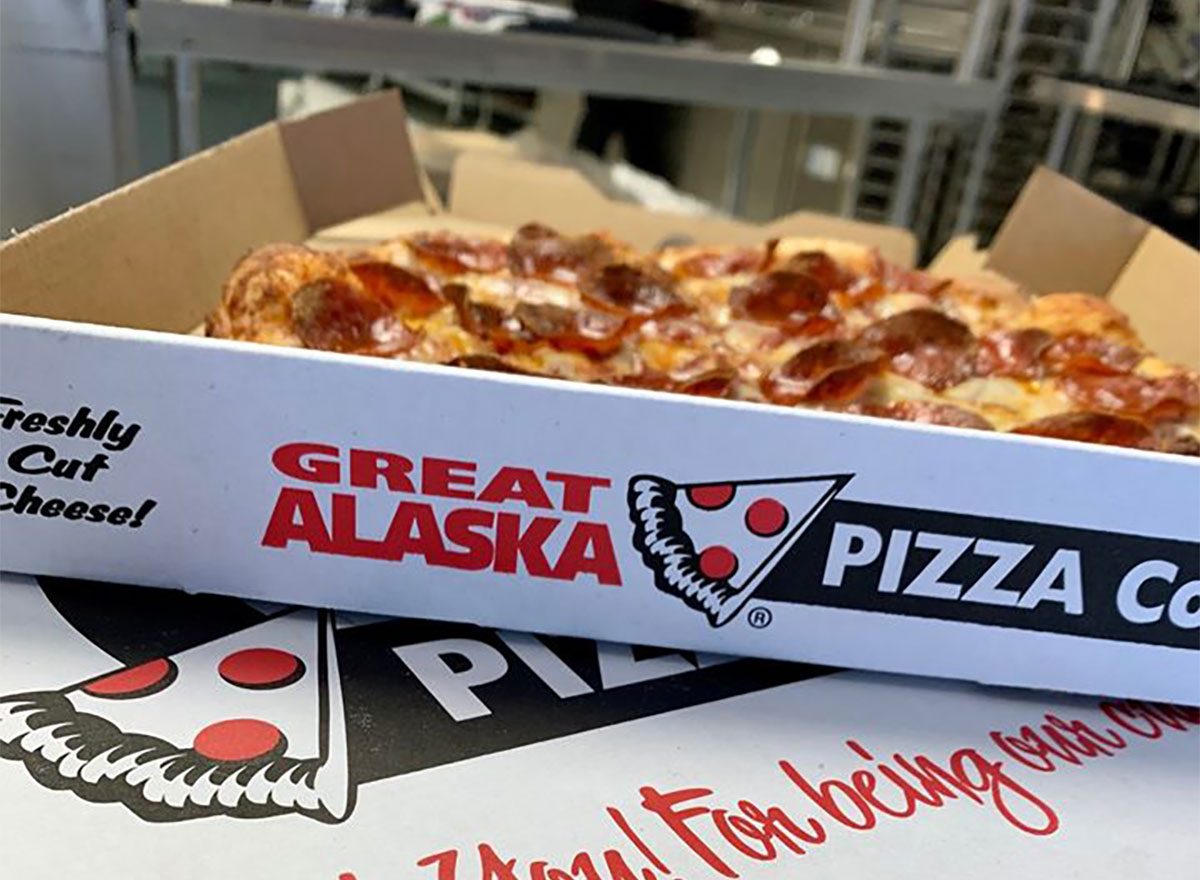 No moose burgers or king crab legs here. Great Alaska Pizza Company is all about fresh pies made daily with never-frozen ingredients. Opened up in 2003 by a pizza store veteran, they now boast 11 locations across The Last Frontier.
And for more cheesy goodness, This Is the Best Slice of Pizza in Every State.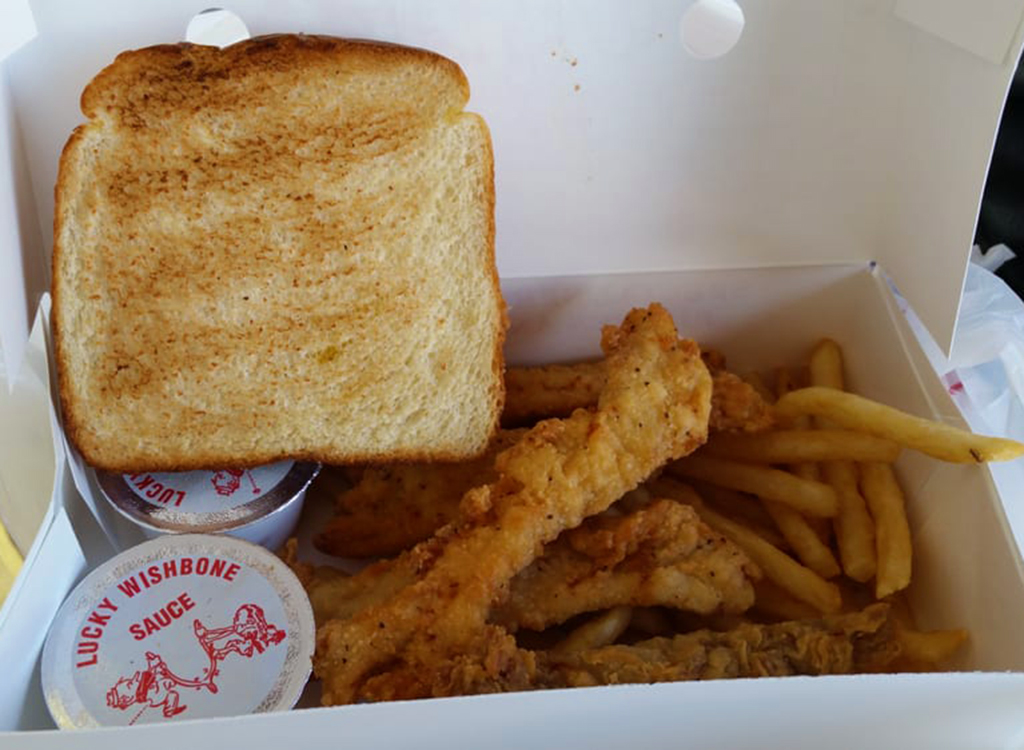 This small fried chicken-based chain—with only seven locations around Tucson, Arizona—started in 1953. Lucky Wishbone has been serving up fried gizzards and livers, along with bone-in pieces and breast chunks, fried shrimp and steak, and sandwiches to round out the menu.
And for more delicious chicken options, don't miss the 20 Best Fried Chicken Restaurants in America.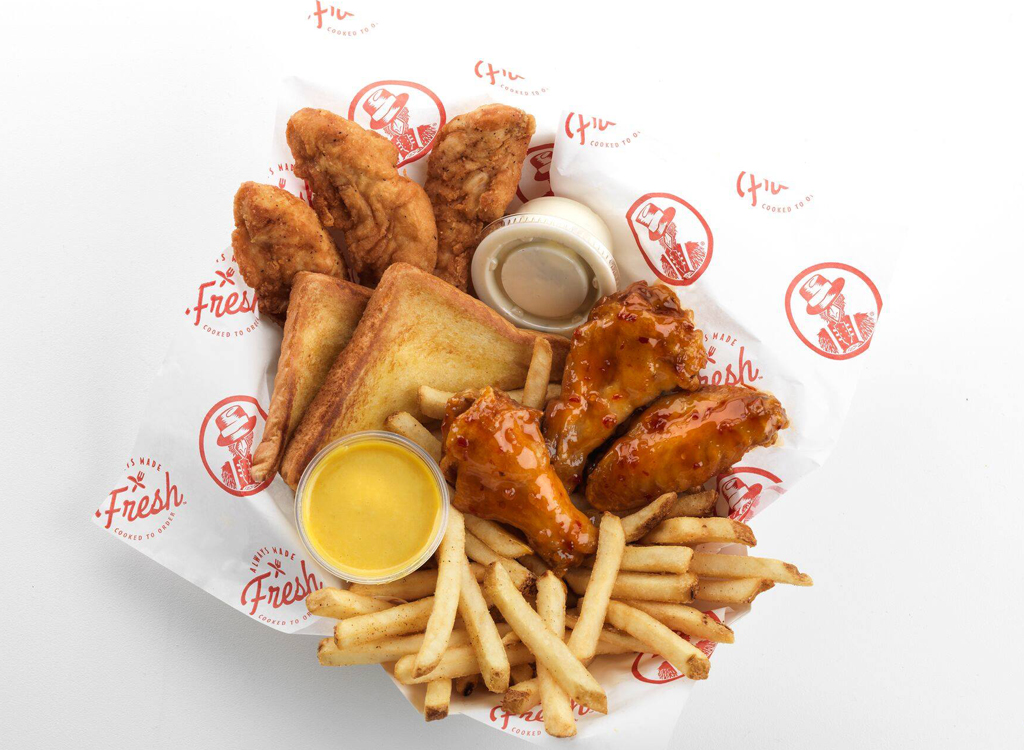 Fresh chicken cooked to order served with some Southern hospitality is what this chicken joint is all about. Slim Chickens opened up in 2003 in Fayetteville and features delicious handmade dipping sauces to go with their hand-breaded fried chicken tenders.
CALIFORNIA: The Habit Burger Grill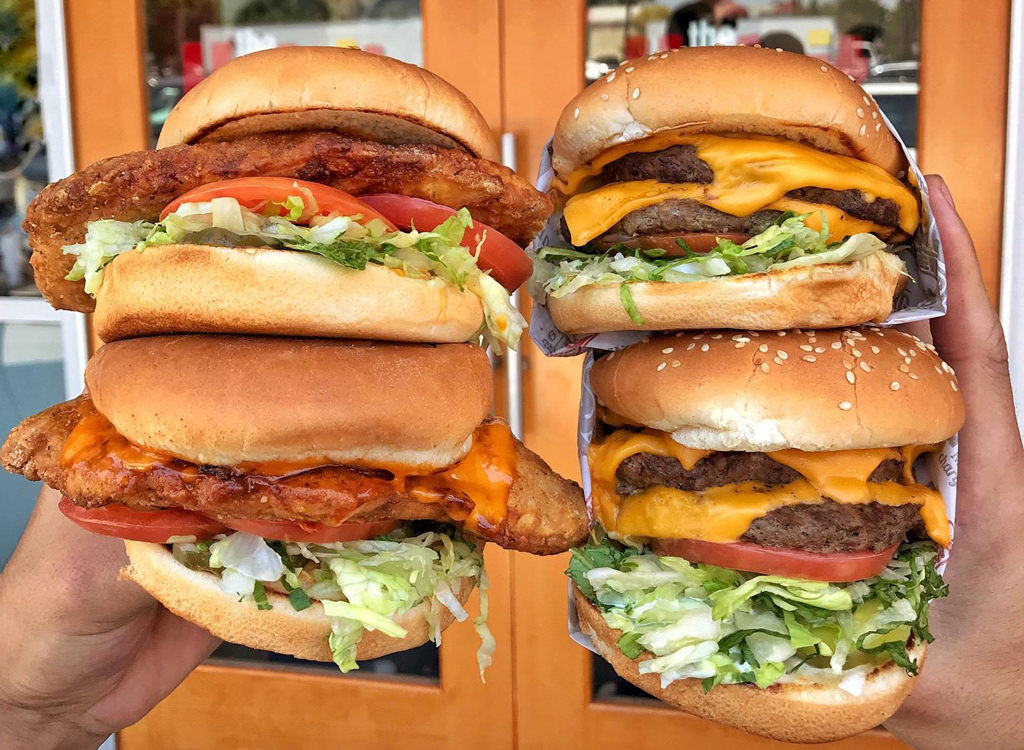 Often cited as a contender for best burger against fellow California joint In-N-Out, The Habit, which opened its first location in 1969, uses a grill as opposed to a griddle for a smokier bite. Standouts include their tempura green beans and malts. Locations have now spread east to states like New Jersey, Virginia, Maryland, and Florida.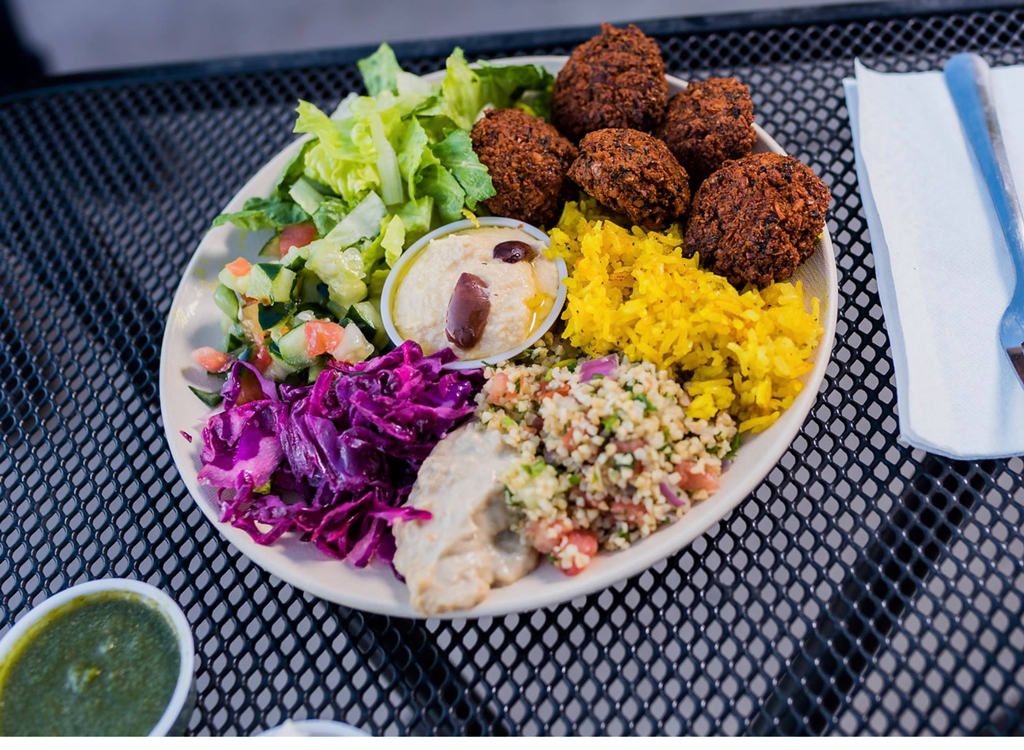 Bringing a bit of the Mediterranean to the Front Range, Garbanzo opened up in Denver to serve up quality proteins like antibiotic-free chicken, real gyro meat, and falafel along with fresh veggies stuffed in pitas or wrapped in laffa. They now have nine locations outside of Colorado.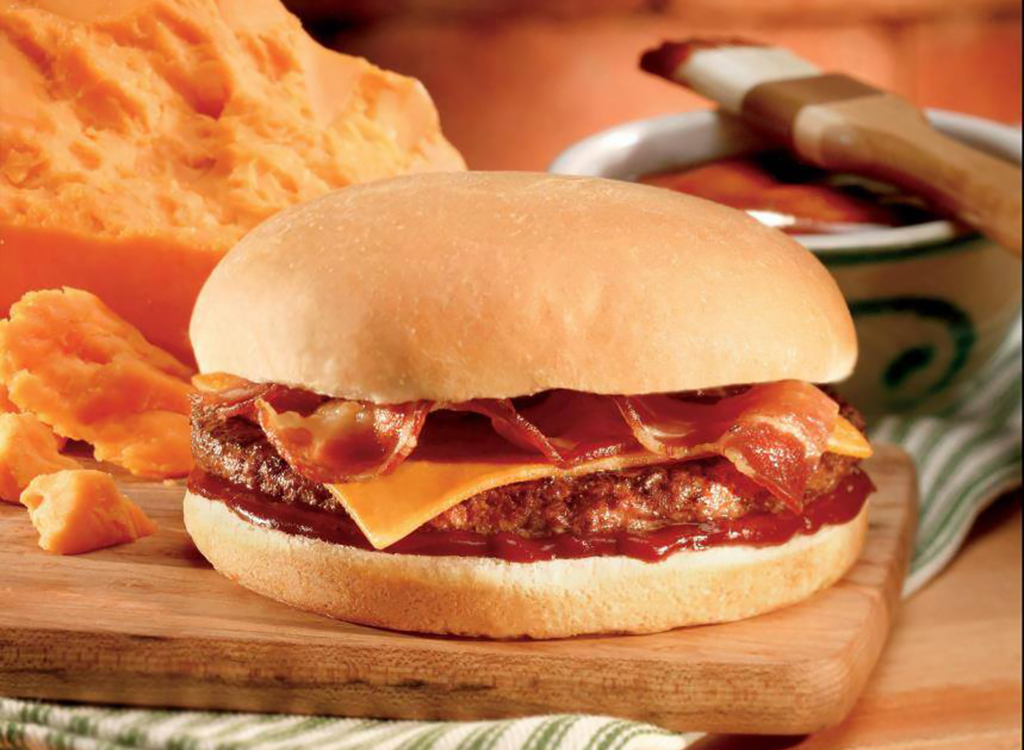 Next time you're driving up I-95 through Connecticut, instead of hitting up one of the big chains, seek out Duchess, a local joint that started serving fast food in 1956, with an emphasis on fresh. Most items are delivered daily and hand-prepared, like lots of breakfast options and a full slate of classic sandwiches.
Craving a burger? Don't miss The Absolute Best Burger in Every State.
DELAWARE: Casapulla's Subs
Opened up in the '50s by an Italian immigrant, this family-owned and operated sub shop now has six locations across the small state. Highlights at Casapulla's Subs include the huge, meaty Italian Sub and the tender and cheesy London Broil Roast Beef Sub. They now also serve burgers, steaks, and salads.
A collab between two guys looking to open a fast-food spot that focused on freshness and quality PDQ (which stands for People Dedicated to Quality) opened in Tampa in 2011. They offer lots of great and tasty chickens dishes from tenders to bowls.
There's more where that came from! Here's The Best Chicken Sandwich in Every State.
A Southern institution that's been around for more than 50 years, Waffle House is slowly expanding to new parts of the country. A late-night staple in college towns, they offer lots of egg dishes, hash browns scattered and smothered, and delectable pecan waffles along with lunch and dinner options.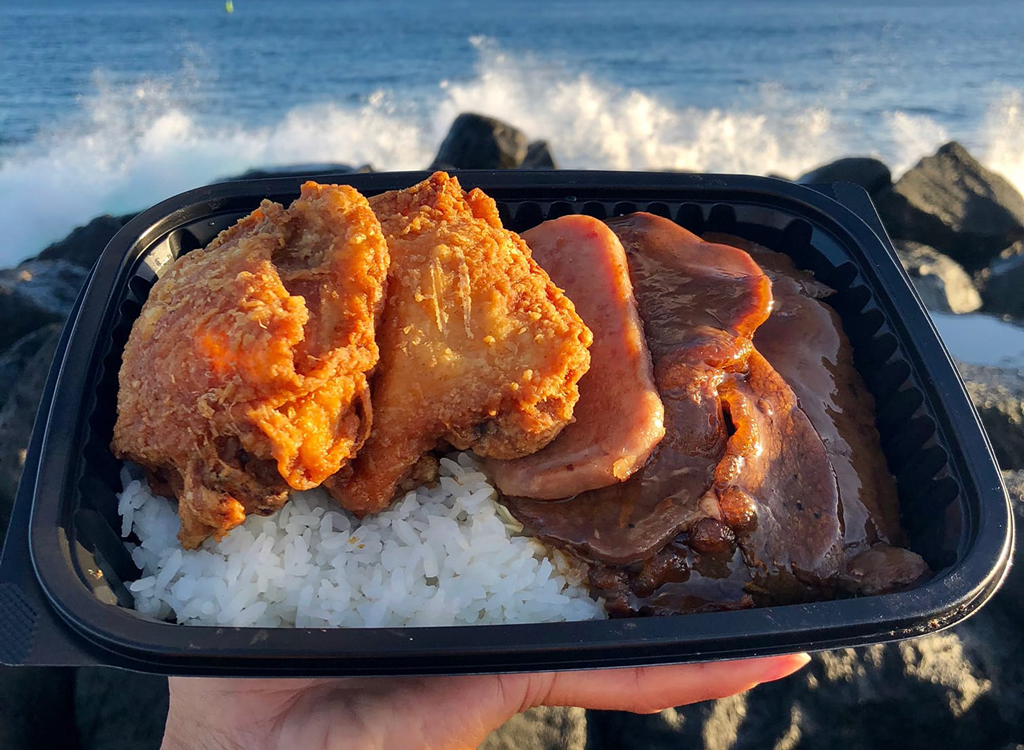 Focused on their award-winning chili—they sell over 100 tons every month—this Hawaii-centric fast-food spot has been on the Islands since 1966. Other Zippy's favorites include their fried chicken, oxtail soup, and saimin—an Asian-inspired noodle dish.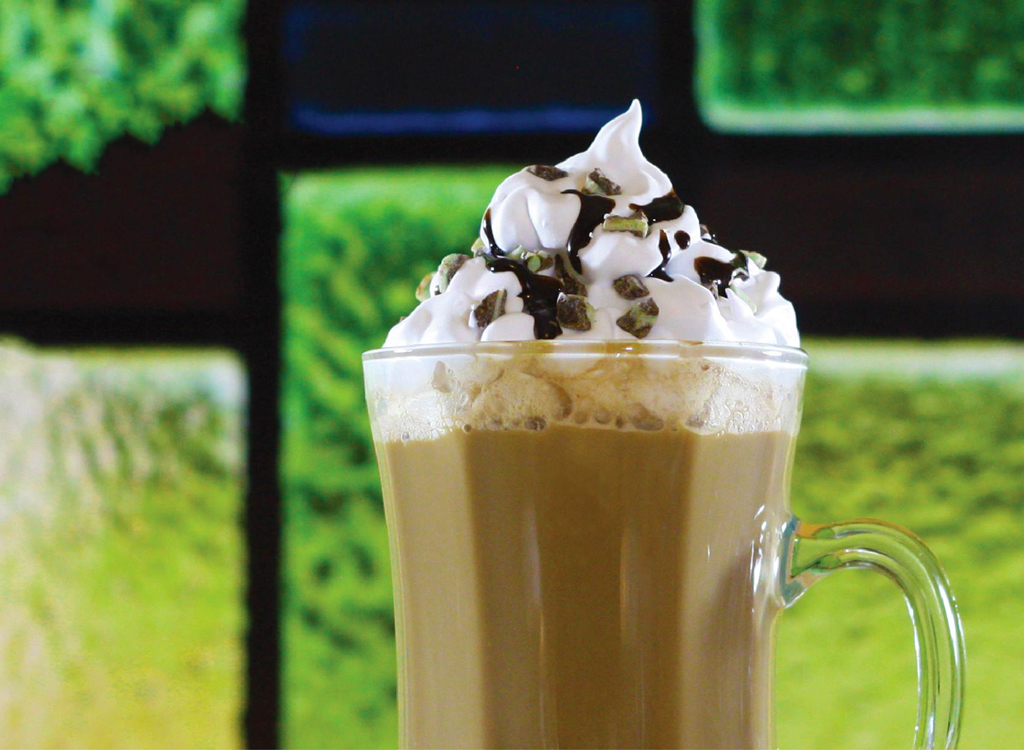 Founded in 1988 in Boise, Idaho, Moxie Java can now be visited in 15 locations in Idaho, three in Minnesota, and one far-flung shop in South Carolina.
ILLINOIS: Harold's Chicken Shack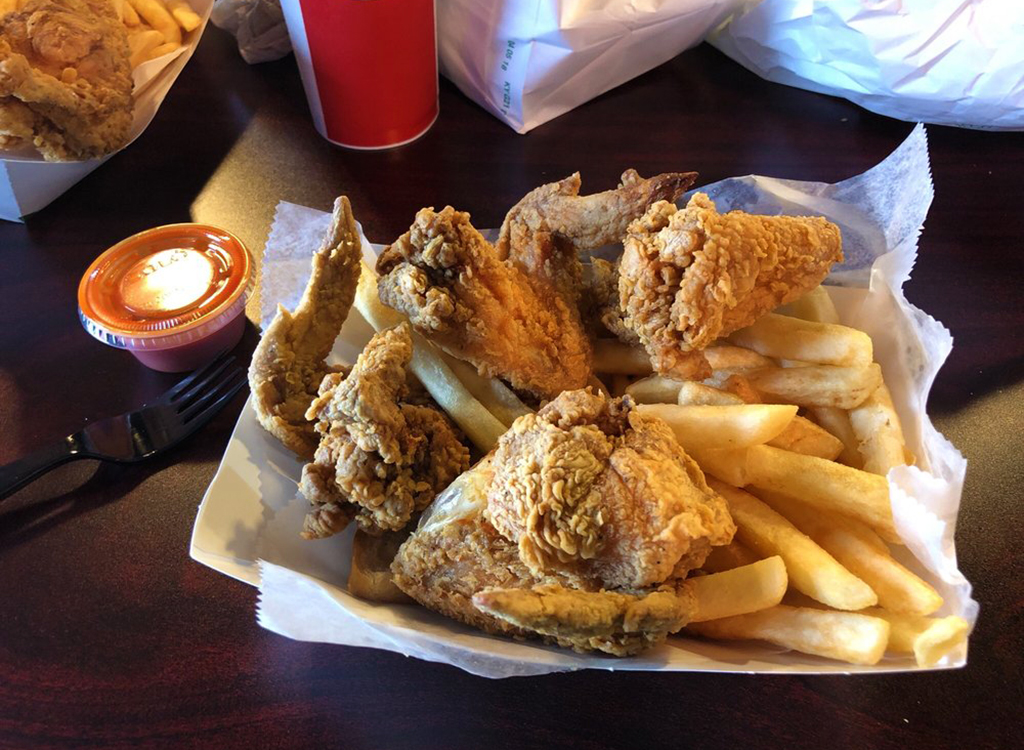 Started by an African-American entrepreneur in the South Side of Chicago, Harold's Chicken Shack initially became famous for its dumplings and chicken feet. Now they sell fried delights in everything from fish, shrimp, livers, and gizzards along with salads, sandwiches, and wraps.
INDIANA: Schoop's Hamburgers
Slide into a Schoop's Hamburgers location in and around the Chicagoland area for an old-time diner experience for Schoop's Loops (fried potato curls), the Mickey cheeseburger (with two slices of American cheese), or a selection of tall and frosty floats. Around since 1948, they have 13 shops in Indiana and four in Illinois.
IOWA: Happy Joe's Pizza & Ice Cream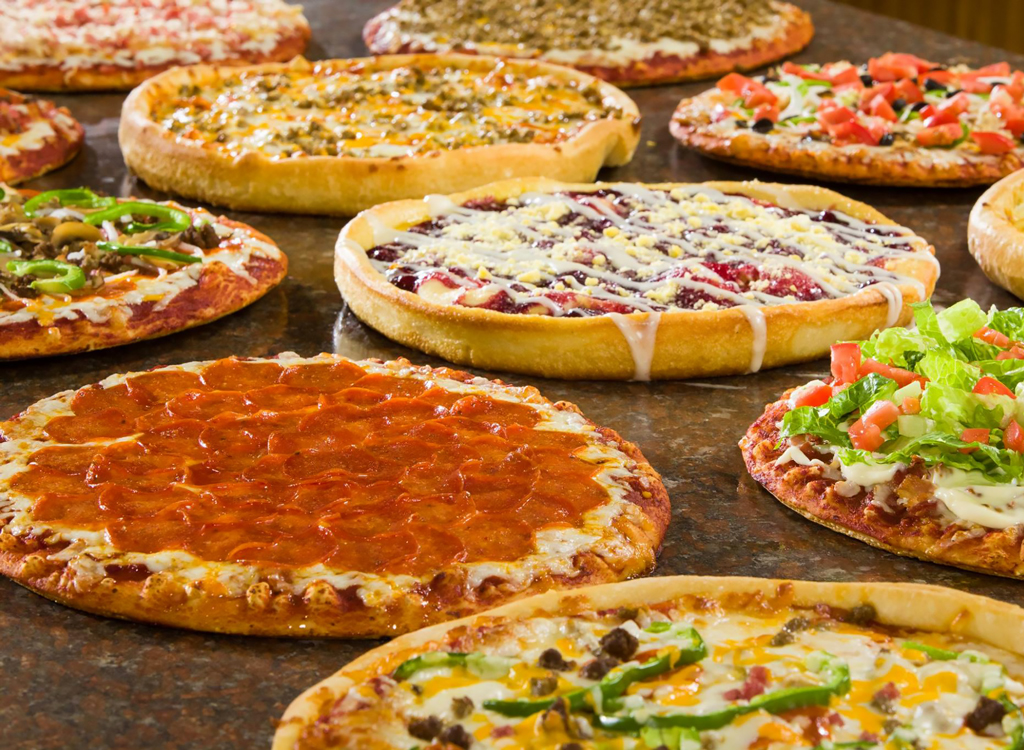 Joe Whitty's quest to open a restaurant that was family- and kid-oriented led to Happy Joe's opening in 1972 in Davenport, Iowa. Along with create-your-own pizzas and classic and creative ice cream treats, you can also pick up breakfast, soups, salads, sandwiches, and pasta.
KANSAS: Freddy's Frozen Custard & Steakburgers
Named after two brothers' World War II veteran father, Freddy's Frozen Custard & Steakburgers serves up special, thin "steakburgers" that have crispy edges and come in a variety of combos. Spoon up some frozen custard in either a sundae or concrete option to top off your top-notch meal.
For some Italian fast-casual food, stop into the Kentucky-based Fazoli's, whose first store opened in 1988 in Lexington. Free, fresh-baked breadsticks are a staple, and you can even order sliders with "buns" made from them. Pasta, pizza, subs, and salads round out the rest of their offerings, and don't forget to slurp down an Italian Lemon Ice!
LOUISIANA: Danny & Clyde's
When you need a po' boy fix while in Louisiana, you'll be hard-pressed to find a tastier and quicker one at one of the many Danny & Clyde's locations. Opened in 1973, the gas station/convenience store/fast food joint features fried oyster, shrimp, and catfish po' boys along with hot breakfast, the Original French Dog (French bread, hot dog, and chili), and funnel cakes for dessert.
Although the first Luke's Lobster location was in New York—not Maine—the idea for this quickly-spreading lobster shack chain grew in the mind of a Mainer who grew up in the coastal town of Cape Elizabeth and was supported by his lobsterman father. The Lobster Roll is the catch of the day, every day, but the Crab Roll and Shrimp Roll are also super-tasty—or just go for Luke's Trio and get all three!
MARYLAND: Gino's Burgers & Chicken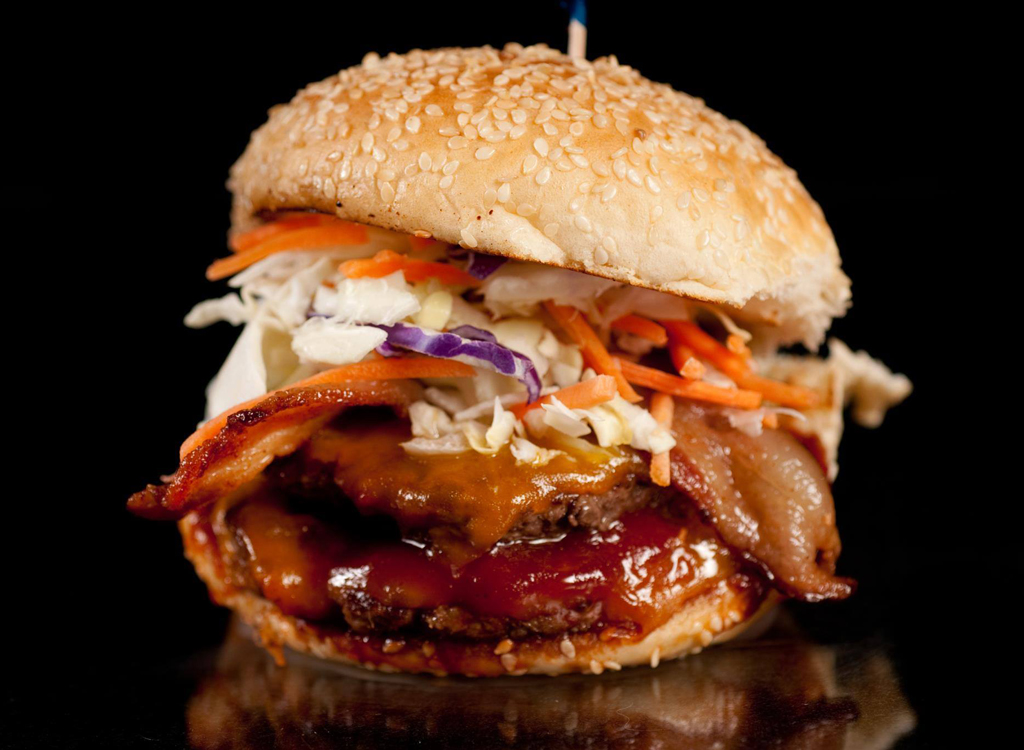 A spin-off of Gino Marchetti's food industry business that was founded in 1957, Gino's features a unique open concept design where you can see all of the fresh-made food being cooked and put together in front of you. Hand-cut fries, hand-spun milkshakes, and plenty of meaty burgers and crispy chicken complete the old-school vibe.6254a4d1642c605c54bf1cab17d50f1e
MASSACHUSETTS: Tasty Burger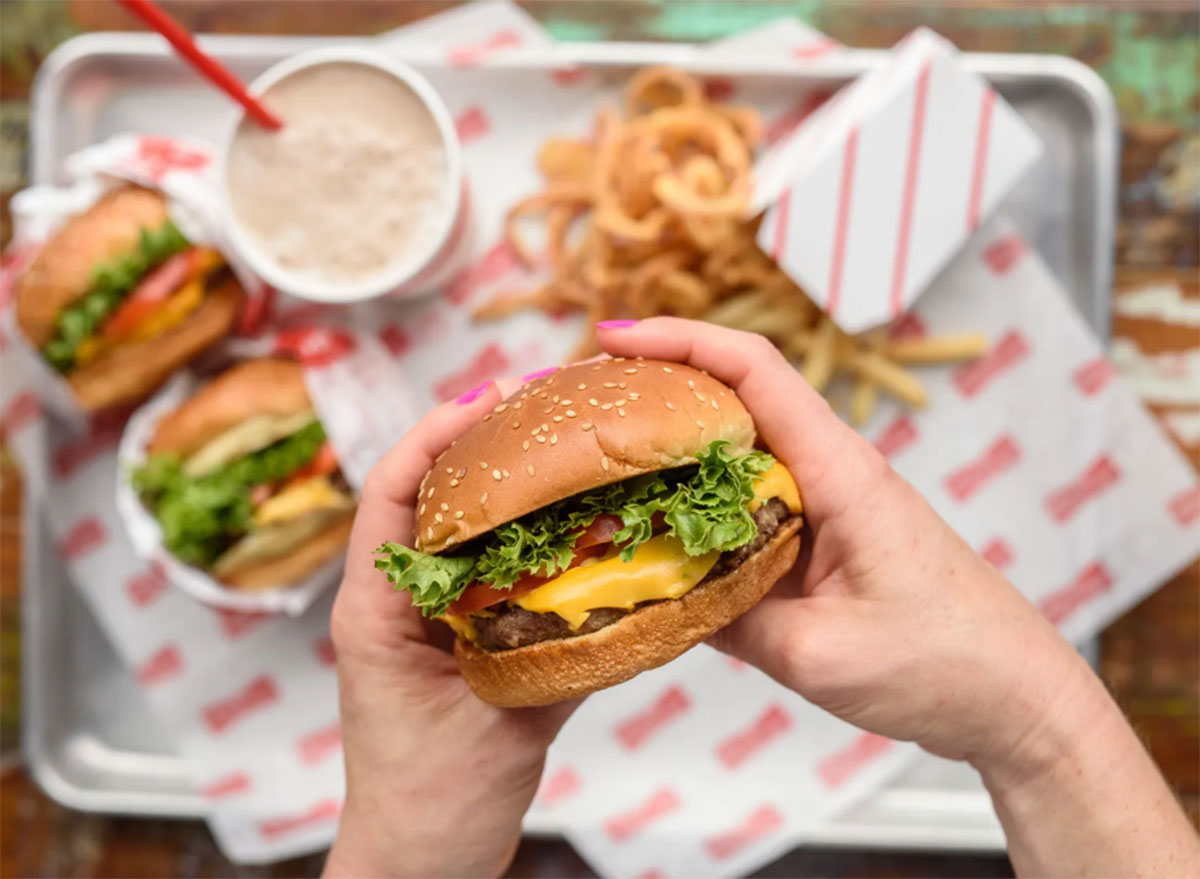 This Massachusetts-based chain bills itself as the "official burger of the Boston Red Sox." Tasty Burger has four locations across Boston and Cambridge, and you can't go wrong with any of the burgers on the menu.
MICHIGAN: Big John's Steak & Onion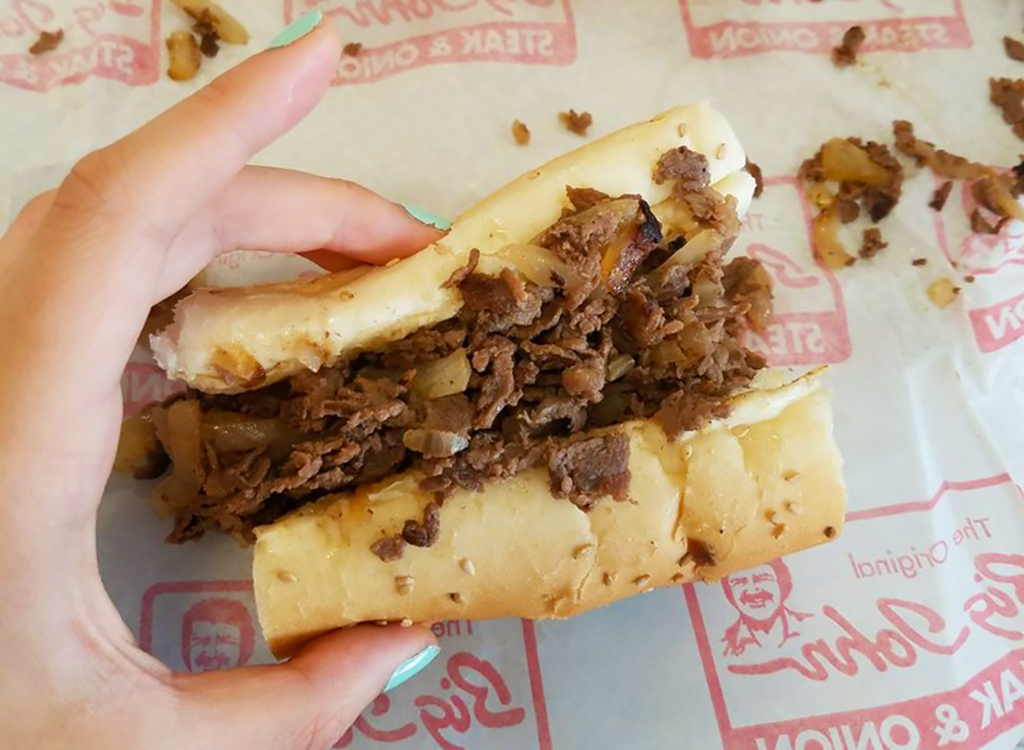 First serving up steak and onion subs in Flint, Mich., in 1972, Big John's still churns out the steamy, savory sandwich laden with 100% ribeye steak with or without grilled onions along with other sub creations. Don't forget to add a slathering of their famous Red Sauce and pick up a bottle of your own to take home with you.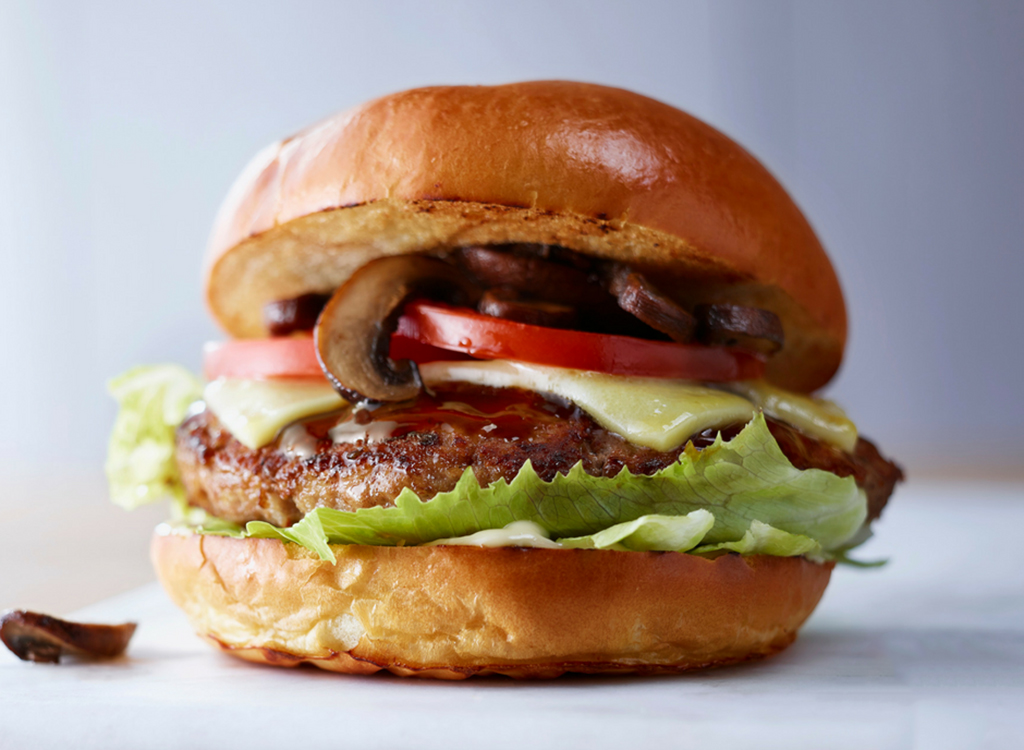 A hip, clean, and modern take on the typical burger joint, MyBurger is laser-focused on providing a beautiful and tasty beef burger on a brown buttered bun. You can also pick up a veggie, turkey, chicken, or fish burger and finish it all off with a malt or a shake at one of their seven locations around Minneapolis, or stalk their food truck around town.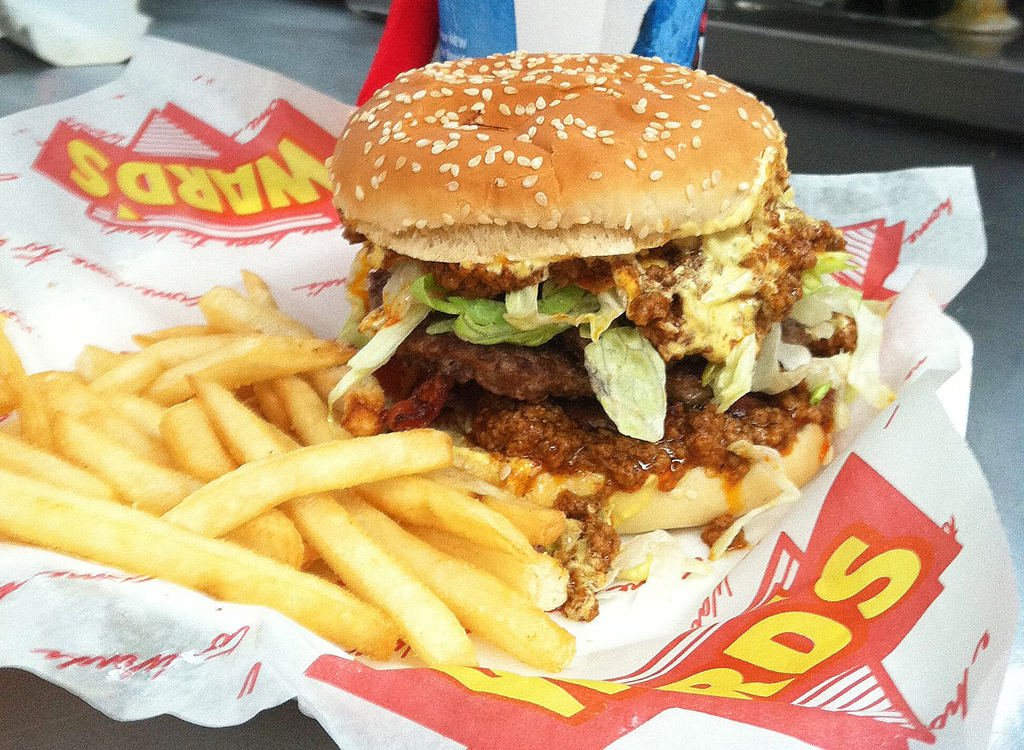 A classic fast-food spot in Mississippi with more than 35 locations that's been turning out tasty food since 1978, Ward's serves all kinds of traditional fare. The best choices include their homemade chili and homemade, yes homemade, root beer. Top a burger with some chili and signature sauce and you've got a satisfying meal.
At Winstead's, which was founded in 1940 in Kansas City, you can get still a "Steakburger" crafted from 100 percent U.S. Choice steak served up in a traditional '50s diner setting. With six locations across the state, the menu features simple but tasty treats including a Skyscraper Shake.
MONTANA: The Pickle Barrel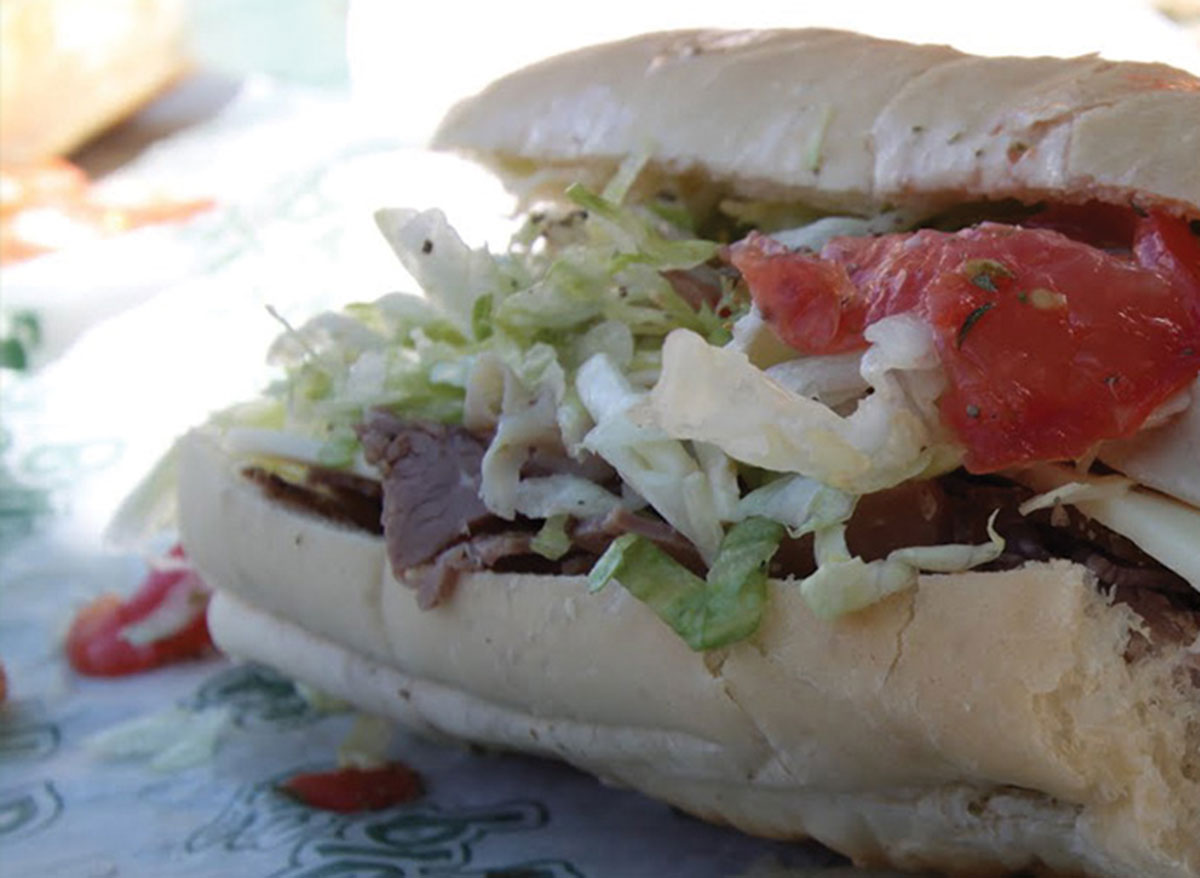 This sub chain has plenty of locations across Montana and an extensive menu to boot. At The Pickle Barrel, you can't go wrong with a classic cheesesteak. Or, go for one of the more inventively-named sandwiches like the Beach Comber.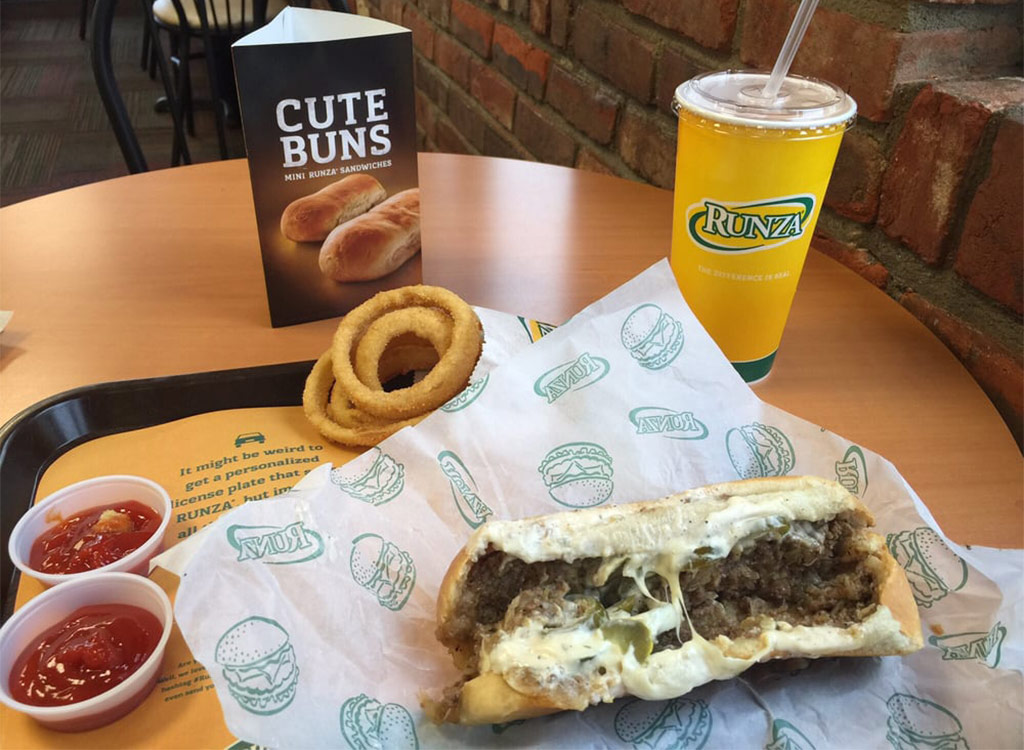 1949 saw the first Runza open in Lincoln, Nebraska by a sister and brother team dedicated to fresh and fast food. Superb standouts include their World Famous Sandwiches—ground beef with cabbage and onions wrapped in fresh bread—and a side of Frings, a jumble of onions rings and French fries.
When in Vegas, skip the overwhelming gluttony of the casino buffets and exorbitant prices at the celebrity chef-helmed spots and hit up PT's instead. They cover just about anything you'd need for a quick and delicious meal in Sin City, from build-your-own breakfast burritos and Philly cheesesteaks to mini bratwurst and their own craft beers.
NEW HAMPSHIRE: Moe's Italian Sandwiches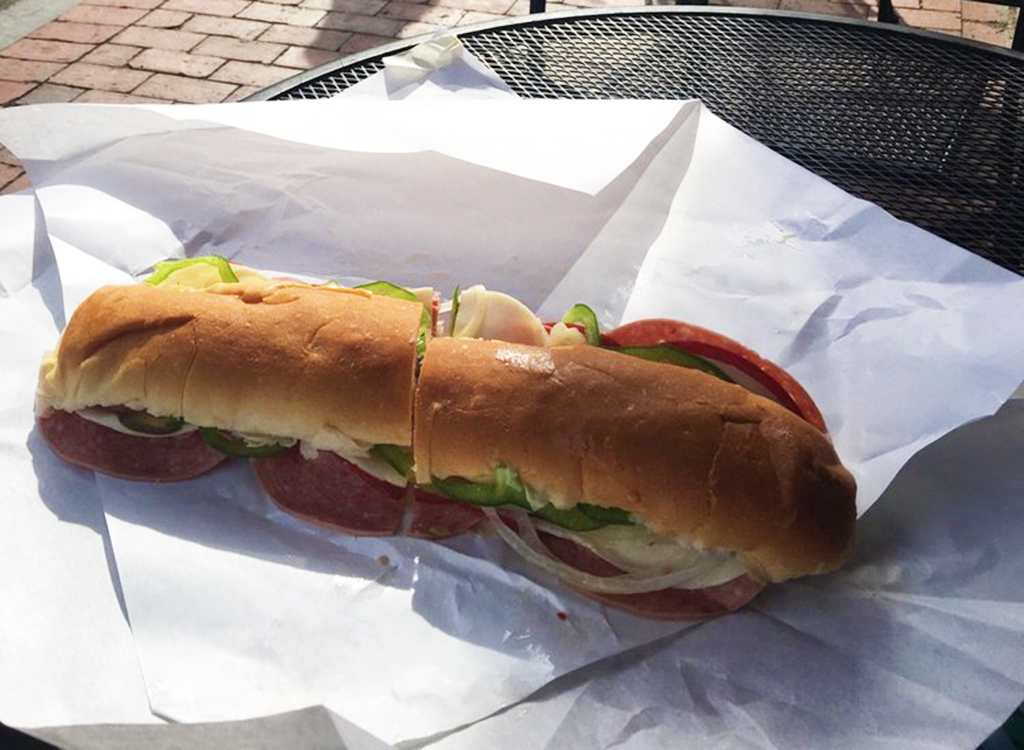 Slip into sub heaven at this locally owned and operated sandwich shop that was started in Portsmouth, N.H., by Moe Pagano. He initially only sold one kind of sandwich, which you can now order as Moe's Original, but Moe's Italian Sandwiches now offers up delectable subs like the Mad Sicilian and the Moezilla all across New England.
NEW JERSEY: Jersey Mike's
You've probably already heard of this fast-growing sub shop that started on the Jersey Shore (especially if you're on the East Coast) as they've exploded in popularity and locations recently. Tasty sandwiches made with fresh ingredients, Jersey Mike's meals are served up with a beachy vibe that harkens back to real boardwalk subs.
NEW MEXICO: Blake's Lotaburger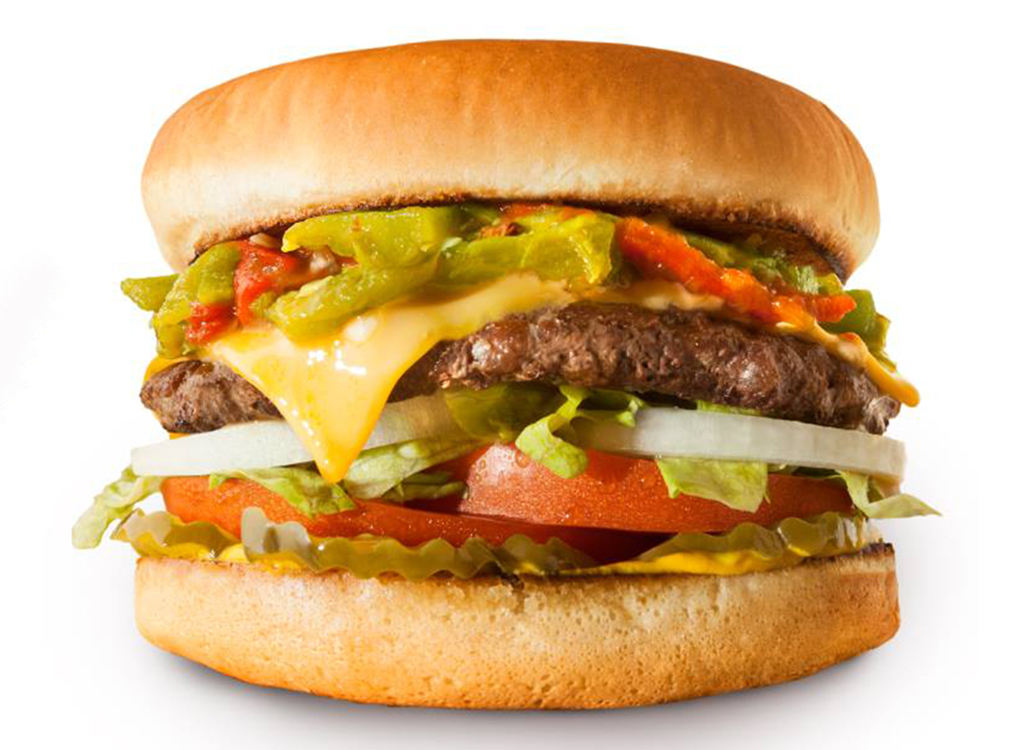 Taco joints abound in the New Mexico, but head into Blake's Lotaburger for a beef burger with a Southwestern vibe—the LOTA Burger with Green Chile & Cheese. Spice lovers can also go for the Chile Con Carne Bowl, Jumbo Chili Dog, or just add a Hatch Valley Green Chile (made with Hatch chiles that are exclusively grown in New Mexico) on the side at this fast-food joint.
Jamaican immigrants opened up this Caribbean fast-food spot in the Bronx in 1989 and eventually grew to over 100 locations across the East Coast. Must-order items on the Golden Krust menu include the Jerk Chicken Patty, Braised Oxtail Combo, Curried Goat, and the Bulla Cakes if you crave a sweet treat.
NORTH CAROLINA: Char-Grill
If you happen to head to the Triangle area of North Carolina—Raleigh, Durham, and Chapel Hill—make sure to stop by Char-Grill for some flame-cooked burgers straight off the grill. Open since 1959, this burger spot features a central grill and a unique process where you mark up your order with little pencils on slips that you slide through a window. The Hamburger Steak Sandwich with fries and lemonade is a must!
NORTH DAKOTA: Space Aliens Grill & Bar
Landing on Earth in Bismarck after winning the best BBQ ribs contest in Tennessee, this out-of-this-world fast-food spot now serves everything from BBQ and burgers to pizza and stuffed baked potatoes. Three Space Aliens locations are now open, two in North Dakota and one in Minnesota.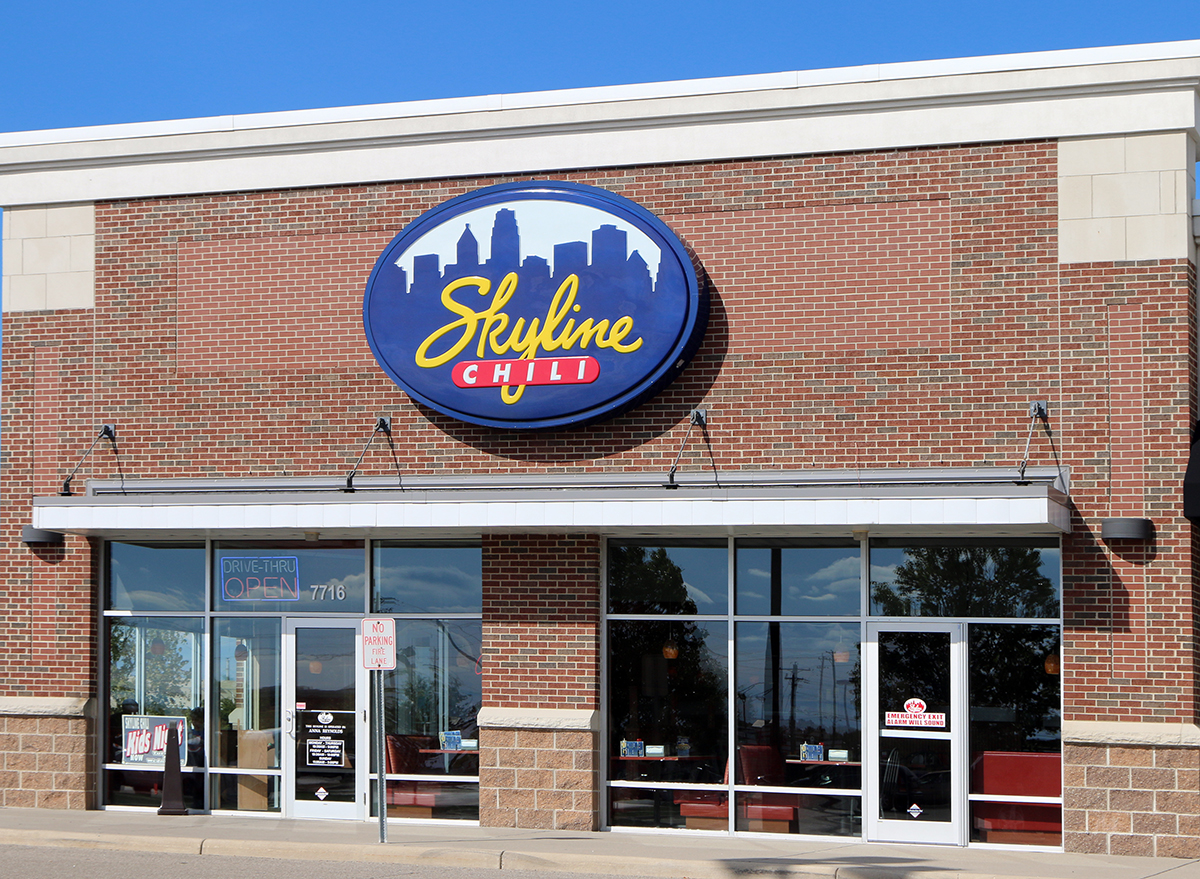 Skyline Chili was started by a Greek immigrant with his own secret recipe in 1949. Highlights at this excellent eatery include the Ways, which are piles of spaghetti covered in chili, cheese, and your choice of onions or beans, and their piled-high Coneys, or chili dogs.
Though originally started in Lewisville, Texas, you can find Burger Street locations all over neighboring Oklahoma. Specialties that can't be missed include the crispy B.L.T. Sandwich, Giant Turkey Deluxe (hot or cold), Olive Burger, and a side of Cheese Stuffers. For something a little healthier for dessert, try the straightforward Strawberries & Cream.
You wouldn't think that a hot spot for tacos would open in Eugene, Oregon, in 1959, but that's exactly what happened with TacoTime, which was started by a guy who fell in love with Mexican food while in Southern California. Today they operate over 300 locations and offer up spicy specials like Crisp Pinto Bean Burrito, Super Soft Taco, and Stuffed Mexi-Fries, which are tater tots loaded with cheese and jalapeños.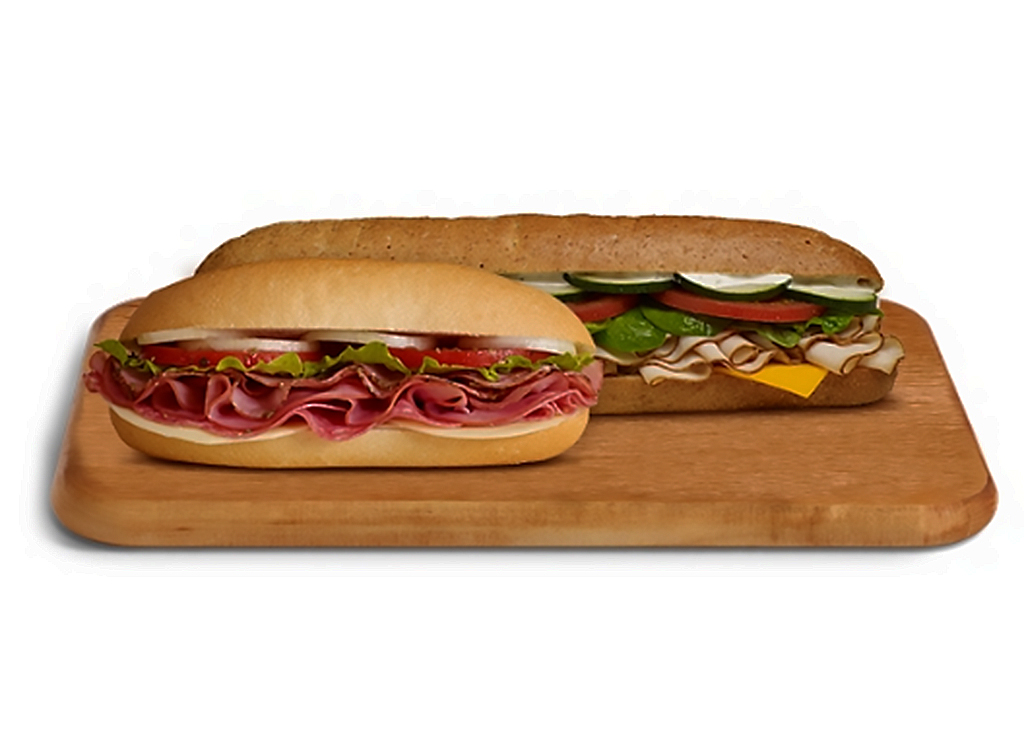 Wawa may just seem to be a simple gas station/convenience store combo to the uninitiated passerby, but it's way more than that. Inside they serve up delicious fast food, from subs (known as "hoagies" to the locals) and sourdough melts to breakfast sandwiches and blend-your-own milkshakes, that'll make you want to stop for gas before you get to half a tank!
RHODE ISLAND: Del's Lemonade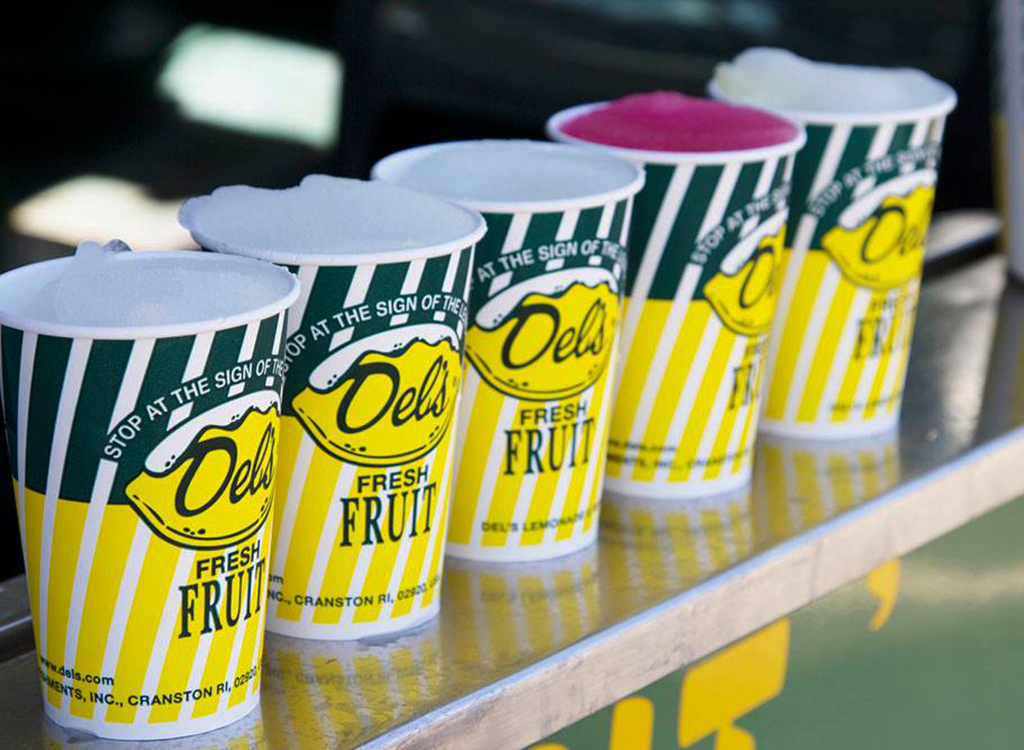 Perfected in Naples, Italy, by an Italian man who shoveled snow into caves for a frozen base for his cold lemonade creations, the Del's recipe came to Cranston, R.I., in the early 1900s courtesy of his son and grandson. Now with about 30 Del's Lemonade locations, you can stop and beat the heat with a delicious Soft Frozen Lemonade when you're in the tiny state.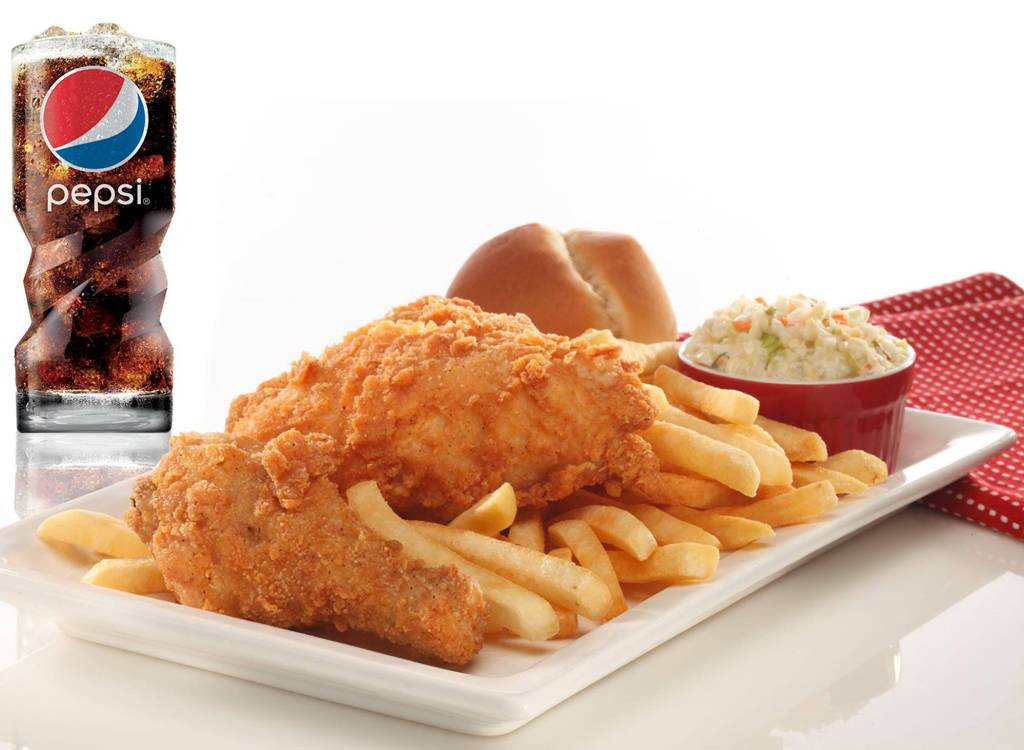 After a fire destroyed the first drive-in location, the Rush family reopened their restaurant as a Dairy Queen in the 1940s. It remained a DQ until the '60s when George Rush decided to expand the restaurant's food and service capabilities and change its name to Rush's. The restaurant flourished in the '60s and '70s in Columbia, S.C. Now with nine locations in the area, they serve up classic Southern fast food like Chili Cheeseburgers, BBQ Sandwiches, Fried Chicken, Coleslaw, and Hot Fudge Cake.
SOUTH DAKOTA: Harrisburgers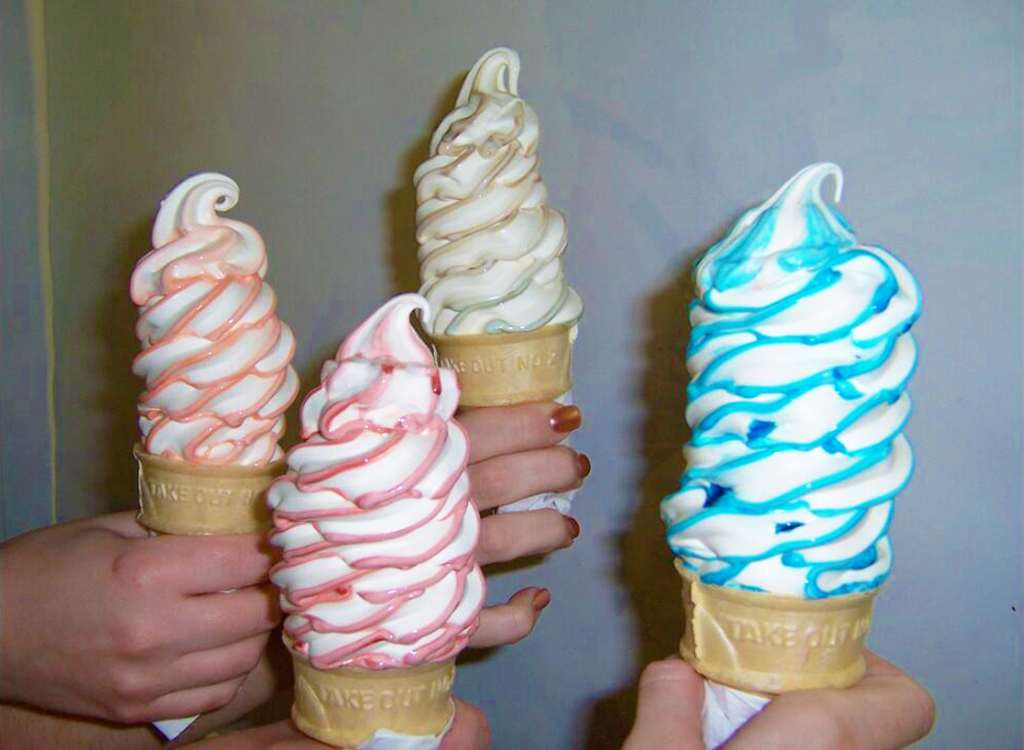 Not many successful fast-food chains have come out of South Dakota, but for some quick comfort food, head over to Harrisburgers in Harrisburg. They can cook up a bunch of tasty burgers—like the Disco Burger, La Bamba, Blazing Buffalo, and the Big Texan—along with chicken sandwiches, wraps, and salads. Order some fried pickles or cordon bleu bites to complement your burger.
Boasting decades of years in the burger business, Krystal opened in 1932 in Chattanooga, with little square hamburgers most often eaten with a hot cup of coffee. They now cover the Southeast and menu highlights include a whole line of mini-meals like Sunrisers, Chiks, and Pups.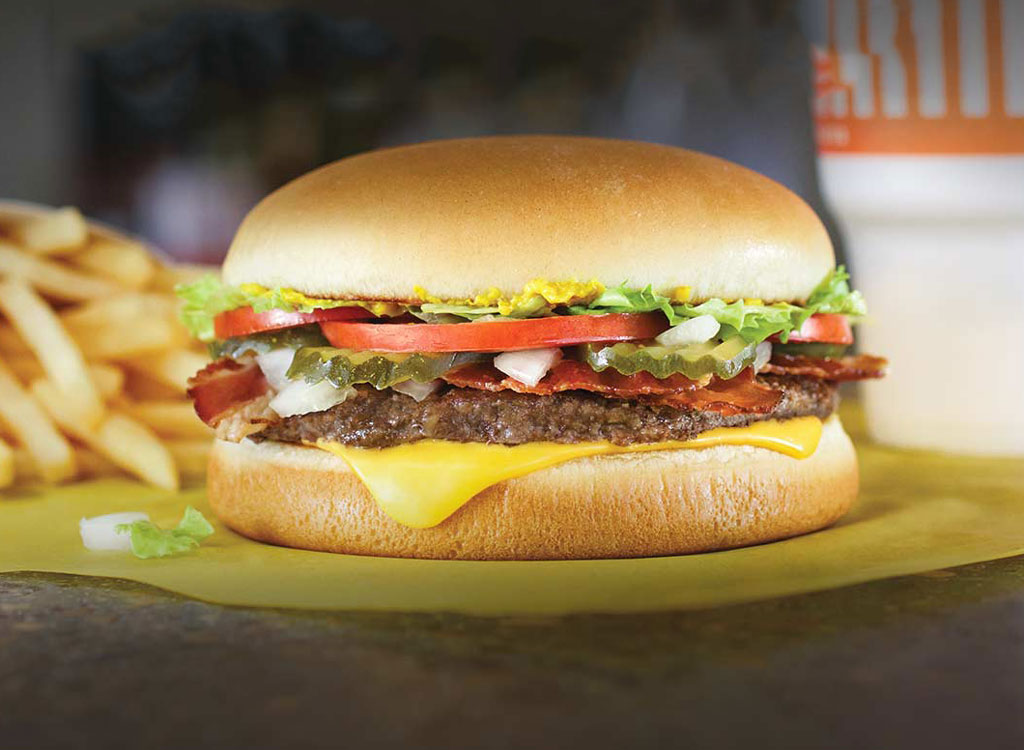 Big and juicy burgers are always the go-to when hitting up a Whataburger next time you're in Texas. The famed fast-food joint started in 1950 and is still family-owned and family-operated. Go for a Green Chile Double and onion rings with a sweet Strawberry Malt on the side for the maximum Whataburger experience.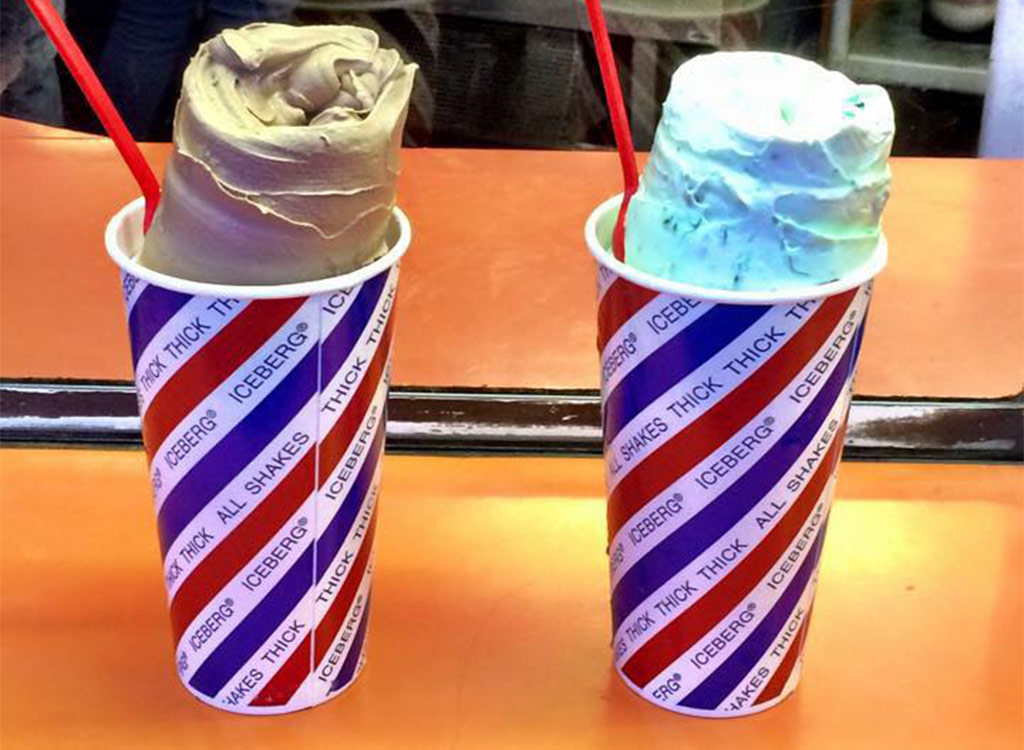 This burger joint has been in business in Salt Lake City since 1960 and can now be found in Utah, Arizona, and California selling their Famous Thick Shakes. Iceberg Drive Inn specialties not to miss (besides the shakes) include the towering Rodeo Burger or Pastrami Burger, the Grilled Footlong, and Hand-Breaded Onion Rings.
VERMONT: Al's French Frys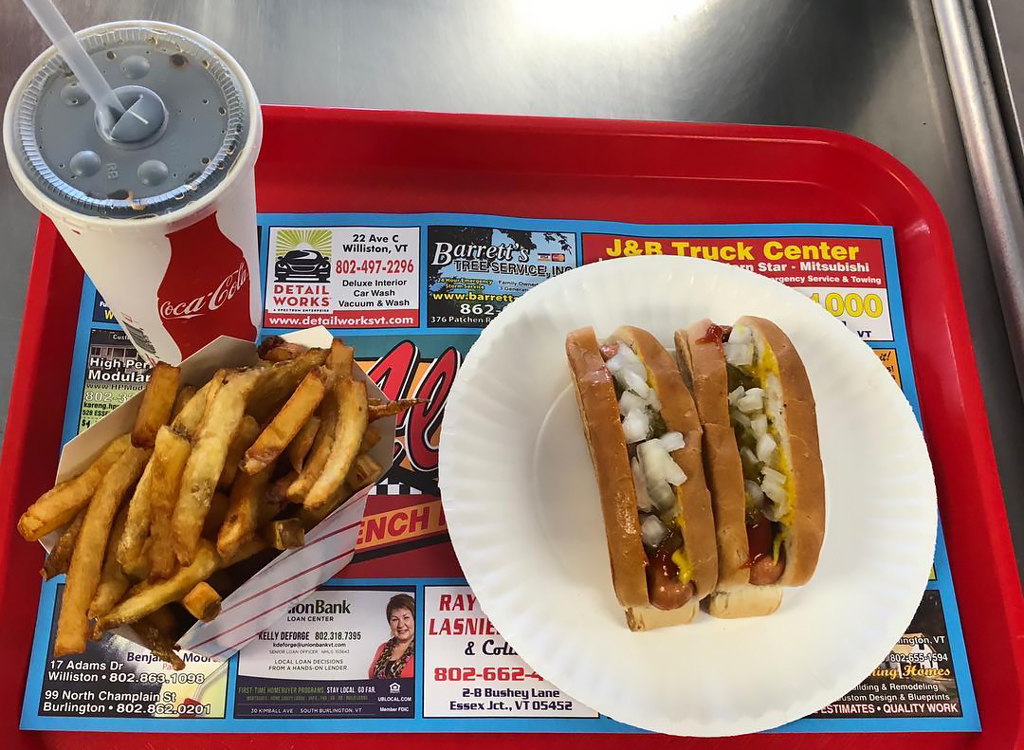 Though they may have spelled "fries" wrong, don't let a little mistake keep you from some of the best fried taters around. Opened in the late '40s by a husband-wife team, Al's French Frys features inexpensive eats with burgers, dogs, sandwiches, and double-fried potatoes that turn into crave-worthy crispy-soft fries.
VIRGINIA: Pal's Sudden Service
Pal's Sudden Service prides themselves for their "lightning-fast drive-thrus and personalized service." Pal's is unique in the quick-service industry as its employees go through more than 200 hours of training, which cuts down on turnover so you get quality service every time. Order up a thick and juicy Big Pal, or venture to try the Sauceburger, and make your side some shoestring Frenchie Fries.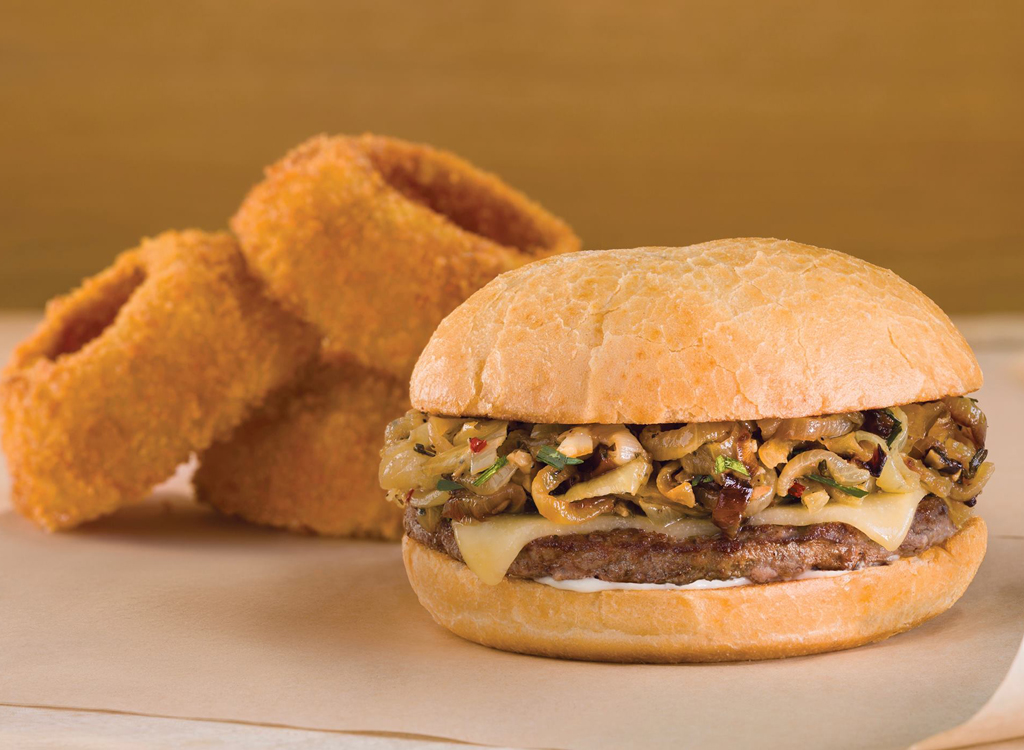 A Pacific Northwest fast food staple since the '60s, Burgerville now has dozens of locations scattered across the region that are dedicated to serving up fresh and locally sourced food—at least 72% of the ingredients come from less than 400 miles away from HQ in Vancouver, Washington. Try the cheesy Tillamook Cheeseburger or Wild Alaskan Halibut Sandwich to get a little bit of that local flavor next time you stop by.
WEST VIRGINIA: Gino's Pizza & Spaghetti House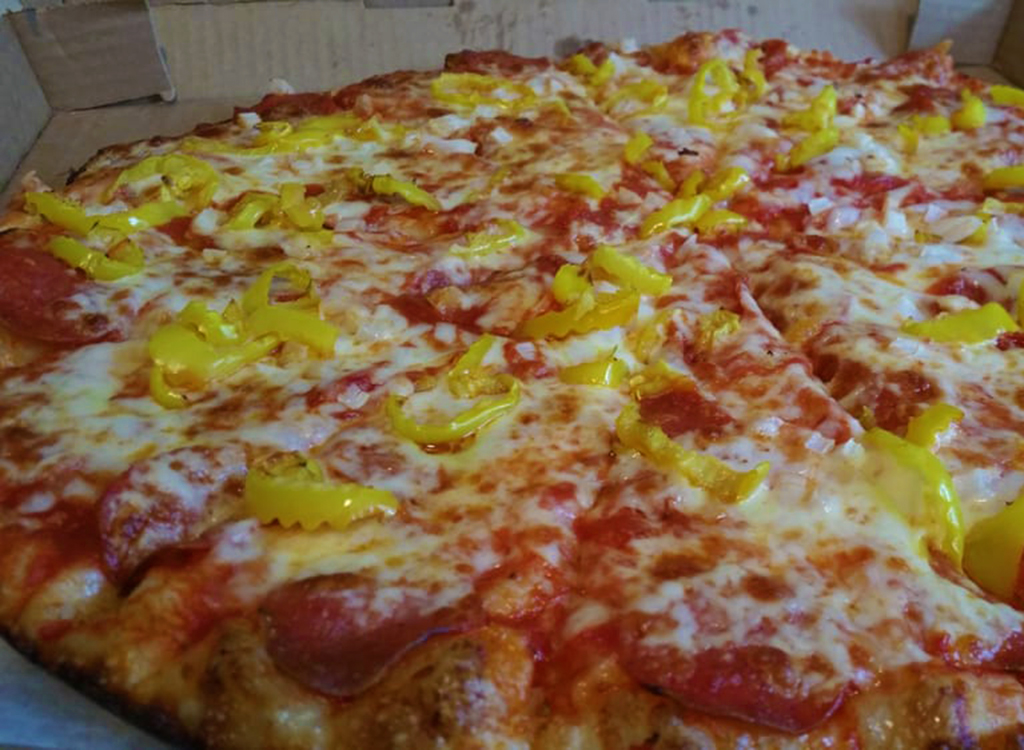 This pizza chain, with around 40 locations mostly in West Virginia, got its start in 1961 in Huntington. Pizza's the name of the game at Gino's but they also offer some great subs, like the Beef Steak Sandwich and Pizza Bread, along with a selection of wings and breadsticks.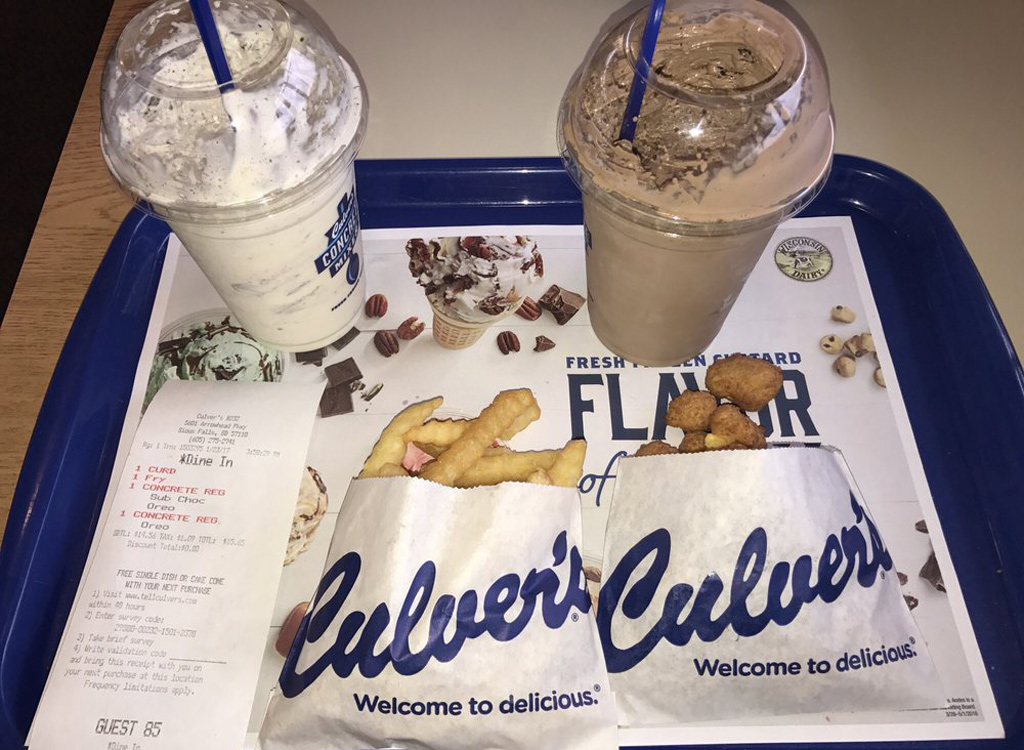 Famed for its killer combo of a ButterBurger served up with a Frozen Custard on the side, Culver's is the spot for hungry Midwesterners who need a quick fast food fix. Opened in 1961 in Saux City, the regional chain has now spread to hundreds of locations across 24 states. Other delicious dishes include their Pork Tenderloin Sandwich, North Atlantic Cod Sandwich, and Wisconsin Cheese Curds.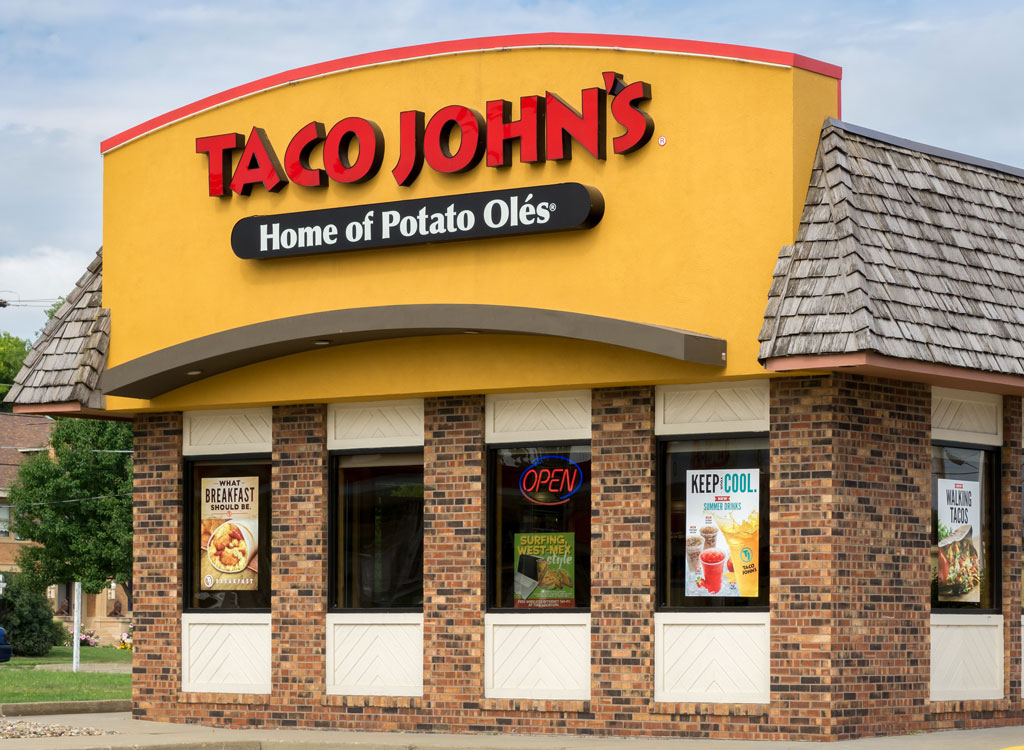 From one small taco stand in Cheyenne, Wyoming, in 1969, this "West-Mex" brand has grown to over 400 locations around the country. The Taco John's top seller is their Potato Olé or small, deep-fried potato nuggets with a special seasoning, but the Street Tacos are on point and the Stuffed Grilled Tacos and Churros are also delicious.
Now that you know what the best regional fast-food option is in your state, you might just want to give it a try. Sure, the Golden Arches are great, but supporting local businesses is always a win, especially when it comes to finding the best burgers.
For more, check out these 108 most popular sodas ranked by how toxic they are.