6 Foods Giada De Laurentiis Always Stocks in Her Kitchen, Including Her New Pasta Brand
In an exclusive interview, the chef and entrepreneur tells us the foods she swears by.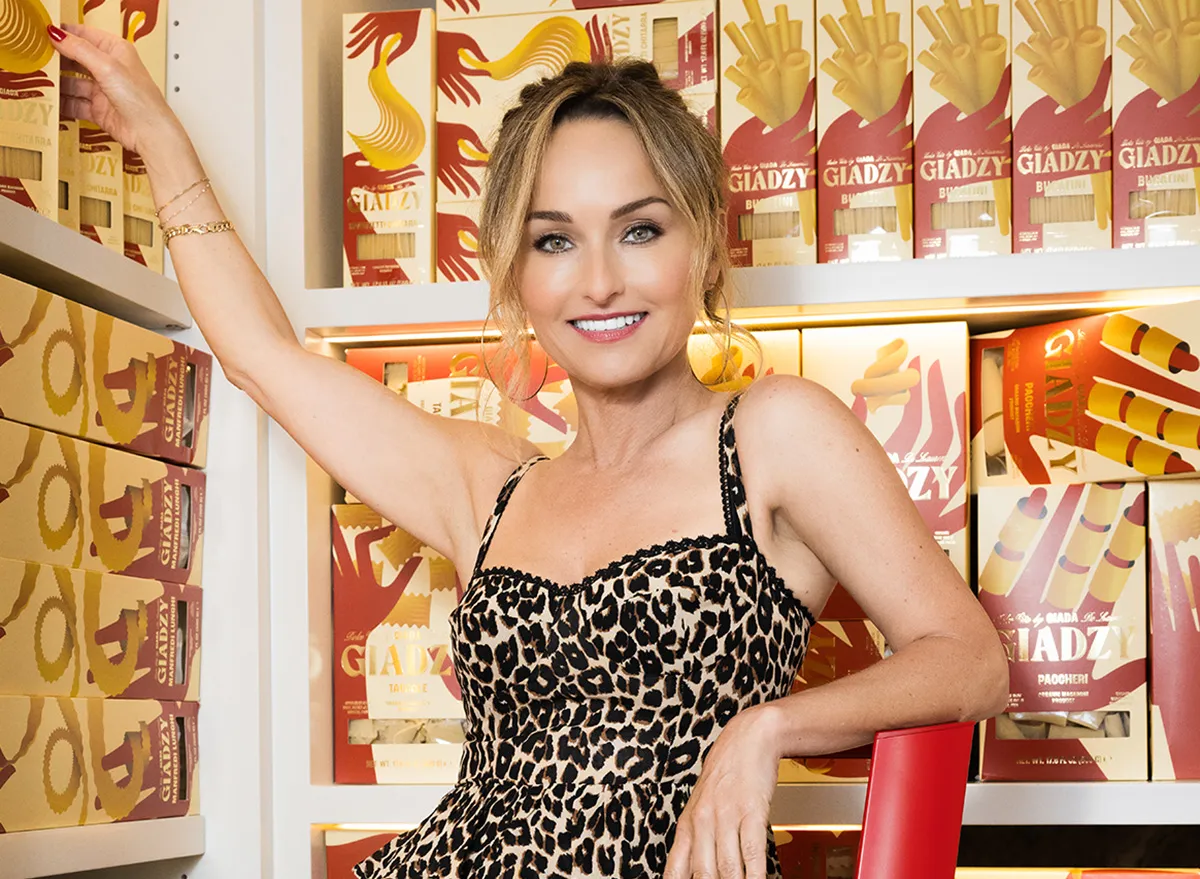 After 21 years, Giada De Laurentiis has parted ways with the Food Network and is venturing onto exciting new projects. These include launching her own new pasta line, Giadzy Pasta (which retails for $10.50 per 1.1 pounds package with eight harder-to-find shapes), and signing a multi-year deal for unscripted series production with Amazon Studios, in which the Emmy award-winning chef will star and serve as an executive producer on multiple shows.
De Laurentiis has certainly been busy, as she's adding these new endeavors to an already full roster of businesses, including her Las Vegas restaurant and Giada Catering, a catering company in Southern California, where she lives with her 15-year-old daughter, Jade.
Here, the beloved celebrity chef exclusively tells Eat This, Not That! how she's been doing all of the above while staying healthy and keeping her kitchen well-stocked with her favorite must-haves.
1
5 Foods Giada Always Has in Her Kitchen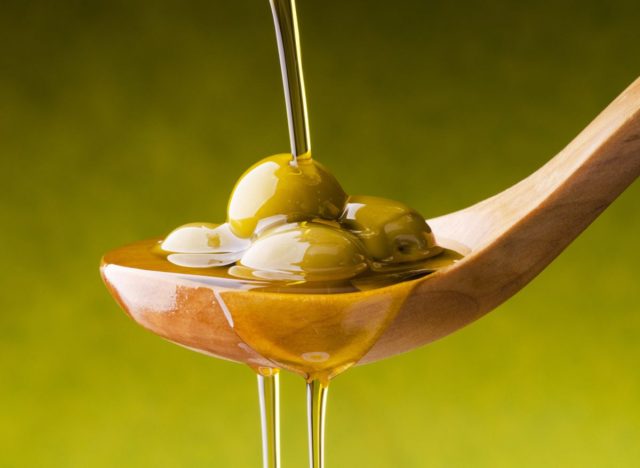 De Laurentiis's Italian-inspired cooking is focused on clean ingredients, simplicity, and an unwavering commitment to preserving authentic flavors. Each dish is perfectly balanced and infused with vibrant colors and flavors that elicit enticing aromas and unforgettable tastes. Using the best ingredients is vital to her, Giada says. Below are her top 5 must-have foods that she always has on hand:
"Calabrian Chili Paste: This is sort of like an Italian sriracha. You can use it to add a depth of heat and flavor without adding additional salt/fat. I use it on protein, simple pasta dishes, and even eggs," Giada says.
Olive Oil: "I keep two kinds on hand—one fresh-pressed version for finishing dishes and for salad dressings, then a less pricey olive oil for cooking. I cook almost everything in olive oil. For baking, I usually use coconut oil."
Anchovies: "They are polarizing to some but a great source of omega-3 and vitamin D and contain a lot less mercury than other seafood. My fave is from Cetara on the Amalfi coast."
Cruciferous Vegetables: "Broccoli, cauliflower, kale, radish, etc.—these contain a ton of vitamins & phytonutrients in addition to fiber. I make this

crispy parm broccoli & cauliflower salad

quite a bit, and Jade loves this

lighter version of alfredo with cauliflower

." 

Carnaroli Rice Flour: "While this is phenomenal for baking, I actually use Carnaroli Rice Flour as a clean and natural face scrub. Just mix with a few tablespoons of quality olive oil. My mother taught me when I was young and I still use it!"
2
Giada Says Balance is Key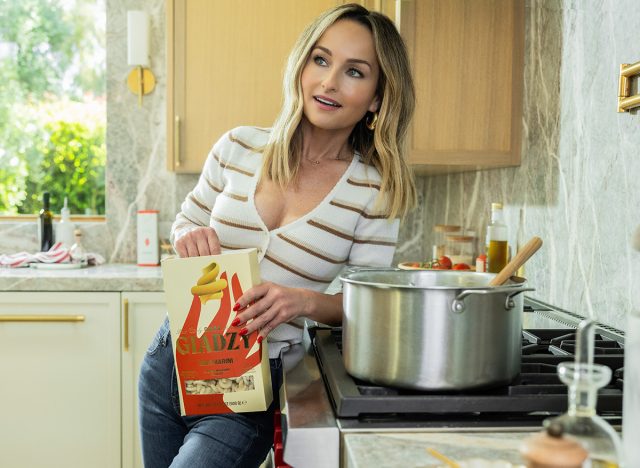 Healthy eating is important to De Laurentiis, but so is enjoying food. She doesn't deprive herself and tells us moderation is the key to her lifestyle.
"I've said it a million times, and my friends poke fun at me for this phrase, but—a little bit of everything, not a lot of anything. Life is meant to be lived. Eat the pasta, enjoy the chocolate, but do it in moderation," Giada says.
"In Italy, you don't see the portion sizes you see here in the U.S. Pasta is seen as more of a side, there's always some sort of protein and salad or vegetables on the table, too. I try to fill my plate first with the foods that make me feel best, then take a few bites of everything else, too. You'll never miss out or feel deprived that way." 
3
She Doesn't Believe in Dieting, But It Was a "Journey" to Get Here
De Laurentiis doesn't diet and learned to be more "mindful" of what she was consuming after realizing eating whatever she wanted wasn't working for her.
"It was a journey," she says. "When I was younger, I ate whatever I wanted, but when I hit my mid-thirties, I realized it wasn't sustainable as we age—if I wanted to have the energy to keep up with my daughter, I had to be more mindful. I started paying attention to how food made me feel and what ingredients I was putting into my body, and it shifted my habits completely. I can honestly say, at 52, I have more energy than in my thirties!"
4
She Knows the Quality of Food Is Important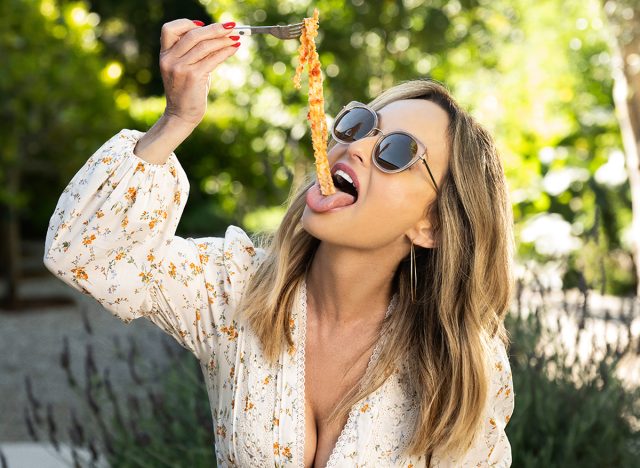 To De Laurentiis, being more mindful also means clean eating and knowing exactly what you're putting into your body. She follows the Mediterranean diet, which includes plant-based foods, olive oil, fish, and healthy fats, and pays attention to ingredients.
"In Italy, the food is actually very simple—it's all about fresh, quality ingredients. Produce that's in season, when possible, lean protein, and things that might seem indulgent, like pasta, are quite clean," she says. "Take our Giadzy pasta, for instance: it's made in Abruzzo with just two ingredients—flour, and spring water—with no preservatives or anything added. I think people are starting to understand the importance of the type of food, yes, but also the quality. It's exciting—and something I'm very passionate about." 
5
She Understands What Her Body Needs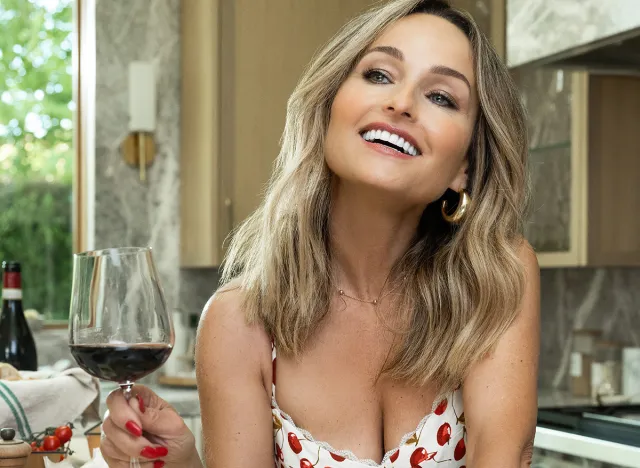 Taking note of how her body feels after eating certain foods is also something De Laurentiis says she learned to do and feels much better when she practices intuitive eating. 6254a4d1642c605c54bf1cab17d50f1e
"For me, energy levels were the biggest shift. I used to snack on chocolate chips when I needed a boost or make an afternoon americano. But what I didn't realize then was that I was masking what really needed my attention, which for me, was more protein and probably a little less stress. There's something powerful in sitting in that and understanding what your body needs. Caffeine and sugar can also affect your hormones, and as women age, it's important to balance those."
6
Her Pasta Brand is a "Full Circle Moment"
There's a lot of pasta choices on the market, but Giadzy is different for several reasons, De Laurentiis explains.
"Our pasta is made in the central Italian region of Abruzzo from organic, locally grown semolina and pure mountain spring water. The town of Fara San Martino sits at the foot of the Magella mountains, with a river carrying the pristine spring water down to the Adriatic Sea. The nearby plains also have the ideal climate for wheat farming, making it a perfect match."
This was all calculated by Giada in order to perfect the quality of her pasta line. "It was really important for me to use the best quality, organic wheat—I met with so many farms and the quality of what I found in Abruzzo was unparalleled. It's apparent in how they steward the land, too, and the outcome is delicious!"
What's more, the method for how Giada's pasta is produced holds a special meaning to her.
"The pasta is cut on 100-year-old bronze dies—it's a commitment to traditional practices, and it makes a huge difference compared to commercial pasta production," she says. "The dies give it a rough, rustic texture that soaks up the sauce—just the way my grandfather and his family made pasta when he was a boy. It's a full circle moment for me to keep his memory and the traditional way of pasta-making alive."
Heather Newgen
Heather Newgen has two decades of experience reporting and writing about health, fitness, entertainment and travel. Heather currently freelances for several publications.
Read more about Heather