This Is Giada De Laurentiis' Exact Breakfast, Lunch, and Dinner
Get a glimpse at what the superstar chef typically eats in a day.
Healthy eating is important to chef and author Giada De Laurentiis, but dieting isn't on the menu; in fact, she doesn't believe in diets. As she says in the intro to her book Feel Good Food, "I don't live my life on a diet. I just don't believe in them." Instead, she follows what works for her, "I have adopted a balanced way of cooking, eating, anhealtd living," she writes. Her number one philosophy on eating is to practice moderation: Eat a little of everything and not a lot of everything. She practices intuitive eating, listening to her own body responses to gauge what works for her.
Though after turning 50, she writes in her most recent book Eat Better, Feel Better, food quality and making time for self-healing have become very important, too. But overall, tons of vegetables, a little lean protein, good fats, and minimally processed grains make up the bulk of her diet. Here's what a day in the life of Food Network star and chef Giada De Laurentiis is really like and what she typically eats for breakfast, lunch, and dinner.
Plus, if you're looking to make healthy changes to your diet, check out Eating Habits to Lose Abdominal Fat As You Age, Say Dietitians.
Oatmeal for breakfast
You won't find a big plate of eggs on Giada's plate for breakfast, nor is Greek yogurt on the menu. "I am not a protein person for breakfast—it's not my thing," Giada told Food & Wine. In Italy, carbs are much more common or breakfast including cookies (yay!), cornetti (Italian croissants), or bread, "I'm a starch girl because that's the way I was brought up."
Cookies and fancy pastries are not usually on the menu, but, you will find a healthy staple: oatmeal. "Obviously I can't eat croissants and danishes every day, so I've found healthier ways of doing it," says Giada. "I'll do oatmeal with olive oil and sea salt. Sometimes I'll add Marcona almonds and spiced mandarin oranges. Or brown rice with olive oil and sea salt. I like my starch for breakfast." Giada's savory version of oatmeal is a must-try.
Warm lemon water is also a big part of her morning routine, she tells Delish. "You get dehydrated as you sleep and need to help your body rehydrate when you get up."
Lunch is lean and green
While eggs are not on the menu at breakfast, lunch is a different story. "We can eat eggs for lunch and dinner, like in a frittata, but not breakfast," she adds. "I can't do eggs for breakfast."6254a4d1642c605c54bf1cab17d50f1e
Although, often Giada opts for a salad, and of course, it's not just any salad. Giada told PopSugar that she typically eats her own Candied Lemon and Arugula Salad for lunch. "I always try to get in something green," she explained. "I love arugula and this salad recipe is the one I reach for 90 percent of the time. The dressing is from my restaurant, but it's simple enough to use every day." She also told Food Network that she likes to add walnuts to her salads. "The nuts give me some protein," she said. "And I like the combination of crunchy, creamy, and soft all together."
If Giada does crave pasta, she has it for lunch, she writes in Feel Good Food, "I have more time to use its fuel during the day."
Dinner is protein-focused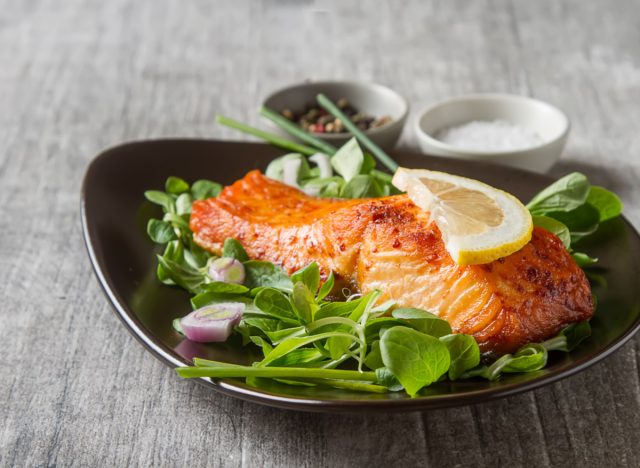 While the morning meal is light on protein and high in energy-producing complex carbs, dinner has got to be protein. "If I don't eat protein at night, I don't sleep well," she told Food Network via The List. What's on the menu? It could be simple baked salmon or meatballs made out of turkey instead of beef.
Also, she aims to have dinner three hours before she turns in for the night. "I always give myself plenty of time to digest before I go to bed," she writes in Feel Good Food. Additionally, the quality of protein is very important, she writes in Eat Better, Feel Better, "I try to make sure they are as clean as possible, meaning free-range and/or grass-fed, free of hormones, pesticides, and other chemical contaminants."
She loves the occasional cleanse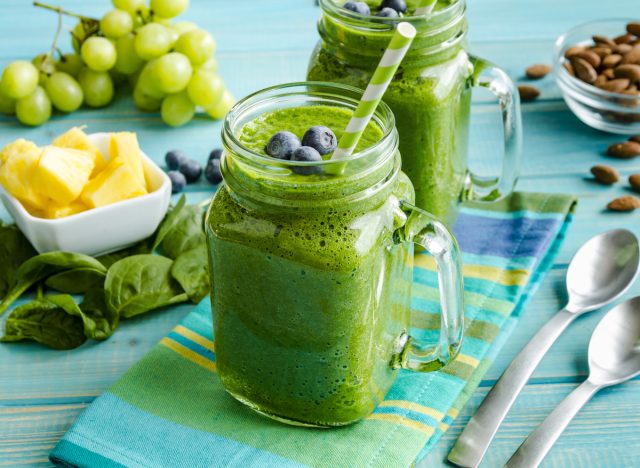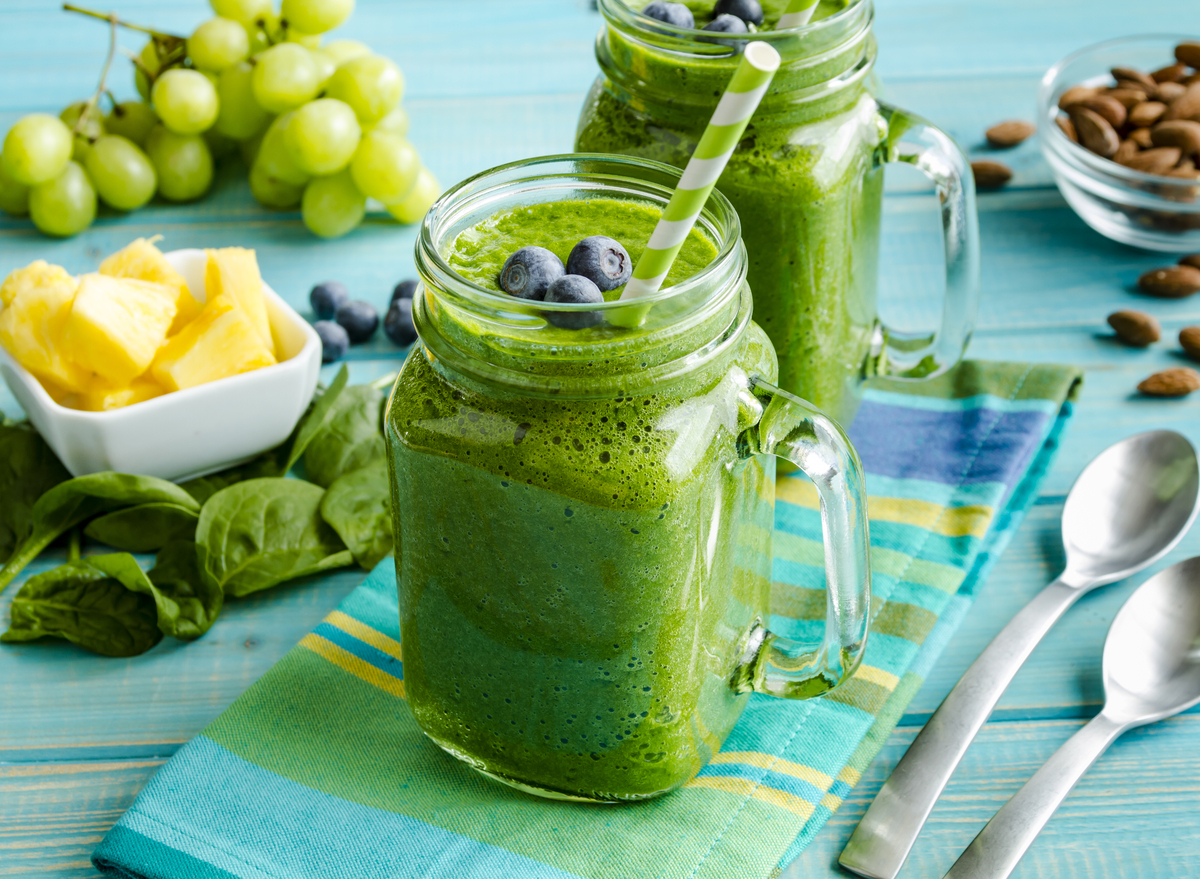 While she doesn't diet, per se, an occasional cleanse helps her reset. If Giada has been traveling and healthy eating has been difficult, she turns to smoothies to even things out. "I turn to juices and smoothies to help rewire my body," she writes in Feel Good Food. In her newest books, she also details her 3-week, whole foods cleanse.
Treats and snacks
Giada keeps roasted veggies in the fridge to snack on. But, in her food diary for Shape, reports The List, Giada also expressed her love for good French fries. "Fries are some of my fave comfort foods," she said. "I love the crispy indulgence, but I make sure they aren't a daily habit!"
And chocolate is never off the menu. Though she's scaled back her love of chocolate for the sake of health, she says in Eat Better, Feel Better, she often enjoys a "square of the real thing, stored in the fridge so that it melts slowly in my mouth." Occasionally, she told PopSugar, she'll also whip up her Avocado Chocolate Mousse.
Hydration is key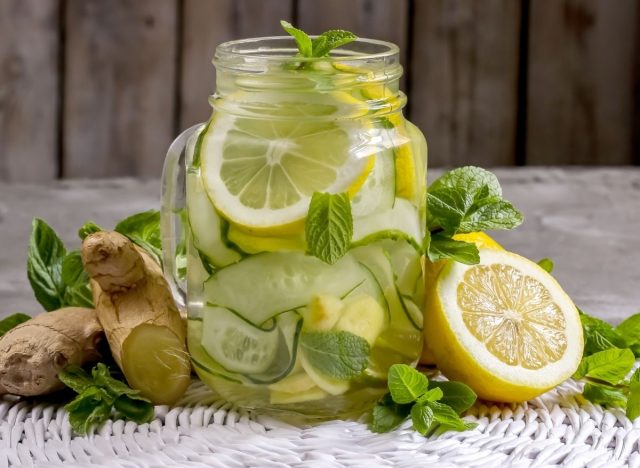 As far as beverages, Giada stays hydrated with tons of water sometimes with lemon or cucumber slices. "I drink a lot of water throughout the day," she says. And wine, most likely a good Italian wine, is sometimes on the menu, "I've been doing that a lot more than before the pandemic," she says. Though it certainly isn't an every night thing, in Eat Better, Feel Better she says she limits any alcohol to once or twice per week. Caffeine is also a part of her day, but her double espresso days are long gone, she limits it and noon is her cutoff.
Yoga, walking, and biking.
You will never find Giada on a treadmill or pumping iron in the gym. "I am not a gym person. The idea of being strapped to a treadmill every day is my worst nightmare," she writes in Feel Good Food. "Exercise is important," she writes, "but I also think it's important that you enjoy it." In Eat Better, Feel Better she says she was introduced to yoga while pregnant with her daughter Jade and has since made it a nearly daily part of life. She also incorporates walking and biking when she can.