Gisele Bündchen Reveals Why She Gave Up Alcohol
In a new interiew she also shares six other healthy habits that keep her healthy and fit at 43.
With just one look at 43-year-old Gisele Bündchen, it's clear the supermodel has her healthy habits down pat. Her Instagram is a testament to how she leads a wholesome, fit life, including practicing self-defense, stretching it out with yoga, finding balance in nature, and bike riding. And yes—she also gave up drinking alcohol.
But Gisele Bündchen doesn't stop there—she nurtures herself from the inside out. In fact, she recently launched her new cookbook, Nourish, which focuses on nutritious, simple meals from her family, along with certain self-care rituals that are dear to her—"especially as a busy, working mom." Bündchen captioned her cookbook debut post on Instagram, "People are always asking me what I eat and how I stay fit. Great food is something I am passionate about, and it is vital for living a healthy lifestyle."
The supermodel recently linked up with PEOPLE to chat about the lifestyle changes she made to look and feel better than ever, including working out daily and meditating. If you're curious about more lifestyle habits this celeb follows to look and feel her absolute best, keep reading to learn more. And when you're done, don't miss out on the 5 Best Mediterranean Lifestyle Tips for a Longer, Healthier Life.
She gave up alcohol.
Bündchen revealed to PEOPLE that soon after she hit 40, she felt much different when she drank a glass of wine versus when she didn't have any. "It's socially accepted to have a glass of wine. And people even say, 'Oh, it's healthy for you.' Well, it is not healthy for me. If you want to ask of your body what I ask of my body, which is a lot, I can't be having all these things (alcohol, caffeine) because they add up," she said.
The supermodel said she "became more clear" and present after giving up alcohol. She even sleeps a lot better! "You have to be loving to yourself," she explained to PEOPLE. "You ask a lot of your body, you've got to do a reset. You have got to take care of this only vehicle you got, right?"
She doesn't think of self-care as a selfish act.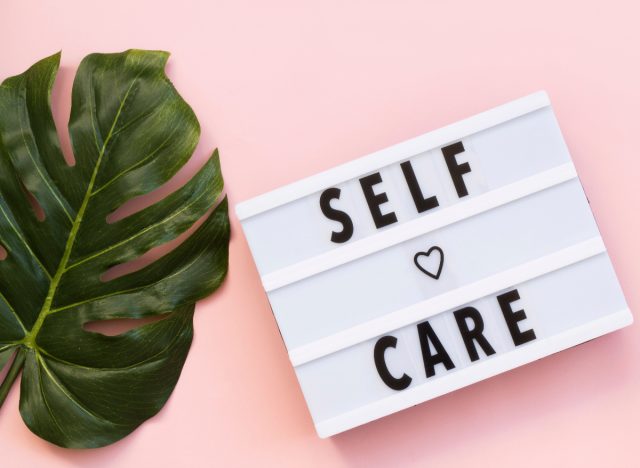 According to Bündchen, making her well-being a priority isn't a selfish act. In fact, it's quite the opposite, and she encourages women (specifically, moms) to ditch the mentality that taking care of yourself is selfish.
"It's not a selfish thing," she stressed. "People have been teaching us that it's selfish if you take care of you. How is that selfish? When you feel good, you're a better mom, you're a better friend, you're calmer, you're more patient, you're more loving, you're more grounded. So you can't feel guilty about prioritizing yourself. Because that's loving you and loving the people you love the most, which are going to be impacted by how well you are. Because if you're sick, everyone's hurts."
She's all about herbal remedies.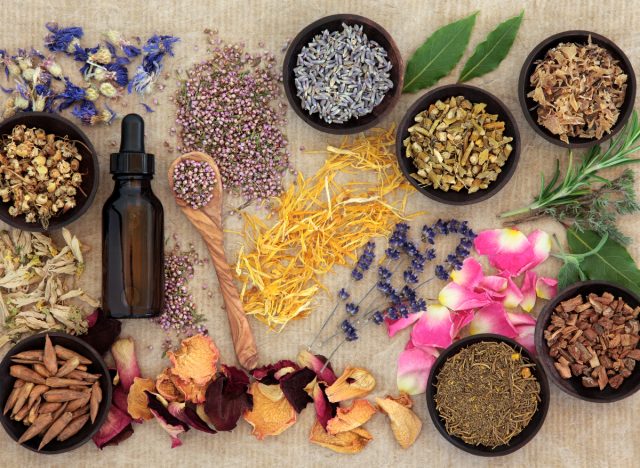 As a Wellness Ambassador for Gaia Herbs, Gisele Bündchen is essentially an herbal remedy guru. She's sharing how to work organic herbal remedies that were part of her life growing up in Horizontina, Brazil, into a hectic lifestyle.
"Sometimes, we can get so disconnected from our bodies because we are running away from ourselves, so we just keep adding more things for us to do," she explained. "Give me anything to eat, give me anything to drink. You're just in this mode. I feel like whenever you can bring yourself back into feeling your body and just being present, it's great. You're kind of in your body and you're really present. You're breathing, you're connecting."
She meditates.
Meditation is a healthy, calming practice that keeps this celeb grounded—especially during more challenging times. Research shows that meditation can help alleviate stress, anxiety, and depression.
Bündchen told PEOPLE, "It's like taking a step back and observing it like a movie, the situation happening. And even though you feel the emotions, you're not attached to them. It's not attaching to the emotions, it's observing them. And when you observe them, you can take this little step of separation. It can allow you to take a breath and come in from a place where it's not reactive, but it's more proactive. You're like, okay, let me assess."
She exercises daily.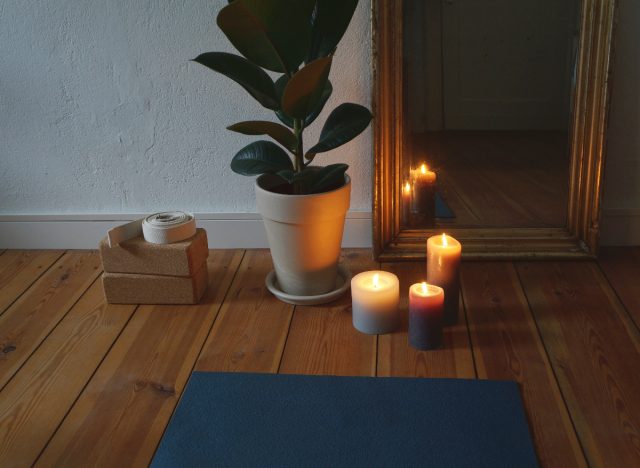 In addition to meditation, Gisele Bündchen is a major fan of keeping her fitness game strong, as she pointed out to PEOPLE, "I work out every single day." Talk about exercise goals! The celeb lifts weights, stretches it out with yoga, and goes on walks. In many of her Instagrams, you'll find the supermodel in an activewear set exploring a nature trail, bike riding, or doing some beach yoga.
She embodies wellness with nutrition.
Prioritizing nutrition and letting food "be thy medicine" is a value Bündchen has spoken out about before—and for good reason. "I experienced a huge difference in my health and the quality of my life when I began making better food choices. I dug deeper—and today I understand the benefits of everything I eat, and how my diet helps nourish my body, my soul, and my spirit," she previously wrote on Instagram. "When we eat foods that are alive (and not processed), their nutrients and vitamins keep us healthier while also helping our bodies function in an optimal way. After all, our health is our biggest wealth."6254a4d1642c605c54bf1cab17d50f1e
Now with the recent launch of her cookbook, Nourish, Bündchen is furthering her nourishing mission by encouraging others to make healthier choices, too.
She loves carving out time to spend outdoors.
Connecting with nature works wonders for the mind, body, and soul, and it's something Bündchen enjoys doing regularly. She told PEOPLE, "I love the sunshine. Wherever the sun is, I feel like the happiest always. Just feeling the sun, just taking a dip in the ocean, just running on the sand and just feeling the grass on my feet. Just being in nature just gives you energy. It just makes you feel good."
Alexa Mellardo
Alexa is the Mind + Body Deputy Editor of Eat This, Not That!, overseeing the M+B channel and delivering compelling fitness, wellness, and self-care topics to readers.
Read more about Alexa
Sources referenced in this article