Goat Cheese Stuffed Peppadew Peppers Recipe
A recipe that's got all the right stuff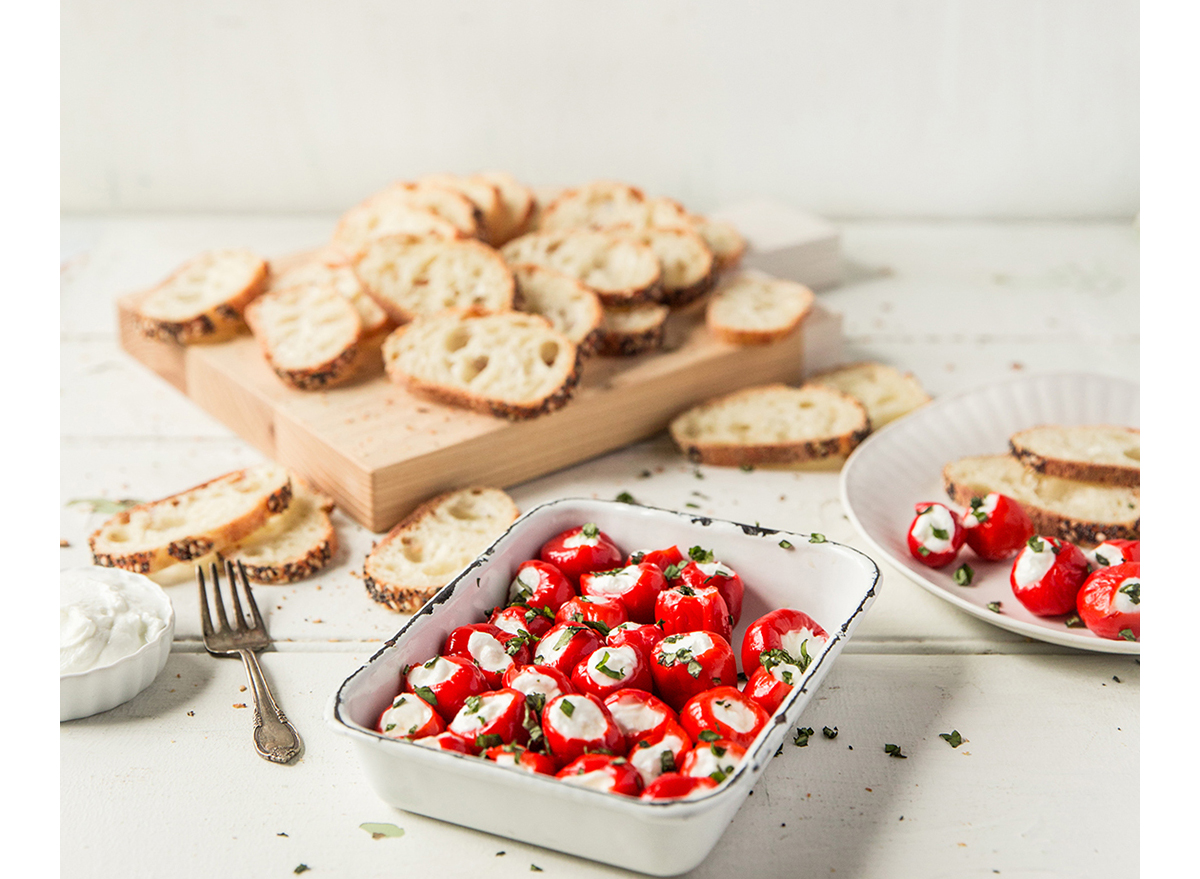 Goat cheese may not be the first cheese you think of when adding it to your dishes, but one worth adding to your diet. It is full of benefits, including providing you with major nutrients such as calcium, magnesium, potassium, zinc, copper, and iron. It's also full of healthy fats. These medium-chain fatty acids can improve the feeling of fullness, eventually leading to weight loss.
This moist and creamy alternative to cow milk cheese and perfect for an abundance of dishes. Served warm or refrigerated, its versatility shines. Have we convinced you yet? Take a look at this stuffed pepper recipe that makes the goat cheese shine. Whether it's a snack for one or a shareable special, you'll enjoy munching on a few.
This recipe is courtesy of Vermont Creamery
You'll Need
6 ounces whole sweet mild piquanté peppers
4 ounces of Vermont Creamery Goat Cheese
2 tablespoons extra virgin olive oil
1/4 cup chopped basil
Grilled bread or crackers
How to Make It
Stir spreadable goat cheese. Spoon into a piping bag with a small round tip or into a sandwich bag, cutting a small hole in corner of the bag.
Drain the piquanté peppers, but don't rinse.
Pipe spreadable goat cheese into each pepper. Place in a single-layer serving plate or container.
Drizzle olive oil on top; sprinkle with chopped basil. Serve with grilled bread or crackers.
Looking for more ways to use your goat cheese? Try Simple and Healthy Fig, Prosciutto, & Goat Cheese Salad Recipe. 
Eat This, Not That!
Inspired by The New York Times best-selling book series, Eat This, Not That! is a brand that's comprised of an award-winning team of journalists and board-certified experts, doctors, nutritionists, chefs, personal trainers, and dietitians who work together to bring you accurate, timely, informative, and actionable content on food, nutrition, dieting, weight loss, health, wellness, and more.
Read more about Eat This