8 Granola Bars Made With the Highest Quality Ingredients
Here's how to find the healthiest granola bars.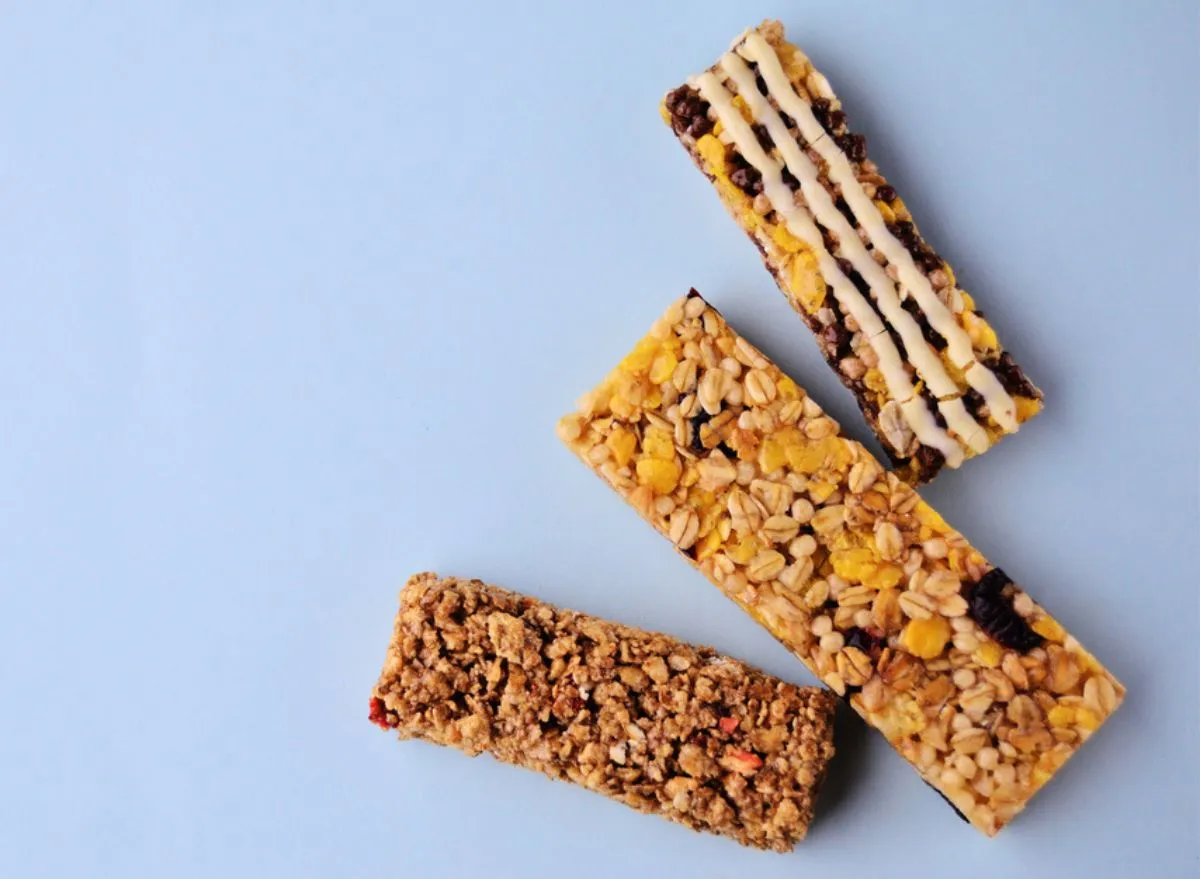 This post contains affiliate links. If you use these links to buy something, we may earn a commission.
Whether you had them in your lunch box as a kid or eat them now for an on-the-go snack, granola bars continue to be a hot commodity among people of all ages. According to IRI (Chicago) data from the past 52 weeks, the "granola bars" category brought in $1.468 billion in sales, with a 8.9 percent increase from last year with Nature Valley at the forefront bringing in $616 million in sales.
Based on the data, it's safe to say that the demand for granola bars isn't going anywhere anytime soon. With that said, not all granola bars are created equal, meaning they all don't have the healthiest ingredients.
"A high-quality granola bar will have at least 3 grams fiber from whole grains, healthy fat and protein from nuts and seeds, and no more than 6 grams added sugar from natural sources like dried fruit or honey," says Danielle McAvoy, Senior Manager of Nutrition for Territory Foods. Additionally, Sarah Koszyk, MA, RDN and co-founder of MIJA, adds that a granola bar with high-quality ingredients will ideally have no preservatives or artificial colors.
Keeping all of this information in mind, here are eight granola bars that use the highest quality ingredients that you can pick up on your next trip to the grocery store.
88 Acres Blueberry Lemon Seed + Oat Bars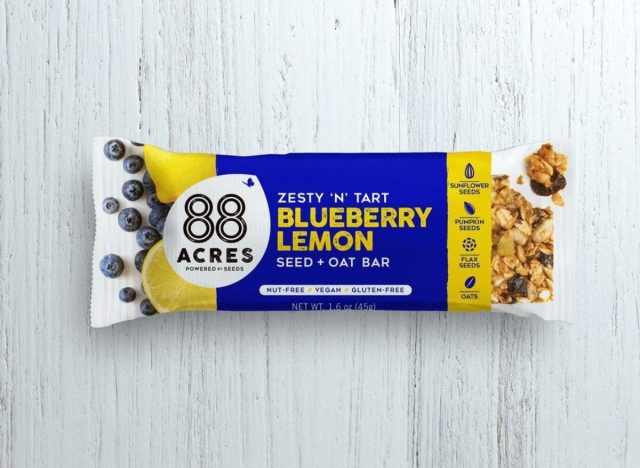 Breanna Woods, MS, RD, registered dietitian for Blogilates, says these are one of her favorite granola bars with 3 grams of fiber and 6 grams of protein. This granola bar has a list of ingredients that you can actually read: gluten-free certified oats, dried blueberries, organic lemon oil, sea salt, etc. To top it off, seeds have a plethora of health benefits from helping reduce cholesterol levels to creating more red blood cells which gives this granola bar a leg up on its competition.
Gold Emblem Oats & Honey Crunchy Granola Bars
Sammi Haber Brondo, a registered dietitian and nutritionist, loves these granola bars because they contain a lot of whole grains—a high-quality ingredient you'll want to look for in this popular snack food. Made from whole grain oats and honey just to name a few ingredients, you'll be met with a sweet and crunchy granola bar that's great for a morning pick-me-up or mid-afternoon snack.
Core Organic Refrigerated Peanut Butter Chocolate Oat Bar
If you're craving a more sweet granola bar, then you may want to consider this chocolate peanut butter hybrid. "Core bars are a great example of a clean, whole foods-based granola bar with a good balance of fiber, fat, protein, and no added sugar," says McAvoy. Not only does it have probiotics, prebiotics, Vitamin D and C, and Zinc, but also it's made with gluten-free whole grain oats, peanuts, and dates just to name some of the high-quality ingredients.
Lara Bar Pecan Pie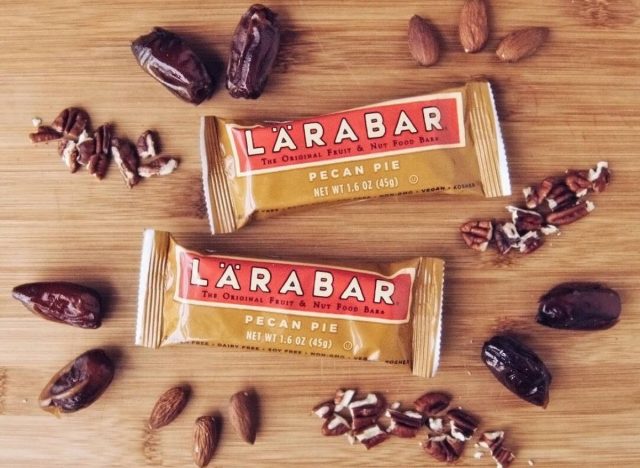 Koszyk generally recommends choosing granola bars with less than 2 grams of added sugar if using the bar as a snack. This Lara Bar has no added sugar and is made with just three ingredients: dates, pecans, and almonds. Plus, it has four grams of dietary fiber which will help improve digestive health and keep you satisfied for longer.
Kashi Grain Free Chewy Coconut Almond Granola Bars
While this granola bar may have slightly more added sugar than other bars at four grams, it's made with high-quality ingredients you can read like sunflower seeds, coconut, almonds, and honey just to name a few. Additionally, Brondo recommends steering clear of sugar alcohols and there is none in these grain-free granola bars.6254a4d1642c605c54bf1cab17d50f1e
Kodiak Cakes Chocolate Chip Crunchy Granola Bars
You may be familiar with the brand's pancake mix, but they also have delicious granola bars. Made with 100 percent whole-grain rolled oats and semi-sweet chocolate chips, this granola bar tastes reminiscent of your favorite chocolate chip cookie while filling you up with 10 grams of protein and two grams of dietary fiber.
Bob's Red Mill Peanut Butter Banana and Oats Bob's Bar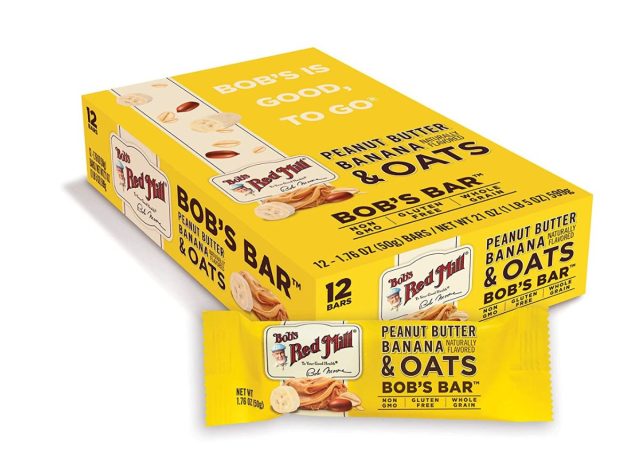 A banana with peanut butter is a classic go-to snack, but if you really want to elevate it then consider adding some oats. Inside you'll find just eight ingredients: whole-grain oats, organic tapioca syrup, organic honey, banana, natural flavor, sea salt, and organic rosemary extract. Plus, this oat bar has seven grams of protein which is recommended for keeping you full and satisfied.
KIND Oats & Honey with Toasted Coconut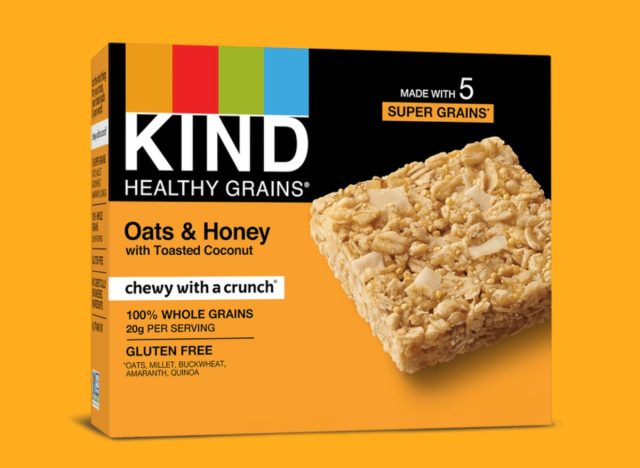 KIND bars like this one are great if you're looking for a granola bar with whole grains as its first ingredient is oats. Woods also loves these Kind granola bars but they only have 2 grams of fiber and 2 grams of protein. "When I eat these as a snack, I pair it with either cheese for more protein, or some berries to get more fiber."
Casey Clark
Casey Clark is a current journalism student at Hofstra University with a passion for food, beauty, and entertainment.
Read more about Casey