15 Savory Ideas to Eat Greek Yogurt
Whether you're trying to use up those extra Greek yogurt containers that you bought on sale or are simply looking for more exciting ways to amp up your protein intake, we've got you covered.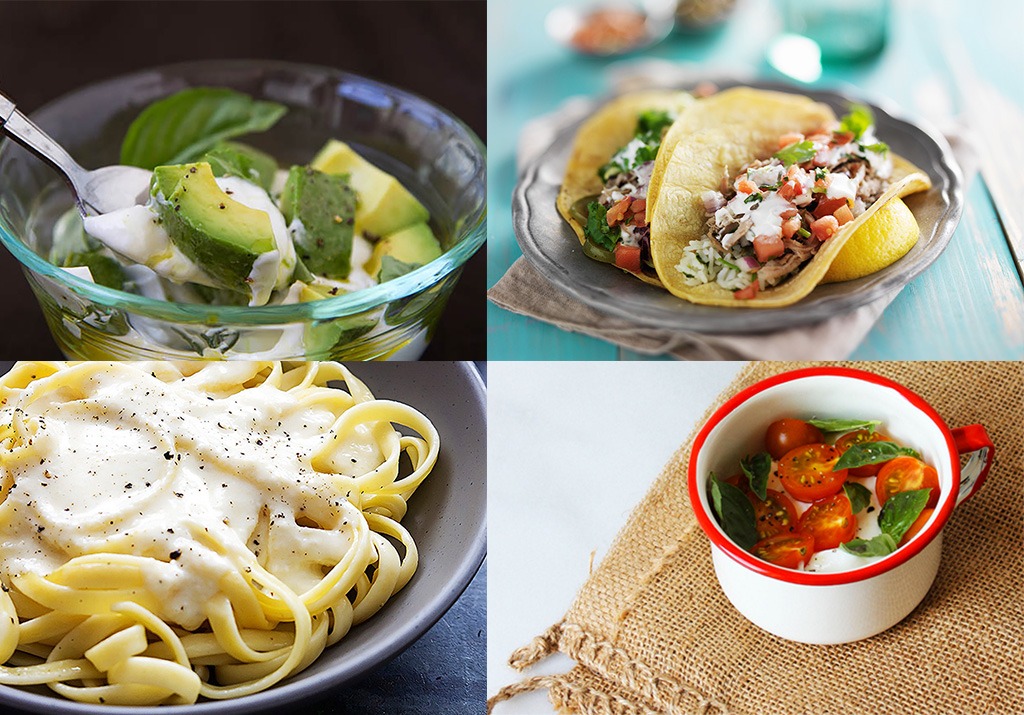 There are only so many yogurt, nut, and berry parfaits a person can eat before they go totally insane. Okay, that's a bit of an exaggeration, but we can bet that many of America's yogurt eaters are suffering from a serious case of taste bud fatigue. They're just plain bored with the dessert- and fruit-flavored yogurts that have been regulars in their breakfast bowl for years. And this puts health-conscious dieters who don't want to give up the stuff's flat belly, muscle-building benefits between a rock and a hard place.
Thankfully, food manufacturers, recipe developers, and creative foodies have started looking at Greek yogurt in a different light. A new yogurt era has arrived, and it's savory, tangy, milky—and best of all, it's downright delicious. Not sure how to get in on the savory dairy trend while staying on track with your weight loss goals? We've got you covered. Here, some of the most satisfying ways to spoon it out! And then for even more ways to incorporate yogurt into your daily diet, check out these 20 Amazing Yogurt Smoothie Recipes.
Make a Lightened-Up Ranch Dressing
It may encourage kids and parents alike to eat more veggies, but ranch dip is far from the picture of health. While the not-so-healthy homemade versions call for fatty ingredients like mayo, buttermilk, and sour cream, the store-bought kind is riddled with yucky stuff like MSG and soybean oil, a commonly used fat that University of California researchers have linked with weight gain and diabetes in mice. To make a quick and easy ranch dip that will help you stay on the straight and narrow towards you goals, simply mix a garlic powder, onion powder, dried dill, kosher salt, Worcestershire sauce, cayenne pepper and fresh chives into a cup of plain Greek yogurt. For details on whipping up a batch, check out Well Plated's recipe.
Use It as a Chili Or Taco Topper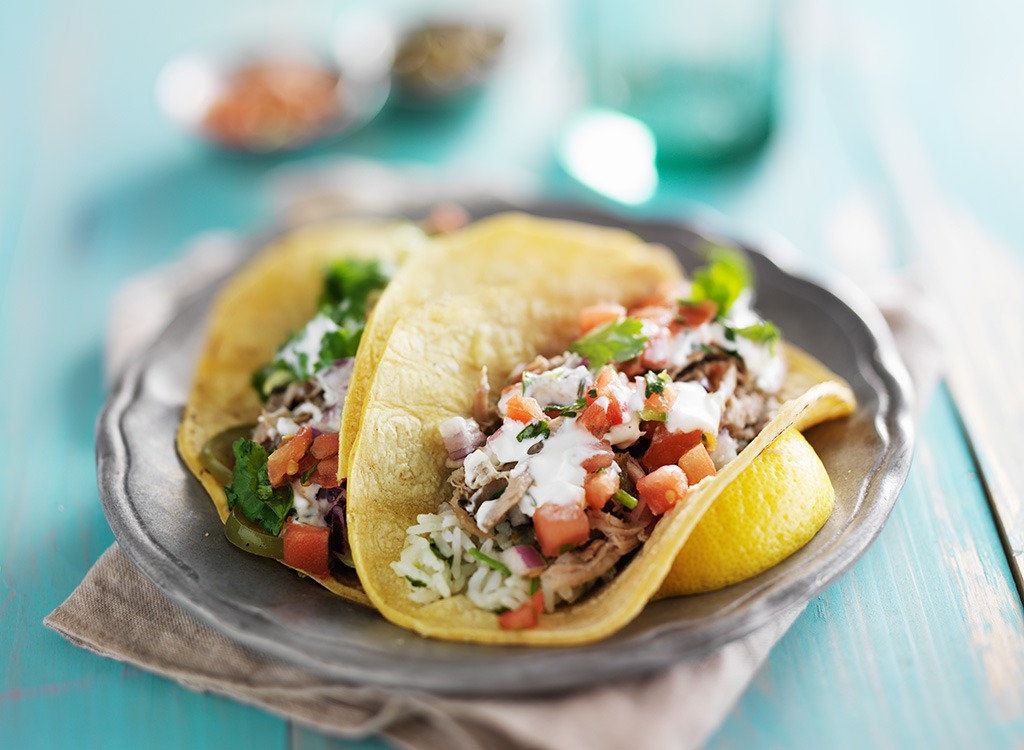 Instead of topping your chili and tacos with sour cream, mix some Greek yogurt with cilantro and taco seasoning for some added flavor and use that instead. It will save you calories and fat and add some additional protein to your plate. That's what we like to call a win-win!
Make a Healthier Alfredo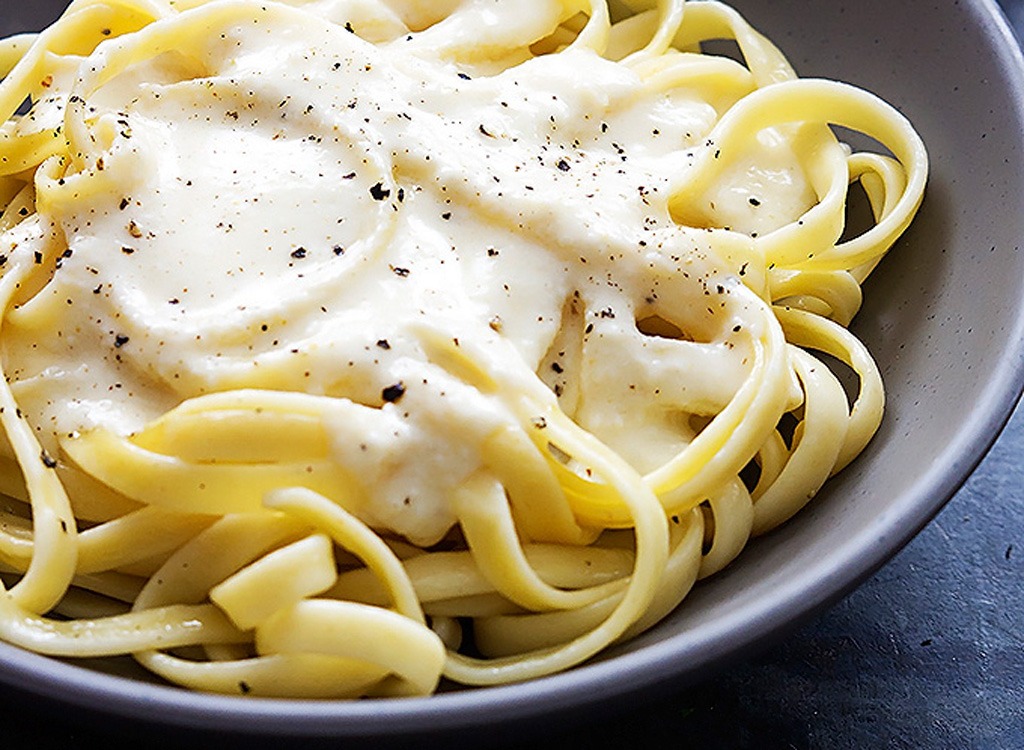 Fettuccine Alfredo—what my father lovingly calls "a heart attack in a dish," is filled with artery-clogging saturated fats. In fact, a mere ¼ cup serving of the stuff packs 25% of the day's intake! But that's no reason for you to forgo the dish, simply give it a healthy makeover with the help of creamy and delicious yogurt. (More details on that here.) And to make over the recipe further, swap our refined pasta for whole grain or zucchini noodles. Loving that last idea? Then be sure to check out these 21 Mouthwatering Spiralizer Recipes for more veggie noodle inspo.
Make A Savory Yogurt Bowl—or Three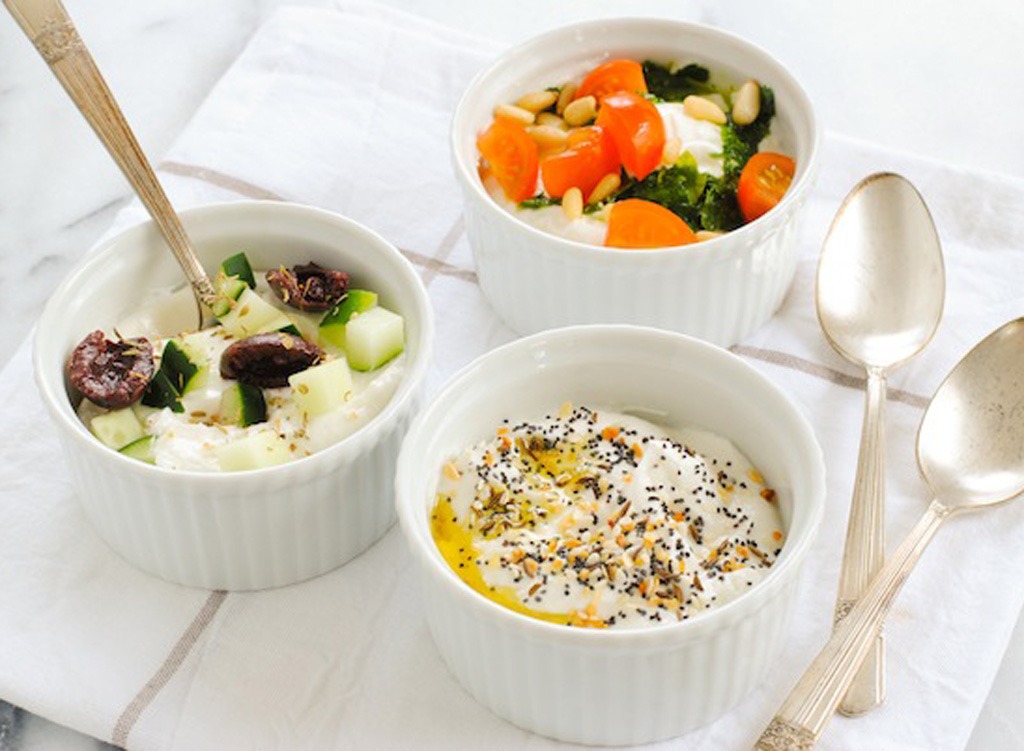 Never been a fan of sweet yogurt toppers like fruit and cereal? Then you're going to love the savory topping trend sweeping through the land of fermented dairy. Lori of Foxes Love Lemons likes to top her yogurt bowls with winning combos like EVOO and everything bagel seasoning (yes, that's really a thing) and cucumber, kalamata olives and dried oregano. For more fun and tasty ideas, check out her blog!
Stir Up a Low-Cal "Creamed" Spinach
Swap in thick Greek yogurt for heavy cream to create a healthy spin on creamed spinach. It's beyond simple to make, too: Just mix some sautéed spinach, nutmeg, and salt into a container or two or your favorite plain yogurt and you're good to go. For more simple recipes that can help you lose belly fat, check out these 20 Lazy Dinner Recipes for Weight Loss!
Try a Greek-Inspired Pita or Sandwich Spread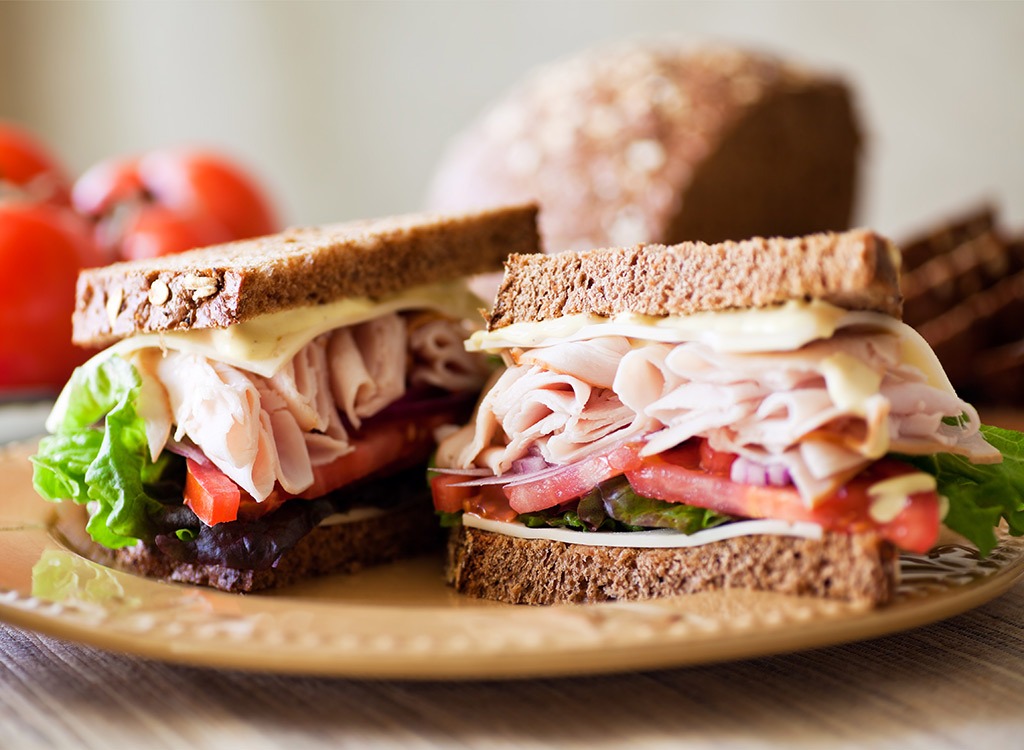 Skip the globs of mayo, sandwich lovers, and make a healthy and fresh lunchtime spread in your own kitchen instead. It may seem too simple to be true, but folding finely chopped cucumbers and radishes into a serving of plain yogurt along with olive oil, sesame seeds (one of these 20 Calcium Rich Foods That Aren't Dairy) and dried dill creates a to-die-for sandwich and pita topper.6254a4d1642c605c54bf1cab17d50f1e
Add It To Mashed Potatoes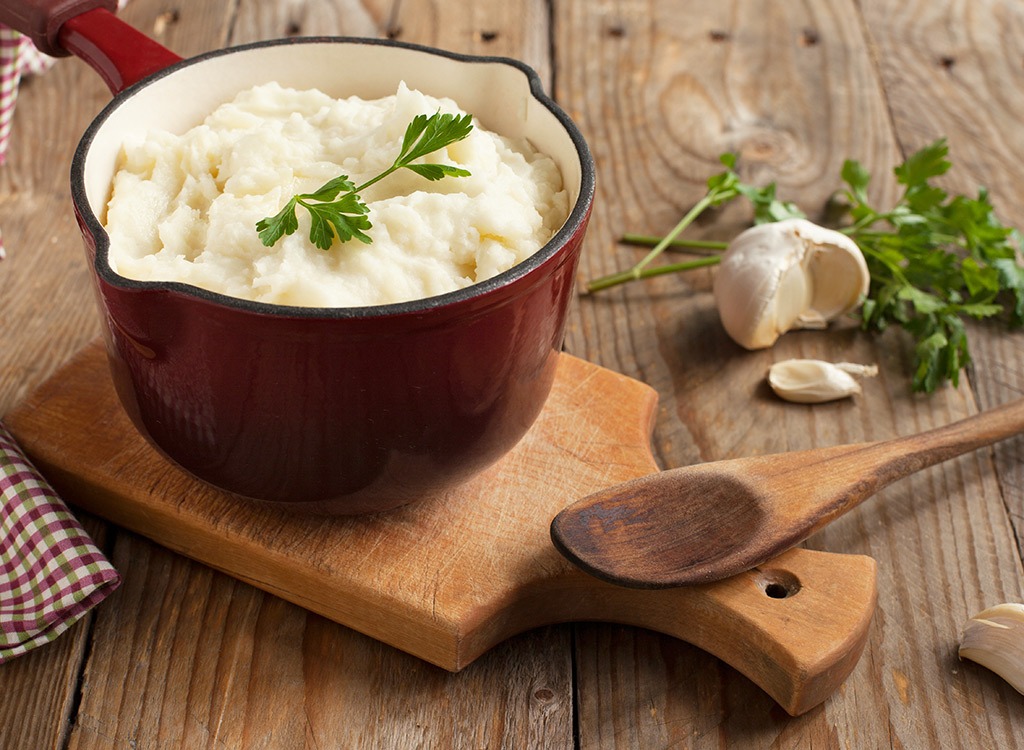 To create high protein mashed potatoes your entire family will love, skip the milk and excess butter, and whip up our healthier take of the dish instead. Here's how to make it:
WHAT YOU'LL NEED
½ cup plain Greek yogurt
1 ¼ lbs Russet potatoes, peeled and sliced
¼ cup low-sodium chicken broth, warmed
2 Tbsp melted unsalted grass-fed butter
Rosemary, to taste
Ground black pepper, to taste
HOW TO MAKE IT
STEP 1
Boil a large pot of water. Add potatoes and cook for 15 minutes, or until softened. Drain water.
STEP 2
Transfer potatoes to a large bowl, combine with the broth and mash together. Once thoroughly combined and smooth, stir in the yogurt, butter and spices.
STEP 3
Serve with one of these 35 Best-Ever Chicken Recipes for Weight Loss for a complete, healthy meal.
Use It As An Excuse to Eat More Avocados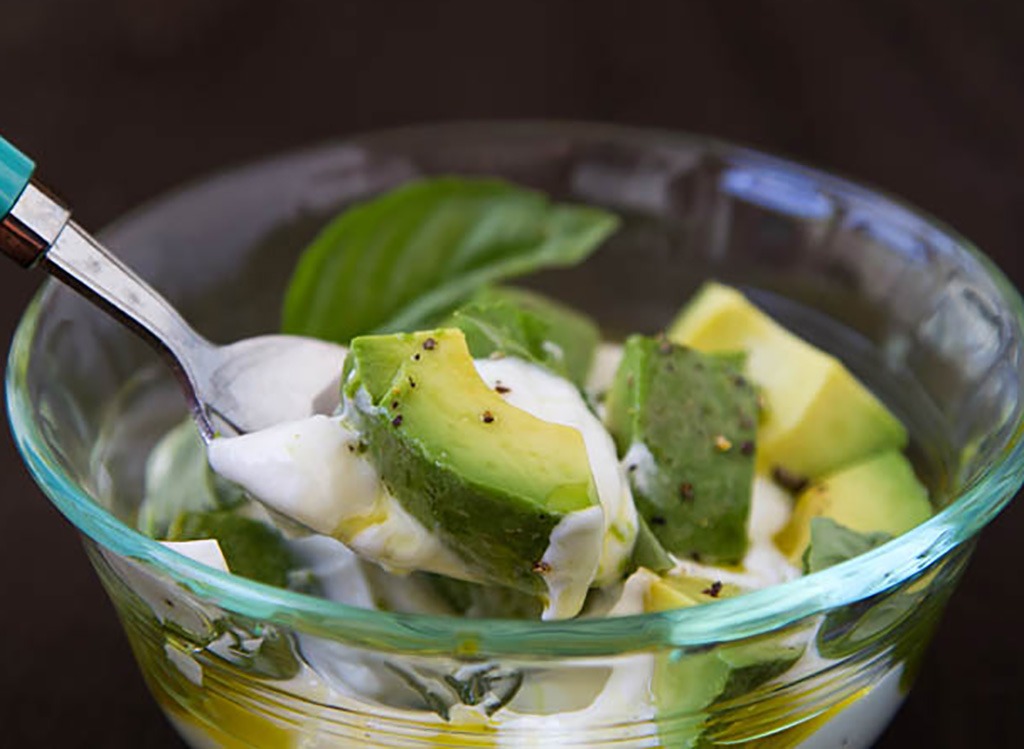 Looking for yet another way to eat avocados? Of course, you are. Aside from its divine, taste-bud-pleasing flavor, the green, creamy fruit is a potent source of fiber and oleic acid, two nutrients that can actually help quite feelings of hunger, aiding weight loss. By combining yogurt with avocado, lemon juice, basil leaves, olive oil, salt and pepper, Rachel, the recipe developer behind the blog La Fuji Mama, has created a savory way to enjoy yogurt we've never seen before. Hands down, it's one of the most creative avocado recipes for weight loss we've yet to come across. Consider it a must-try.
Make a Spicy Burger Spread
Skip the sugary ketchup and fatty mayo and top your burger with a spicy 'n sweet spread we can't get enough of. Simply mix a 1/2 tablespoon of harissa, ½ tablespoon of lemon juice and a 1/2 tablespoon of honey with 2 cups of yogurt and add salt and pepper to taste. Store it in a mason jar until your next BBQ.
Make a Protein-Packed Hummus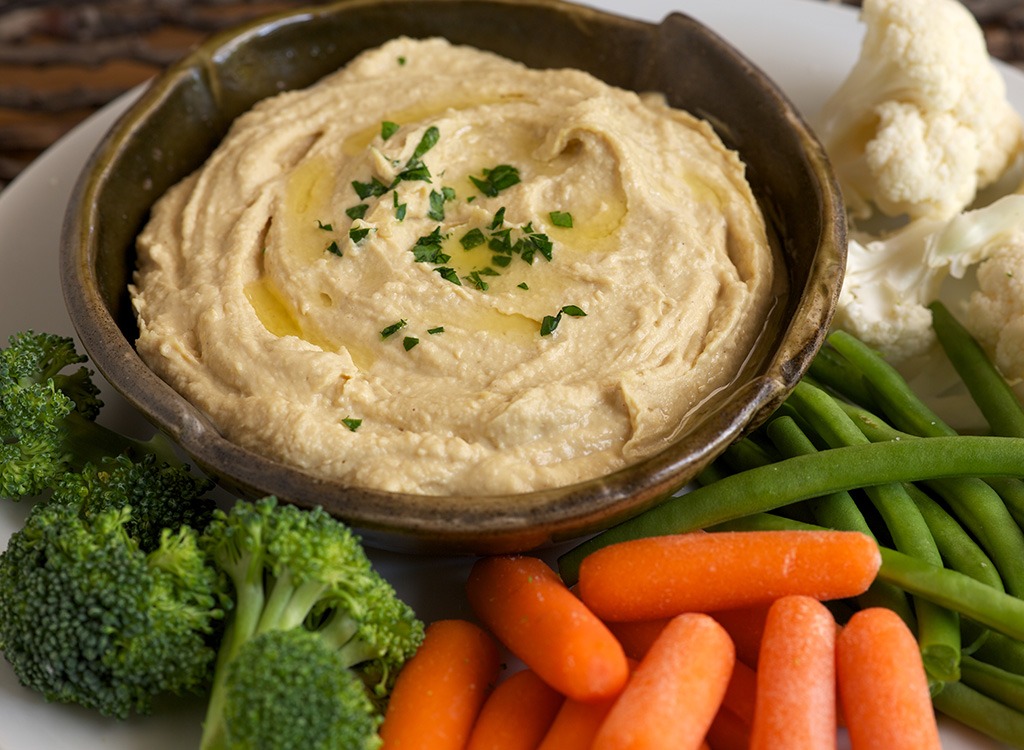 A tablespoon of commercial hummus carries about 1 gram of protein per tablespoon—it's better than no protein at all, but it's not exactly stellar, either. To amp up the protein in the classic Mediterranean dish, head to the kitchen and create a homemade Greek yogurt-infused spread yourself. Simply pour a can of drained and rinsed garbanzo beans into a large food processor along with ¾ cup Greek yogurt, 1 teaspoon EVOO, three cloves of garlic, the juice of one lemon, and salt and pepper and let 'er rip until smooth! Serve with whole-wheat pita slices or raw veggies for a light yet filling snack. For more foods filled to the brim with protein, check out these 29 Best-Ever Proteins for Weight Loss.
Eat Spoonable Caprese
Traditional Caprese is so 2015. Stay hip and cool among foodies by whipping up the creative take on the classic Italian dish pictured above. It trades mozzarella for yogurt! You can get all the details here, courtesy of Autumn Makes and Does.
Make an Indian Veggie Dish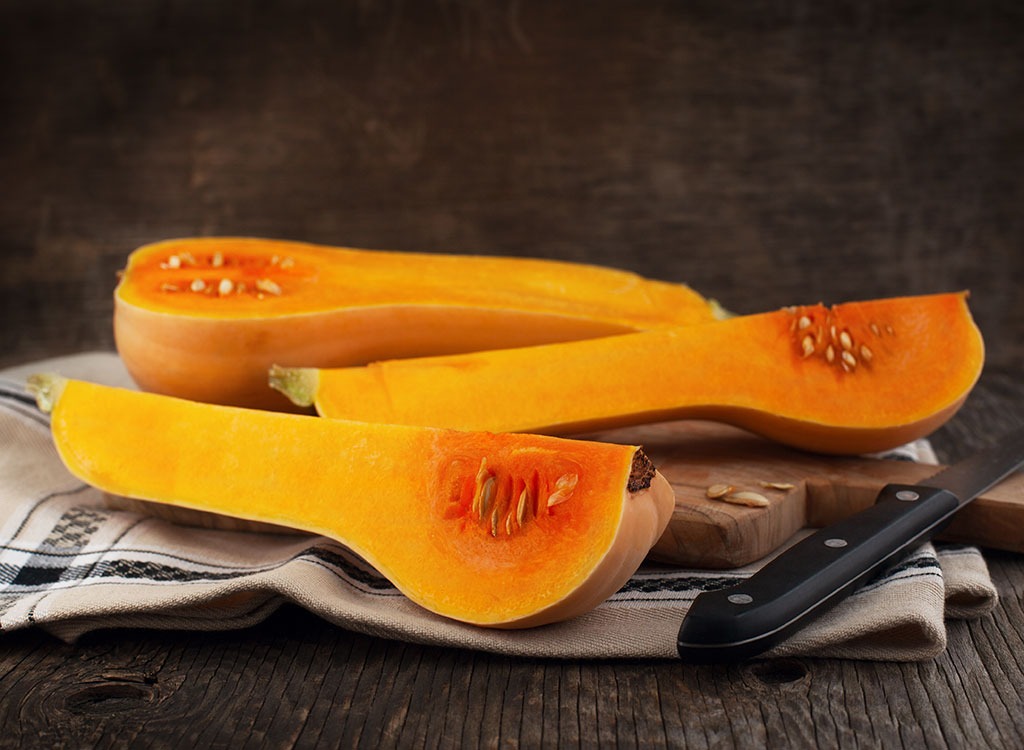 Butternut squash (which is brimming with fiber and potassium, a nutrient that helps stop belly bloat) is another veggie that fairs well on a bed of Greek yogurt. To make the dish, simply slice the squash into cubes and season it with EVOO and curry powder before roasting it in the oven. After the squash is cooked through, let it cool and bit and enjoy in a bowl over your favorite plain yogurt.
Add it to Eggs
This is a new one—even to us—but it makes perfect sense. Adding a dollop of Greek yogurt to your eggs ups the protein count and fluffiness. And don't just reach for the whites—the yolks contain the fat-fighting nutrient choline. For even more ways to prepare eggs with weight loss in mind, check out these 25 Best Egg Recipes for Weight Loss.
Save Cash on Party Supplies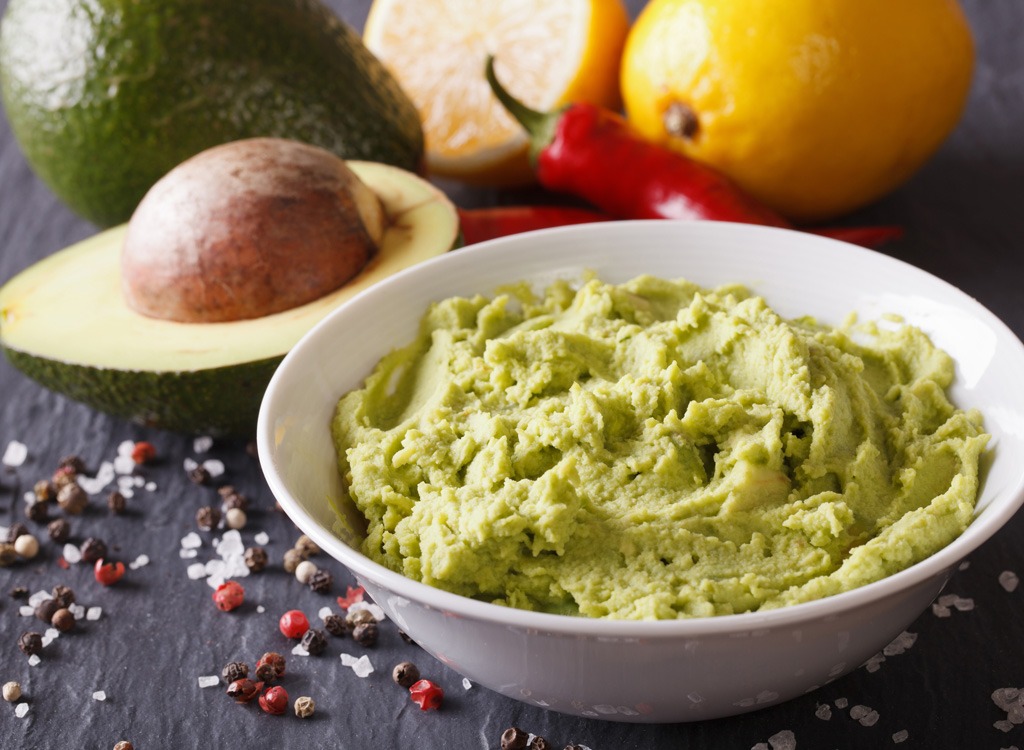 No matter how much guac you make there never seems to be enough. Are we right, or are we right? To ensure you don't run out of dip—and save cash on pricey avocados—add a dollop or two of Greek yogurt to your favorite guac recipe. Pair with one of these healthy chips for the untimate better-for-you party pairing.
Whip Up a Healthier Chicken or Tuna Salad
Love chicken and tuna salad? Make them healthier—and more filling—by swapping in Greek yogurt for mayo. Dress up the mixture with a few sprinkles of curry powder, pepper and cayenne and some diced celery. Serve on a bed of greens or in between two slices of Ezekiel bread for a satisfying lunch you're sure to love.