A Savory-Sweet Grilled Fruit Kebabs With Yogurt and Honey Recipe
This might just be the sweet treat that makes you forget all about chocolate.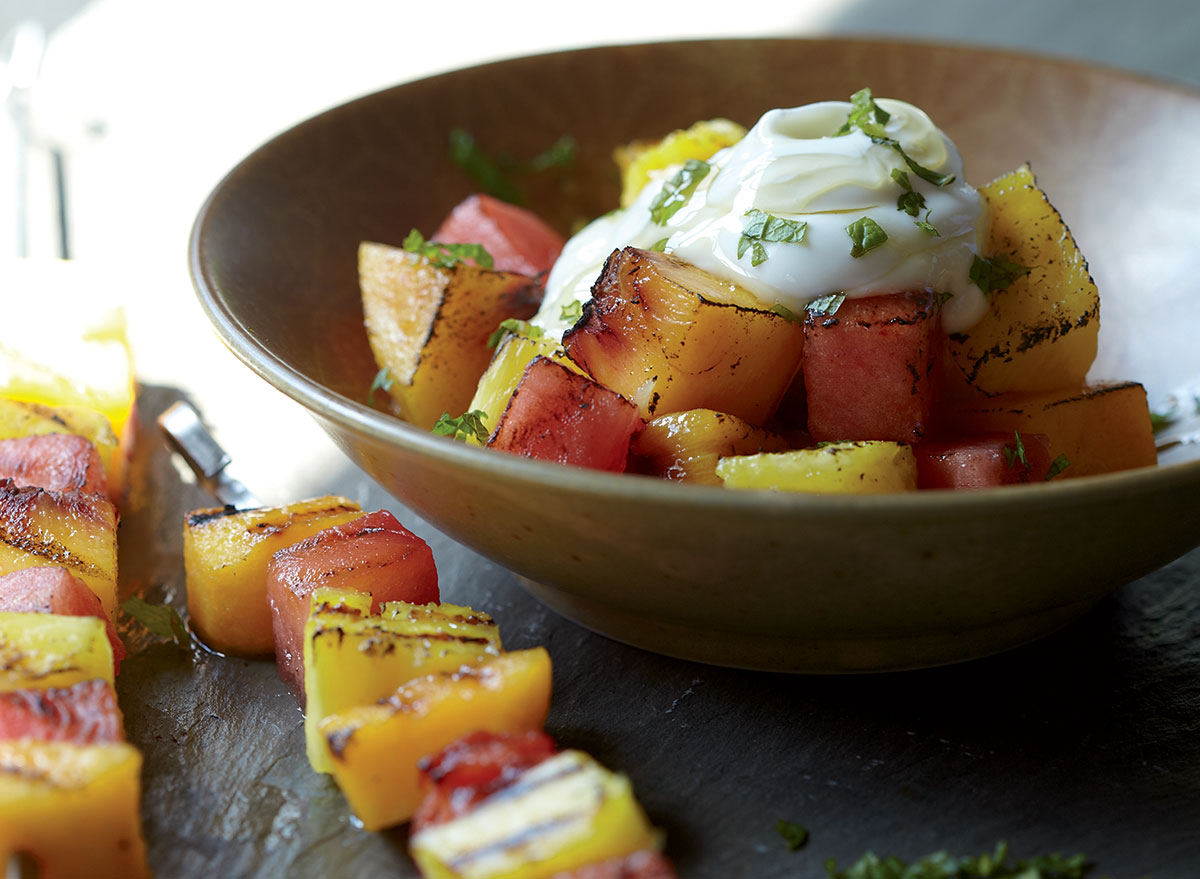 More often than not, major elements of favorite desserts contain at least a few components that are "fruit flavored" but in reality, are more likely filled with artificial flavoring and food coloring disguised as fruit. But the truth is that there are so many ways to dress up fruit that make it more than eligible for the most important meal of the day. No, not breakfast: dessert. All you need is a grill and a few piece of your favorite fruits. In this recipe, we employ watermelon, peaches, and pineapples, but you can use anything that can stand the heat. The heat of the grill does something magical to fruit, teasing out natural sugars, softening flesh, and adding an element of smoke and char that transforms the average piece of fruit into something otherworldly. Tack on a cool yogurt sauce and you'll forget about the choco-bombs and sugar-fests that normally qualify as dessert; you'll also forget that you're eating one of the healthiest desserts on the planet. Sure, you'll save on calories, sure, but you'll be delighted on taste. Why eat fruit-flavored dessert when you can make something just as sweet with the real thing? Plus, it's so healthy that you could even serve it with dinner! Go on, we dare you.6254a4d1642c605c54bf1cab17d50f1e
Nutrition: 140 calories, 1 g fat (0 g saturated), 29 g sugar
Serves 4
You'll Need
2 peaches, peeled, pitted, and chopped into 3⁄4" pieces (Mix up the fruit based on the season and what looks best in the market. Mangos, grapes, plums, apricots, and pretty much any firm-flesh fruits grill up beautifully.)
2 cups pineapple chopped into 3⁄4" pieces
2 cups watermelon chopped into 3⁄4" pieces
4 metal skewers (or wooden skewers soaked in cold water for 20 minutes)
1⁄2 cup 2% Greek yogurt
2 Tbsp honey
2 Tbsp chopped fresh mint
How to Make It
Preheat a grill or grill pan over medium heat.
Thread the fruit onto the skewers, alternating between peaches, pineapple, and watermelon so that each skewer has a colorful variety of fruit.
Grill for about 8 minutes, turning occasionally, until the fruit is nicely caramelized.
Combine the yogurt with the honey and drizzle over the skewers. Garnish with fresh mint.
Love this recipe? Subscribe to our Eat This, Not That! magazine for even more at-home cooking and healthy eating ideas.