31 Best Healthy Ground Pork Recipes
Meatballs, sausages, ragu, chilis, bowls, and more.
Pork can be a superstar dinner ingredient for many reasons, which is why we've put together a truly fun list of easy ground pork recipes. First and foremost, lean pork is high in protein and B-complex vitamins, while being low in fat, so it's an excellent addition to a healthy diet. Secondly, pork is really affordable, especially ground pork. And finally, it's extremely versatile and the perfect meat for meatballs, ragu, sausages, meatloaves, and more.
If you're getting your pork ground at the butcher, which is a great way to buy ground meat since you get to control what goes in it, you'll want to look for tenderloin, loin chops, or sirloin roast. These lean cuts are the lightest pieces of pork you can eat (literally the opposite of bacon). But if you're making burgers, meatloaf, or meatballs, you want to have some fat in your pork cut, so your best bet would be pork butt.
Here are 31 ways to use ground pork—one for every day of the month. And for more, check out these 15 Classic American Desserts That Deserve a Comeback.
Frizzled Eggs and Sausage With Sautéed Greens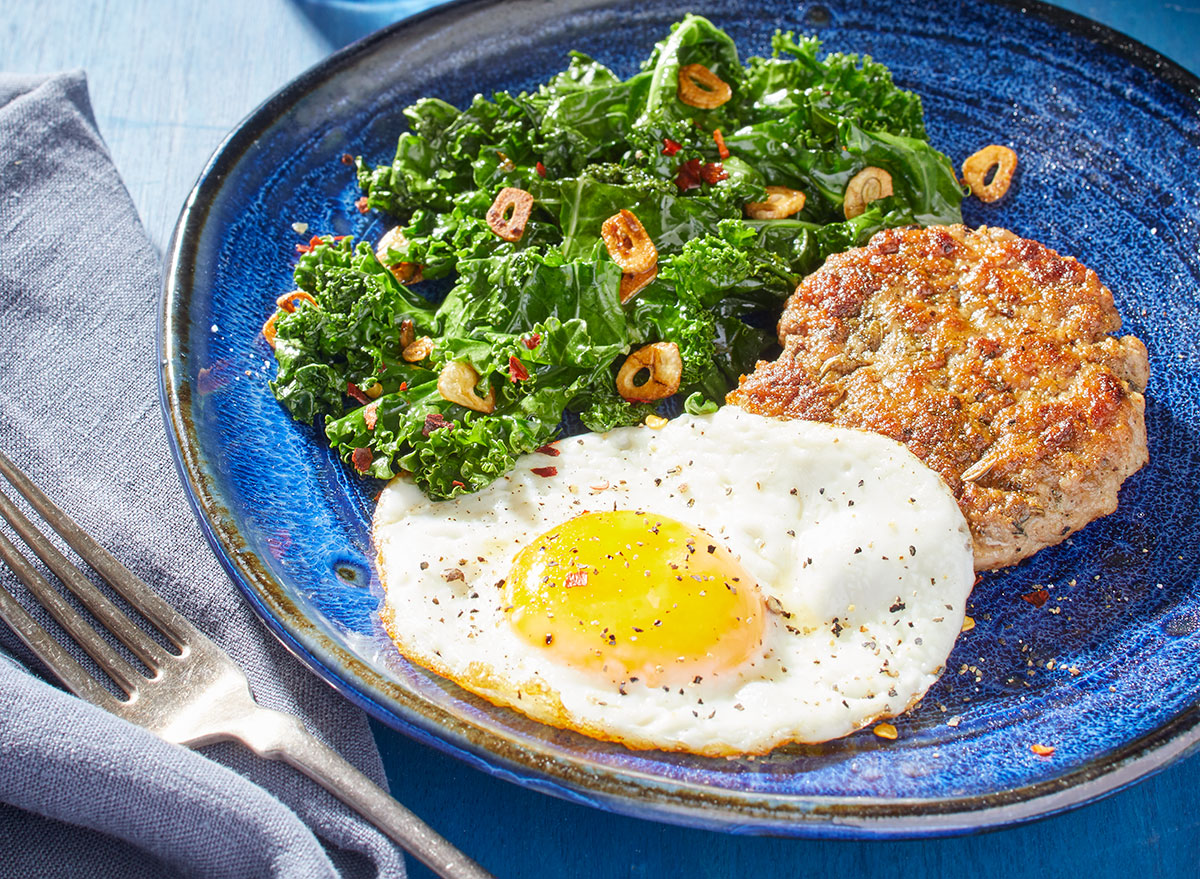 Few styles of eggs are as fun to say (and eat) as are frizzled eggs. They have delightfully crispy edges with a center that stays soft, which you'll appreciate all the more as the runny yolk coats your homemade ground pork sausage and sautéed kale.
Get our recipe for Frizzled Eggs and Sausage with Sautéed Greens.
Be your own Italian grandma with this reliable recipe in hand. With a slow-simmering sauce that fills your home with the heady scent of sizzling meat and dried herbs, it's the perfect way to beat a case of Sunday Scaries.
Get our recipe for Italian Meatballs.
Think of bolognese as deconstructed meatballs. A combination of ground meat (including pork, turkey, and veal) gives this version many dimensions of flavor. Just add pasta, and it'll be like you never left that summer abroad in Italy.6254a4d1642c605c54bf1cab17d50f1e
Get our recipe for Hearty Bolognese.
Somebody tell this classic savory pie to watch out, because there's a new sheriff in town. Give the standard pub fare a decidedly Southern spin by topping a mixture of pork, barbecue sauce, kale, and smokey spices with creamy sweet potato mash.
Get our recipe for BBQ Pork Shepherd's Pie.
Whether you're a slow cooker fan, pressure cooker poster child, or a stovetop traditionalist, this versatile recipe has you covered. It puts all the usual suspects of Taco Tuesday into one bowl, meaning you don't have to deal with taco-seasoned meat and black beans spilling out of an inevitably overstuffed tortilla.
Get the recipe from Inspired Taste.
Vietnamese Caramelized Pork Bowls
Make this Vietnamese specialty once, and you'll be wondering why you haven't been sneaking brown sugar into your ground meat dishes all along. But don't be fooled by the sweetness suggested by this recipe's name—the bird's eye chili will sneak up on you in the best way.
Get the recipe from RecipeTin Eats.
Quinoa Fried Rice with Pork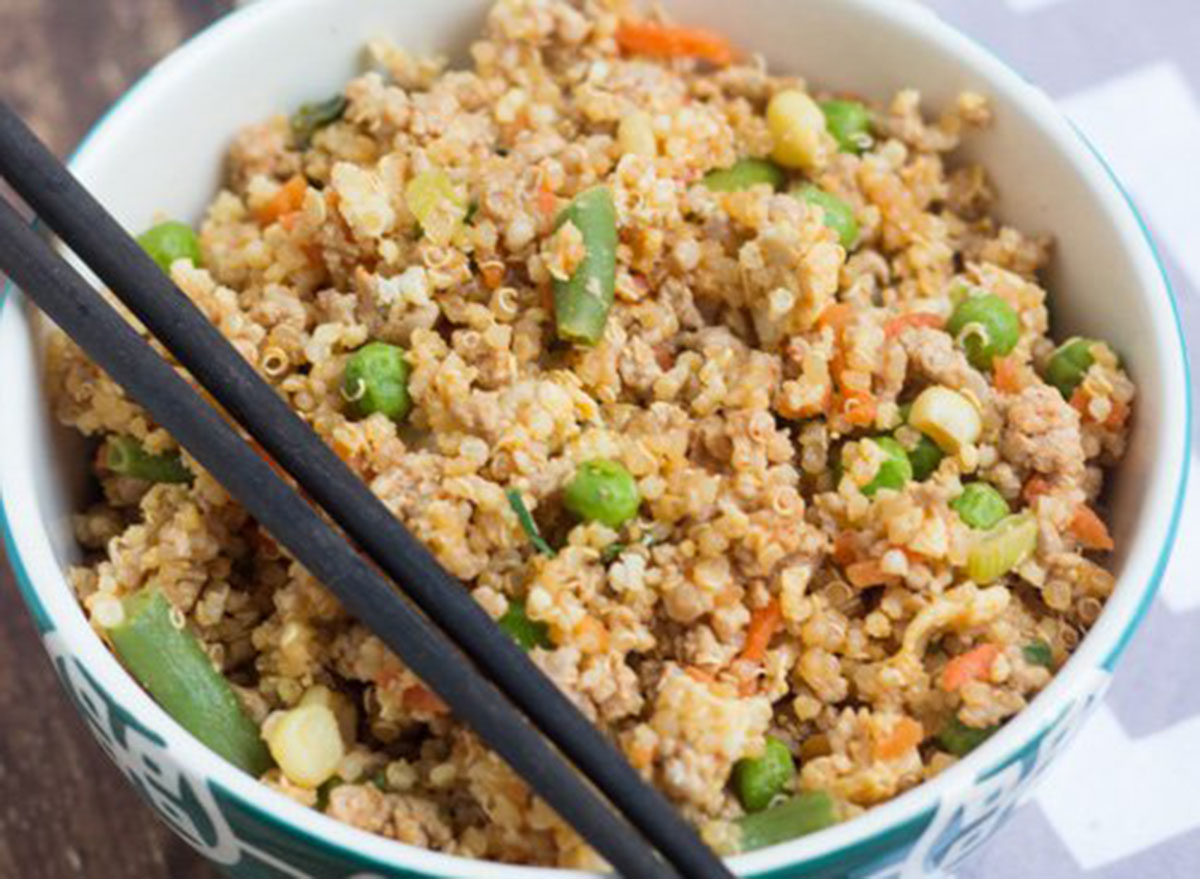 A simple grain swap is all it takes to jazz up a standard fried rice dish, and this recipe makes it incredibly easy to have dinner ready in just 15 minutes thanks to quick-cooking ground pork and a medley of frozen vegetables.
Get the recipe from Simply Quinoa.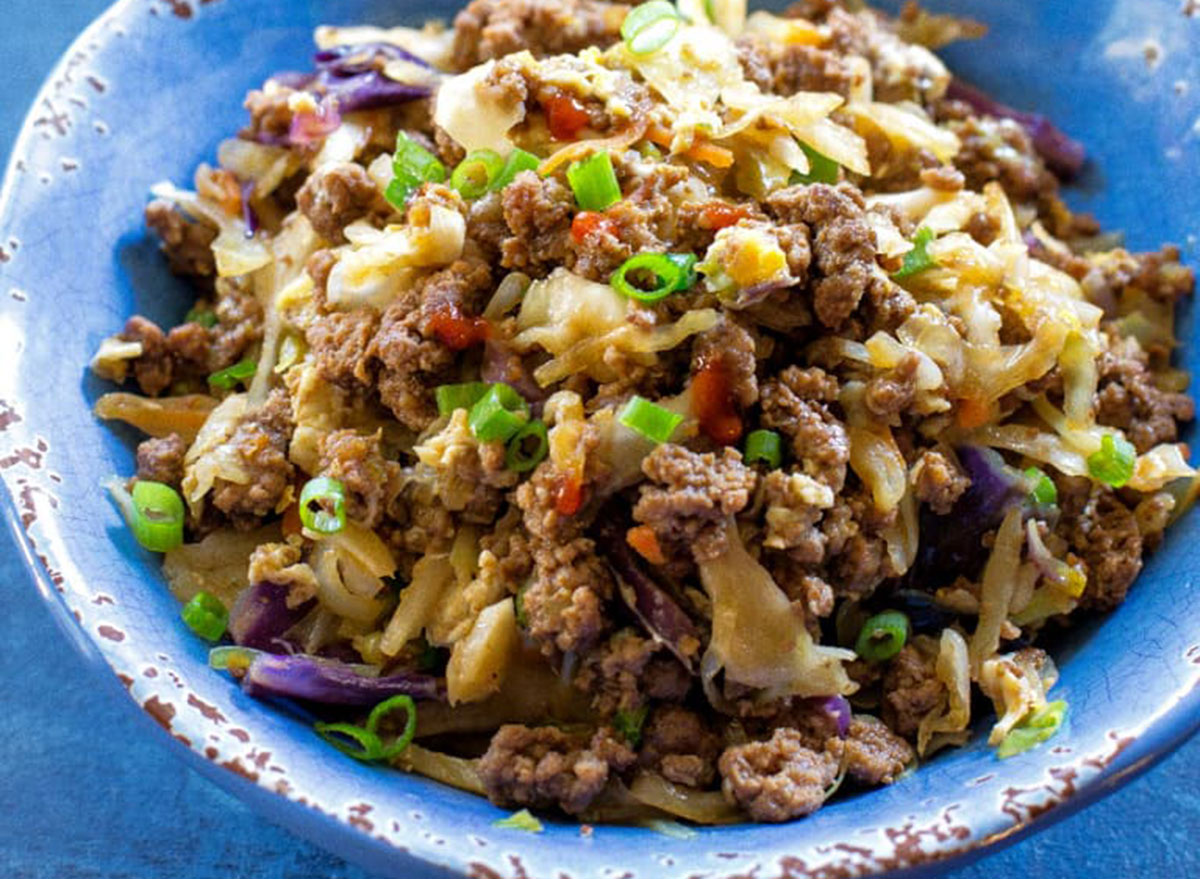 Not only does it rhyme, but an egg roll in a bowl is the latest craze to take over the internet, and for good reason. It combines ground pork, shredded cabbage, soy sauce, ginger, and sriracha for a homemade version of the takeout staple—but one you can eat with a spoon.
Get the recipe from The Girl Who Ate Everything.
Szechuan Noodles with Sesame Chili Oil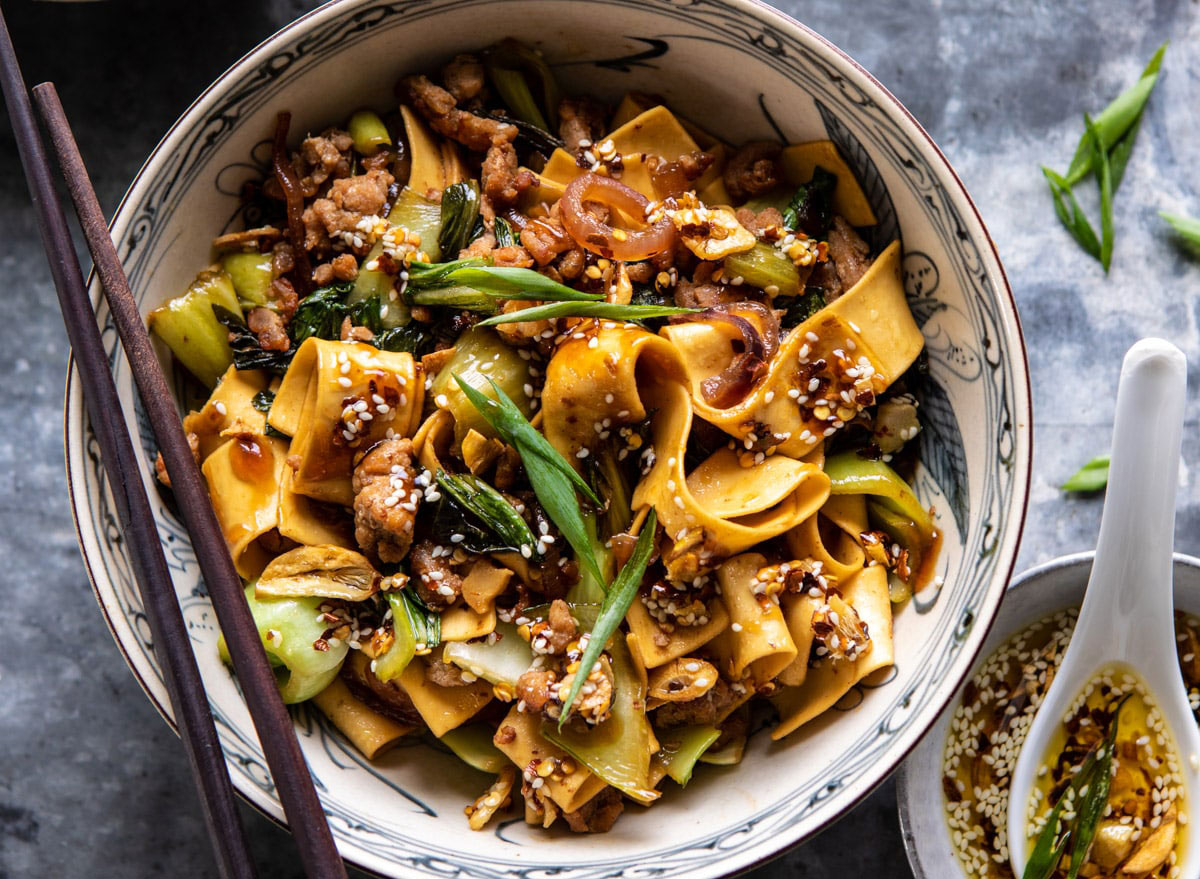 Not only are you 30 minutes away from thick egg noodles tossed with pork and vegetables, you're also about to learn how to make homemade chili oil. It's a pantry staple that's bound to become a go-to recipe in any spicy food-lover's repertoire.
Get the recipe from Half Baked Harvest.
It's a battle of the adorable ingredients in this quintessential Italian soup, but the miniature meatballs just might have the itty bitty pasta beat. The name is a reference to the way the ingredients come together, so you're safe to serve this on an early date without causing any matrimony-related panic.
Get the recipe from Cooking Classy.
A four-ingredient gochujang sauce is the key component of this party-ready dish. Pork is a natural pairing for the spicy-sweet condiment, but it's easily tweaked to work with your protein of choice.
Get the recipe from Gimme Some Oven.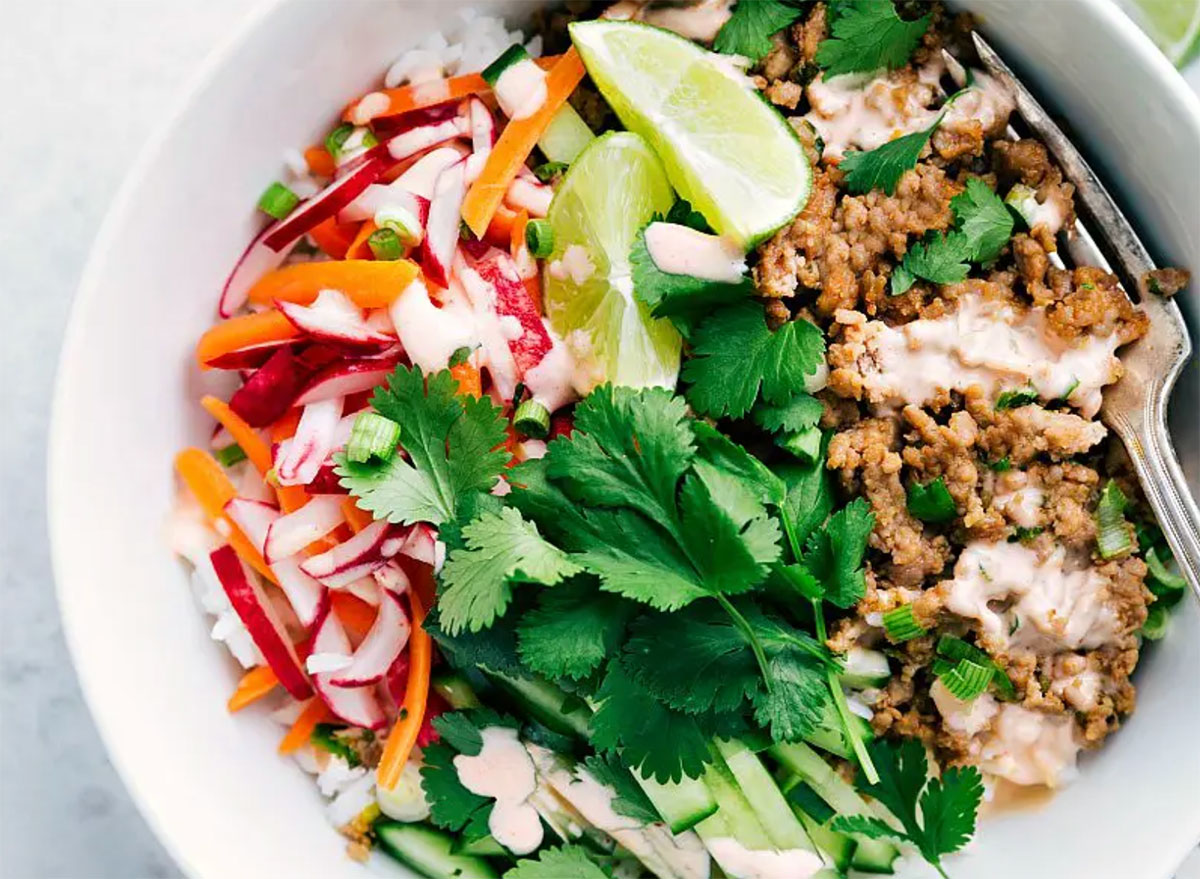 One of the golden rules of cooking: Put a combination of delicious ingredients in a bowl and you're likely to succeed. That principle holds true with this bahn mi–inspired dish, which can be anything from a refreshing lunch to a dinner party main.
Get the recipe from Chelsea's Messy Apron.
Crock Pot Sweet Potato Chipotle Chili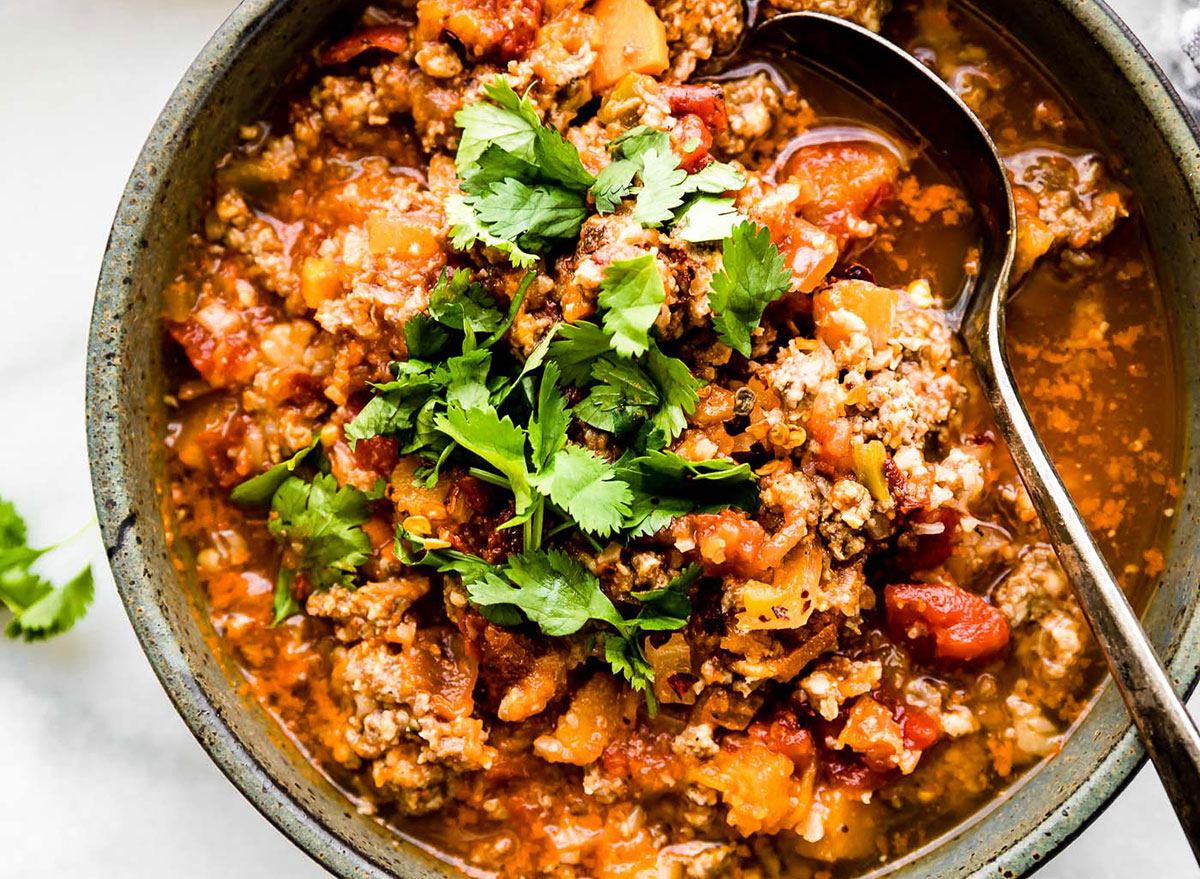 Crock pot recipes are miracle workers for those days when you're craving a home-cooked meal, but have infinitely way too many loads of laundry to be standing in the kitchen all day. Add this chili to your rotation, and you'll be rewarded with spice-filled hearty dinner all week long.
Get the recipe from Cotter Crunch.
Whole30 Breakfast Casserole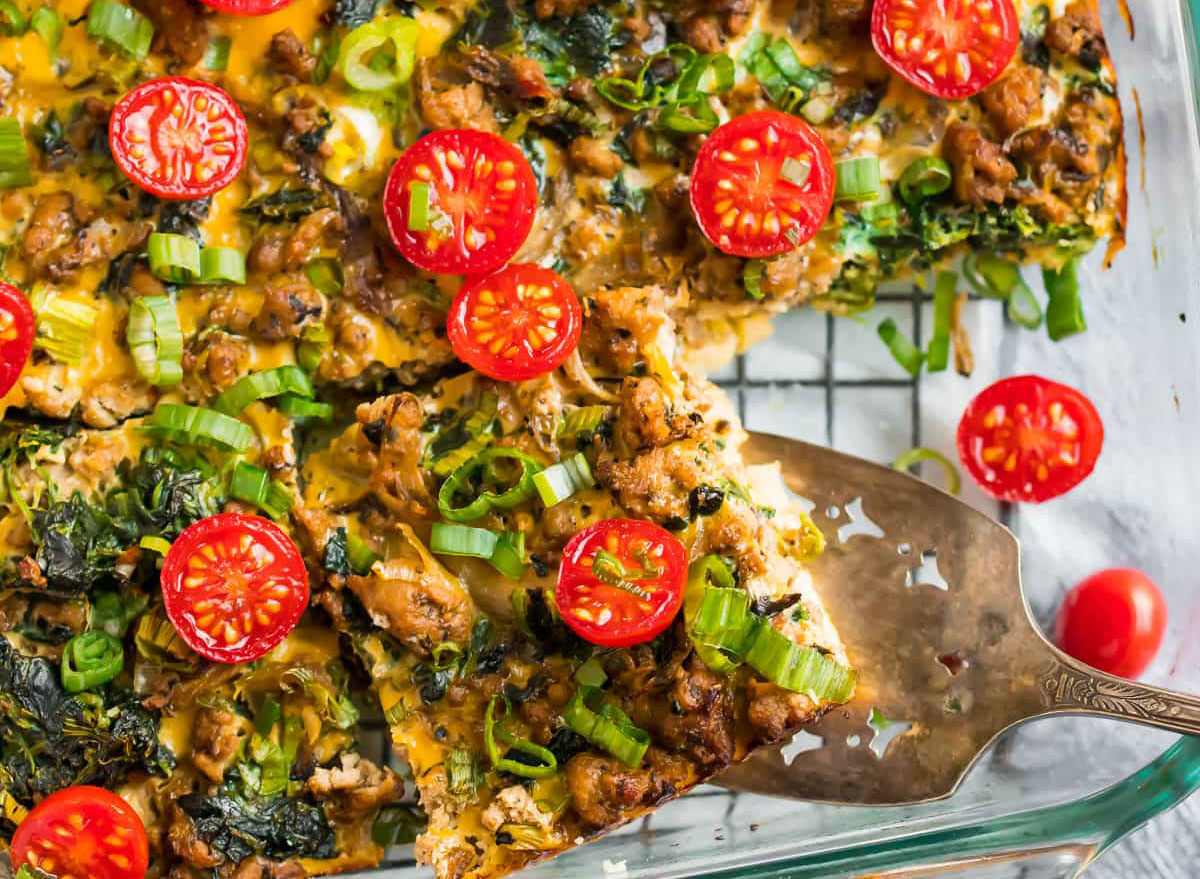 Whether or not you're doing Whole30, add some variety to your breakfast routine with this soul-satisfying casserole. It has ground pork, hash browns, eggs, spinach, and, most importantly, enough staying power so that you won't be hungry again 30 minutes after eating.
Get the recipe from Well Plated.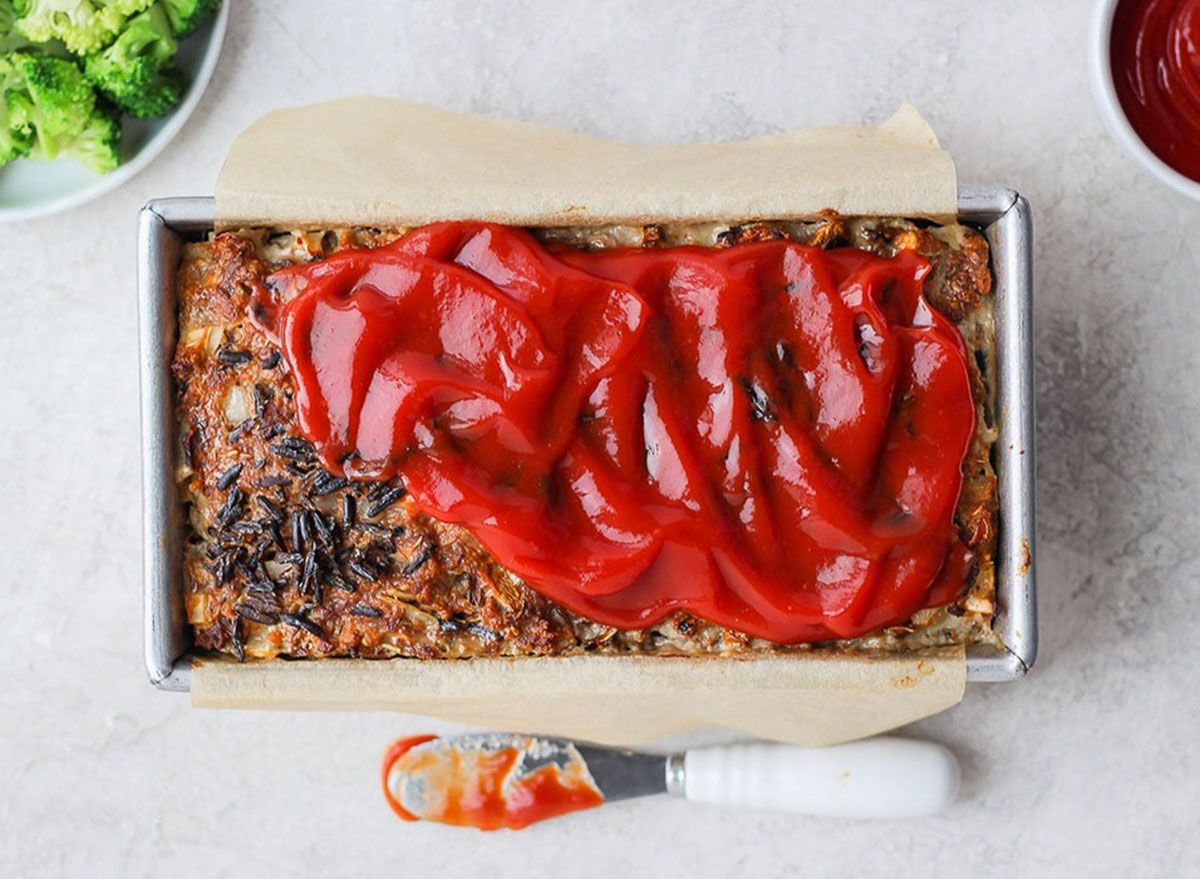 This meatloaf calls on all the nostalgic aspects of the one you used to eat growing up, with wild rice adding a welcome texture. And since all you have to do is mix the ingredients, put them in a loaf pan, and bake, it's a true one-bowl wonder.
Get the recipe from Fit Foodie Finds.
There's no need to take a trip to a stressful maze of DIY furniture when you can turn your own kitchen into a Swedish meatball factory. Use your food processor to blitz everything together, roll out bite-sized balls of savory joy, then sauté and bake them to perfection. And, of course, don't forget the gravy.
Get the recipe from Pinch of Yum.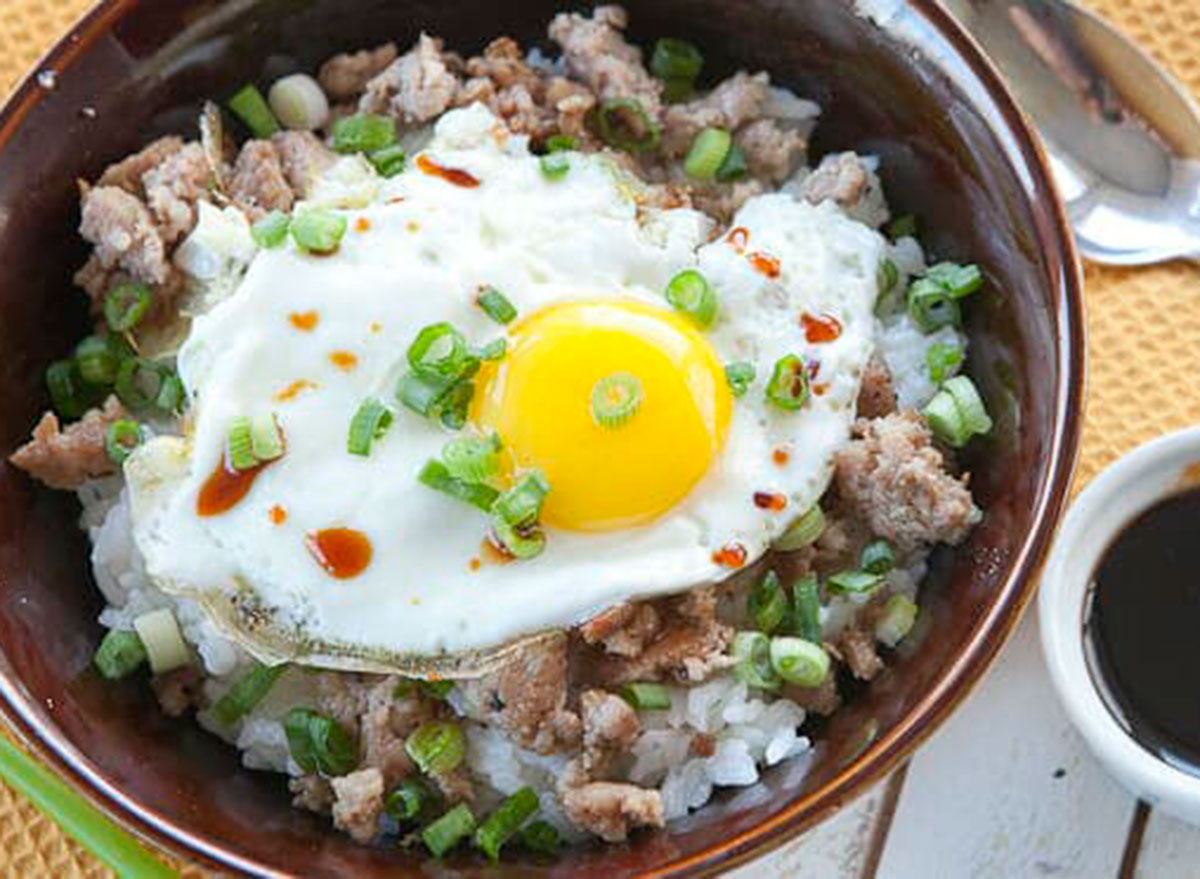 This traditional Hawaiin dish usually involves white rice, a hamburger patty, gravy, and egg. Here, you'll combine coconut-sweetened sticky rice and ground pork for a breakfast that'll leave you with a strong desire to book a plane ticket and go straight to the source.
Get the recipe from Macheesmo.
Hotdish—the unique combination of meat, canned soup, and vegetable—is one of the Midwest's great claims to fame. Ginger and soy sauce give this version its flavor profile, and a can of coconut milk adds silkiness without the dairy.
Get the recipe from My Name Is Yeh.
Break these out the next time you host your book club, and everyone might assume you've toiled all day on homemade dough. In reality, these pockets of ground pork, raisins, salsa, and spices use refrigerated biscuit dough for both ease and a Southern spin on the traditional Latin American dish.
Get the recipe from Spicy Southern Kitchen.
Slow Cooker Sriracha Meatballs
These endlessly poppable bites of spicy, sauce-coated ground pork will be the hit of all the girl's nights, housewarming parties, and tailgates to come. But should you happen to be cooking meatballs for a party of one, any leftovers can simply get popped in the freezer for your future self to enjoy.
Get the recipe from FoodieCrush.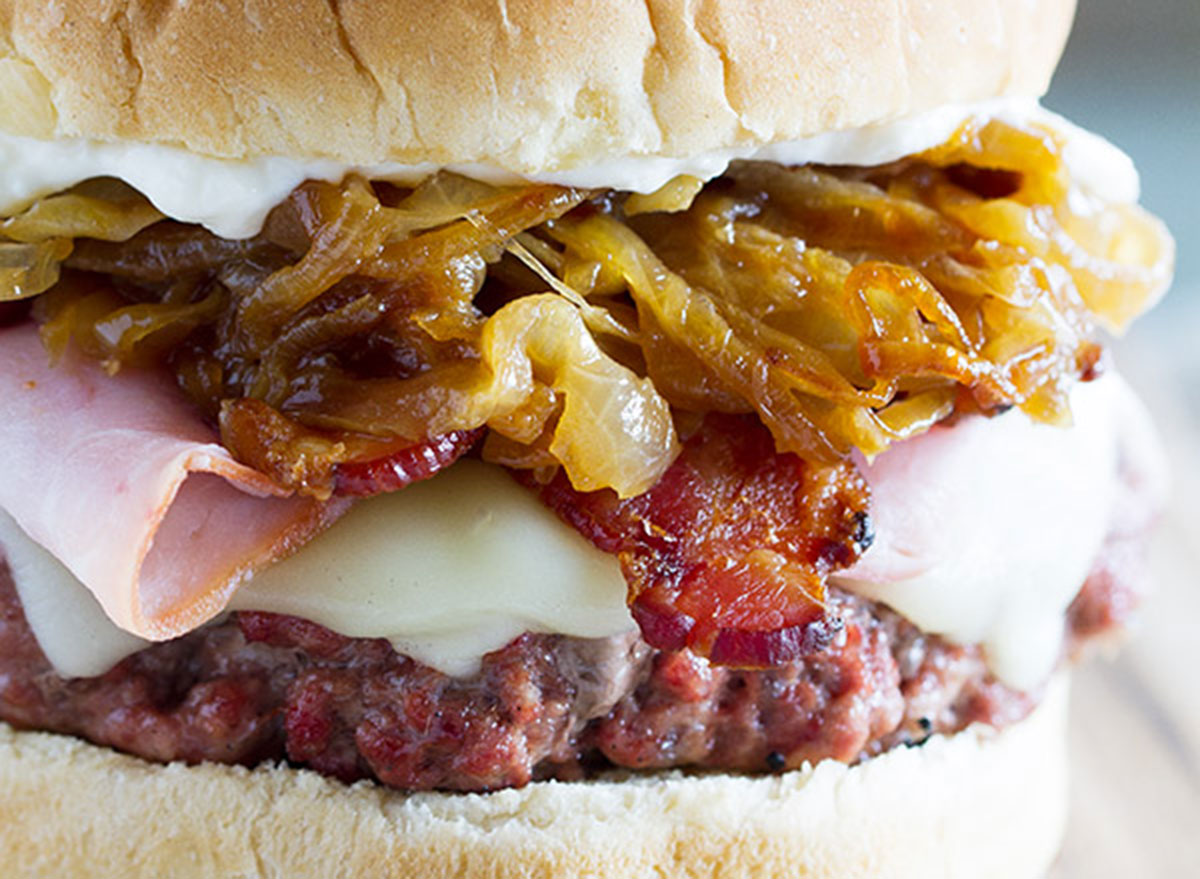 Three times the pork means three times the fun. There's ham, bacon, and ground pork in these stacked numbers, which are topped with caramelized onions for even more flavor. If you're going to go the burger route, you might as well commit.
Get the recipe from Taste & Tell.
Asian Pork Meatball Bowls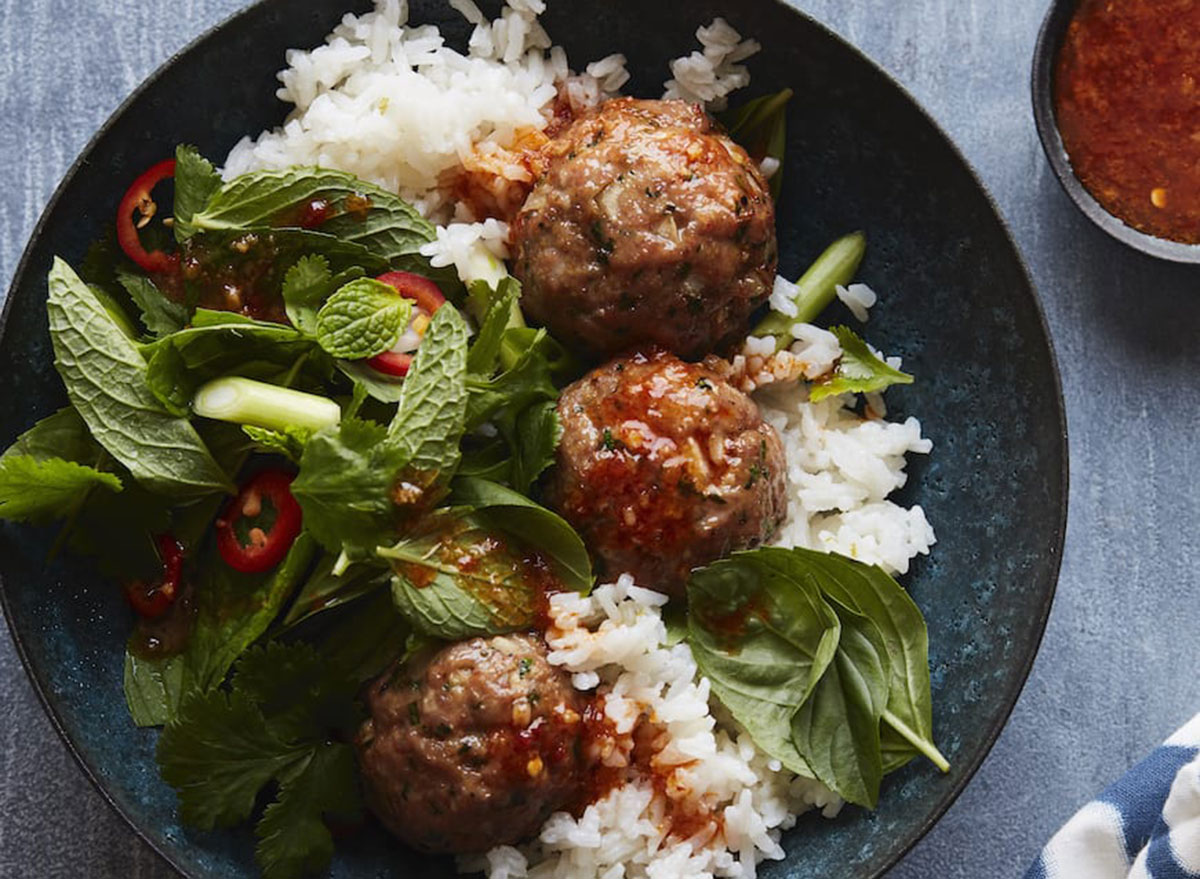 Set aside 40 minutes over the weekend, and you can be set up for a full week of lunches. While the garlic- and ginger-packed meatballs are in the oven, you can prep the sauce and fresh herbs, saving yourself even more time.
Get the recipe from What's Gaby Cooking.
Pork and Garlic Chinese Potsticker Dumplings
Making dumplings at home is fun, affordable, and rewarding—you'll get 50 dumplings out of the deal, which is way more than a standard order from your go-to takeout place would be. Make a batch and pop them in the freezer for many dumpling dinners and late-night snacks to come.
Get the recipe from i am a food blog.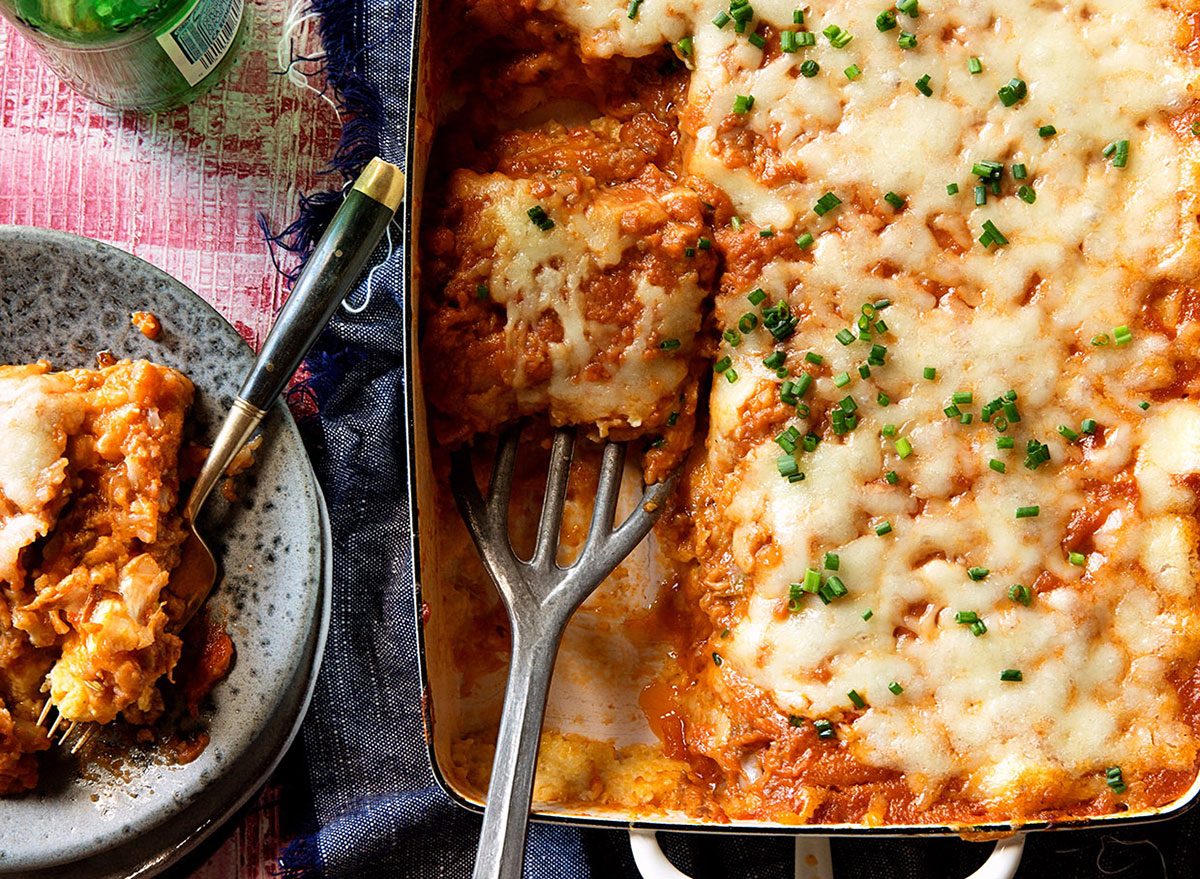 Cheesy polenta, juicy ground pork, cubes of butternut squash: What's not to like? We'll never say no to a new casserole recipe, and this one is as comforting as they come.
Get the recipe from Real Food by Dad.
Crock Pot Pork, Black Bean, and Corn Soup
We're firm believers that you can never have too many slow cooker recipes, especially whe soup is involved. If you have spare corn left over after a barbecue, this is a prime way to repurpose it. But if not, canned corn will work just fine.
Get the recipe from Flour On My Face.
Breakfast Tacos Al Pastor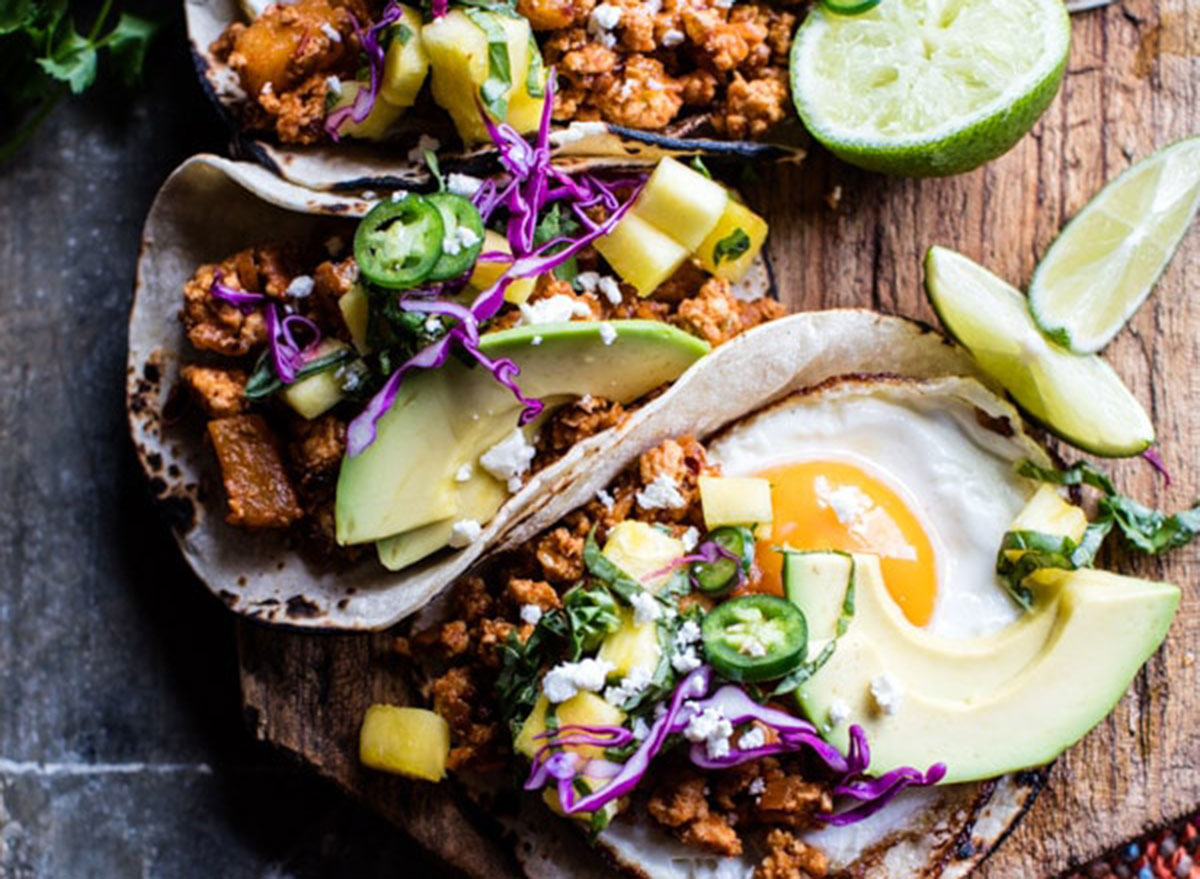 Much like pancakes, "breakfast" tacos can (and should) be consumed at any time of day, and these ones are proof. Pineapple, chipotles, and orange juice add zing to ground pork for a dish you'll crave no matter what time it is.
Get the recipe from Half Baked Harvest.
Spicy Pork and Mustard Green Soup
Not all soups need hours on a stove top to develop depth of flavor. This one takes just around 20 minutes start to finish, but don't be fooled by the quick cooking time: You'll be left with a highly slurpable broth that'll taste like it was simmering all day.
Get the recipe from Foxes Love Lemons.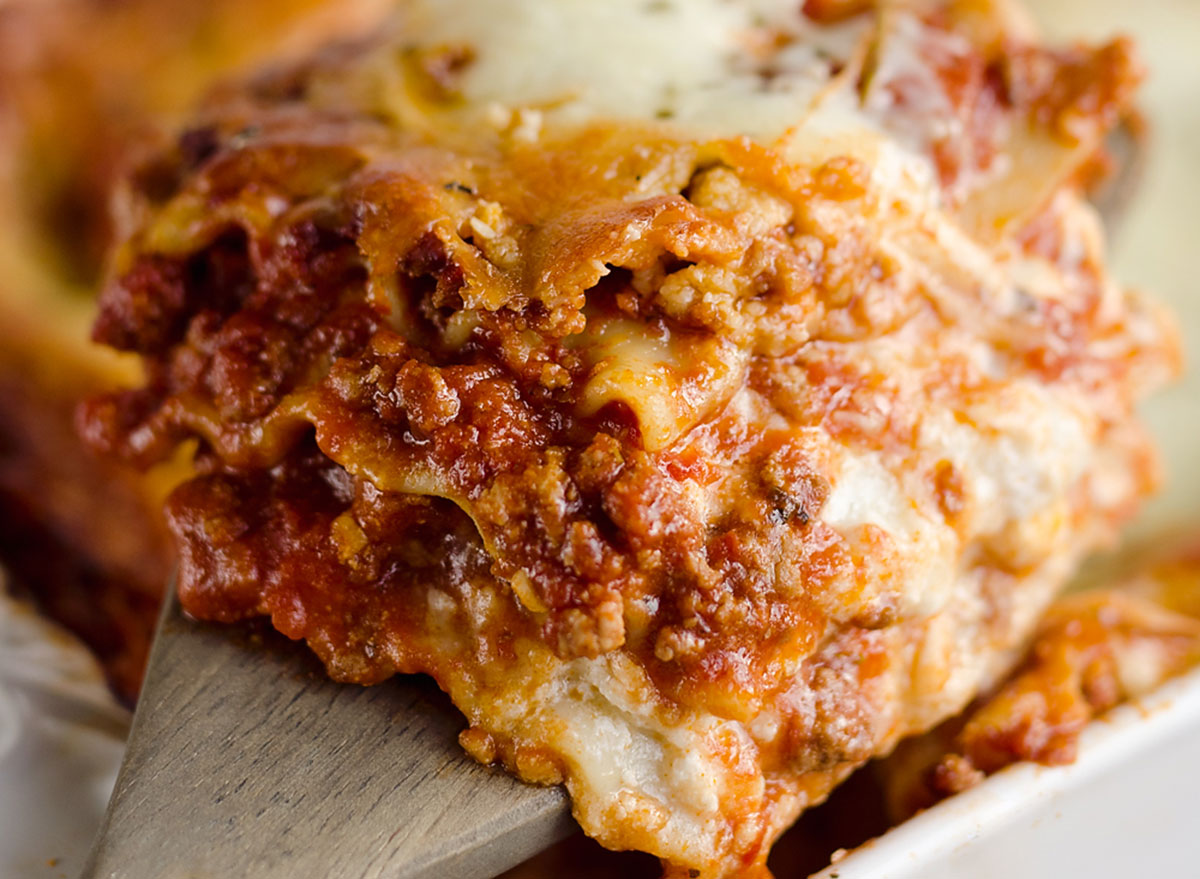 Now that you're set up with meatballs and meat sauce, complete the Italian trifecta with a tried-and-true lasagna recipe. Four types of cheese, meaty tomato sauce, and sheets of pasta can only be a sign of a good meal ahead.
Get the recipe from The Creative Bite.
This is one of those recipes that after you make it a couple of times, it starts to feel second nature. That opens the door for whatever you're inspired to add to a standard base of cooked rice and ground pork.
Get the recipe from Show Me the Yummy.
Ground Pork Tacos with Mango Salsa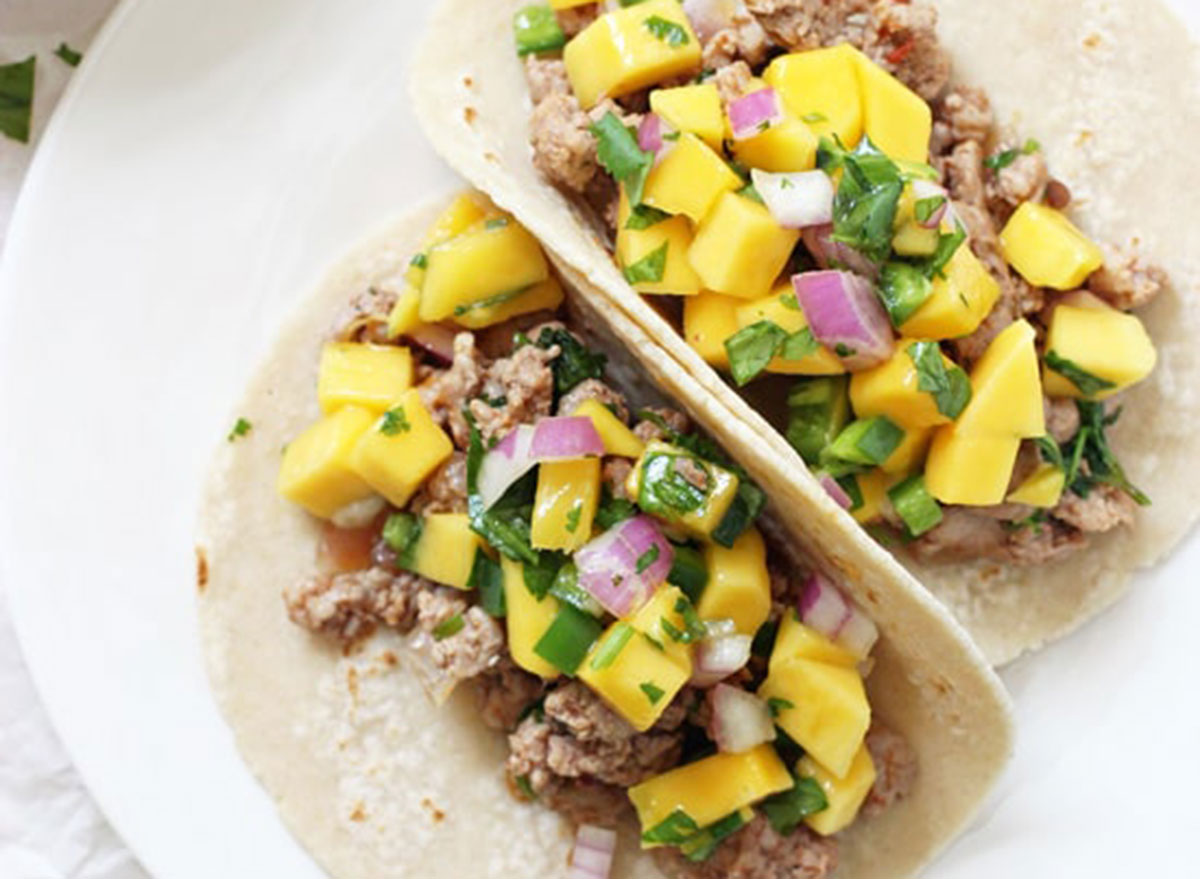 As great as pork is, we have to be honest: The main star of the show here is the sweet mango salsa, which perfectly compliments the meat and adds colorful flair to this quick-cooking dinner recipe.
Get the recipe from Cook Nourish Bliss.
Riced Cauliflower Stuffing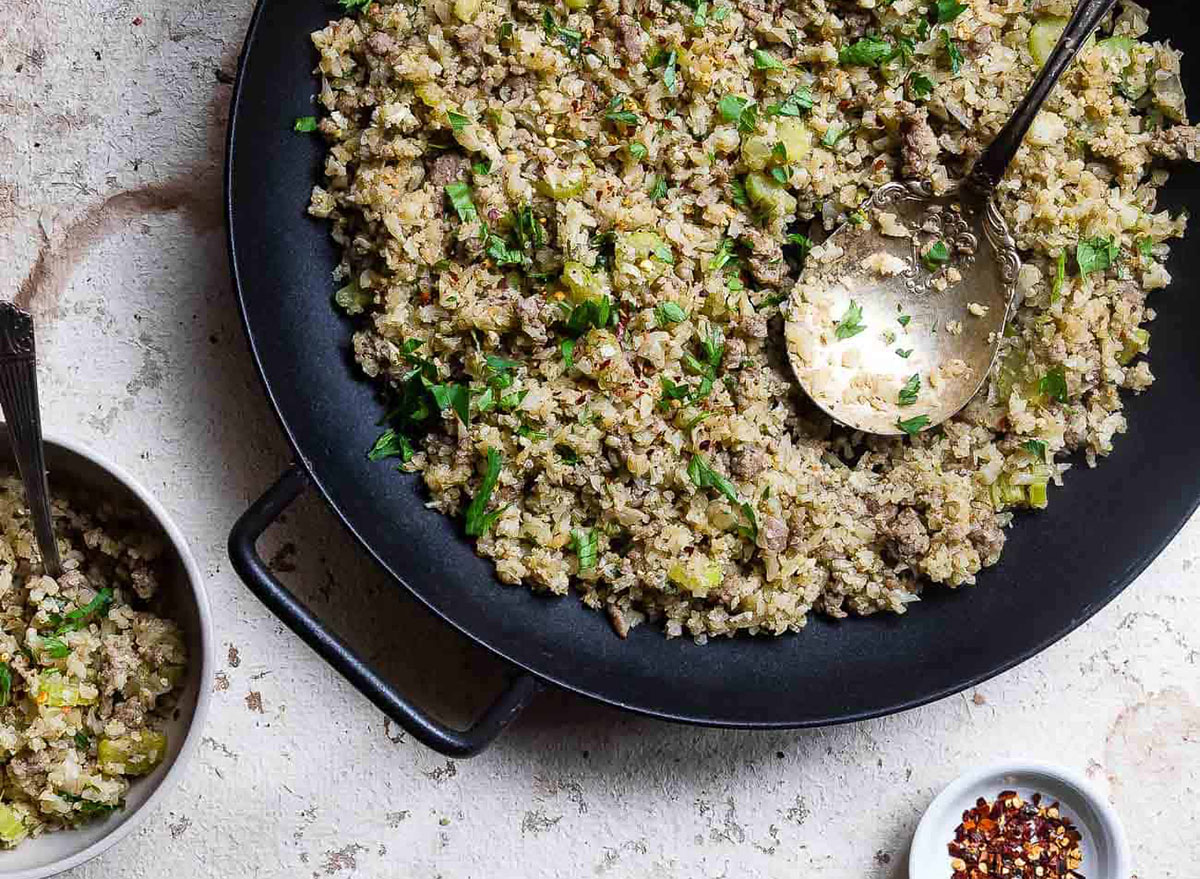 It doesn't have to be Thanksgiving for you to satisfy a stuffing craving, especially when you're armed with this cauliflower-based version. It still has all the seasoning you'd expect from a late-November feast, but with enough tweaks that you won't feel strange cooking it in May.
Get the recipe from Food Faith Fitness.
Abby Reisner
Abby is a food writer, editor, cook, and digital strategist living in Brooklyn.
Read more about Abby