Keto Frizzled Eggs and Sausage With Sauteed Greens Recipe
Spicy pork sausage patties star in a savory meal made whole with the addition of sautéed kale.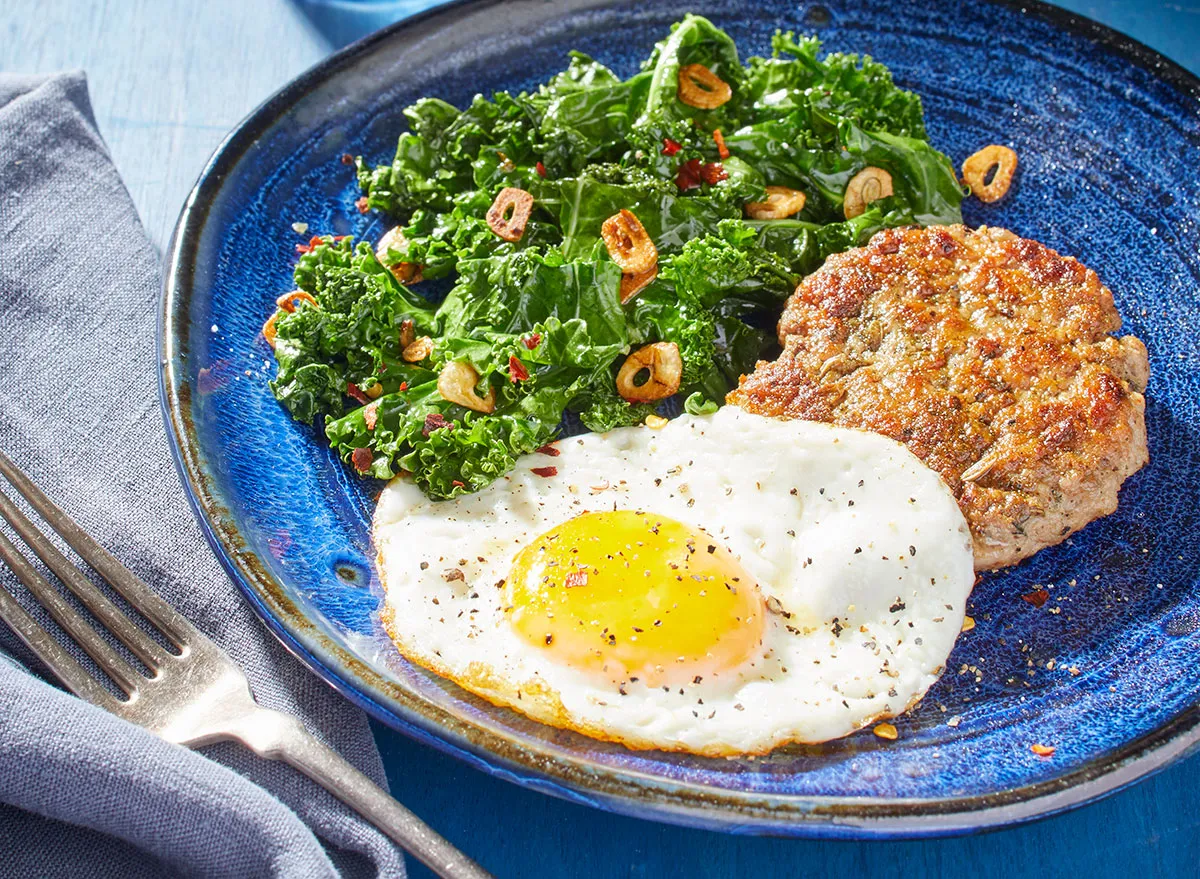 When carbs reign king in terms of easy breakfast options, finding filling breakfasts that fit a keto diet can be rather difficult, which is why this particular keto eggs recipe is the perfect plate to have you feeling full and ready for your day! It's full of protein and healthy nutrients that will have you feeling satisfied until lunch—or even beyond!
Here's how to make this keto eggs recipe with pork sausage and sautéed greens.
Nutrition: 411 calories, 30 g fat (12 g saturated), 670 mg sodium, 0 g fiber, 1 g sugar, 16 g protein
Makes 2 servings
Ingredients
For the Sausage
3/4 tsp dried sage, crushed
1/2 tsp kosher salt
1/2 tsp freshly ground black pepper
1/2 tsp dried thyme, crushed
1/2 tsp garlic powder
1/2 tsp onion powder
1/8 tsp cayenne
3/4 tsp fennel seeds
3/4 ground pork
For the Eggs and Greens
1 Tbsp extra-virgin olive oil
1 bunch kale, stemmed, leaves coarsely chopped
1/4 cup no-sugar-added chicken broth
2 cloves garlic, peeled and thinly sliced
Salt and black pepper
2 Tbsp ghee
4 eggs
How to Make It
Preheat oven to 200°F.
For the sausage: In a medium bowl, combine sage, salt, pepper, thyme, garlic powder, onion powder, cayenne, and fennel seeds; mix well. Add pork and gently work with your hands until spices are evenly distributed in the meat. Shape into four 1/2-inch-thick patties.
Heat a large skillet over medium heat. Add patties; cook 8 minutes or until done (160°F), turning once. Transfer to a baking sheet and keep warm in the oven.
For the eggs and greens: Add olive oil to the pan. Turn heat to medium-high. Add garlic and cook until soft. Add kale, turn heat to high, and add broth. Cover and cook 4 to 5 minutes or until kale is wilted but still bright green. Uncover and cook, stirring occasionally, until all of the liquid has evaporated, another 1 to 2 minutes. Season to taste with salt and pepper. Transfer to a bowl. Cover loosely with foil to keep warm.
If there is any liquid left in the skillet, wipe it out with a paper towel. Add ghee. When ghee is hot, gently break the eggs into the skillet. Turn heat to medium. Season with salt and pepper to taste. Cover and cook until whites are set and the edges are starting to turn crispy and brown.
To serve, top each sausage patty with a fried egg and serve with sautéed kale.
Eat This, Not That!
Inspired by The New York Times best-selling book series, Eat This, Not That! is a brand that's comprised of an award-winning team of journalists and board-certified experts, doctors, nutritionists, chefs, personal trainers, and dietitians who work together to bring you accurate, timely, informative, and actionable content on food, nutrition, dieting, weight loss, health, wellness, and more.
Read more about Eat This