20 Halloween Food Products You'll Absolutely Love
It's time to get into the spooky spirit.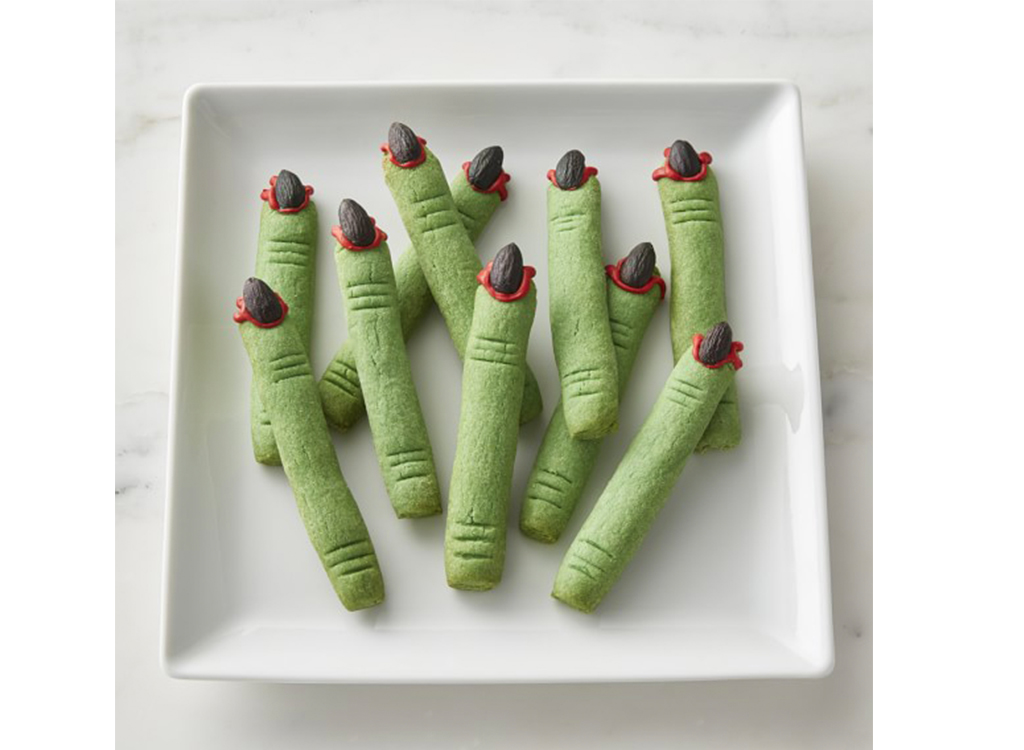 Halloween is arguably one of the most fun times of the year. It's all about letting loose, dressing up, and having an excuse to eat lots and lots of goodies. There's also no shortage of special, limited-release Halloween food products that range from the festive to the downright absurd (all of which you'll be dying to eat, of course). Stock up on these fun favorites while you still can!
Halloween Oreos​
SHOP NOW: $3.56, amazon.com
Oreos have been one of the most popular brands of packaged cookies for the past century — and for good reason. Their special release holiday flavors are cult favorites, and people look forward to the orange-hued Halloween Oreos year after year.
This year, you'll also want to keep an eye out for candy corn Oreos, which have yellow and orange creme sandwiched inside golden vanilla wafers (you may be either disappointed or relieved to learn that they do not, in fact, taste like candy corn).
Cheetos Bag of Bones
SHOP NOW: $3.69, target.com
Yes, you read that right. Cheetos makes a Halloween-themed snack shaped like bones. While they were originally white cheddar flavor when they were first released in 2014, the brand has since introduced them in Flamin' Hot, which has fans all kinds of excited. For those who like to play with their food, you can assemble a full Cheeto skeleton made of Cheeto bones. Now that's spooky!
Mrs. Fields Halloween Cookies
SHOP NOW: $39.99 for 24, mrsfields.com
Mrs. Fields has all sorts of Halloween offerings, but we're fans of the Halloween Pocket Treats, which include a variety of individually frosted cookies (pumpkins and ghosts) packaged in a cute container. Stock up on these, and you'll win over every trick-or-treater or Halloween party guest — or hoard them for yourself, we won't judge!6254a4d1642c605c54bf1cab17d50f1e
Trader Joe's Candy Corn Popcorn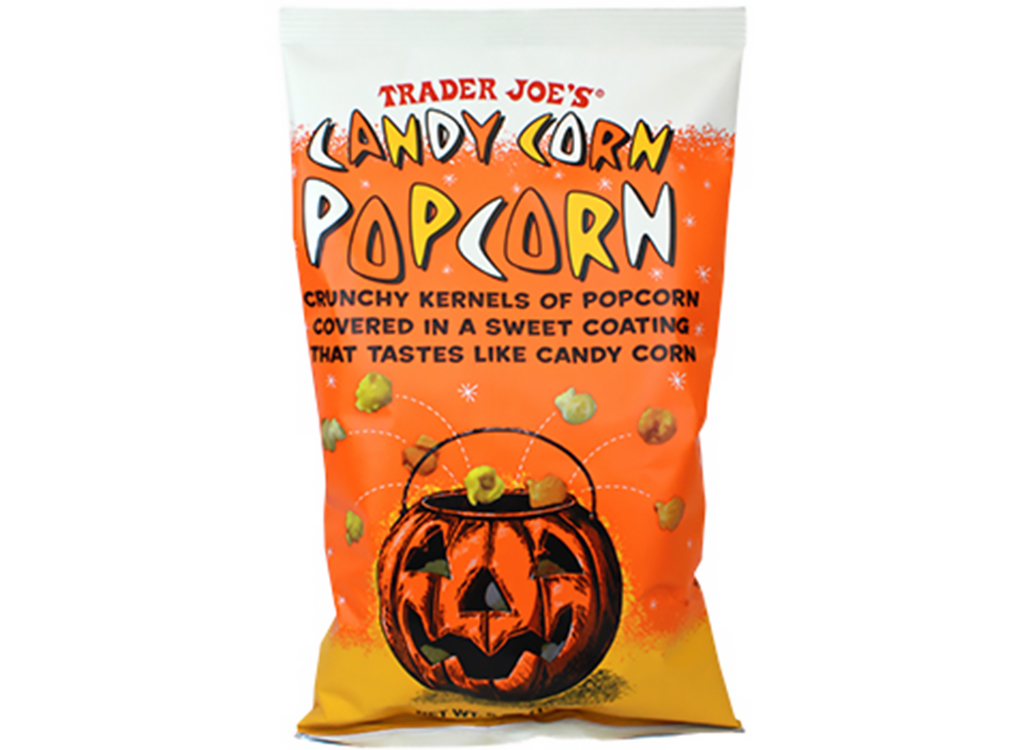 SHOP NOW: Available in Trader Joe's stores
Trader Joe's has the seasonal limited-release market down pat — as soon as there's a whiff of autumn in the air, they've released a full line of pumpkin and pumpkin spice-flavored foods. But new this year is candy corn popcorn, which you'll want to stock up on. Crunchy popcorn with a sweet, caramel candy corn-flavored coating? Yes, please!
Pillsbury Shape Ghost Cookies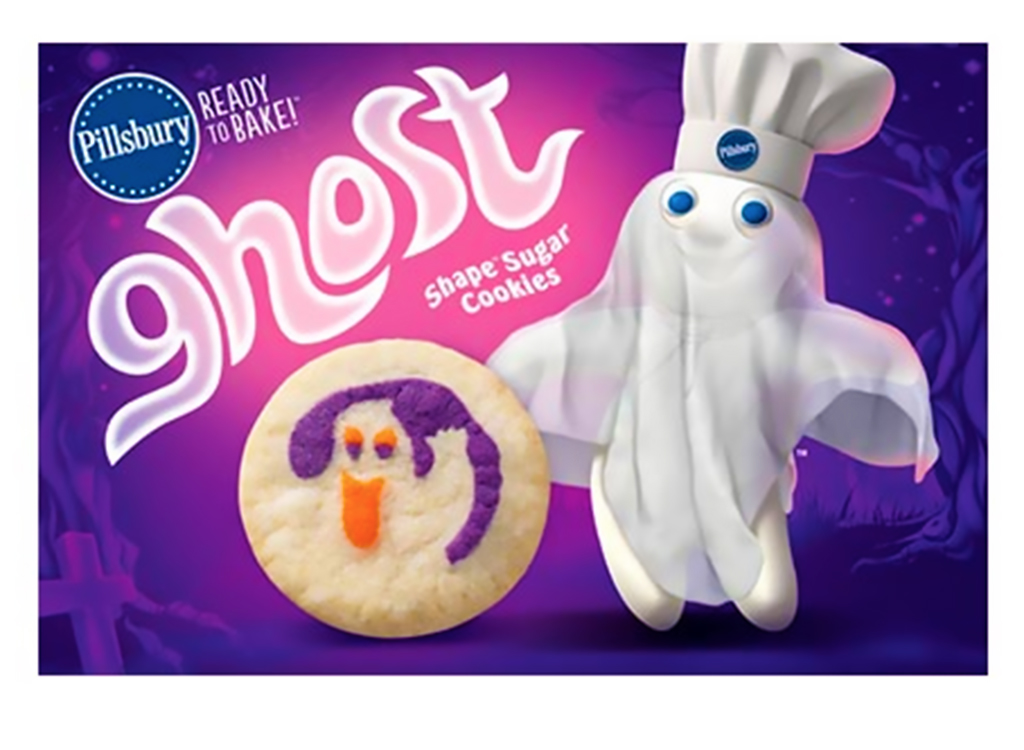 SHOP NOW: $2.69, target.com
If you want a packaged cookie that tastes homemade, Pillsbury is the king of ready-to-bake products. When Halloween comes around, they celebrate with festive sugar cookies that bake up with an image of a friendly-looking ghosts in the center. They also have a jack-o'-lantern variety as well!
General Mills Monster Cereals
SHOP NOW: Monster Cereals (3-Pack), $18.99, amazon.com
To bring the Halloween spirit to the breakfast table, General Mills releases their much-beloved Monster Cereals each year around this time (they were first introduced in 1971!). Look for Boo Berry, Count Chocula and Franken Berry — all with monster marshmallows, of course — for a spooky way to start your day.
Utz Halloween Pretzel Treats
SHOP NOW: $8.99, boxed.com
For a salty snack, turn to Utz Halloween Pretzels, which make for a slightly healthier trick-or-treat offering than candy bars. In small packages of fun bat and jack-o'-lantern shapes, these are great to stock up on whether you plan on handing them out or keeping them for a portion-controlled snack for yourself.
Welch's Halloween Fruit Snacks
SHOP NOW: $9.99, target.com
Fruit snacks are a favorite amongst kids and adults alike, and each Halloween Welch's makes a special Halloween variety. Individually packaged as usual, these limited-edition snacks are the same beloved mixed fruit flavor, just now with bat, witch, ghost, castle, and pumpkin shapes.
M&Ms Cookies & Screeem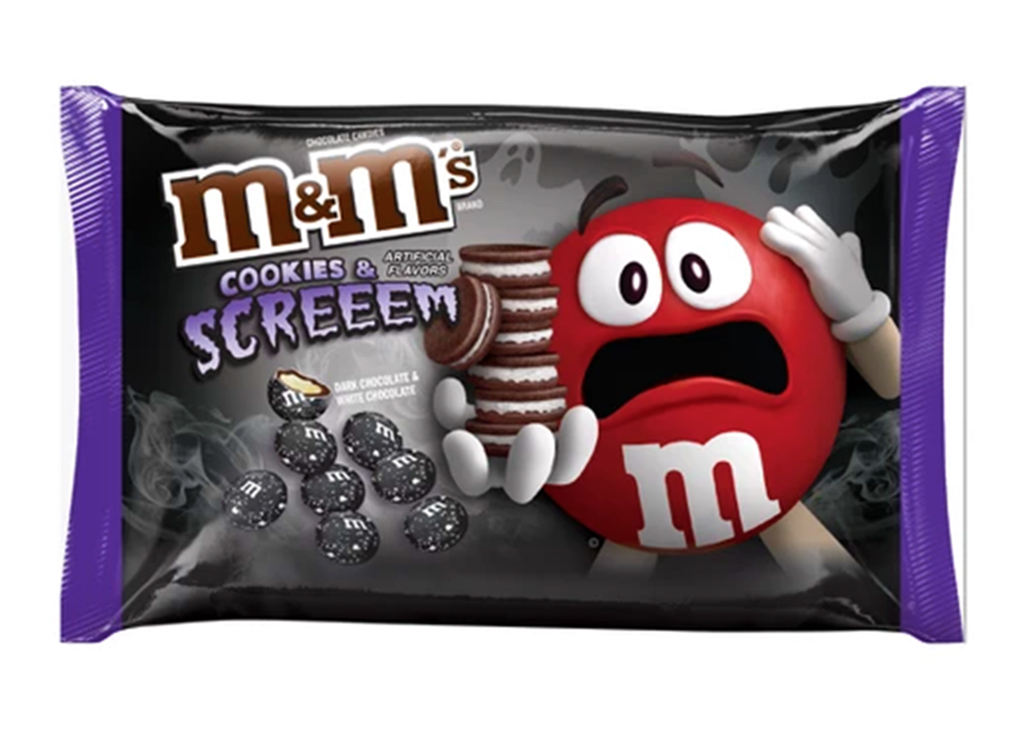 SHOP NOW: $3.19, target.com
There are plenty of Halloween candies out there, but these special edition M&Ms are especially festive. The dark and white chocolate cookie-flavored M&Ms are black and white and a fun riff on cookies n' cream. Decorate or bake with them or eat them straight. Either way, we dare you to just eat one … handful.
Peeps Marshmallow Monsters
SHOP NOW: $6.73, amazon.com
Who says Peeps are just for Easter? In a smart move, the company has released a line of Halloween Peeps in fun pumpkin, ghost, monster, and cat shapes. While they have plenty of sugar and are definitely a treat, Peeps do boast being gluten free and fat free.
Cadbury Screme Egg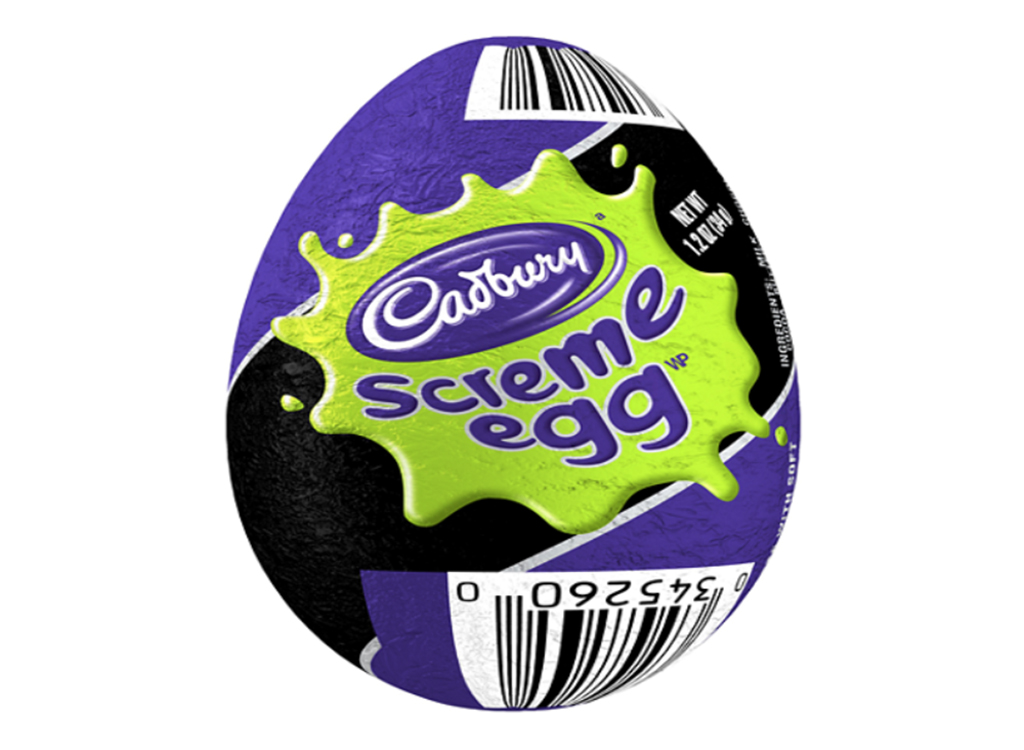 SHOP NOW: $1, target.com
Another Easter favorite has been reinvented for Halloween — Cadbury Creme Eggs now makes special Cadbury Screme Eggs. With festive packaging and a green fondant filling (we think it looks like slime), these ooey gooey treats are scary good.
Halloween Funfetti Cake Mix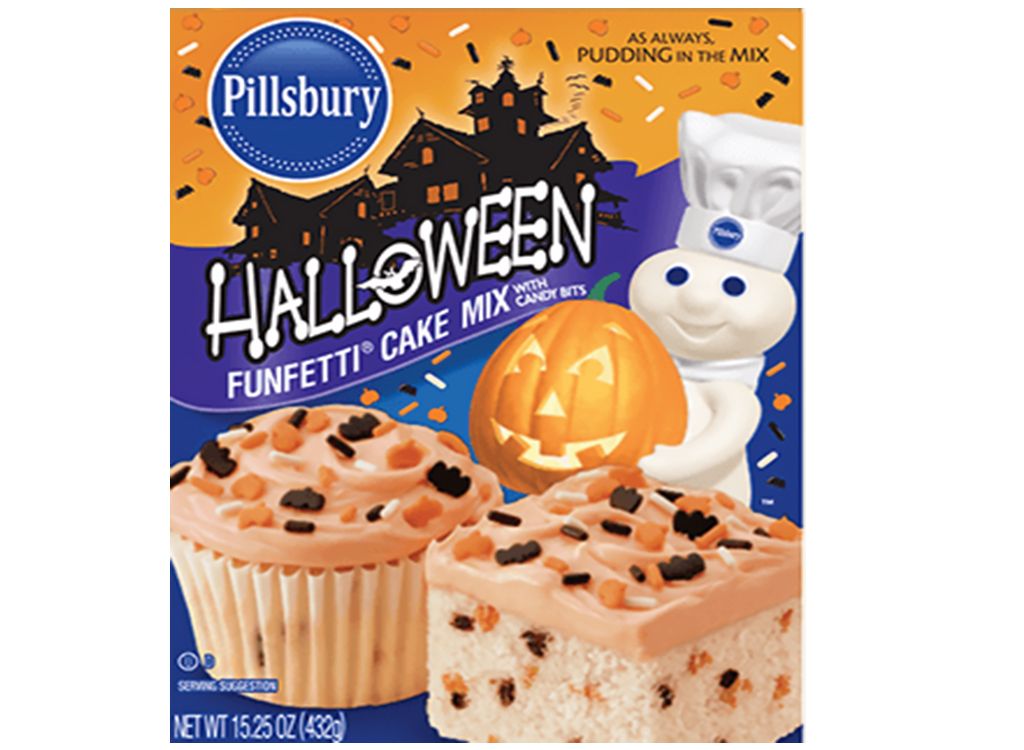 SHOP NOW: $1.25, target.com
Is there anything that Funfetti doesn't make more, well, fun? Snag a box of the Halloween-themed funfetti cake mix to bake up some Halloween goodness. The yellow cake has black and white candy bits in it, and then you can top it with the orange Halloween Funfetti icing.
Butterfinger Peanut Butter Cup Skulls
SHOP NOW: $10.46, amazon.com
Nestlé kind of rocked the Halloween candy world when they first came out with Butterfinger Peanut Butter Cup Skulls a few years ago. As the name implies, the taste is a mashup of a Butterfinger and a peanut butter cup, but it's in the form of an awesome heavy metal-esque skull. We'd say that's a win all around!
Sensible Portions Garden Veggie Ghosts and Bats
SHOP NOW: $5.99, target.com
Even veggie chips can get in on the Halloween spirit! Sensible Portions has released their Garden Veggie Chips in fun white, green, and orange ghost and bat shapes. They come in snack-sized packs, so you can hand them out to trick-or-treaters or satisfy all your crunchy on-the-go snacking needs.
Quaker Chewy Halloween Minis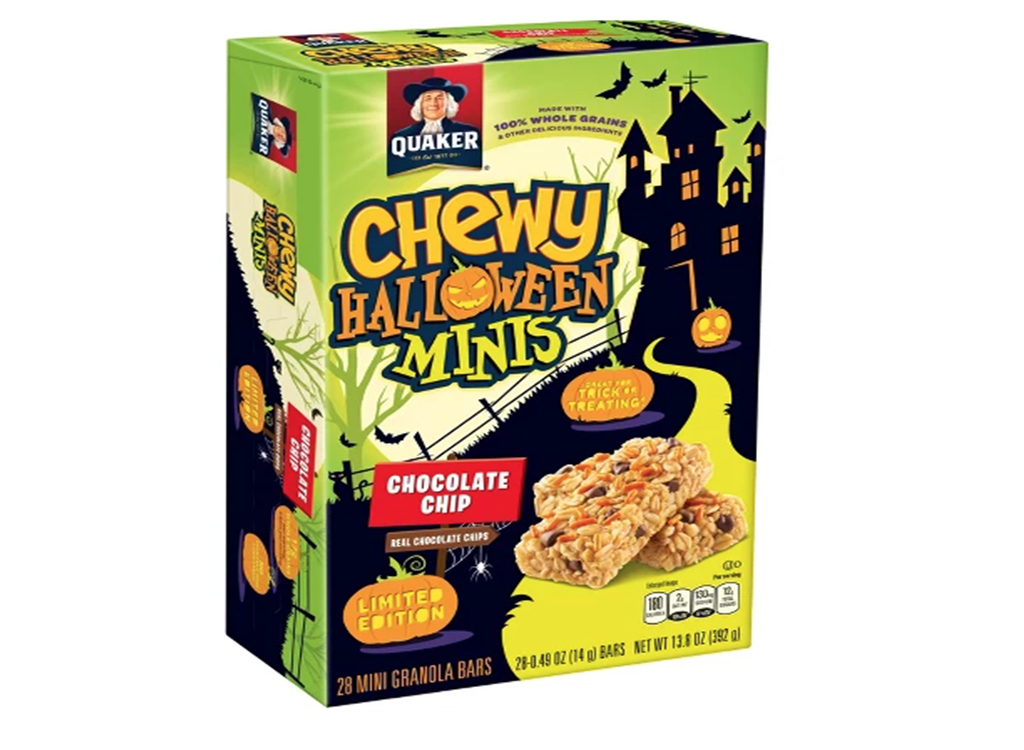 SHOP NOW: $4.99, target.com
Quaker didn't want to miss out on the Halloween market, so they threw in some orange sprinkles to go with the chocolate chips in their chewy granola bars. The mini size makes them a great choice for your trick-or-treat offerings and, as always, they're made with whole grains and no high fructose corn syrup.
Dunkin' Donuts Spider Donut
SHOP NOW: Available at Dunkin' Donuts stores
Dunkin' Donuts may well be the Halloween-themed food headquarters; they've embraced the holiday in the past with a whole line of special offerings. This year the Spider Donut is back. It's a classic donut with orange frosting topped with a chocolate-glazed munchkin with chocolate spider legs. Plus, they also have a Halloween Oreo Donut that's filled with buttercream and topped with chocolate icing, Oreo cookie crumbles, and finished off with a drizzle of orange icing. If only these were available year-round!
Sour Patch Kids Candy Corn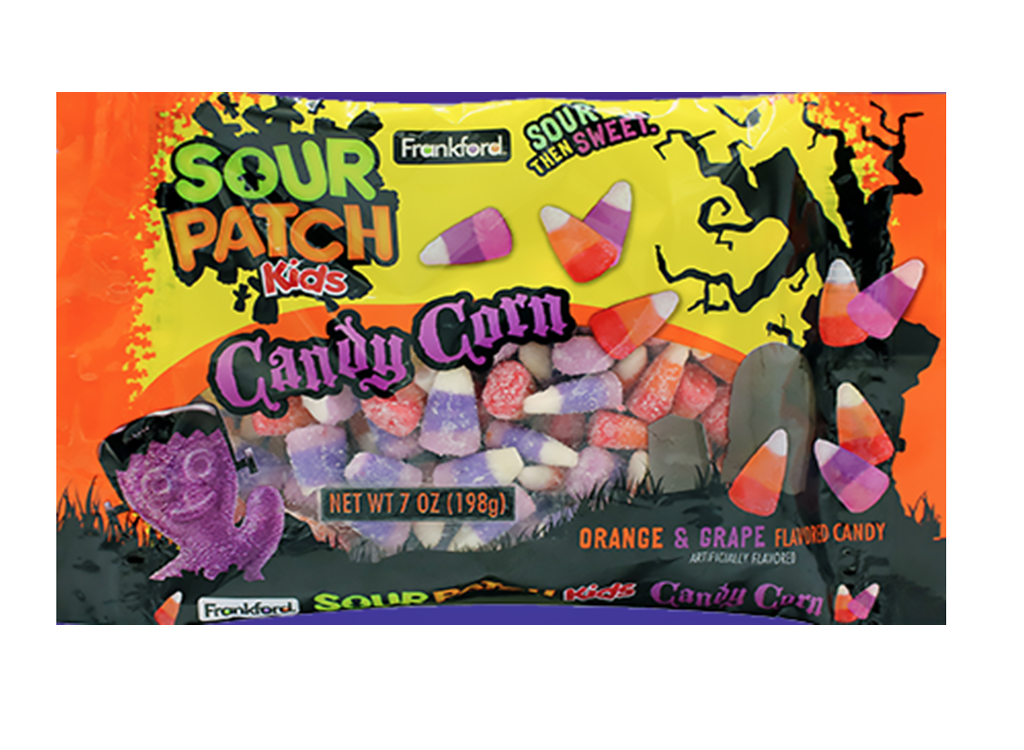 SHOP NOW: $2.50, blaircandy.com
Like a Frankenstein's monster of the candy world, Sour Patch Kids Candy Corn brings together two classic treats in one arguably monstrous package. Expect orange and grape flavored candy corn that's dusted with Sour Patch sugar, so it has the texture of candy corn but the taste of a gummi candy. Ingenious invention or aberration? We'll leave that one up to you. They also make Sour Patch Zombie Kids for those looking for a more classic experience.
Jelly Belly Sour Gummi Pumpkins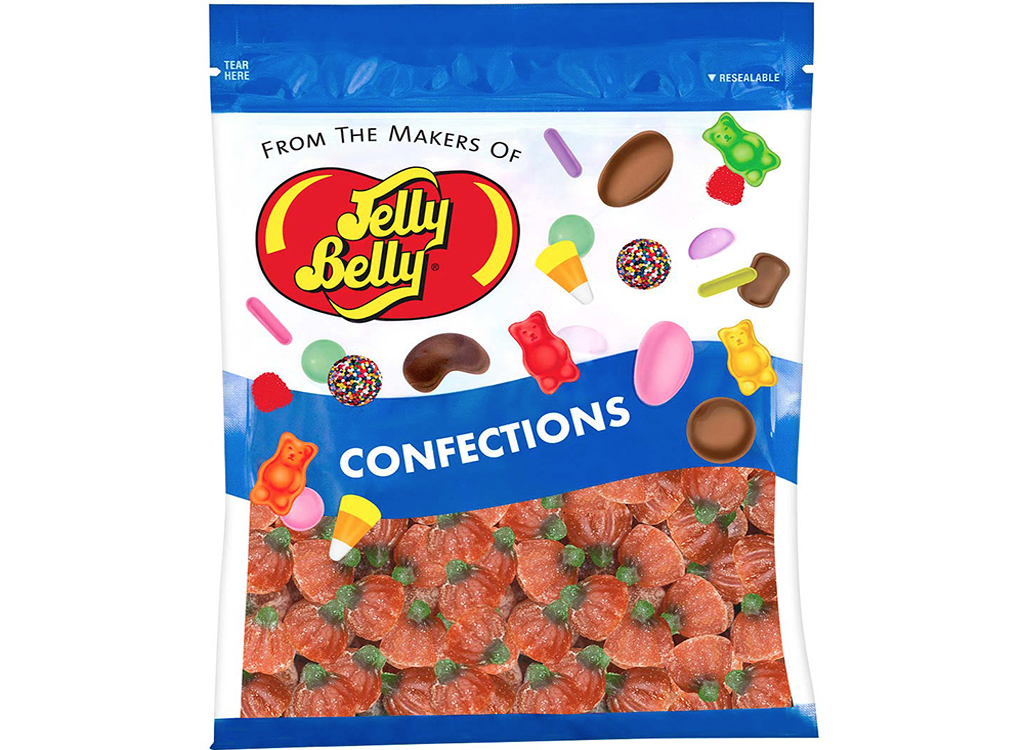 SHOP NOW: $8.95, carolscandycorner.com
You may associate Jelly Belly with jelly beans, but they also make these pleasantly lip-puckering Sour Gummi Pumpkins to bring your candy bowl some Halloween cheer. They're available from their website year-round, but they tend to appear on store shelves in the fall when you'll welcome their sweet orange flavor and dusting of tangy sour crystals.
Cap'n Crunch Halloween Crunch Cereal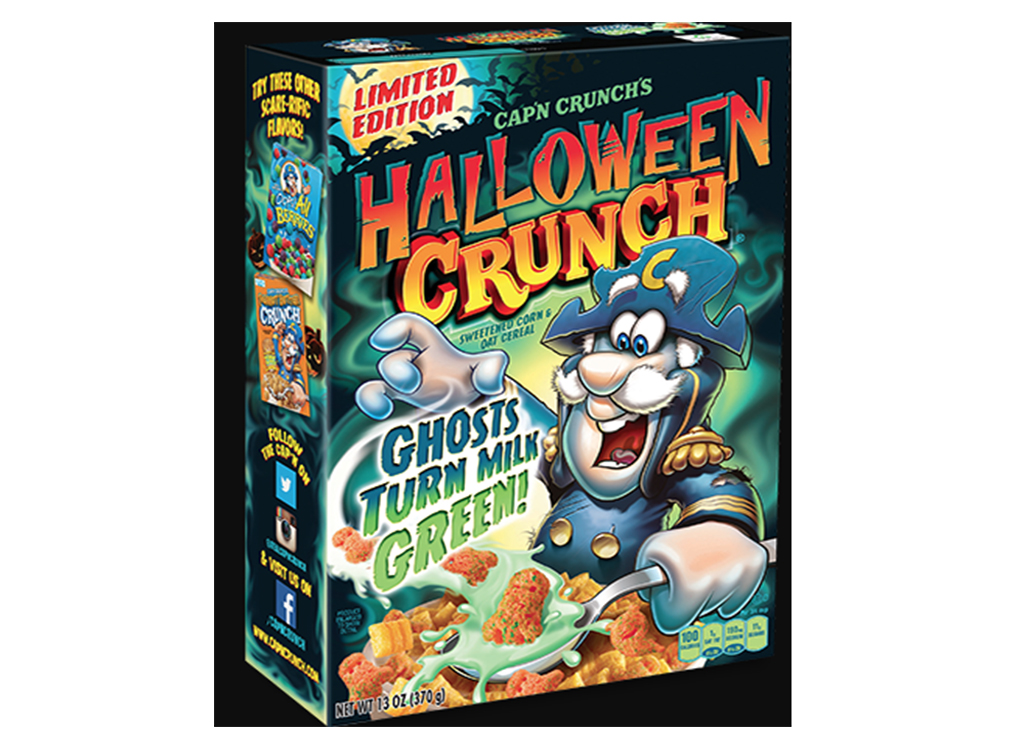 SHOP NOW: $15.83 for a 2-pack, amazon.com
Grab a box of limited-edition Cap'n Crunch Halloween Crunch Cereal for a spooky start to your morning. It features the classic crunch you'd expect in addition to a creepy surprise — the "ghost-berries" turn your milk green!
Williams-Sonoma Witch Finger Cookies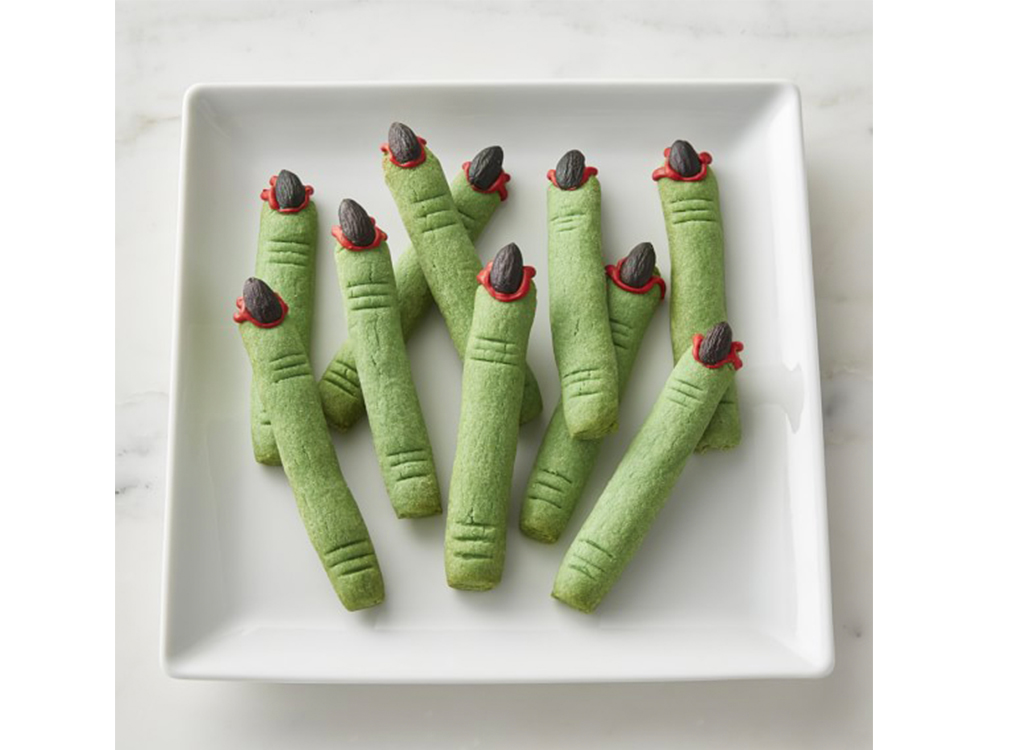 SHOP NOW: $24.95, Williams-Sonoma.com
For a super eerie treat, snag some Witch Finger Cookies from Williams Sonoma, which are only available this time of year. A green-hued vanilla sugar cookie is shaped like a long, bony finger and topped with red icing for a bloody look, and there's even a crunchy roasted almond for a nail.
Katherine Martinelli
Katherine Martinelli is a recipe developer and award-winning journalist who spends her days dreaming and writing about food.
Read more about Katherine