Eat This, Not That! During Happy Hour
It's all fun and games until you realize you've scarfed down half a day's worth of calories in the time it takes to watch one episode of The Walking Dead.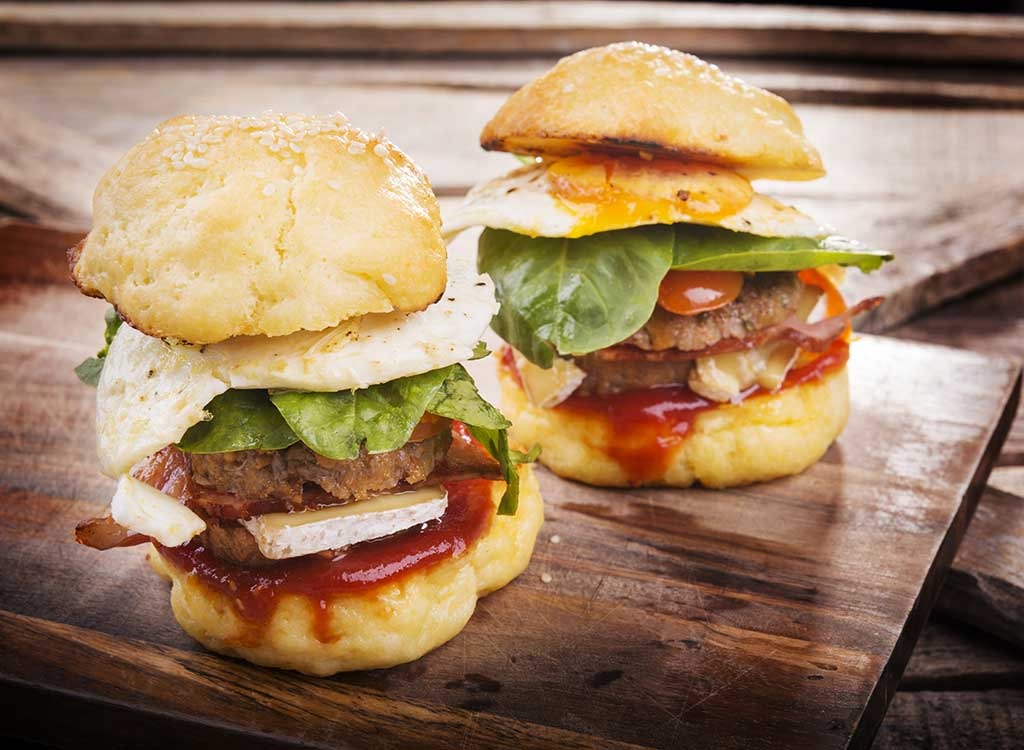 Booze is one thing, but happy hour appetizers really hit you where it hurts: right in the gut. Knowing you're going to happy hour after a long day at work might be the only thing getting you through the day, but with alcohol as the main event and fried foods ruling the menu, it's a task in and of itself to make healthy choices.
It might feel like you'll need some massive willpower to make healthy diet decisions at happy hour, but it's not impossible. Stay away from these belly-bulging apps and spring for the healthier alternatives instead. After you see how easy it is to still indulge—without guilt!—keep the swaps going with these 36 Easy Ways to Cut 50+ Calories.
Eat This: Veggie Tacos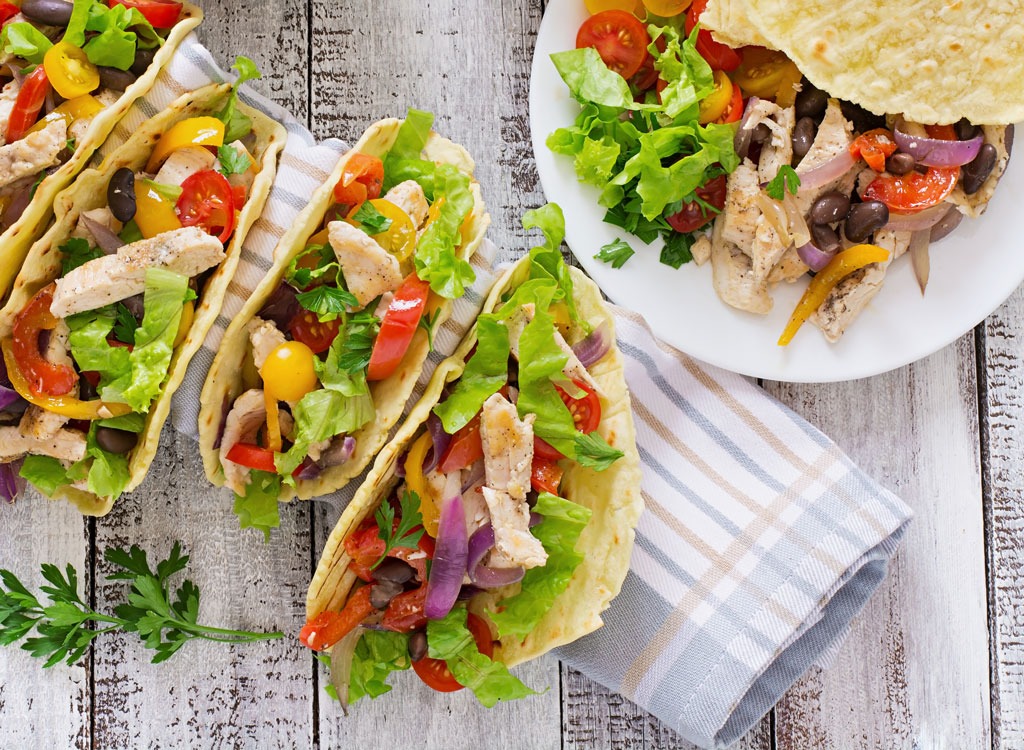 If you want to get your hands on something crunchy and filling, go for the fish or veggie tacos. Just be sure to skip the sour cream and go light on the cheese. "I would opt for something like veggie tacos with the soft tortillas, which are roughly around 60-80 calories each," says Jim White, owner of Jim White Fitness and Nutrition Studios in Virginia Beach. He recommends adding chicken or shrimp to make it a little more hearty and to add protein.
Not That!: Quesadillas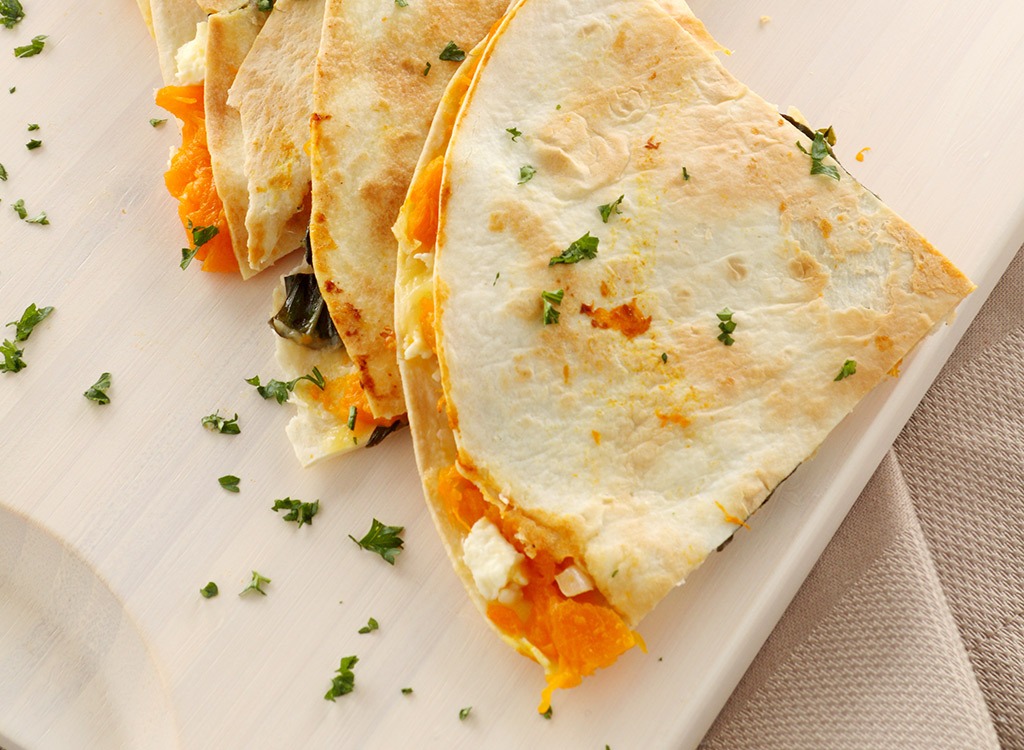 There's nothing quite like a classic quesadilla to satisfy your cravings—gooey cheese and a crisp, buttery tortilla? Mmmm. While your taste buds may be singing, your waistline won't be quite as happy. Quesadillas are dense with fat and calories, earning them a spot on the diet-don't list. If you love Mexican food, then don't miss our guide to Eat This, Not That! for Mexican Food Lovers!
Eat This: "Naked" Tenders
Skip the greasy stuff altogether and opt for foods in their more natural forms. Many restaurants now offer "naked" versions of chicken wings or tenders, in which they've been grilled instead of fried.
Not That!: Chicken Tenders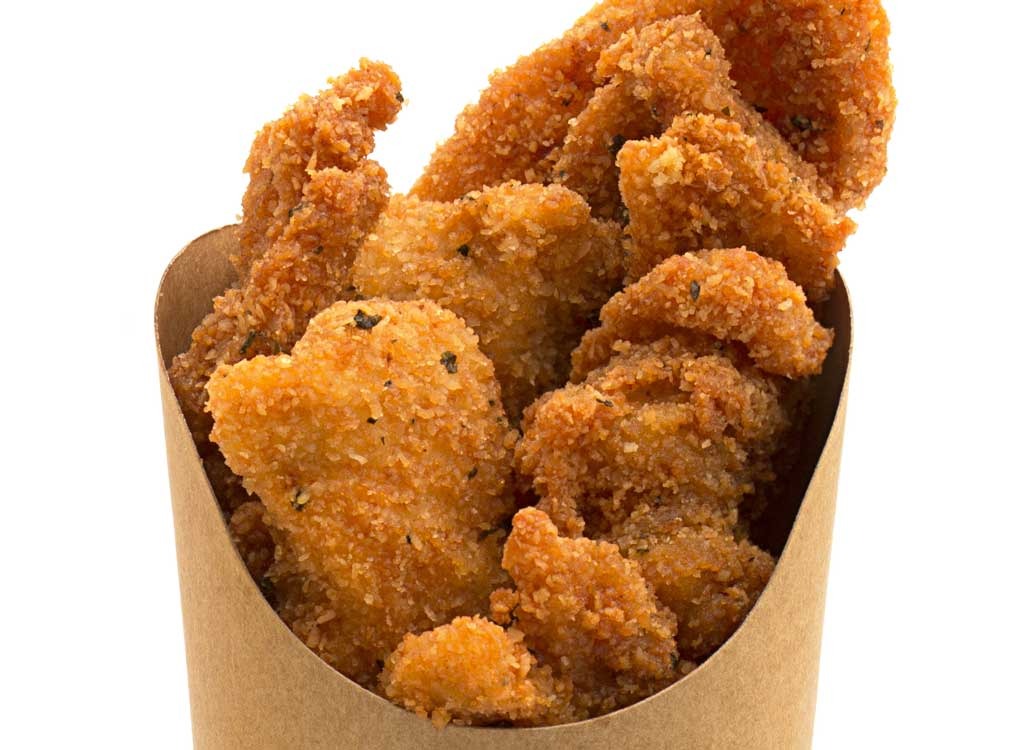 Any food coated in batter and fried should immediately stand out as unhealthy, and therefore should be avoided whenever possible. We get that chicken tenders may give you a sense of childhood nostalgia, but most of them can lead to heart disease and weight gain. Not all of 'em are terrible, though, so consult our exclusive ranking of the 46 Best and Worst Chicken Nuggets in America!
Eat This: Meatballs or Bun-less Sliders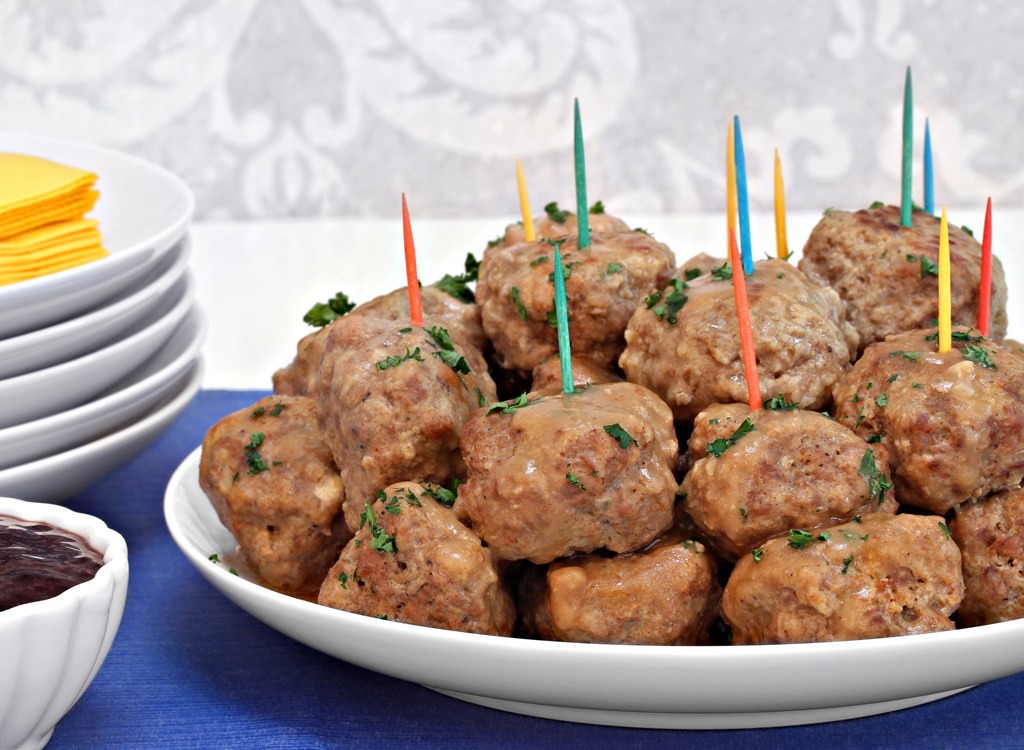 If you want to go for the sliders, knock off some calories by going bunless or ordering them with a lettuce bun. Even better, split them with a coworker, and you both can enjoy the bite-sized app without all of the guilt.
Not That!: Beef Sliders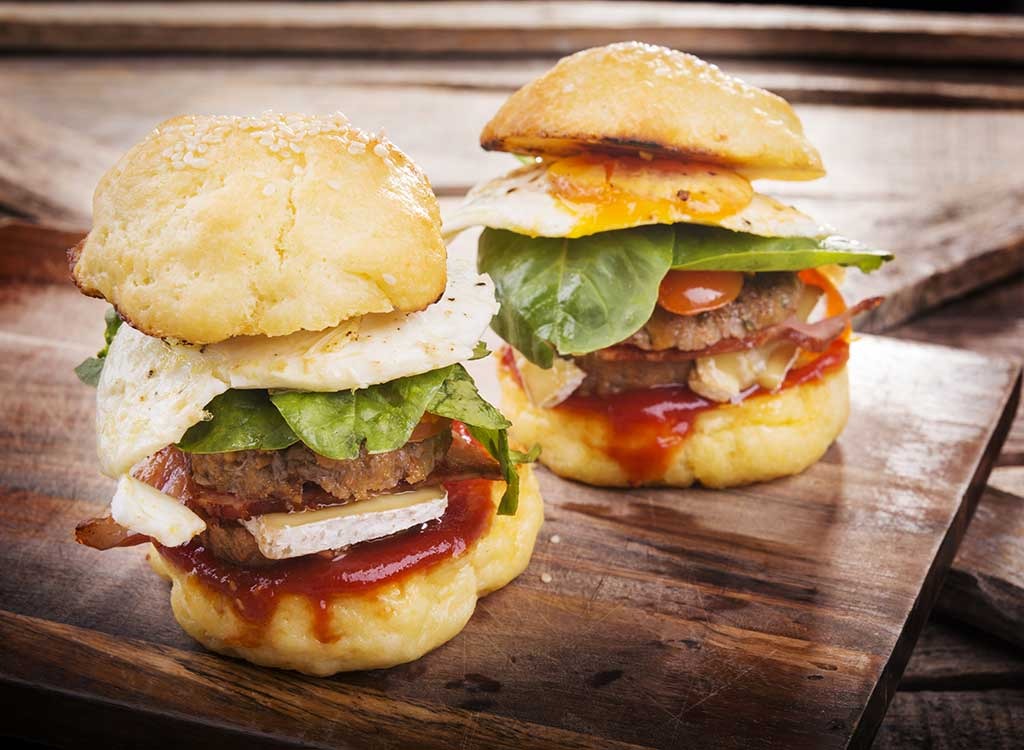 Don't let these tiny guys fool you—they may look small in size, but just a couple can equate to a full-size burger in no time. "Sliders can kind of fool you because they're very small, but four of them can end up being over 1,000 calories. If you really want them, I'd suggest having one slider with a side of veggies," says White.
Eat This: Edamame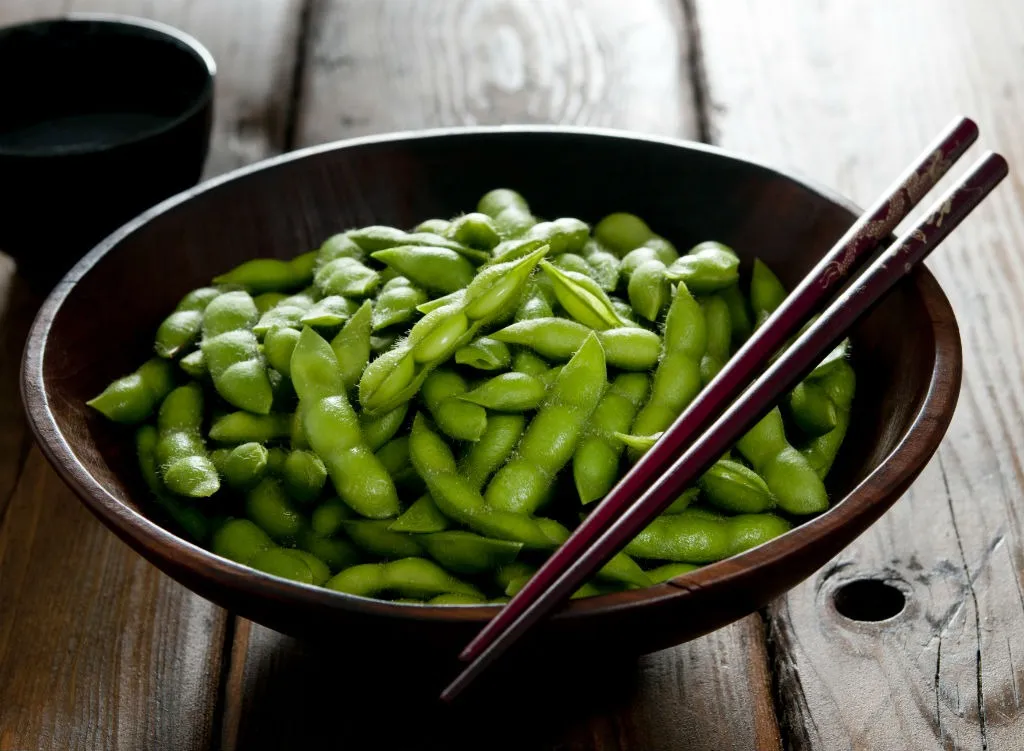 While biting into edamame doesn't provide the same effect as a dumpling, these soybeans offer a much higher dose of nutrition for a lot less calories. "You just have to watch the sodium, especially if you have high blood pressure," says White. Edamame is also very high in protein with 17 grams per cup! Protein helps promote feelings of satiety and works to fuel muscle growth and recovery—which is very rare for a happy hour app. And if you have protein on your mind, don't miss these 25 Ways to Increase Your Protein Intake.
Not That!: Pot Stickers
This Asian dumpling may not appear harmful—especially when stuffed with veggies or chicken—but they'll run you about 80 calories each, on average. This means a measly six-piece plate will set you back nearly 500 calories! Pass.
Eat This: Hummus
Hummus is a fantastic happy hour choice because it's both satiating and tasty. And other than being higher in calories than people expect, the nutritional punch from hummus makes is a much better choice than other dips. Swap the chips for veggie sticks to cut calories and boost nutritional value even further. If you want to make it at home, check out these 11 Tips for Making the Perfect Homemade Hummus!
Not That!: Spinach Artichoke Dip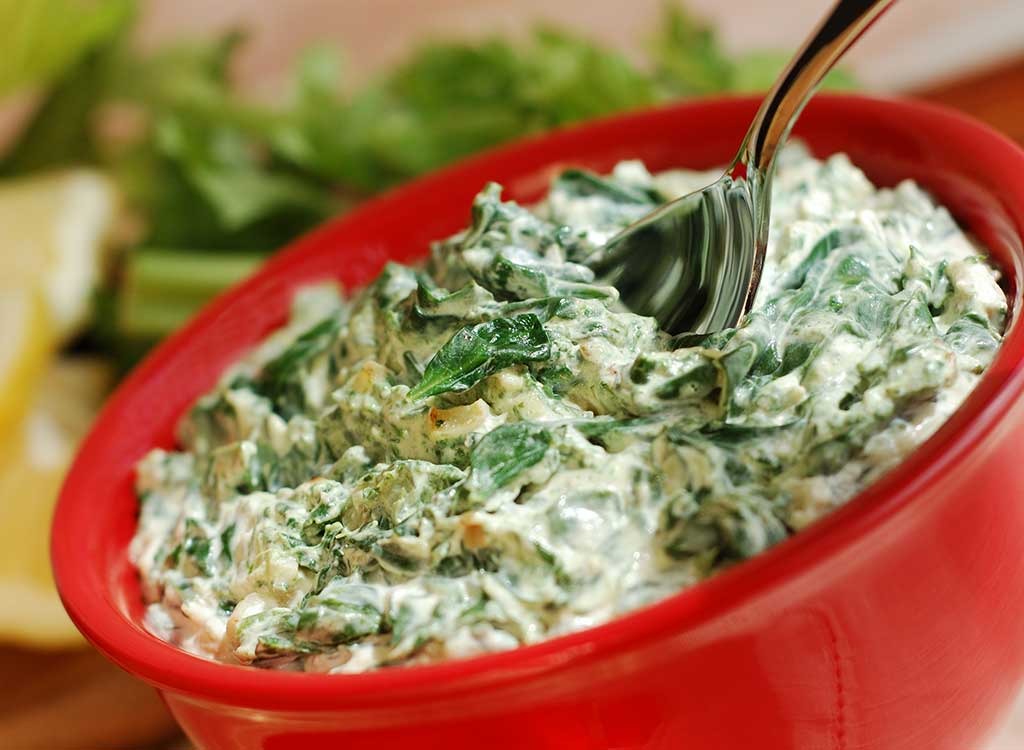 6254a4d1642c605c54bf1cab17d50f1e
Brace yourself for some seriously bad news: A measly four or five dips of this cheesy favorite packs the same amount of fat as three pieces of bacon! The cream cheese and mayonnaise base contribute in large part to the high calorie count, with around 115 calories per two tablespoon serving. We wish we could say to limit yourself to just one bite, but it's so addictive that we recommend just never taking even one little dip!
Eat This: Summer Rolls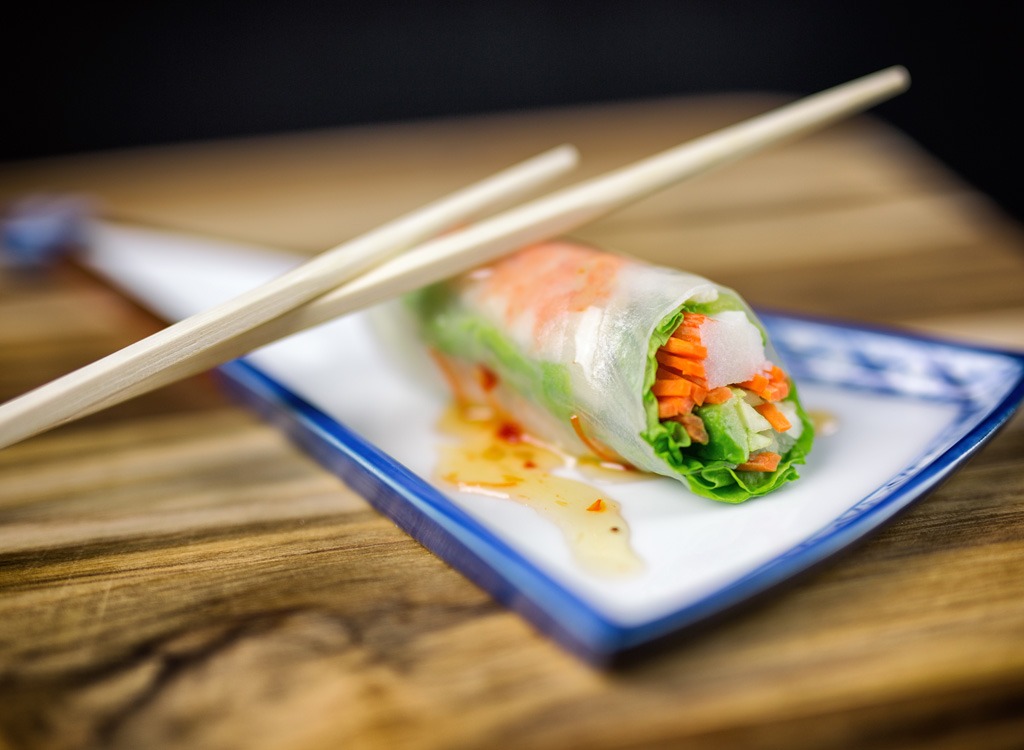 Summer rolls are steamed instead of fried, and the chewy texture can also be a welcome break from the typical greasy crunch of a fried roll. Go easy on the sauce, though.
Not That!: Egg Rolls
You know by now that fried food equates to unhealthy food, but it goes beyond just your weight. Fried foods have also been linked to depression, due to their high levels of trans fats. So, if you're not sad about all the calories you've taken in, your mood could still be affected. Find out the 20 Foods That Put You in a Bad Mood so that you don't make things worse on yourself.
Eat This: Greek Salad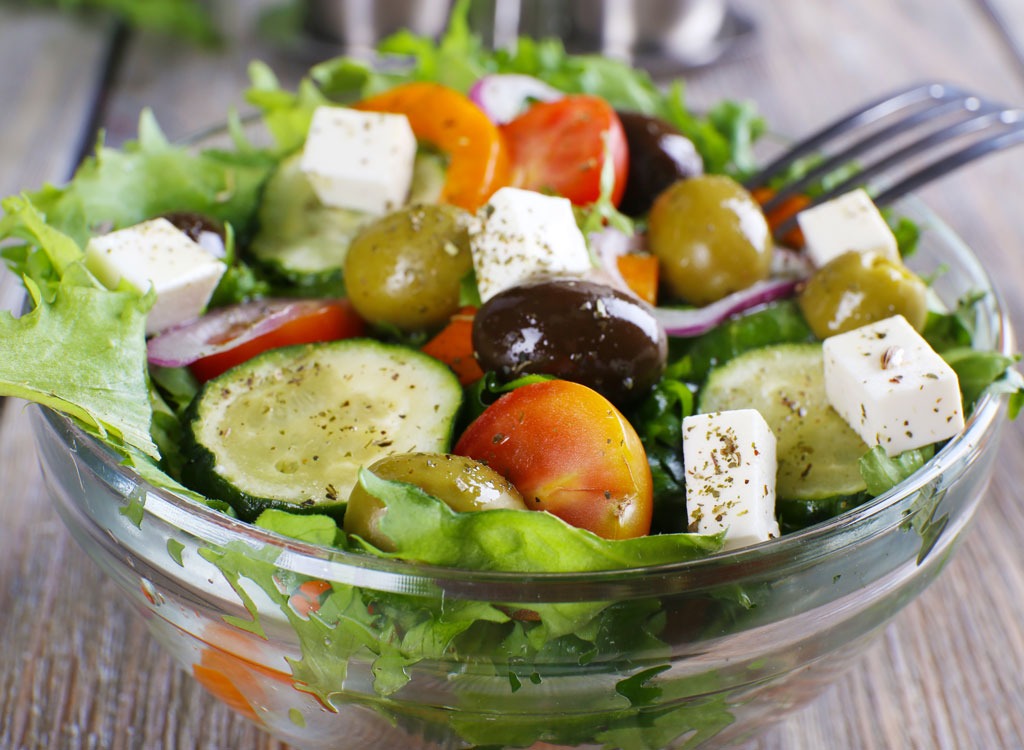 A Greek salad is chock full of veggies and you even get to indulge in some feta cheese, too. Ask for the oil and spices on the side, though, to make sure your greens aren't drenched in calories.
Not That!: Caesar Salad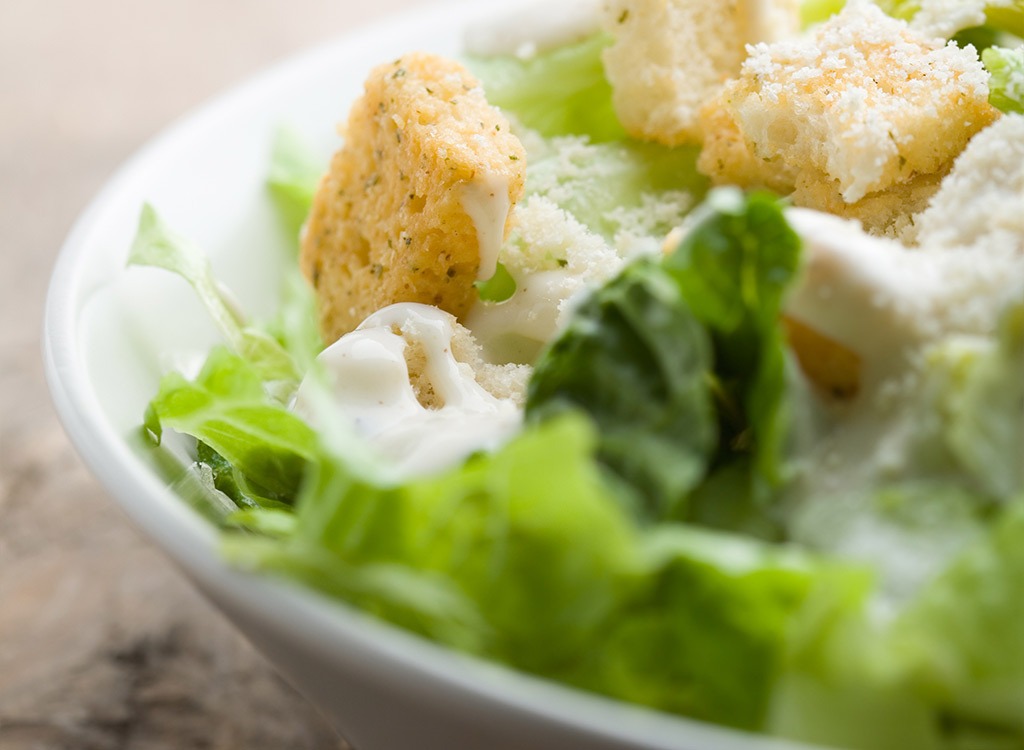 Salad may seem like a healthy choice, but when it's topped with croutons and fatty dressing, you may as well be eating nachos. Okay, that's a bit dramatic, but you get the idea.
Eat This: Tuna Sashimi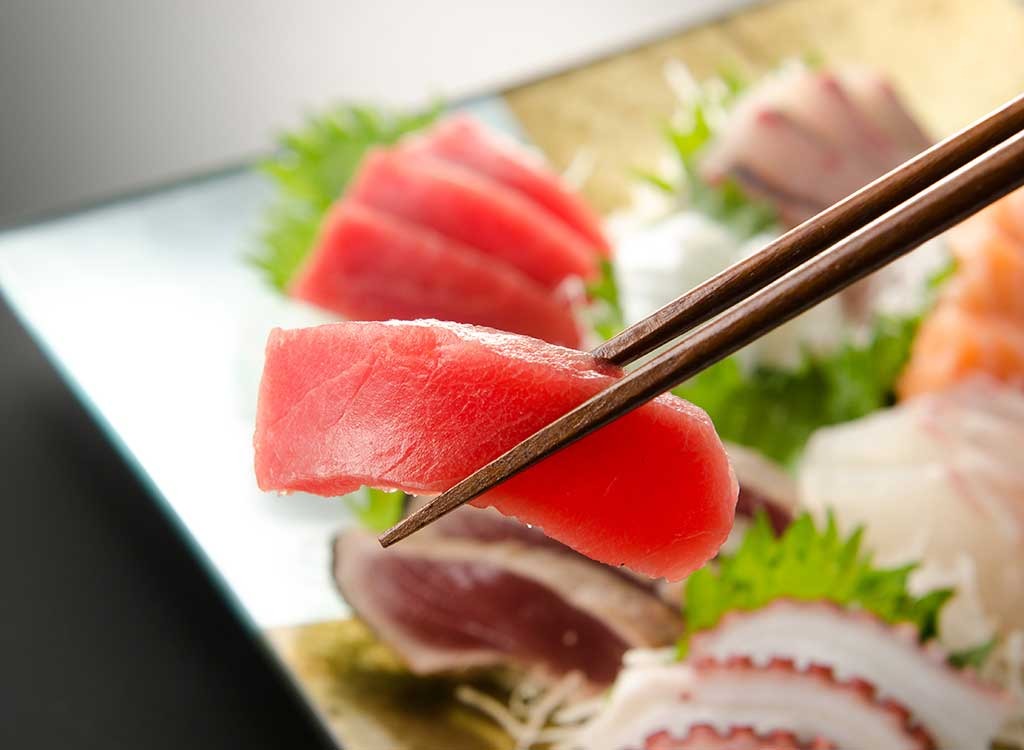 This dish is basically pure protein and brain-healthy fat for the taking. By ordering sashimi—raw fish without the rice—you'll slash calories and fuel your body with nutrients it can actually use to balance out any alcohol you may be consuming. Speaking of fish, the research team at Eat This, Not That! analyzed dozens of nutritional profiles of fish and released its exclusive guide to 40+ Popular Types of Fish—Ranked for Nutrition; don't miss it!
Not That: Specialty Sushi Rolls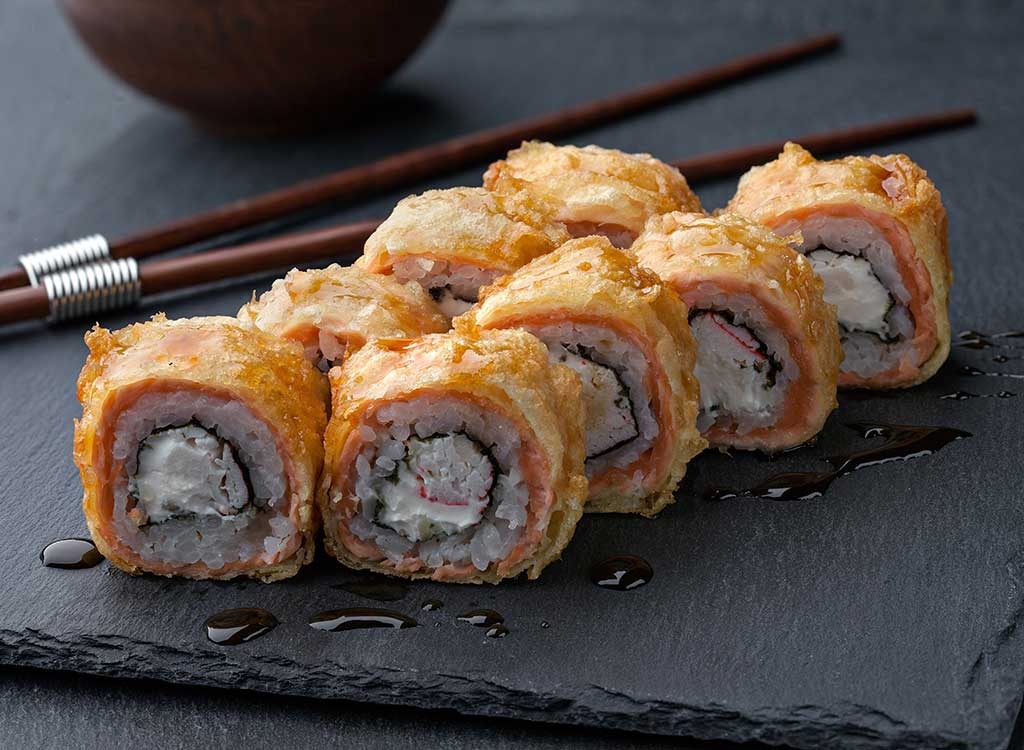 Sushi specials are hard to resist but wait just a second. "Sushi rolls average around 300 calories per roll, but can range anywhere from the low hundreds to around 600 calories each," says White. That's because each sushi roll contains about one cup of white rice, which adds up to about 200 calories. Add in the special sauces and dressings and the calorie count skyrockets.
Eat This: Chicken Skewers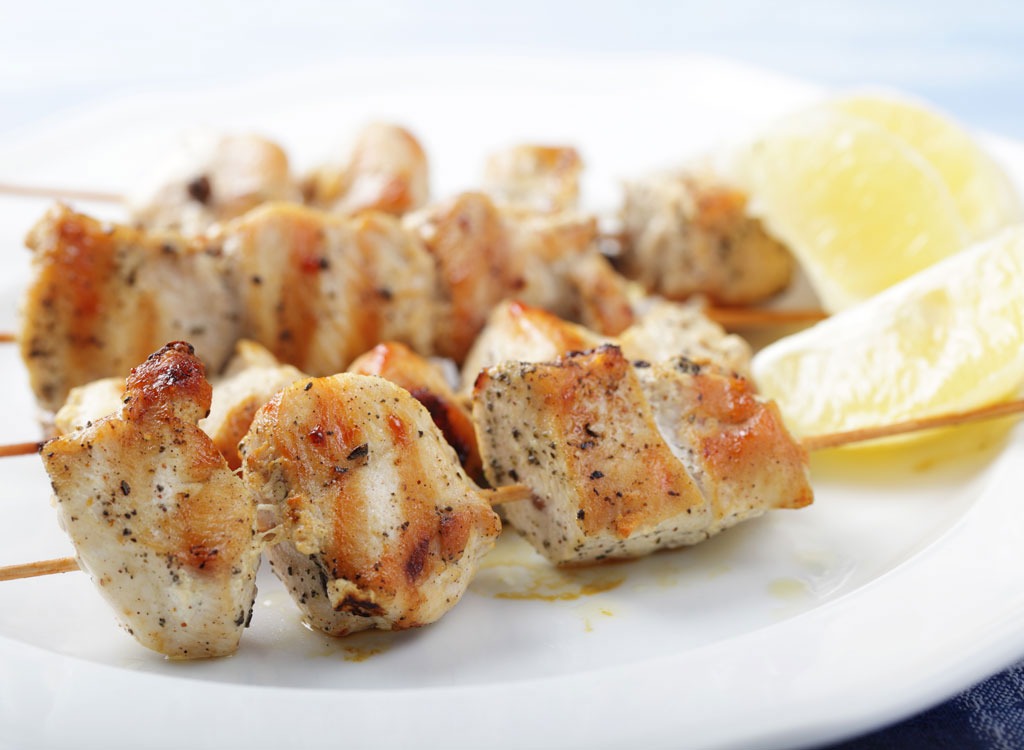 Anything on a stick is fun to eat, which is why we vote for choosing something that's likely to be stacked with grilled chicken and veggies. Though they may vary from restaurant to restaurant, they're usually a safe choice when compared to the rest of the happy hour menu. Just be wary of the sauces they serve on the side!
Not That!: Nachos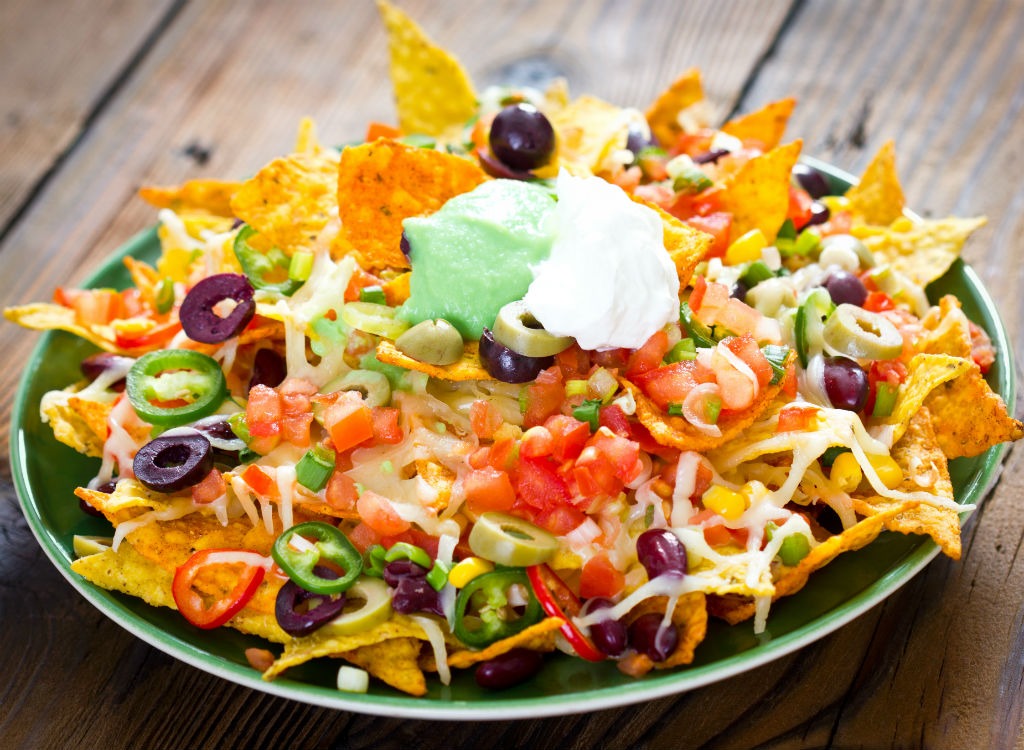 You may think of nachos as filling because of the protein-rich beef, chicken, and/or beans on top, but unfortunately, that also comes with processed cheese, sour cream, and fried chips. Stick with the skewers mentioned above to feel like you had some real food that was also fun to enjoy.
Eat This: Nuts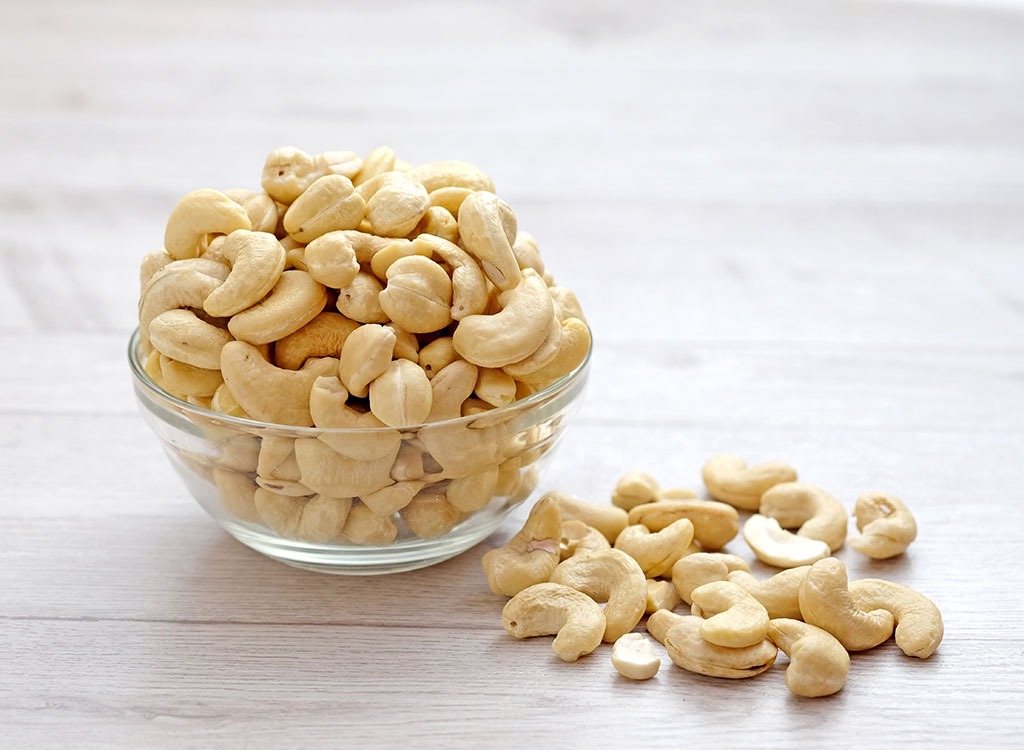 Rather than destroy your diet on some lackluster bar food, opt for a handful of protein-rich nuts. The monounsaturated fats in nuts can help promote feelings of satiety and will actually fuel your body to handle a drink or two safely—without completely wrecking your diet.
Not That!: Pigs in a Blanket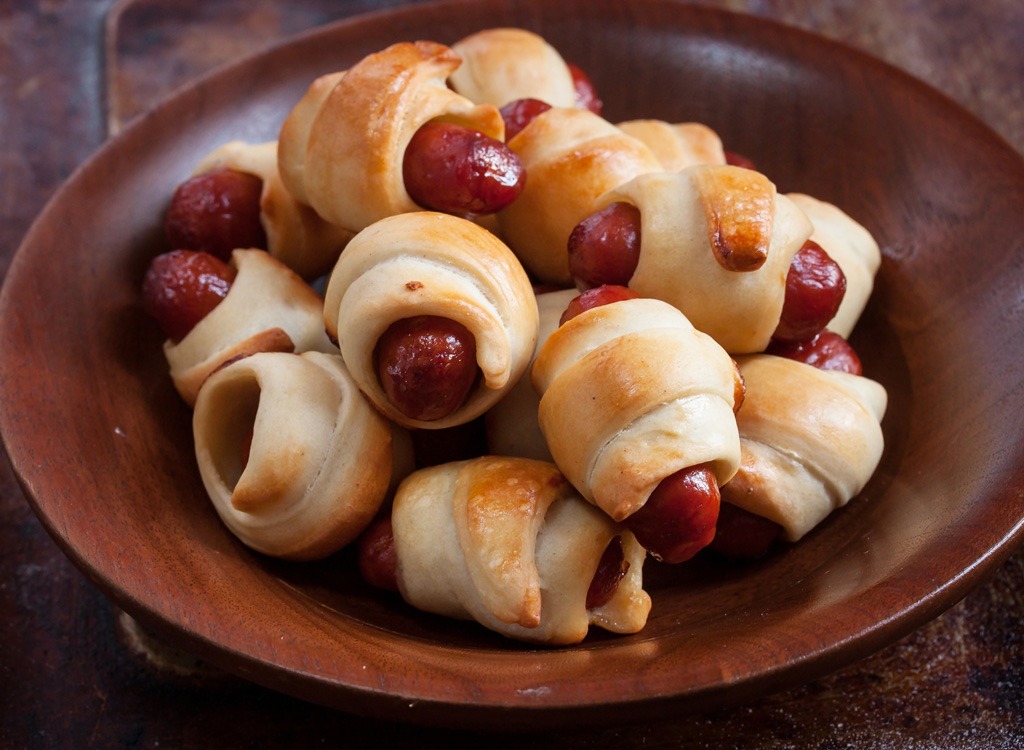 They may look small, but just four or five of these mini dogs add up to the full-size thing. The bite-sized dogs are all too easy too easy to overeat, making them a risky choice if you're trying to watch your diet. What's more? Hot dogs are also high in sodium, which is one of the 35 Things That Make You Bloat.
Eat This: Zucchini Sticks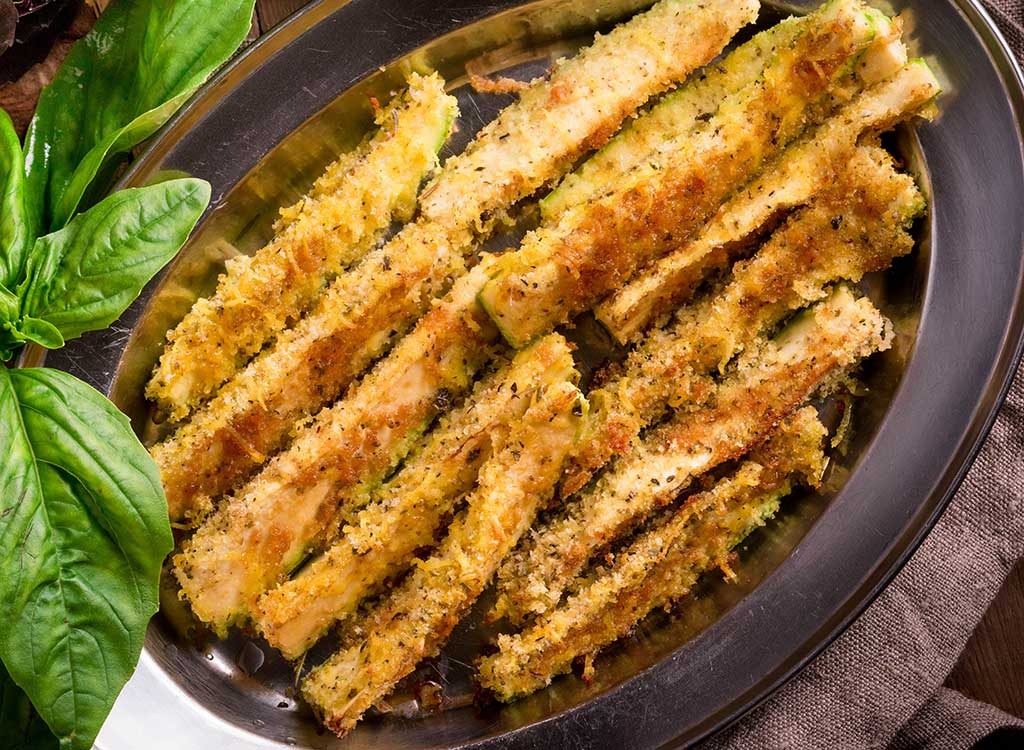 While he doesn't recommend fried food in any form, White says to opt for veggies when you or your crew can't resist the temptation to nosh on something fried. Just be mindful to eat in moderation since fried foods are high in saturated fats.
Not That!: Mozzarella Sticks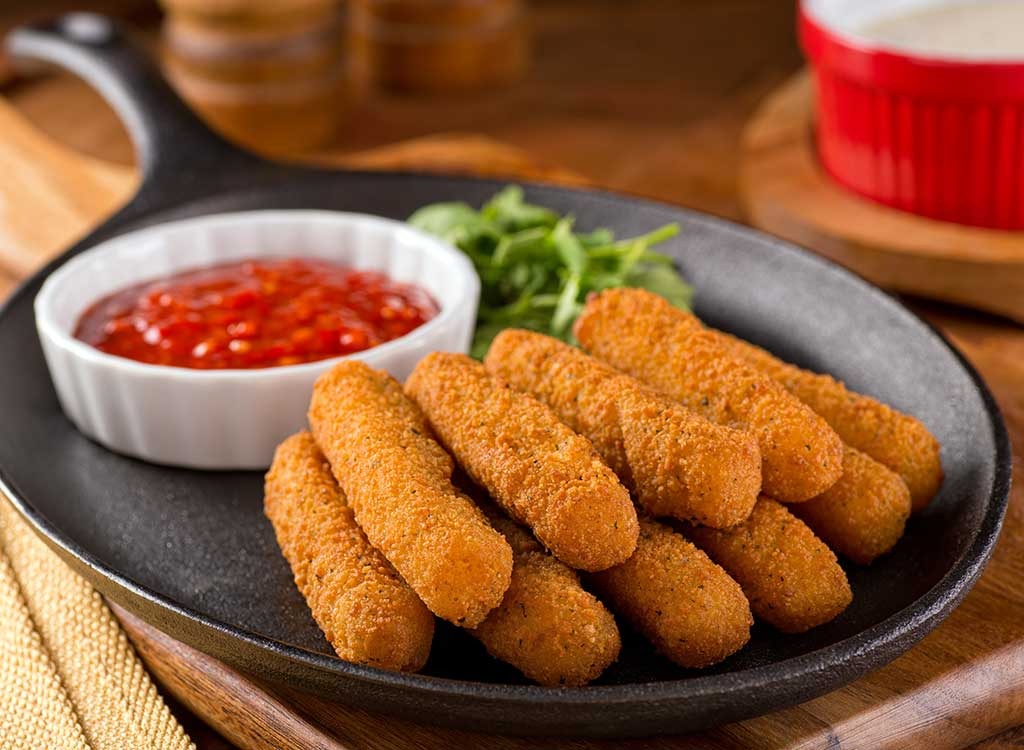 "Mozzarella sticks can add up fast," White says. "There's a lot more damage to be done when it comes to some of these apps rather than the alcohol." That's why he suggests having a healthy snack before hitting up happy hour, so you don't scarf down a plate of empty calories. Speaking of apps that make you fat, take our quiz to see how well you know The Worst Party Appetizers to Eat!