13 Spooky Restaurants That Are Rumored to Be Haunted By Ghosts
Talk about having some uninvited dinner guests...
You've probably heard spooky tales about haunted houses and haunted hotels, but we're calling it now: Haunted restaurants are the next big thing. See, almost six in 10 Americans believe in ghosts, according to an Ipsos/McClatchy poll, so what better way to connect with the spirits than via a supernatural supper?
Step inside 13 restaurants from coast to coast that just so happen to be graced with haunted histories and a few extra dinner guests. And if you dare, maybe you just might decide to step inside and dine there for yourself…
Grey Ghost (Detroit, Michigan)
The rather hair-raising name (and ghost mascot) of the upscale bistro Grey Ghost give a hat tip to an infamous pirate who smuggled rum along the Detroit River during prohibition. While it can't be confirmed or denied, legend has it that his ghost still hangs out inside the chic cocktail bar/restaurant.
Stone's Public House (Ashland, Massachusetts)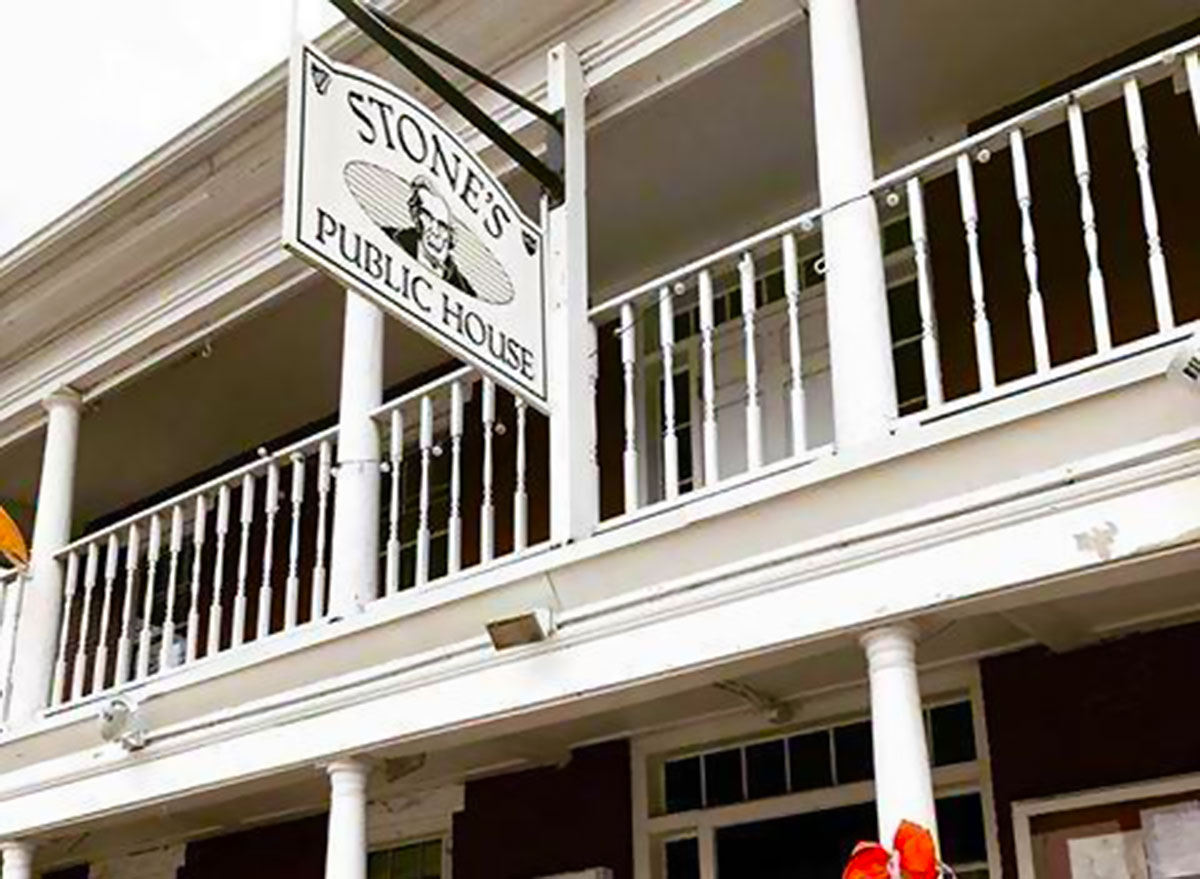 Folklore has it that this Irish ale house is haunted by—among others—Mike McPherson. He was a salesman accused of cheating after winning a high-stakes game of poker at the establishment and then was murdered later that night. The rumor is that he may still be on the hunt for the money he was owed at Stone's Public House. A maid and cook are said to have joined him when it comes to lingering around, as they felt bad for knowing about the murder and not doing anything to intervene.
Forepaugh's (St. Paul, Minnesota)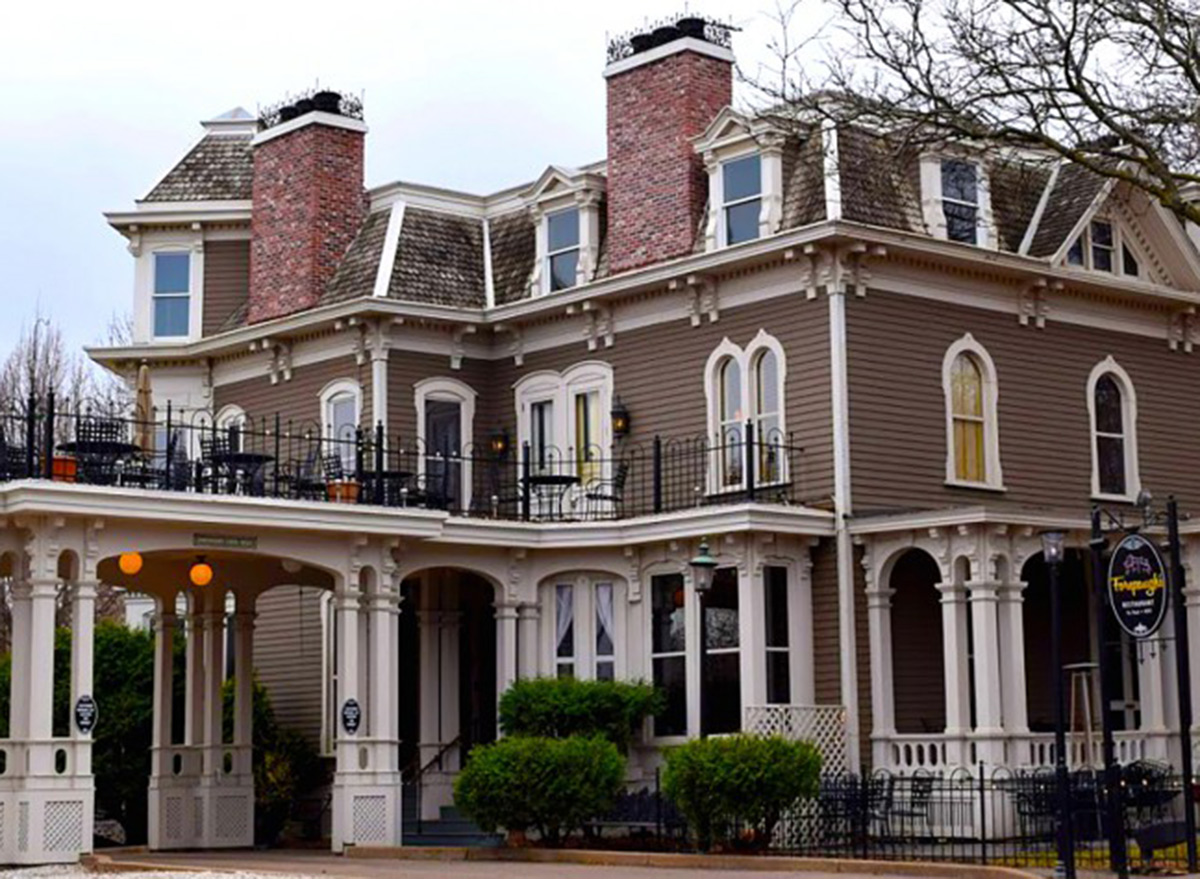 Forepaugh's, a high-end mansion-based restaurant, is supposedly haunted by the former homeowner's ghost. Joseph Forepaugh shot himself inside the building in 1892 after being caught in an affair with one of his maids. (That mistress subsequently took her own life, too.) The ABC news affiliate in the Twin Cities shared a psychic reading in the space, which described a "loud energy" within the servant staircase, and guests have reported sightings of the couple meandering about the home—happy to see it back to its former guest-filled glory.
Chelsea's Chowder House (Long Beach, California)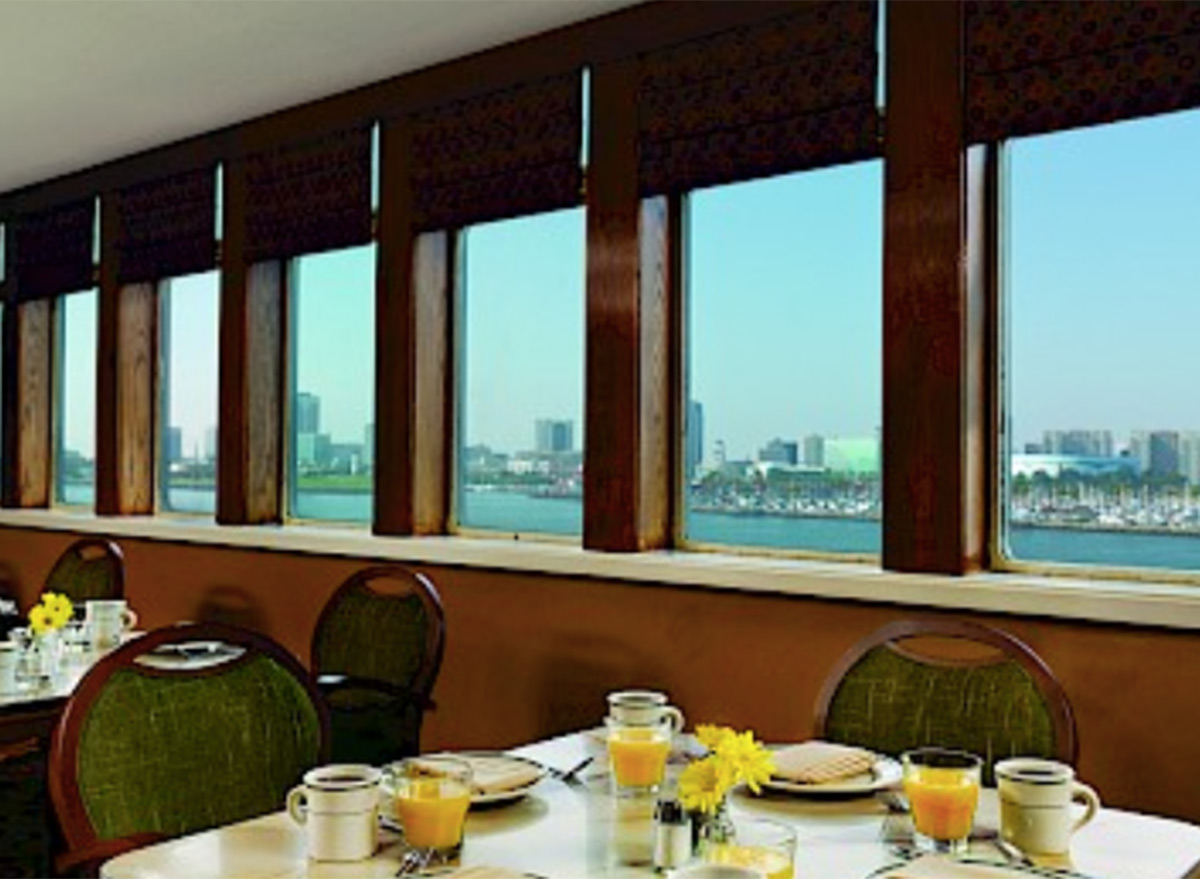 "According to legend this ship is haunted, but the only spirits I saw were in my cocktail glass!" — Yelp user Tony C 
Chelsea's Chowder House is located on The Queen Mary, which is so proud of its haunted history that it offers tours of the boat's most chilling corners. Book a seat to dine with the spirits on an onboard experience, and you might just run into premonitions of a "lady in white," children near the pool, and an engineer who passed away in the engine room.
Cascades Restaurant & Lounge (Estes Park, Colorado)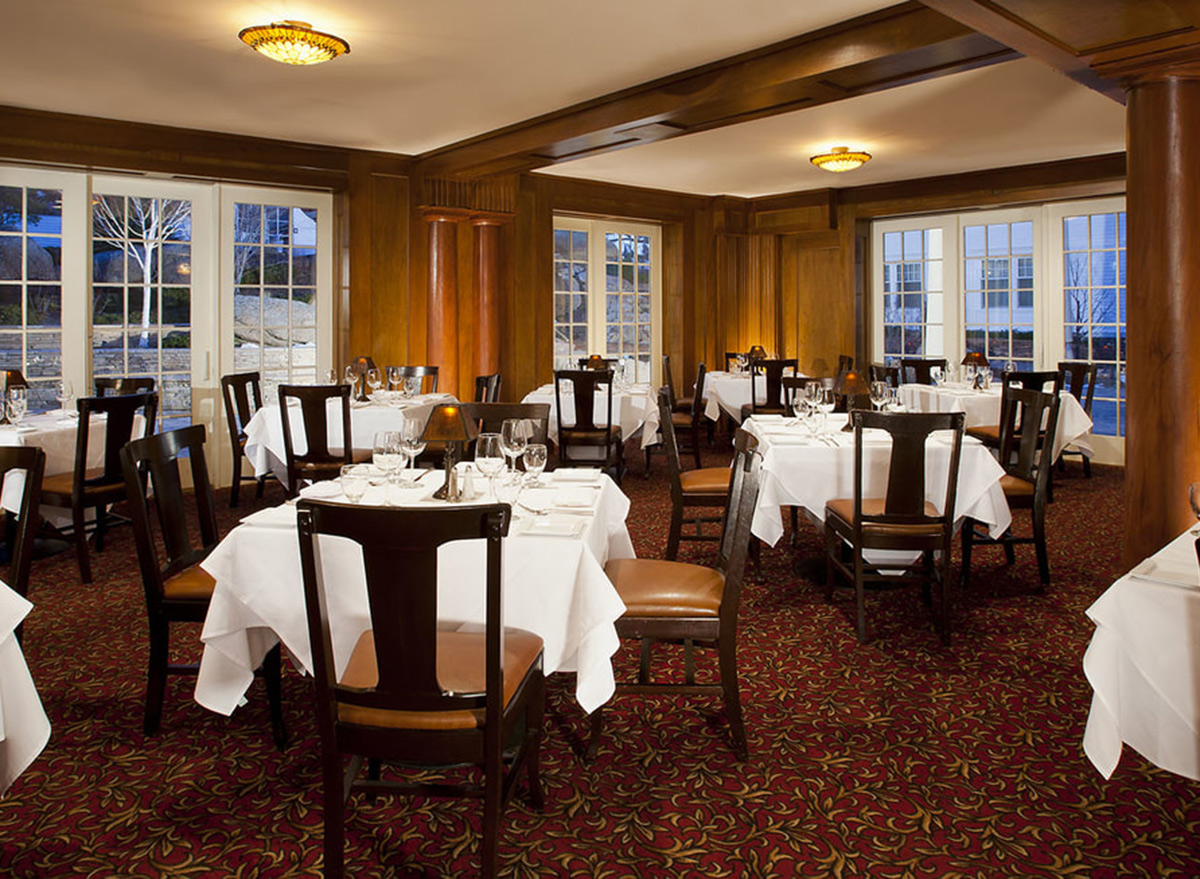 This steakhouse is housed within the Stanley Hotel, which is lauded as "the most historic hotel in Estes Park"—and as the locale where Stephen King penned the horror novel The Shining. Enjoy dinner at Cascades, then stay the night in room 217 (not 237, as portrayed in the movie) for the same experience that haunted King and his wife before he wrote the bestselling-book-turned-movie.
Riccardo Enoteca (Chicago, Illinois)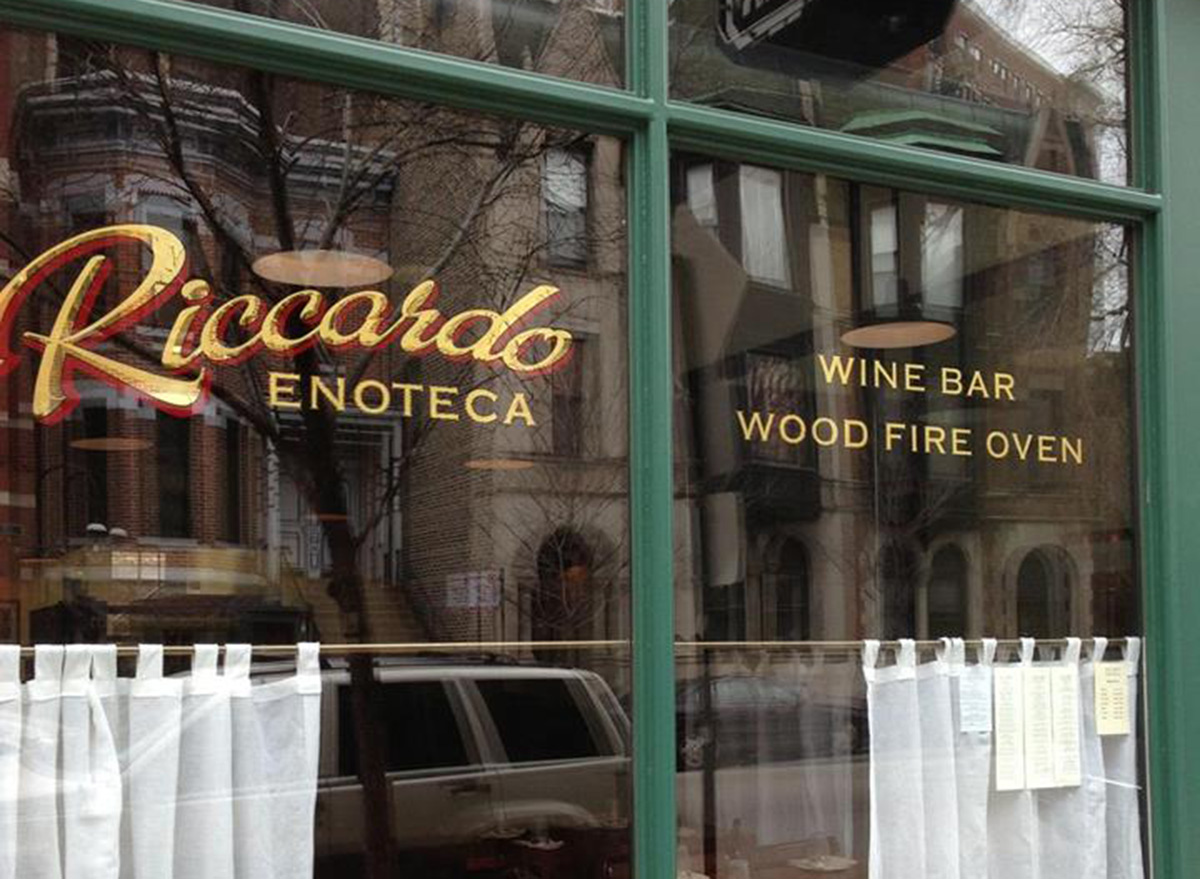 This wine bar is located creepily close to the site of the St. Valentine's Day Massacre and is reportedly frequented by former mob members—so much so that dogs walking by Riccardo Enoteca often go ballistic.
Poogan's Porch (Charleston, South Carolina)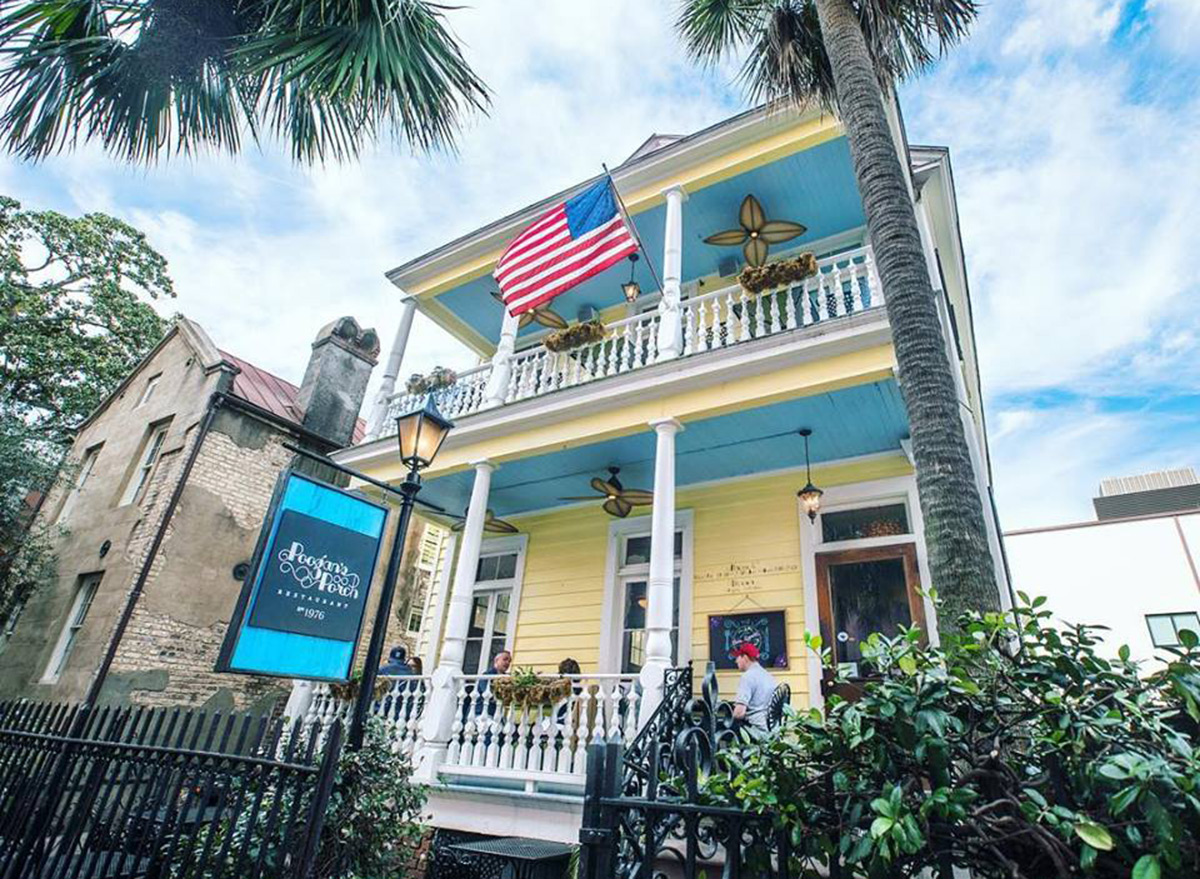 Named after a neighborhood stray dog who liked to call the front porch of this 1880s Victorian home its own (interesting fact: the pup is buried in the front yard), this Charleston restaurant is rumored to be inhabited by former resident Zoe St. Amand. Premonitions are so real that guests have called the police about an elderly woman waving from the second floor. Restaurant employees at Poogan's Porch share tales of mysterious happenings like disappearing coffee cups and unexplainably knocked-over bar stools.
Turner's Seafood (Salem, Massachusetts)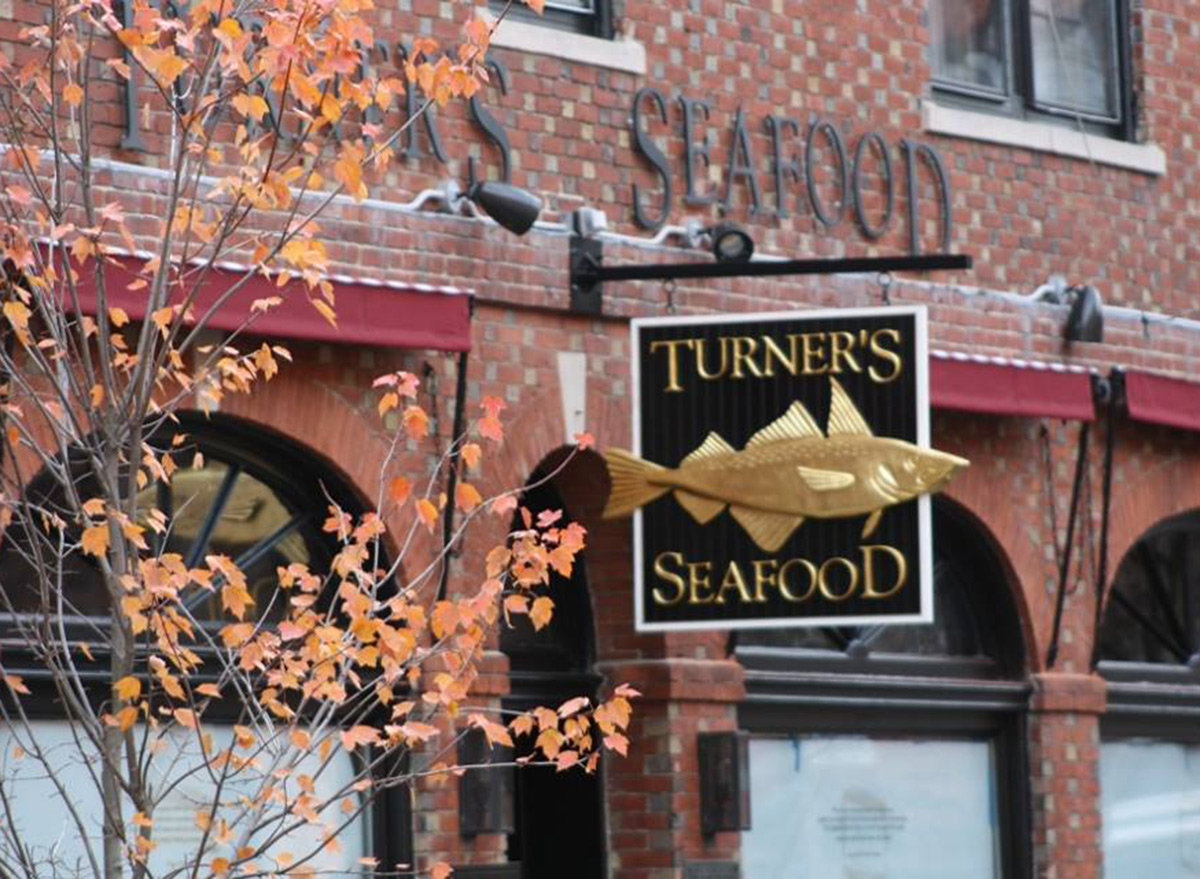 6254a4d1642c605c54bf1cab17d50f1e
"Supposedly haunted by the malevolent ghost of Bridget Bishop, but she must have been doing something else the night we were there." — Trip Advisor user Lorhagatha 
Turner's Seafood is positioned on the Lyceum Hall property, which hosted many lectures from prominent figures during the 1600s and was also the location of Bridget Bishop's apple orchard. She's said to still frequent the address, after being the first woman executed for witchcraft as part of the Salem Witch Trials.
Moss Beach Distillery (Moss Beach, California)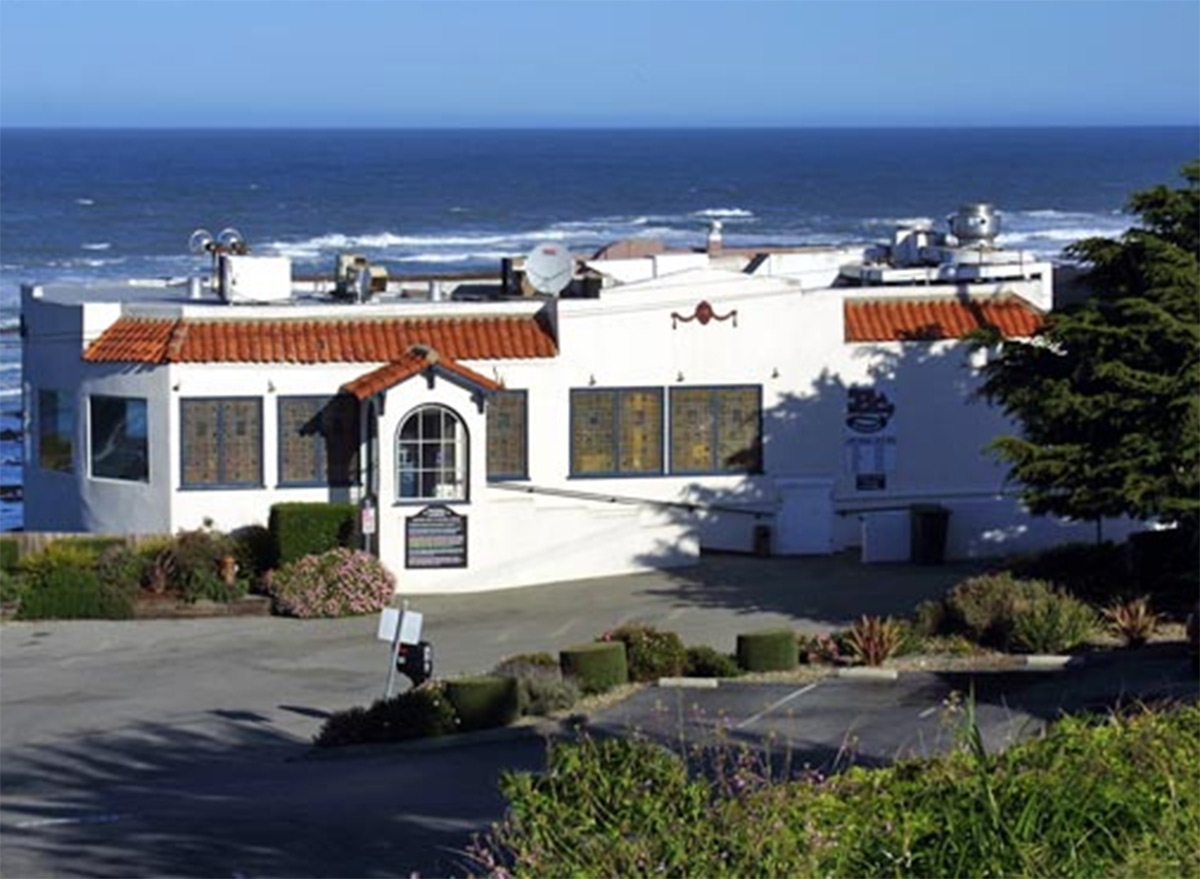 As chronicled on the TV show Unsolved Mysteries, "The Blue Lady" was caught in an affair and murdered on the beach near the Moss Beach Distillery. She allegedly continues to search for her lover at the historic landmark/seafood spot.
Earnestine & Hazel's Juke Joint (Memphis, Tennessee)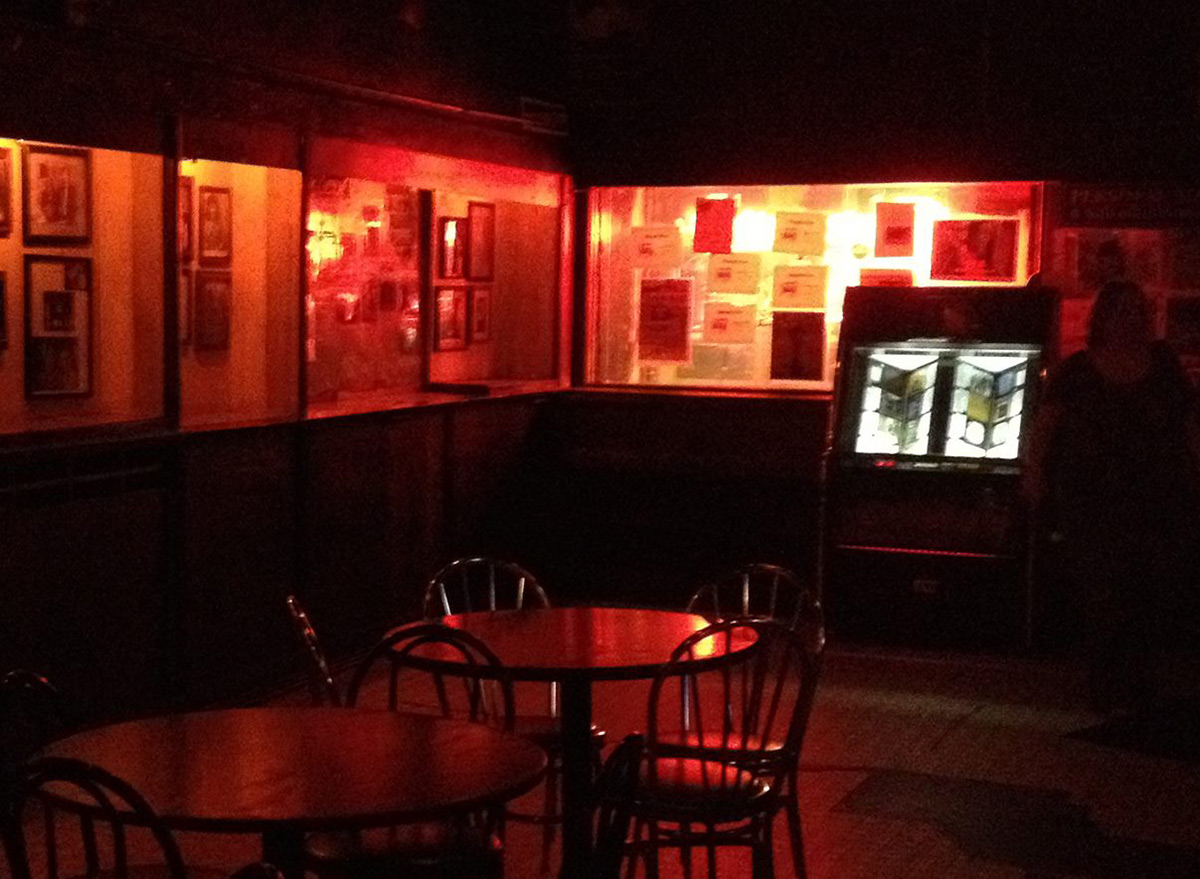 Because this once-bar-now-diner is located near railroad tracks, it was once frequented by travelers seeking a place to dance and drink. Today, the jukebox at Earnestine & Hazel's Juke Joint ostensibly plugs itself in and plays a song fitting to a conversation currently being held in the same room.
Arnaud's (New Orleans, Louisiana)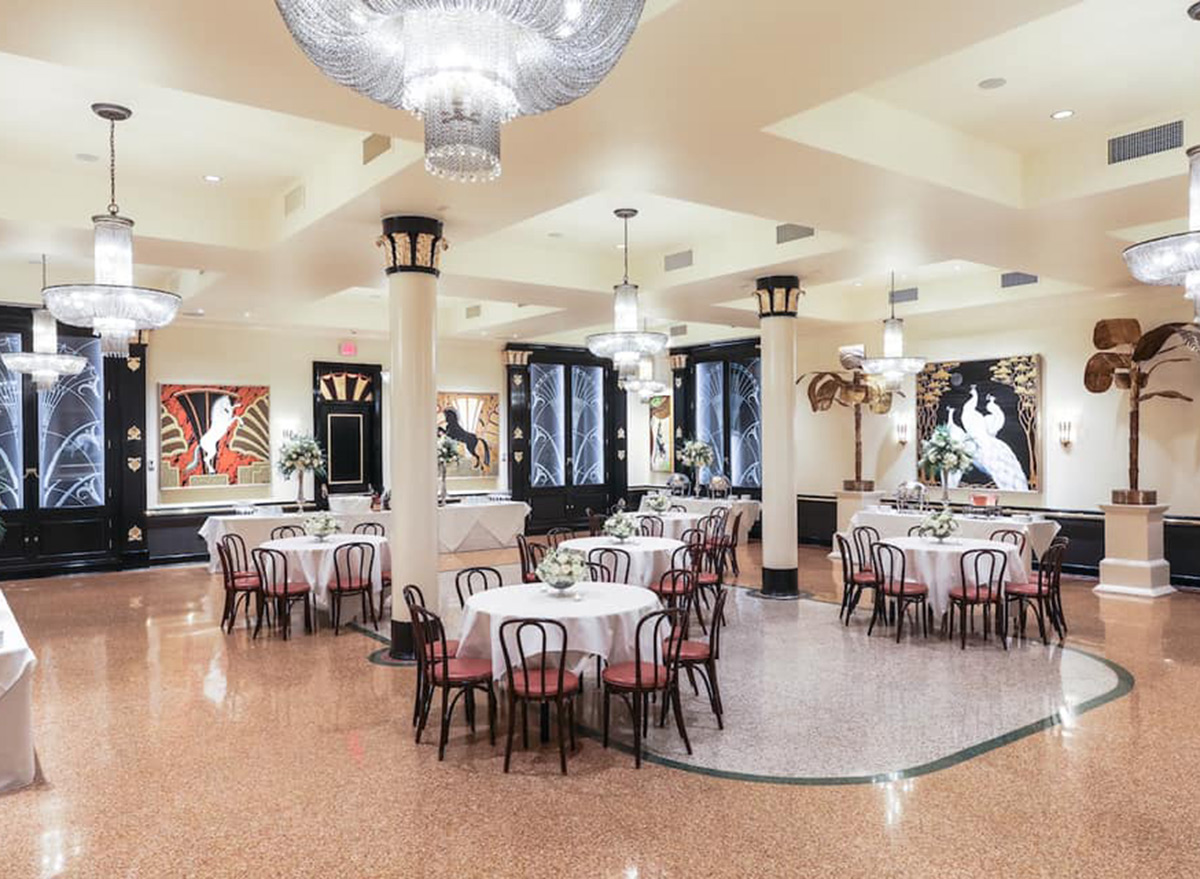 Dashing men donning turn-of-the-century tuxedos (perhaps former waiters?) roam the halls of this fine dining restaurant, according to Arnaud's team members. One frequent paranormal patron reportedly likes to swing by during peak hours and looks jubilantly out at the crowds. An elegant woman has also apparently walked straight through a newly-added wall in the historic establishment, which has been open since 1918.
One Eleven Main (Galena, Illinois)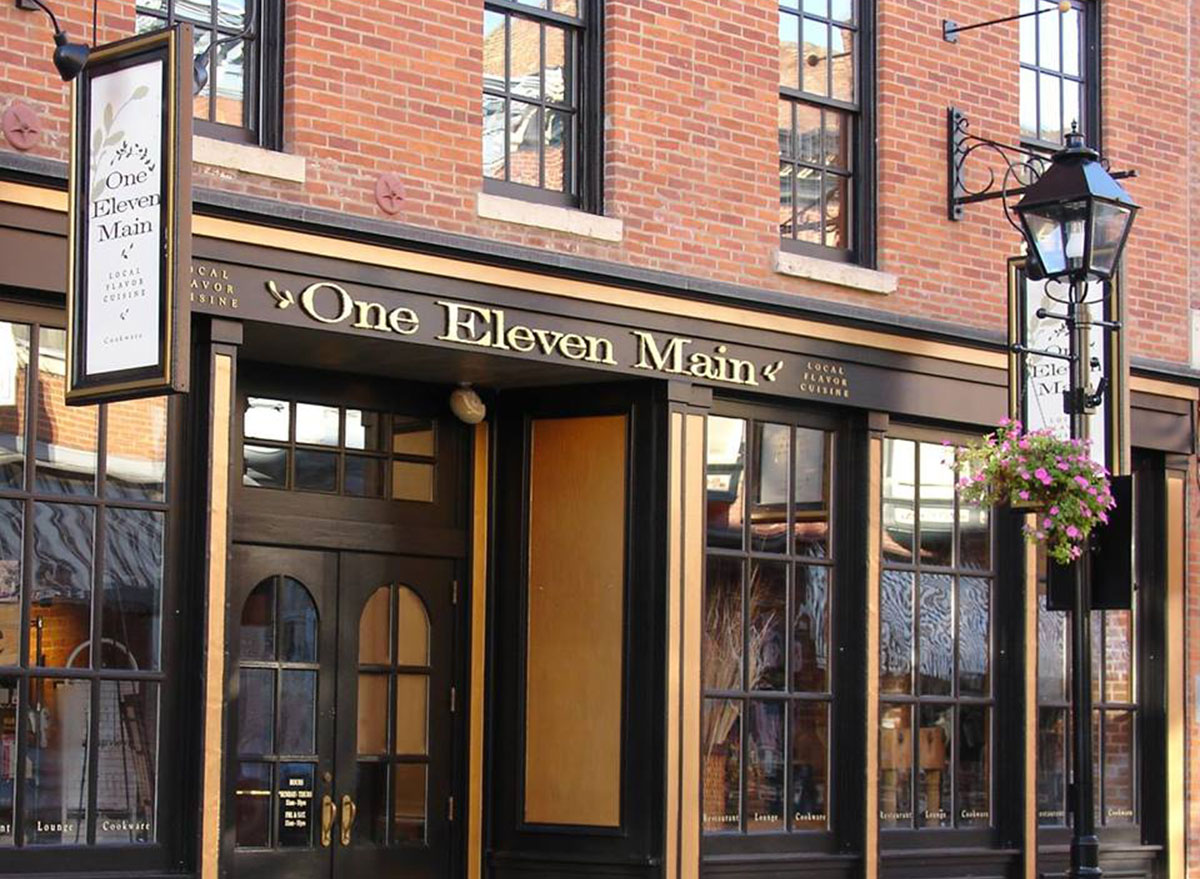 One of the stops on Amelia's Galena Ghost Tours, this locally-sourced cafe at 111 North Main Street is the location of Illinois' first funeral home. The story goes that—in an alarming, ear-perking twist—the piano sometimes plays itself here.
The Pirates' House (Savannah, Georgia)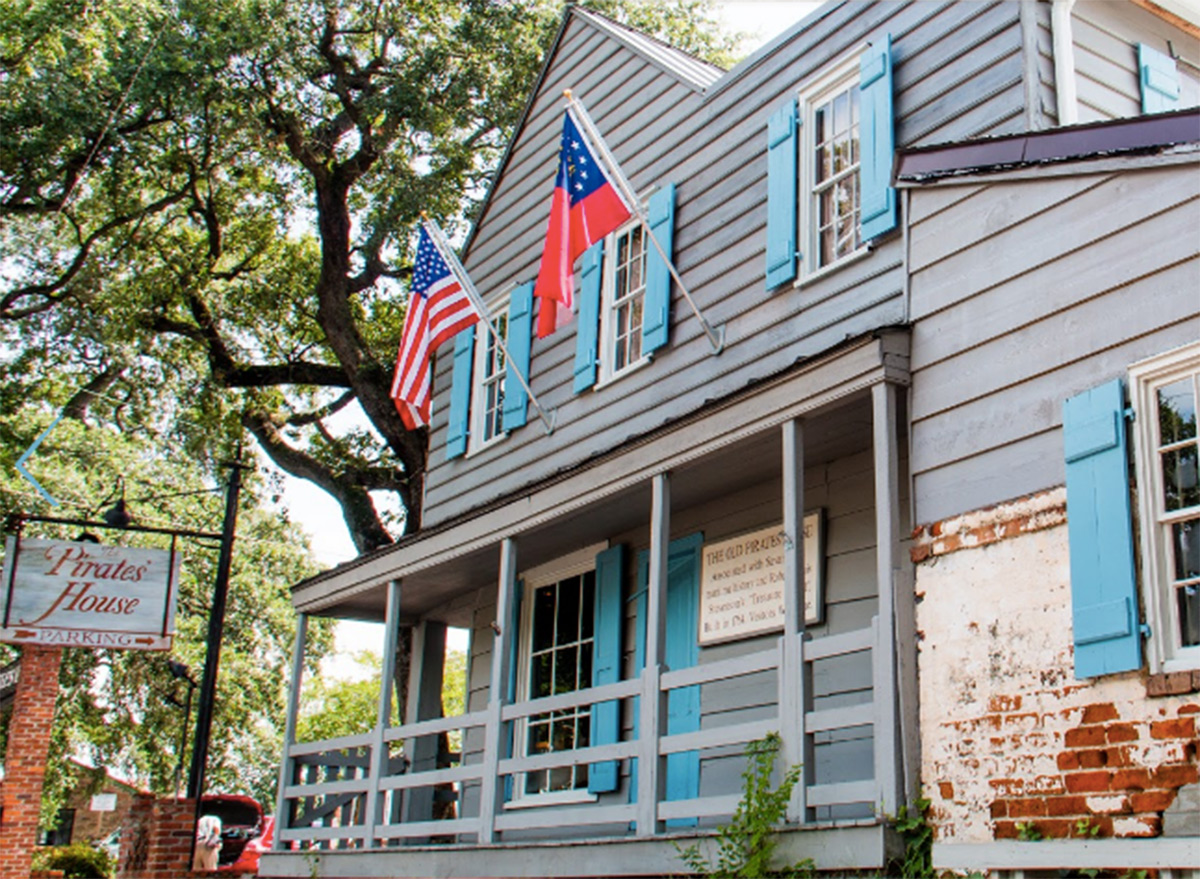 At more than 250 years old, The Pirates' House restaurant is thought to share the property with the oldest building in Georgia. The crew shares tales of "being watched" and seeing faint seaman drifting off into the distance in the dining room. Boots creak on plank floors, and spine-tingling reflections have been spotted in the windows. Ask nicely, and a staffer-turned-pirate will give you a top-to-bottom tour of the house—if you dare.
Karla Walsh
Karla Walsh is a freelance writer, editor and restaurant brand manager based in Des Moines, Iowa, where she reports on fitness trends, wellness research, psychology, and healthy recipes.
Read more about Karla