The Healthiest Holiday Appetizers, According to Dietitians
If you're looking to serve up some small bites before the main meal this holiday season, here's a list of good-for-you options.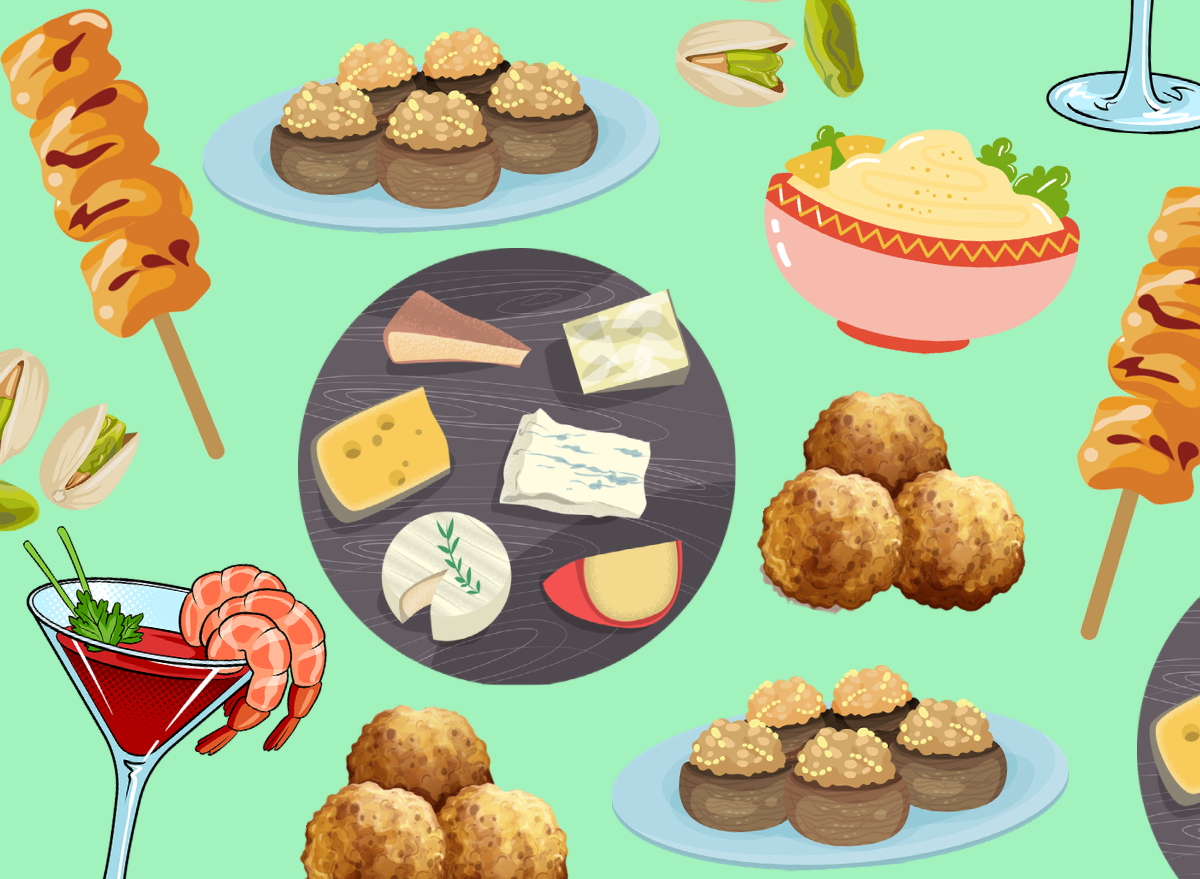 The holidays are known for indulging, and sometimes those indulgences happen before the main meal begins. And who can blame anyone? Those cheese balls and dips are delicious. Oftentimes, it's the appetizers that steal the show as the foods people can't stop talking about. Or munching on!
Yet, some appetizers that make their appearance during the holiday season are indeed healthier than others. So if you're picking and choosing which to enjoy this year, you'll want to go with the dish options that are lighter in calories, fat, and sugar. This way, you can still save room for the main meal. Don't worry— these healthier options are still just as flavorful, so you won't even realize they're more nutritious.
Now, here are the 10 healthiest holiday appetizers, according to dietitians. And while you're making better-for-you choices, check out the 21 Best Healthy Cooking Hacks of All Time.
Spinach and Artichoke Dip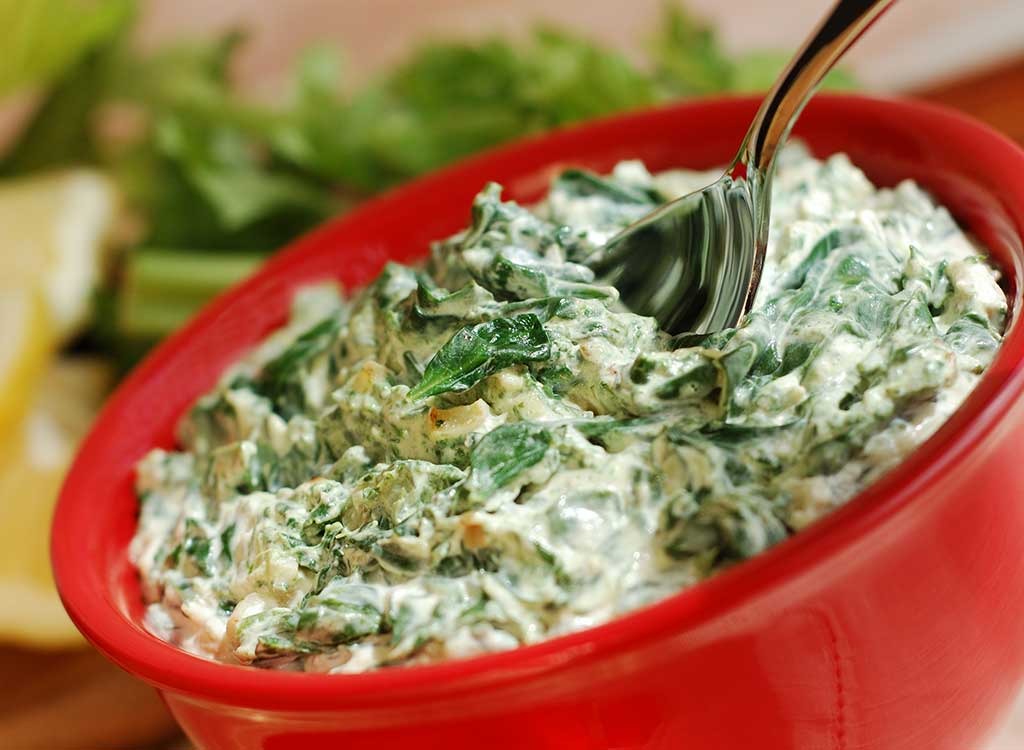 Who doesn't enjoy a good dip before the main course comes out?
"Spinach and artichoke dip has the creamy texture everyone loves, plus the addition of fiber, vitamins, minerals, and antioxidants from both spinach and artichokes," says Kelly Jones, MS, RD, CSSD, LDN.
If you're looking for a cheese-free dip, you can try out a dairy free version that is still creamy and packed with flavor, and has plant-based protein, too.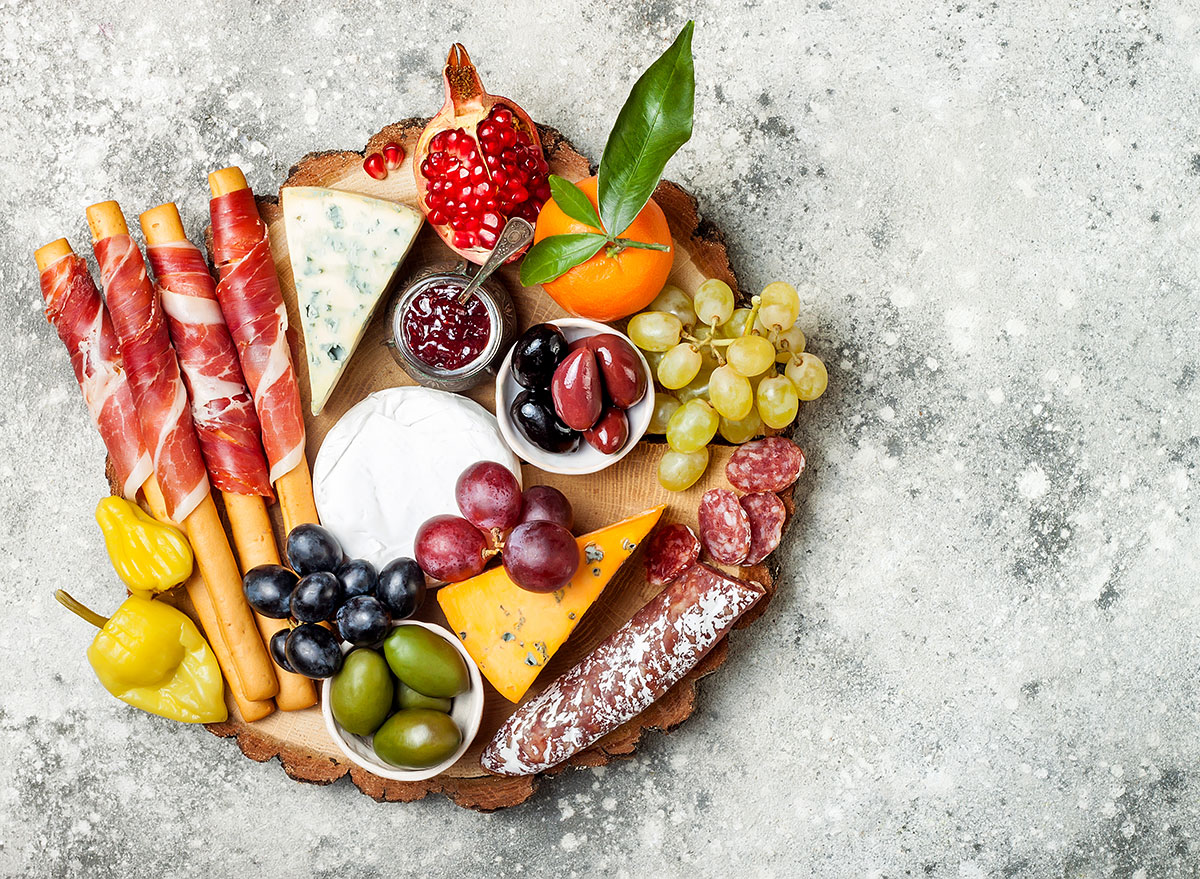 "Everyone loves a good cheese board and you can jam-pack it with nutrients by brightening it up with an assortment of vegetables and fruits," says Jones.
Not sure exactly what to include?
"I like to include Parmigiano Reggiano since it's so high in protein and then decorate the rest of the tray or board with cut rainbow carrots, marinated artichokes, roasted red pepper, and even fresh green beans for dipping," Jones suggests.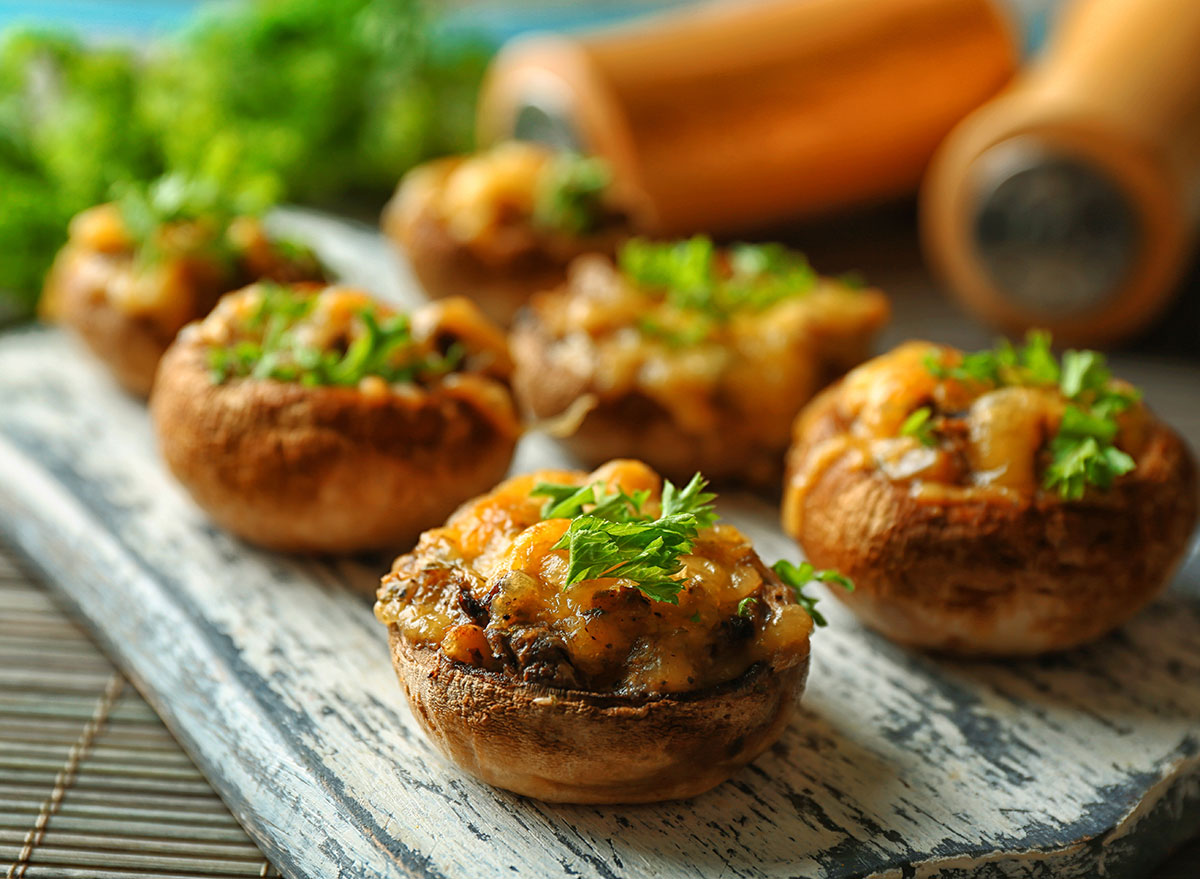 Vegetarian stuffed mushrooms are one of those bite-sized treats that will please even the biggest of meat-eaters, too! And it's much easier than you may think to whip this dish up.
"Just mash chickpeas with your favorite seasonings and some tahini before stuffing some small portobellos and baking to your desired texture," says Jones. You'll offer a meaty texture with filling plant protein and fiber.
Looking for more tips? Be sure to sign up for our newsletter to get daily recipes and food news in your inbox!
Pistachios can come in handy in more ways than one. Besides just having them on hand as a snack, you can incorporate them into other classic appetizers. An example? Ditching the bacon-wrapped dates and instead, stuffing the dates with the nuts.
"Pistachio stuffed dates are a great alternative to wrapping in bacon and the saturated fat and additives that come with it," says Jones. Just pulse salted shelled pistachios in a food processor or bullet blender until you have a paste-like texture and stuff pitted Medjool dates.
Seafood fans, you're in luck this holiday season.
"Shrimp cocktail is a great way to add a significant protein source to your appetizer spread while keeping it lean and also offers immune-supporting nutrients like zinc and selenium," says Jones. There are healthy fats to fill you up here, too!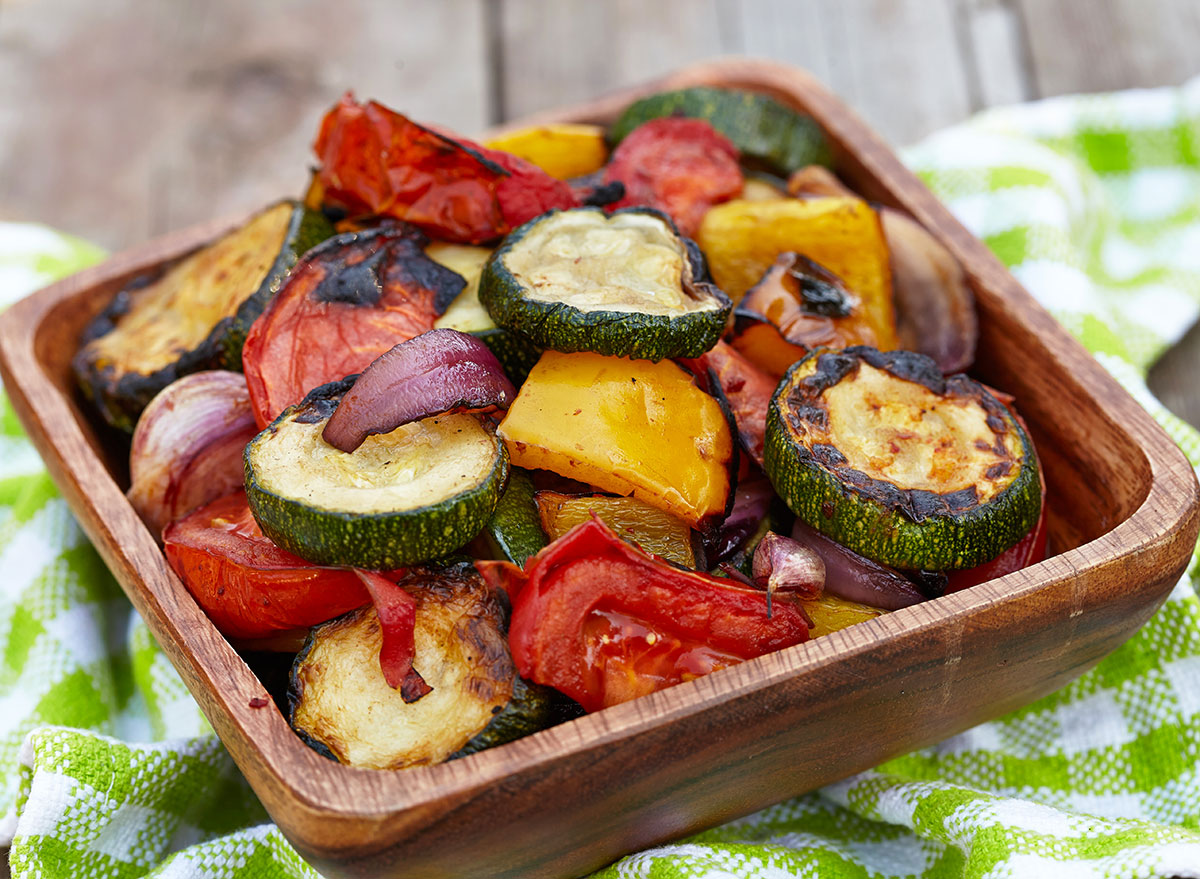 When in doubt, you can't go wrong with serving up some vegetables. They're are low in calories and high in fiber, so they are filling without being loaded up in any additional calories.
"One of my favorite appetizers at a party is roasted veggies. I love roasted eggplant, peppers, zucchini, and asparagus," says Ilyse Schapiro MS, RD, CDN.
A way to give meatballs a healthier makeover? Make them turkey meatballs, which are a great appetizer before a big holiday meal.
"Fill up on some protein, to help prevent overeating at the meal," advises Schapiro.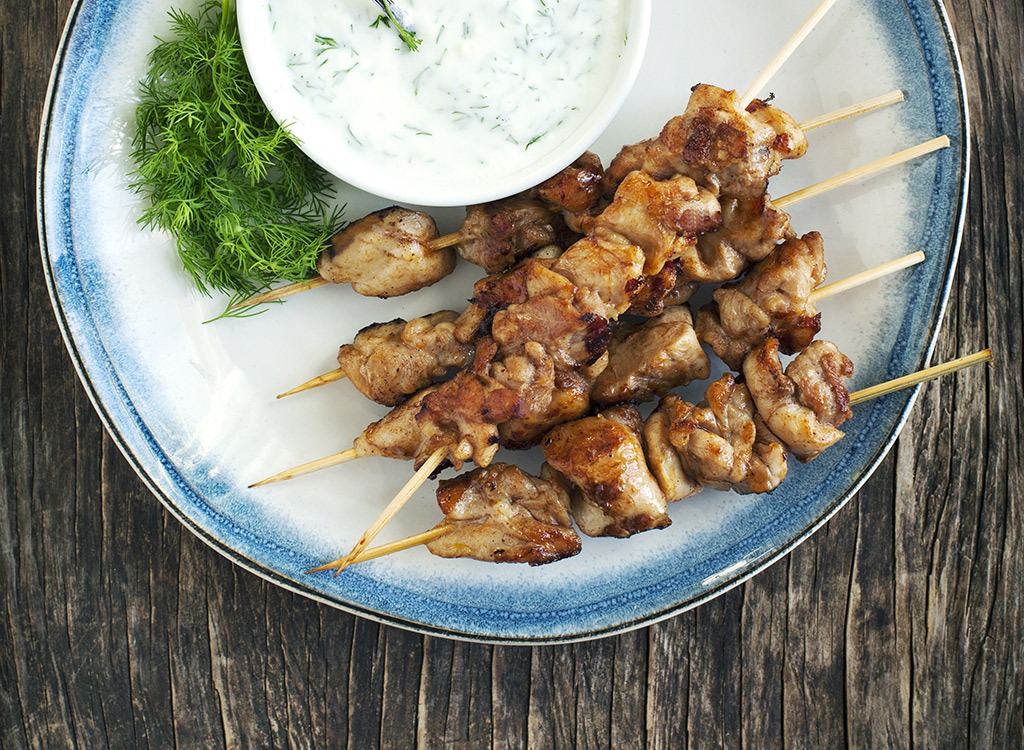 Again, keeping with the idea of filling up on the right things before the main meal comes out, go for some chicken.
"Chicken is a lean protein that is super satisfying and can keep you full," says Schapiro. Dunk it in peanut sauce, and you're loading up on more healthy fats.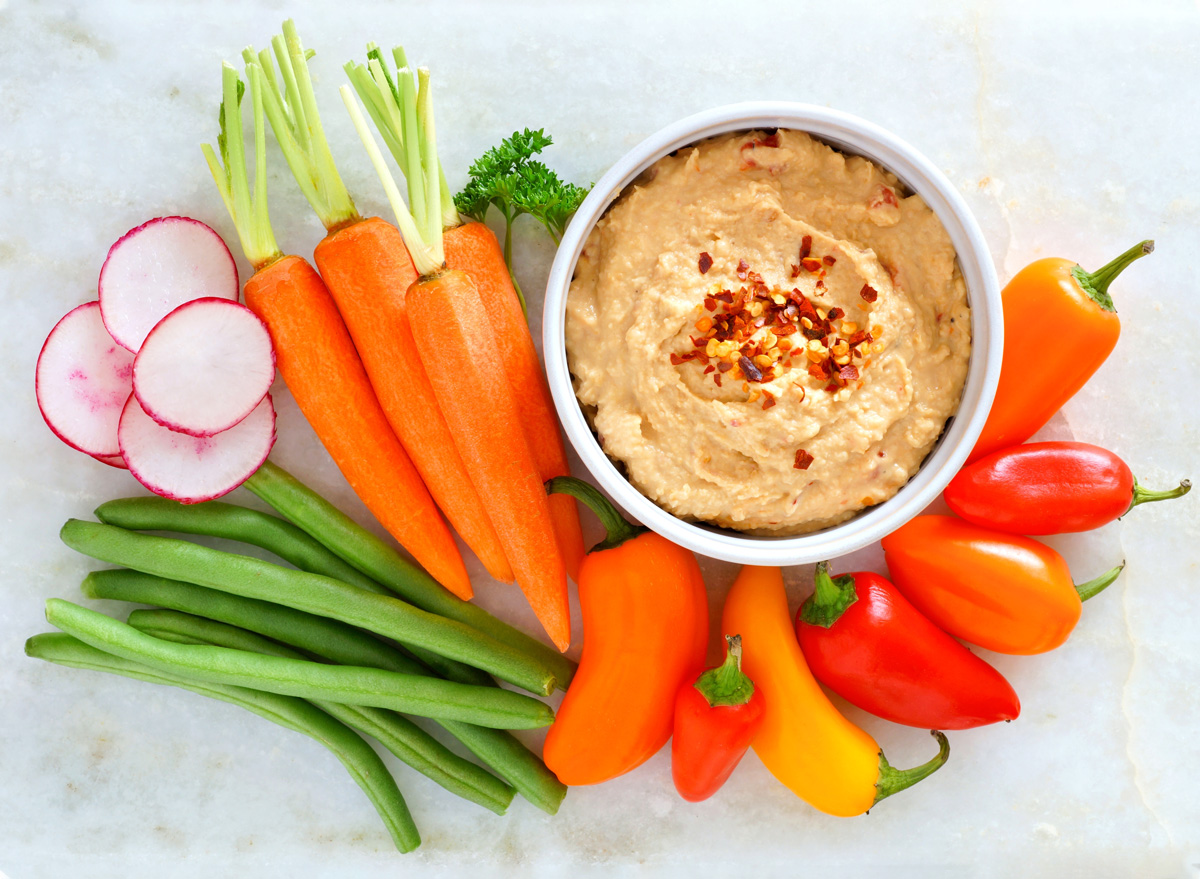 If you're in the mood for something crunchy, skip out on the chips and go for raw vegetables instead. You can pair it with some hummus, one of the best spread options you can find.6254a4d1642c605c54bf1cab17d50f1e
"Raw veggies like carrots, peppers, cucumbers and celery pair great with hummus. You get the crunch from the veggies, plus fiber plus the hummus which has some protein and fiber, make it a great combo as an appetizer," says Schapiro.
Smoked Salmon Cucumber Bites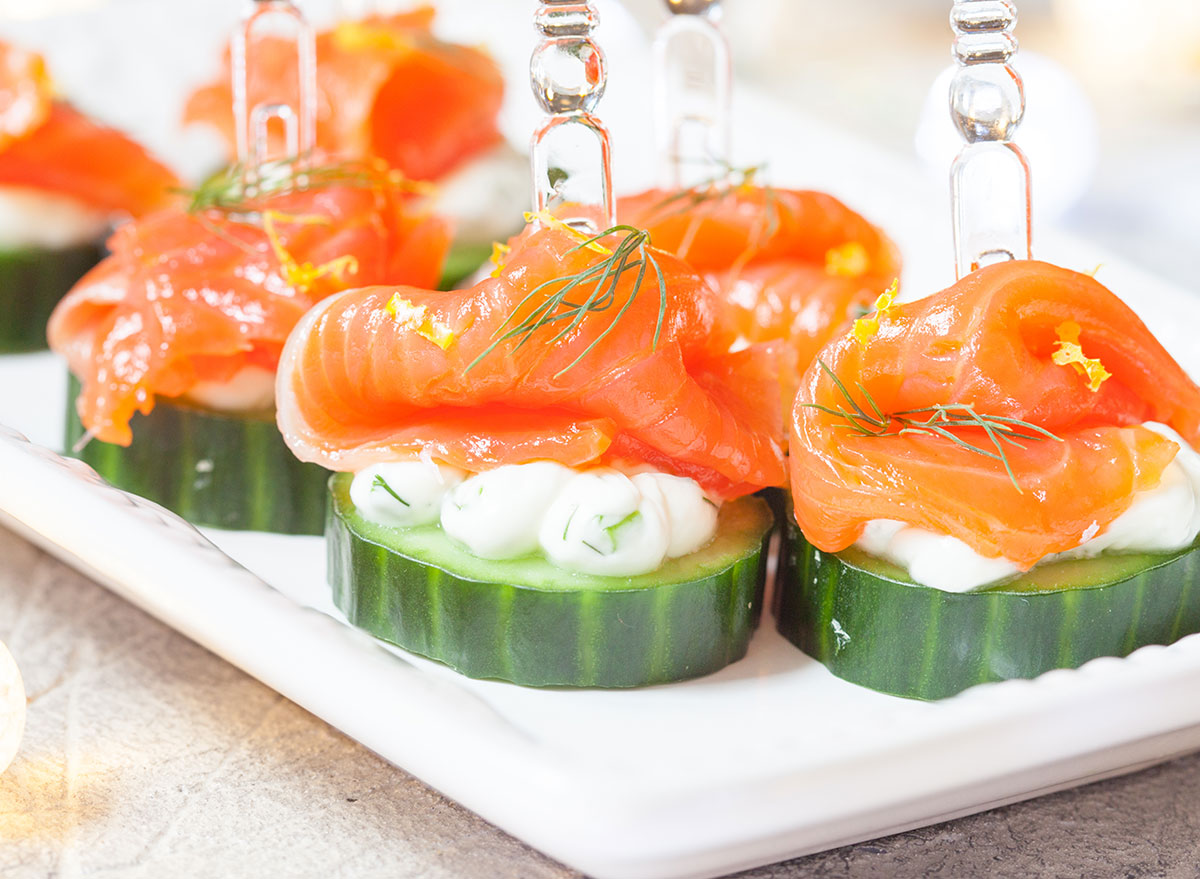 This is one dish that looks rather fancy, so it will impress. But more importantly, it's a solid low-calorie app option.
"Cucumbers are low in calories, plus they are high in fiber and have a good amount of water," says Schapiro. Add some smoked salmon on top to get your protein fix, creating a yummy app that's low in calories yet filling. And what's better than that combo?
Isadora Baum
Isadora Baum is a freelance writer, certified health coach, and author of 5-Minute Energy.
Read more about Isadora