The Worst Restaurant Appetizers in America
Forget pregaming your meal with these horrid apps. Most of them pack in more calories than a full meal!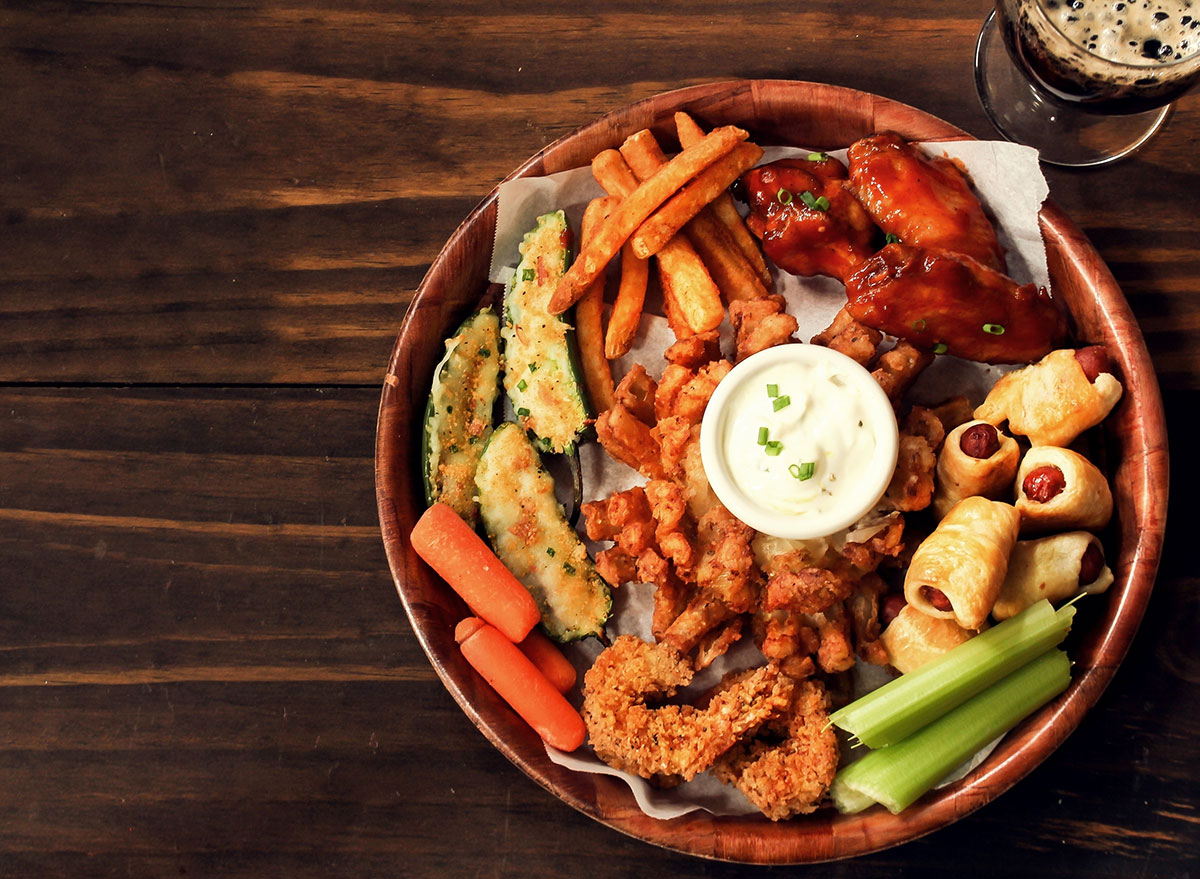 One of our best weight loss tips for dining out is ordering an appetizer instead of an entrée to cut back on calories. But what happens when the restaurant you're dining in offers appetizers that pack in more calories, fat, and sodium than many of the entrées on the menu?
Don't let your calorie-cutting strategy fail—just be sure to avoid these the calorie-bomb starters and go for something lighter, like a low-sodium soup or a side salad instead.
So which starter should you do without exactly?
Well, we sifted through the nutritionals of all the appetizers at many of your favorite sit-down restaurants to identify the worst of the worst. Here, you'll find the restaurant appetizers with the most calories, total fat including saturated fat and heart-disease-inducing trans fat, as well as blood-pressure-spiking sodium. We also took into account sugar contents; but because we're talking about appetizers here, most of the menu choices are savory and don't pack in too much of the sweet stuff.
Each app on this list packs in at least 1,000 calories, so read on to uncover the unhealthiest restaurant appetizers in America, ranked from bad to absolute worst. And maybe keep in mind next time you order an app that they're meant to be shared!
And while you're uncovering these restaurant truths, make sure you stock up on The 7 Healthiest Foods to Eat Right Now.
Olive Garden's Lasagna Fritta
1,130 calories, 76 g fat (31 g saturated fat, 1.5 g trans fat), 1,800 mg sodium, 75 g carbs (5 g fiber, 6 g sugar), 39 g protein
Olive Garden serves up the ultimate cheesy feast in the form of fried parmesan-breaded lasagna that's topped off with marinara sauce, creamy Alfredo, and more parmesan cheese. The Lasagna Fritta houses over a thousand calories and the saturated fat equivalent of more than 12 plastic-wrapped slices of Kraft Singles American cheese!
Red Lobster's Langostino Lobster Artichoke Seafood Dip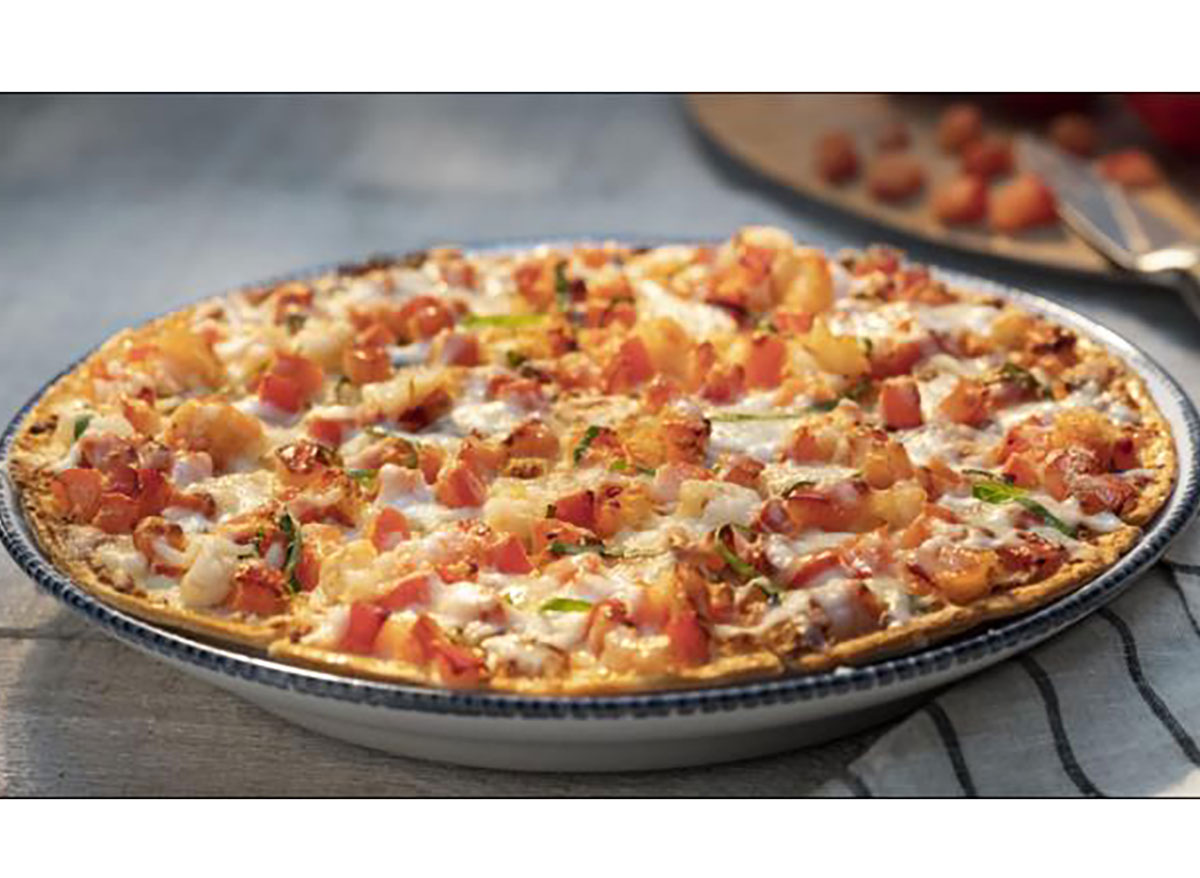 1,170 calories, 74 g fat (21 g saturated fat, 1 g trans fat), 2,160 mg sodium, 92 g carbs (11 g fiber, 10 g sugar), 36 g protein
While this app sounds like the ultimate upgrade to chips and dip, the nutrition panel should deter you from ordering it. Dive into this dish packed with langostino and Norway lobster, artichokes, spinach, three types of cheeses, pico de gallo, and warm tortilla chips on the side, and you'll take in almost a full day's worth of sodium before you even fork into your entrée.6254a4d1642c605c54bf1cab17d50f1e
Red Robin's Bone-In Bar Wings with Buzz Sauce
1,260 calories, 88 g fat (37 g saturated fat, 0.5 g trans fat), 2,860 mg sodium, 26 g carbs (7 g fiber, 3 g sugar), 93 g protein
Sure, chicken wings are jam-packed with muscle-building protein, but that doesn't mean you should order this saucy app on your way home from the gym. This plate of wings houses as much heart-harming sodium as more than 30 pretzel rods.
Friendly's Loaded Waffle Fries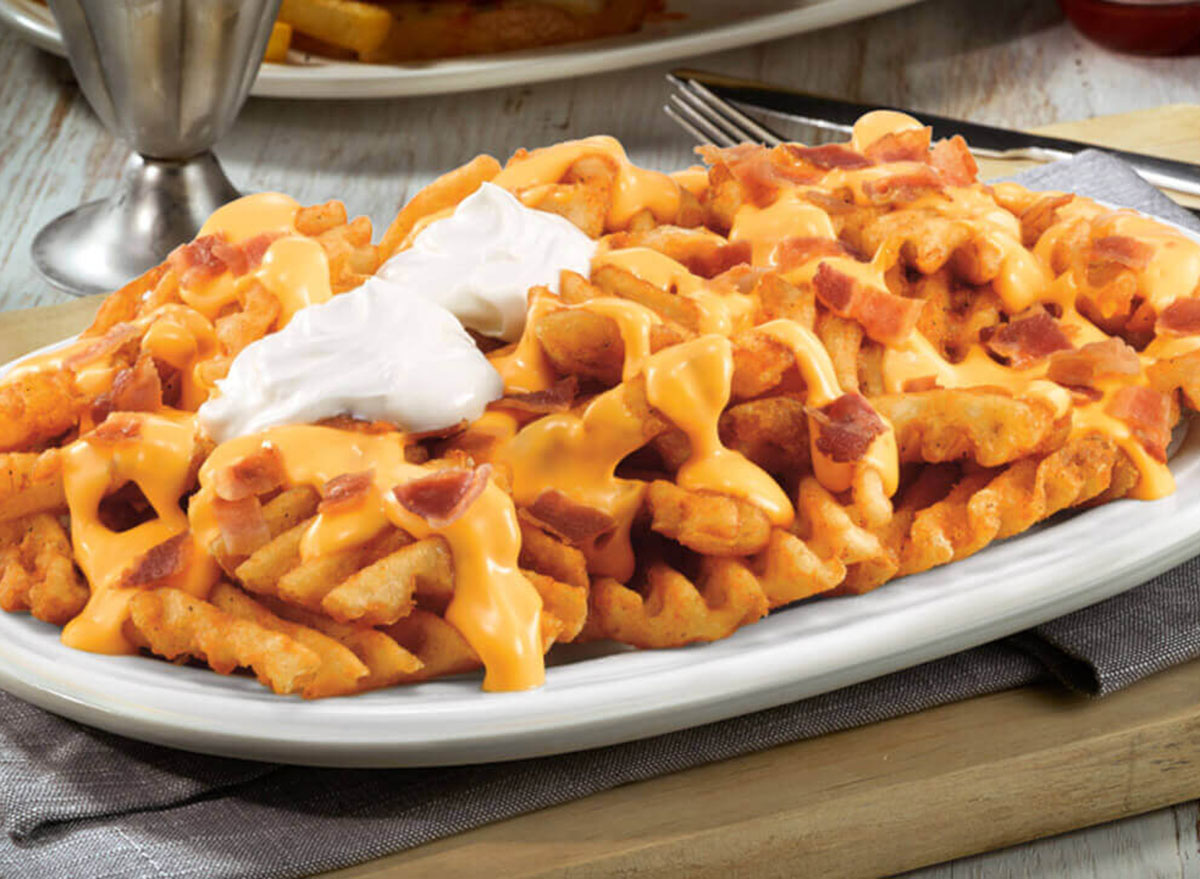 1,061 calories, 71 g fat (21 g saturated fat, 0.1 g trans fat), 3,796 mg sodium, 82 g carbs (6.7 g fiber, 1.9 g sugar), 22 g protein
Friendly's wasn't joking with this crispy tater dish because these waffle fries are fully loaded. The spuds are drenched with melted cheddar cheese sauce, bacon, and sour cream—which all account for the whopping 71 grams of fat and nearly two days' worth of bloating sodium.
Chili's White Spinach Queso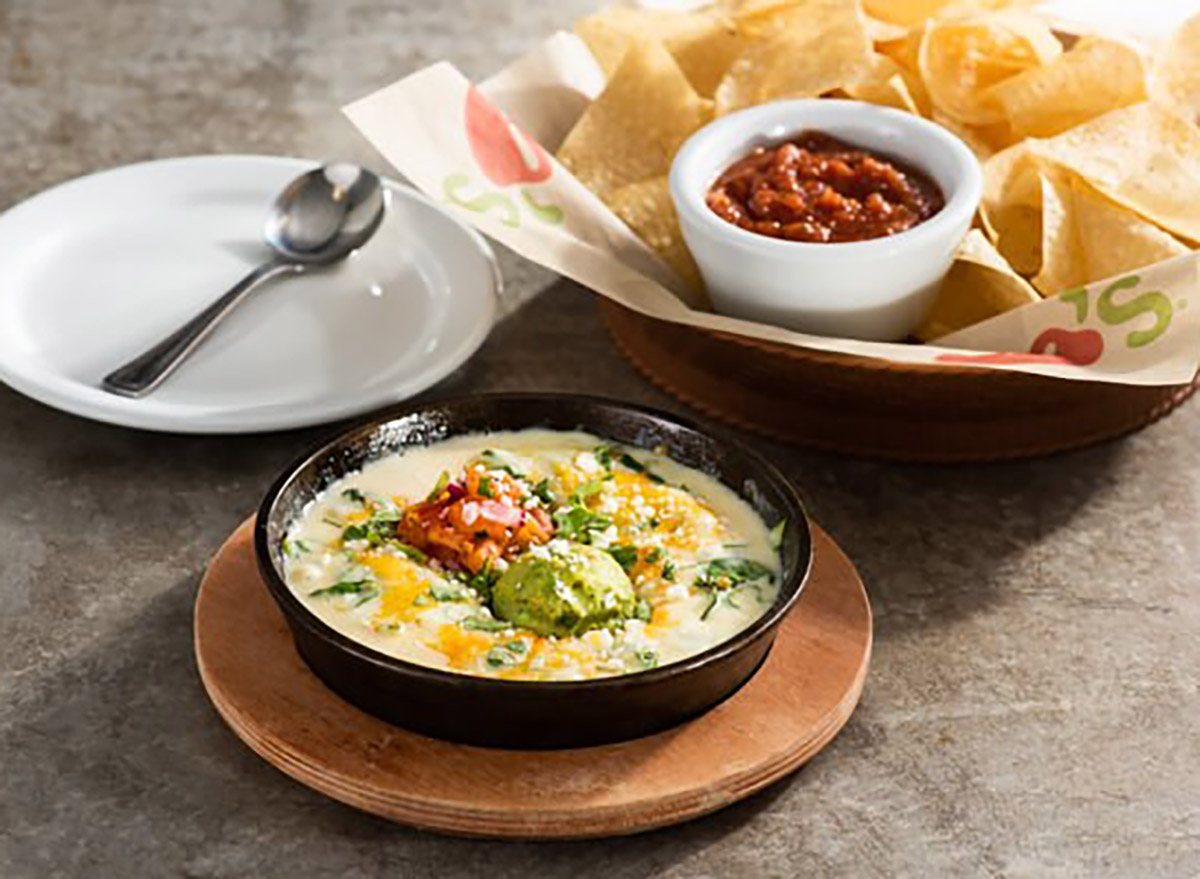 1,430 calories, 87 g fat (28 g saturated fat, 1 g trans fat), 3,110 mg sodium, 127 g carbs (12 g fiber, 10 g sugar), 37 g protein
Chips and dip (sadly) is never a good idea—the snack is super caloric and packs in an outrageous amount of fat, carbs, and sodium, without much else. If you're looking to order a starter at Chili's, go with the Original Chicken Crispers, which boast fewer calories and fewer grams of fat. Plus, make this swap, and you'll save nearly a full day's worth of sodium.
Uno Pizzeria & Grill's Pizza Skins
1,970 calories, 131 g fat (43 g saturated fat, 0 g trans fat), 2,800 mg sodium, 146 g carbs (7 g fiber, 8 g sugar), 53 g protein
If you're dining at Uno, we're guessing you're here for the infamous deep-dish pies. But if you're pregaming your pizza with more pizza with this cheesy app, then you'll want to split this fat bomb with a party of six. The joint's signature thick crust is stuffed with even more carbs in the form of mashed potatoes and then topped with bacon and cheddar.
TGI Fridays' Bucket of Bones
1,570 calories, 82 g fat (23 g saturated fat, 0 g trans fat), 2,980 mg sodium, 120 g carbs (6 g fiber, 71 g sugar), 92 g protein
You're playing a dangerous game of Russian Roulette with your health if you order this appetizer. The plate of meat houses almost as much sugar as a full pint of Häagen-Dazs Banana Peanut Butter Chip ice cream!
Chili's Texas Cheese Fries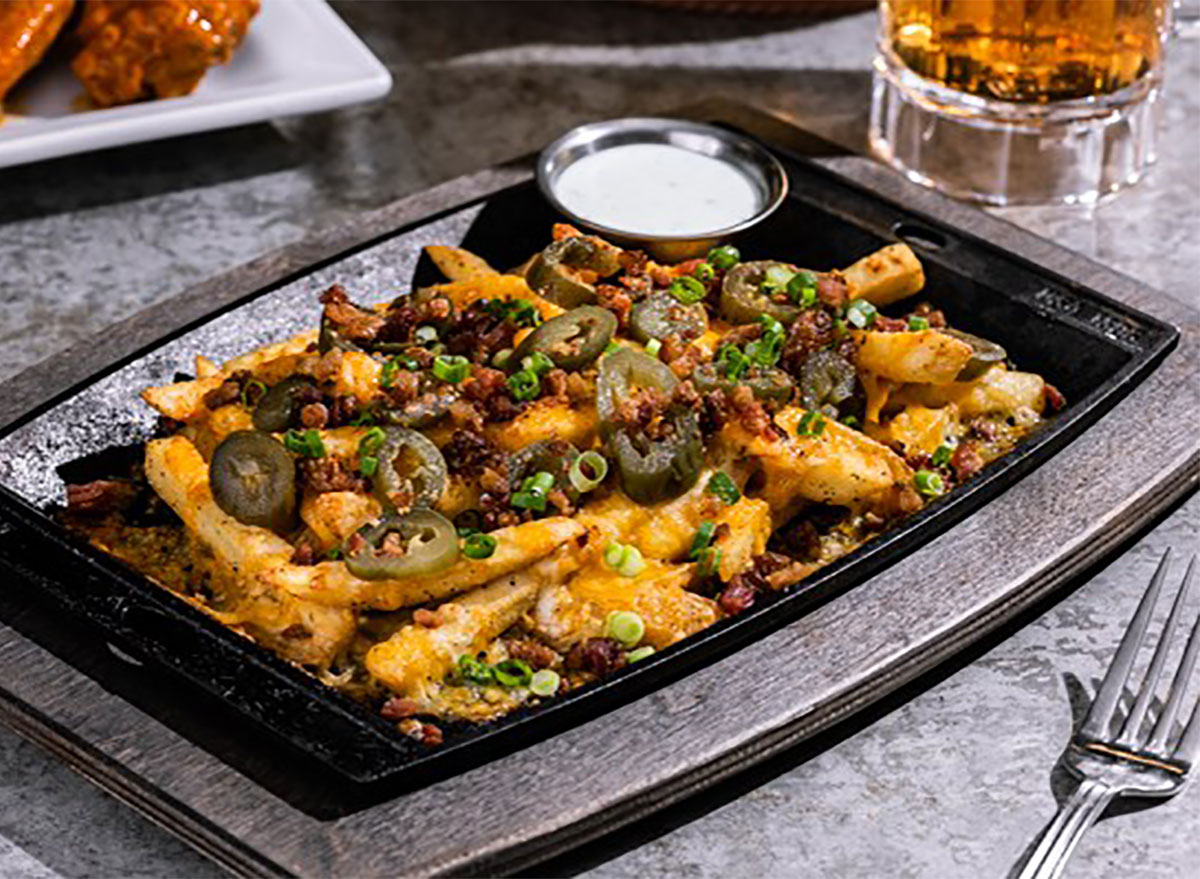 Per full order
: 1,650 calories, 110 g fat (45 g saturated fat, 0 g trans fat), 3,650 mg sodium, 99 g carbs (8 g fiber, 3 g sugar), 68 g protein
Cheese fries on their own are caloric, so why add bacon, jalapeños, green onions, and ranch to the mix? Not only will you get a plate of soggy fries, but you'll also ingest way too much sodium and saturated fat.
Outback Steakhouse's Bloomin' Onion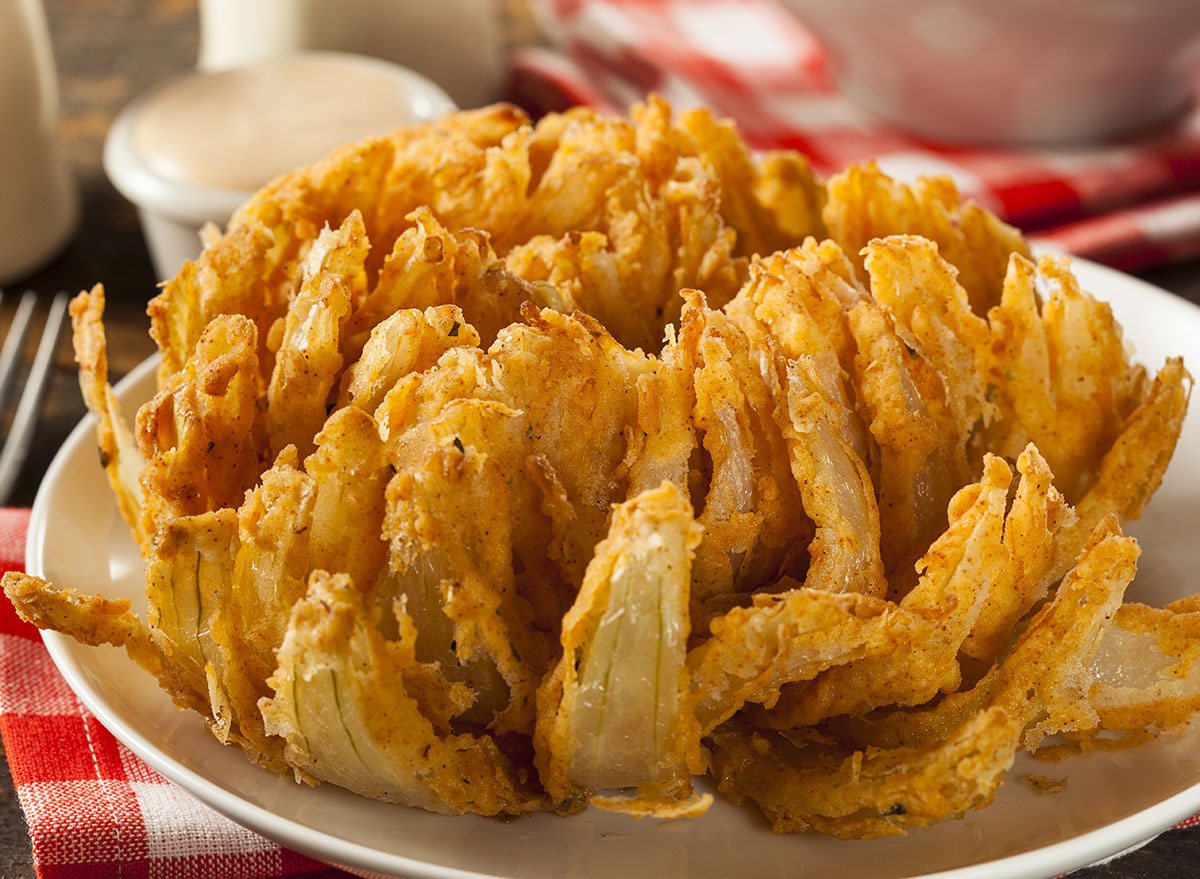 1,950 calories, 155 g fat (56 g saturated fat, 7 g trans fat), 3,840 mg sodium, 123 g carbs (14 g fiber, 18 g sugar), 18 g protein
Just as Outback is known for its iconic pumpernickel bread, folks also come to the steakhouse for its Bloomin' Onion. While the calorie, sodium, and carb counts are excessive, we're most intrigued by the fried onion's outrageous trans fat content. Because there's no naturally-occurring trans fat from animal products in here, that means that Outback is frying its veggie in partially-hydrogenated oil, which has been linked to heart disease as a result of increasing your blood's LDL (bad cholesterol) and reducing the HDL (good cholesterol).
Applebee's The Classic Combo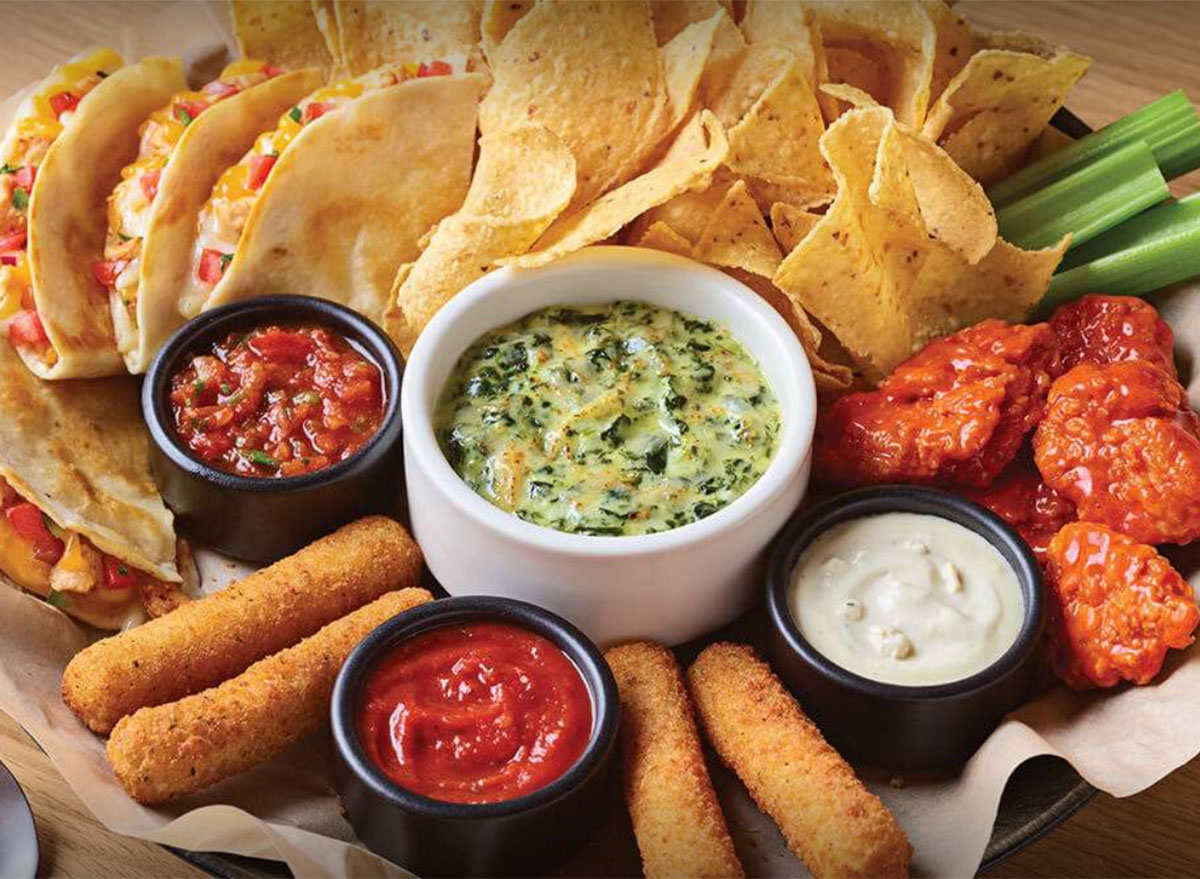 Without sauce or dressing
: 2,220 calories, 127 g fat (39 g saturated fat, 1.5 g trans fat), 6,200 mg sodium, 190 g carbs (15 g fiber, 17 g sugar), 82 g protein
Applebee's advertises that you're getting "all the classic apps you love on one plate," but the 2,220 calories worth of boneless wings, spinach and artichoke dip, chicken quesadilla, and mozzarella sticks aren't exactly tugging at our heartstrings. With the staggering amount of sodium, saturated fat, and trans fat, we're looking at a one-way ticket to heart disease.
BJ's Restaurant & Brewhouse Loaded Nachos with Chicken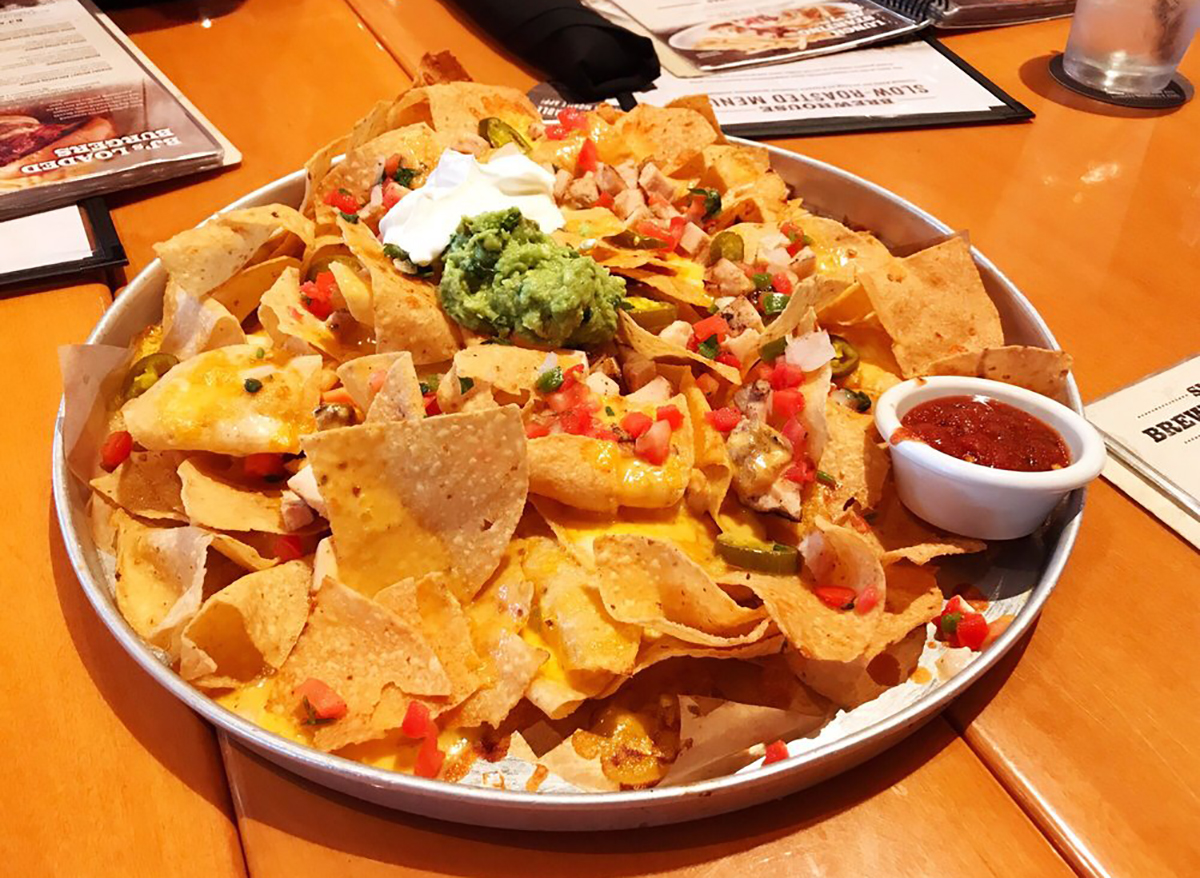 2,750 calories, 159 g fat (87 g saturated fat, 1 g trans fat), 5,568 mg sodium, 174 g carbs (26 g fiber, 40 g sugar), 158 g protein
By now, it should come as no surprise that a "loaded" nachos appetizer comes in at more than 2,700 calories. The fact that this BJ's Restaurant & Brewhouse app has two and a half days' worth of sodium is just downright scary.
The Cheesecake Factory's Factory Nachos with Spicy Chicken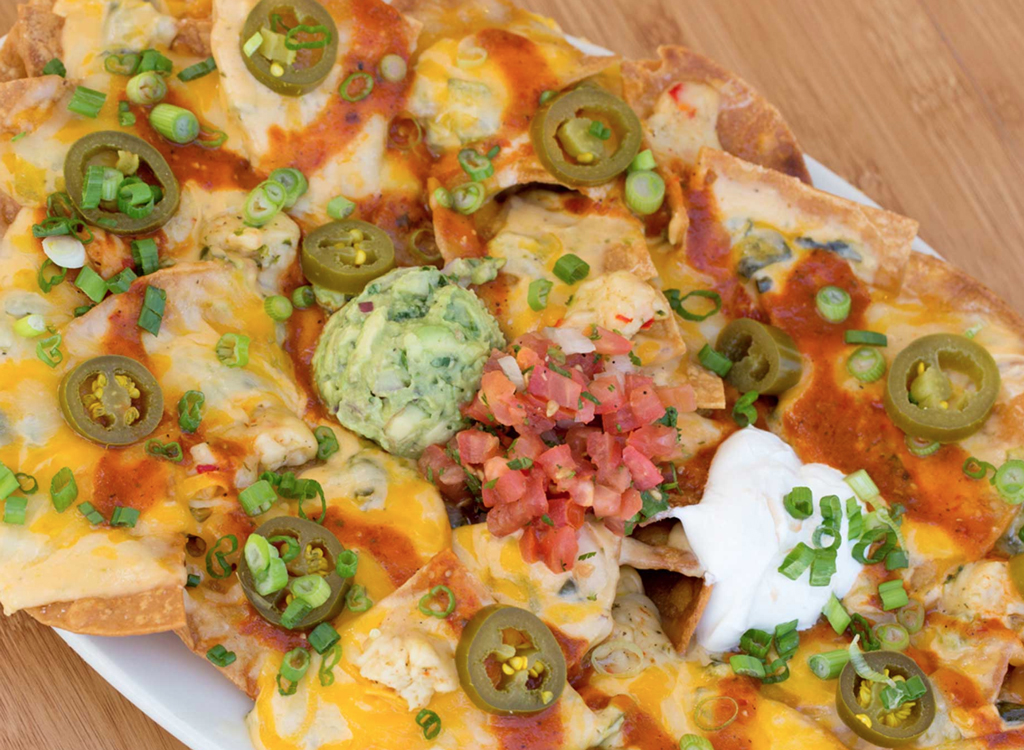 2,950 calories, 210 g fat (85 g saturated fat, 6 g trans fat), 3,160 mg sodium, 180 g carbs (23 g fiber, 28 g sugar), 88 g protein
Leave it to The Cheesecake Factory to house the absolute worst restaurant appetizer in the country. While these stacked nachos serve two to four people, they still manage to cram in the most calories and fat out of all the apps on our list. These spicy-chicken-topped nachos boast as much sodium as more than one teaspoon of salt. If you wouldn't spoon that into your mouth, why would you order this fat-laden plate?
April Benshosan
April is a born-and-raised Brooklynite who has a passion for all things health, wellness, and tastebud-related.
Read more about April