10 Tips for Healthy Comfort Foods
All of the comfort—minus the calories.
Crisp, autumn days seem to require the kind of warmth that your favorite sweater just can't provide. When it's especially nippy, a warm bowl of soup or apple crisp may seem like better bets—despite the fact that these comforting dishes are
fattening and high-calorie.
Thankfully you can stay trim this fall without giving up your favorite homemade fare. While it may be hard to believe, there are loads of smart, calorie-slashing substitutions that can be made to fall recipes that will allow you to indulge without the guilt. Better yet, none of them will drastically alter the flavor of your food! Ready to fall into the flavors of autumn without expanding your waistline? We've rounded up a few genius ways to do it! And if you're on the hunt for even more ways to cook your way skinny, don't miss these 32 Kitchen Hacks for Healthy Eating!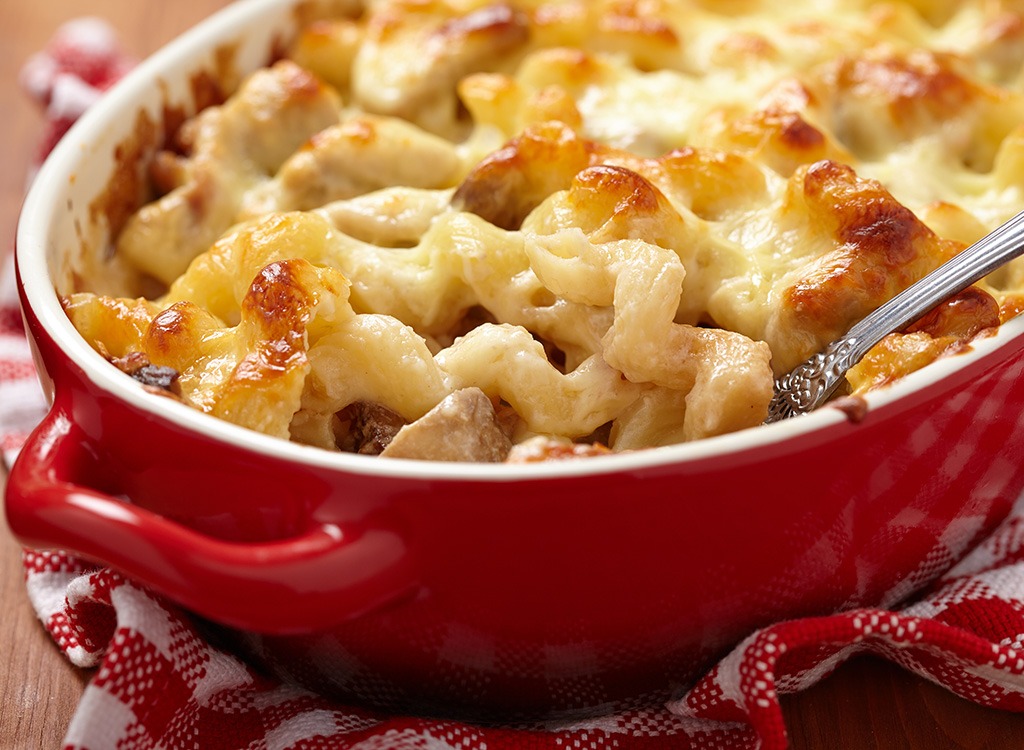 Why should kids be the only ones who can enjoy mac and cheese? Jessica Cording, a registered dietitian in New York, suggests adding pureed butternut squash or pumpkin into your cheese sauce, so you can dial back on the milk and cheese. Aside from eliminating some of the fat and calories, Cording's trick adds fiber along with potassium and vitamins A and C. "Because the flavor is so mild, even veggie-averse family members will be on board," she tells us. For even more easy ways to help your family eat right, read up on these 15 Ways Nutritionists Get Their Kids to Eat Veggies.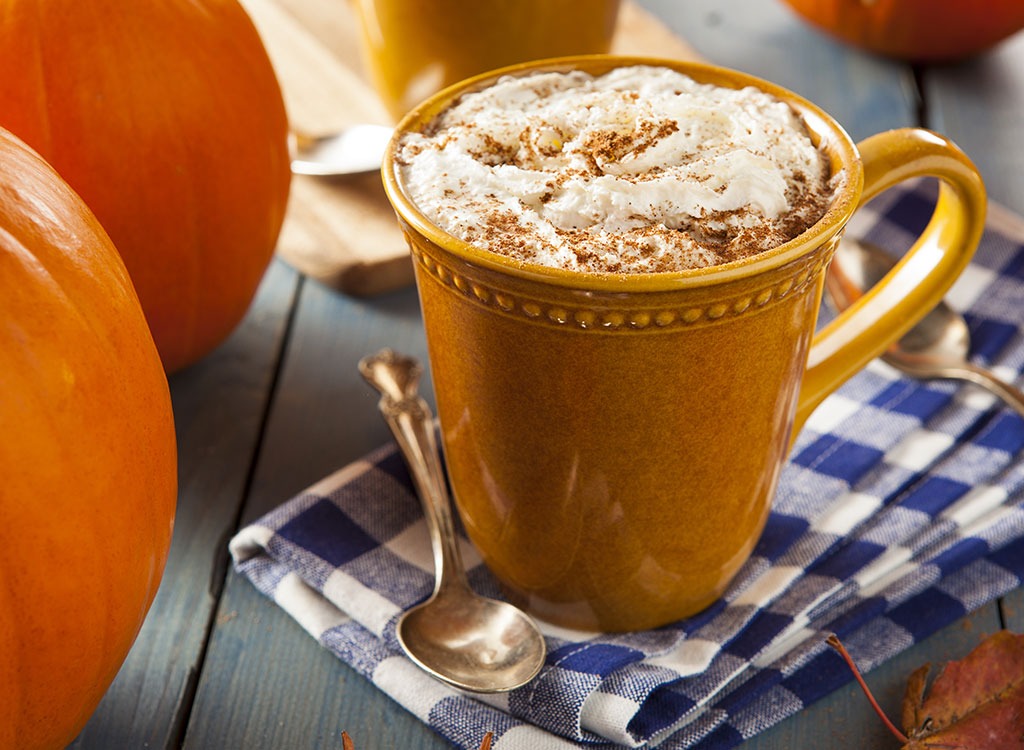 Sorry, we're not sorry, PSL, but there's a healthier way to get your pumpkin drink fix—and it doesn't involve going to Starbucks. To make a no-added-sugar version at home, blend unsweetened almond milk with a frozen banana, pumpkin puree, pumpkin pie spice, and vanilla extract. For even more healthy and delicious ways to get in on the season's pumpkin frenzy, don't miss these 20 Pumpkin Recipes for Weight Loss!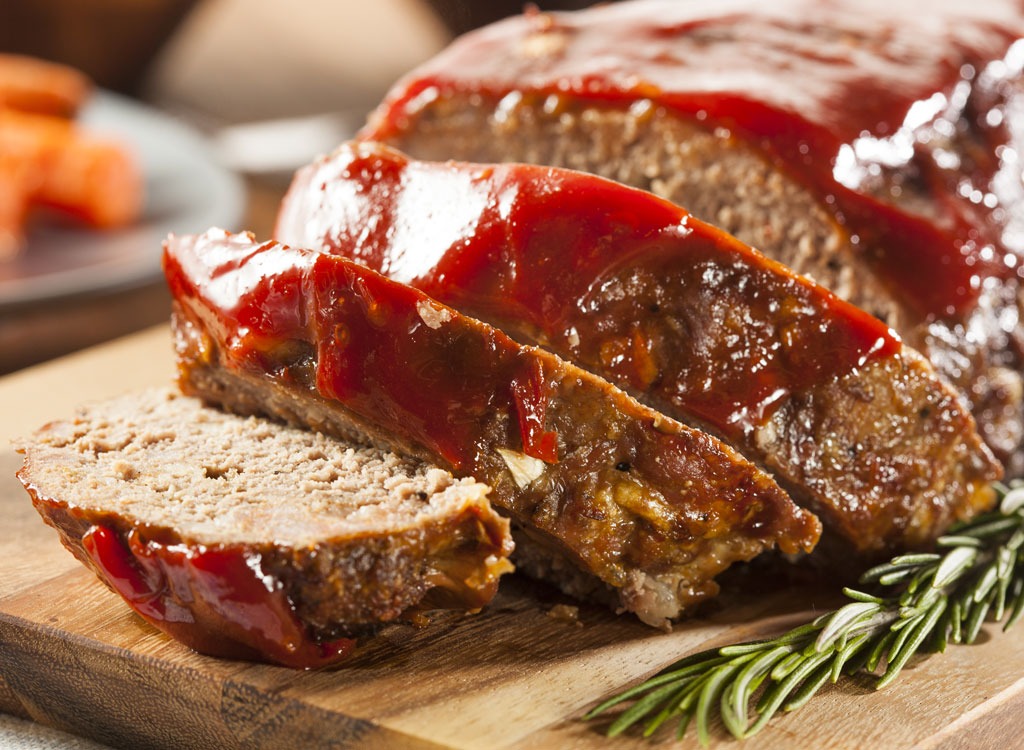 Love meatloaf but hate its nutritional profile? Get your protein fix while decreasing calories and saturated fat by using turkey, lean grass-fed ground beef, or a combination of the two, in your recipe. "Because meatloaf is so versatile, you can change out the ingredients depending on the flavors you want," says Kim Larson, a Seattle-based registered dietitian. Mix in low-cal sources of flavors such as chipotle chilies in adobo sauce, canned green chilies, lentils, or sugar-free canned corn. And don't be afraid to pack your meatloaf with veggies—a trick that will allow you to use less meat. (Which can be a major money saver!) Chopped mushrooms, celery, and bell peppers all pair well with meatloaf in terms of flavor and bolster the vitamin power of the dish, too. Another trick we love? Swapping out nutrient-void breadcrumbs for oatmeal, which also just so happens to be one of these 15 Awesome Ways to Lose Weight With Oatmeal.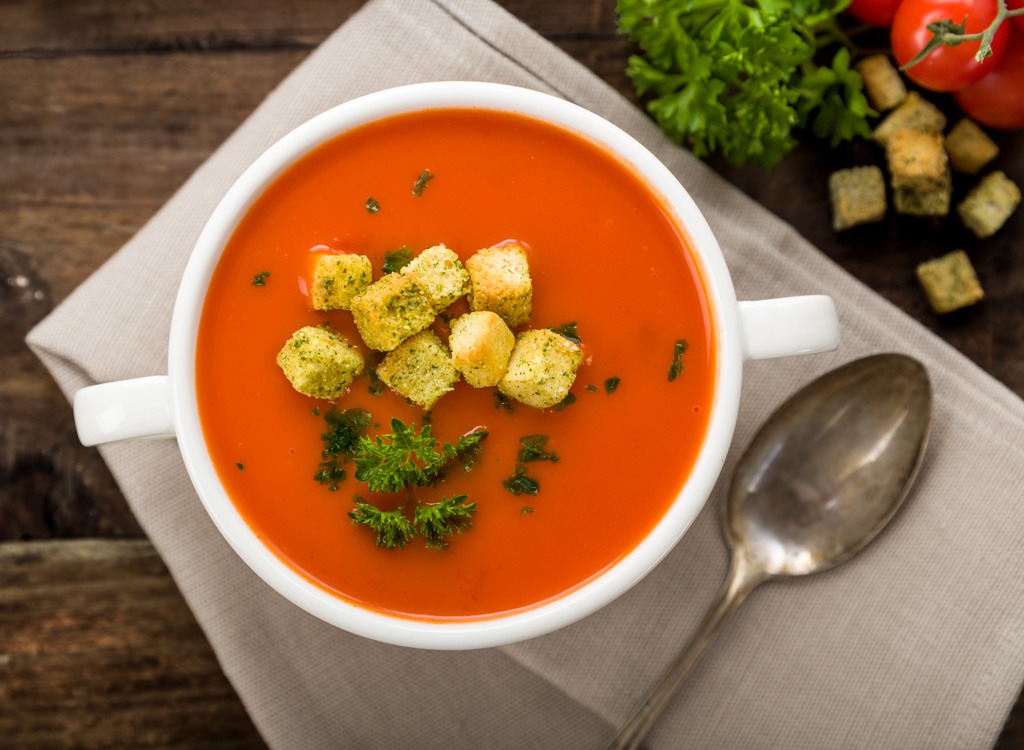 It may be tasty, but classic tomato soup recipes call for high-calorie ingredients like butter and heavy cream. To make a skinnier version of the cozy elixir, Erin Macdonald, a California-based registered dietitian, suggests pureeing canned Roma tomatoes, a jar of roasted bell peppers, low-sodium veggie broth, and fresh basil. If you prefer a creamier texture, steer clear of the cream and add unsweetened cashew milk instead—a simple swap that you can actually use to make any thick soup more waistline-friendly. Why cashew milk? Aside from its rich texture and mild flavor, it gives you healthy fats, protein, fiber, and minerals such as magnesium and potassium, which help regulate blood sugar, explains Andy Bellatti, a registered dietitian from Las Vegas.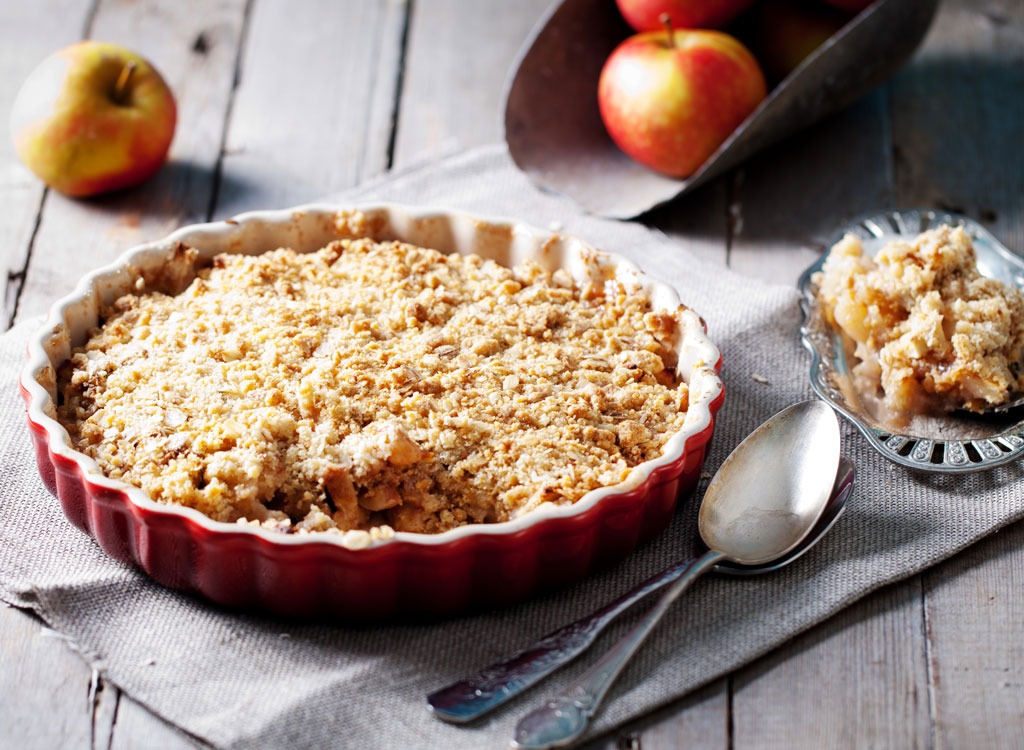 Studies show that people often think a dessert that contains fruit is healthier and lower in calories than those that don't—even though that's typically not the case. And apple crisp is no exception. True, there's fiber and vitamin C in the apples, but traditional apple crisp recipes also includes butter and sugar—big calorie bombs. "I recommend simply roasting apples with some cinnamon, vanilla extract, and lemon juice," Gorin says, sharing her own recipe for the fall must-have. Still craving the cooling scoop of ice cream on top? Try Greek yogurt, which is lower in sugar and calories, but still offers the creamy texture you crave.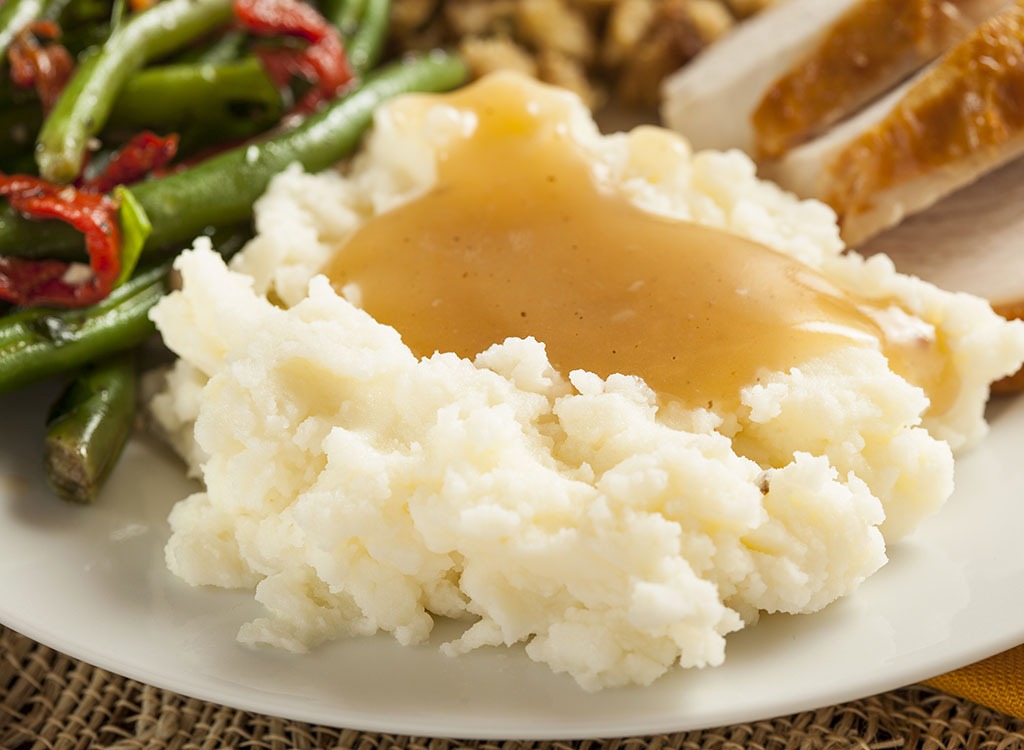 Creamy, buttery mashed potatoes can pack on calories and carbs, but not when you use cauliflower or a blend of turnips, rutabagas, parsnips, and carrots. Steam the veggies and mash them up with fat-free half-and-half, light cream cheese, low-sodium chicken broth, and a tablespoon of grass-fed butter (one of these 20 Best Full-Fat Foods for Weight Loss. Larson recommends adding Parmesan or goat cheeses, too, because they add tons of flavor. Don't forget to add garlic, chives and thyme, to reap the benefits of their inflammation-fighting and flavor-boosting super powers.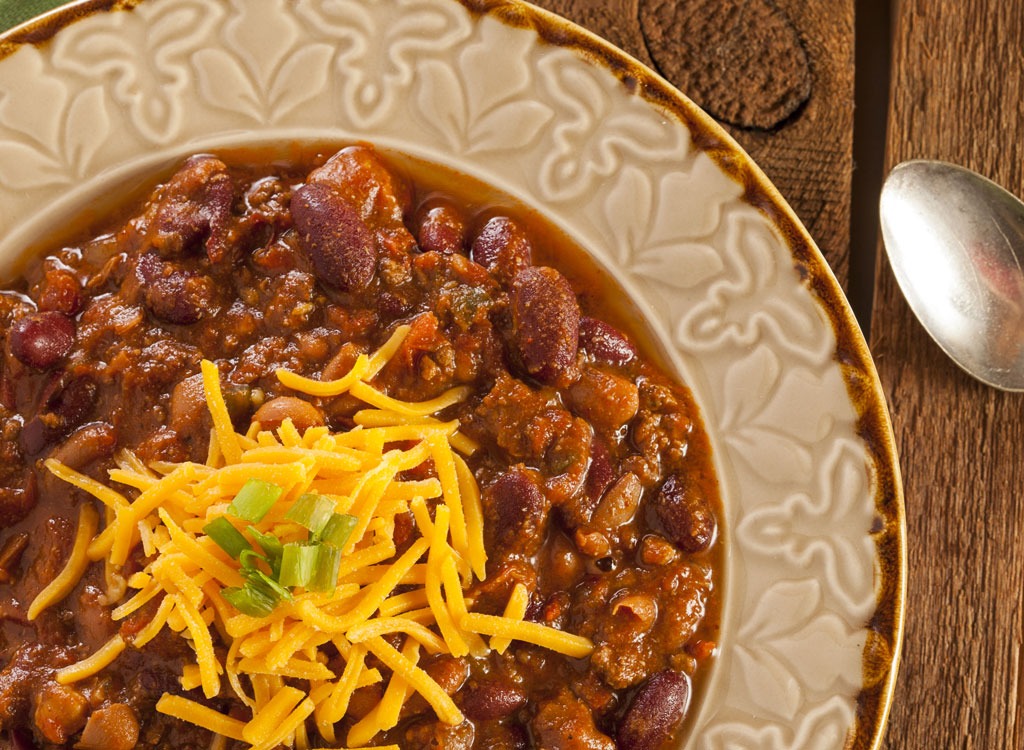 Whether or not you realize it, your game day chili is probably a major calorie fest. Ax fat from your go-to recipe by using a lean protein such as chicken, turkey, or bison. To cut back on salt, select lower-sodium beans and canned tomatoes. Like to serve your chili over rice? Instead, opt for steamed greens or cauliflower rice, which can be made by grating or processing cauliflower and heating it with a touch of oil in a pan. Think that's creative? There are tons of other interesting ways to cook with cauliflower, and you'll find a number of them in our report, 17 Genius Ideas for Cooking with Cauliflower.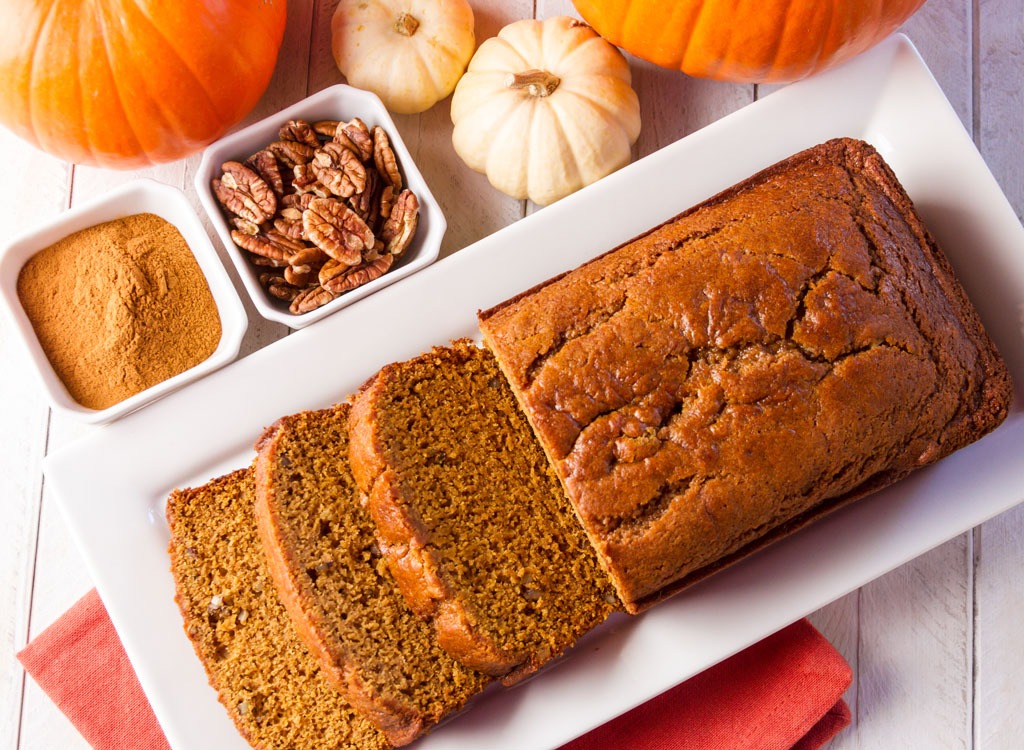 6254a4d1642c605c54bf1cab17d50f1e
If baking with pumpkin is your autumn delight, check out this recipe for vegan pumpkin bread by blogger Jeanine of Love and Lemons. (We love that it swaps out eggs for heart-healthy ground flaxseed.) Even if you don't want to forgo making your go-to rendition, you can healthify your recipe by sneaking in a cup of shredded zucchini, which just so happens to taste awesome with pumpkin.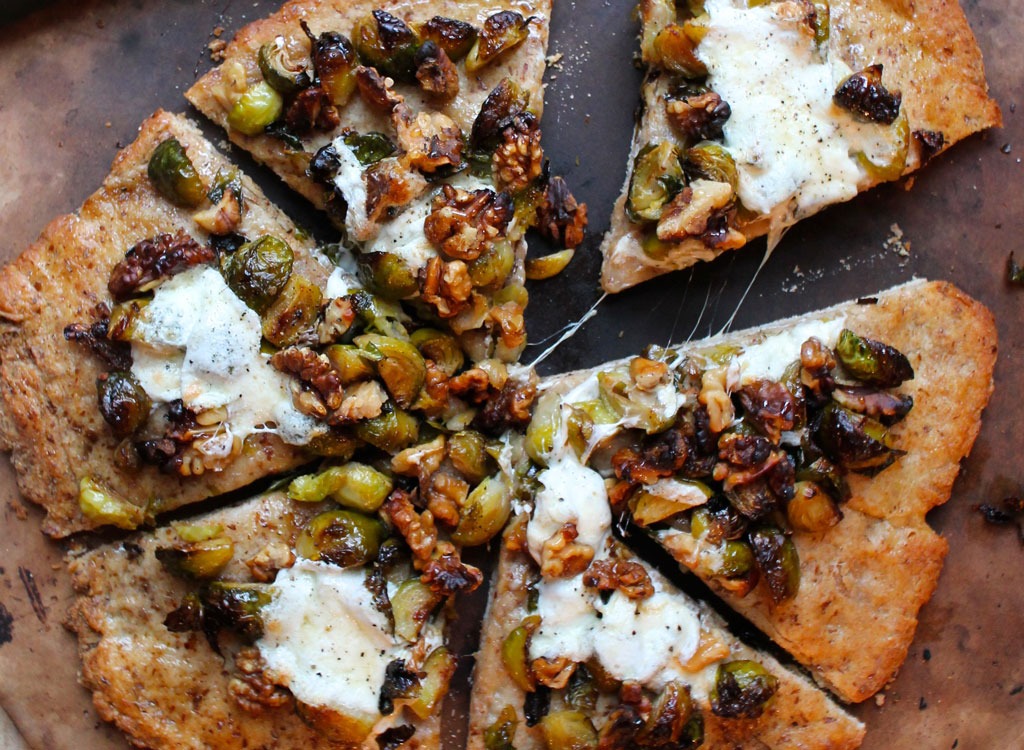 Pizza is about as comforting as comfort food gets, but you don't have to make it with a cauliflower crust to boost its health factor. Instead, Jessica Fishman Levinson, a registered dietitian from New York, suggests using protein-packed chickpea flour to make something called farinata. It originated in the Mediterranean and is essentially an unleavened pancake made of chickpea flour, water, and olive oil. After it's baked, it can be served with pizza toppings so you can give into that craving for a slice a bit more sensibly. And to ensure your slice is a super healthy one, be sure to use one of the winning jars of pasta sauce from our exclusive report, The 40 Best and Worst Pasta Sauces—Ranke!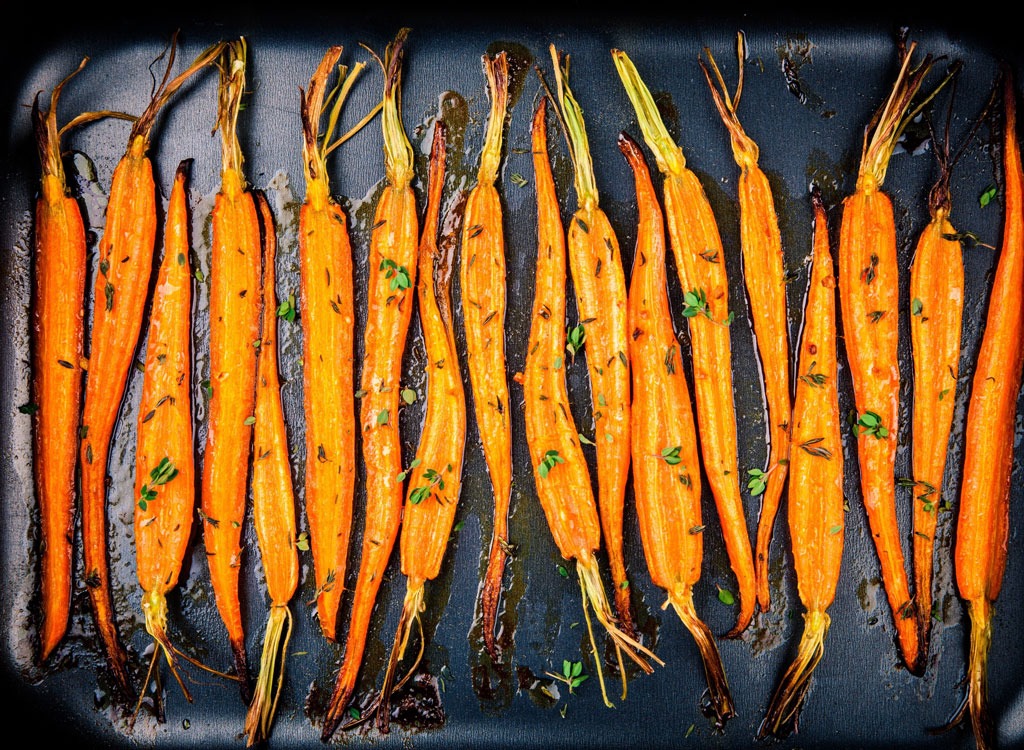 Can roasted veggies get any healthier? If you typically toss your produce with sugary sauces such made with brown sugar and maple syrup, most certainly, says Amy Gorin, a registered dietitian in New Jersey. Instead, roast carrots, turnips and whatever else you like in pomegranate juice, which is packed with antioxidants and gives it a nice seasonal flavor. If you prefer a more savory dish try roasting your veggies in olive oil, sea salt, and herbs (like rosemary and oregano).