33 Delicious Pumpkin Recipes
From soups to pasta noodles to desserts, here are 33 different ways you can enjoy pumpkin.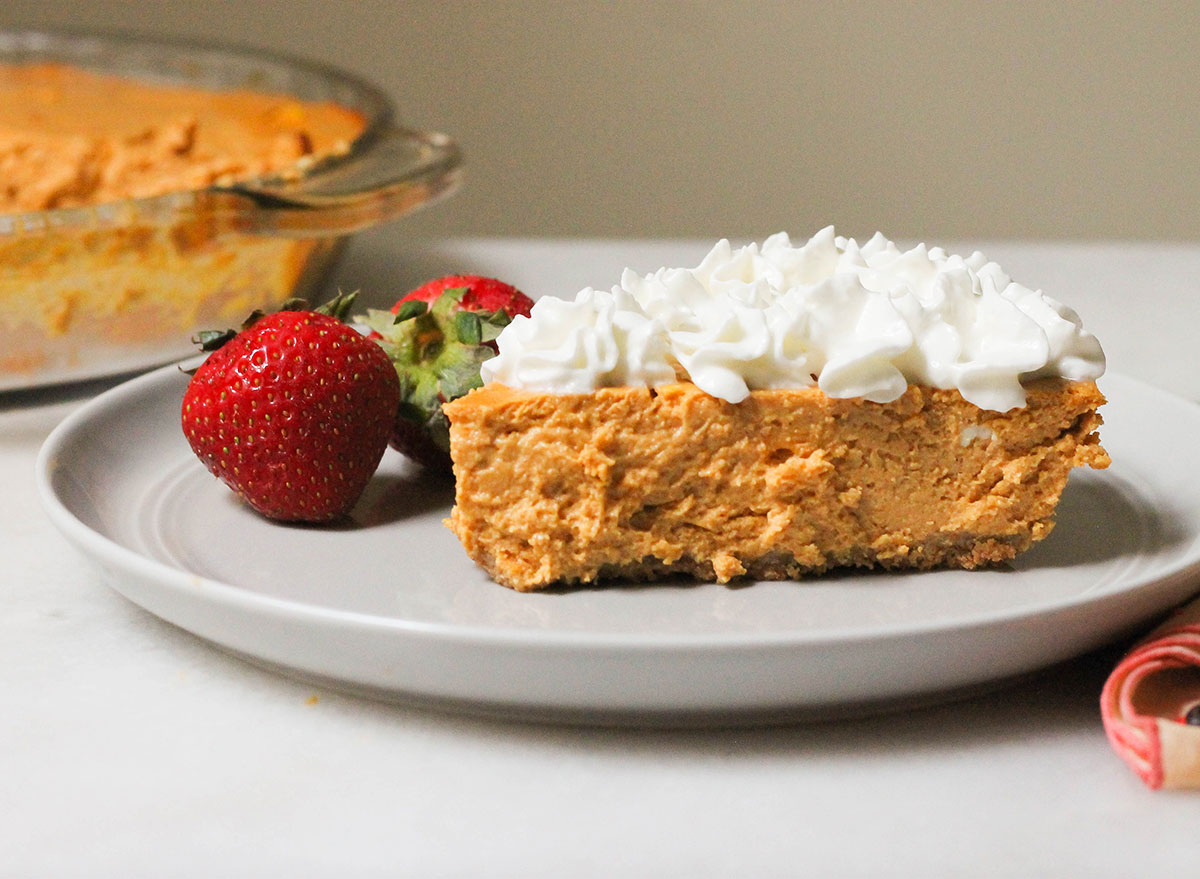 Fall is a wonderful time of the year. Those residing in northern states get to indulge in watching the leaves change from a vibrant green to various shades of orange and red before they brown, crisp, and fall to the ground. Visiting a pumpkin patch and going apple picking are two other activities that are specific to this special season. As temperatures begin to drop and the sky darkens at earlier hours, the urge to stay in and bake and cook up some cozy meals heightens. Pumpkin pie is one of the most classic fall-centric delicacies, but there is so much more you can do with the fruit in both savory and sweet recipes.
Below, we've compiled a list of some of our favorite pumpkin recipes. Dig in!
And for more, don't miss these 15 Classic American Desserts That Deserve a Comeback.
Coconut-Pumpkin Smoothie Bowl
While a smoothie bowl may not exactly scream fall, the addition of pumpkin and pumpkin seed bring warmth to an otherwise cool dish. Think of this as your seasonal smoothie to swap in for your usual fruit one!
Get our recipe for a Coconut-Pumpkin Smoothie Bowl.
Pumpkin Marinara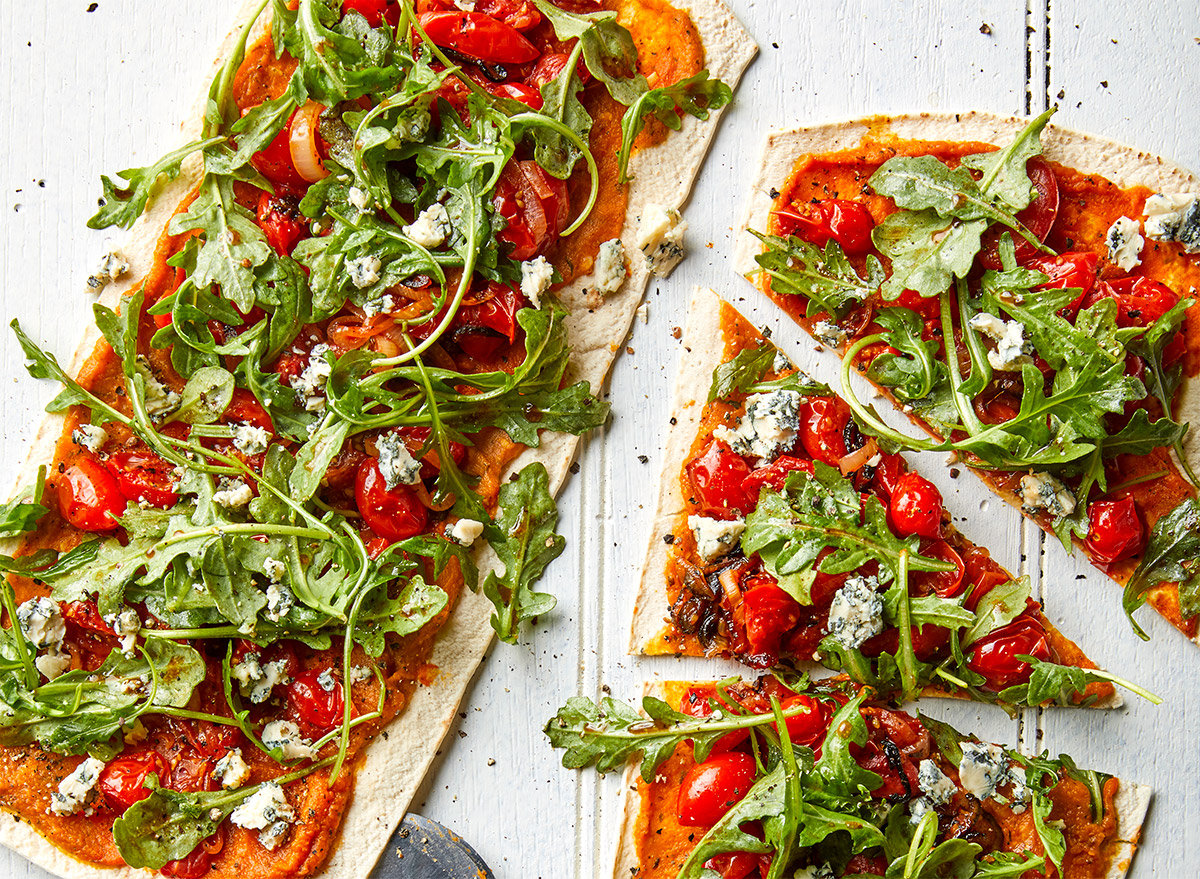 Who says you can't enjoy pumpkin on a pizza? Canned pumpkin doesn't have to just be used for pie, you know! Use the fall fruit to create a savory spread for your next flatbread pizza.
Get our recipe for Pumpkin Marinara.
Pumpkin Vinaigrette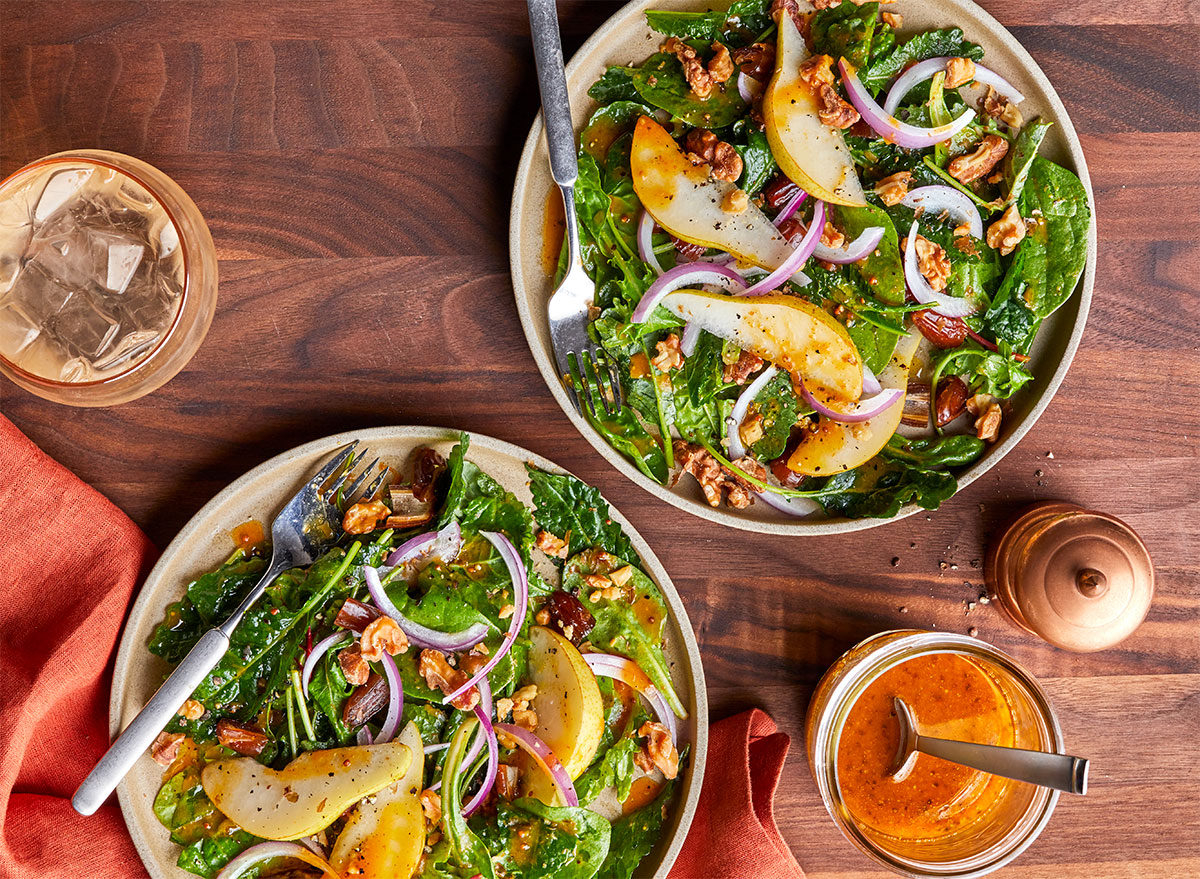 A lot of pumpkin products are heavy, such as pumpkin bread and pie. If you have a craving for something pumpkin-flavored that's light yet still sweet and even slightly tangy, try incorporating it into a salad dressing and drizzle it over a bed of hearty greens.
Get our recipe for Pumpkin Vinaigrette.
Pumpkin Chili Recipe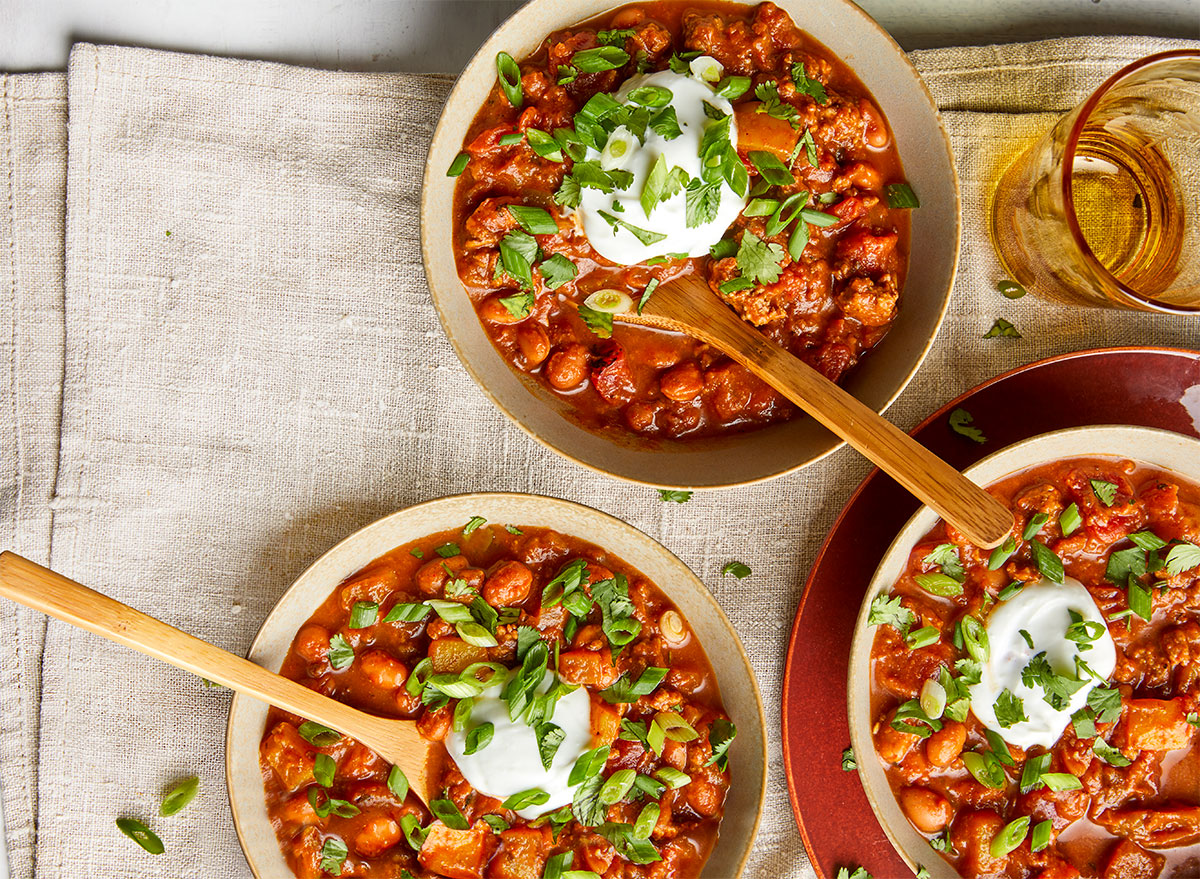 Nothing is quite as warming as a bowl of chili. This specific recipe has a fun twist to it: pumpkin! Perfect for when the temperatures begin to drop, this pumpkin chili contains the works: beans, ground beef, and even cocoa powder, making for a hearty cold-weather treat.
Get our recipe for Pumpkin Chili.
Pumpkin Ravioli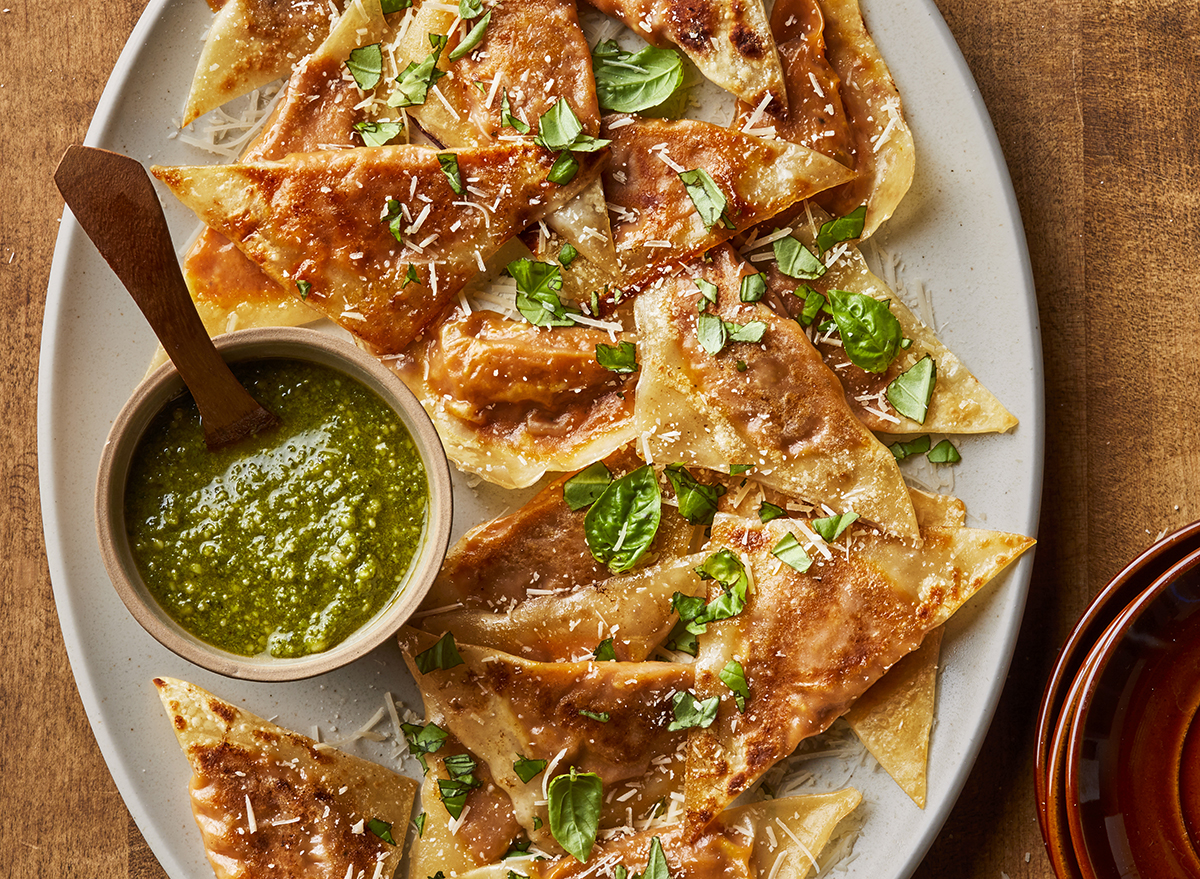 Have you ever considered pairing pesto with pumpkin? While that may not be your go-to combination on a normal day, we can assure you it's one you'll likely want to have again. Test out the peculiar yet irresistible flavor duo in this recipe.
Get our recipe for Pumpkin Ravioli.
Pumpkin-Potato Mash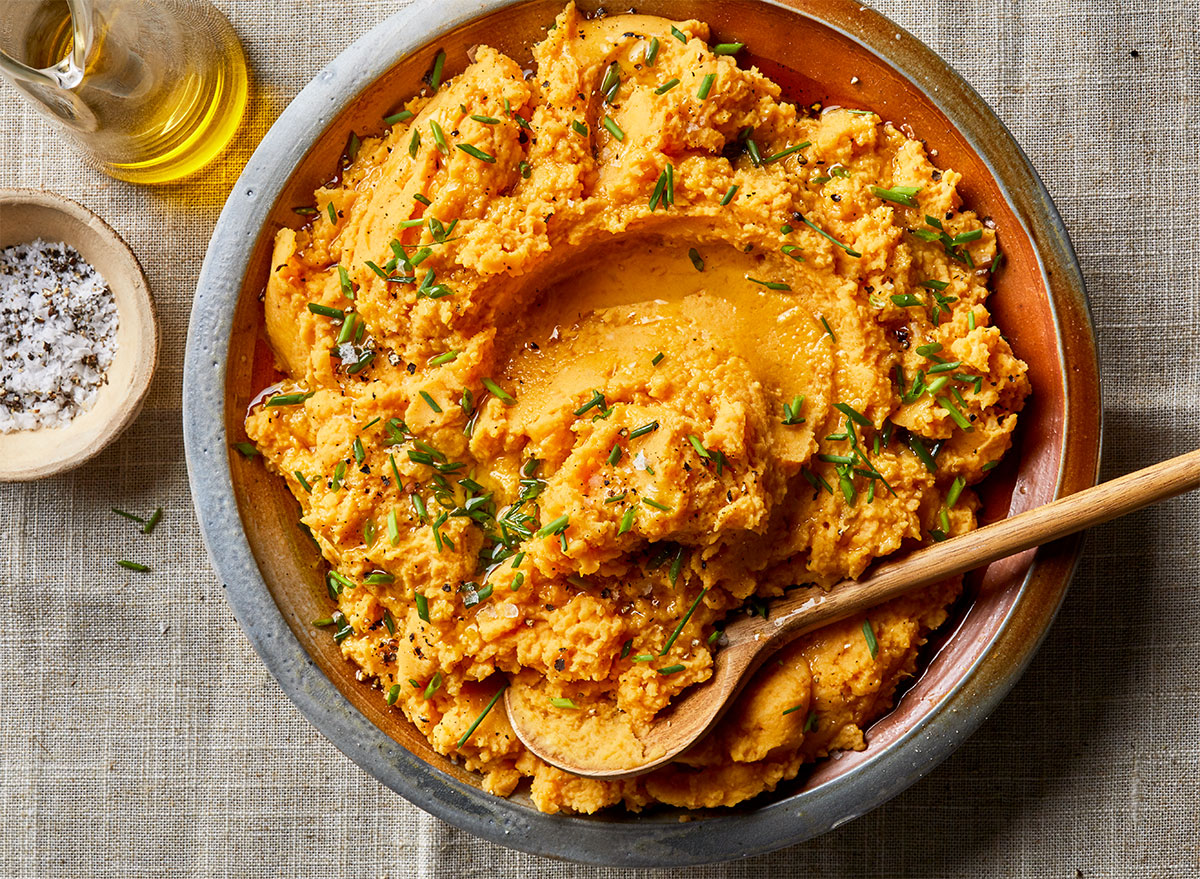 Mashed potatoes by themselves are a beloved side dish, but adding pumpkin to the mix is a game-changer. Top the dish with chopped chives, and you've got yourself a savory dish with a hint of sweetness.
Get our recipe for Pumpkin-Potato Mash.
Pumpkin Bars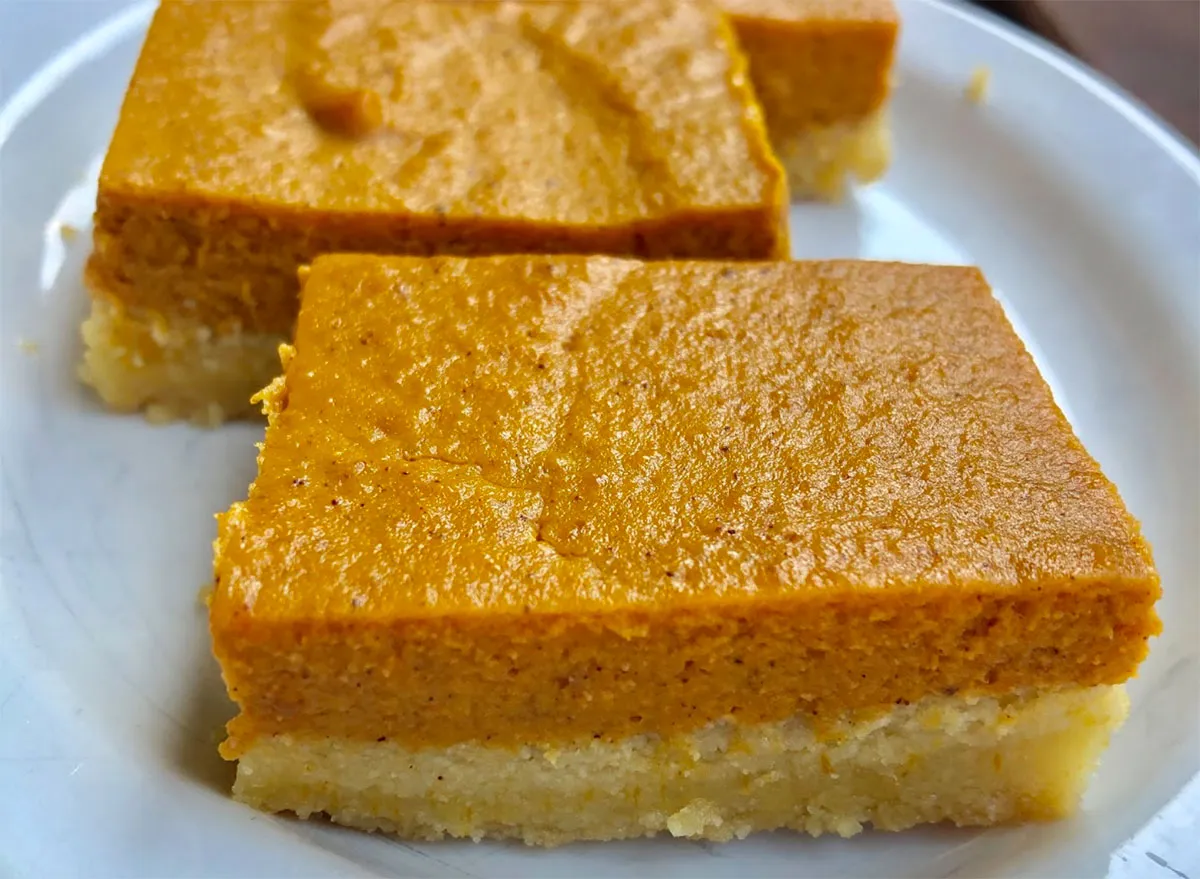 You don't have to follow the keto diet to enjoy these pumpkin bars. They're perfect for those who are looking for a satiating sweet treat.
Get our recipe for Keto Pumpkin Bars.
Roasted Pumpkin Seeds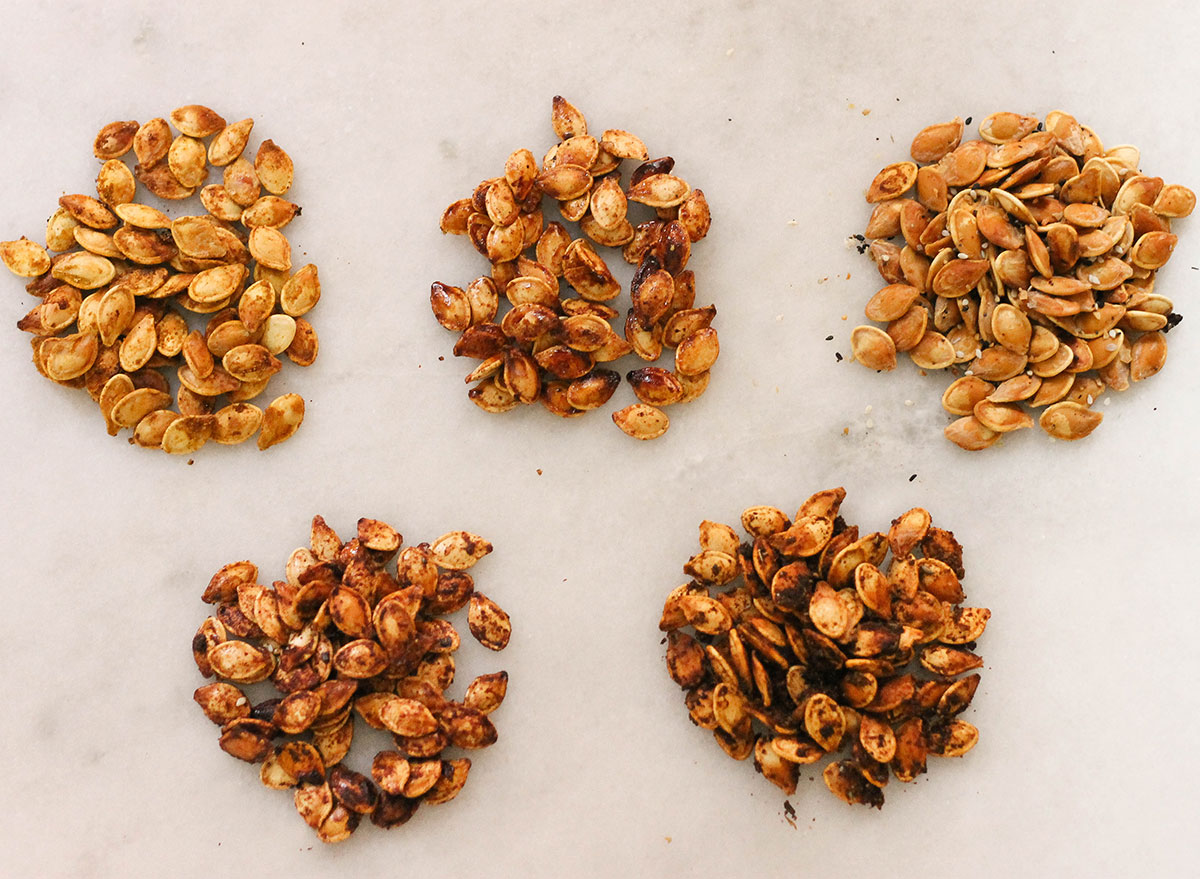 Pumpkin seeds with taco seasoning, curry, cinnamon sugar, everything bagel, and pumpkin spice? We'll take a bag of each, please and thank you!
Get our recipe for Roasted Pumpkin Seeds.
Healthy Pumpkin Cheesecake
A pumpkin cheesecake? Yes, it really is the best of both worlds, and we have just the recipe for you. This would make your Thanksgiving dessert spread stand out, guaranteed.
Get our recipe for Healthy Pumpkin Cheesecake.
Fudgy Pumpkin Brownie Bites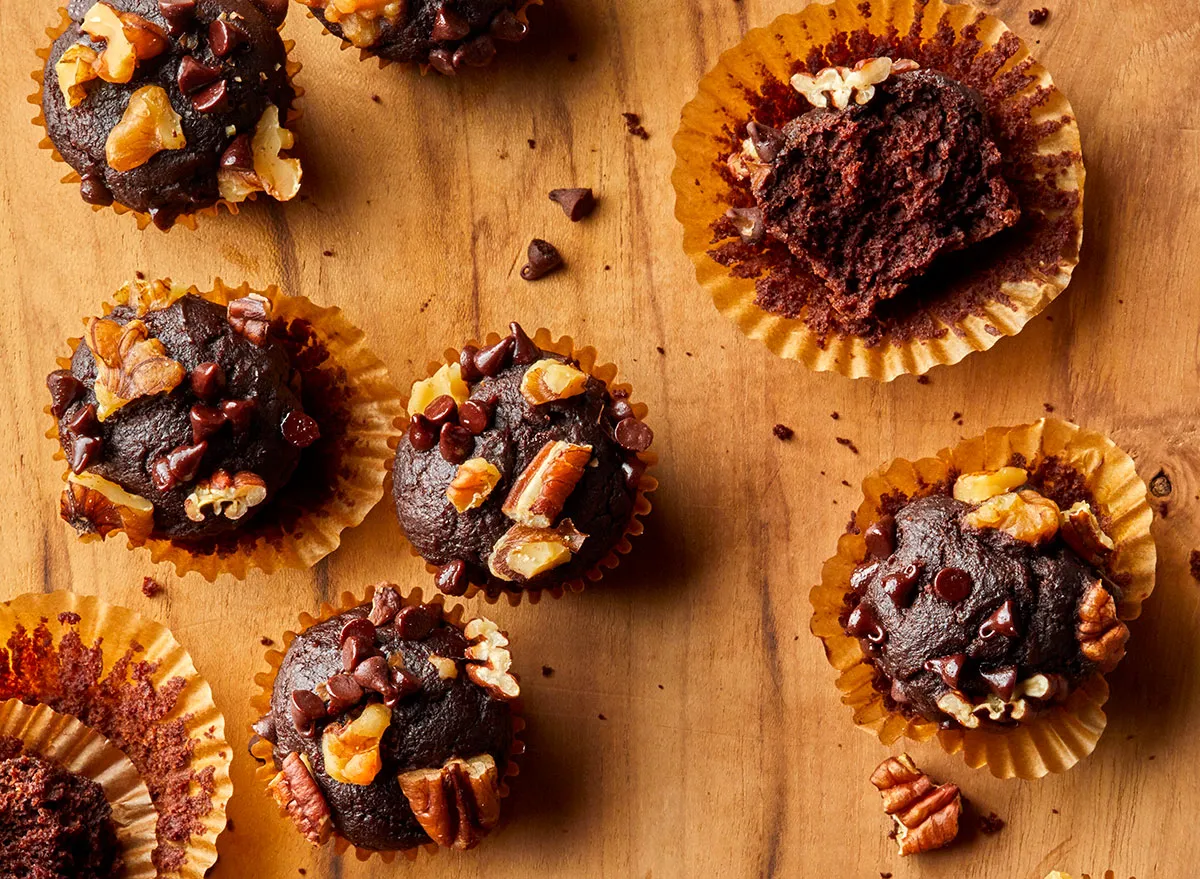 Fudge + pumpkin = bliss?
Get our recipe for Fudgy Pumpkin Brownie Bites.
Pumpkin Pad Thai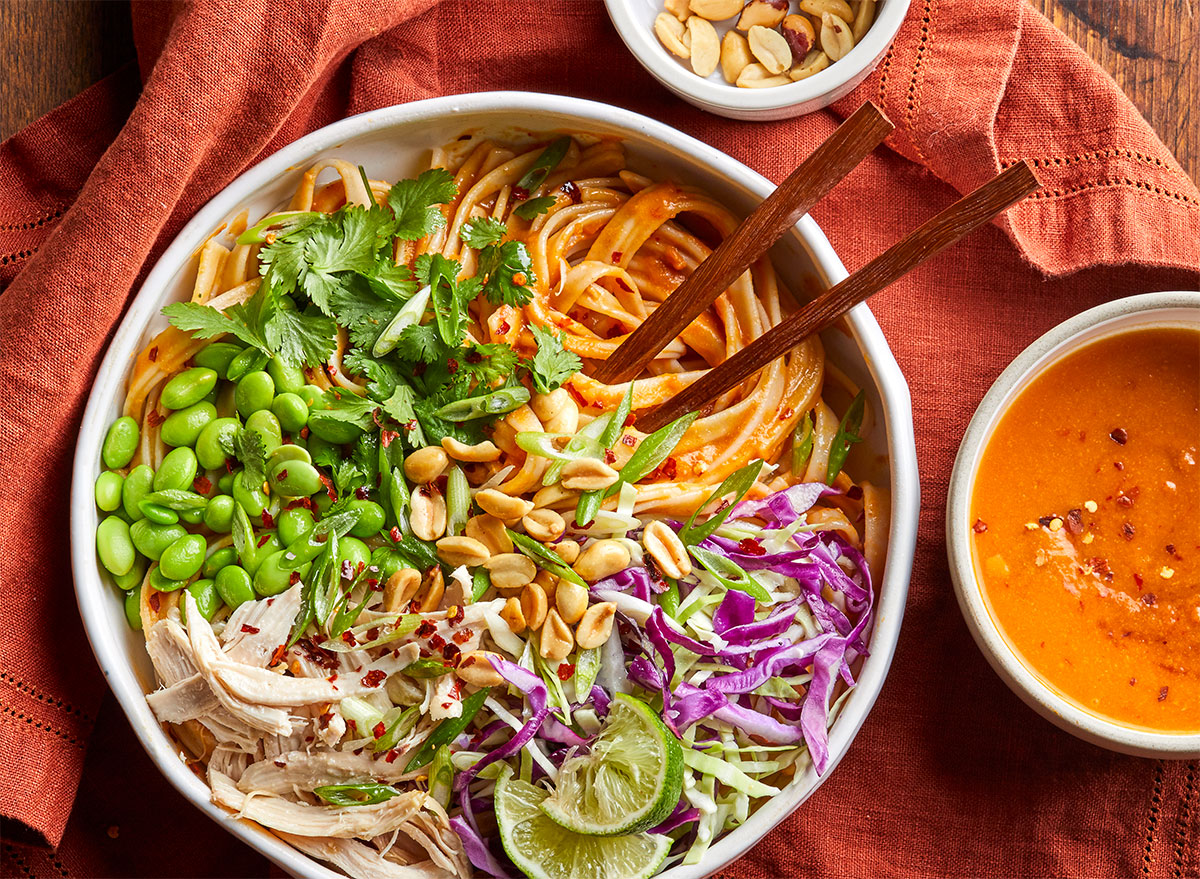 If you love Pad Thai, then you're bound to love this variation of the dish. Brown rice noodles are tossed in a sauce made primarily from canned pumpkin and peanut butter and topped with edamame, shredded chicken, and spices.
Get our recipe for Pumpkin Pad Thai.
Pumpkin Parfaits
Add a fall twist to this breakfast classic with our easy parfait recipe. Canned pumpkin and Greek yogurt are a surprisingly great pair!
Get our recipe for Pumpkin Parfaits.
Pumpkin Bread Pudding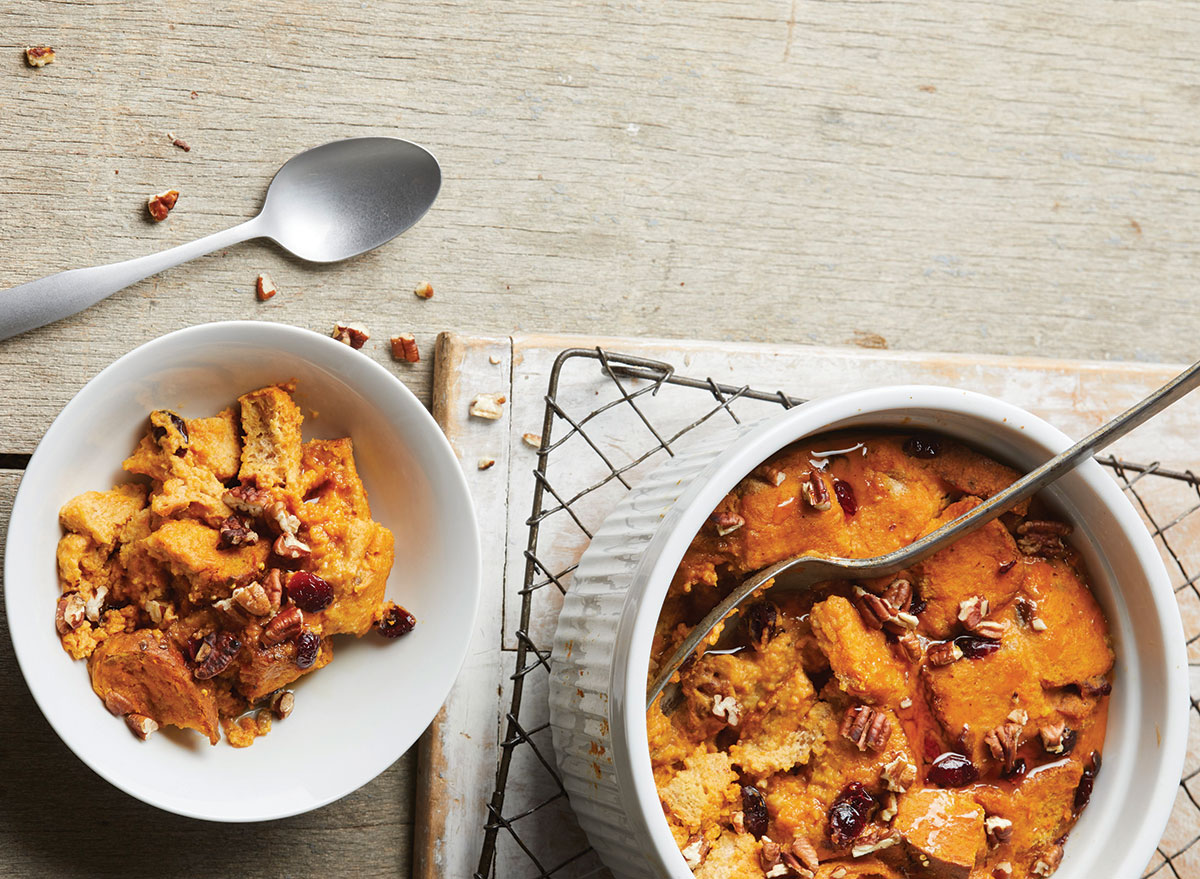 There's pumpkin bread, and then there's pumpkin bread pudding. This decadent dessert might just make you forget about pumpkin pie.
Get our recipe for Pumpkin Bread Pudding.
Pumpkin Cookies with Cream Cheese Frosting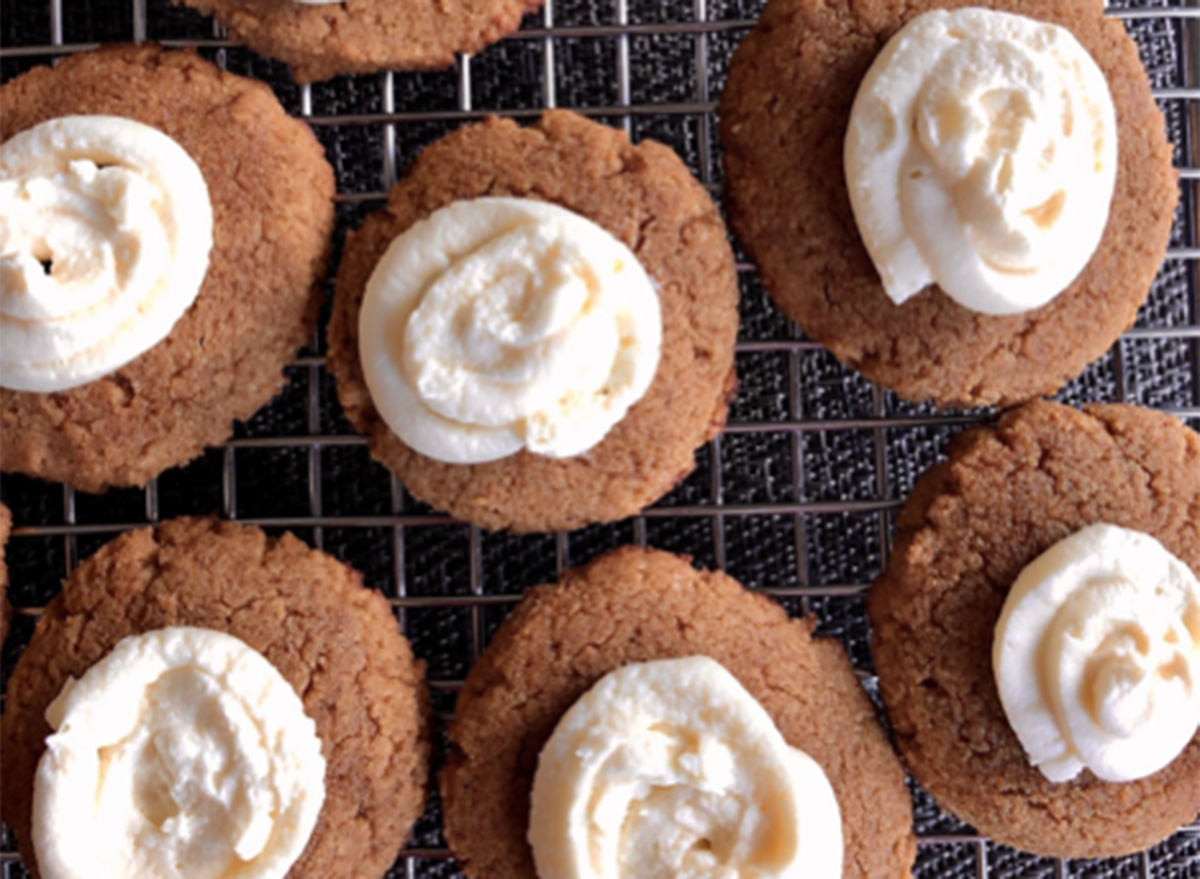 These pumpkin cookies are keto-friendly, but they're delicious for those who aren't on the keto diet, too.
Get our recipe for Pumpkin Cookies with Cream Cheese Frosting.
Slow Cooker Pumpkin Chicken Chili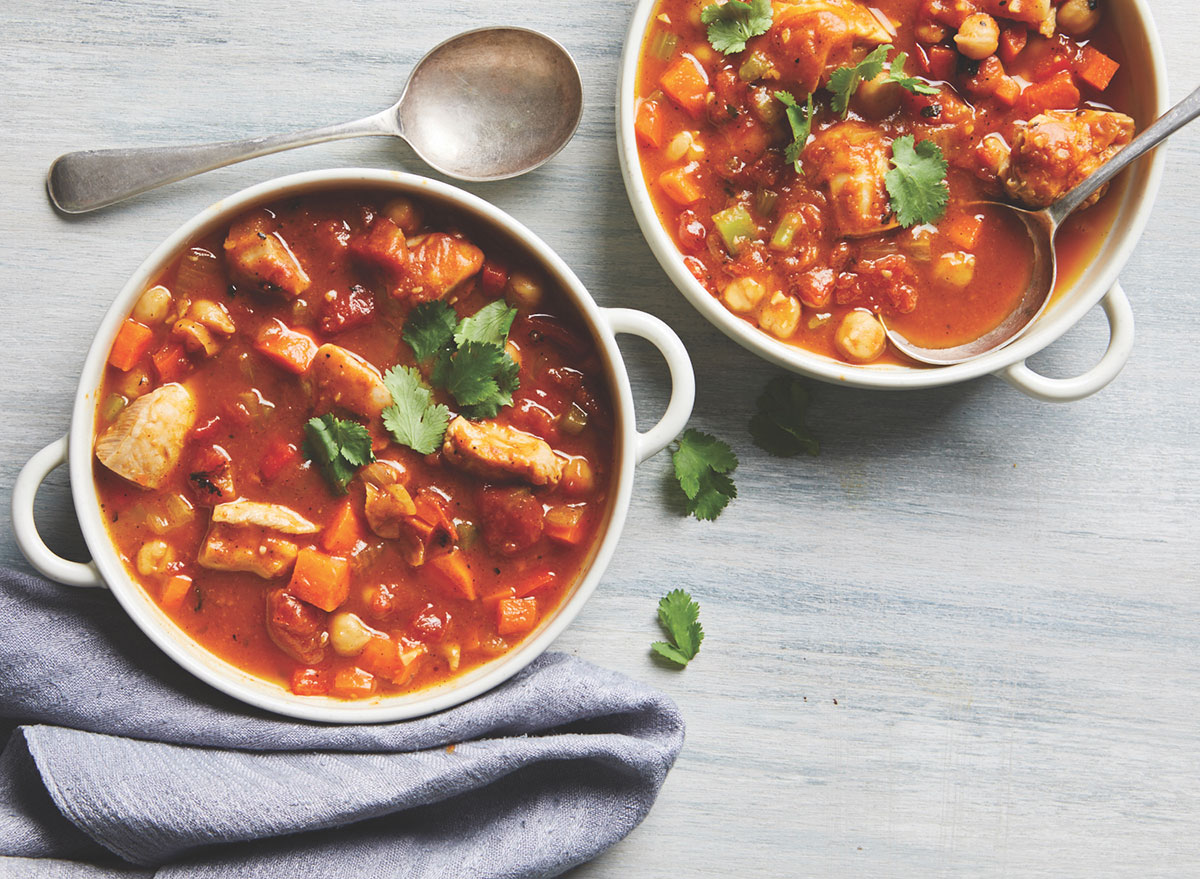 We have another slow cooker pumpkin chili recipe for you!
Get our recipe for Slow Cooker Pumpkin Chicken Chili.
Pumpkin Spice Smoothie
Pumpkin spice lattes aren't the only delicious pumpkin-flavored drink out there. This smoothie recipe is like pumpkin pie in a cup.
Get our recipe for a Pumpkin Spice Smoothie.
Paleo Pumpkin Pancakes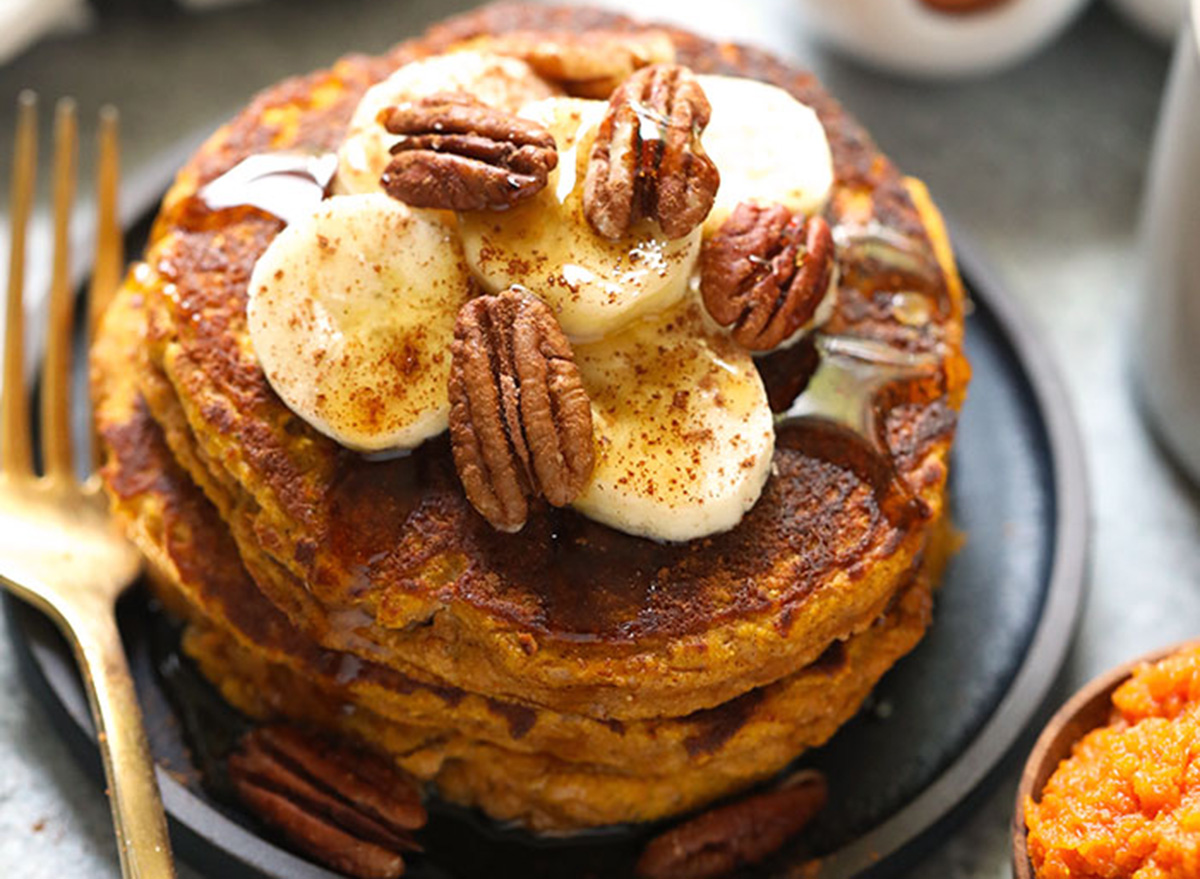 Now, this is a pumpkin recipe anyone can enjoy. These grain-free and inherently gluten-free pancakes are made with almond meal, coconut flour, and pumpkin purée.
Get the recipe from Fit Foodie Finds.
Pumpkin Cream Cheese Muffins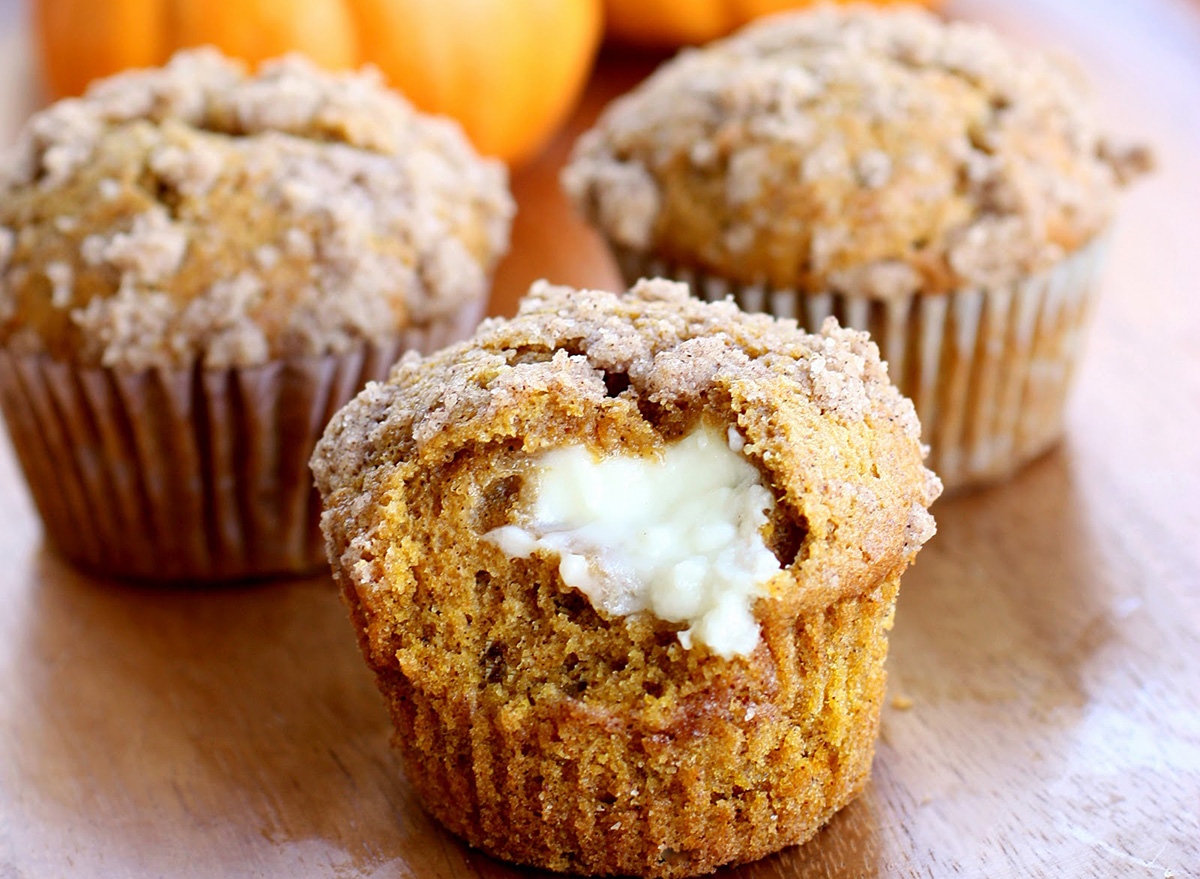 A pumpkin-flavored muffin with cream cheese in the middle? How could someone conceive of an idea that's so simple, yet so brilliant?
Get the recipe from The Girl Who Ate Everything.
Pumpkin Spice Roasted Chickpeas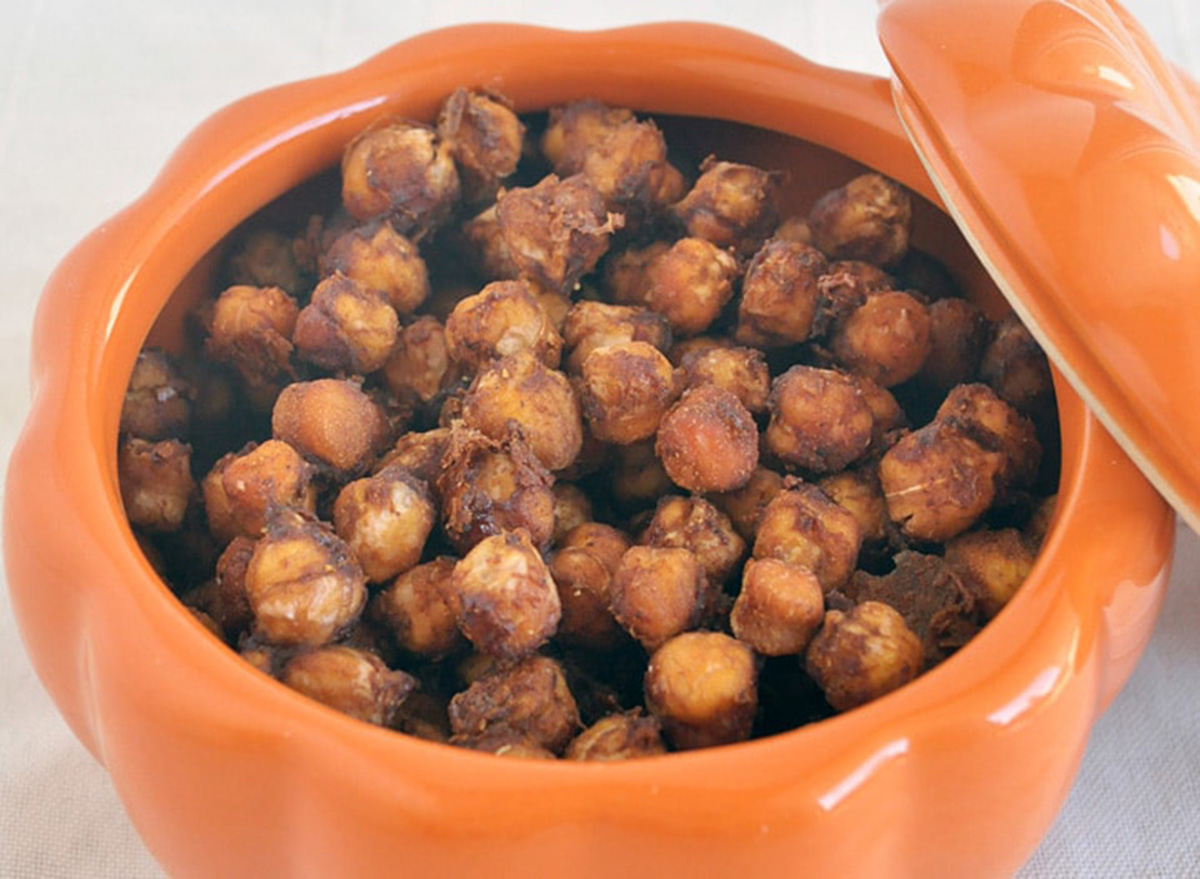 Hummus is great and all, but eating chickpeas in their natural form (and toasted) is matchless…especially when there are pumpkin spices on them!
Get the recipe from My Whole Food Life. 
Pumpkin Cake and Semifreddo Push Pops
Remember how fun it was to eat Fred Flintstone's Sherbet Push-Up pops? You don't only have to reminisce about those days—recreate them with this push-pop that's filled with pumpkin cakes and layered with semifreddo, which is similar to a frozen mousse.
Get the recipe from My Name Is Yeh.
3-Ingredient Baked Pumpkin Donuts
You might be thinking, how is possible for a donut to have only three ingredients? Well, to be fair, one of the ingredients is a spice cake mix, which we all know contains quite a few different spices. Regardless, you won't have to go scavenging through your pantry or the grocery store for ingredients for this awesome pumpkin recipe.
Get the recipe from Creme De La Crumb.
Slow Cooker Pumpkin Turkey Kale Chili
If red meat isn't your jam, not to worry, because ground turkey makes for an equally as hearty substitute in this chili recipe.
Get the recipe from Recipe Runner. 6254a4d1642c605c54bf1cab17d50f1e
Pumpkin Spice Granola
For all of our gluten-free friends out there, you'll likely appreciate this recipe. Pumpkin seeds and pecans adorn this old-fashioned oat granola, making this the perfect fall snack or breakfast.
Get the recipe from Gimme Some Oven.
Pumpkin Brownies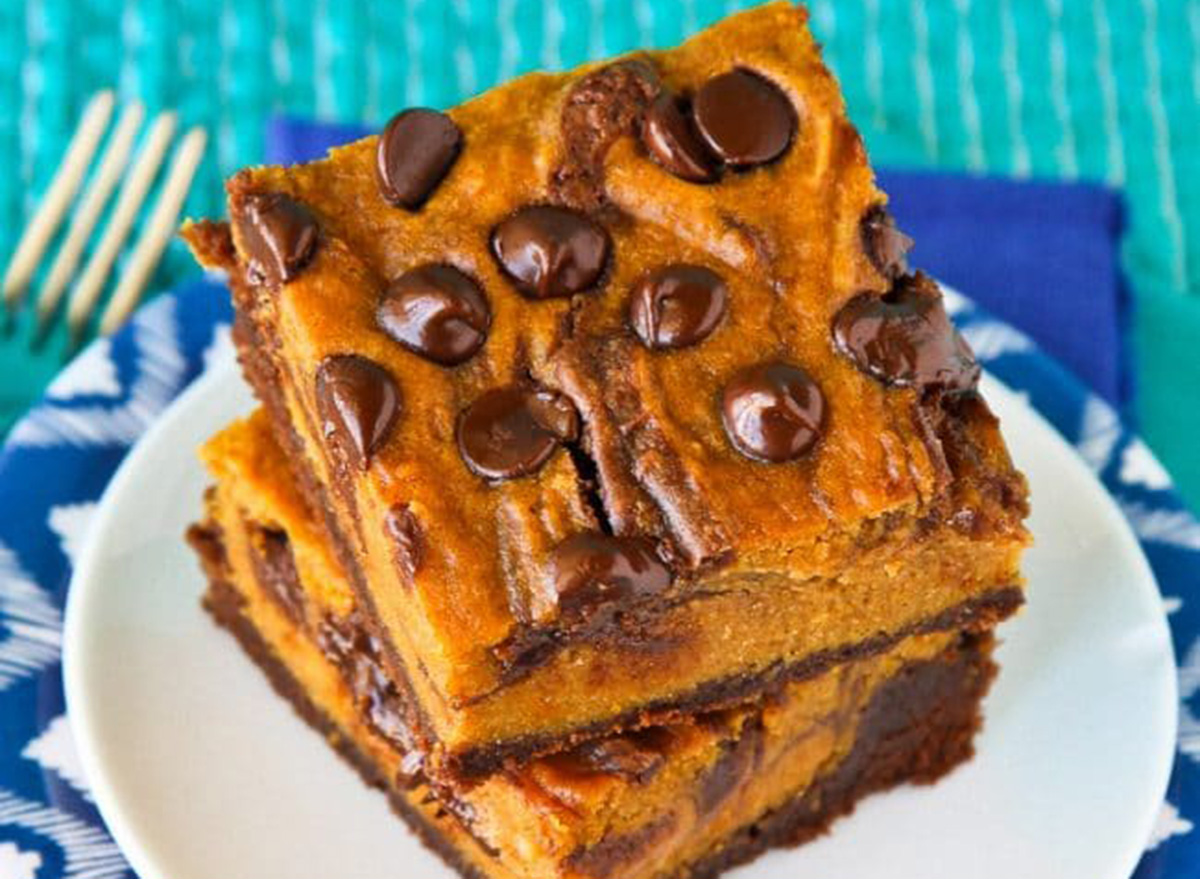 Can we just take a moment and admire how beautiful these partially melted chocolate morsels look on the top of this pumpkin brownie? That is all.
Get the recipe from Love from the Oven. 
Creamy Pumpkin Parmesan Dip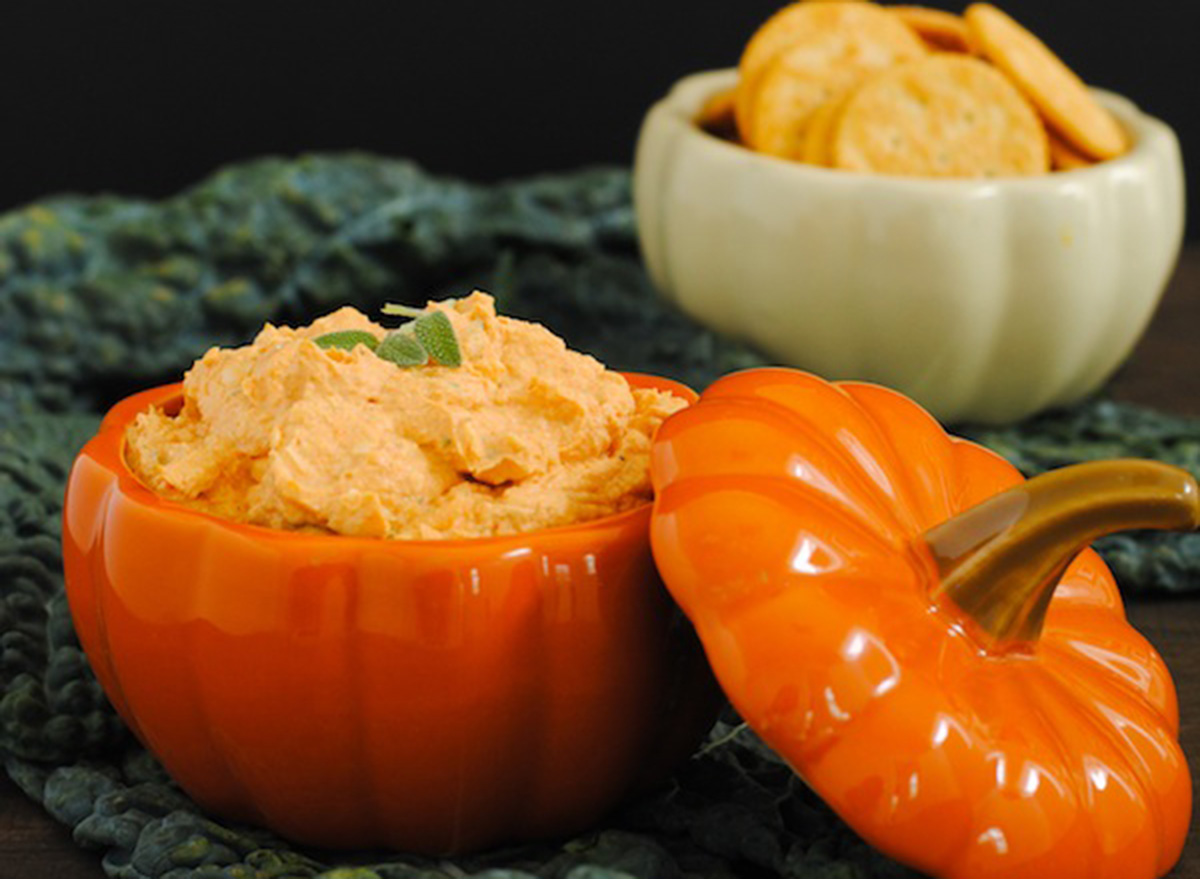 Can you confidently say you've tried a pumpkin dip of any sort? What more reason to give this recipe a shot! The best part is that it calls for just seven ingredients, making it a perfect party appetizer.
Get the recipe from Foxes Love Lemons. 
Gluten-Free Pumpkin Spice Donuts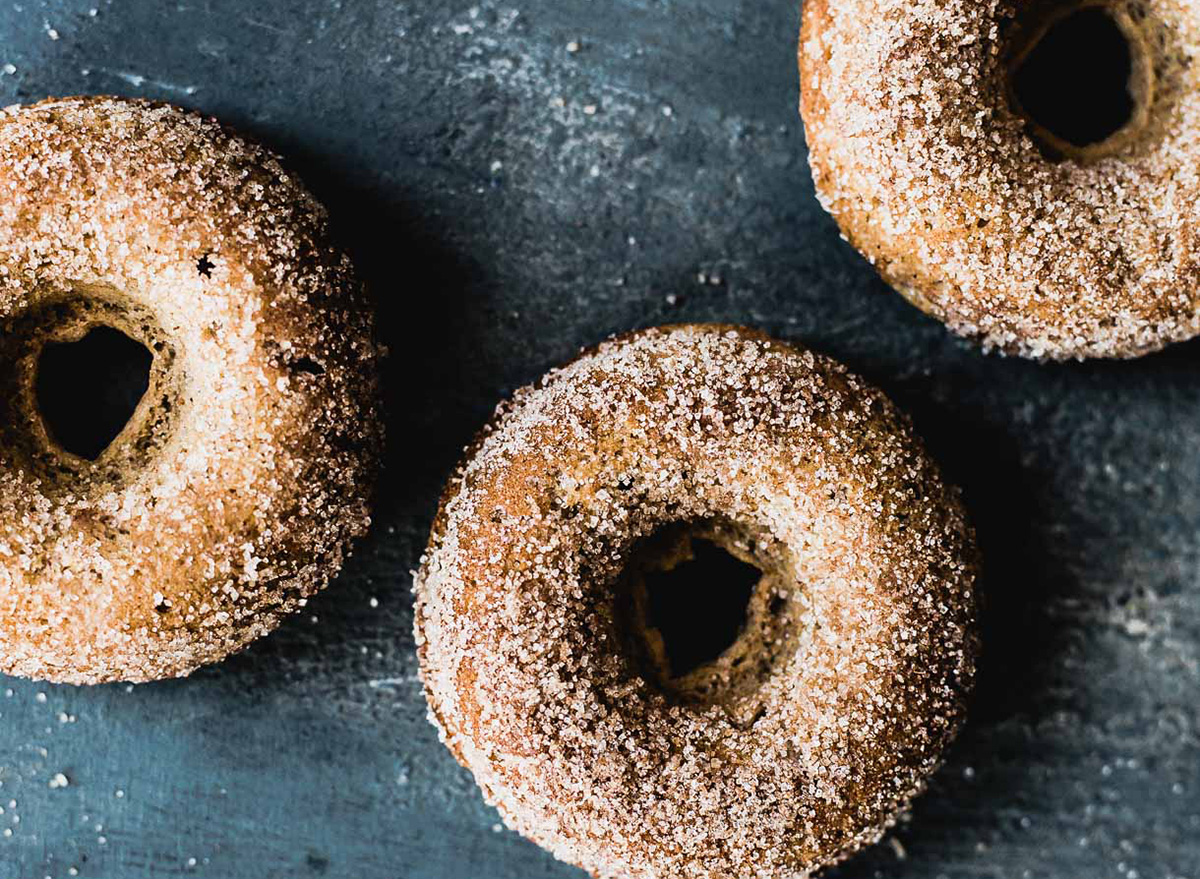 As someone who follows a gluten-free diet, I never like feeling like I cannot indulge in the pastries and goodies my friends made. This recipe combines ivory teff, sweet rice, and millet flour to create this gluten-free masterpiece.
Ge the recipe from Heartbeet Kitchen.
Spiced Pumpkin Waffles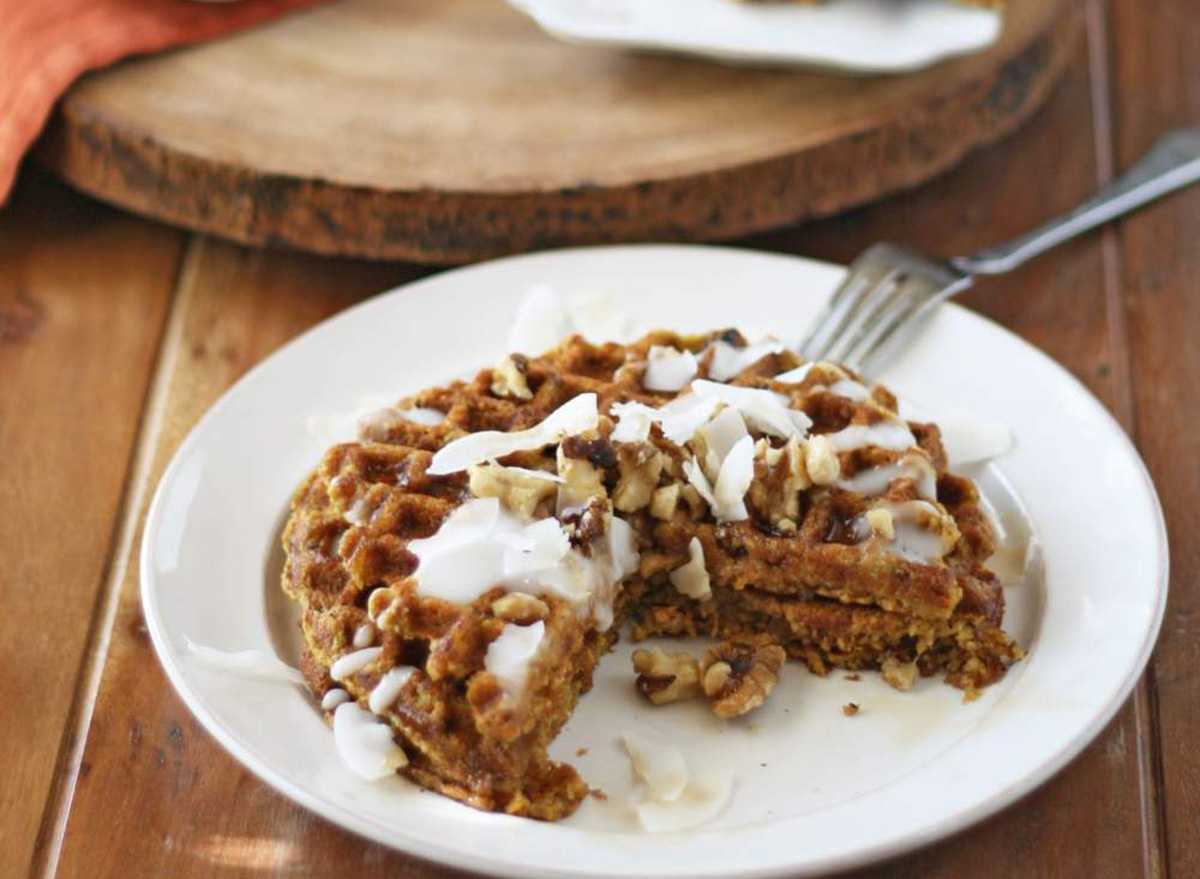 Calling all vegan friends! This spiced pumpkin waffle recipe is especially for you, although anyone could find this dish appetizing. Never toast frozen waffles again with this recipe.
Get the recipe from VeguKate.
Gluten-Free Pumpkin Pie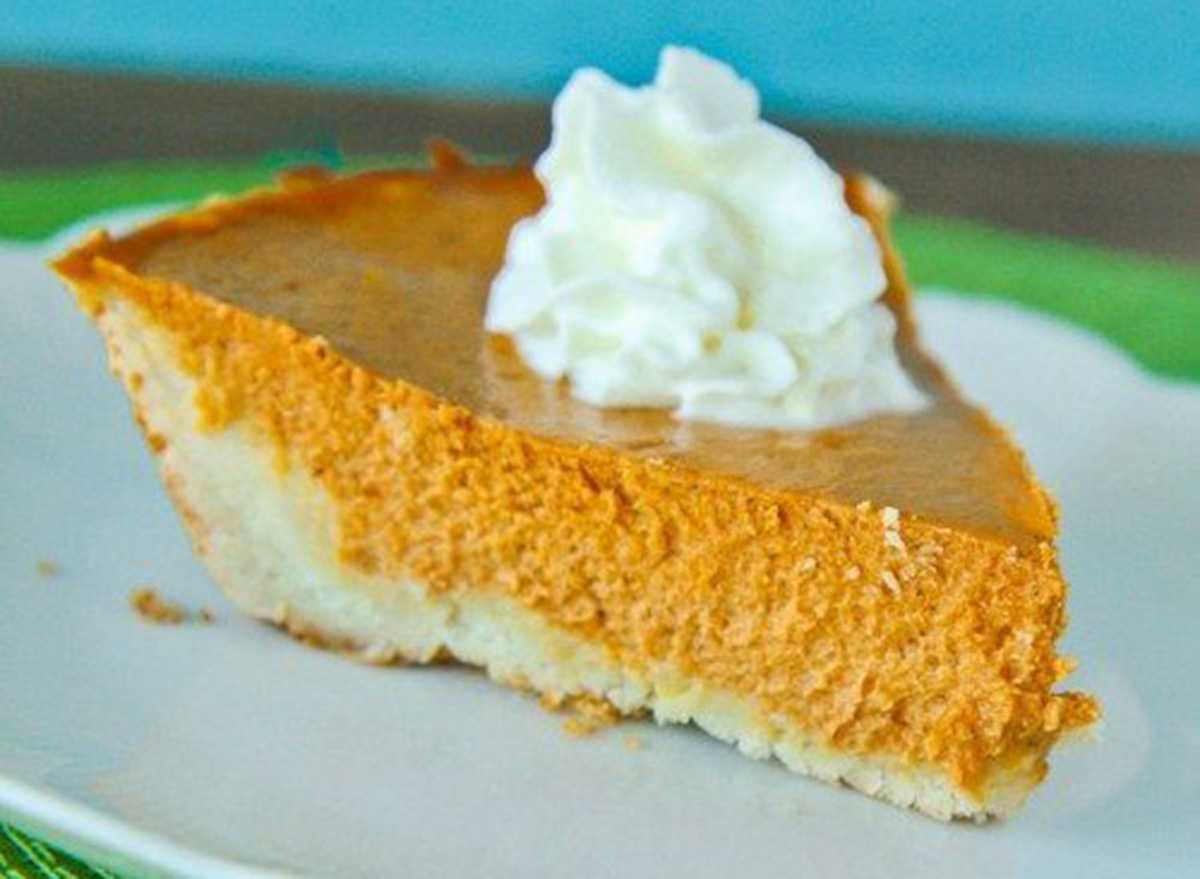 It's about time we have a piece of pumpkin pie appear on this list of pumpkin recipes! Pumpkin pie may just be the most quintessential autumn treat, and those with gluten intolerance or celiac disease can enjoy it too with this recipe.
Get the recipe from Love From the Oven.
Pumpkin Pie Overnight Buckwheat + Oats
Make these delicious overnight oats on Sunday night so you can wake up to breakfast that's ready to go. You can make these with coconut yogurt or Greek yogurt, depending on whether you're dairy-free or not!
Get this recipe from Nutrition in the Kitch.
Dairy Free Egg Free Pumpkin Pudding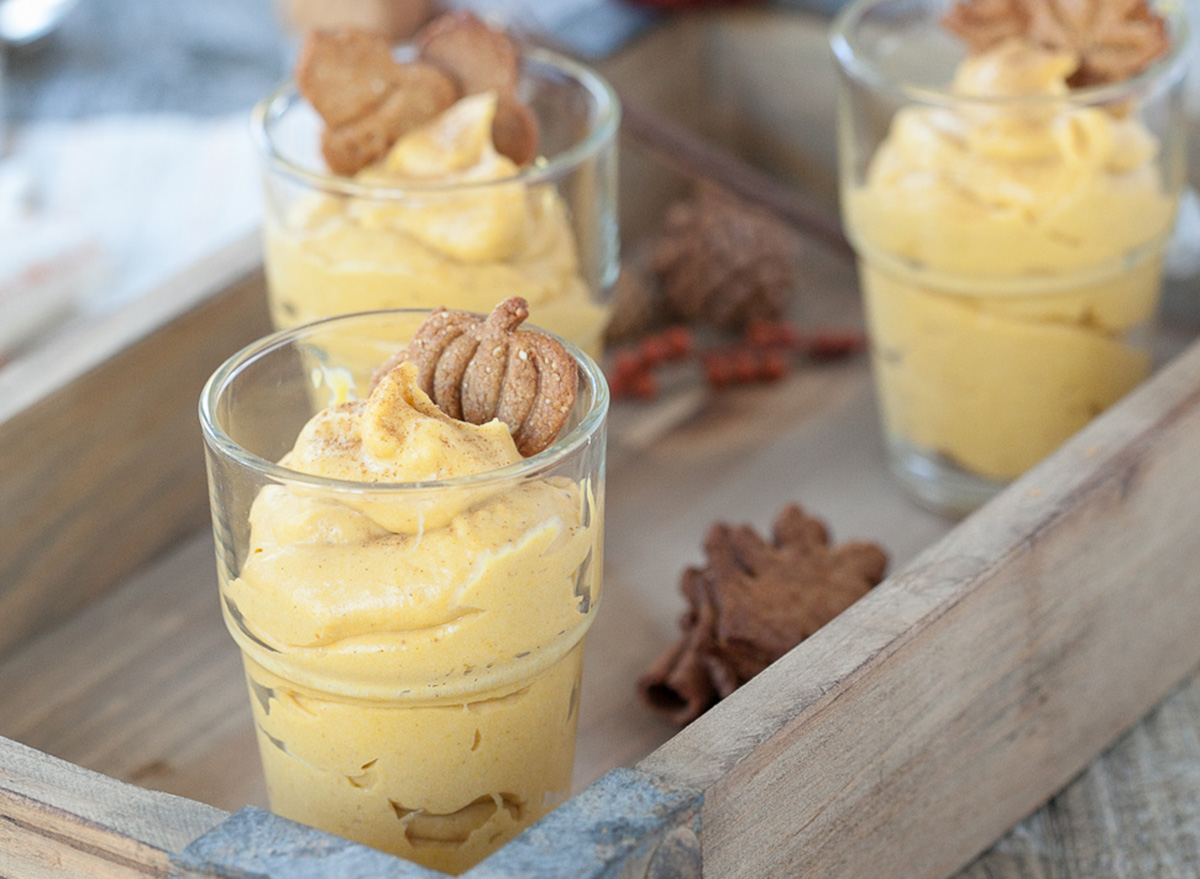 Speaking of dairy-free, this snack is perfect for those who do not drink milk. Enjoy this light and airy treat among friends during a movie night this fall.
Get this recipe from Against All Grain.
Pumpkin Cupcakes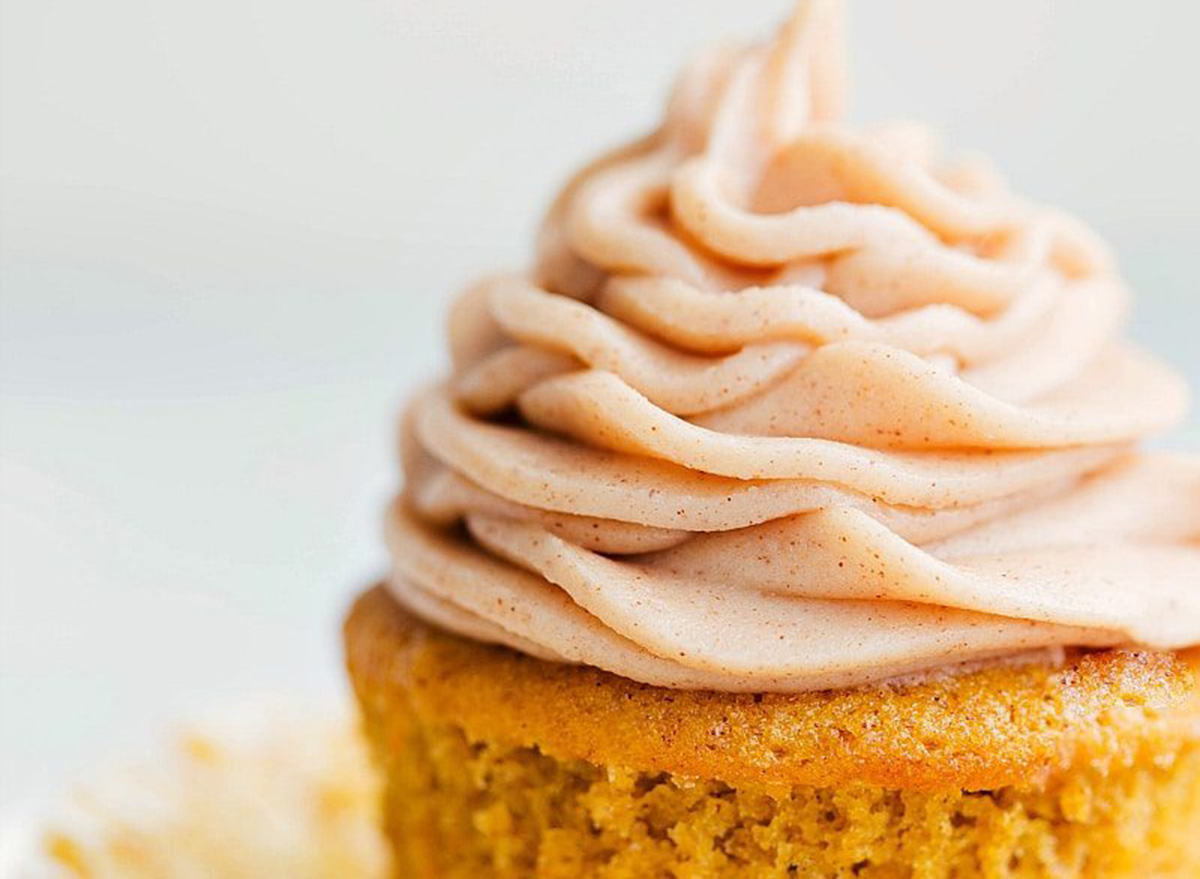 Pumpkin cupcakes with cinnamon cream cheese frosting? Could this recipe tantalize us even more?
Get this recipe from Chelsea's Messy Apron.
Pumpkin Pasta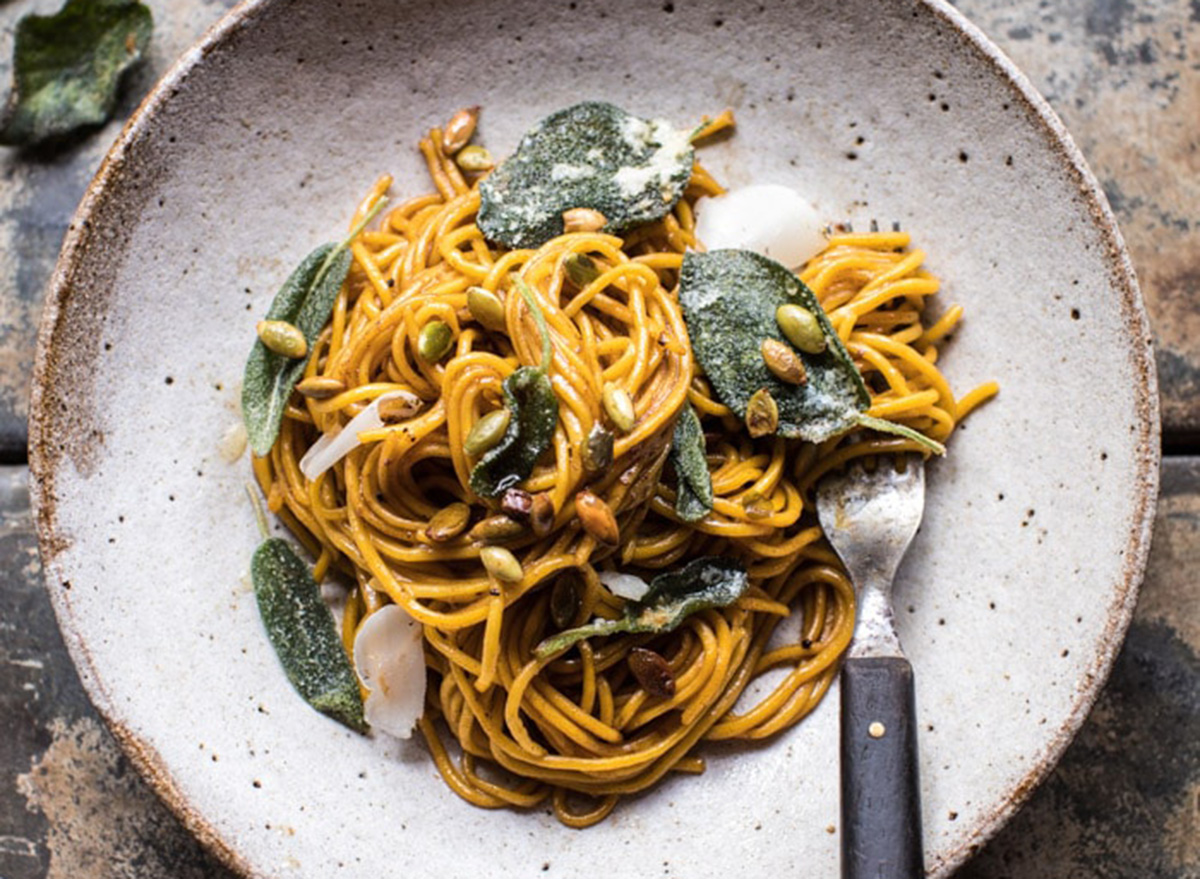 The pumpkin here is not in the sauce…it's in the noodles. This may be a more challenging recipe for some, but we just had to include it because of how gorgeous it looks once plated and ready to serve.
Get the recipe from Half Baked Harvest.
Roasted Pumpkin Soup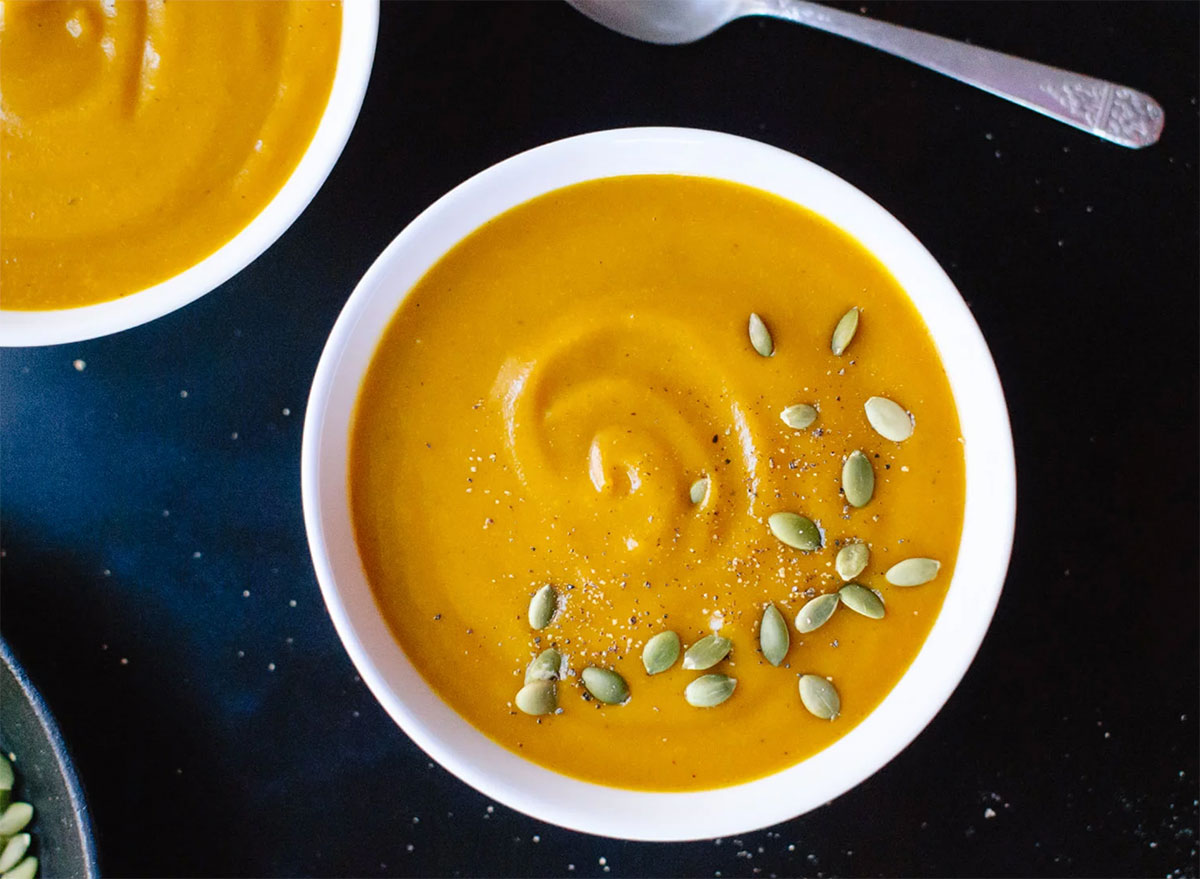 A bowl of soup on a cold autumn's (or winter's) day? Don't mind if we do.
Get the recipe from Cookie and Kate.
For more, check out these 108 most popular sodas ranked by how toxic they are.