Follow the lead of top nutrition experts with this roundup of the 6 foods doctors swear will lead to your happiest and healthiest life ever, gathered exclusively by Eat This, Not That!.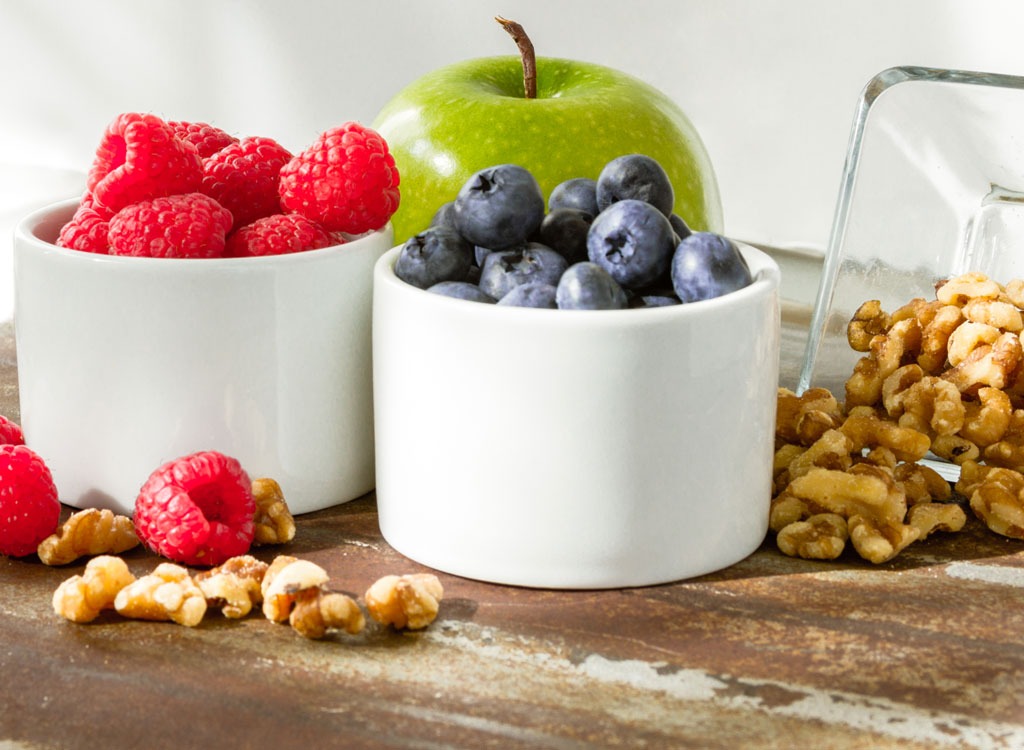 Gerard Mullin, M.D., director of the Johns Hopkins Integrative GI Nutrition Services and author of "The Inside Tract: Your Good Gut Guide to Great Digestive Health"
"Greek yogurt for palatability, satiation and protein content. Yogurt is also great for feeding the good bugs that live in your intestine, which improves the health of your microbiome, the community of microorganisms that live in your body. More and more research is pointing to probiotics as an effective treatment for weight management and obesity. It's amazing that feeding the good bugs actually helps people lose weight. Organic, grass-fed yogurt is best because you are getting a better omega fatty acid profile. When animals are fed corn they produce dairy with more omega-6s, but grass-fed animals produce dairy with more healthy omega-3s." Lucky you, we've compiled the ultimate list of the 9 Best Yogurts for Weight Loss.
Donald D. Hensrud, M.D, M.P.H., chair of the Division of Preventive, Occupational, and Aerospace Medicine at the Mayo Clinic College of Medicine and author of "The New Mayo Clinic Cookbook"6254a4d1642c605c54bf1cab17d50f1e
"For me the best food is dark greens, such as arugula, spinach, and lettuces. They are very low in calories, very high in nutrients, and can be prepared in a variety of ways that taste great —- many different types of salads, pasta dishes, lasagna, sandwiches, pesto, soups, or even a spinach pie! Locally in the summer is best and I always feel good about eating them, there's no downside."
David L. Katz, M.D., M.P.H., F.A.C.P.M., F.A.C.P., director of the Yale University Prevention Research Center and author of "Disease Proof"
"Chickpeas. They are, of course, a nutritional powerhouse like most legumes. They are a good protein source, and I especially like turning to chickpeas for protein so I don't need to eat meat. They have figured in the human diet since the very dawn of civilization, so they are nice connection to our ancestral roots. And they figure as well in some of my favorite cuisines from the Middle East. I love good hummus!"
Robert Lustig, M.D., M.S.L., director of the Weight Assessment for Teen and Child Health (WATCH) Program at the University of California, San Francisco, president of the nonprofit Institute for Responsible Nutrition, and author of "The Fat Chance Cookbook"
"Eggs! They have lots of high quality protein, especially tryptophan. Protein is satiating, and also you spend more energy converting it to a metabolite that can be burned, which aids in weight management. Eggs got a bad rap in the 1980's because of the cholesterol in the yolk. But it does not raise the small dense LDL, which is the atherogenic particle [the one that forms plaques in your arteries]. Eggs are great by themselves, with many different ways of preparation, or they can be added to foods easily."
Taz Bhatia, M.D., assistant professor at Emory University in Preventive/Integrative Medicine, director of the Atlanta Center for Holistic and Integrative Medicine, and author of "The 21-Day Belly Fix"
"I swear by avocados! The heart-healthy unsaturated fat in a delicious serving of avocado helps me stay full, which keeps me from snacking too much. Avocados are packed with vitamins C, K and B6 and they contain pre- and probiotics—keeping my gut healthy!" See 8 more reasons Why Avocados are the Perfect Weight-Loss Food.
Yoni Freedhoff, M.D., medical director of the Bariatric Medical Institute at the University of Ottawa, author of "The Diet Fix: Why Diets Fail and How to Make Yours Work"
"The one kind of food that most helps me live healthfully is nuts, and for me, any nut will do. I love them of course because they're delicious, but also because study after study suggests that their inclusion in my diet helps prevent many chronic diseases. I also love them because they are full of protein and healthy fats that leave me feeling fuller longer, which in turns helps me all day long with dietary restraint. One trick I like to do is buy a cheap 1/4 cup measuring cup to store with my container of nuts. Nuts are quite energy dense, with each 1/4 cup of whole nuts coming in at around 200 calories."
ALL NEW FOR 2015! Enjoy All Your Favorite Foods—And Watch the Pounds Disappear! Click here to buy the new Eat This, Not That! book, the authoritative guide to all your favorite restaurant and supermarket foods.
Eat This, Not That!
Inspired by The New York Times best-selling book series, Eat This, Not That! is a brand that's comprised of an award-winning team of journalists and board-certified experts, doctors, nutritionists, chefs, personal trainers, and dietitians who work together to bring you accurate, timely, informative, and actionable content on food, nutrition, dieting, weight loss, health, wellness, and more.
Read more about Eat This