The Healthiest Potato Salad Recipe
There's a good chance your friends will keep asking you to bring this to every picnic from now on!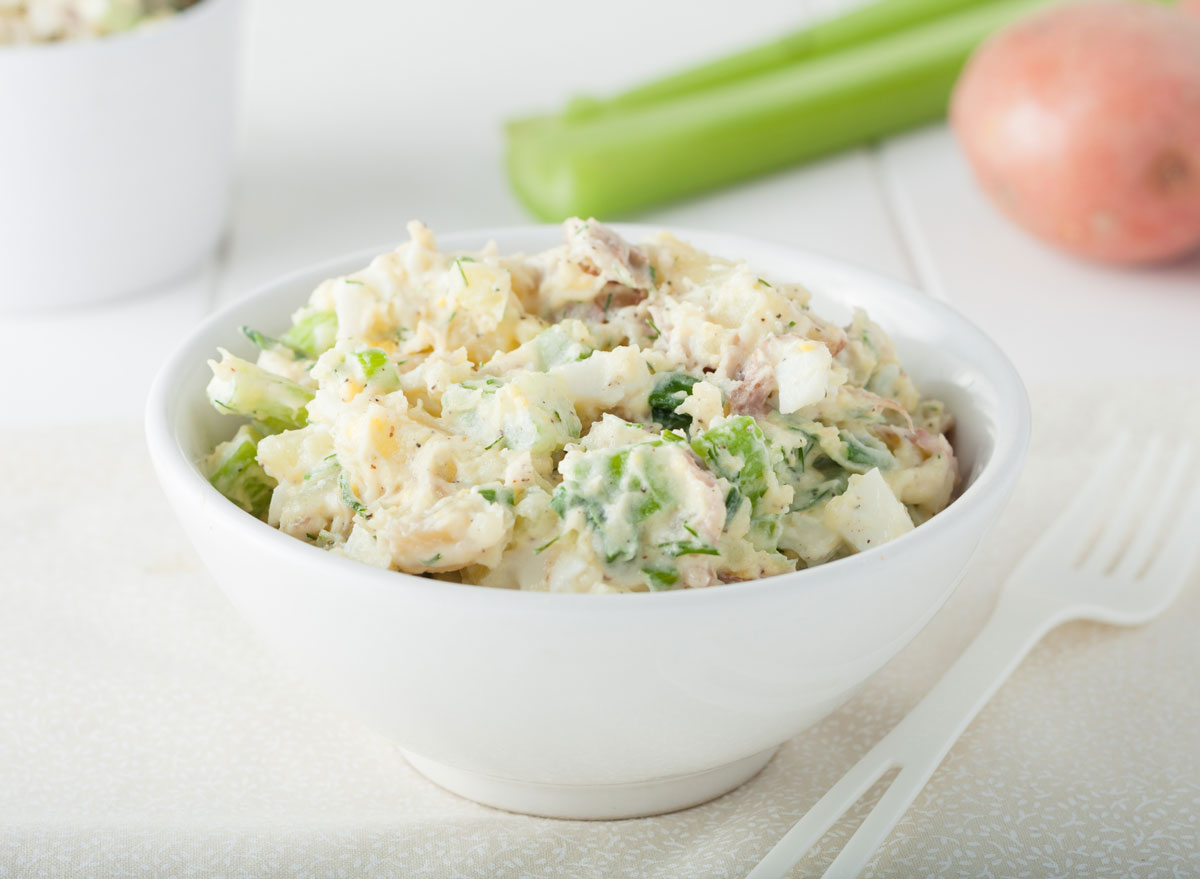 More often than not, when people order anything with the word "salad" in the title, they are doing so with the expectation that the dish that will be placed in front of them will be a healthy, low-calorie one. However, especially in American chain restaurants, that is frequently not the case. A particularly slippery slope of fatty salad territory are the heartier ones that don't use greens as a main ingredient, like chicken and potato salads. Most classic potato salads go in the category of salads that are decisively unhealthy. However, this version is about as classic as potato salad can get, except for the fact that we resist the urge to drown the vegetables in a viscous sea of mayo. Instead, the mayo is bolstered with Dijon and a tangy shot of vinegar. The result: a healthier potato salad that cuts nearly half the fat from the equation and still tastes like the picnic classic we all adore. Plus, its vegetarian-friendly, and if you cut the mayo out entirely and replace it with a greek yogurt based mayo instead (you know by now that we love us some Greek yogurt) it can be a dish fit for all your healthy picnic goers too!
Nutrition: 190 calories, 10 g fat (2 g saturated), 320 mg sodium
Serves 10
You'll Need
3 lb red potatoes, all similar in size
Salt and black pepper to taste
2 stalks celery, chopped
1⁄4 cup chopped pickles (preferably gherkins or cornichons)
1 small red onion, chopped
2 Tbsp Dijon mustard
1⁄2 cup mayonnaise
2 Tbsp white wine vinegar
3 hard-boiled eggs, chopped
Smoked paprika (optional)
How to Make It
Place the potatoes in a large pot and fill with enough cold water to easily cover.
Season the water with 1 teaspoon salt and bring to a boil.
Cook the potatoes until tender all the way through (The tip of a paring knife inserted into a potato will meet little resistance). Drain.
When cool enough to handle, chop the potatoes into 3⁄4" pieces.
Place in a large bowl and add the celery, pickles, onion, mustard, mayonnaise, vinegar, and eggs. Toss to coat.
Season with salt and pepper and sprinkle with the paprika (if using).
This recipe (and hundreds more!) came from one of our Cook This, Not That! books. For more easy cooking ideas, you can also buy the book!