Healthy Snack Alternatives for Every Craving
If it weren't for cravings, losing weight would be a heck of a lot easier—and faster. Satisfy them without expanding your waistline with these alternatives.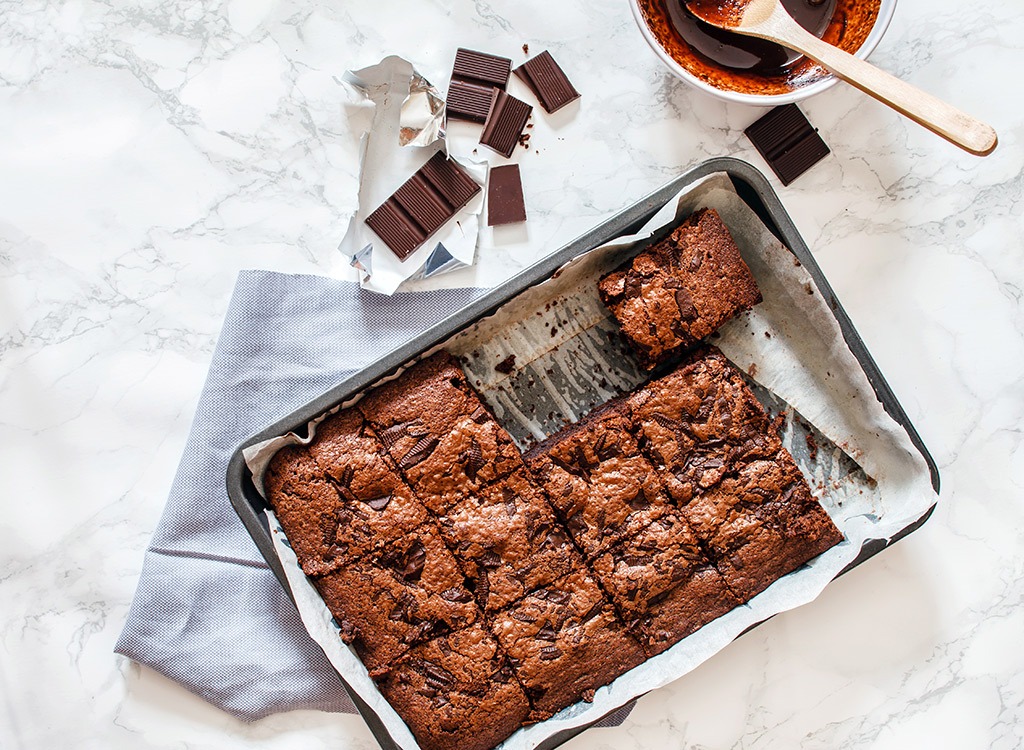 They sneak up on you when you least expect it, at the end of a day when you were doing so well, eating so clean. Whether you're a victim of late-night salt urges or post-workout sugar pangs, you don't have to destroy your progress by giving in—and you certainly don't have to white knuckle it through the cravings. We offer you healthier snack alternatives to some of your favorite guilty snacks. Remember, moderation is key, but when you need to satisfy your hunger, don't start shoveling your face with potato chips and cake—try one of these instead: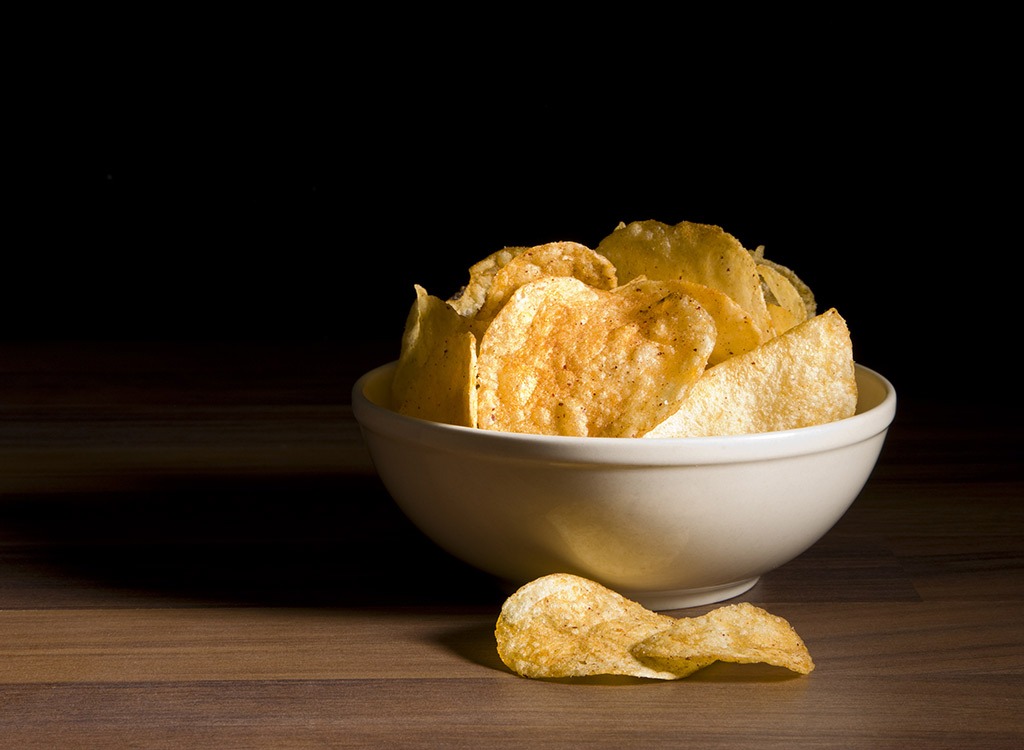 Just 1 ounce of kettle-cooked potato chips (approximately 15 chips) have 150 calories and 9 grams of fat. A standard bag of chips is 8 ounces, so it's easy to let a chip binge get out of control.
TRY THIS INSTEAD:
1 oz. of air-popped popcorn kernels: This should pop up to over 3 cups, but has just 110 calories, 1.3 grams of fat and has 4 grams of fiber.
Nuts and seeds: They may be calorie-dense—they contain between 120 and 190 calories per ounce—but they're high in fiber and good fats, which will make you feel fuller, longer than starchy chips.
Briny foods: Olives, low-sodium dill pickles, sauerkraut and kimchi, a Korean spicy pickled cabbage dish, are all good options. Six olives have just 20 calories and 1.5 grams of fat, and sauerkrat and kimchi both have fewer than 15 calories per 2-ounce serving.
Seaweed snacks: These are a good alternative to chips if you want a crunch without any guilt. A 6-ounce package has just 30 calories.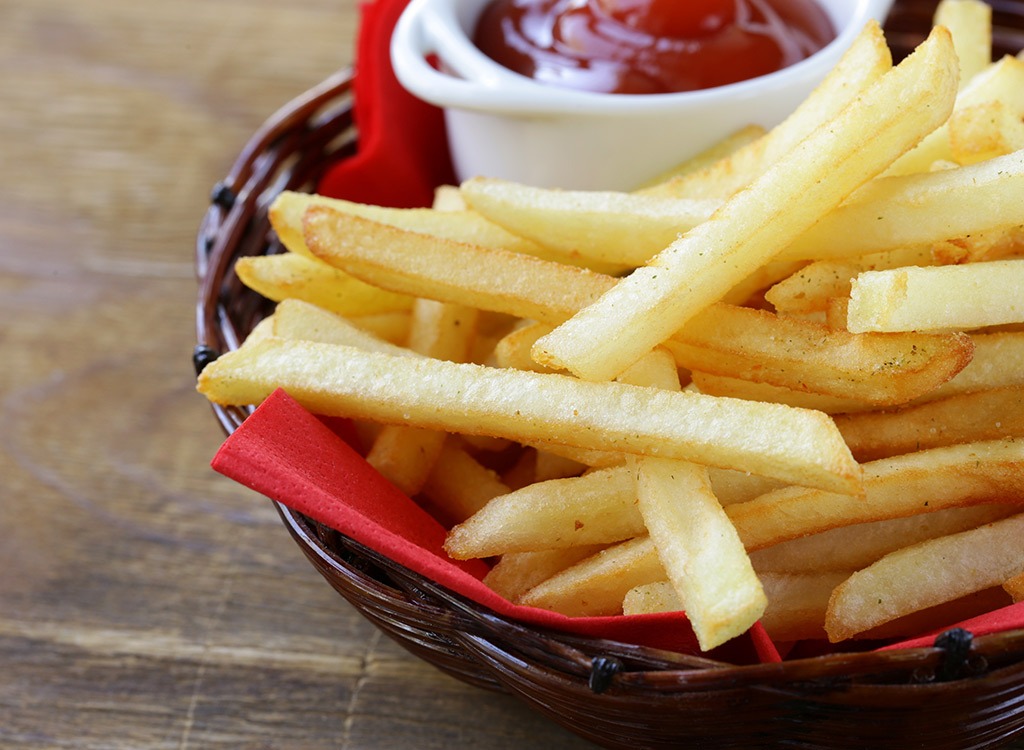 One small order of McDonald's French fries (2.5 oz.) has 230 calories and a whopping 11 grams of fat. A small order of Burger King onion rings (approximately 2 oz.) has 180 calories and 9 grams of fat.
TRY THIS INSTEAD:
One cup of edamame: Boil shelled or unshelled for 3–5 minutes and sprinkle with sea salt. This snack has 189 calories and 8 grams of fat, but it's packed with 8 grams of fiber and 17 grams of protein.
Traditional baked potato: Choosing this instead of fried will give you 161 calories, less than a gram of fat and 4 grams of fiber.
Multigrain flatbread with

hummus

: You can also opt for Greek yogurt spread. Both have approximately 25 calories per tablespoon.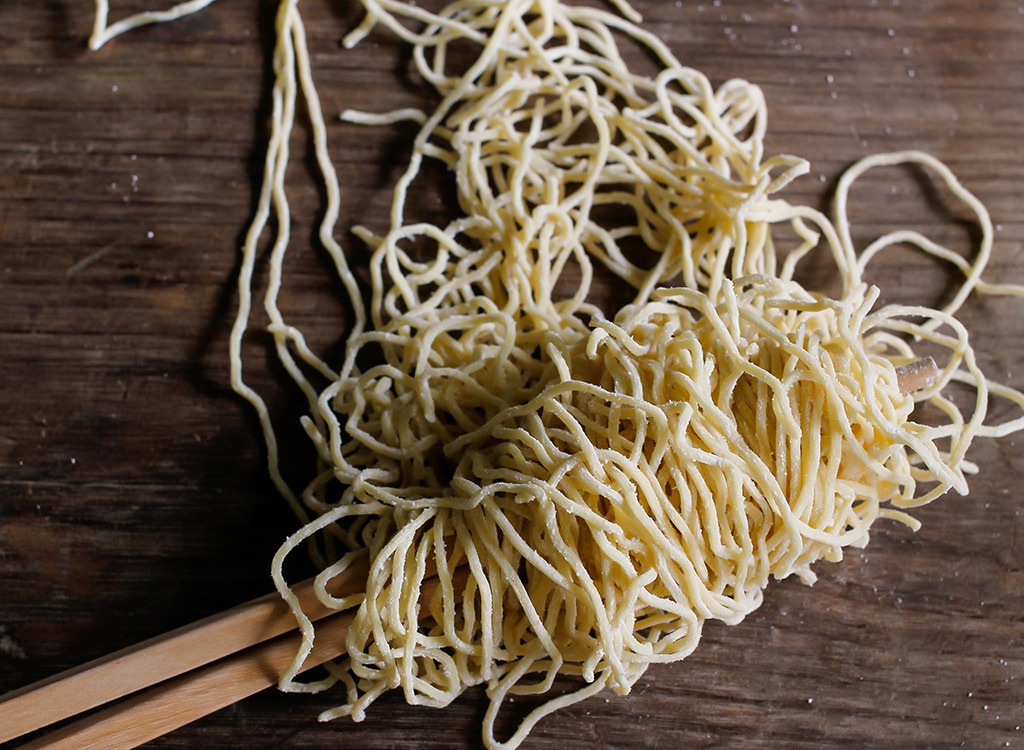 A package of ramen contains between 350 to 400 calories and approximately 14 grams of fat. The soup base also contains MSG, a flavor enhancer that has been shown to cause nerve damage.
TRY THIS INSTEAD:
Canned low-sodium minestrone: This comforting classic is a better option with just 82 calories per cup and 2.5 grams of fat, but always be sure to make sure it doesn't have MSG.
Miso soup with buckwheat noodles: Add 1/4 cup shiro miso paste (find at any health or Asian food store), 1/4 cup scallions, a cup of cooked buckwheat noodles and a dash of soy sauce. Bring soup to a low simmer—do not boil—until the miso is dissolved. Miso soup has just 45 calories and 1 gram of fat per cup while buckwheat noodles have about 113 calories per cup.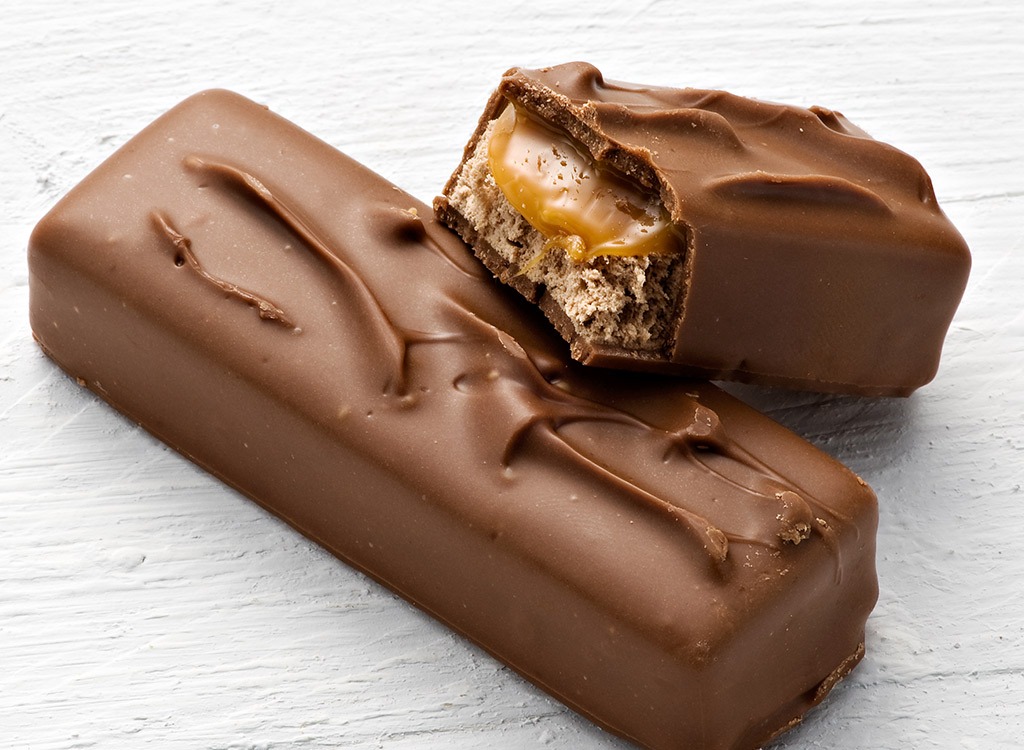 One Snickers candy bar contains 280 calories, 14 grams of fat and 35 grams of carbs.
TRY THIS INSTEAD:
70% cacao dark chocolate: One bar of Green & Black's 70% dark chocolate has 190 calories, 14 grams of fat and 4 grams of fiber. You'll load up on antioxidants without overdosing on sugar; dark chocolate is potent enough that you'll likely be satisfied with one serving.
Protein bars: Protein bars, like those from Quest, will satisfy and satiate. Choose from chocolate, cookies n' cream, chocolate peanut butter, blueberry, and many more varieties. The flavors will banish your craving while the protein actually fills you up, something a candy bar could never do.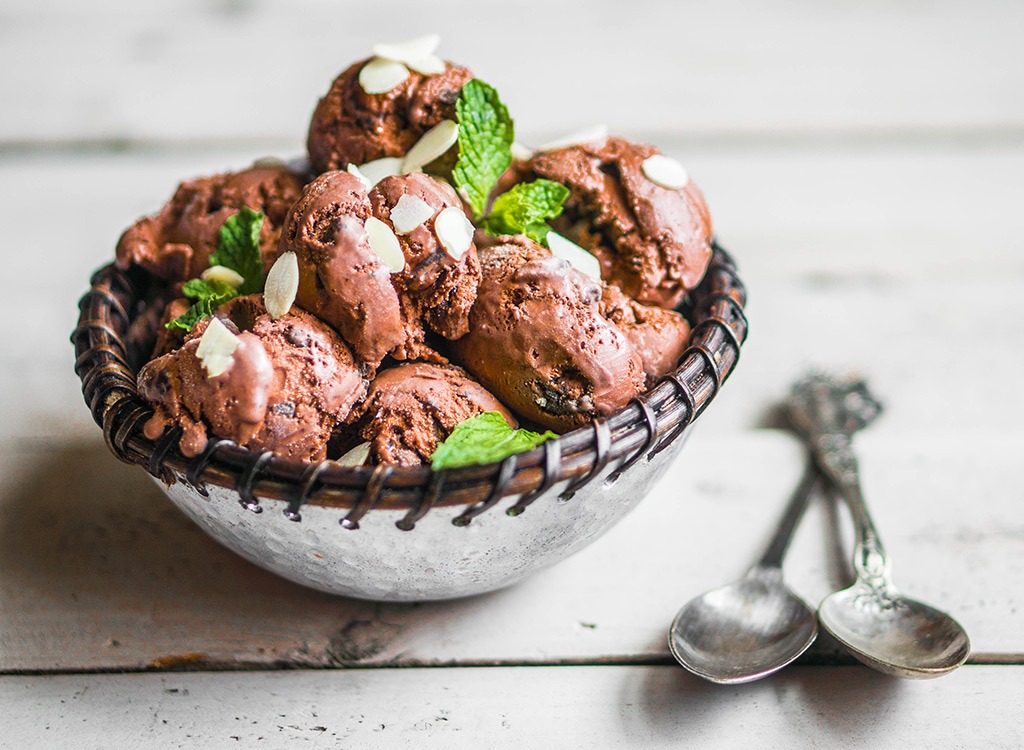 A half-cup of Haagen Dazs vanilla ice cream has 270 calories and 18 grams of fat. Once you get to more decadent flavors like chocolate chip cookie dough, the calorie count goes up to 310 with 20 grams of fat.
TRY THIS INSTEAD:
Sorbet, sherbet, or frozen yogurt: If you have a really stubborn craving, all of these are a healthier alternative to ice cream. Most are fat free, but high in sugar, so indulge in moderation.
Protein shake: One scoop of a plant-based protein powder of your choice, 1/2 cup mixed berries, one banana or 1/2 cup fruit yogurt, 12 ounces skim milk, handful of ice cubes—to make sure it's creamy and cool.
Cinnamon apples: Peel, core and slice two apples, sprinkle the wedges with cinnamon and sugar (or a sugar substitute) and microwave for 10 minutes. Top with a dollop of vanilla yogurt.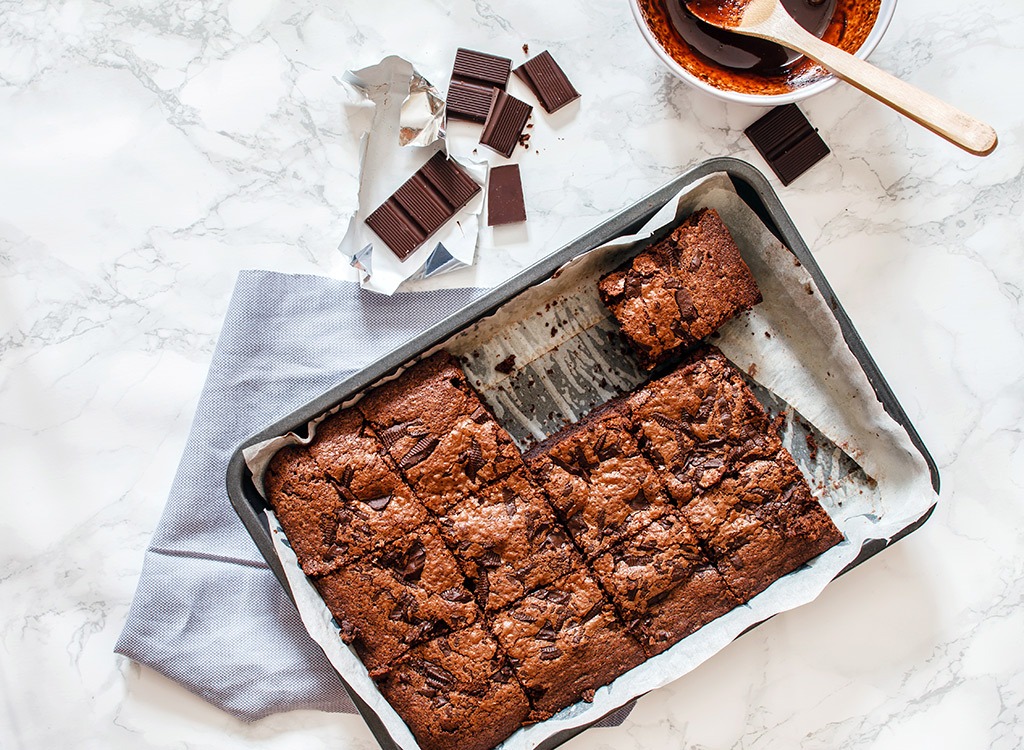 A slice of Betty Crocker chocolate fudge cake has 280 calories (before the frosting) while just one Krispy Kreme glazed doughnut has 200 calories and 12 grams of fat.6254a4d1642c605c54bf1cab17d50f1e
TRY THIS INSTEAD:
Angel food cake: This treat lives up to its name with just 80 calories per slice and less than a gram of fat, so you can literally have your cake and eat it, too.
Mug cake: Make your own single-serving cake in a coffee mug. You'll not only enjoy it more because you made it (science says so), but also eat less since it runs out and you're less likely to go through the process of making another than reaching for that second brownie or slice of cake.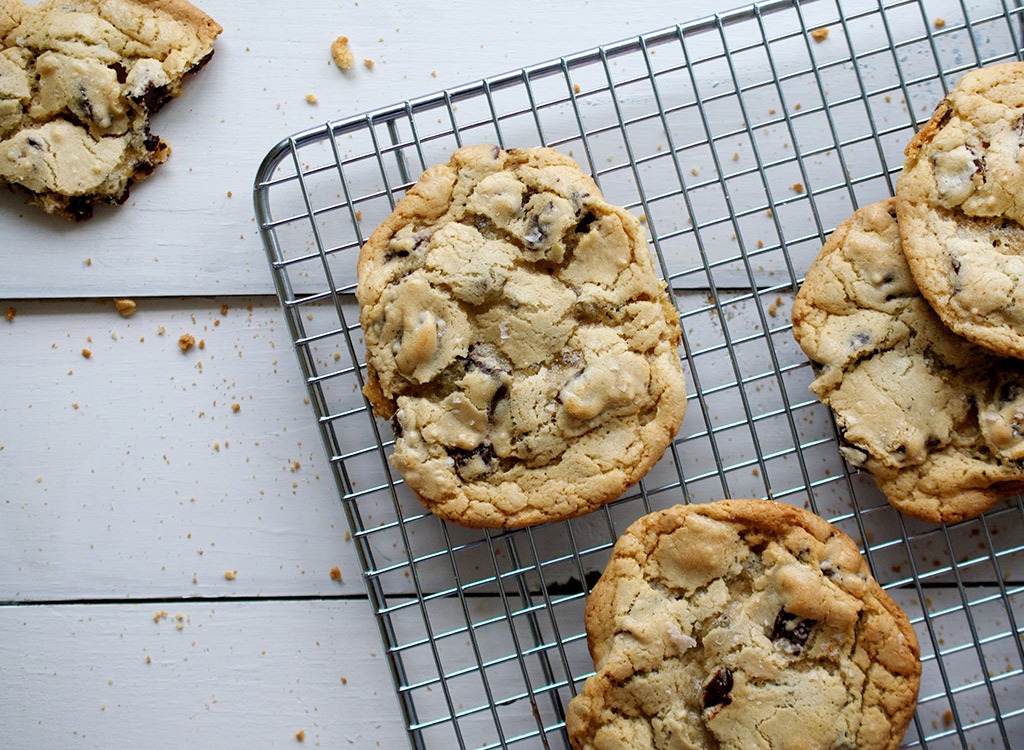 Just three Chips Ahoy! chocolate chip cookies have 160 calories and 8 grams of fat (and who just eats three?).
TRY THIS INSTEAD:
Fig bars: These cookie-like treats are healthier than most homemade or packaged alternatives. Two Deerfield Farms fig bars have 90 calories and 1 gram of fat compared to two homemade chocolate chip cookies at 120 calories and 14 grams of fat.
Nutrition bars: Some varieties are fattening due to the fat in nuts and amount of oil added in many commercial bars, but if you read labels right, you can find a good one that will help satisfy your craving. Try any of these best nutrition bars.
Courtesy of Men's Fitness
Eat This, Not That!
Inspired by The New York Times best-selling book series, Eat This, Not That! is a brand that's comprised of an award-winning team of journalists and board-certified experts, doctors, nutritionists, chefs, personal trainers, and dietitians who work together to bring you accurate, timely, informative, and actionable content on food, nutrition, dieting, weight loss, health, wellness, and more.
Read more about Eat This