Healthy Snacks for Weight Loss
Snacking is to weight loss as fuel is to a vehicle. Without the former you're not going to make any progress.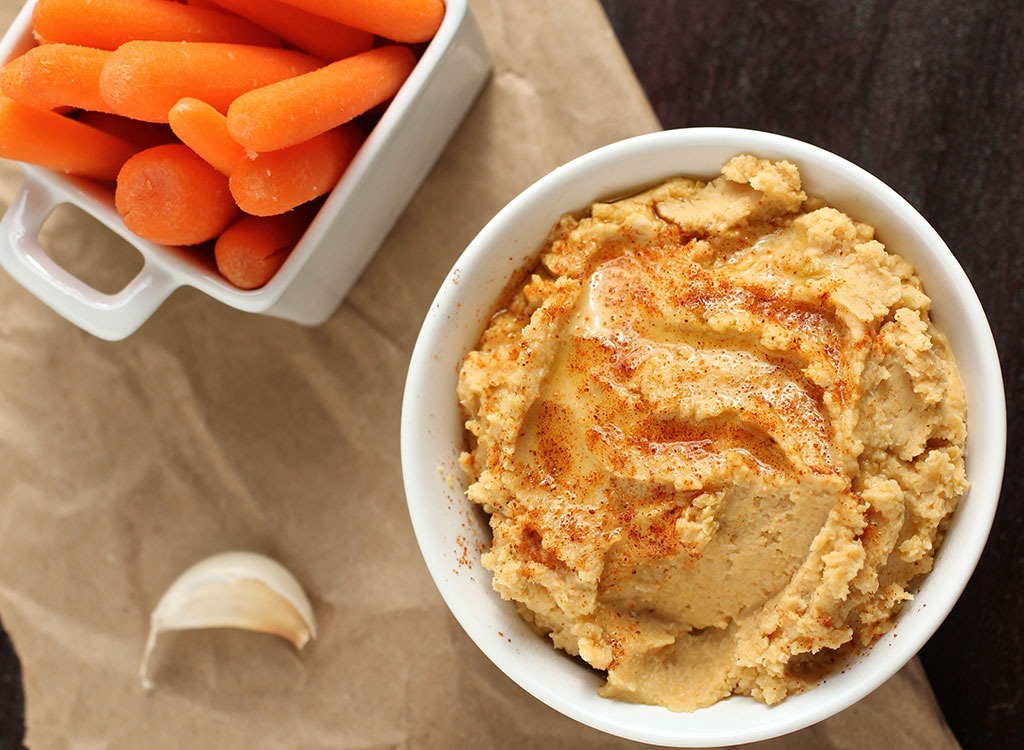 That's because noshing between meals staves of hunger and prevents overeating. Ironically though, crafting the perfect mini-meal often means staying out of the snack aisle. Aside from a few hidden gems (which we shed light on here), nearly everything you'll find there is total junk. Oreos, Chips Ahoy!, Cheetos—these heavily processed nutritional vortexes do little to stem hunger. Luckily, there are more than a few ways to put a solid snack together.
Here, we've created a range of two-piece snack combinations, one part relying on a healthy vehicle like fresh fruit and Ezekial bread, the other a tasty topper or mix-in. Each pairing adds up to 250 calories or less, and is chock-full of the most satiating nutrients around: fiber, protein and healthy fats, all of which boost metabolism and keep your body burning calories around the clock. More than anything, you'll see how easy it is to put together a great-tasting combo that can help you get flaunt-worthy flat abs. Read on to get in the know.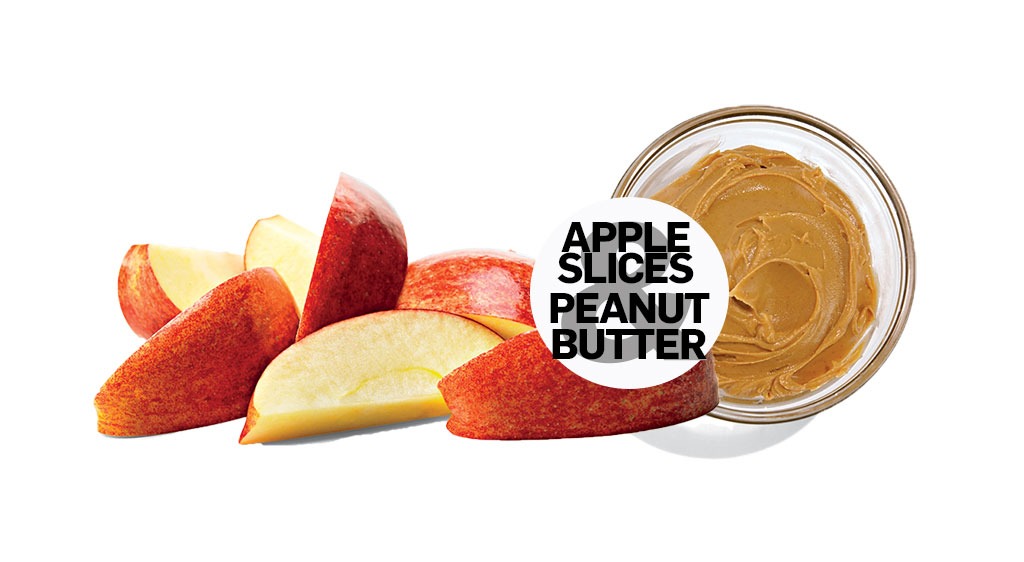 Serving size: 1 medium apple & 1 tablespoon of natural peanut butter
Nutrition: 189 calories, 8.2 g fat, 1.5 g saturated, 28.8 g carbs, 5.3 g fiber, 20 g sugar, 4 g protein
Crunchy, filling (thanks to their high water and fiber content) and packed with nutrients, apples are one of the best weight loss fruits around. Smearing on all-natural peanut butter adds a creamy texture and slow-digesting, heart-healthy monounsaturated fats to the equation, which keeps your belly satiated until your next meal. Bonus: Peanuts are a top source of genistein and resveratrol, two nutrients that help diminish the action of fat-storage genes.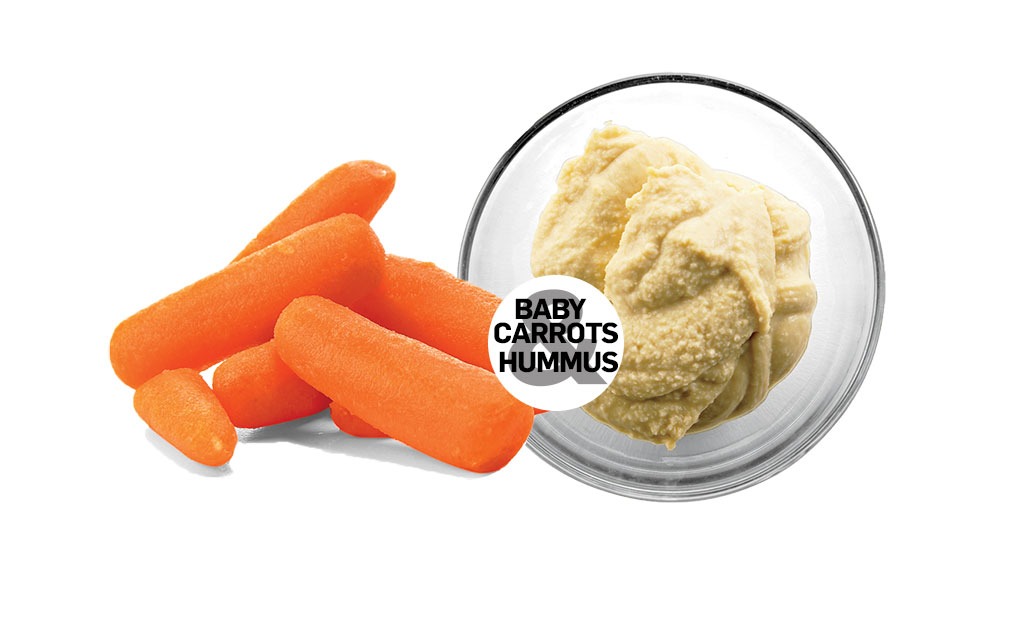 Serving size: 15 baby carrots with ¼ cup (2 oz) hummus
Nutrition: 181 calories, 6.1 g fat, 0.8 g sat fat, 233 mg sodium, 27.2 g carbs, 10.2 g fiber, 10.7 g sugar, 6.2 g protein
In addition to providing healthy fat, fiber and weight-loss fueling protein to your plate, this savory duo is packed with belly-filling water, vitamin A (which helps the body synthesize protein) and magnesium, a mineral that helps boost lipolysis, a process by which your body releases fat from its stores. If you tend to snack away from home, look for single-serving hummus containers, and throw your veggies into a plastic snack bag to reap the benefits on the go.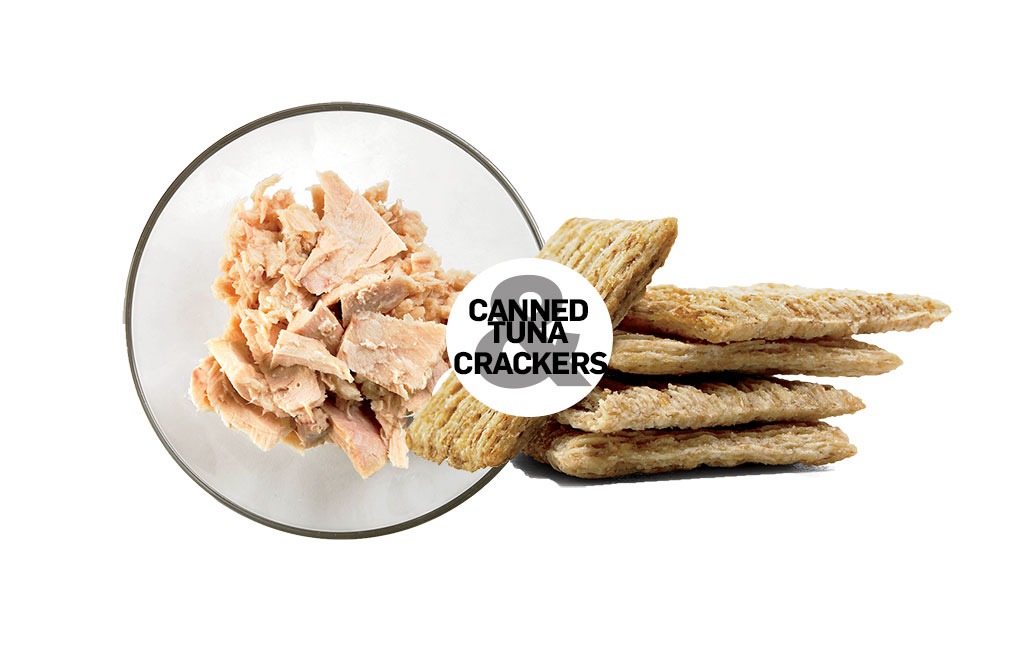 Whole Wheat Crackers + Tuna in Water
Serving size: 6 Triscuit Baked Whole Grain Wheat Original crackers & 3 oz. tuna can
Nutrition: 180 calories, 3.5 g fat, 0.5 g saturated fat, 320 mg sodium, 20 g carbs, 3 g fiber, 0 g sugar,18 g protein
Unlike the majority of crackers you'll find in the grocery store, Triscuit's Baked Whole Grain variety is made with just three ingredients, of which fiber-rich whole-grain wheat is the most abundant. Low-cost, protein-rich tuna makes for a tasty cracker addition and is a solid source of docosahexaenoic acid. This type of omega-3 down-regulates fat genes in the stomach, preventing fat cells from growing larger and keeping you on track toward your trim-down goal.
Cinnamon Raisin Sprouted Whole Grain Bread + Peanut Butter
Serving size: 1 slice Ezekiel 4:9 Cinnamon Raisin Sprouted Whole Grain Bread & 1 tablespoon of peanut butter
Nutrition: 174 calories, 7.9 g fat, 1.5 g saturated, 65 mg sodium, 21.8 g carbs, 2.9 g fiber, 1 g sugar, 6.5 g protein
Though this creamy and sweet combination tastes indulgent, nutritionally it's anything but. The raisins in the Ezekiel bread provide natural sweetness, which helps nip sugar craving in the bud, while the vitamin B6 and manganese-rich whole grains help boost your mood, making it ideal for afternoon slump snack attacks. The nut butter contributes hunger-busting healthy fats and a solid hit of waist-whittling meat-free protein. To keep excess pounds at bay, be sure to buy varieties free of health-harming hydrogenated oils and added sugar.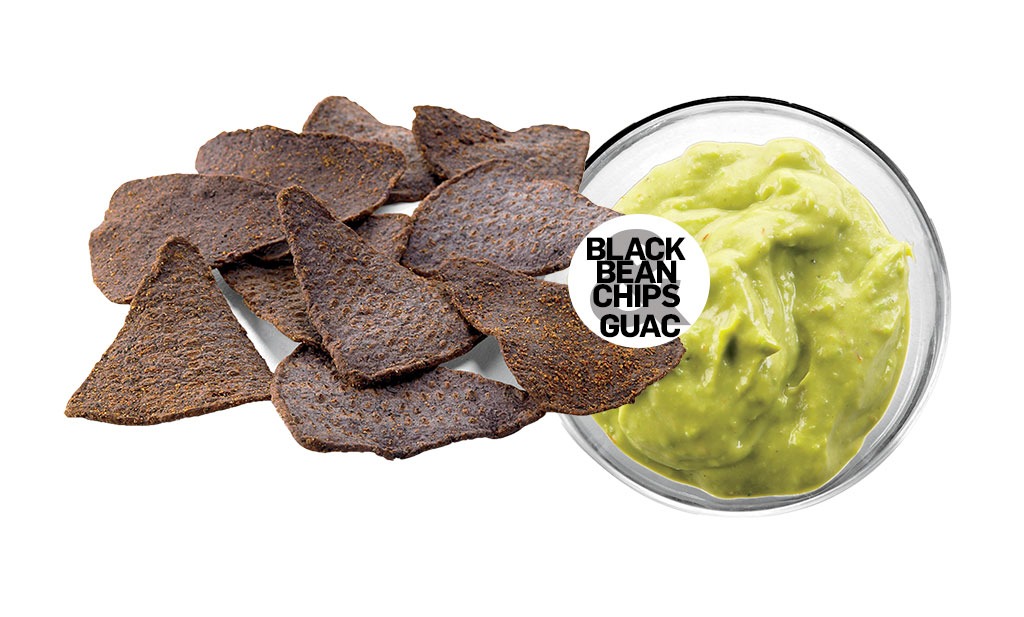 Black Bean Chips + Guacamole
Serving size: 12 Beanitos Original Black Bean Chips with Wholly Guacamole Classic 100 Cal Minis
Nutrition: 240 calories, 16 g fat, 2 g saturated fat, 255 mg sodium, 20 g carbs, 8 g fiber, 0 g sugar, 5 g protein6254a4d1642c605c54bf1cab17d50f1e
Yes, you read that right; you have our permission to eat chips—so long as they are the nutrient-packed variety. We like Beanitos Black Bean Chips because they pack in more protein and fiber than a "regular" crisp. To boost the staying power of your snack, pair the sea salt-sprinkled treats with a 100-calorie pack of guac. Avocado—the primary ingredient in guacamole—packs healthy monounsaturated fats that contain oleic acid, which helps quite feelings of hunger.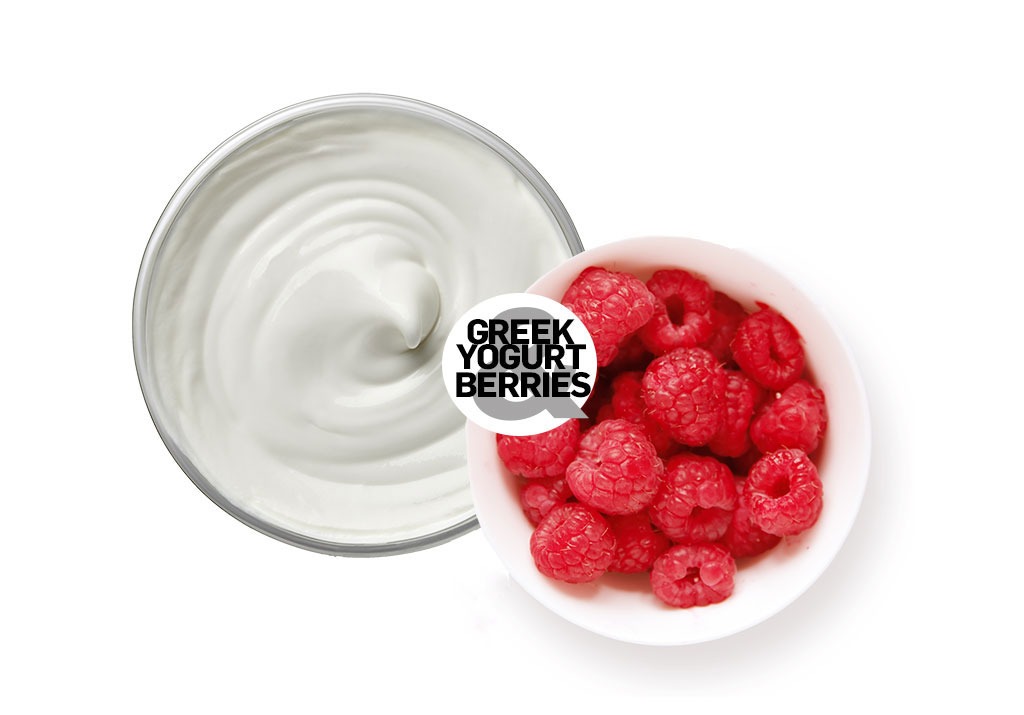 Plain Greek Yogurt + Raspberries
Serving size: 1/4 cup raspberries & 7 oz. Fage 2% Total yogurt
Nutrition: 166 calories, 4.2 g fat, 3 g saturated fat, 11.6 g carbs, 2 g fiber, 9.4 g sugar, 20.4 g protein
This low-cal, high-protein treat packs a sweet and creamy taste that's sure to satisfy your taste buds and rumbling belly. Opting for 2% over low-fat yogurt boosts this snack's staying power and ups the odds your container will be free of sugar and fat substitutes—and, yes, those can be found in even the flavorless varieties. Adding in some raspberries is a no-brainer: Packing more fiber and liquid than most other fruits, the sweet red fruit boosts feelings of satiety without doing damage to your waistline.
FOR HUNDREDS MORE WEIGHT-LOSS IDEAS, click here for our new book Eat This, Not That! 1,247 Awesome Slimming Swaps. Order now to get your FREE GIFT!