11 Super Bowl Snacks Your Guests Will Never Believe Are Better for You
Queso dip, pigs in a blanket, and more game-day classics get some much-need makeovers (and still taste good).
In partnership with Wonderful Pistachios®
Between the tense rivalries, sip after sip of alcohol, and a day-long marathon of stuffing your face, it's no surprise that the Super Bowl can leave you feeling boozed and bloated. The thing is, you don't need to sabotage your health this year while watching the Big Game. Don't worry, we're not going to say you have to ditch your favorite football foods. All you have to do is choose the right version of them.
You can still enjoy game day with these healthier-for-you snack ideas that still taste indulgent. We worked our Eat This, Not That! magic to give nutritional makeovers to all your favorite football snacks. That way, your guests will never believe these Super Bowl snacks are as healthy as they really are.
From choosing Sweet Chili Wonderful Pistachios over oily potato chips to taking the pigs out of their blankets, we have all the classic football snacks you and your guests want—just healthified.
Eat This! Instead of: Potato chips
Rather than dunking your hand into a bowl of oily potato chips, grab a bag of protein powered Sweet Chili Pistachios from Wonderful. If your guests are coming over in an hour and you haven't prepared any appetizers yet, this preseasoned bag of healthy nuts can be thrown in a bowl and set out on the table. Each one-ounce serving of pistachios has 6 grams of plant-powered protein. The latter option is sure to satisfy your guests while fulfilling all their desires of constant munching.
Buy a bag of Sweet Chili Wonderful Pistachios on Amazon.
Hasselback Kielbasa with 3 Dipping Sauces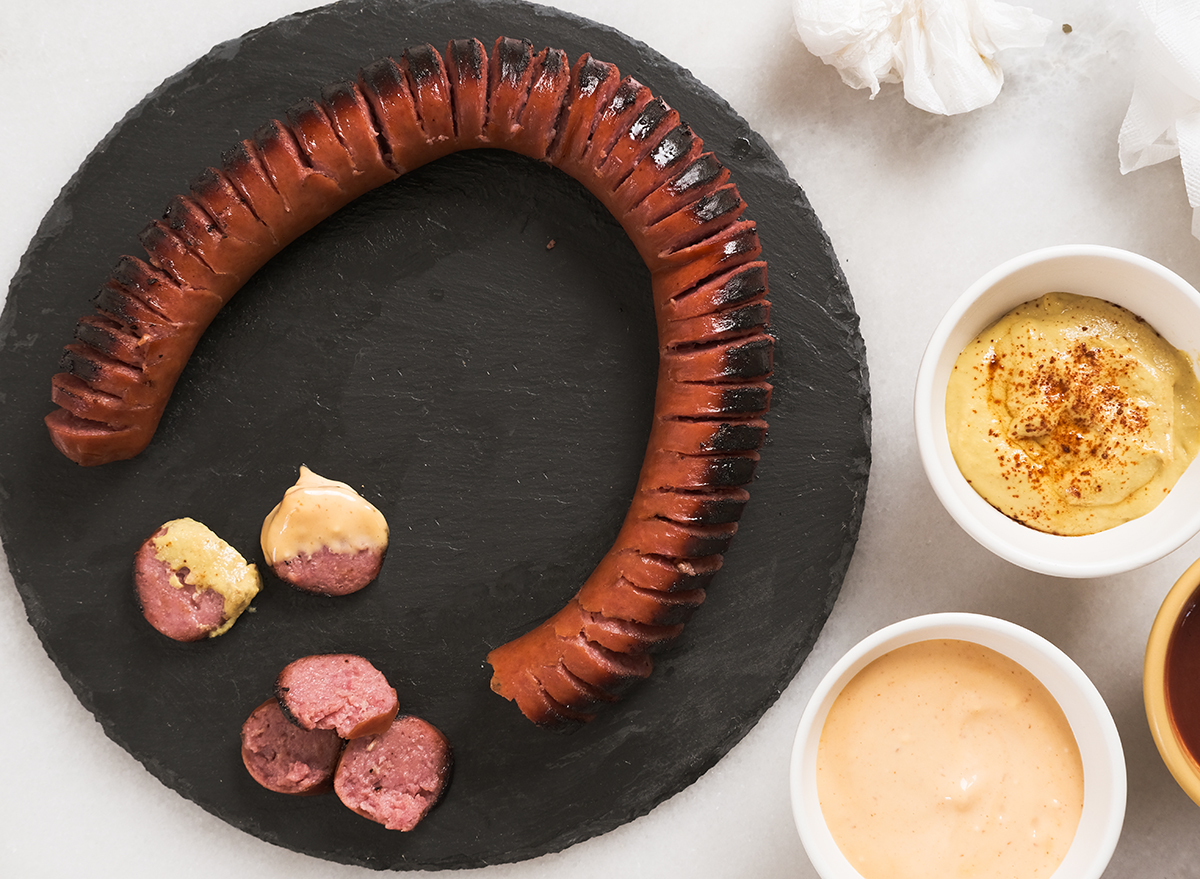 Eat This! Instead of: Pigs in a blanket
Take those pigs out of a blanket and save yourself the empty carbs. Instead, serve this Hasselback kielbasa—a rippable, dunkable version of polish sausage—alongside the usual accouterments like spicy mustard and ketchup. It looks fancy, but your guests will never realize all it takes to prepare is some simple knifework.
Get the recipe for Hasselback Kielbasa Recipe with 3 Dipping Sauces.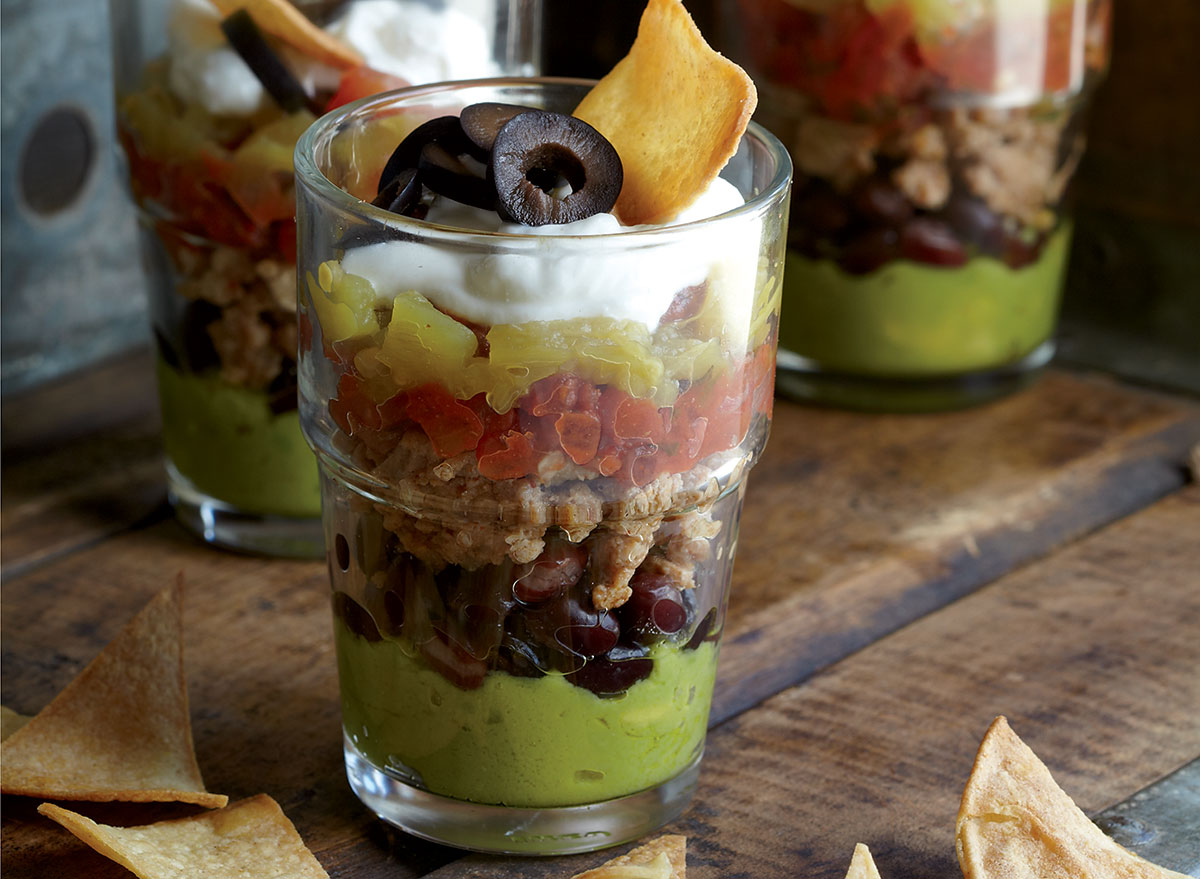 Eat This! Instead of: Mexican 7-layer dip
Ah, the classic 7-layer dip. It's a staple for potlucks and Super Bowl parties, alike. But while most versions of the dip pile one caloric food on top of another—resulting in a sludgy stew with almost no texture—our version is made with simple ingredients and nuanced textures. We lighten up the dip using spicy ground turkey, fresh pico de gallo, and whole black beans (instead of the fatty refried stuff) and top it all off with a spoonful of creamy Greek yogurt instead of sour cream.
Get the recipe for Healthy 7-Layer Dip.
Pistachio and Cranberry Cheese Ball Recipe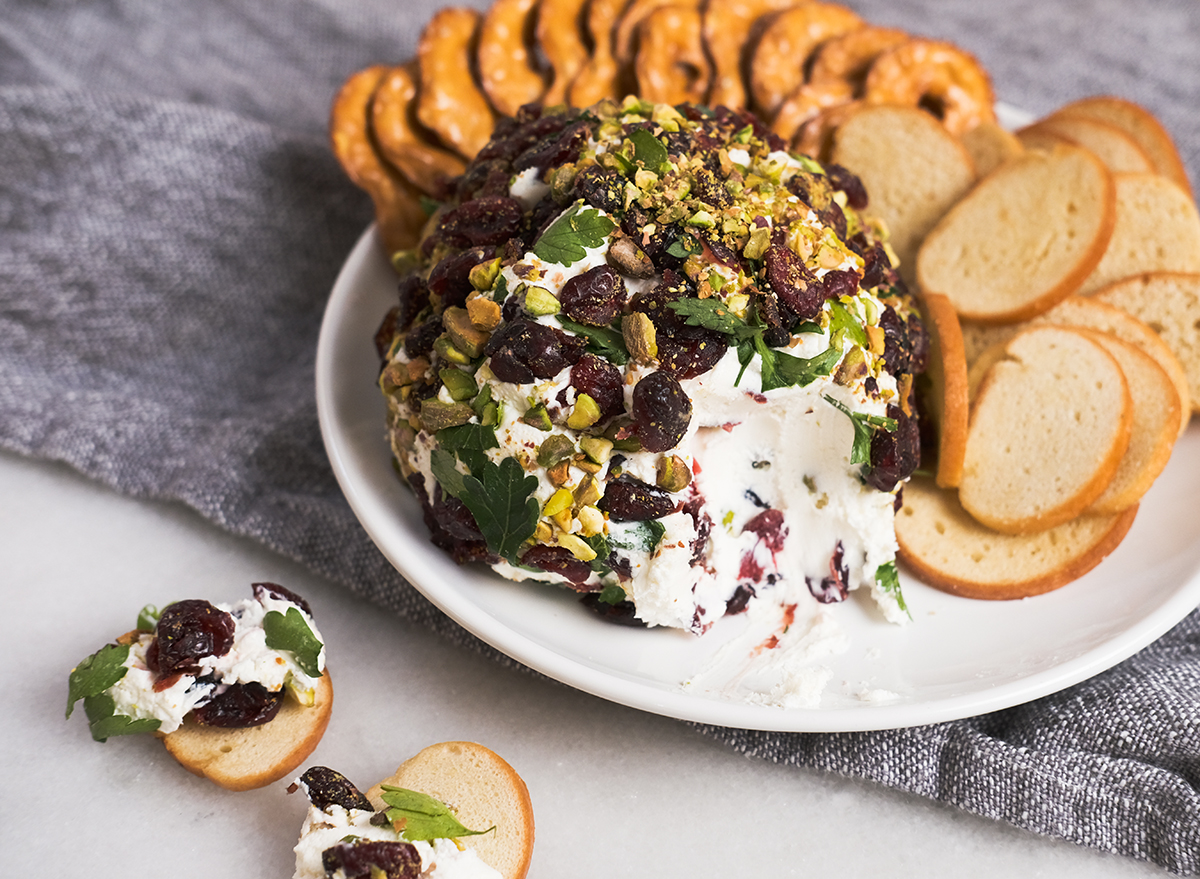 Eat This! Instead of: Queso cheese dip
When you really think about it, does microwaving a jar of artificially-colored, cheese-flavored goop sound that good? Serve your guests a cheese dip with actual flavor, and make this pistachio, craisin, goat cheese ball using Wonderful Pistachios No Shells. Need a little more convincing than just taking a look at those beautiful colors? Wonderful Pistachios are The Original Plant-Based Protein™, delivering 6 grams of protein per ounce, so adding them to this cheese ball recipe brings you closer to the snack endzone.
Get the recipe for Pistachio and Cranberry Cheese Ball Recipe featuring Wonderful No-Shells Pistachios.
Cheese and Chorizo Stuffed Jalapeños Recipe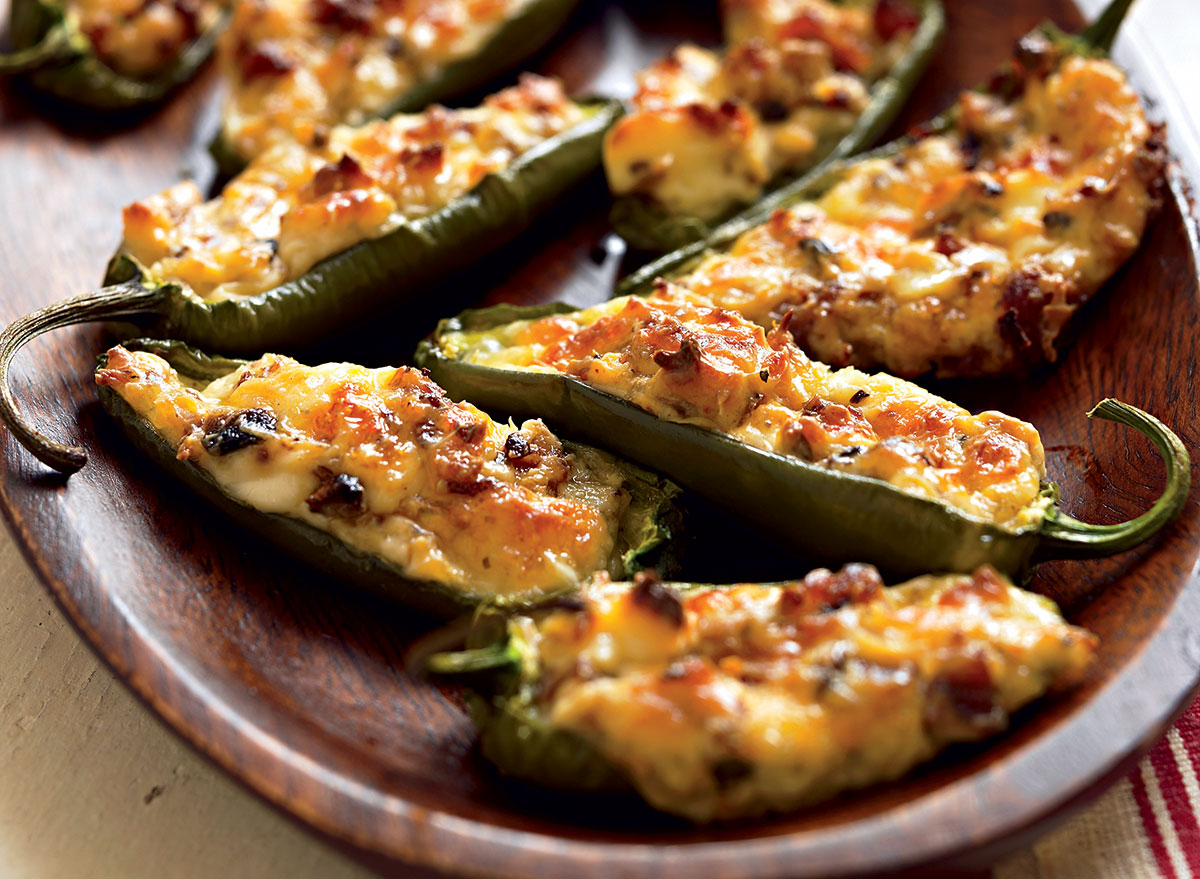 Eat This! Instead of: Cream cheese and bacon stuffed jalapenos
Your typical jalapeno popper has not one, but two types of cheese and come with an inevitable coating of oil once the peppers emerge from the deep fryer. Luckily, we found a way to harness the heat of jalapeños and the creaminess of cheese without weighing you down with a full day's worth of calories. In our healthy stuffed jalapeños recipe, we pull back on cheese quantity and double up on quality, flavorful ingredients.
Get the recipe for Cheese and Chorizo Stuffed Jalapeños Recipe.
Charcuterie Board With Pistachios
Eat This! Instead of: Cheese and crackers6254a4d1642c605c54bf1cab17d50f1e
When your guests arrive, welcome them with a better-for-you charcuterie board featuring Wonderful In-Shell Pistachios. While many charcuterie boards are heavy on carb-heavy crackers, put together a variation featuring more protein-powered pistachios. These colorful nuts may help you feel full thanks to their winning combination of protein, fiber, and healthy fats. Plus, the empty shells are a visual reminder of how much you've eaten, which may help you eat less and consume fewer calories. (That way, they can save room for our other Super Bowl snacks.)
Buy a bag of Wonderful In-Shell Pistachios on Amazon.
Naked Baked Fiery Buffalo Wings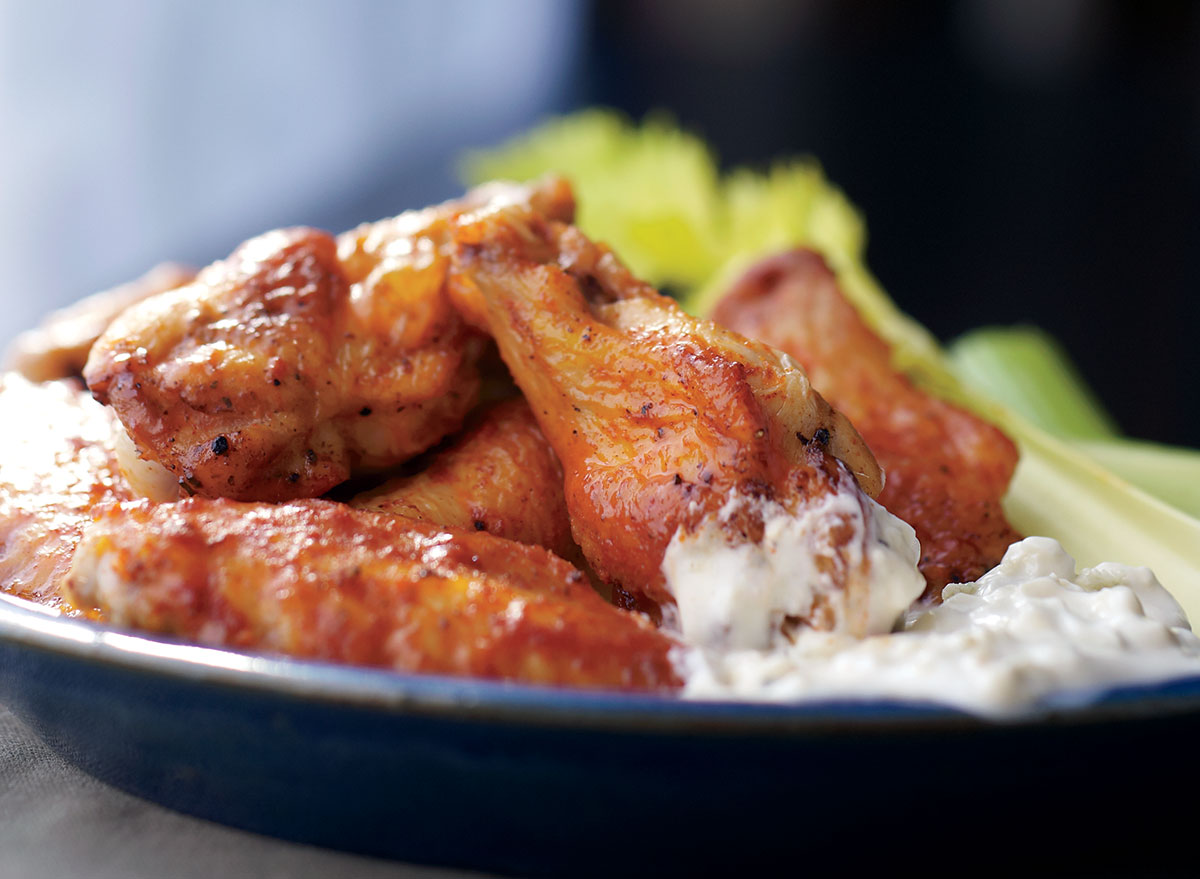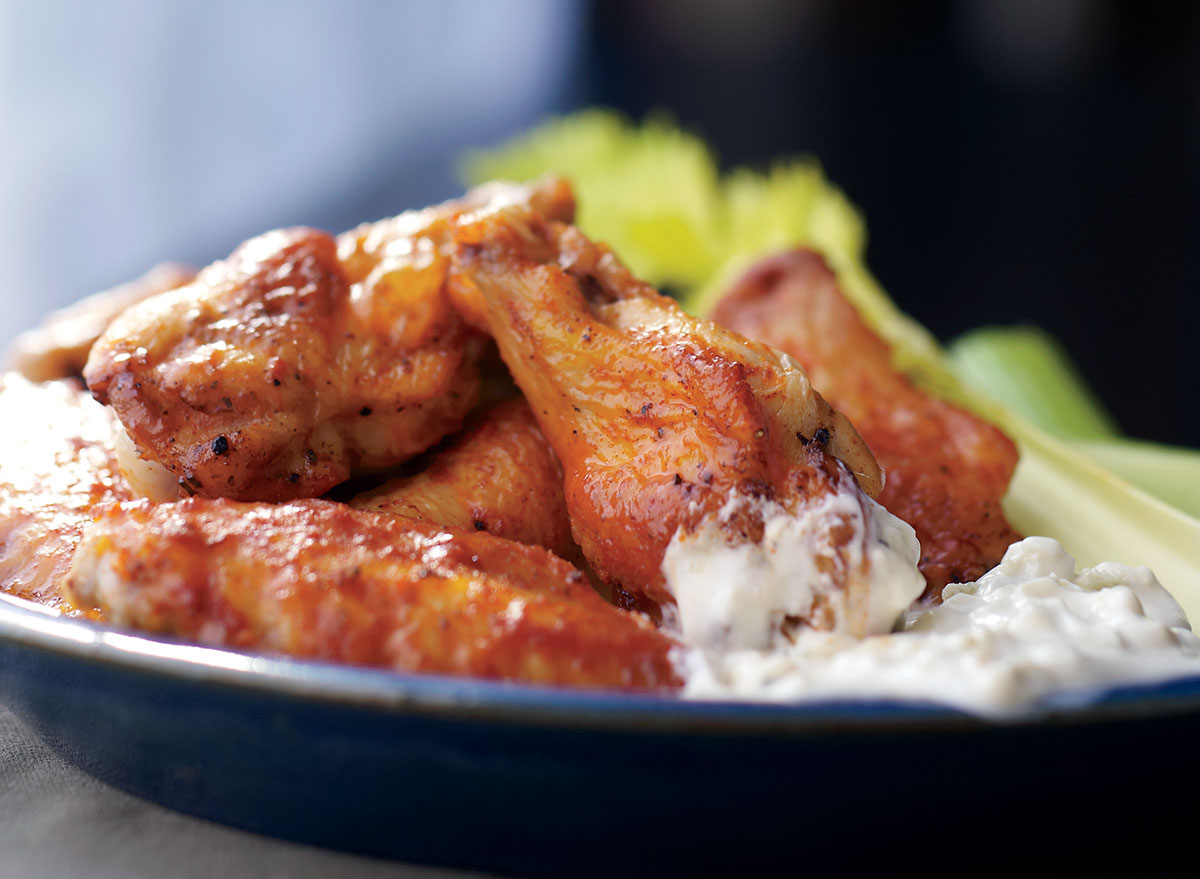 Eat This! Instead of: Breaded and fried buffalo wings
On average, Americans eat more than 1.3 billion wings during the Super Bowl, according to the National Chicken Council. While we can't say for sure, we can bet that most of those wings all share one thing: an extended stay in the deep fryer. By holding off on breading and oven-roasting (or air-frying) your wings, you'll cut fat, carbs, and calories significantly; this recipe is also easier, cheaper, and tastier than what you'd order from your local wing restaurant.
Get the recipe for Baked Fiery Buffalo Wings.
Banana Pistachio Nice Cream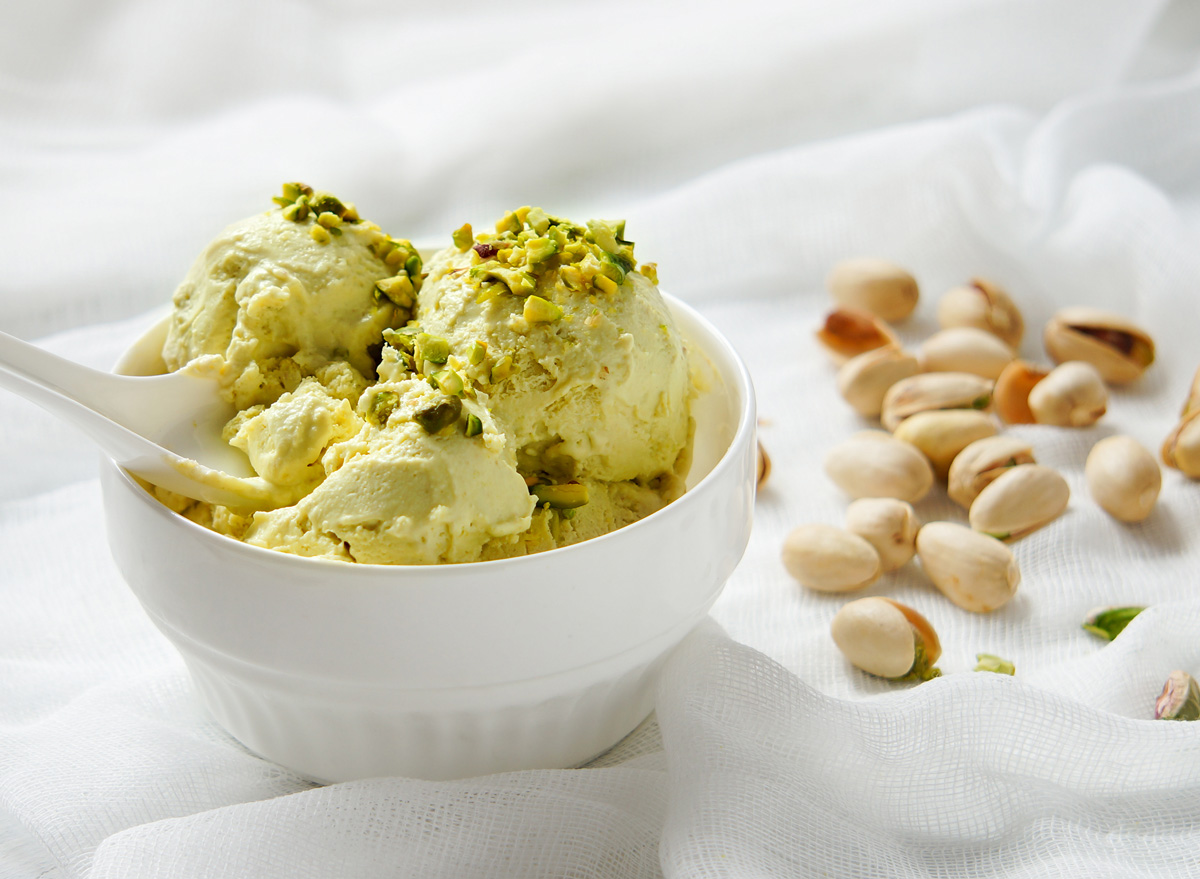 Eat This! Instead of: Ice cream
For a post-game dessert, whip up a more nutritious batch of pistachio banana nice cream. It's as easy as throwing two ingredients into a blender: frozen bananas and just enough alternative milk to get the blender going. To get that light green color, feel free to add a small handful of spinach. Once creamy, scoop it into a bowl and carefully fold in whole Wonderful No-Shells Pistachios (everyone loves getting a crunchy bite of pistachios), and you can sprinkle crushed pistachios on top. Instead of added sugar and empty calories, this dessert offers plant protein from the pistachios.
Buy a bag of Wonderful No-Shells Pistachios on Amazon.
Healthier Spinach Artichoke Dip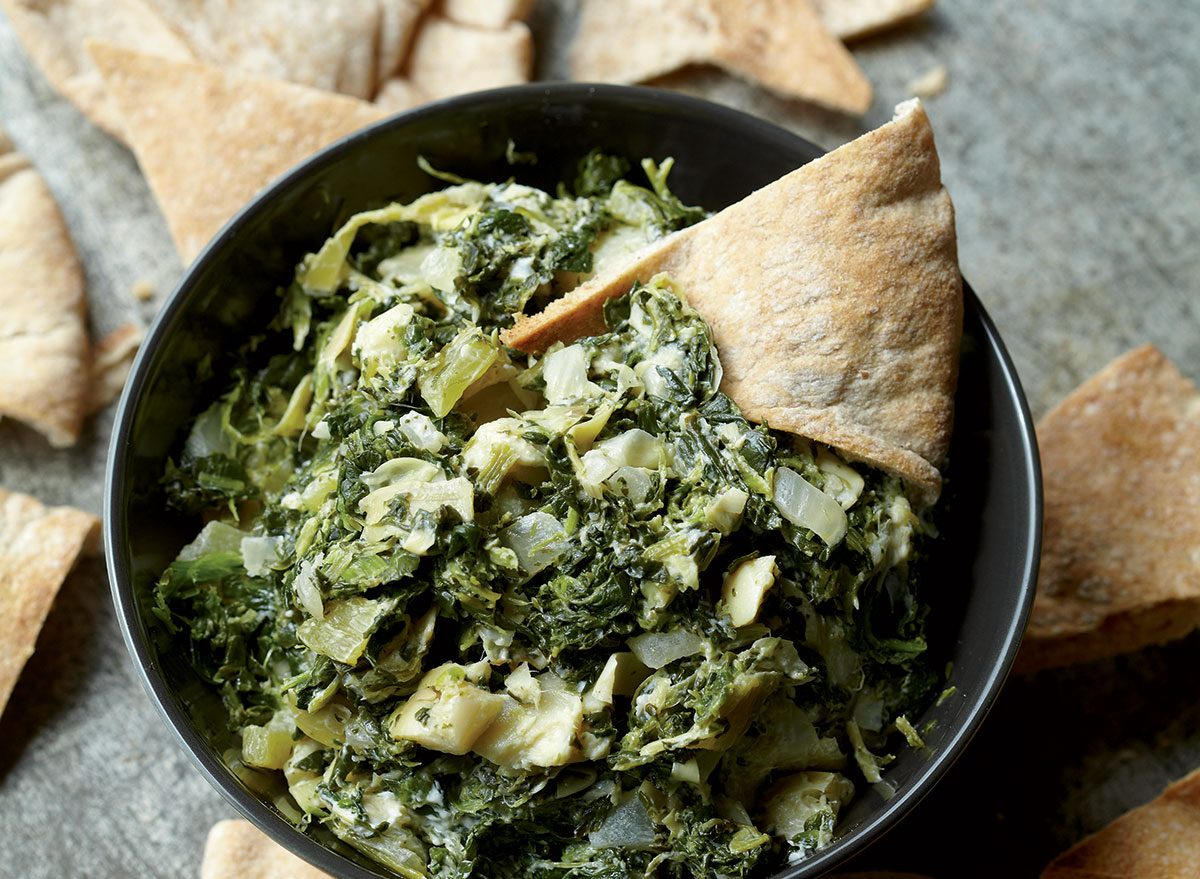 Eat This! Instead of: Store-bought spinach artichoke dip
Ah, a party classic. The name may fool you into thinking this dip is healthy—spinach and artichokes are two healthy vegetables—but in reality, those superfoods are drowning in fatty mayo and cream cheese. In our version, we turn that fat to veggie ratio on its head. The result? Pair it with whole-wheat pitas or crackers and this reimagined appetizer will be a party appetizer or snack you can feel good about. Trust us, it'll still be a crowd-pleaser.
Get the recipe for Healthier Spinach Artichoke Dip.
Lower Calorie Chicken and Black Bean Nachos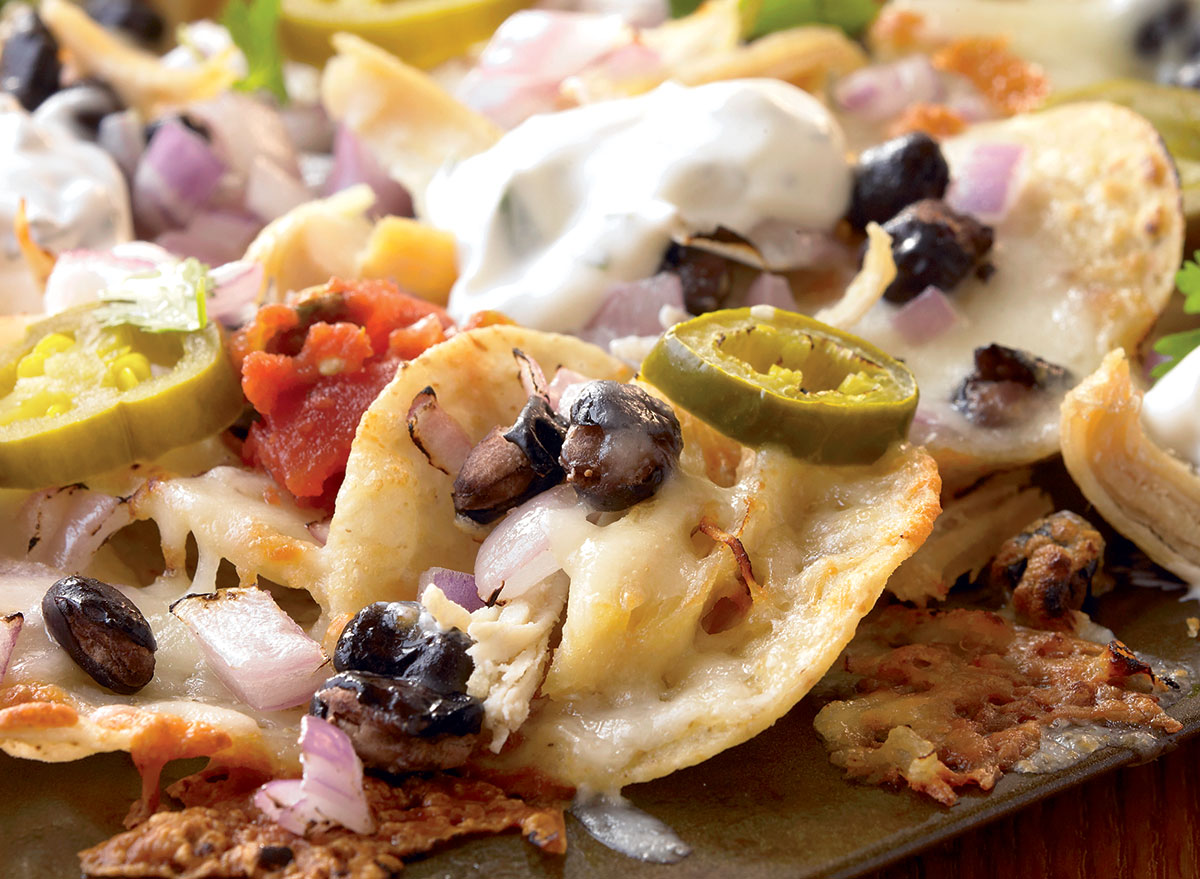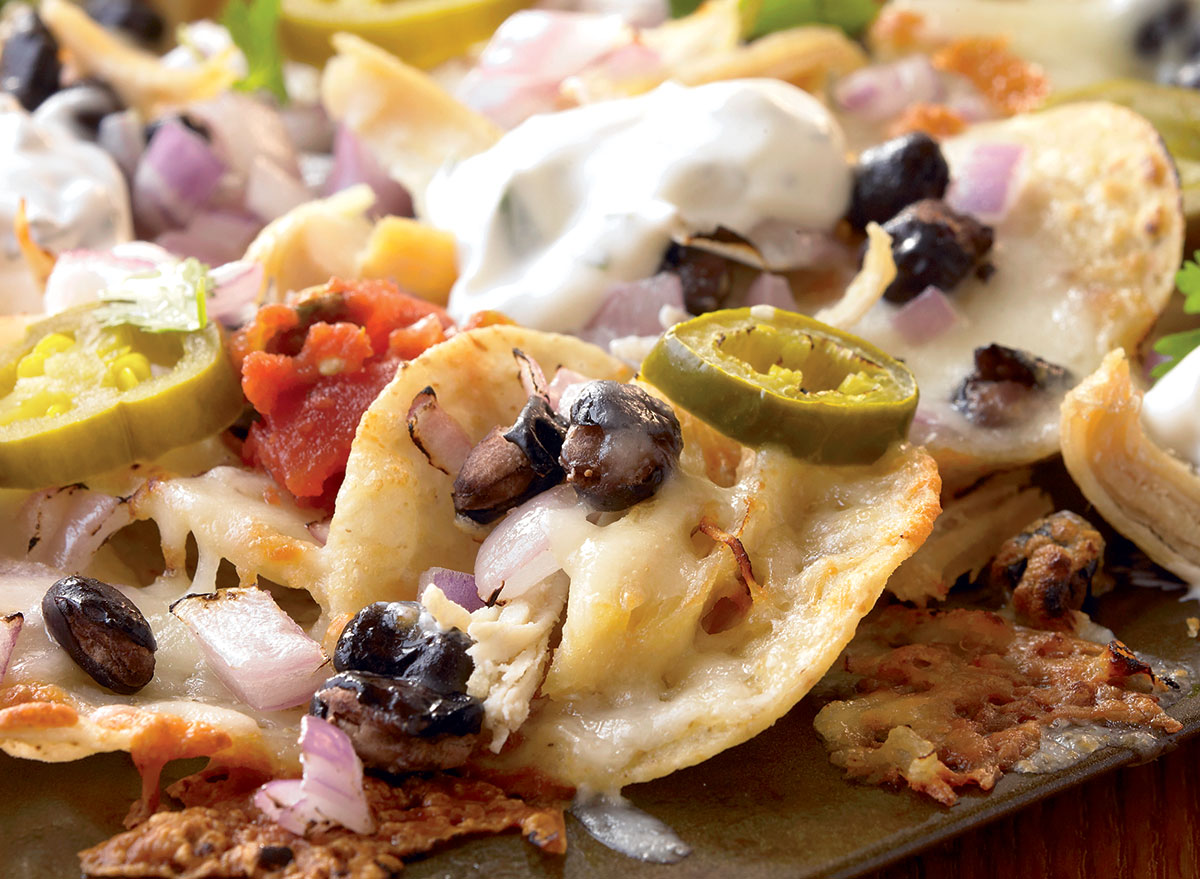 Eat This! Instead of: Loaded nachos
The sad truth with most nacho plates is that the tortilla chips are rendered a helpless vessel for many calories of cheese, oily ground beef, and sour cream. Plus, don't we all hate how you almost inevitably have to dig through soggy nachos in search of a chip crisp? To solve all your nacho woes, our version ensures that every chip is evenly covered with chicken and beans—rather than oily, sludgy ground beef—plus enough salsa and lime-spiked sour cream to keep your mouth watering.
Get the recipe for Lower Calorie Chicken and Black Bean Nachos.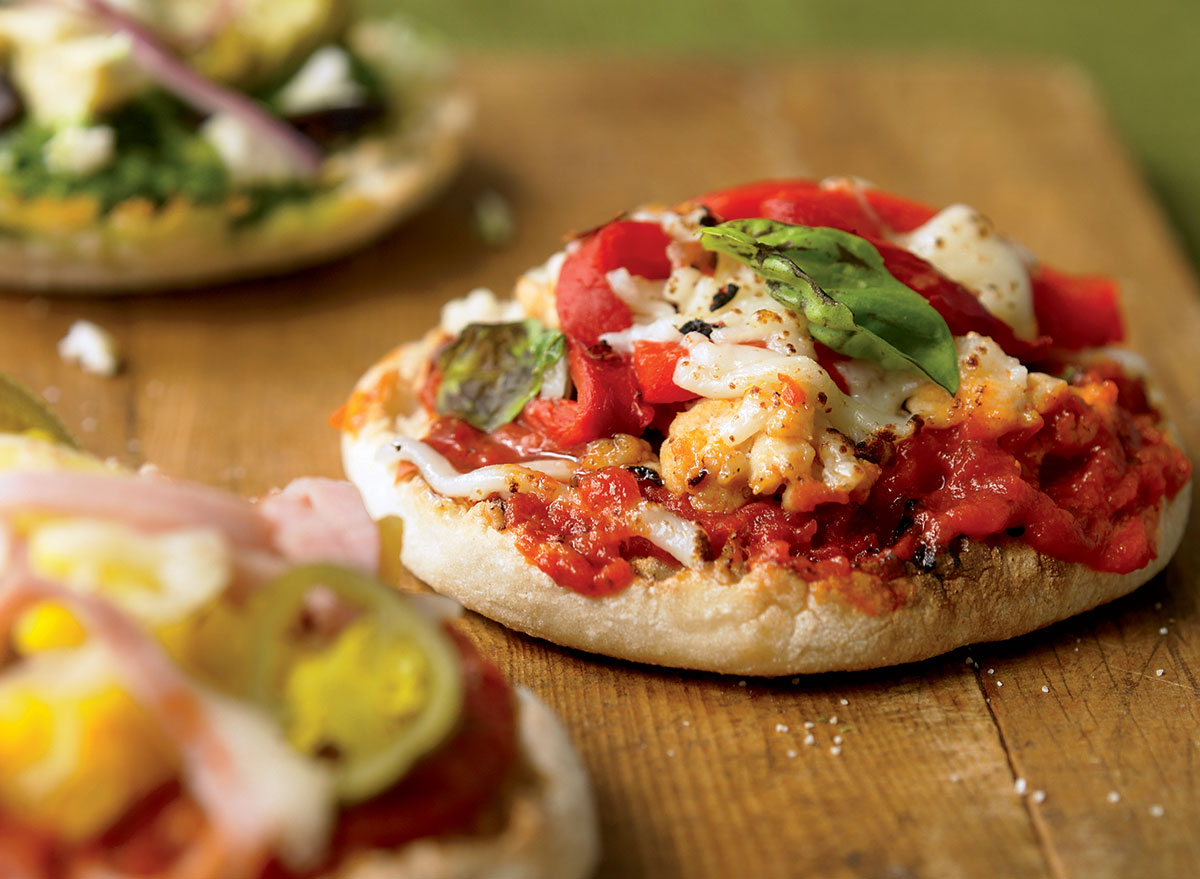 Eat This! Instead of: Pizza delivery
It isn't the Super Bowl without a few pizza pies, right? But with all the rest of the Super Bowl snacks you serve, eating your typical serving of pizza isn't really necessary. To satisfy your guests' inevitable craving for the American classic, why not put out these mini pies instead? Using English muffins comes with built-in portion control, so no matter how lavishly you adorn them, you won't break your calorie barrier.
Get the recipe for Mini Pizza Bites.
Eat This, Not That!
Inspired by The New York Times best-selling book series, Eat This, Not That! is a brand that's comprised of an award-winning team of journalists and board-certified experts, doctors, nutritionists, chefs, personal trainers, and dietitians who work together to bring you accurate, timely, informative, and actionable content on food, nutrition, dieting, weight loss, health, wellness, and more.
Read more about Eat This