8 Adorable Heart-Shaped and Pink Fast Foods Perfect For Valentine's Day
These chains put a whole lot of love and romance into these celebratory eats.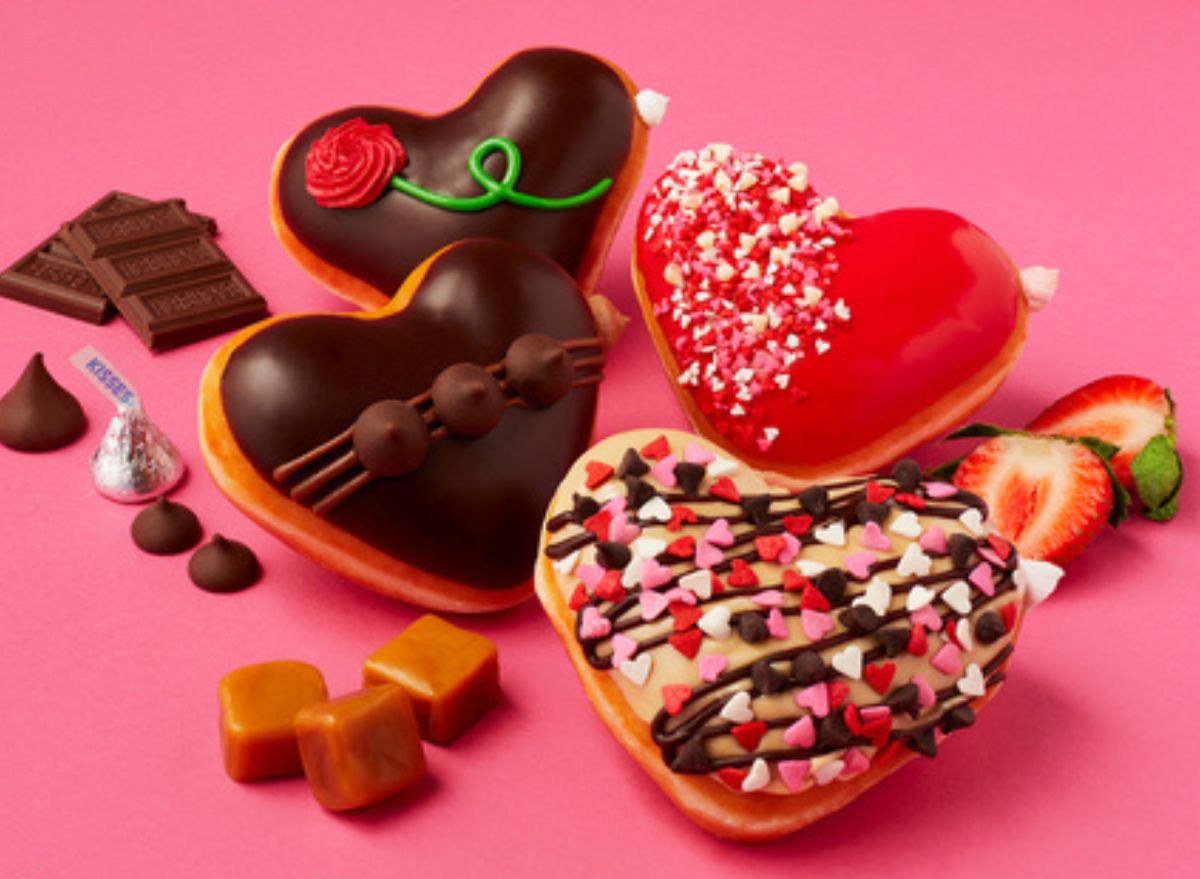 Valentine's Day is a holiday that usually brings people together in the name of love. It also means big bucks for restaurants, retail stores, chocolate shops, and jewelry makers. Americans, for example, plan on spending up to $25.9 billion on Valentine's Day this year, according to an annual survey from the National Retail Federation. While candy is the most popular gift, 32% of gift-givers plan to shell out cash for a romantic evening out. After all, what's better than a decadent night dining with your sweetheart or best buds?
For some, that's not in the budget (and that's okay!), especially with inflation still on the rise. Luckily, for those wanting to keep things more low-key, yet still meaningful, ordering from your favorite chain restaurant may be just what Cupid's arrow had in mind.
Luckily, many fast food and restaurant chains are joining in on the adorable festivities this Valentine's Day by offering both heart-shaped and pink menu items to gift or share with that special someone. From sweet donuts filled with chocolatey romance to savory boxes of chicken nuggets packaged from the heart, there's something for sweet and salty lovers alike. Plus, some of these offers come in large quantities, which will help serve up all the fun for a Galentine's night in!
Here are the perfect Valentine's Day-themed foods and treats to devour next week.
Also, for more V-Day ideas, take a look at 8 Amazing Valentine's Day Treats You Can Get at Costco.
Chick-fil-A Heart-Shaped Trays of Goodies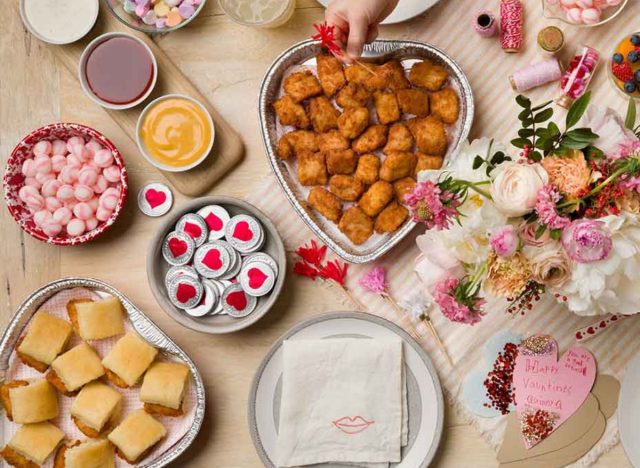 Home of the fan-favorite crispy chicken sandwich and salty waffle fries, Chick-fil-A, is one of the many celebrating this Valentine's Day. Whether you want to surprise your special someone or pick up a self-love treat of your own, the chicken chain is (once again) offering Heart-Shaped Trays filled with select menu items of both sweet and savory.
The options to choose from are: 30-count Chick-fil-A Nuggets, 10-count Chick-n-Minis, 6-count Chocolate Chunk Cookies, or 12-count Chocolate Fudge Brownie halves. This Chick-fil-A V-Day special is only available for a limited time until Feb. 25 (or while supplies last) and can either be ordered at participating stores or on the chain's mobile app.
Dunkin' Heart Donuts
What's sweeter than donuts from Dunkin'? Beautifully decorated, heart-shaped donuts from Dunkin', that's what. For starters, there's the Cupid's Choice Donut, which comes with Bavarian Kreme filling and gets topped with strawberry icing and festive red and pink sprinkles. As for the other crowd-pleaser in the mix, the Brownie Batter Donut is made with a smooth and chocolatey, brownie batter buttercream and layered with chocolate icing and Valentine's Day sprinkles.6254a4d1642c605c54bf1cab17d50f1e
The coffee chain didn't just dedicate two donuts to the lover's holiday, in fact, participating locations will also be carrying donut-flavored chocolates (that come in a heart-shaped box) and iced coffee-flavored jelly bean hearts. Dunkin's version of a box of chocolates comes with a mixture of the chain's staple flavors, such as Boston Kreme, Brownie Batter, and Chocolate Creme. And if you're a big Dunkin' iced coffee fan, try the new flavored jelly hearts in Hazelnut, French Vanilla, Caramel Latte, Toasted Coconut, or Butter Pecan.
All of these Dunkin's V-Day items will be on the menu for a limited time through the end of the month of February.
Papa Johns Heart-Shaped Pizza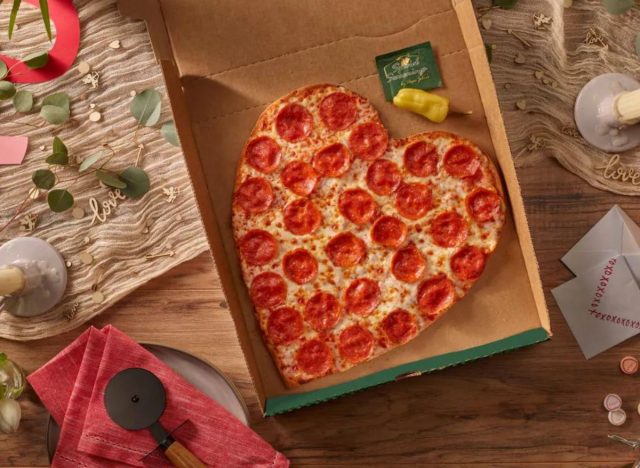 If instead of a sugary dessert, you look forward to a mouthwatering main dish on Valentine's Day, then Papa Johns says you're in luck. You can get a heart-shaped thin-crust pizza with one topping of your choice (or more if you pay the price) from the pizza joint from Feb. 6-14 for just $11.99. While the pizza does come unsliced, this gives you the chance to cut up however big of a cheesy piece of pizza pie to share with your sweetheart.
Hardee's Heart Biscuits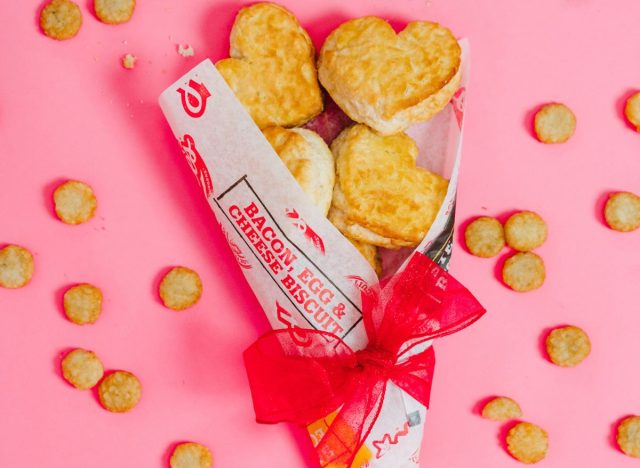 Give your heart to whom you wish, via a few soft, warm biscuits from Hardees. Each biscuit is made from scratch, with a combination of crumbly, tart, and tangy flavors.
After getting baked to perfection, Hardee's Heart Shaped Biscuits get stuffed with a new cherry, jam-like filling and drizzled with sweet icing. You can pick up these festive homemade biscuits from Feb. 11 -14 at participating Hardee's restaurants during the regular breakfast hours either individually for $2.99 or as part of a combo for $4.99.
Starbucks' Special V-Day Pink Drink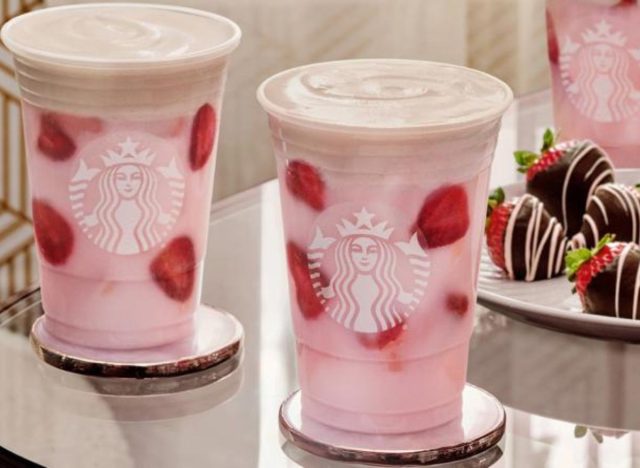 Love and the color pink are in the air at Starbucks this V-Day. Normally the Pink Drink is a permanent sip on the menu, but in honor of the holiday, Starbucks is launching a special twist to the popular drink. Similar to enjoying chocolate-covered strawberries, customers can order a Pink Drink with Chocolate Cream Cold Foam—taking the brand's creamy coconut milk Strawberry Açaí Refresher and topping it with a chocolate cold foam—to get the same taste palate.
America's coffee chain has also brought back the delectable Red Velvet Loaf as part of the seasonal winter menu, combining swirled with red velvet cake and a rich slab of white chocolaty icing.
The Valentine's Day-inspired beverage will only be available at participating Starbucks locations from Feb. 6 – 14, you can ask the in-store barista to mix it up for you or order one using the chain's app.
Buca di Beppo Heart-Shaped Lasagna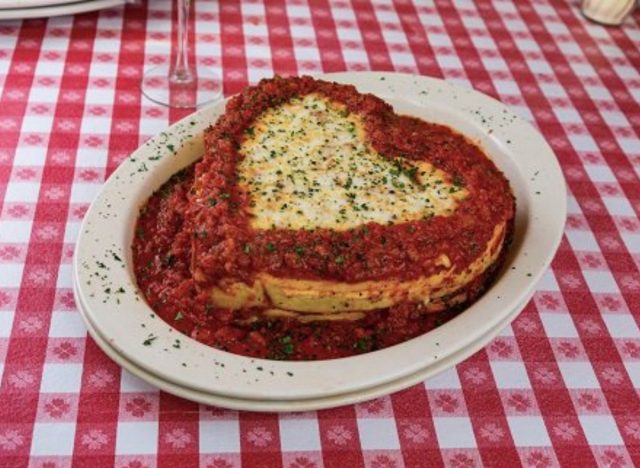 To some, it's questionable whether or not it's worth going out to eat on Valentine's Day, but one dish at Buca di Beppo may be just the thing to change your mind. Three words: Heart-Shaped Lasagna. Flawlessly made to serve two, the pasta dish towers with layers of meat sauce, ricotta, mozzarella, provolone & Parmesan.
The deliciousness doesn't just stop there. Buca di Beppo has put together a Lasagna Lovefeast, available on Feb. 14 only, including a four-course menu of garlic bread, salad, lasagna, and cannolis for $59.99 (prices may vary by location). Show your loved one, your better half, (or yourself for round 2 on Feb. 15) what your love is really made from—pasta!
Krispy Kreme Hershey's Donuts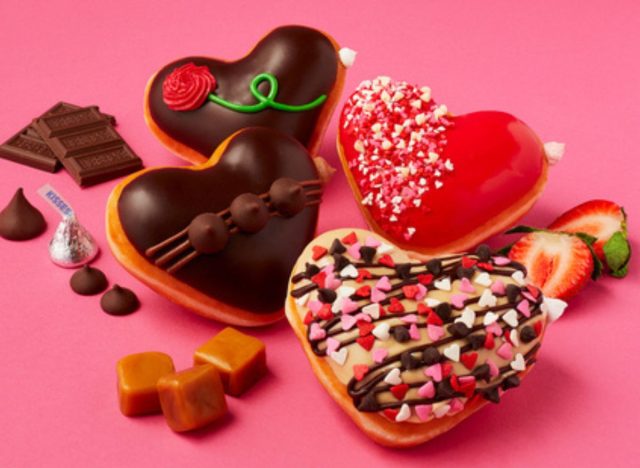 Donuts may be the way to go this year for Valentine's Day and Dunkin' wasn't the only brand to think so. In partnership with Hershey's chocolate, Krispy Kreme created a whole lineup of heart-shaped and "Choc-Full-of-Love" donuts.
For a limited time at Krispy Kreme, there will be four V-Day donuts featuring Hershey's Kisses and other enjoyable takes such as strawberry and caramel: Hershey's I Pick You, Hershey's Double Chocolate KISS, Hershey's Strawberry Dream, and Hershey's Chocolate Chip Caramel Kreme.
Dairy Queen V-Day Blizzard Cake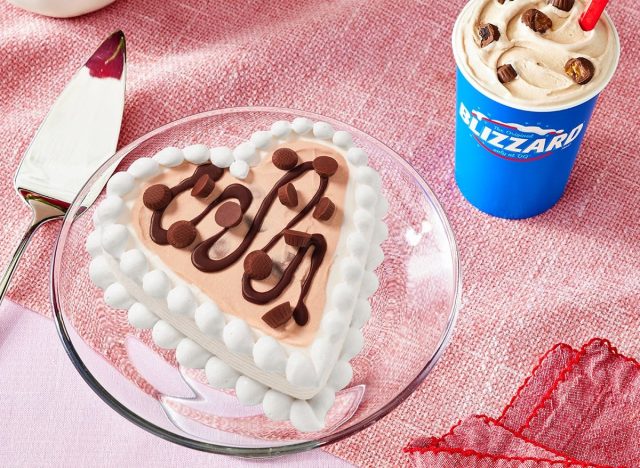 Dairy Queen is pulling out all the stops for Valentine's Day with a whole lot of sweet treats. The star of the show at DQ this month is the Triple Truffle Blizzard Cake. The cake has a layer of Triple Truffle Blizzard (which includes three decadent truffles; peanut butter, fudge, and caramel), then a layer of the truffles, followed by chocolate topping, and then a layer of Vanilla soft-serve.
Another addition to the celebratory menu is the Triple Truffle Blizzard treat, which is entirely inspired by all the best flavors you get from inside a V-Day special box of chocolates. When it comes to availability, each cake is made to order and will be available at any participating locations on Feb. 14. The new Blizzard treat is also a limited-time offer, keep your spoon at the ready for at least the month of February.
Jordan Summers-Marcouillier
Jordan Summers-Marcouillier was born and raised in San Jose, California and now works as a writer in New York, NY.
Read more about Jordan