White Castle Is Bringing Back Its Valentine's Day Dinner After Two-Year Hiatus
The romantic rendezvous event will feature decked out restaurants, sliders galore, and a new custom soda.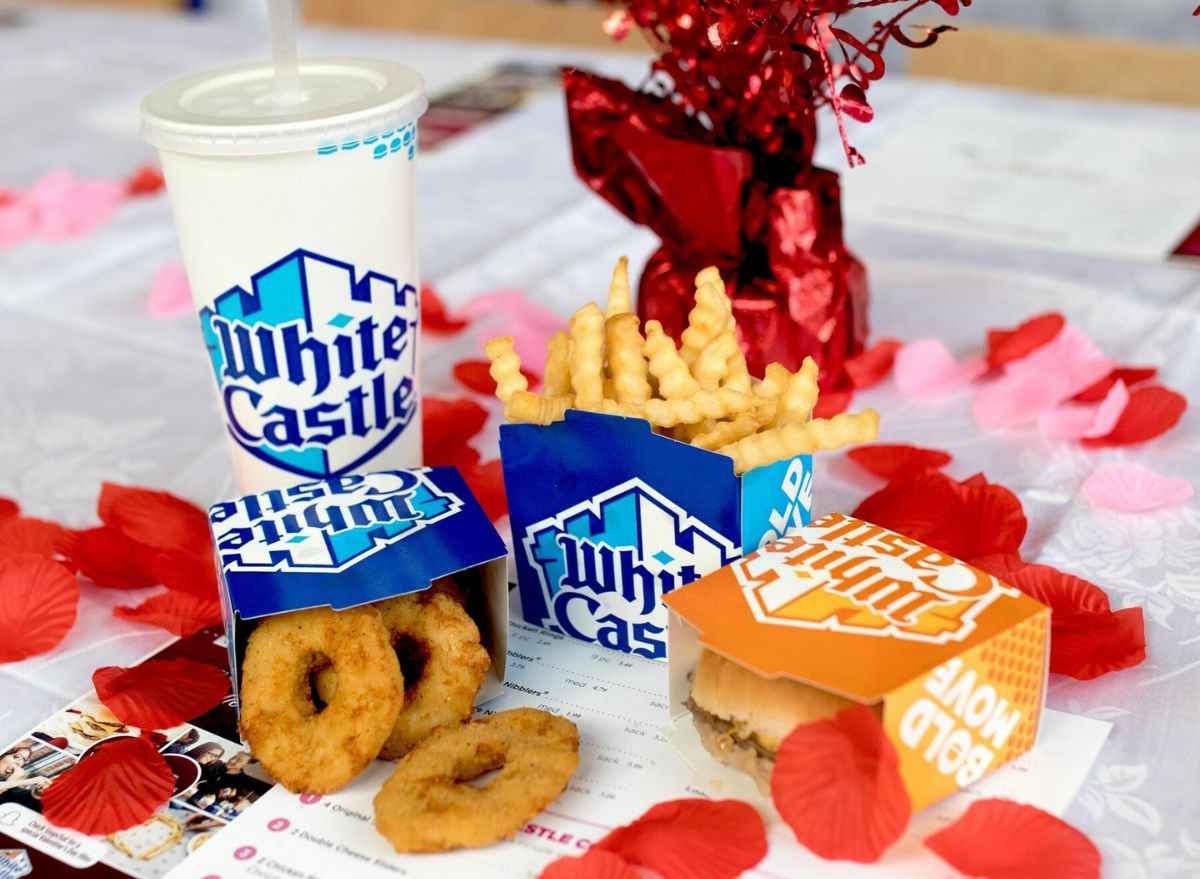 The countdown before the most romantic night of the year has begun, sparking the annual flurry of dining reservations, gift-buying, and planning for grand romantic gestures. And those scrambling for Valentine's Day dinner ideas may be in luck, assuming their date is a fan of fast-food sliders and fries.
White Castle is bringing back its Valentine's Day dinner experience in 2023 after a 2-year pause, the burger chain announced Tuesday. Participating locations will transform their dining rooms into "fine dining establishments" complete with hostess seating, tableside service, and decorations for the holiday.
The experience will last from 4 p.m. to 9 p.m. on Feb. 14 and offer several special menu items in celebration of the holiday. This includes a brand new custom soda named "Sprite Love Castle Potion," which White Castle describes as "the marriage of the cool crispness of lemon-lime, a pop of cherry, and a kiss of smooth, creamy vanilla."
White Castle will also offer cheesecake-on-a-stick with a strawberry swirl and chocolate cookie crumb crust, as well as the "Love Cube" meal for two that includes eight cheese sliders, two sharable sides, and two soft drinks. The meal is available for dine-in and carry-out customers alike.
Reservations are required for the dinner experience, and White Castle warned that tables would fill up quickly. The chain's last dine-in Valentine's Day in 2020 drew more than 30,000 people, according to Tuesday's announcement. Customers can conduct a filtered search for participating locations on the White Castle website and make reservations through OpenTable.com.
This will be the 32nd year that White Castle has held a special celebration. Valentine's Day 2023 will also be the first time in three years that White Castle has offered its dinner experience after temporarily suspending it in 2021 and 2022 due to the COVID-19 pandemic.
In last year's announcement that the 2022 dine-in experience would be canceled, White Castle Vice President Jamie Richardson said the chain had every intention of bringing back the tradition in 2023.
With its return now official, Richardson said that White Castle "can't wait" to celebrate the holiday in person.
"This is what feeding the souls is all about, and we're excited that the tradition we have loved and missed is back!" he said in a statement.
Eat This, Not That!
Inspired by The New York Times best-selling book series, Eat This, Not That! is a brand that's comprised of an award-winning team of journalists and board-certified experts, doctors, nutritionists, chefs, personal trainers, and dietitians who work together to bring you accurate, timely, informative, and actionable content on food, nutrition, dieting, weight loss, health, wellness, and more.
Read more about Eat This